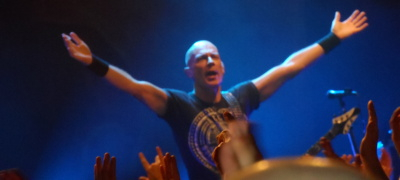 ANOTHER LIVE RELEASE WITH ACCEPT IN NOVEMBER
ACCEPT will release "Symphonic Terror – Live at Wacken 2017" on November 23 via Noclear Blast. They forgot to tell on what formats it will be available, but it will feature a 2-hour performance that took place at Wacken Open Air in Wacken, Germany on August 3, 2017. Some tracks were performed with a symphony orchestra.
acceptworldwide.com nuclearblast.de THE EXPLOITED ANNOUNCES NORTH AMERICAN TOUR WITH TOTAL CHAOS
Scottish punk legends The EXPLOITED are going on a North American tour in August/September, with support from American punk veterans TOTAL CHAOS.
Dates and tickets at bit.ly/the-exploited-tour
the-exploited.net totalchaospunk.com
---
As Hard Rock Info's Facebook page refuse to work as it should for me, I'm not able to post birthday wishes and other stuff there. So let's take it here instead..
June 20 - Congratulations in arrears to: Michael Anthony (CHICKENFOOT, ex-VAN HALEN), born in 1954, and Kelly Johnson (GIRLSCHOOL, dead in July 2007), born in 1958.
Happy Birthday on June 21 to: Ray Davies (The KINKS), born in 1944, and Joey Kramer (AEROSMITH), born in 1950.
---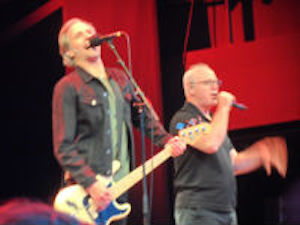 NEW SINGLE WITH BAD RELIGION
Californian punk rock veterans BAD RELIGION have released a brand new song called "The Kids Are Alt-Right": youtu.be/hES9IBTPbcw NEW ALBUM WITH THERAPY? IN SEPTEMBER
Northern Ireland rockers THERAPY? will release their 15th studio album, "Cleave", on September 21 via Marshall Records. STEVE HACKETT ANNOUNCES UK DATES FOR GENESIS REVISITED TOUR
Prog icon Steve Hackett (ex-GENESIS) brings his 8-date "Genesis Revisited Tour" to the UK in October. The show will feature his band together with a 41-piece orchestra. The London Royal Festival Hall, Birmingham Symphony Hall and Manchester Bridgewater Hall have already sold out.
The dates are these:
October 1 - Nottingham, Royal Concert Hall
October 3 - Manchester, Bridgewater Hall (SOLD OUT)
October 4 - London, Royal Festival Hall (SOLD OUT)
October 5 - Birmingham, Symphony Hall (SOLD OUT)
October 7 - Gateshead, The Sage 1
October 8 - Glasgow, Royal Concert Hall
October 10 - Ipswich, Regent
October 11 - London, Palladium
Tickets are available from myticket.co.uk, hackettsongs.com and venue box offices. D.R.I., PESTILENCE, UNANIMATED AND VOMITORY CONFIRMED FOR MARYLAND DEATH FEST 2019
The first wave of acts have been announced for Maryland Death Fest 2019. And among those bands are D.R.I., PESTILENCE, UNANIMATED, VOMITORY, BLOOD, VIOLATOR, CRO-MAGS, FULL OF HELL, IMMOLATION, MORTICIAN, BRUTALITY, CHASM etc.
The festival takes place May 23-26, 2019 in Baltimore, Maryland at Rams Head Live and Baltimore Soundstage.
deathfests.com ROSS THE BOSS ANNOUNCES EUROPEAN TOUR WITH BULLET
MANOWAR co-founding guitarist ROSS THE BOSS announces headline tour all over Europe to promote his recently released album "By Blood Sworn". His band features Marc Lopes on lead vocals, SYMPHONY X bassist Mike LePond on bass and Steve Bolognese on drums.
Swedish heavy metal band BULLET will co-headline on all dates. Special guests on part 1 (Oct. 16-22) of the tour will be CRYSTAL VIPER, and PORTRAIT on part 2 (Oct. 24-Nov. 3).
All dates and other details can be found at ross-the-boss.com
facebook.com/bulletband crystalviper.com facebook.com/portraitsweden DOCUMENTARY ABOUT JAPANESE HARDCORE/PUNK SCENE IN THE 80S
"Oh damn!" is a documentary film about Japan's hardcore/punk scene in the 80s. The film is being released 34 years after it was actually first created. The documentary is to be screened in full August 18. Some of the bands that will be featured include: GAUZE, G.I.S.M., The EXECUTE, The COMES, The TRASH, CLAY, GASTUNK.
You can check out a little preview here: youtu.be/3yspKYhP96c
More info here: silvergelatin.main.jp/movie/chottonoame-feb SCHMIER HAS LEFT PÄNZER
DESTRUCTION frontman Schmier has exited PÄNZER, the heavy metal "supergroup" featuring Pontus Norgren (HAMMERFALL) and V.O. Pulver (G.U.R.D., POLTERGEIST) on guitar and Stefan Schwarzmann (ACCEPT, ex-RUNNING WILD) on drums. METALLICA DONATES POLAR MUSIC PRIZE MONEY
According to Billboard, METALLICA has donated its monetary award from the Polar Music Prize to 3 charities. 50 percent of the one-million-Swedish-Kronor prize (just over $130,000) went to the Stockholm City Mission, which supports the homeless; 25 percent to the World Childhood Foundation, founded by Sweden's Queen Silvia; and 25 percent to the Afghanistan National Institute Of Music, also a recipient of this year's Polar Music Prize.
metallica.com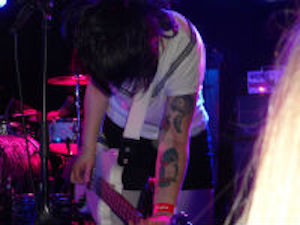 DEBUT ALBUM WITH RIOT GRRRLS NOW AVAILABLE IN NORTH AMERICA
Swedish all-female rock project RIOT GRRRLS had their debut album, "The Riot Grrrl Sessions", released in North America on June 15 via GMR Music. The album was released here in Sweden in February.
The project is led by Canan Rosén (TWIN PIGS, TIGER BELL etc), and the album also features artists from bands like CRUCIFIED BARBARA/The HEARD, HEAVY TIGER, TANT STRUL, The BABOON SHOW, SATIRNINE etc.
You can read more about this project here: riotgrrrlsessions.com




CELEBRATE NEW YEAR IN MEXICO WITH RAMMSTEIN
German industrial metal band RAMMSTEIN will play 2 very exclusive shows in Puerto Vallarta, Mexico on December 31, 2018 and January 2, 2019. Tickets available on June 27 at ramm.st/2tiCPWr
rammstein.com MONSTER MAGNET ANNOUNCES NORTH AMMERICAN TOUR
MONSTER MAGNET will be touring in North America for a whole month in September/October.
The tour will kick off in Toronto on September 28, and will end in Boston on October 28. Support on the tour will come from ELECTRIC CITIZEN and DARK SKY CHOIR.
monstermagnet.net napalmrecords.com GRAVE GOT A NEW DRUMMER
Tomas Lagrén is the name of the new drummer of Swedish death metal veterans GRAVE. He has been drumming with the band for the past year, and has done such a good job that he has now become an official member.
grave.se
---
Sorry that the site was "lost in cyber space" during the weekend (June 16-17). But now it's back, as you can see..
Hopefully everything works as it should, otherwise it would be good if you could let me know via Facebook (click on the f) or e-mail (click on contact).
---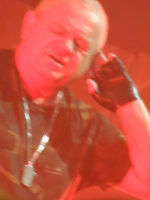 NEW ALBUM WITH U.D.O. IN AUGUST
German heavy metal veterans U.D.O. (with Udo Dirkschneider from ACCEPT) have set "Steelfactory" as the title of their new album, which will be released on August 31 via AFM Records.
The first single, "Rising High", is available here: youtube.com/watch?v=c0e2Q8wZQh8
Pre-sell starts today at: promo.afm-records.de/en/u-d-o
udo-online.de WATAIN ANNOUNCES EUROPEAN TOUR
Swedish black metallers WATAIN are going on a European tour in November. Support bands will be ROTTING CHRIST and PROFANATICA.
Dates can be found at facebook.com/watainofficial
rotting-christ.com facebook.com/profanaticausa NEW 7" WITH RÖVSVETT IN JULY
Swedish hardcore/punk legends RÖVSVETT will release a new 4-track 7" EP, "Bly, Skrot & Hagel", on July 2 via their own label Röv Records.
facebook.com/Rovsvett BON JOVI ANNOUNCES AUSTRALIAN DATES
BON JOVI are going to Australia in December for 4 shows. Pre-sale starts on Monday, June 18. Tickets and VIP packages go on sale to the public on Friday, June 29.
The dates are:
Dec. 1 - Melbourne Cricket Ground, Melbourne
Dec. 4 - Botanic Park, Adelaide
Dec. 6 - QSAC, Brisbane
Dec. 8 - Sydney ANZ Stadium, Sydney
bonjovi.com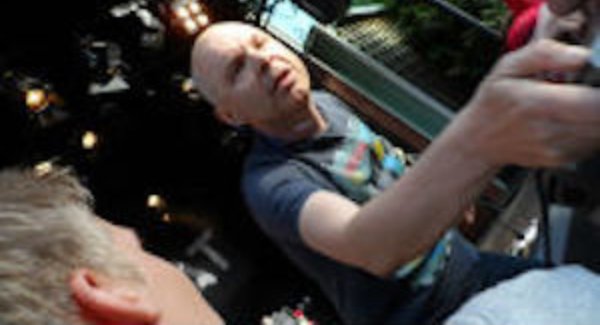 ATTENTAT ANNOUNCES ANOTHER HOMETOWN SHOW
Swedish punk rock veterans ATTENTAT will do another show at Bellmans in their hometown Göteborg on October 27 (their first show there was just a couple of months ago). Support act will be the local 15-year old kid Punk-Jon (who use to play at Järntorget).
This time they will both record and film the show for a upcoming live album and DVD. Tickets go on sale Monday, June 18 via Ticketmaster.
attentat.nu NEW HORROR FILM WITH LEMMY, TRACII GUNS AND DIZZY REED
Cleopatra Entertainment has announced the worldwide premier of their latest horror film Sunset Society. Directed by Phoebe Dollar and Rolfe Kanefsky, Sunset Society stars Dollar, MOTÖRHEAD's Lemmy Kilmister, Steve-O (Jackass), Ron Jeremy, Robert Donovan, and L.A. GUNS' Tracii Guns, with GUNS N' ROSES' Dizzy Reed rounding out the cast. The film premieres theatrically at 7:30pm on July 6 at Downtown Independent Theatre in Los Angeles, followed by an evening of DJ sets and live bands.
The original motion picture soundtrack for Sunset Society is also available from Cleopatra Records, and features music from Lemmy (MOTÖRHEAD), Stephen Pearcy (RATT), Jurgen Engler (DIE KRUPPS), Jyrki 69 (69 EYES), Thor, ELECTRIC HELLFIRE CLUB and more.. The soundtrack is available as part of the Blu Ray/DVD Home Entertainment version and also as a stand alone Digital Download and Vinyl LP version on August 17.
Sunset Society will also be released on VOD, DVD, and Blu-ray on July 24.
sunsetsociety.brownpapertickets.com MORE SAXON RE-ISSUES IN JULY
BMG are happy to announce the re-issue of 3 more SAXON classic albums. This time it's "Innocence Is No Excuse" (1985), "Rock The Nations" (1986) and "Destiny" (1988). These re-issues will be available on July 27.
The CDs will be 24-page media books containing original lyrics, rare photos and memorabilia. All albums will feature bonus tracks, including a selection of early demos, some of which didn't make final track listings, as well as B-sides and live recordings. The vinyl will be coloured splatter with no bonus tracks.
Pre-order links: saxonband.lnk.to/IINE saxonband.lnk.to/RockTheNations saxonband.lnk.to/Destiny
saxon747.com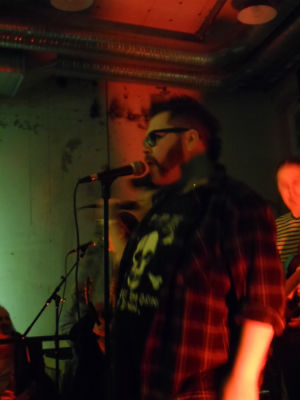 MÖGEL SINGER THOMAS "BULLEN" OSCARSSON IS DEAD
Thomas "Bullen" Oscarsson, who used to sing for the local (Borås, Sweden) punk veterans MÖGEL, has died. I don't have any details about his death.
I met him once in a while through the years. His last show with MÖGEL was on March 3 here in Borås, when they for some reason thought it was a good idea to have 2 singers (he had not been a member of the band for many years before that).
R.I.P.
facebook.com/MÖGEL-7203971898 PARADISE LOST TO SUPPORT DANZIG IN UK
British gothic metal legends PARADISE LOST will be very special guests at DANZIG's 2 shows in UK in August. The dates are:
Aug. 6 - Barrowland Ballroom, Glasgow
Aug. 7 - O2 Academy Brixton, London
Get your tickets here: myticket.co.uk/artists/danzig
..and while we talk about DANZIG, a tribute album called "GDANSK: A Tribute To Danzig" will be released by Metalville on June 29. It's the German stoner band GRAND MASSIVE - with special guests from THUNDERMOTHER, CRITICAL MASS, SABATON, DORO and SINNER - doing covers of songs by DANZIG, SAMHAIN and MISFITS.
paradiselost.co.uk danzig-verotik.com metalville.de DEAD KENNEDYS ANNOUNCES UK SHOWS
American punk legends DEAD KENNEDYS will do 3 shows in UK in August. The dates are:
Aug. 7 - O2 Academy, Oxford
Aug. 8 - Club Academy, Manchester
Aug. 9 - Roadmender, Northampton
facebook.com/deadkennedys HIRAX ANNOUNCES EUROPEAN TOUR
American thrash veterans HIRAX are coming back to Europe in August. They will play both festivals and club dates.
You can find the dates here: facebook.com/hiraxthrashmetal DEEP PURPLE ANNOUNCES MEXICAN TOUR
DEEP PURPLE are going to Mexico in November for 10 shows in 9 cities. Here are the dates:
Nov 3rd - Tijuana
Nov 7th - Chihuahua
Nov 9th - Monterrey
Nov 11th - San Luis Potosi
Nov 13th - Leon
Nov 15th - Guadalajara
Nov 17th - Mexico City
Nov 21st - Merida
Nov 23rd and Nov 24th - Cancún
deeppurple-infinite.com MORE NEWS Take Me To The Top


This site has been online since 2001.
All reviews and photos/images by Jimmy Blom.