HAPPY BIRTHDAY!
Nikki Sixx (MÖTLEY CRÜE) - Born on Dec. 11, 1958 10 LATEST REVIEWS
VINEGAR HILL: Ghost Flowers - Album (Modern metal)
FYRTAL I PUNKROCK VOLYM 2 - Compilation LP (Swedish trallpunk)
HYPERION: Dangerous Days - Album (Heavy metal)
HUMANASH: Reborn From The Ashes - EP (Heavy metal)
HENRY METAL: Henry Metal V - Album (Metal)
HENRY METAL: Metal O'Clock - Album (Metal)
HALPHAS: Dawn Of A Crimson Empire - Album (Melodic black metal)
SQUEALER: Behind Closed Doors - Single (Metal/Groovy rock)
SWITCHBLADE JESUS/FUZZ EVIL: Chapter 7, The Second Coming Of Heavy - Split EP (Stoner rock)
SEAX: Speed Metal Mania/To The Grave - Double CD (Speed metal)
MORE REVIEWS »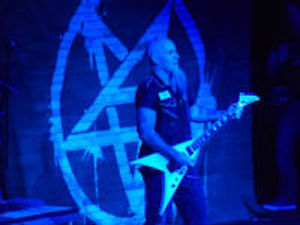 NEW LIVE DVD WITH ANTHRAX IN APRIL
New York thrash legends ANTHRAX will release their new live DVD, "Kings Among Scotland", on April 27, 2018 via Megaforce. It was recorded at a sold out show at Barrowland Ballroom in Glasgow, Scotland on February 15, 2017, and will also include interviews, behind-the-scenes footage etc.
anthrax.com BILLY IDOL ANNOUNCES EUROPEAN SUMMER TOUR
Old rocker Billy Idol will be touring in Europe next summer. You can find the dates at billyidol.net/tour DE LYCKLIGA KOMPISARNA TO PLAY IN JAPAN?
It seems like Swedish trallpunk legends DE LYCKLIGA KOMPISARNA are going to Japan for 4 shows in September 2018.
The dates are supposed to be:
Sep. 23 - Tokyo
Sep. 24 - Nagoya
Sep. 25 - Kobe
Sep. 26 - Tokyo
facebook.com/delyckligakompisarna ALICE IN CHAINS ANNOUNCES NORTH AMERICAN TOUR
ALICE IN CHAINS has announced a North American headline tour next spring. Confirmed shows are:
Apr. 28 - Boston, MA - House of Blues
Apr. 30 - Syracuse, NY - Landmark Theatre
May 01 - Toronto, ON - Massey Hall
May 03 - Washington DC - Anthem
May 04 - Charlotte, NC - Carolina Rebellion
May 07 - New York, NY - Hammerstein Ballroom
May 10 - Atlanta, GA - Coca-Cola Roxy
May 13 - Somerset, WI - Northern Invasion
May 15 - Chicago, IL - Riviera Theatre
May 16 - South Bend, IN - Morris Performing Arts Center
May 18 - Columbus, OH - Rock On The Range
May 19 - Philadelphia, PA - WMMR BBQ
aliceinchains.com STATUS QUO CANCEL TONIGHT'S SHOW IN BERLIN
STATUS QUO are forced to announce that tonight's (Dec. 11) show at the Friedrichstadtpalast in Berlin has had to be cancelled due to Francis Rossi being taken ill.
He appears to have picked up a chest infection which has left him incapacitated and unable to sing. He is currently receiving medical attention in Germany and has left it to the last possible moment to cancel in the hope that he would be able to recover enough to perform, but unfortunately that has not been the case.
statusquo.co.uk



NEW ALBUM WITH HION MARTELL IN JANUARY
Swedish rock n roll band HION MARTELL will release their new album, "Trust Me On This One", on January 12, 2018.
hionmartell.com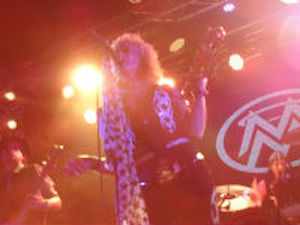 MICHAEL MONROE TO ENTER THE STUDIO IN MARCH
Former HANOI ROCKS frontman Michael Monroe plan to enter the studio in March 2018 to record a new solo album.
michaelmonroe.com NEW ALBUM WITH JIMI HENDRIX IN MARCH
On March 9, Experience Hendrix and Legacy Recordings, the catalog division of Sony Music Entertainment, proudly release "Both Sides Of The Sky", a dynamic new Jimi Hendrix album featuring 13 studio recordings made between 1968 and 1970 — 10 of which have never before been released. The album will be released on multiple formats including CD, digital, and as a numbered 180-gram audiophile vinyl 2LP.
jimihendrix.com CRASHDÏET GOT A NEW SINGER
Swedish sleaze rockers CRASHDÏET have recruited Gabriel Keyes as their new vocalist.
A new single, "We Are The Legion", will be released on New Year's Eve, and the first show with Gabriel will take place at Kägelbanan in Stockholm, Sweden on March 30, 2018.
crashdiet.org NEW BAND WITH MEMBERS FROM IN FLAMES, HIM AND FIREWIND
There's a new Swedish metal band called WE SELL THE DEAD, featuring Niclas Engelin (IN FLAMES, ENGEL), DRÖMRIKET's Jonas Slättung, Gas Lipstick (former HIM drummer) and the voice of Apollo Papathanasio (SPIRITUAL BEGGARS, FIREWIND).
The band will release its debut album, "Heaven Doesn't Want You And Hell Is Full", on February 23, 2018 via earMUSIC.
facebook.com/WeSellTheDead TURBONEGRO, GBH, STEVE IGNORANT'S PARANOID VISIONS AND THE PARTISANS CONFIRMED FOR PUNK ROCK BOWLING
TURBONEGRO, GBH, STEVE IGNORANT'S PARANOID VISIONS, The PARTISANS, L7, RISE AGAINST, NOFX and ANGELIC UPSTARTS are some of the bands that have been confirmed for Punk Rock Bowling in Las Vegas on May 25-28, 2018.
More info at punkrockbowling.com BUZZCOCKS CONFIRMED FOR REBELLION
BUZZCOCKS have been confirmed for the Rebellion punk festival in Blackpool, UK on August 2-5, 2018.
Confirmed since earlier are The EXPLOITED, COCKNEY REJECTS, ANGELIC UPSTARTS, SLAUGHTER & THE DOGS, DISCHARGE, UK SUBS, RUTS DC, G.B.H., ANTI NOWHERE LEAGUE, D.R.I., The BOYS, PETER AND THE TEST TUBE BABIES, 999, SUBHUMANS, VICE SQUAD, M.D.C., RAW POWER, CITY SAINTS, The LIPTONES, 4 PAST MIDNIGHT etc. etc.
More info at rebellionfestivals.com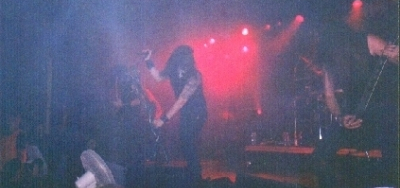 SATYRICON, GRAVEYARD AND HULKOFF CONFIRMED FOR METALLSVENSKAN
SATYRICON, GRAVEYARD and HULKOFF have been confirmed for the Metallsvenskan festival in Norrköping, Sweden on June 15-16, 2018.
Confirmed since earlier are SONATA ARCTICA, BULLET, EXODUS and The KRISTET UTSEENDE.
More info at facebook.com/Metallsvenskan LIVE ALBUM WITH GHOST IN JANUARY
Swedish occult rockers GHOST will release their first live album, "Ceremony and Devotion", on January 19, 2018.
ghost-official.com HARDCORE SUPERSTAR, MADAM X AND BRIAN DOWNEY'S ALIVE AND DANGEROUS CONFIRMED FOR SWEDEN ROCK FESTIVAL
HARDCORE SUPERSTAR, MADAM X, BRIAN DOWNEY'S ALIVE AND DANGEROUS, KILLSWITCH ENGAGE and SHOOTER JENNINGS have been confirmed for Sweden Rock Festival in Sölvesborg, Sweden on June 6-9, 2018.
Confirmed since earlier are IRON MAIDEN, Ozzy Osbourne, JUDAS PRIEST, HELLOWEEN, HEAVY LOAD, TURBONEGRO, ROSE TATTOO, VIXEN, PRETTY MAIDS, SLADE, KREATOR, NAZARETH, Joe Lynn Turner, BULLET, F.K.Ü., The QUILL etc.
More info at swedenrock.com COMPILATION WITH NAPALM DEATH IN MARCH
British grindcore legends NAPALM DEATH will release a compilation, entitled "Coded Smears And More Uncommon Slurs", in March 2018 via Century Media Records.
This special release will include a total of 31 songs in a playing time of over 90 minutes compiling rarities and exclusive earworms spanning 2004-2016.
napalmdeath.org
SPLIT SINGLE WITH IMPERIAL STATE ELECTRIC AND DEAD LORD Swedish rockers IMPERIAL STATE ELECTRIC and DEAD LORD will release a split 7" single on Lightning Records in January, where they will do 1 MOTÖRHEAD cover each.
imperialstateelectric.se deadlord.com lightningrecords.se BONAFIDE ANNOUNCES UK TOUR
Swedish hard rockers BONAFIDE are gong to UK in May 2018 for a tour. Dates can be found at bonafiderocks.com
TOTALT JÄVLA MÖRKER TO BE REJOINED BY FORMER VOCALIST INGE JOHANSSON
Swedish punk and hardcore musician Inge Johansson (AGAINST ME!, The (INTERNATIONAL) NOISE CONSPIRACY, REFUSED) will rejoin his old band TOTALT JÄVLA MÖRKER, where he was 1 of 3 singers between 1997-2005, when the band go on their last tour this month in Sweden and Norway.
More info at facebook.com/totaltjavlamorker WARBRINGER CONFIRMED FOR SABATON OPEN AIR
WARBRINGER have been confirmed for Sabaton Open Air in Falun, Sweden on August 15-18, 2018.
Confirmed since earlier are SABATON, SEPULTURA, BATTLEBEAST, PRIMAL FEAR, HULKOFF, POWERWOLF, THUNDERMOTHER, BOMBUS etc.
More info at sabaton.net/sabaton-open-air-festival FOREIGNER ANNOUNCES U.S. SUMMER TOUR WITH WHITESNAKE AND JASON BONHAM
FOREIGNER are going on a U.S. summer tour in 2018 with WHITESNAKE and JASON BONHAM'S LED ZEPPELIN EVENING as special guests (yes, you read right).
The tour will start on Friday, June 15 in Bangor, Maine at Darling's Waterfront Pavilion, and will last until August 1, when they end the whole party at Five Point Amphitheater in Irvine, CA.
Tickets for the tour go on sale to the general public beginning Friday, December 8. Dates can be found at foreigneronline.com and whitesnake.com
In related news.. WHITESNAKE has set "Flesh & Blood" as the tentative title of its long-awaited next album, due in early 2018 via the band's new deal with the Warner Music Group Worldwide and Rhino Entertainment. BEHEMOTH CONFIRMED FOR GEFLE METAL FESTIVAL
BEHEMOTH have been confirmed for Gefle Metal Festival, which take place in Gävle, Sweden on July 13-14, 2018.
Confirmed since earlier are WATAIN, VENOM, AT THE GATES, SODOM, GRAVE DIGGER, LACUNA COIL, The LURKING FEAR, F.K.Ü. etc.
More info at geflemetalfestival.se SODOM TO BE REJOINED BY 3 FORMER GUITARISTS AT 35TH ANNIVERSARY SHOW
German thrash metal veterans SODOM will be rejoined by former guitarists Josef "Grave Violator" Dominik (who was in the band 1984-1985), Frank "Blackfire" Gosdzik (1986-1989) and Andy Brings (1991-1995) during their 35th-anniversary show on December 26 at Zeche in Bochum, Germany.
SODOM's current lineup includes bassist/vocalist and sole remaining original member Thomas "Angelripper" Such, along with guitarist Bernd "Bernemann" Kost and drummer Markus "Makka" Freiwald.
sodomized.info BLOODBATH TO RECORD NEW ALBUM IN 2018
Swedish/British death metal supergroup BLOODBATH - which features in its ranks KATATONIA's Jonas Renkse and Anders Nyström, along with OPETH's Martin Axenrot and PARADISE LOST's Nick Holmes - is planning to enter the studio in early 2018 to begin recording the follow-up to 2014's "Grand Morbid Funeral" album.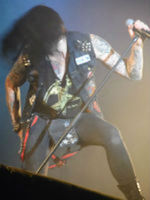 HARDCORE SUPERSTAR ANNOUNCES SWEDISH TOUR DATES FOR 2018
Swedish party hard rockers HARDCORE SUPERSTAR have announced a whole bunch of new tour dates in Sweden during 2018. You can (hopefully) find these dates at hardcoresuperstar.com SINGLES BOX SET WITH THE DAMNED IN JANUARY
BMG are going to release a deluxe vinyl box set of 5 early singles with British punk rock legends The DAMNED. The title is "Stiff Singles 1976-1977", and it will be released on January 26, 2018.
The box set is available to pre-order from pledgemusic.com/projects/the-damned-new-album/items/252564
officialdamned.com SOLO ALBUM WITH STATUS QUO'S RICK PARFITT IN MARCH
Late STATUS QUO guitarist/vocalist Rick Parfitt's debut solo album, "Over And Out", will receive a posthumous release on March 23, 2018 via earMUSIC.
Despite the fact Rick Parfitt had finished recording his guitar and vocal parts, a recording session was planned to happen in February 2017. Certain tracks were not totally finished when Rick died on Christmas Eve 2016. The call to help ensure that his work could be completed, so that the world could hear it was answered by musicians of the calibre of QUEEN's Brian May and MUSE's Chris Wolstenholme, both of whom were close to Rick. Rick's son, Rick Parfitt Jnr, was also involved in the creative process, as were John "Rhino" Edwards and Alan Lancaster, amongst many others. NEW ALBUM WITH NECROPHOBIC IN FEBRUARY
"Mark Of The Necrogram" is the title of Swedish death metallers NECROPHOBIC's upcoming new studio album, which is set to be released through Century Media Records on February 23, 2018.
necrophobic.net GRAVE PARTS WAYS WITH DRUMMMER
Swedish death metal veterans GRAVE have parted ways with drummer Ronnie Bergerstål.
grave.se URIAH HEEP ANNOUNCES NORTH AMERICAN TOUR
British progressive hard rock veterans URIAH HEEP are going on a North American tour in February/March 2018. Tickets are available now. More info at uriah-heep.com
MORE NEWS Take Me To The Top


This site has been online since 2001.
All reviews and photos/images by Jimmy Blom.