RANDY BLACK IS THE NEW DRUMMER IN DESTRUCTION
He has already been playing with the band for a while, but Randy Black (ANNIHILATOR, PRIMAL FEAR) has now officially become the new drummer for German thrash legends DESTRUCTION. Randy will make his official debut as the band's new drummer at Wacken Open Air on August 3.
destruction.de NEW ALBUM WITH NORDIC UNION IN NOVEMBER
Melodic hard rockers NORDIC UNION - the collaboration between Erik Mårtensson (ECLIPSE, W.E.T.) and Ronnie Atkins (PRETTY MAIDS) - will release their second album, "Second Coming", on November 9 via Frontiers Music.
facebook.com/nordicunion frontiers.it NEW ALBUM WITH ANAAL NATHRAKH IN SEPTEMBER
On September 28, Birmingham extreme metallers ANAAL NATHRAKH will release their 10th full-length album, "A New Kind Of Horror", via Metal Blade Records. The disc's first single, "Forward!", is available now.
Listen to the single and pre-order the album here: metalblade.com/anaalnathrakh
anaal-nathrakh.com NEW ALBUMS WITH RED DRAGON CARTEL AND STEPHEN PEARCY IN NOVEMBER
Former Ozzy Osbourne guitarist Jake E. Lee's band RED DRAGON CARTEL will release a new album, "Patina". And RATT singer Stephen Pearcy will also release a new album, "View To A Thrill". Both albums will be released on November 9 via Frontiers Music Srl.
reddragoncartel.com facebook.com/SEPearcy frontiers.it NEW ALBUM WITH NAZARETH IN OCTOBER
Old Scottish rock veterans NAZARETH, who celebrate their 50-year anniversary this year, will release their 24th studio album, "Tattooed On My Brain", on October 12 via Frontiers Music Srl.
It will be their first album with new vocalist Carl Sentance (ex-PERSIAN RISK, Don Airey).
nazarethdirect.co.uk frontiers.it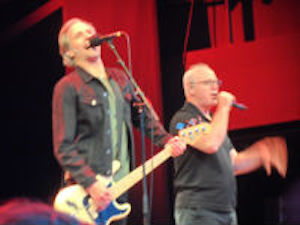 BAD RELIGION, RANCID, SOCIAL DISTORTION AND THE INTERRUPTERS CONFIRMED FOR SURF CITY BLITZ
The line up for this year's Surf City Blitz has been announced. The list of bands playing it includes The OFFSPRING, SOCIAL DISTORTION, PENNYWISE, RANCID, BAD RELIGION, SUICIDAL TENDENCIES, FEAR, SNUFF, MAD CADDIES, BLACK REBEL MOTORCYCLE CLUB, The INTERRUPTERS, VOODOO GLOW SKULLS and more.
The event is scheduled for October 27-28 at Hunting State Beach in Hunting Beach, CA, U.S.A.
surfcityblitz.com TIM RIPPER OWENS AND SIMON WRIGHT TO TAKE PART IN ORCHESTRAL TRIBUTE TO AC/DC
Former JUDAS PRIEST singer Tim "Ripper" Owens and ex-AC/DC drummer Simon Wright will take part in the world's first AC/DC orchestral tribute tour, set to take place this fall, mainly in Australia. The project goes under the name "Let There Be Rock – Orchestrated", and will feature all the hits from AC/DC's career from both Bon Scott and Brian Johnson eras.
Except for Owens and Wright, the lineup will feature NOISEWORKS founding bassist Steve Balbi, guitar legend Joel McDonald, former bassist for ARIA Hall Of Famers The ANGELS James Morley, MONDO ROCK bassist Paul Christie, and introducing the female rock vocalist Cynthia Gallie.
Tickets go on sale to general public on Monday, July 23. And the few dates are:
Nov. 30 - Palais Theatre, Melbourne
Dec. 01 - Crown Perth, Perth
Dec. 06 - Enmore Theatre, Sydney
Dec. 07 - Anita's Theatre, Thirroul
Jan. 19 - Belasco, Los Angeles, CA
youtu.be/f7Ypd_HnF6k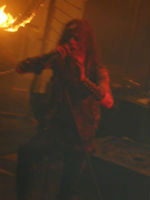 WATAIN ANNOUNCES SWEDISH TOUR DATES
Swedish black metallers WATAIN will do 4 shows in Sweden in October, with support from OBNOXIOUS YOUTH and DREADFUL FATE. These dates are:
Oct. 12 - Nöjesfabriken, Karlstad
Oct. 13 - Folkets Park, Huskvarna
Oct. 19 - Kulturbolaget, Malmö
Oct. 20 - Trädgår'n, Göteborg
Tickets can be bought here: livenation.se/artist/watain-tickets
templeofwatain.com NEW ALBUM WITH HIGH ON FIRE IN COTOBER
California heavy rockers HIGH ON FIRE have set "Electric Messiah" as the title of their 8th studio album, due in October via Entertainment One.
highonfire.net AT THE GATES ANNOUNCES 2 SWEDISH DATES WITH NIFELHEIM AND VAMPIRE
Swedish death metal legends AT THE GATES will do 2 shows in Sweden with NIFELHEIM and VAMPIRE. The exclusive dates are:
Oct. 5 - KB, Malmö
Oct. 6 - Pustervik, Göteborg
Tickets go on sale Friday, July 20.
atthegates.se facebook.com/Nifelheim.Official facebook.com/vampiretheband DEMON HEAD ANNOUNCES SCANDINAVIAN TOUR
Danish "diabolic" rock act DEMON HEAD will be touring in Denmark, Sweden and Norway in September. And the dates are:
20 Sep - DK, Stengade, Copenhagen
21 Sep - SWE, Sticky Fingers, Gothenburg
22 Sep - SWE, Skylten, Linköping
25 Sep - SWE, Geronimo, Stockholm
26 Sep - SWE, Plan B, Malmö
27 Sep - NO, Krøsset, Oslo
28 Sep - NO, Heavy Night Vol 3, Haugesund
29 Sep - DK, HQ, Aarhus
facebook.com/Demoncoven KVELERTAK TO CONTINUE WITH NEW SINGER
Norwegian rock/metal band KVELERTAK will continue with a new singer, which will be announced at their show on Friday, July 20 at Fjellparken in Flekkefjord, Norway.
Singer Erlend Hjelvik announced yesterday (July 16) that he has decided to leave the band.
KVELERTAK is currently working on their next album, intended for release in 2019.
kvelertak.com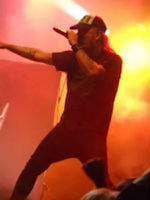 AT THE GATES TO SUPPORT BEHEMOTH IN NORTH AMERICA
Polish black/death metal band BEHEMOTH are going on a North American tour in October/November, with Swedish death metal legends AT THE GATES as special guests, and American metal band WOLVES IN THE THRONE ROOM as support act.
Tickets go on sale July 20. For more info, check out 1 of these sites: behemoth.pl atthegates.se wittr.com NEW ALBUM WITH HYPNOS IN SEPTEMBER
Swedish hard rockers HYPNOS have set "Set Fire To The Sky" as the title of their new album, which will be released on September 28 via The Sign Records.
The first single, "Deadline", will be released on July 30.
You can pre-order the album here: freighttrain.se/en/the-sign-record/hypnos
facebook.com/hypnosboogie thesignrecords.com KVELERTAK PARTS WAYS WITH SINGER
Singer Erlend Hjelvik has decided to leave the Norwegian rock/metal band KVELERTAK.
Due to circumstances out of Erlend's control, he will not be able to perform the last 4 shows in Norway this summer.
Read his statement at: facebook.com/Kvelertak
kvelertak.com ONSLAUGHT PRESENTS NEW DRUMMER AND GUITARIST
British thrash veterans ONSLAUGHT got a new drummer, James Perry, and guitarist, Wayne Dorman.
onslaughtuk.com LIVE ALBUM WITH GRANDE ROYALE IN SEPTEMBER
Swedish rock band GRANDE ROYALE will release a live album, titled "Captured Live", on September 21 via The Sign Records. The album was recorded in Flensburg, Germany last year.
Pre-order: freighttrain.se
granderoyaleoff.bandcamp.com thesignrecords.com EXODUS TO HEADLINE EUROPEAN EDITION OF MTV HEADBANGERS BALL TOUR
As San Francisco Bay Area thrash metal legends EXODUS are just finishing their summer run across Europe, the band has announced that it will return to the continent in November and December to headlline the 2018 edition of the renowned "MTV Headbangers Ball Tour", which will lead them through 17 cities and venues in 9 countries. The lineup will be completed by newly re-structured Ruhr Area thrash veterans SODOM, U.S. metal act DEATH ANGEL plus Greek underground metal band SUICIDAL ANGELS.
The dates are these:
Nov. 30 - D Leipzig, Hellraiser
Dec. 01 - CZ Zlín, Hala Euronics
Dec. 02 - H Budapest, Barba Negra
Dec. 03 - PL Wroclaw, A2
Dec. 04 - D Hamburg, Markthalle
Dec. 05 - NL Tilburg, O13
Dec. 06 - UK London, Electric Ballroom
Dec. 07 - D Oberhausen, Ruhrpott Metal Meeting
Dec. 08 - D Geiselwind, Christmas Bash
Dec. 09 - A Vienna, Arena
Dec. 10 - D Ravensburg, OberschwabenHalle
Dec. 11 - D Wiesbaden, Schlachthof
Dec. 12 - D Saarbrücken, Garage
Dec. 13 - D Ludwigsburg, Rockfabrik
Dec. 14 - I Novara, Phenomenon
Dec. 15 - CH Lausanne, Les Docks
Dec. 16 - D Munich, Backstage
Trailer for the tour: youtu.be/qMEVVSn4seg
headbanger.deinetickets.de exodusattack.com sodomized.info deathangel.us suicidalangels.com NEW ALBUM WITH EX-HARDCORE SUPERSTAR GUITARIST THOMAS SILVER
Former HARDCORE SUPERSTAR guitarist Thomas Silver have signed with Volcano Records for the release of his new album, which will be released in November.
youtube.com/watch?v=Oars8MyLfs8 volcanopromotion.com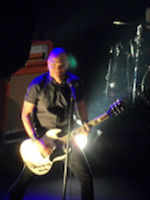 DANKO JONES ADD 4 MORE SHOWS TO EUROPEAN TOUR
Canadian hard rocking trio DANKO JONES have added 4 dates to their European fall tour. And those dates are:
Nov. 18 - Alkmaar, Victorie (NL)
Nov. 28 - Zurich, Dynamo (CH)
Dec. 07 - Solothurn, Kofmehl (CH)
Dec. 15 - Copenhagen, Pumpehuset (DK)
Tickets, info and more dates at: dankojones.com/tour MUSTASCH ANNOUNCES NORTH AMERICAN TOUR
Swedish heavy hard rockers MUSTASCH are going on their first North American tour in September/October. All dates (and more) can be found at: mustasch.net THE QUIREBOYS TO RE-RELEASE "HOMEWRECKERS & HEARTBREAKERS"
The QUIREBOYS' fifth studio album, "Homewreckers & Heartbreakers", will be re-released as a 10th-anniversary limited-edition digipack on September 3 via Off Yer Rocka Recordings.
quireboys.com offyerrocka.com DIAMOND HEAD ANNOUNCES EUROPEAN TOUR
NWOBHM legends DIAMOND HEAD will be busy touring in Europe from late September to late November. Dates can be found at: facebook.com/DiamondHeadOfficial OPETH WORKING ON NEW ALBUM
Swedish progressive rock/metal band OPETH are currently working on new material for their next album. They hope to release the new studio album in the first quarter of 2019. PARADISE LOST ANNOUNCES NORTH AMERICAN TOUR
U.K. gothic doom/death pioneers PARADISE LOST will return to North America after a 6-year absence for a headlining tour in support of their latest album, "Medusa". Joining them are Iceland's premiere psychedelic post-metal export SÓLSTAFIR, as well as The ATLAS MOTH. Tickets go on sale Friday, July 13. Dates can be found at: paradiselost.co.uk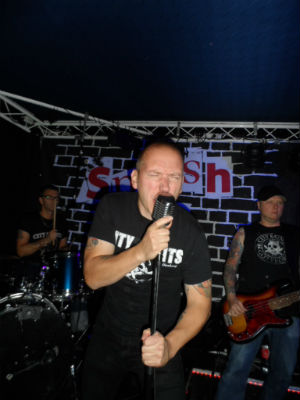 NEW 7" EP WITH CITY SAINTS NEXT WEEK
Swedish punk rockers CITY SAINTS are going to release a new 7" EP, "Weekend EP", on July 20 via Sunny Bastards Records. You can pre-order it from: shop.sunnybastards.de/Music/Vinyl/City-Saints-Weekend-EP-7inch-Single-150-silver-marbled-Vinyl-MP3::2769.html?language=en TYGERS OF PAN TANG ANNOUNCES SPANISH TOUR DATES
NWOBHM legends TYGERS OF PAN TANG are going to Spain for 3 shows in November. The dates are:
Nov. 16 - Coruña, Forum Celticum
Nov. 17 - Donostia, C.C. Larratxo
Nov. 18 - Valencia, Paberse Club
tygersofpantang.com NEW ALBUM WITH VOIVOD IN SEPTEMBER
Canadian progressive sci-fi metal innovators VOIVOD celebrate their 35th anniversary this year, and will release a new album, "The Wake", on September 21 via Century Media Records.
The first single from the album will be released on July 20.
VOIVOD are going on a European tour in September/October, which will start in Prague, Czech Republic on September 7 and end in Oslo, Norway on October 20. Dates can be found at: voivod.com
centurymedia.com YNGWIE MALMSTEEN, ZAKK WYLDE, STEVE VAI, NUNO BETTENCOURT AND TOSIN ABISI TEAM UP FOR NORTH AMERICAN TOUR
GENERATION AXE brings together some of the greatest guitarists of all time: Steve Vai, Zakk Wylde, Yngwie Malmsteen, Nuno Bettencourt, and Tosin Abisi. They will all once again join together to tour North America to stage 32 appearances across the country. Beginning on November 7 at the Fox Theater in Oakland, CA, the run will return to markets where the inaugural tour was celebrated and hit several new cities for the first time. The general on-sale goes live July 13. For additional information visit: generationaxe.com
yngwiemalmsteen.com zakkwylde.com vai.com nunobettencourt.com facebook.com/ animalsasleaders LACUNA COIL CELEBRATE 20 WITH LIVE RELEASE IN NOVEMBER
2018 marks the 20th anniversary of LACUNA COIL's debut. To celebrate this special year, they played a very special show on January 19 in London at the O2 Forum Kentish Town. The unique, one-time event was filmed and recorded for "The 119 Show - Live In London", which is scheduled for release on November 9.
Around the release the band will head out for a European tour to support the release of "The 119 Show - Live In London". These dates are:
Nov. 02 - (DE) Weissenhäuser Strand, Metal Hammer Paradise
Nov. 03 - (BE) Bruges, Entrepot
Nov. 04 - (NL) Leiden, Gebr. De Nobel
Nov. 06 - (CH) Pratteln, Z7
Nov. 08 - (DE) Ludwigsburg, Rockfabrik
Nov. 09 - (DE) Weinheim, Café Central
Nov. 10 - (DE) Cologne, Club Volta
Nov. 11 - (DE) Dresden, Scheune
Nov. 13 - (DE) Munich, Strom
Nov. 14 - (DE) Nürnberg, Hirsch
Nov. 15 - (IT) Milan, Santeria
Trailer: youtu.be/0Ui21FFcH9M
DANZIG ANNOUNCES HALLOWEEN TOUR
To celebrate DANZIG's 30th anniversary, special live dates for Halloween week 2018 have been announced. The short tour will end in Southern California with a big Halloween bash. These will be the last DANZIG live dates for awhile as Glenn Danzig will be concentrating on other projects which will be announced at a later date.
The Halloween tour dates are:
Oct. 24 - Portland, OR - Roseland
Oct. 25 - Seattle, WA - Sodo
Oct. 27 - Salt Lake City, UT - The Complex
Oct. 28 - (to be announced on July 25)
Oct. 31 - Denver, CO - Fillmore
Nov. 01 - Albuquerqe, NM - El Rey Theatre
Nov. 03 - Irvine, CA - FivePoint Amphitheatre NAZARETH TO RELEASE ANTHOLOGY IN SEPTEMBER
Scottish rock legends NAZARETH celebrate their 50-year anniversary this year with the release of a anthology, titled "Loud & Proud", on September 28. It will be available as 3CD, 2LP and a limited Super Deluxe box set with all their albums and a lot of other stuff.
Read more and pre-order it here: nazareth.tmstor.es
nazarethdirect.co.uk REFUSED TO REPLACE BULLET FOR MY VALENTINE AT BORGHOLM BRINNER
BULLET FOR MY VALENTINE have been forced to cancel their apperance at the Borgholm Brinner festival due to personal reasons. Swedish legends REFUSED will step in to replace them.
The festival take place at the Borgholm Castle on Öland, Sweden on July 27-28. Among the other artists are IN FLAMES (who arrange the festival), GRAVEYARD, SATYRICON, COMEBACK KID, RAISED FIST, DANKO JONES, DARK TRANQUILLITY and TRIBULATION.
borgholmbrinner.se TRIBULATION ANNOUNCES NORTH AMERICAN TOUR
Swedish metal band TRIBULATION will be touring North America in September/October. It will be a mix of co-headlining shows with PALLBEARER and their own headline shows. There will also be support acts, who are not confirmed yet.
The dates can be found at: facebook.com/Tribulationofficial UK SUBS TO RELEASE DISCOGRAPHY BOX SETS
UK SUBS have one of the largest discographies in punk history, having released at least 26 albums (depending on how you count). Each of the 26 albums is titled alphabetically with their first album being 1979's "Another Kind of Blues", and their latest album of original material being 2016's "Ziezo" (they also just released a covers album last month).
Now these veterans will be releasing the entirety of their alphabet discography, spread across 2 massive box sets. "The Albums Volume 1 (A - M)" is out July 20 via Edsel and includes 15 discs, the final 2 discs having 37 rare tracks and singles. After that, "The Albums Volume 2 (N - Z)" is out August 24, and also has 2 discs worth of rarities.
uksubs.co.uk DORO ANNOUNCES EUROPEAN TOUR
As previously reported, German metal queen DORO will release the new double album, "Forever Warriors, Forever United", on August 17 via Nuclear Blast. That will be followed by European tours in November/December and March 2019.
Pre-order the album here: media.nuclearblast.de/shoplanding/2018/Doro/forever-warriors-forever-united.html
For tour dates, go to: doromusic.de/dates_de.php NEW ALBUM WITH SOULFLY IN THE FALL
SOULFLY has set "Ritual" as the title of its new album, tentatively due in October via Nuclear Blast. EX-MALEVOLENT CREATION SINGER BRET HOFFMANN IS DEAD
Former MALEVOLENT CREATION frontman Bret Hoffmann has died after a battle with stage 4 colon cancer. He was only 51 years old. BIOGRAPHY ABOUT CORTEX TO BE PUBLISHED NEXT MONTH
A biography about Swedish cult punk rock/post punk band CORTEX will be released on August 2. The title of the book is "Skuggorna Kommer", and it will tell the whole story.
Read more (in Swedish) NIGHTRAGE TO RECORD NEW ALBUM
Greek/Swedish melodic death metallers NIGHTRAGE will enter the studio in a couple of weeks to start recording a new album.
facebook.com/nightrage NEW RATT LINEUP REVEALED
According to Metal Sludge, singer Stephen Pearcy and bassist Juan Croucier have recruited drummer Pete Holmes (BLACK 'N BLUE, RATT's Juan Croucier), lead guitarist Jordan Ziff (RAZER) and rhythm guitarist Chris Sanders (BRITNY FOX, KNIGHT FURY) to play in the new lineup of RATT.
Pearcy and Croucier are the sole remaining original members in RATT's current lineup, which will make its live debut this Saturday (July 7) in Mulvane, Kansas.
therattpack.com EX-KING DIAMOND BASSIST HAL PATINO SUFFERS MILD HEART ATTACK
Former KING DIAMOND bassist Hal Patino suffered a "mild heart attack" over the weekend. The news was revealed by his son, Danish rock singer Maryann Cotton (born Jackie Patino), who recently embarked on a North American tour, with his father handling bass duties during the trek.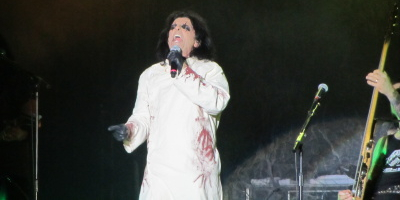 NEW LIVE ALBUM WITH ALICE COPPER IN THE END OF AUGUST
Alice Cooper will release his new live album, "A Paranormal Evening At The Olympia Paris", on August 31 through earMUSIC as 2CD digipak, 2LP gatefold (white and red LP), and digitally.
The concert was recorded at the world renowned Olympia in Paris on December 7, 2017.
alicecooper.com ear-music.net IN FLAMES RECRUITS NEW DRUMMER
Swedish metal band IN FLAMES have recruited American drummer Tanner Wayne, best known for his work with UNDERMINDED, SCARY KIDS SCARING KIDS and CHIODOS, to sit behind the kit for the band for their summer 2018 live appearances.
Wayne has stepped into IN FLAMES following the apparent recent departure of Joe Rickard. Tanner made his live debut with IN FLAMES last night (Wednesday, July 4) in Brno, Czech Republic. Which you can watch here: youtu.be/fUVPjopjNFA
inflames.com DRUMMER JIMMY DEGRASSO HAS LEFT RATT
Drummer Jimmy DeGrasso has confirmed to SiriusXM DJ Eddie Trunk that he is no longer part of RATT. Singer Stephen Pearcy and bassist Juan Croucier are the sole remaining original members in RATT's current lineup, which will make its live debut in Mulvane, Kansas on July 7.
therattpack.com SAXON REISSUES POSTPONED UNTIL NEXT MONTH
Due to a manufacturing hold-up, BMG will now re-issue SAXON's 3 classic albums "Innocence Is No Excuse", "Rock The Nations" and "Destiny" on August 10 instead of July 27.
Pre-order links: saxonband.lnk.to/IINE saxonband.lnk.to/RockTheNations saxonband.lnk.to/Destiny
saxon747.com 2 NEW LIVE ALBUMS WITH STATUS QUO IN AUGUST
STATUS QUO are to release a pair of "twin" live albums, "Down Down & Dignified At The Royal Albert Hall" and "Down Down & Dirty At Wacken", on August 17 through earMUSIC. These releases capture the legendary rock band delivering 2 sets, each full of hits, energy and passion, while each offering a radically different tone and style of delivery.
The first album features an acoustic show recorded at the legendary The Royal Albert Hall, while the second album features an electric show recorded at Wacken Open Air.
statusquo.co.uk ear-music.net DEATH DOCUMENTARY TO RECEIVE DVD RELEASE ON FRIDAY
"Death By Metal", the definitive documentary on DEATH frontman Chuck Schuldiner, will receive its long-awaited DVD release on July 6 via MVD Visual.
The film features exclusive interviews, rare footage and demos, and is the first film of its kind to tribute Schuldiner's unparalleled role in the evolution of heavy metal. It was written and directed by Canadian filmmaker Felipe Belalcazar.
Schuldiner's life and career was tragically cut short by cancer in 2001.
A trailer for the film is available here: vimeo.com/125608027
FREDAGEN DEN 13:E, KURT OLVARS REBELLER AND KÖRSBÄRSFETTERA CONFIRMED FOR HALMSTA PUNKEN 2018
The bands who will play at Halmsta Punken 2018 have been confirmed. And among the bands are FREDAGEN DEN 13:E, KURT OLVARS REBELLER, KÖRSBÄRSFETTERA, PUNK MAHONE, BOMBER, WELTSCHMERZ and HOTET.
The 1-day punk festival take place in Halmstad, Sweden on July 29.
facebook.com/Halmsta-Punken-1591991377734221 UPPSALA ROCK NIGHTS CANCELED
Uppsala Rock Nights has been canceled. The festival was supposed to take place in Uppsala, Sweden on July 6-7, but only 10-15% of the tickets they expected to sell has been sold.
Read more (in Swedish) here: facebook.com/UppsalaRockNights BUZZCOCKS, THE SKIDS AND PENETRATION TO PLAY AT THE ROYAL ALBERT HALL
British punk rock veterans BUZZCOCKS, The SKIDS and PENETRATION will be playing a very special show at The Royal Albert Hall in London, England on June 21, 2019.
Get your tickets here: royalalberthall.com/tickets/events/2019/buzzcocks-the-skids OVERKILL, DESTRUCTION AND FLOTSAM AND JETSAM TO JOIN FORCES FOR EUROPEAN TOUR
Legendary New Jersey thrashers OVERKILL will join forces with DESTRUCTION, FLOTSAM AND JETSAM and MESHIAAK for the "Killfest Tour 2019" in March 2019. The dates are:
March 08 - IT - Bologna - Zona Roveri
March 09 - IT - Bergamo Palosco - Arcadia
March 10 - DE - München - Backstage
March 14 - DE - Berlin - Columbia Theater
March 16 - DE - Osnabrück - Hyde Park
March 17 - DE - Frankfurt - Batschkapp
March 20 - FR - Paris - Trabendo
March 21 - UK - London - O2 Academy
March 22 - UK - Hammerfest
March 23 - IR - Dublin - O2 Academy
March 24 - UK - Glasgow - SWG3
wreckingcrew.com destruction.de flotsam-and-jetsam.com DISKONTO WAS GOING TO REUNITE
Swedish crust punks DISKONTO were going to reunite for some shows later this year. Unfortunately cancer took the singer's life before that happened.
facebook.com/DISKONTOUPPSALA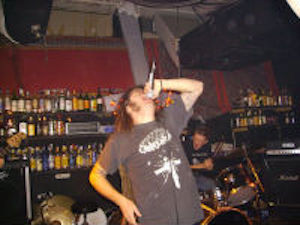 DISKONTO SINGER STEFFE IS DEAD
It seems like Stefan "Steffe" Pettersson, singer for Swedish crust punk bands like DISKONTO and TIMES SQUARE PREACHERS, as well as metal bands like SPORTLOV and USURPRESS, has died at the age of 46. I have no further details..
He made it to the news anyway (where they call him a hard rock profile): svt.se/nyheter/lokalt/uppsala/hardrocksprofil-fran-uppsala-gatt-ur-tiden (in Swedish). JUDAS PRIEST ANNOUNCES JAPANESE TOUR
JUDAS PRIEST are going to Japan for 5 shows in November:
21st November Zepp Sapporo - Sapporo, Hokkaido
23rd November Valor Culture Hall - Gifu
25th November Civic Hall - Okayama
26th November Grand Cube - Osaka
29th November Musashino Forest Arena - Tokyo
Tickets go on sale Saturday, August 4 at: eplus.jp/sys/main.jsp
judaspriest.com BLITZKRIEG ANNOUNCES EUROPEAN TOUR DATES
NWOBHM legends BLITZKRIEG have announced the first dates of their European tour in November/December. And they are:
28.11.18 UK - Newcastle, Trillians
29.11.18 UK - London, New Cross Inn
01.12.18 FR - Paris, Le Klub
04.12.18 DE - Nurnberg, Der Cult
07.12.18 NL - Weert, De Bosuil
09.12.18 NL - Den Haag, Musicon
More dates to be confirmed soon..
blitzkriegmusic.com CAREER SPANNING COMPILATION WITH JOE STRUMMER
On September 28, the estate of Joe Strummer will be releasing a career spanning 2CD compilation, called "Joe Strummer 001".
The archiving of the material and compiling was overseen by Joe's widow Luce and Robert Gordon McHarg III. The set focuses on nearly all of Strummer's non-The CLASH output, with recordings from The 101'ERS, his time with The POGUES, his late 80s solo era, his recordings with The MESCALEROS, and a few demos from 1986 recorded by Strummer and former The CLASH band mate Mick Jones.
The release includes a mix of well known material, including his duets with Johnny Cash and Jimmy Cliff, as well as some unreleased alt-versions, demos, and other previous unknown tracks. In addition to the 2CD version, there are also several box set versions that include books, vinyl records, and other items. NEW ALBUM WITH DEICIDE IN SEPTEMBER
American death metal legends DEICIDE announce the release of their 12th studio album, "Overtures Of Blasphemy", their first new album since 2013's "In The Minds Of Evil". The album will be released through Century Media Records worldwide on September 14.
centurymedia.com GATANS LAG AND ADAM NILSSON TO PLAY IN LINKÖPING
Lórient in Linköping, Sweden seems to be the place you should go to this fall if you want Swedish punk..
On October 5 Adam Nilsson, BANDET ELLINGTON, ISFRUN and 1 more act (tba) will play.
And on November 17 it's time for GATANS LAG, GRÅ VARDAG, NYA GIVEN and SYSTEMKOLLAPS.
facebook.com/Lorientlinkoping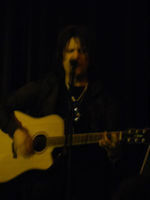 KEE MARCELLO ANNOUNCES UK TOUR
Swedish guitarist/vocalist Kee Marcello (best known for his years with multi-platinum selling band EUROPE) has announced a 6-date UK tour in October.
Kee will be performing both his own songs and EUROPE songs together with Ken Sandin (ALIEN, Joe Lynn Turner, ROCK LEGENDS, Eric Martin) and Tim Brown (Don Airey, Martin Turner ex-WISHBONE ASH, Aynsley Lister).
And the tour dates are:
October 11 - Bilston (West Midlands), The Robin 2
October 12 - London (Camden), The Underground
October 13 - Merthyr Tydfil, The New Crown
October 14 - Stoke-on-Trent, Eleven
October 17 - Manchester, Rebellion
October 18 - Glasgow, The Ferry
facebook.com/keemarcello NEW ALBUM WITH ALICE IN CHAINS IN AUGUST
ALICE IN CHAINS will release its new album, "Rainier Fog", on August 24. The latest single from the effort, "So Far Under" can be streamed here: youtu.be/qusV7bKsrAE TWISTED SISTER TO REISSUE "YOU CAN'T STOP ROCK 'N' ROLL"
On June 27, 1983, TWISTED SISTER released their second album, "You Can't Stop Rock 'N' Roll". To mark the 35th anniversary of this release, a newly remastered, expanded version of this breakout album will be available on September 14, featuring the original songs, in addition to a rare live performance of the album recorded in March 1983 at London's Marquee Club, plus 3 studio bonus tracks. Available as a 2CD set and digitally - pre-order your copy here: rh-ino.co/ycsrnr.
A live album, titled "Live At The Marquee 1983", will also be released on August 10 as a 2LP set on colored vinyl (an exclusive release for Record Store Day Crawl in the U.S.), and it includes covers of the SHANGRI-LAS' "Leader Of The Pack" and the SLADE version of "Let The Good Times Roll", plus the first-ever public performance of the song "You Can't Stop Rock 'N' Roll".
twistedsister.com NEW ALBUM WITH SATAN IN SEPTEMBER
On September 7 Metal Blade Records will release "Cruel Magic", a brand new studio album by English NWOBHM legends SATAN.
For a preview of "Cruel Magic" surf over to metalblade.com/satan, where you also can watch the video for the 1st single, "The Doomsday Clock".
satanmusic.com metalblade.de THUNDERMOTHER ANNOUNCES MORE EUROPEAN TOUR DATES
Sweden-based hard rock n roll women THUNDERMOTHER have announced part 2 of their European tour, which will take place in November/December. And the dates are:
29.11. BE – De Verlichte Geest, Roeselare
30.11. NL – Boerderij, Zoetermeer
01.12. DE – Rosenheckhalle, Ebernhahn
02.12. FR – L'Empreinte, Savigny-le-Temple
04.12. CH – Z7, Pratteln
05.12. AU – P.M.K, Innsbruck
06.12. DE – Der Cult, Nürnberg
07.12. DE – X, Herford
08.12. DE – NIKOLAUT Rockfestival, Oberhausen
thundermother.com

VRÄVARNA TO REPLACE SKITARG AT VICIOUS ROCK FESTIVAL
Swedish sex/dirt metal/punk band SKITARG has been forced to cancel their apperance at Vicious Rock Festival at Folkets Park in Trollhättan, Sweden on July 6-7. Borås, Sweden's own dirt punk veterans VRÄVARNA will play instead.
Among the other artists are The CROWN, DRAGON STEEL, DIA PSALMA, Richie Ramone, BULLET, KNOGJÄRN, The GLORIA STORY, NEKROMANT, PASTORATET etc.
viciousrock.se THE RUTS TEAM UP WITH THE PROFESSIONALS FOR UK TOUR
British punk rockers The RUTS (aka RUTS DC) will celebrate the 40-year anniversary of their debut album, "The Crack", with a UK tour in February 2019. Special guests will be The PROFESSIONALS.
Tickets go on sale Friday, June 29, and the dates can be found at rutsdc.com W.A.S.P. RECRUITS DRUMMER BRIAN TICHY FOR EUROPEAN SUMMER FESTIVALS
W.A.S.P. has recruited renowned drummer, songwriter and multi-instrumentalist Brian Tichy, known for his tours of duty with WHITESNAKE, Billy Idol, FOREIGNER and Ozzy Osbourne, to sit behind the kit for the band's current run of European festivals.
waspnation.com KINGDOM COME TO CELEBRATE DEBUT ALBUM WITH 30-YEAR ANNIVERSARY TOUR
Hard rock band KINGDOM COME was formed in 1987, and was quickly signed to Polydor Records, who released their self-titled debut album in 1988, which was a big success.
2018 marks the 30th anniversary of that album. And to celebrate that, drummer James Kottak are going to team up with original members Danny Stag (guitar), Rick Steier (guitar) and Johnny B. Frank (bass), for a tour. Original singer Lenny Wolf declined to participate in the tour, but wishes the rest of the guys all the success and best in the world. Keith St. John (ex-MONTROSE, LYNCH MOB) will be stepping up to fill that position.
This version of KINGDOM COME will tour in 2018–2019, performing their debut album in its entirety (when headlining) along with music from their second album, "In Your Face". Confirmed dates so far are:
Sept. 27 Seattle, WA – Club Sur Rocks
Sept. 29 Sacramento, CA – Holy Diver
Oct. 3 West Hollywood, CA – Whisky a Go-Go
Oct. 5 Las Vegas, NV – Vamp'd
Oct. 6 Ramona, CA – Ramona Mainstage
Oct. 11 St. Charles, IL – Arcada Theatre
Oct. 17 Warrendale, PA – Jergel's
Oct. 18 Sellersville, PA – Sellersville Theater
Oct. 21 Derry, NH – Tupelo Music Hall
Oct. 23 New Bedford, MA – Greasy Luck Brewpub
Many more dates will be added, so keep an eye on kingdomcomeband.com MORE NEWS Take Me To The Top


This site has been online since 2001.
All reviews and photos/images by Jimmy Blom.