REVIEWS 2015 - Page 2
KARMA TO BURN / SONS OF ALPHA CENTAURI - Split 7" Single
I do not really know, but instrumental songs is not exactly my kind of thing, but that is what these 2 bands gives us. 2 pretty anonumous rock songs. Neither really good or bad. Luckily they just give us 1 song each. Imagine a whole album of this stuff. It just would not work for me I suppose.
KARMA TO BURN hail from the Appalachian mountains of West Virginia, and formed in 1994 already. I do not know how long that last though, because they reformed in 2009. The music is described as a blend of driving rock hooks and hard stoner riffs.
I do not have such "interesting" information about SONS OF ALPHA CENTAURI though. But their music is described as progressive apocalyptic rock, and I think they are from the UK.
Release date: April 23, 2015 (H42 Records)
www.sonsofalphacentauri.co.uk
April 17, 2015
MOS GENERATOR / DAILY THOMPSON - Split 7" Single
American heavy rock vs. German fuzz-rock.
MOS GENERATOR formed during the winter of 2000 in Port Orchard, Washington. They have released 6 studio albums, 1 retrospective album and 1 live album. Pretty good stuff that reminds me of BLACK SABBATH.
DAILY THOMPSON was formed in late 2012 and comes from Dortmund. Not the most fun band to listen to actually, but "Mothmann" (only on the tape) was pretty good.
There is no doubt that the Americans win this fight.
Limited, hand numbered edition of 375 copies on different colors. 75 on silver vinyl, including a bonus tape with 4 more songs.
Release date: Apr. 26, 2015 (H42 Records)
April 17, 2015
Turist I Tillvaron Vol. 8 - Compilation LP


Sörling gives us another lesson in Swedish punk.
This time he decided to put out his Swedish punk compilation as a double LP, but with just 3 sides of music. And as usual there is a lot of good stuff. 21 bands from Ystad in the south to Kiruna in the north participate on this album. And there is everything from traditional Swedish trallpunk/pop punk to stone hard käng/crust core.
Among the bands are MOTVILJA, VET HUT, BENMJÖL, MATRIARKATET, URBAN SAVAGE, ILANDSPROBLEM, STRY & STRIPPARNA, SVIN, HELLRE VARGEN, NYA GIVEN, SENAP, LÅT DOM HATA OSS, MIN MAMMAS KLIMAX, SISTA DANSEN, TROTS, IDIOT IKON, DRÅP, SLOMARP, STICK OCH BRINN (on the photo above), THE JUDAS BUNCH and KNÆGT.
This might actually be the strongest volume so far, because none of the bands really suck. And that is also proof that we have a lot of great bands here in Sweden (like that was any news). It is actually a little hard to stop listening.
This is a must have!
(Turist I Tillvaron)
April 16, 2015
TRIBULATION: The Children Of The Night - Album
Once in a while there is a band that doesn't want to play like everybody else. And TRIBULATION is definitely 1 of those bands. They have released 2 albums before this one, but this is actually the first time I have heard them. I have read about them though, so it is not like I have never ever heard about them before.
They mix their death metal with a bit of thrash and heavy metal. And I must say that it is a very tasty combination. It is epic and ambitious, but at the same time it is dark and atmospheric too. I guess we can call it progressive death metal? Damned good anyway!
Some children work better during the night..
Release date: April 20, 2015 (Century Media Records)
www.tribulation.se
April 15, 2015
KHORS: Night Falls Onto The Fronts Of Ours - Album
Well, I guess you have already read the story of the band in my previous review. The differance from that album is that they started to sing in their own language (they are from Ukraine) on their fifth album, "Wisdom Of Centuries", which was released in 2012. And they continue with that on this album as well.
While the last album I reviewed with KHORS was a re-issue, this album is a completely new recording. The music is more or less the same though, so it is still really good atmospheric black metal that we get. And my favorite on this album must be "Following The Ways Of Blood" with its beautiful guitar melody.
This is a band that I really think that you should check out.
Release date: April 20, 2015 (Candlelight)
April 15, 2015
KONTINUUM: Kyrr - Album
This was really soft stuff. Not exactly what I expected from Candlelight, as it use to be some kind of extreme metal when it comes from that label. But on the other hand, you never really know what you are going to get from them. Suddenly they surprise you with something totally unexpected.
The big question is if you should call this rock at all? That is how quiet this is.
KONTINUUM was born in 2010 with the aim to make hypnotic spiritual musical noise, as they call it. But I do not think that they make that much noise. Their first album, " Earth Blood Magic", was released in 2012. "Kyrr" is their second album.
Release date: April 20, 2015 (Candlelight Records)
April 15, 2015
THUNDERMOTHER: It's Just A Tease - Single


This is a teaser for a new album, which will be released in the fall.
THUNDERMOTHER is a all-female hard rock n roll band with members from a couple of small cities in Sweden, as well as Italy and Ireland (they are based in Stockholm, Sweden though).
This is a very good song, so I look forward to hear that album. I have seen them live once as support for Michael Monroe (ex-HANOI ROCKS), and they are a really good live band too. So check them out if you get the chance.
(Despotz Records)
www.thundermother.com
STERBHAUS: Necrostabbing The Corpsefinder - Single
This is a brand new song from the upcoming album "New Level Of Malevolence", which will be released on May 29 via Black Lodge Records. Thrash/death metal straight in your face is what we get here. And it sounds really good, so that album can be interesting to hear.
I do not really know what else to say, so I save it for the album..
(Black Lodge Records)
www.sterbhaus.com
April 14, 2015
BLACK FLAME: The Origin Of Fire - Album
This band started their mission in Turin, Italy in 1998. They released 2 demos, and in 2002 their first 7quot;, "From Ashes I'll Reborn", was released, which was followed by a album, entitled "The Third Revelation", in 2003. A couple of more albums have been released since then.
The music they play is blackened death metal, and they do it very good. But a slow instrumental piece like "Lucifer Rising" doesn't fill any function.
(Avantgarde Music)
April 14, 2015
ACERO LETAL: Veloz Invencible / Duro Metal - 7" EP
A heavy/speed metal attack from Chile. It is good, and sounds like it could have been made in the 80s. But I think their songs are a little too long actually. Too much playing sometimes. It is still worth checking out though. No doubt about that!
The band was formed in Valparíso in 2007 as a 1-man band. In 2009 they had a full lineup. Their debut album will be released later this year.
(Witches Brew)
aceroletal.bandcamp.com
April 14, 2015
MÅNEGARM: Nordstjärnans Tidsålder (Re-Mastered) - Album
Oh, I still hate piano intros.
This band plays Scandinavian folk black metal and sing in Swedish. Unfortunately there is a little too much folk music for my taste sometimes. There is both male and female vocals, but mainly male.
Black Lodge Records will re-release all of MÅNEGARM's early albums. The plan is to have them all released before the end of this year. And they start with the first album, "Nordstjärnans Tidsålder" of course. All albums will be re-mastered and will come with exclusive liner notes from the band. An exclusive bundle-pack (CD + T-shirt with a brand new design) will also be available for each release in limited editions.
It is good, but hardly a new favorite band.
(Black Lodge Records)
www.manegarmsweden.com
April 13, 2015
THEN COMES SILENCE: Nyctophilian - Album
I do not really know, but I reconize the first song from somewhere in time. Like I have heard the exact same thing before. And I am not sure if I want to call this rock. It is more like a uptempo JOY DIVISION or something like that. It has more in common with zynth music. But most of the songs are pretty good, except for "Demon's Nest", which is totally useless. The best song is the first track, "Strangers".
Their own description is noisy post punk, messy psyche-rock and dreamy goth-gaze, with influences from D.A.F. and KILLING JOKE. The direction is human extinction, darkness, dystopia and death, which to me sounds more like a crust punk or black metal band. So do not expect any happy songs. There is no light here.
(Label unknown..)
April 12, 2015
MF RUCKUS: Theives Of Thunder - Album
Really good party hard rock n roll. A little like early AEROSMITH, ROSE TATTOO, MC5 and early GUNS N' ROSES, with a pinch of NWOBHM and Scandinavian action rock once in a while as well. Damned good stuff that makes you want to drink.
15 songs is a little much though, but there is luckily variation between the songs. "Talk All Day (Don't Say Shit" is a little funky for example, "All My Heroes Are In Hell" sounds like evil blues, while "Cheatin' Up" is an acoustic song in "GN'R Lies" style.
With songs like "Coffin Built For Two", "Hall Of Champions", "We Don't Party" and "Ridin'" there is no reason why you should not get this record. I would have loved this album if it would have been released around the late 90s/early 00, when I was very into action rock, garage rock and good old punk rock.
Release date: April 18, 2015 (Self released)
www.mfruckus.com
April 11, 2015
KAFIRUN: Glorification Of Holy Death - EP
Black metal from Canada with a dark and evil atmosphere over it that will hunt you to the end of the world. The vocalist sounds really tortured. It is twisted, vicious and hypnotic. Sometimes just on the border to complete chaos and destruction. But they menage to keep themselves on the right side, which saves me from a nervous breakdown.
This is their second EP. Not bad for a band who formed as late as last year.
This band is o.k., so give them a chance.
(Self released)
kafirun.bandcamp.com
April 11, 2015
HYBRID NIGHTMARES: The First Age - EP
HYBRID NIGHTMARES are an Australian extreme metal band that refuse to restrict themselves to only 1 style of metal, and are able to capture a sound that transcends genre and reflects a diverse spectrum of influences and inspirations. Always eager to defy expectations, offend and entertain. You get it all: whirlwind rhythms, hypnotic arrangements, churning black moods and triumphant melodies.
The band formed in 2008 in Melbourne.
The album start with an acoustic song, which is not extreme at all. But after that the action starts. And it is not bad at all. Most of these 5 tracks are good. So of course you should check this out.
If I should try to describe their sound a little better, then I would say that it is a mixture of death and black metal, but with a modern touch.
(Self released)
hybridnightmares.com
April 11, 2015
FORTID: 9 - Album
Pagan black metallers from Iceland. Fifth album, even though it is entitled "9". They are hardly doing anything wrong, they have some good songs, but I think there is more interesting bands to check out.
And I really don't know what else there is to say about this.. Sorry..
(Schwarzdorn Production)
facebook.com/fortid
April 11, 2015
DEVAST: Into Decimated Reality - Album (CD, Digital)
Holy shit. This is so technical and brutal sometimes that it just becomes chaos. And that is not what I want to hear.
DEVAST is a death metal band that recently reformed after a 6-year hiatus, relocation and a new lineup. This is their second studio album, which is said to be their most extreme recording.
I have definitely heard worse than this, but it is hardly my kind of death metal. Too much chaos. It is almost grind core sometimes. But if that sounds good to you, go ahead and try it.
(Gore House Productions)
facebook.com/devastbdm
April 11, 2015
KAMCHATKA: Get Your Game On - Single
Oh, a new single from this retro (late 60s/early 70s) bluesy hard rock band. A very good tune that you definitely should check out if you are into that kind of stuff (but who isn't these days?).
The song comes from their new album, "Long Road Made Of Gold", which will be released in May by Despotz Records. That could also be worth checking out of course.
(Despotz Records)
www.kamchatka.se
April 10, 2015
IMPALERS: God From The Machine - Album
So called teutonic thrash metal with a band from Denmark. Their thrash is rooted in the extremity and aggressiveness of the German metal bands of the 80s. And no, they are not here to reinvent the genre, so do not expect anything new and unique. This is just pure good old thrash metal. And if you like that, then you should like this too of course.
The only time it sounds any different is in "Beyond Trinity" (slow verse and a little faster and heavier chorus) and "The Walls Of Eryx" (an 8.18 minutes long instrumental song), which I think sounds more like METALLICA than the German bands.
This is the second full length with IMPALERS. Their first album, "Power Behind The Throne", was released in 2013, and followed by a self released EP, titled "Prepare For War", last year.
I like what I hear, so give it a try.
(Crime Records)
facebook.com/Impalers
April 10, 2015
David J. Caron: Invisible - Single
If you want to be the one who just have to discover new genres all the time, then you could call this air rock. But we say AOR with a touch of pop, so that you actually understand what it is all about. Maybe a little too much pop for my taste, even though it is a pretty good song. David himself call it modern rock though.
I have reviewed this guy before, and just like last time I think the song is a little too long for its own good. Even though it's not longer than 5 minutes. But he repeat the title like 493 times, and how funny is that?
(Self released?)
April 10, 2015
ZATOKREV: Silk Spiders Underwater... - Album
ZATOKREV was founded in April 2002 in Basel, Switzerland. They have released a couple of albums since then, but the question is why anybody find this interesting? I mean progressive sludge is not always that funny (hardly ever actually, but I like the Swedish band COLOSSUS). And there is not that much vocals either, which makes it even more boring. But for some reason they seems to have their "ass lickers" who think they are so damned good. I do not get it!
But o.k., it is not totally hopeless. I can admit that. The second track, "Bleeding Island", for example is actually good. And the second last song, "Swallow The Teeth", is o.k. too. But that is unfortunately the only good moments on the whole album.
Release date: April 13, 2015 (Candleight Records)
April 9, 2015
The LEATHER NUN: Whatever - Album
Most over-rated return of the year? It did not take long before that question pop up in my brain. And that was before I had even heard the album, and just had got the news that they would release a new album.
Not that I have heard that much with THE LEATHER NUN, but I have heard a couple of records at least and even seen a version of the band live once, and the only songs that I really like is "No Rule" and "Ensam I Natt". The rest is more or less just crap according to me (there might be 1 or 2 songs that are o.k. though).
I do not know if this album will make any old fans happy. It is a lot of love and rain in the titles. Is that usual subjects with this band? Band by the way? When there is just the singer left I see it more like a solo project. And as usual with solo records, it is not as strong as the material that the band created. And should not his English be a little better after all these years?
But if you happens to like weak and boring old man rock like the more weak solo material with Iggy Pop, then I will not stop you from listening to this.
Release date: April 17, 2015 (Wild Kingdom)
April 8, 2015
CAELESTIA: Beneath Abyss - Album
Excuse me, but what are you doing?
Well, we are just playing some Greek metal.
Greek metal? It sounds more like a opera to me.
But we play female-fronted melodic death metal.
Really? Because I hear a lot of male vocals. So how long have you been doing that then?
Well, we started in 2012 as ME AND MYSELF. But we changed it to CAELESTIA in 2013.
What a stupid name if you were a band. I understand why you changed the name.
Yes.
Any album released?
Our second album, "Beneath Abyss", is out now actually. 10 songs, including 2 instrumental tracks, featuring guest apperances from SOILWORK singer Björn "Speed" Strid and SODOM drummer Markus Freiwald, as well as some Greek artists like Andrew Geo, Kostas Savvidis and Nick Yngve.
Instrumental songs? What is the meaning with that?
Well, there is no vocals in those songs.
Exactly! That is why I ask what the meaning is with them. Because it is not that funny to listen to songs without any vocals.
Hm.. Que? I do not understand..
Exactly.. You do not listen, you just play. But some of the other stuff is o.k. though, while some is not so good.
Well, thank you.. I suppose?
(Inverse Records)
caelestiaband.com
April 7, 2015
MINUTIAN: Inwards - Album
This is the second album from these Finnish prog rockers. There is both good and bad stuff here, but it is definitely not a party album (might be good if you want all your death metal friends to leave though). I have been listening a couple of times now, but I just do not really know what else to say about these 9 tracks.. But I guess that if you like progressive rock, this is definitely something that you should check out. I do not have the time for any deeper analyze than that (always about 50 records waiting for a review).
(Secret Entertainment)
April 7, 2015
KING HITTER: (no title) - EP
5 tracks of pretty catchy and melodic rock that reminds me of FOO FIGHTERS and VOLBEAT (in lack of anything else to compare with). Really good stuff! Especially the first track. I would not say no to some more from this band.
This is a pretty new band featuring Karl Agell (ex-CORROSION OF CONFORMITY, LEADFOOT). And that is all I know about this band..
(Restricted Release)
April 6, 2015
KHORS: Cold - Album
This is their second album, which was originally released in 2006. Last year it was remixed and remastered, and it is now re-released by Svarga Music.
KHORS is an atmospheric black metal band from Ukraine, who began their adventures in 2004. A couple of records have been released through the years.
I think it sounds really good. So if you do not have this album yet, it could definitely be worth checking out now.
By the way.. They will release a completely new album, titled "Night Falls Onto The Fronts Of Ours", later this month.
Release date: Apr. 6, 2015 (Svarga Music)
April 5, 2015
WRATHAGE: Discipline - Album
There is only 1 good moment on this record, and that is when the album finally is over and I can enjoy the silence. Their industrial war black metal (or whatever I should call this extreme metal brew) is not really my kind of drink.
Their brutality is sometimes mixed with majestic orchestral parts, like it was a metal opera. But the day that they let these guys in to the opera, I think I actually would like to be there, just to watch the costume clowns shit in their pants when this band scare the shit of them.
It seems like this band has been around since 1997, and they comes from Oulu, Finland. It has taken 3 years to make this album. If that was a waste of time or if it is just me who does not get this is up to somebody else to judge. But I have definitely heard worse though.
(MAA Productions)
wrathage.bandcamp.com/album/discipline
April 4, 2015
THERAPY?: Disquiet - Album
This is a band that I have not heard anything from in many, many years. I remember them from the 90s and their biggest hit "Going Nowhere". But after that I know nothing as the Spanish chef said. And this does definitely not sound like I remember them. Some lame soft/melodic heavy rock.
The first time I heard this album, there was no potential at all. But already the second time I listen it is much better. It might not be a hit album though, so it is probably soon forgotten.
THERAPY? have always been the outsiders who are lurking around in the shadows, but they are still around and creative after 26 years of existance. This is the 14th studio album from this Northern Irish trio, and I do not think that this album will change anything for them. It is just a reason to go on tour again.
(label unknown)
April 3, 2015
TOTO: XIV - Album
Not a band that I listen to on a daily basis, if we put it that way. And I have no records with them. But if I hear any of their old hits from the 70s/80s (like "Rosanna", "Africa" or "Hold The Line"), then I like it. My favorite on this album is the first single, "Orphan". And if there is any kind of music justice in the world of today, then it should be a big hit.
Even though I have not heard that much with them before, I would say that not much have changed through the years. It is the same old sound. So no fan should be dissapointed. I like it anyway.
This is their first studio album since 2006's "Falling In Between".
(Frontiers Music SLR)
www.totoofficial.com
April 2, 2015
EXHUMATION: Opus Death - Album
Yes! That's the way I like it baby! Raw, brutal and intense death metal that almost sound like black metal.
This band comes from Indonesia, and this is their second album.
They are obviously not doing it like the Scandinavian and American bands. It sounds more like eastern Europe and South America. Maybe a little more obscure, or however I should explain it?. It is definitely something that will work just fine for both those who like black metal as well as those who like death metal, or any kind of extreme metal.
(Dunkelheit Produktionen)
April 1, 2015
TRISTANA: Virtual Crime - Album
Isn't there a other band with the same name or something similar? Anyway, this is a modern alternative metal band from Slovakia. Heavy guitars are mixed with a lot of keyboards, and there is both "angry" as well as clean vocals. But it is mainly pretty melodic stuff. This is their third album.
In "Jannie's Dying" we get some female vocals by Chiara Tricarico (TEMPERANCE), which is very nice. I would like to hear some more of that. It is definitely the best song on this album, even though there is some other good stuff here too. More of that, please!
(Bakerteam Records)
www.tristana.sk
Mar. 31, 2015
CHUGGER: Human Plague - Album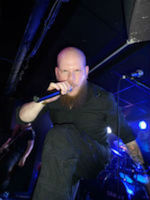 They call this groove death metal, but as the band comes from Göteborg, Sweden, there is of course also a piece of the famous Gothenburg sound, that bands like IN FLAMES, AT THE GATES and DARK TRANQUILLITY have made famous all over the world.
CHUGGER released their first EP, "Scars", in 2013, and now their first album is here.
As you might know I am more into the Swedish old-school death metal than any modern or technical stuff, but this is actually a very good band that I think you should check out. Especially if you like a little heavier death metal with melodies. Not a single bad song on the whole album!
Release date: April 1, 2015 (Rambo Music/Gain Music Entertainment/Sony Music)
chugger.se
Mar. 30, 2015
ABRAMIS BRAMA and TORNET at Cajsa Warg in Göteborg, Sweden on March 28, 2015
So, yes I went to Göteborg to see ABRAMIS BRAMA again.. I had nothing better to do, so why not? Saturday is party day anyway, isn't it? Ha, ha.
But the first band was TORNET. Another 70s hard rock band. They sounded like a cross between SPIDERS and GRAVEYARD to me. In other words good stuff.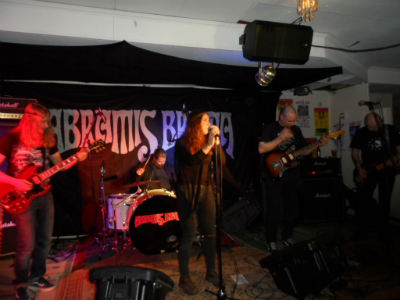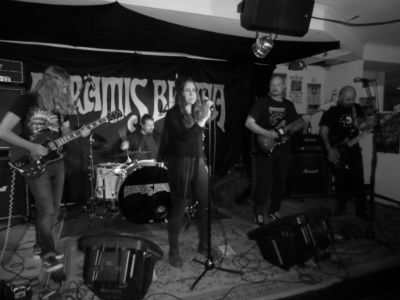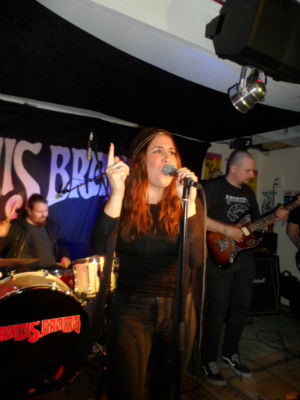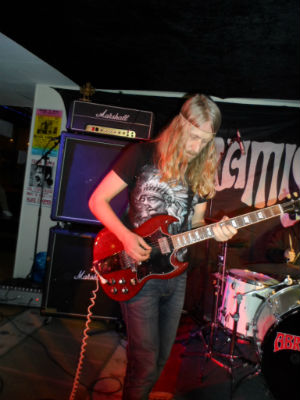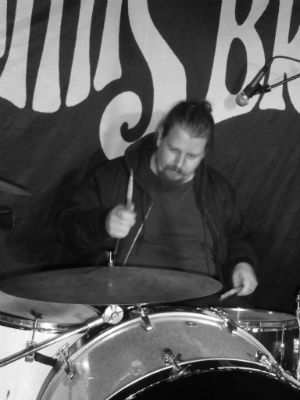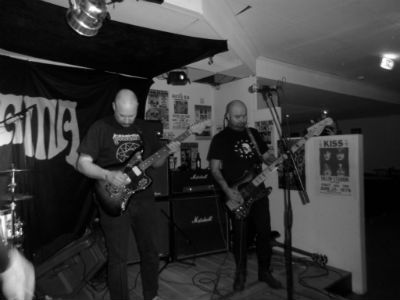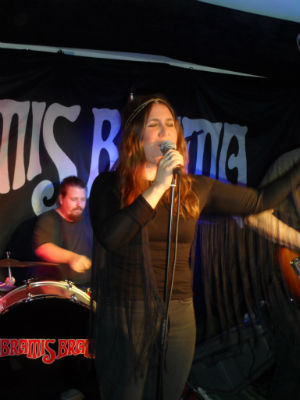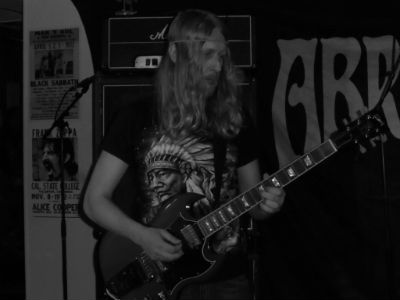 I do not have that much to say about ABRAMIS BRAMA. I got a little drunk, but they delivered another good show, so everything was just great. Enjoy my photos instead..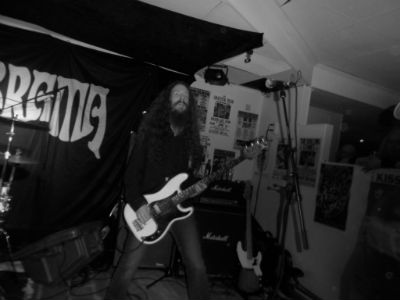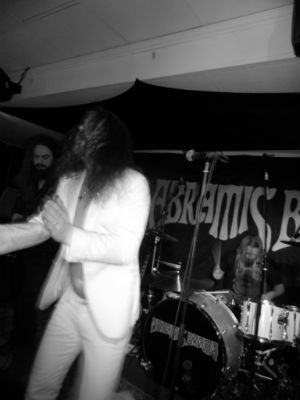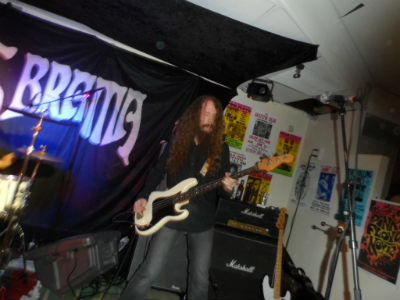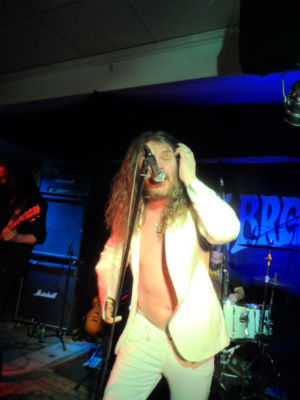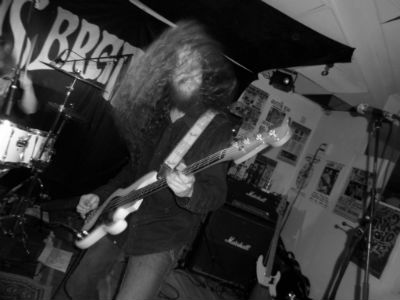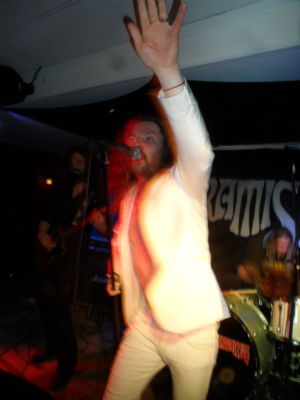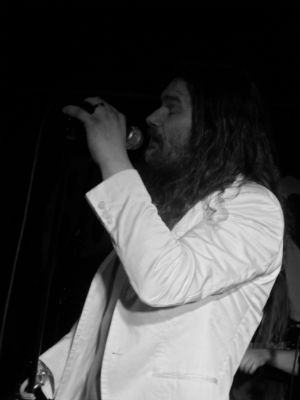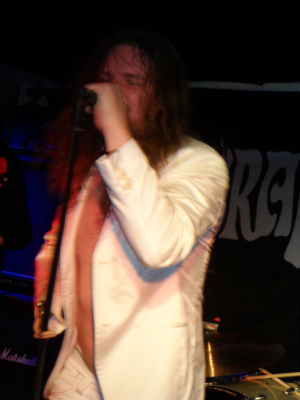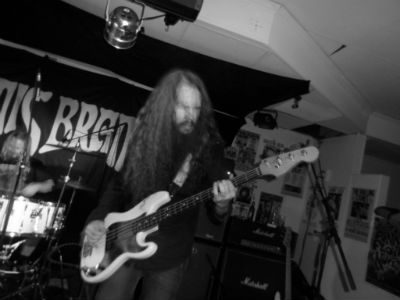 Mar. 29, 2015
ABRAMIS BRAMA and MAGIC JOVE at Rockborgen in Borås, Sweden on March 27, 2015
It is not too often that anything interesting happens in this little city, but once in a while..
O.k., so the place open at 19.00, so I expected that the first band would start at 20.00. But no, not Rockborgen (who has been around since the 70s sometime, and should have a lot of experience). And it is not the first time that happens. I arrived around 20.30 or something like that, and then the first band was doing their soundcheck (!). It took at least 45 minutes before the concert started, and that is NOT o.k. I mean, what is the problem? Still amateurs after 40 years or something.
Well, MAGIC JOVE was damned good though. A local power trio playing blues rock. Very much Jimi Hendrix and some CREAM too. The slow songs sounded like GRAVEYARD though. Definitely something you should check out. I regret that I didn't buy their record.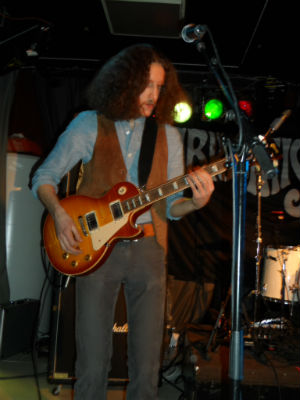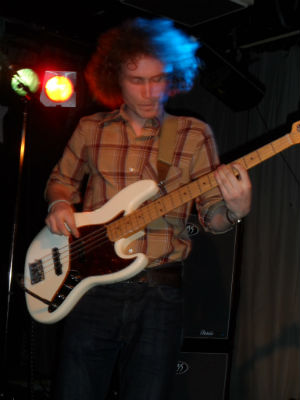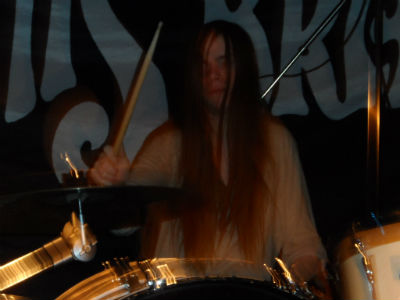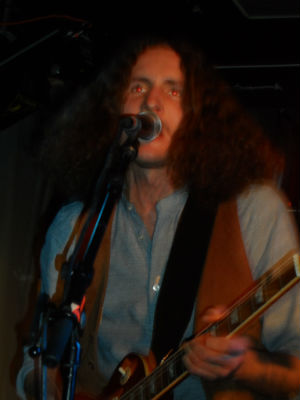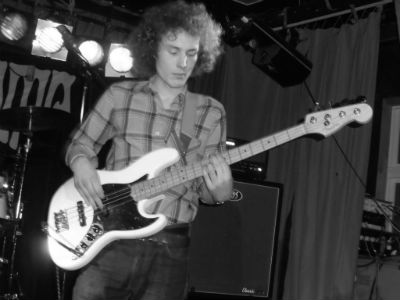 After the show I wanted another beer (only 3.5%), but belive it or not, all beer was sold out! Well, let's start the show earlier, and you might not run out of beer.
And finally ABRAMIS BRAMA started to play. When the singer ran out on the stage he seemed to be very drunk, but I am not so sure about that, because he got control of everything pretty soon. Another damned good band! I have just heard a couple of songs many years ago, which I like a lot. But they proved that they have more good songs in their catalogue, and delivered a damned good show. Really fat live sound too. It is almost like I want to go to Göteborg (aka Gothenburg) to check them out again tonight (if you are there or near, GO!). Too bad that it wasn't more than approximately 70 people.
For those of you who do not really know who ABRAMIS BRAMA is, they are a heavy hard rock band singing in Swedish. A little like Swedish 70s artists like Pugh Rogefeldt and NOVEMBER. But there is also a touch of MOUNTAIN and BLACK SABBATH.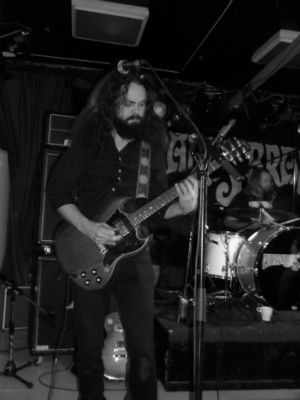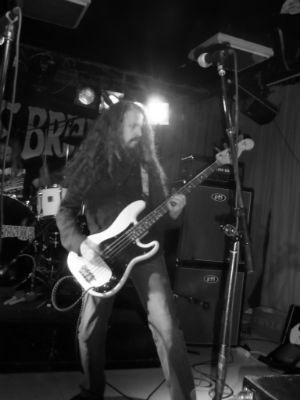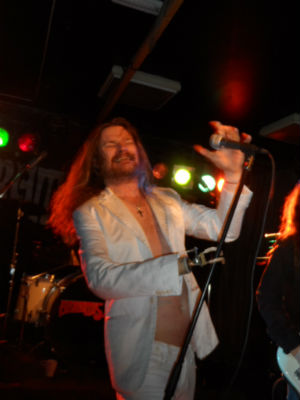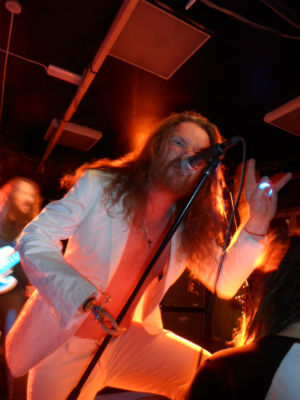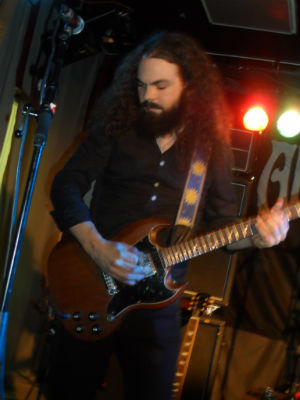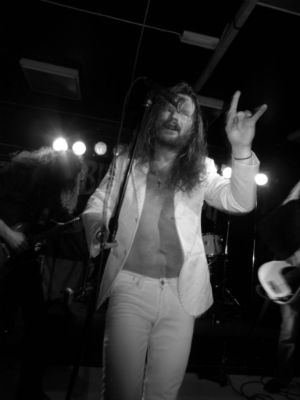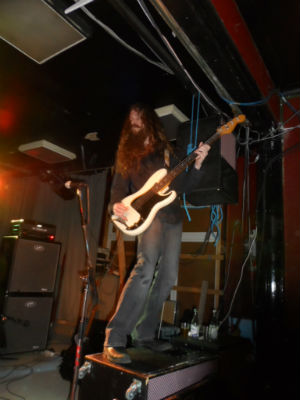 When I came out of the house the clock was 00.25, so it was no idea to go to a club for some beer, as most places who are any good close at 01.00 here. So I went home to bed instead.
Mar. 28, 2015
MORGOTH: Ungod - Album (CD, LP, Digital)
Really evil death metal from these German veterans. It is hardly anything new and unique. Just good old death metal the way it was meant to be. But damned good anyway! These guys still got some energy left.
This is the first album with new singer Karsten "Jagger" Jäger.
The band was formed by 4 young men in 1987. Which means that they were 1 of the first German death metal bands, and also 1 of the few that existed there at that time. They split up 10 years later, but in 2010 the corpses started to move again. "Ungod" is the first studio album since 1996.
This is definitely worth checking out! And if you do not, then you are really stupid.
Release dates: Europe - March 30, 2015 / North America - April 7, 2015 (Century Media)
www.morgoth-band.com
Mar. 27, 2015
BARREN EARTH: On Lonely Towers - Album (CD, 2LP, Digital)
The Finnish music scene have lots of metal bands, and here is another one. BARREN EARTH play progressive, melodic death metal, and was formed in 2007. The band features members from AMORPHIS, MOONSORROW, HAMFERÐ and KREATOR.
It is a very varied piece of work. A wild mixture of death metal and progressive rock, as well as epic and atmospheric landscapes. 2 of the songs are over 11 minutes long, and 3 of them are over 7 minutes.
There might not be that much hit potential in this kind of music, but I can not say that it is bad. It is actually pretty good, but also very special.
European release date: March 30, 2015 (Century Media)
www.barrenearth.com
Mar. 27, 2015
THE QUIREBOYS: St Cecilia And The Gypsy Soul - 4CD Box Set
THE QUIREBOYS spent a week in the Swedish small town Klippan, where there is not too much to do. So inspired by the success of 2009s acoustic album "Halfpenny Dancer", they started to work. The original plan was to record both some new songs and rework some old songs. But that changed pretty soon, and suddenly they had 10 new songs.
This is their ninth album, and it will be released as part of a 4CD Deluxe Edition, with "Halfpenny Dancer" and a whole concert from the tour for that album as a bonus. And yes, all the material is acoustic songs. But that does not mean that it is slow and boring. No, this is almost as usual, but without electricity and some other instruments (like fiddles, pedal steel, mandolin, banjo etc.) in some of the songs.
This is very good! If you like rock n roll, then you like THE QUIREBOYS.
Release date: March 30, 2015 (Off Yer Rocka/Border)
www.quireboys.com
Mar. 26, 2015
SCENIC BELLY: No Luck! - 12" EP
It is not every day that I get a 12" vinyl (most of the stuff I review are MP3's).
This trio comes from Halmstad, Sweden, and celebrated their 20-year anniversary last year, when this EP also was released. Their music reminds me of bands like THE CLASH and SOCIAL DISTORTION, as well as Swedish bands like BOMBSHELL ROCKS and VOICE OF A GENERATION. Pretty catchy punk rock from the streets. Working class punk is a good description too.
I am sorry that it has taken so long to get this review up (I have had it for about a month I think), but there is so damned much to listen to and review right now. Anyway, let's just say that this is really good stuff, and of course you should check it out.
(Hardheaded Production)
Mar. 25, 2015
AIRSTREAM: Kingdom Of Isolation - Album
This is a new project from SKY OF RAGE singer Staffan "Stiff" Karlsson. And among the guest musicians are Kee Marcello (ex-EUROPE) and Thomas Larsson (ex-Glenn Hughes).
The music is melodic hard rock/AOR with a lot of keyboard. A little progressive too sometimes.
It is good, no doubt about that, but far away from a future classic. Where are the songs that you just can not forget? It goes in through 1 ear and out through the other, so I do not think I will get the idea that I should listen to this album again in the future. But that should not stop you from giving it a chance.
Release date: March 27, 2015 (Metalville)
Mar. 24, 2015
GODSIZED: Heavy Lies The Crown - Album
GODSIZED comes from England and deliver melodic and powerful heavy rock full of heart and soul. They take their inspiration from classic bands like BLACK SABBATH, LED ZEPPELIN and ZZ TOP, as well as modern acts like DOWN, ALTER BRIDGE and CLUTCH.
They have a couple of good songs, but everything is not great. And the album last for a little too long I think. It takes 52 minutes before the album is over, and their material is not strong enough to keep me intrested for that long.
Release date: March 27, 2015 (Metalville)
Mar. 24, 2015
LOCH VOSTOK: From These Waters - Album
They go out hard with some death metal brutality, but the chorus is melodic. And it continue like that. Sometimes it can be really brutal, and sometimes very melodic. I am not sure if you should call it melodic death metal or modern metal. Maybe progressive extreme metal is the best description after all? Because this band is not satisfied with just 1 type of metal, it seems like they want to play them all. But it is good though, and that is always the most important thing.
This could actually be worth checking out.
Release date: March 27, 2015 (Twofaced Productions)
www.lochvostok.com
Mar. 24, 2015
WHITESNAKE: Stormbringer - Single
WHITESNAKE will release a new album in May (the first studio album in 4 years) with songs by DEEP PURPLE, from the albums that David Coverdale sang on. This is the first single. A more modern version than the original, but still good. I think I like the original version better though (but that is probably just because I am more used to that version).
I was a little too young when those albums came, so I can not say that I grew up with them. And when I finally got them, I thought that the best songs was the title tracks. The rest was more or less just fillers. But that is just my opinion. And I know that there is people who actually think that those albums are the best that DEEP PURPLE did.
(Frontiers Music SLR)
www.whitesnake.com
Mar. 23, 2015
FM: Digging Up The Dirt - Single
Yet another classic AOR band that I have not heard that much (if anything at all) with before.
This song is probably best described as a heavier hard rocker, but still very melodic.
I have heard it a couple of times now, but all I can say is that it is a good song. So if you are into AOR and melodic hard rock, this is something you should check out.
(Frontiers Music SLR)
Mar. 23, 2015
ENOS / MANGOO: Son Of A Gun / The Grey Belly - Split 7" single
ENOS are from UK and play some kind of space/stoner rock. A really good song, but maybe a little long with its 5 and a half minutes?
MANGOO are from Finland, and they give us something similar to ENOS, but maybe a bit more melodic then. Pretty o.k. too.
I like these songs more and more, so if you like rock I think you should try to get your hands on this piece of vinyl.
Limited, hand numbered edition of 300 copies in different colors.
Release date: Mar. 26, 2015 (H42 Records)
Mar. 23, 2015
The BRONCO and TEAR THEM DOWN at Sticky Fingers in Göteborg, Sweden on March 20, 2015
TEAR THEM DOWN is described as a mixture of NOFX and early DROPKICK MURPHYS. Skate punk with a pinch of street punk attitude. They are from Göteborg, Sweden and formed in 2010. Their debut album, "Their Fault, Our Problem", was released in January.
I think they was pretty good actually, so they are definitely worth checking out.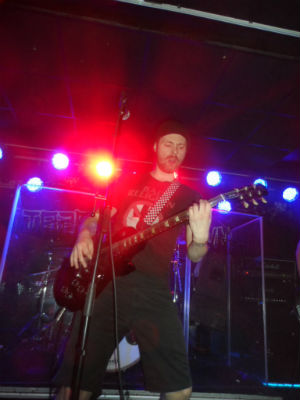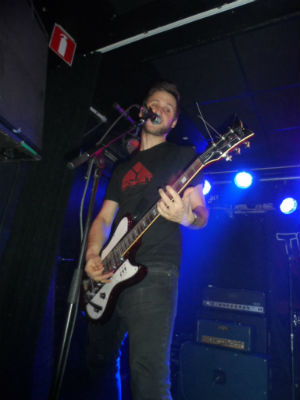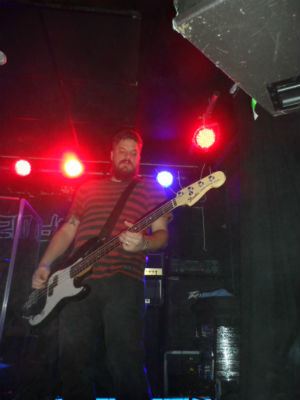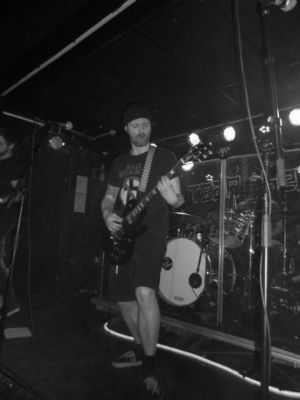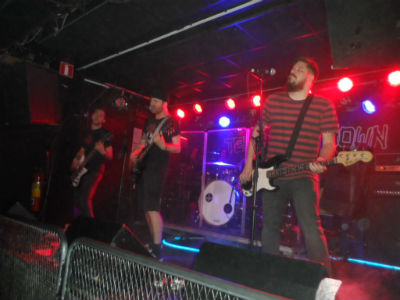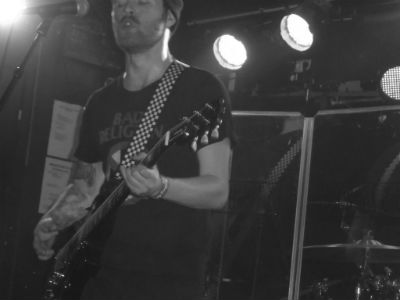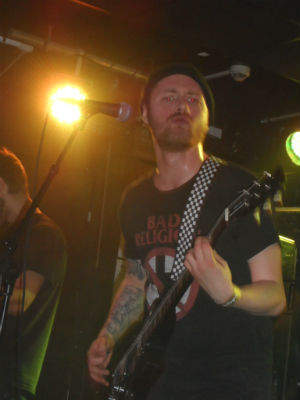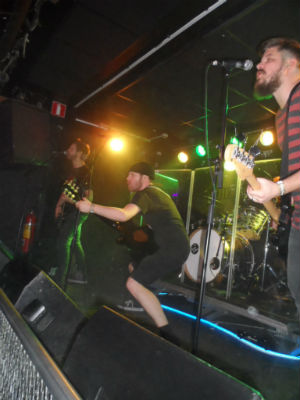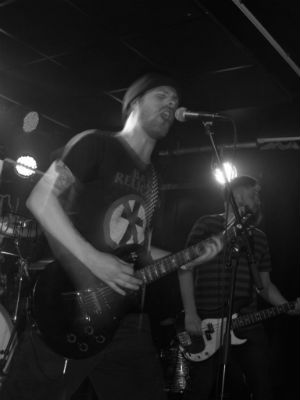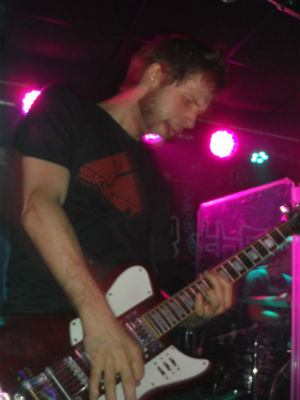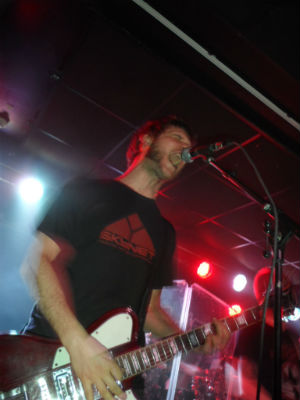 The BRONCO have impressed me with 3 damned good singles of melodic punk rock, but those singles was obviously the best they had to offer. Not that the other songs they played was bad, but it was not as good as those songs. And it was a little weird that I was the only one who stood infront of the stage. They delivered a o.k. show though, so thumbs up.
Among the members of the band are Mats Drougge from THE PERVERTS. A album will be released later this year.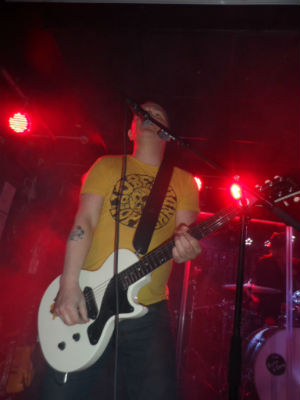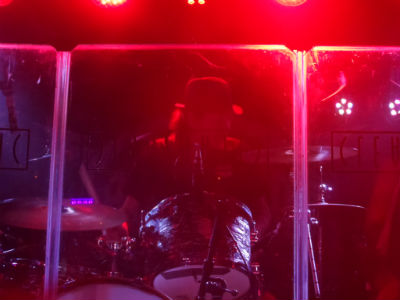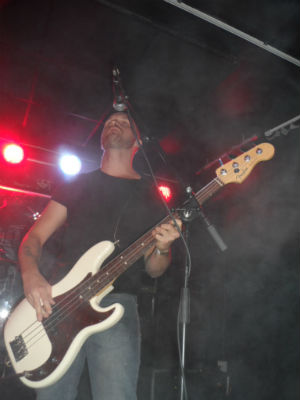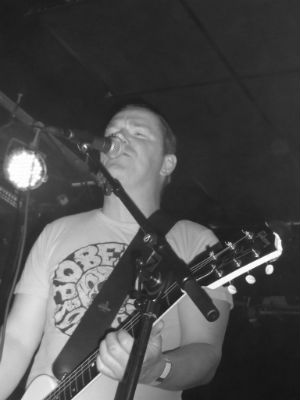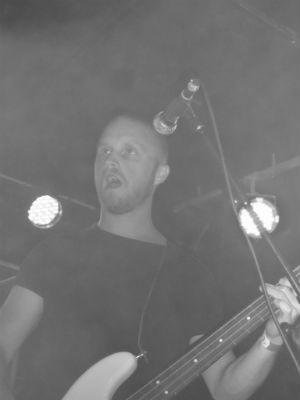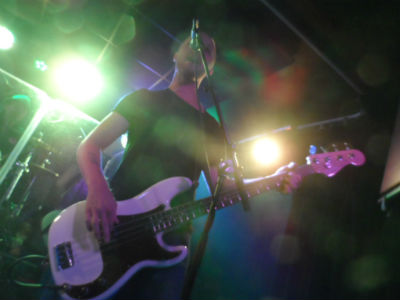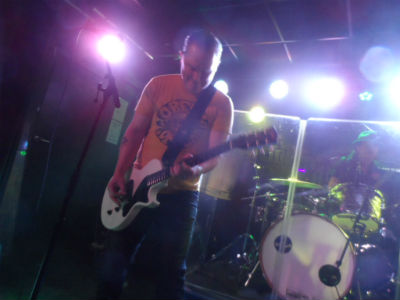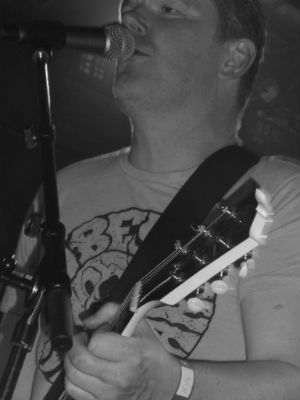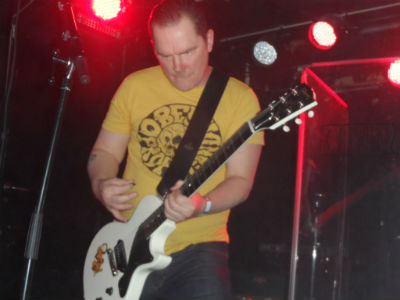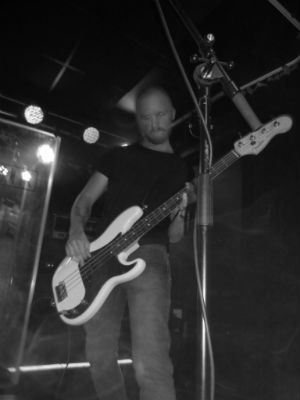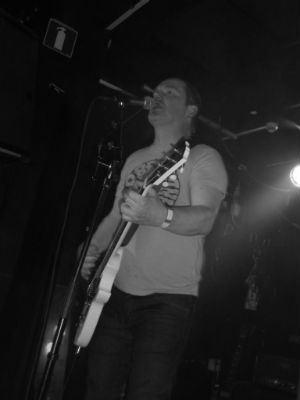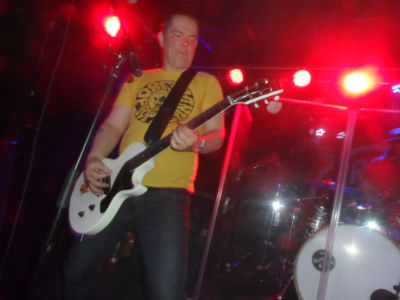 Mar. 22, 2015
The DRIFTWOOD SIGN: (no title) - EP (CD, Digital)
What we have here is a modern melodic rock band from southern Sweden. It is not so melodic that it is sugar sweet though. It is more FOO FIGHTERS than The HELLACOPTERS (not that they sound like any of them). "We combine hard riffs with clean and powerful vocals that focus on melodies", as they describe it themselves.
You get 5 really strong songs that will make you wonder "why has nobody signed this band?". In other words damned good stuff that you should check out.
The beginning to "Open Fields" sounds very familiar. They are hardly the first band who play that, but it use to be metal bands who play it.
Release date: March 24, 2015 (Self released)
www.driftwoodsign.com
Mar. 20, 2015
The AMORETTES: Game On - Album
An energetic Scottish all-female hard rock n roll trio that reminds me of other female bands like The RUNAWAYS, The DONNAS and GIRLSCHOOL.
They have a couple of really good songs here, no doubt about that. But the variation between the songs is not that big, so after a while it is like you have heard that song already. The good thing is that it is a really good song though.
Definitely worth checking out! Especially since the 2 first bands I mentioned probably will not release any more records.
Release date: Mar. 23, 2015 (Off Yer Rocka Records)
www.theamorettes.co.uk
Mar. 19, 2015
TERROR EMPIRE: The Empire Strikes Black - Album
Debut album from a pretty good groove/thrash metal band that comes from Portugal. 12 tracks of fast songs with blistering solos is what they deliver, and it is not bad at all. Very professional.
Seems like it is not just Spain who have some really good thrash bands. I think you should also listen to what Portugal has to offer. And why not start with this excellent band?
(Nordavind Records)
Mar. 18, 2015
SHITKILL: The New Breed - EP
Maybe not really my thing.. Groove/nu metal? Like a mixture of KORN and SOULFLY in the first song. They call it thrash/groove metal though, and that is probably a good description too. They are from U.S.A.
They have some good songs among these 5 tracks, but no, I do not think I am the right person for this, so let us stop there.
(Self released)
Mar. 18, 2015
RITI OCCULTI: (no title) - Album
Evil blackened doom metal from the graveyard. Cheap and primitive recording, but raw and scary. And they also mix it up with ritualistic music.
It is not always so great, but there are some good stuff here too. Unfortunately I get tired of it after a couple of songs already. And towards the end it get so hypnotic that you do not know if it is meditation or a bad trip.
Hardly the best I have heard lately..
(Nordavind Records)
Mar. 18, 2015
NIGHT FALLS LAST: Deathwalker - Album
Macho thrash/groove metal with a band from Austria. Pretty modern stuff as they mix it up with some melodic choruses sometimes. But in general it is hard and heavy. Just the way it is supposed to be.
There is a couple of really good songs here, but the one I like best is "A Call From Inferno". This could definitely be worth checking out.
I do not know what else to say..
(Self released)
www.nightfallslast.com
Mar. 18, 2015
MOJO WAVES: 7x7 - Single
Finnish rock trio with the first single from their forthcoming album, "All The Right Parts Fit The Wrong Way", which will be released on May 11.
This song is so full of energy that it is almost punk rock. I like it, so it could be interesting to hear more from this band.
I have been listening several times now, but for some reason I can not come up with much else to say about them..
(Macaroni Penguin Music)
Mar. 18, 2015
BLACKENED: Underground Attack - MCD
There was actually a METALLICA cover band from Herrljunga, Sweden with the name BLACKENED once upon a time. But that was in the early 90s. And this is not that band, and they do not play METALLICA covers either. But they play thrash metal though.
This band comes from Brazil, and was formed in 2012. They are influenced by the classic Bay Area sound, so it is yet another one of all those old-scool bands. But it is good stuff, so they are definitely worth your attention.
(Witches Brew)
facebook.com/blackenedbrazil
Mar. 18, 2015
HILLBILLY REVENGE / HUMAN SLAUGHTER: Hillbilly Slaughter - Split album
Greek thrash metal split CD. 5 songs each. HILLBILLY REVENGE play thrash metal/crossover, while HUMAN SLAUGHTER got influences from the punk and crust scene. Pretty good stuff, but I do not know what else to say about this..
(Witches Brew)
facebook.com/hillbillyrevenge
Mar. 18, 2015
SABOTER: (no title) - EP
Debut EP from a Greek heavy metal band. And we talk good old classic heavy metal here. Just like it sounded back in the 80s. But there is also some thrash in the brew. They reminds me of good old JUDAS PRIEST when they was as best (70s/80s), and also early METALLICA (even though SABOTER do not play as fast as them).
Really good stuff that you should check out if you are into good old heavy metal.
(Witches Brew)
facebook.com/saboterGR
Mar. 18, 2015
IRON KOBRA: Might & Magic - Album (CD, Cassette, LP)
They want me to play the record on 10, so of course I decrease the volume instead (that is how funny I am).
Another traditional heavy metal band from Germany, who has existed since 2008. The members got stupid names like "Sir Serpent", "Lightning Lord Python", "Don 'The Warrior' Viper" and Ringo 'The Animal' Snake". I guess Rudolf and Udo (or whatever their real names might be) was not cool enough?
After a EP, a live recording and 2 singles, they released their first album, "Dungeon Masters", in 2012. "Might & Magic" is their second album.
Well, these guys are probably still young, but the music they make brings you back to the NWOBHM days (late 70s/early 80s), when the bands seemed to be so much better (most likely because I was just a kid then, and still had a lot of bands to discover). This is really good stuff, and it actually sounds a little like it was recorded during that era.
CD and cassette(!) out now. LP version to be released in May/June. (Dying Victims Productions)
www.ironkobra.de
Mar. 17, 2015
BLEEDING: Behind Transparent Walls - Album
BLEEDING comes from northern Germany, and formed in 2011. This is their first full-length. Definitely something for you who like progressive metal. They are mixing atmospheric parts with heavier metal attacks. The vocals are clean and melodic. No growl or screaming.
I do not really know what to think about this band. Sometimes they reminds me of SYSTEM OF A DOWN, which is a band that I like, and sometimes it is something else. But I can not deny that it is a good production. Give it a try!
Release date: March 20, 2015 (Pure Prog Records)
www.bleedingmusic.com www.pureprog-records.com
Mar. 16, 2015
LETHAL SAINT: WWIII - Album
Powerful, melodic power/heavy metal with a band from Cyprus. It reminds of ICED EARTH. Pretty good stuff that should not dissapoint any fan of true heavy metal. This is really good stuff! Not a bad song on the whole album.
What else is there to say?
Release date: March 20, 2015 (Pure Steel Records)
www.lethalsaint.com www.puresteel-records.com
Mar. 16, 2015
PERFECT BLUE SKY: Emerald - Album
Just to hear the first song is enough to understand that this will not be a rock n roll party. No, it is more like PINK FLOYD and FLEETWOOD MAC (not that I have heard that much with them). Progressive and very soft and quiet rock from a other time. But then comes "Rock And A Tide" and change it all. Now it is more like CREEDENCE CLEARWATER REVIVAL, THIN LIZZY and southern rock, all in the same song. This is obviously not the kind of band that you can put in just 1 genre, because that would not tell the whole story. But their music is somewhere around the late 60s/early 70s anyway, and they play whatever they want from that time, but mainly it is laidback rock.
"Hence Your Body" reminds me of PEARL JAM.
This was a fun adventure, and I like what I heard, so check it out if you are intrested.
Release date: March 20, 2015 (Scarecrow Recordings)
Mar. 15, 2015
HANNOVER: Hills - Album
They call their music post-indie rock, and this is their debut album. But some of the songs could just as well be called garage rock, even though it is not as energetic as the garage bands use to be. I think it is more catchy and melodic. They actually reminds me of a band called THE MAINLINERS, which I used to listen to a lot 10 years ago, but I am not sure if the members of HANNOVER has anything to do with that band.
HANNOVER comes from Stockholm, Sweden, and consist of 5 gentlemen who started the band in 2012. 2 EP's have been released before.
The 3 first songs, "5 AM", "Lucy's Dream" and "Dark Room", are definitely the best songs on this album. But the rest of the songs is not so bad either. This is a really good album actually.
Well, this is worth checking out. That is for sure!
(I do not know on what label this is released or if it is self released?)
www.hannoverofficial.com
Mar. 14, 2015
KATAVASIA: Sacrilegious Testament - Album
Greek band including members from occult act VARATHRON, prog black metallers AENAON, gloomy doomsters AGNES VEIN and psychedelic orchestra HAIL SPIRIT NOIR. Their sound is based in original 90s Greek black metal, and it sounds really good. It is actually music and not just chaos and full speed ahead. And fact is that if it was not for the aggressive vocals, it could just as well have been heavy metal. I really like this! ..and so should you my friend.
Release date: Mar. 15, 2015 (FLOGA Records)
www.flogarecords.com
Mar. 13, 2015
LIKE A STORM: Awaken The Fire - Album (CD, Digital)
Very melodic, modern hard rock. Very American. Pretty o.k. stuff. But 11 songs is a little too much of this for me. And when they start playing "Gangster's Paradise" by Coolio, I start to think "What the fuck is this?". But fact is that it does not take long before I find out that their rock version works just fine.
I am not sure if people here in Europe like this kind of stuff, but they seems to love it in the States.
European release date: Mar. 16, 2015 (Another Century Records)
facebook.com/likeastormofficial
Mar. 13, 2015
FUCK OFF: Hell On Earth II (Revisited & Faster) - Album
To celebrate the 25th anniversary of their second album, "Hell On Earth", the current lineup of the band decided to re-record the whole album. It is said to have a more powerful sound and better arrangements, and it is also said to be faster than the original album.
They have also included the "Invasion" demo from 2000, as well as previously unreleased alternative versions (which means that you get some of the songs 2 or 3 times).
The music is simply speed/thrash metal in the old school. And it is really good. So of course you should check this out. I have not heard the original album though, so I can not compare them.
Best song: "Rider From Hell".
(Xtreem Music)
facebook.com/PionerosDelThrash
Mar. 12, 2015
HOLYCIDE: Toxic Mutation - EP (CD, Cassette)
Another thrash attack. 6 songs of intense and aggressive old-school thrash metal is what we get on this debut EP, including a DARK ANGEL cover. The band features Dave Rotten from AVULSED on vocals, and just as you can expect it is really good stuff, so this is definitely worth checking out. These guys seems to know exactly what they are doing.
A cool thing is that it is also released on good old cassette, which is pretty unusual nowadays.
(Xtreem Music)
www.holycide.com
Mar. 12, 2015
HUMAN WASTE: Harvest Remnats - Album
There was a Swedish crust punk band with the same name, but this has nothing to do with that band. No, this is a demo collection with a Spanish death metal band from the early 90s. You get as much as 20 tracks (their 3 first demo tapes from 1991, 92 and 93).
The sound is pretty typical for its time. So if you think that death metal was better before, then this might be something for you to check out, because it is not bad at all (even though I have heard better).
(Xtreem Music)
www.xtreemmusic.com
Mar. 12, 2015
CANEDY: Headbanger - Album
The RODS was an American heavy metal trio from New York that I discovered through a friend already when I was a kid in the 80s. And they actually reunited a couple of years ago, so they are still around. Canedy is the drummer in The RODS, but he is also said to be an original member of MANOWAR and has been working as a producer as well.
Canedy is also a good song writer, and this is his first solo album. Among the guests are people like Chris Caffery (SAVATAGE, TRANS-SIBERIAN ORCHESTRA), Mark Tornillo (ACCEPT, TT QUICK), Joe Comeau (ANNIHILATOR, OVERKILL, LIEGE LORD) and guitarist John Hahn.
Just as you can expect it is good old heavy metal, but with a modern production. Not bad at all for being a solo album. There are definitely some good songs here, there is no doubt about that. And there is also a song with Ronnie James Dio (R.I.P) on vocals (which I think was on the latest album with The RODS too). But I do not understand what demo versions of "No One Walks Away" and "Cult Of The Poisoned Mind" have to do here. And that short drumming after some of the songs, what is that good for? Of course he had to include his big drum moment, the drum solo "Rabid Thunder" (which you also can hear on "Live"). Well, he is a good drummer.
(I do not know on what label this is released. Maybe it is self released?)
www.therods.com
Mar. 11, 2015
NO BROS: Heavy Metal Party / Ready For The Action - Album / Album
This reminds me of a young but less progressive URIAH HEEP as a matter of fact. And there is some SAXON involved too. But the "Ready For The Action" album sounds more like 70s SCORPIONS (if you have missed that, there is something you must check out, and I also recomend the albums from the early 80s - excellent!).
NO BROS was founded as early as 1974 already, but how many outside of Austria (where they comes from) have heard about them? That is hopefully about to change though, as their old LPs are now being released on CD and digitally for the first time.
"Heavy Metal Party" is a live album from 1982, but this reissue also includes 5 bonus tracks: 3 rare live recordings from 1981, an instrumental song and a special version of the title track with Biff Byford from SAXON on vocals. This was their first album actually, which is a little strange as it is a live album.
"Ready For The Action" is their second album, also from 1982. And as a bonus there is actually some new songs here. Klaus Schubert (guitar) and Freddy Gigele (vocals) found each other again in 2014, and recorded 3 new songs for this reissue. "A Night In Touch City" reminds a little of the KISS song "I'm A Legend Tonight". There is also a special version of the title track with Marc Storace from KROKUS on vocals.
The only things you could complain about is that instrumental song, which is pretty useless, and then there is the same thing as when it comes to SCORPIONS, the English is not always the best. And 2 ballads after each other was not the best idea. But that is just small details. The songs are great. So if you are into good old hard rock you should not miss this for anything in the whole world! That is how good this is.
Release date: Mar. 13, 2015 (Karthago Records/Pure Rock Records)
www.nobros.com
Mar. 10, 2015
OCEANWAKE: Sunless - Album
..and the first thing I see is how damned long these 4 songs are - 8 to 15.37 minutes. And just as you can expect it is pretty heavy stuff. Sludge I think? But there is also slow and atmospheric landscapes in the brew. Maybe something to listen to before you go to bed?
It did not come as a surprice that this band comes from Finland. It has that melancholy/deppresive sound that many Finnish metal bands have. Plus that dark atmosphere. But they are said to sound like CULT OF LUNA, SWALLOW THE SUN and OPETH. So if that sounds interesting to you, this might be something to check out.
Release date: Mar. 13, 2015 (Vicisolum Productions)
facebook.com/OceanwakeFi
Mar. 9, 2015
MABEL GREER'S TOYSHOP: New Way Of Life - Album
The story of this band begin as early as 1966 already, when Robert Hagger met Clive Bayley in a pub. They joined up with Paul Rutledge and formed a psychedelic rock/blues trio called MABEL GREER'S TOYSHOP. Among their influences was PINK FLOYD, Marc Bolan, DEBUSSY and even the writer Lewis Carrol.
If I got it right, after a couple of changes in the lineup they changed the name of the band to YES in 1968. And that is probably a band that you have heard of before?
In July 2013, after 45 years, 2 of the members met up again in France, and went in to the studio just for fun. The result became an album with 11 tracks - 6 re-recordings of songs from 1967-68 and 5 new ones.
It is hardly the hardest and heaviest rock album. Sometimes it is almost pop instead of rock. Very melodic. Progressive soft rock, sometimes with psychedelic parts, is my description to this. Pretty good stuff actually, but I do not understand the meaning with tracks like "King And Country" and "Oceans".
(Pirate Smile)
www.mabelgreerstoyshop.com
Mar. 8, 2015
BULLET, ANTI(G)ONE, AMNESIA and CHUGGER at Sticky Fingers in Göteborg, Sweden on March 6, 2015
Well, what is there to write? This will be short as usual..
First band out on stage was AMNESIA. A young band that played classic heavy metal like we were back in the 80s. Very much New Wave Of British Heavy Metal, and really good. I liked it anyway. That is a band that I would like to hear more from.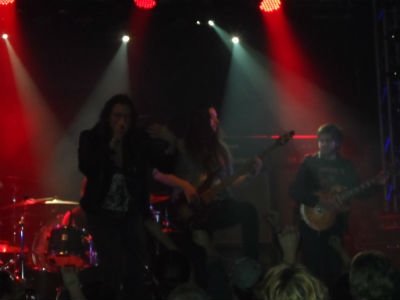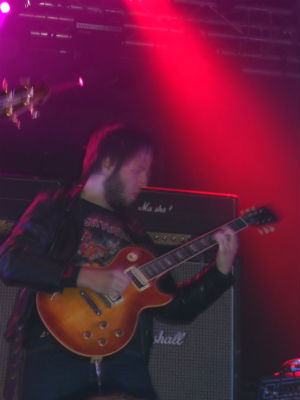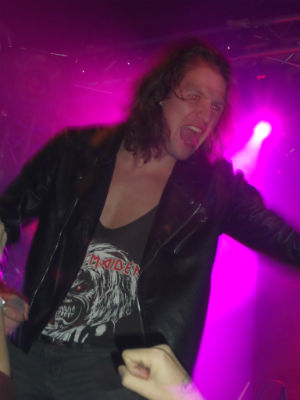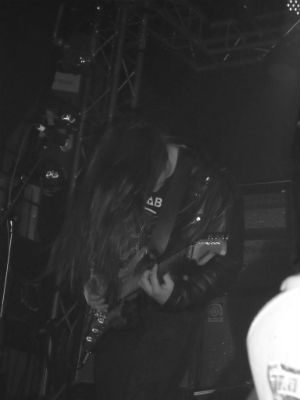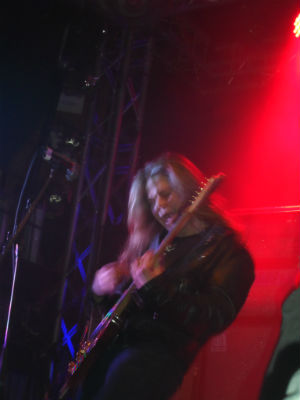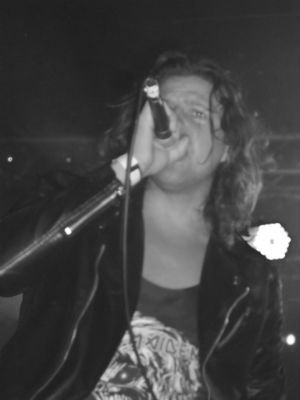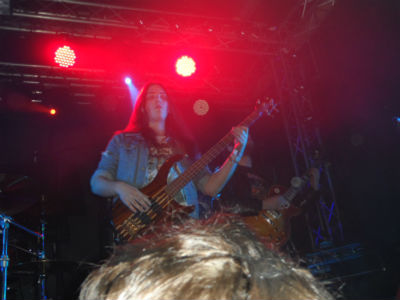 Next band, ANTI(G)ONE, was not so interesting though. Some kind of modern metal, deathcore, or something like that. Not really my thing, so I drank beer with some friends instead. And the few photos I took of them was not good enough. So sorry, but no photos of them.
BULLET is a band that always deliver a good show, and I really like their heavy metal - A damned good band! But unfortunately it was not so good to stand infront of the stage, because the sound was not good enough, so everything almost sound the same. And I was not clever enough to move somewhere else, so I do not blame anyone for that.
Let us just say that when BULLET play somewhere near you, you go!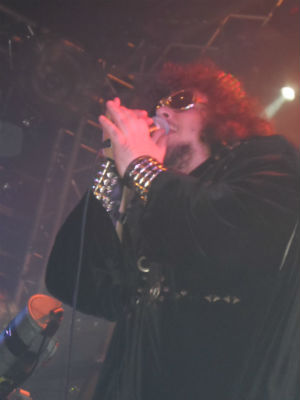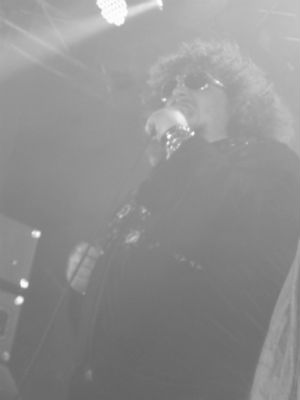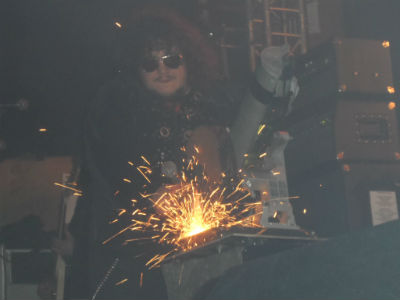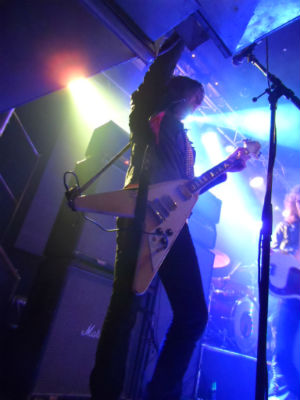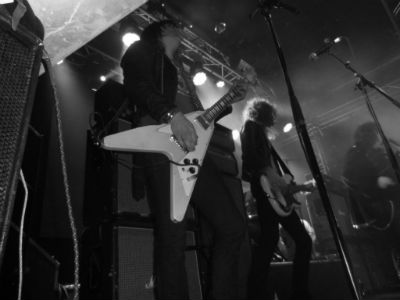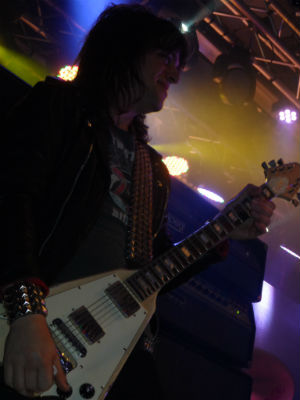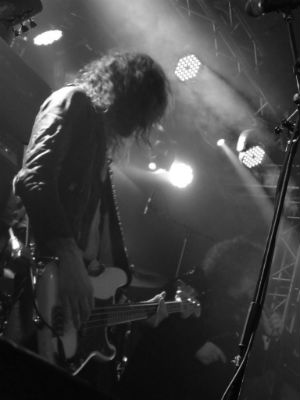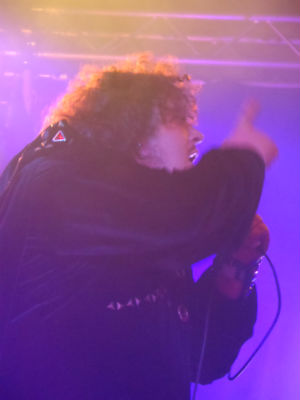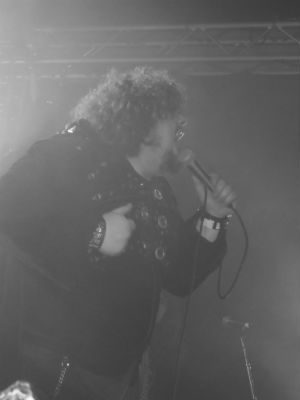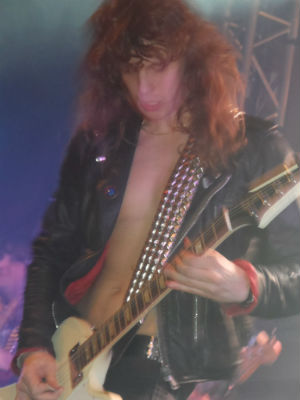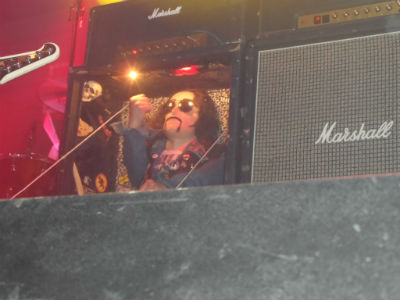 ..and the night was not over just because BULLET just had played. I went down to the club to see some more. I got the debut album with CHUGGER for review, so I wanted to check them out too, as they had their release party (even though the release date is April 1, which I think is a little funny).
They was really good. What they play is called groove death metal, which is a good description. You could actually say that it is a mixture of groove metal and the Gothenburg sound (AT THE GATES, IN FLAMES, DARK TRANQUILLITY). Definitely worth checking out!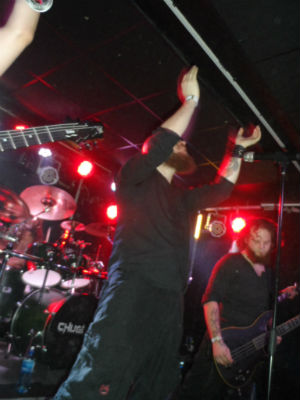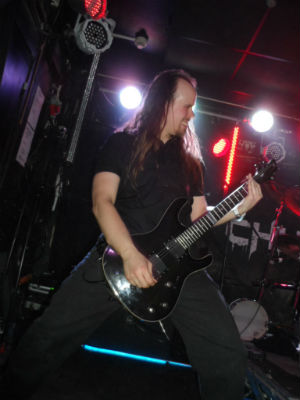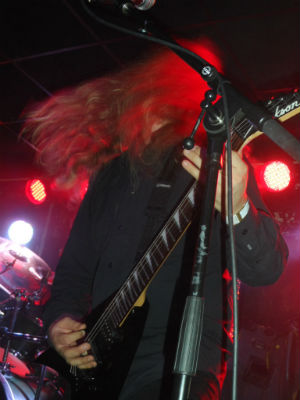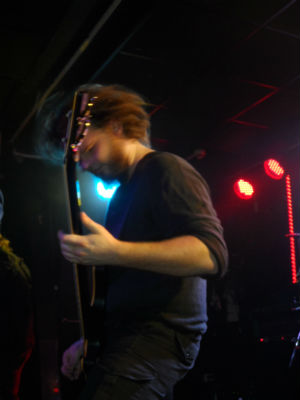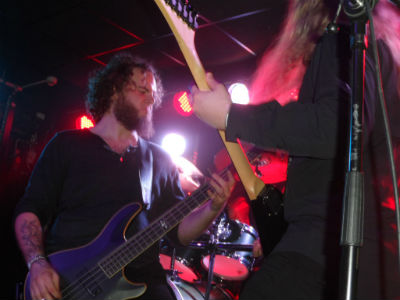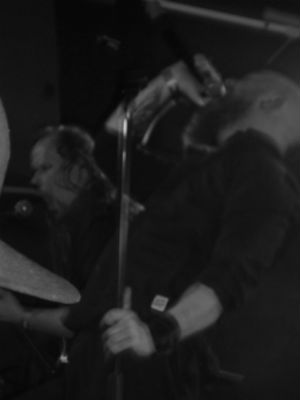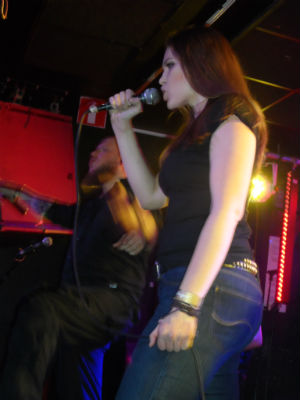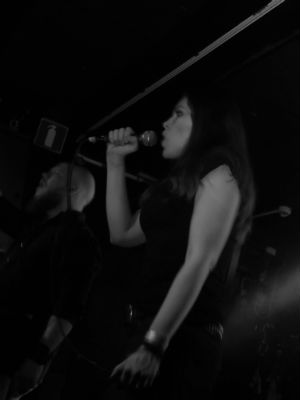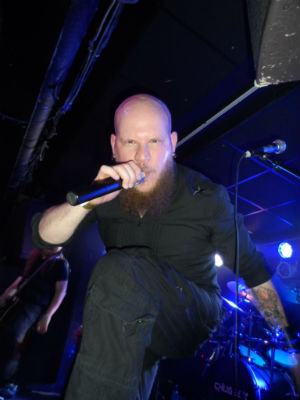 Mar. 7, 2015
WÖMIT ANGEL: Maggotmouth - Digital EP
3 short songs that are over in 6 and a half minutes. Some kind of fast extreme metal with a punk vibe is the best description I can come up with. Pretty o.k., but maybe not much else, so I do not really know what else to say about this..
(Inverse Records)
www.womitangel.net
Mar. 6, 2015
WAKE THE NATIONS: Sign Of Heart - Album
Here is a band that makes me think of good old BON JOVI again. Very melodic 80s hard rock that just as well could be called hard pop. But no matter what it is really good. I can not deny that!
There is both male and female vocals from people who I have never heard of before, but maybe you know who they are? - Estef Martinez, Dado Topic, Taage Laiho, Janne Hurme and Krister Stenbom. They sing really good anyway, and that is more important than how well-known they are. Right?
Well, if melodic hard rock is your thing, this is your thing. Simple as that!
(Inverse Records)
www.wakethenations.com
Mar. 6, 2015
SATA KASKELOTTIA: (no title) - Digital album
These sauna boys sing in Finnish and play heavy and guitar-driven hard rock, with elements of stoner, sludge and progressive metal. But they are not as heavy as you might think when you read that description, and they are definitely original and does not sound like everybody else who are heavy and progressive (probably because they are not so extremely progressive). So if you want something different but not too weird (still music and not math chaos), this is something you should check out.
(Inverse Records)
www.satakaskelottia.fi
Mar. 6, 2015
MIDNIGHT BULLET: Lose My Face - Album
Some kind of modern, melodic heavy metal. Modern because it does not sound like back in the 80s when I was a kid. Pretty catchy stuff though, and it is not bad at all. There are many good songs on this album, so this could be worth to lend your ears to.
This is their second album, who has a theme which is a fear of making yourself a total fool. Some people find it necessary to keep the walls around you so that the other people will not see who you really are, and you are trying to hide your mistakes. The mask on the cover is a symbol of that fake life you are living in.
(Inverse Records)
facebook.com/MidnightBullet
Mar. 6, 2015
DREAMGRAVE: Presentiment - Album
Epic and melancholy progressive dark metal is probably a pretty good description to this. But the music goes in all kinds of different directions. There is doom, folk, death, goth, female soprano, male growl, jazz etc. etc. Fantasy music. If you are looking for something that is unique, this is definitely something for you.
It has both its good and less good moments, but it is not often that it is really bad, so let us just say that it is an interesting album.
(Self released)
facebook.com/dreamgrave
Mar. 6, 2015
EARTH AND PILLARS: Earth I - Album
They call this atmospheric/cascadian black metal. I call it disturbance of the atmosphere instead. Because it is just a hell of a noise. And of course the so called songs must last for an eternity too. Fuck this shit! It has nothing to do with music. It just gives me headache and make me irritated. I rather listen to a fart instead of this crap.
(Avantgarde Music)
avantgardemusic.bandcamp.com/album/earth-i
Mar. 6, 2015
FEIGN: Lost To Eternity - Demo
Atmospheric black metal from Maine, U.S.A. But not just useless atmospheric sounds, but more like black metal with atmosphere and melody. And I like this much, much more than all those useless bands who call their music atmospheric, and then they just make noise.
FEIGN is a 1-man project created by Jacob Lizotte, and this is the first release. We get 3 songs, who are between 5 to 9 minutes long. He aims to release his first album.
Give this a chance and thank me for letting you know if you like it.
(Self released)
facebook.com/feignband
Mar.6, 2015
DANKO JONES: Fire Music - Album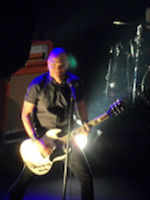 DANKO JONES is definitely a favorite band who always seems to deliver. But I am glad that I do not have to review this album after just 1 listen, because it is hardly ever a smash hit the first time you hear a new album with them. But the more you listen, the better it get. And this album is just like that. So all I can say is that they have succeeded to do another great album.
But o.k., it might not be the best album they ever have made. It is more like a copy of everything they have done before, but without that sexual lust that they had on their first albums. In other words another safe album. But it is damned good anyway.
Best song: "The Twistling Knife". It actually reminds me of the old classic "Had Enough". But "Wild Woman" and "Gonna Be A Fight Tonight" are really good too. The rest is not bad at all, but compared to those songs there are actually some weaker tracks too. But a weak song with DANKO JONES is always stronger than most other stuff.
(Bad Taste Records)
www.dankojones.com
Mar. 5, 2015
CANCER BATS: Searching For Zero - Album
The fifth album from this Toronto-based hardcore band. It was produced by legendary multi-platinum producer Ross Robinson (AT THE DRIVE-IN, SLIPKNOT, The CURE, SEPULTURA, GLASSJAW).
It is not just hardcore/metal or hardcore/punk here though. I think there is some sludge too, as well as some more melodic parts (some of the songs reminds of BLACK SABBATH actually). Which gives a good variation. It does not become so intense as a pure hardcore record can be.
This was not so bad. Not bad at all actually. I like it!
Favorite songs: "Beelzebub" and "Cursed With A Conscience".
Release dates: GSA - Mar. 6, 2015 / Europe - Mar. 9, 2015 (Pirate Smile/BMG Rights Management/Noise Church Records)
www.cancerbats.com
Mar. 4, 2015
DEHUMAN: Graveyard Of Eden - Album (CD, LP, Digital)
What could this be then? Do you think we have some death metal brutality here again? You bet!
This is the second album from this Belgian band. It is really intense, but not chaotic. If you like fast death metal, this is definitely something for you. A really good band!
..and no matter how much I like it and how many times I play it, I just can not come up with much else to say. So let the music do the slaughter!
European release date: Mar. 9, 2015 / North American release date: Mar. 10, 2015 (Kaotoxin)
kaotoxin.com
Mar. 4, 2015
KARYN CRISIS' GOSPEL OF THE WITCHES: Salem's Wounds - Album (CD, 2-LP, Digital)
Occult, progressive dark metal who cover a lot of different moods. From evil heaviness and gothic romanticism via ambient passages. There is both clean vocals and growl.
13 tracks in just over an hour is what we get. And my opinion is that most of these songs are actually pretty boring and too long. There are some good parts here and there in "The Alchemist", "Mother", "Howl At The Moon" and "The Secret". But the only song that is good all the way is "Pillars".
Release date: Mar. 9, 2015 (Century Media)
facebook.com/Gospelofthewitches
Mar. 4, 2015
OPIUM LORD: Eye Of Earth - Album
Heavy stuff. Sludge. Not exactly any party music (a friend told me to put on something else because he could not stand it, so I guess it is not just me who does not like stuff like this, and I guess that says it all). But if you like to torture yourself, then go ahead.
OPIUM LORD were born in a small industrial town in the shadow of the Birmingham suburbs. No wonder that they play like they do.. Their sound is described as "dark soul mailing avant sludge blending doom and math to construct their original sound."
Release date: Mar. 9, 2015 (Candlelight Records)
www.candlelightrecords.co.uk
Mar. 4, 2015
MILLENCOLIN: Sense & Sensibility - Single
The Swedish skate punk veterans are back with a new single, and soon a new album too. I can not say that I am a fan of this band, but I have heard a song here and there, and it is not so bad. Really catchy and melodic stuff. And this song is just like it used to be, and I really like it. So the new album can be really interesting to hear (but I guess it is as usual, that I just get the single and no album).
The new album is entitled "True Brew", and is their 8th studio album. It will be released on April 22.
(Epitaph)
facebook.com/Millencolin
Mar. 3, 2015
The DESTRUCTORS: Greatest Misses - Album
It is now 10 years since these British punks reformed, and a lot of CD's have been released since then. 5-6 CD's a year is nothing unusual when it comes to this band (mainly EP's). Some have been better than others, but it have never really sucked. And this album is a collection with 21 songs from all those CD's. So if you have missed this band and want a good start, this could be something for you. And of course it will work as a best of collection too, if you want that.
This band must be among the few who have spent more time in the studio than on the stage. And they will not slow down. Their next CD will be released now in March.
Never surrender as SAXON sang.
(Rowdy Farrago Records)
www.destructors.co.uk
Mar. 3, 2015
THALAMUS: Beneath A Dying Sun (Special Edition) - 2-CD
This is the debut album from these Swedish heavy rockers, which was originally released in 2008. This remastered 2-disc re-issue features 19 tracks, so there is some bonus tracks included (8 to be more exact).
The music is described as classic 70s blues-based heavy rock, and is said to fit fans of bands like BLACK SABBATH, SOUNDGARDEN, TROUBLE, CANDLEMASS, ALICE IN CHAINS, LED ZEPPELIN, DEEP PURPLE, CAPTAIN BEYOND and CLUTCH.
There are a couple of good songs here, but 19 tracks is a little too much at once. I guess it will work perfect in small dozes though, or with some beer.
Release date: March 6, 2015 (Vicisolum Productions)
www.thalamusband.se
Mar. 2, 2015
SCARAB: Serpents Of The Nile - Album
Progressive wrestling metal with a pinch of nomad vocals here and there. Well, it is not easy in the desert. Sometimes you just want to play some metal and let it all out because your camel do not want to walk.
SCARAB is actually a death metal band from Cairo, Egypt, who formed in 2006. They released their debut album, "Blinding The Masses", in 2009. It has taken a couple of years, but now their second album is here.
Really good stuff, even though they might not be a new favorite band. But it is definitely worth checking out, that is for sure!
Release date: March 6, 2015 (Vicisolum Productions)
www.scarabegypt.com
Mar. 2, 2015
HEADONS: Vi Ska Aldrig Nånsin Bli Som Dom - 7" EP
It has taken way too long since their last EP, "På Svenska", was released, but now they have finally released a new one. 3 really good punk rock songs in Swedish is all we get though. But that is at least better than nothing at all.
HEADONS was formed in Halmstad, Sweden in 2007. At that time they were influenced by American proto punk like DEAD BOYS, HEARTBREAKERS etc. and sang in English. But nowadays they are more inspired by the Swedish punk roots. That does not mean that the door is closed for some English in the future though.
I really liked their last EP, and played it a lot. This is almost as good as that one, so if you call yourself punk, you check this out. And if you do not call yourself punk, check it out anyway.
(AMTY Records)
headons.bandcamp.com
Mar. 1, 2015
PIG IRÖN: Sermons From The Church Of Blues Restitution - Album
This British band played their first rehearsal in 2001. They were brought together by their shared love of classic hard rock like MOTÖRHEAD, MC5, The DOORS, MONSTER MAGNET, The GUESS WHO and PENTAGRAM. Their first album, "The Law And The Road Are One", was released in 2005. This is their fifth album.
The music is not like the bands mentioned above though. It is more like 4 bands who start their name with black: BLACK CROWES, BLACK LABEL SOCIETY, BLACKBERRY SMOKE and BLACK STONE CHERRY. In other words bluesy southern rock.
I like southern rock, but the only time I listen to it is when I get it for review. This is another good band in that genre, so it is definitely worth checking out.
Release date: Mar. 2, 2015 (Off Yer Rocka)
www.pigiron.info
Mar. 1, 2015
THE PASSION OF OUR SOULS: Soulmates - EP (CD, Digital)
A melodic death/pop metal duo from Finland. Their first release. They have done everything themselves, and it sounds like a demo recording. Their metal is heavy, but with pop choruses. There is both growl and clean vocals. Pretty o.k. stuff even though I have heard better. I do not think I have that much else too add..
Release date: March 3, 2015 (Self released)
facebook.com/ThePassionOfOurSouls
Feb. 28, 2015
DISRUPTED: Heavy Death - EP
True Swedish old-school death metal. You just got to love it! And it does not matter that there is thousands of these bands. It is still the best kind of death metal that you ever will find.
This actually reminds me of the stuff that Rogga Johansson (PAGANIZER, RIBSPREADER, The GROTESQUERY, JOHANSSON & SPECKMANN) is doing, but also the early stuff by ENTOMBED and DISMEMBER.
Well, if you do not check this out, then maybe you are not so death metal after all?
Release date: Mar. 1, 2015 (Apocalyptic Productions)
Feb. 28, 2015
APOSTATE: Time Of Terror - Album
..and here is another heavy band with eternity songs. Death/doom metal to be more exact. The kind of stuff that take all your energy while you listen to it, and leave you totally exhausted. I can not say that it is bad though, because they have their good moments. But the speakers must be on 11 and the meters on red sometimes. My cheap speakers almost start to bleed.
APOSTATE was born in 1993, and comes from Ukraine. They split up in 1998, but in 2009 they were back again, and released their first album, "Trapped In A Sleep", in 2010. This is their second full length.
If you like heavy stuff, you check this out.
Release date: Mar. 2, 2015 (Ferrum)
www.apostate.com.ua
Feb. 28, 2015
TRAUMA: Rapture And Wrath - Album
This band is probably most well-known for having METALLICA bassist Cliff Burton (R.I.P) on their first demo recording. But they were also on the Metal Massacre compilation, and released their debut album, "Scratch And Scream", in 1984.
And after 3 decades they have picked up the instruments again to give it another try. I do not know what they originally sounded like, but this sounds like true 80s heavy metal to me. Powerful vocals with melody that reminds me of Geoff Tate (ex-QUEENSRŸCHE). I am impressed that he can sing like that after all these years.
This is the kind of stuff that I would have loved when I was a boy in the happy 80s. And I still like it a lot. So this is really something that you should give a chance, because this was really good!
(Pure Steel Records)
www.traumametal.com
Feb. 27, 2015
PROWLER: Stallions Of Steel - Album
From Leipzig, Germany comes this pretty new heavy metal band. And people who like classic stuff like the New Wave Of British Heavy Metal should like these 9 songs. You get all that you want here: Clean and melodic vocals, catchy song structures, twin-guitars. And it all sounds like it could have been made back in the late 70s/early 80s sometime.
If you think the old bands is not good enough anymore, then you can always check out these new bands instead. Because while the old guys want to sound modern, the new boys want to sound like the old bands.
(Pure Steel Records)
facebook.com/Prowlersteel
Feb. 27, 2015
AXEMASTER: Overture To Madness - Album
This band belong to the category boring metal. That is how funny their heavier US metal is. There is not enough action here. And the hit potential is nowhere to be found. No athems at all.
AXEMASTER released the albums "Blessing In The Skies" in 1987 and "Death Before Dishonor" in 1990, which is said to have been power metal. And now after 25 years they are back with a new album that hardly make me want to check out if it is true or not (that they played power metal).
13 songs, and it last for an eternity. The taste is like the ass as we use to say here in Sweden, so maybe you will like it, but I do not.
Release date: Mar. 6 (Pure Steel Records)
www.axemasterofficial.com
Feb. 27, 2015
GODLESS ANGEL: Harvester Of Shadows - Digital album
Kansas-based 1-man army who deliver death/thrash bombs straight through your speakers. And he is aiming at you.
It seems like this guy wants to show the world what a great solo guitarist he is. I do not think that I ever have heard that many solos in a death metal song. The first track is actually just an instrumental show. But he seems to know his death metal too, and the music is really good stuff in the old school. Just the way I like it. Raw and dirty. So yes, this could be worth checking out.
Release date: Feb. 27, 2015 (Inverse Records)
Feb. 26, 2015
IN OTHER CLIMES: Leftøver - Album (CD, Digital)
This band most have the most disgusting album cover in a long time. A dirty toilet chair with what looks like a bloody brain in it.
These 5 men are from Nice, France and formed this band in 2004. A couple of records have been released since then. The music is hardcore with gang choruses, and they mix it up with some metal, thrash and punk influences. And hardcore can sometimes be boring after a while because it sounds the same all the time. But this band succeed to keep me awake. And I think that those samples between some of the songs are actually a good break before the next attack.
Release date: Feb. 27, 2015 (Bastardized Recordings)
www.bastardized.net
Feb. 26, 2015
RAJOITUS / RATSTAB - Split 7" EP


RAJOITUS sounds just like they use to, which is just like they should sound according to me. I think RATSTAB is a little more noisy though. RAJOITUS are more like old Finnish hardcore/punk, while RATSTAB seems to be more like DISORDER, but faster and not as chaotic as them. They burn off 5 songs each, and both bands are really good, so this is definitely worth checking out. No doubt about that.
(Reality Is A Cult/Riotous Outburst Records/Patac Records)
www.rajoitus.com riotousoutburst.bandcamp.com www.patacrecords.com
Feb. 25, 2015
RAJOITUS / UTANFÖRSKAPET - Split 12" LP


I think I actually like this RAJOITUS recording a little better, even though the EP recording kick ass too. But I am not really sure why. The sound is much better on this record anyway.
We get 6 original songs and a RATTUS cover. A band you just must like if you are into 80s Finnish hardcore/punk (but they are actually from Borås, Sweden where I live, and not Finland if anybody thought that).
I saw UTANFÖRSKAPET live for almost 2 years ago, and as I wrote then the band consist of old punk veterans who are still going strong after all these years. This is damned good Swedish hardcore/punk, just the way I like it. Their songs are obviously longer than the RAJOITUS songs, as there is just 4 songs (plus a live recording of the first song as well).
This record is even better than the RAJOITUS/RATSTAB split 7". So of course you check out this too.
(Fight Back Records/P.P.P. Records/Turist I Tillvaron/Rawby Records)
www.rajoitus.com www.rawby.se
Feb. 25, 2015
COLOSSUS: Breathing World - Album
A trio from Stockholm, Sweden who play what they call progressive sludge. It is pretty catchy, melodic and with atmosphere (or whatever I should call it), which I think is the main reason why I actually like what I hear. And it is not shit heavy either. And it is variation and not the same mangle all the time. Very important things to make it sound good.
I like this a lot actually! Especially the first song, "Yehi Aour Wanderers", and the second song, "Darkling Root". Beautiful! Unfortunately they do not come up to that level in any of the other songs, but it is still a lot better than many other progressive or heavy bands. And no song is bad on this album. And of course the other songs are getting better and better too the more I listen. So it is actually hard to stop listening.
Who would think that I would like a progressive sludge band that much? But this is something totally different from the usual stuff. A album you just must hear!
But watch out. There is actually a heavy metal band with the same name who has just released a new album too. So make sure that you get the right album (or what not get both?).
Release date: Feb. 27, 2015 (Perennity Records AB)
www.colossus.se
Feb. 24, 2015
MANIFEST: And For This We Should Be Damned? - Album
The short and fast songs are pretty o.k., but then there is also these songs who are a little heavier, and they are not as good as the fast songs. The last track is total crap! What the hell are they doing?! 8.28 minutes of torture!
A song like "Violently Engaged" is really good metal, but "Burning Brimstones" sound like KORN.
The only conclusion I can come up with is that this album is too weak. Sure, there are some good songs, but unfortunately also some bad songs. This is actually their fourth album, but it sounds more like a debut album from a band who are lost and do not really know what they really want to do. Which I think is a little weird as they released their first album 10 years ago.
Release date: Feb. 27, 2015 (Vicisolum Productions)
www.manifestmetal.com
Feb. 24, 2014
The STORYTELLER: Sacred Fire - Album
Majestic power metal anthems from the North. But 12 tracks are actually 2 too many for me, even though it is not bad at all, it is actually really good. And The STORYTELLER is a little funny name as they probably have many stories to tell. But there should be a good story when you play this kind of metal.
This Swedish band have been around since the late 90s, and this is their sixth album.
If it is power metal that you are looking for, then this is definitely something for you.
Release date: Feb. 27, 2015 (Black Lodge Records)
www.storyteller.nu
Feb. 24, 2015
FETID ZOMBIE: Grotesque Creation - Album
Some kind of heavier doomsday death metal in the old school, but with a melodic twist. For some reason I think it sounds like a demo, and I do not understand what that Sunday plink-plonk towards the end of the album is good for. But it is pretty good stuff anyway, so it could be worth checking out if you think you do not have anything better to do (everybody think that I have nothing better to do, so let me for once think that you do not have anything better to do).
FETID ZOMBIE is the brainchild of the legendary artist and long time musician Mark Riddick. There are guest musicians on every song, who comes from the bands ROTTING CHRIST, VARATHRON, NECROMANTIA, HORRENDOUS, ARSIS, CRUCIFIED MORTALS, ZEMIAL, THOU ART LORD, SOULSKILLER, SVIERG, WAXEN, SWAMP and YAMATU.
Best song is the more melodic "Into The Unknown".
(Metalhit/Morbid Visions)
fetidzombie.bandcamp.com
Feb. 24, 2015
GRAVEYARD AFTER GRAVEYARD: Hellhound On My Trail - EP
Here is another release with the legendary Rogga Johansson (1 of his many other bands, Johansson & Speckmann, release an album on the same day as this EP is released). This time it is what they call "black/death/thrash metal with mighty balls". So it is not the usual old school death metal that we use to get from this man. To his help he have the guitarist from GRAVE and the drummer from SINNERS BURN.
Good stuff as usual when this man is involved, but that fucking noise in the last track was very unnecisserily. I hate noise! Funny vocals in "Infernal Catacombs". It made me laugh a couple of times.
(Chaos Records)
www.chaos-records.com
Feb. 23, 2015
Johansson & Speckmann: Mask Of The Treacherous - Album
The finest kind of old school death metal. Damned good!
THE CROWN's new album was death metal album of the month in January, and "Mask Of The Treacherous" are definitely death metal album of the month in February. If you don nott check this out there is something seriously wrong with you!
This project features Rogga Johansson on guitars and bass (PAGANIZER, RIBSPREADER, The GROTESQUERY) and Paul Speckmann on vocals (MASTER, DEATH STRIKE, ABOMINATION). Drums were played by Brynjar Helgetun (The GROTESQUERY, RIBSPREADER).
Death metal does not get any better than this.
(Vic Records)
www.vicrecords.com
Feb. 23, 2015
Back to Page 1
Next page