REVIEWS 2015 - Page 3
Maxxxwell Carlisle: Visions Of Speed And Thunder - Album
Pretty good heavy metal. But of course he want to show us how good he is on guitar, so unfortunately there's as much as 4 instrumental songs. Not so funny and a little too much for my taste.
Maxxxwell (don't ask me why he spell it like that, he just does) also play guitar in HELLION. This solo album features key tracks from each of Carlisle's previous releases, fully remixed and remastered, plus 2 brand new bonus tracks (US version only, which means 1 less instrumental song outside the US). The album also features guest vocal performances by Fang VonWrathenstein (LORDS OF THE TRIDENT), Frank Casciato (SHADES OF CRIMSON, JUST LIKE PRIEST); in addition to mainstay vocalists Michael Yancy and Caro Lion. Other guest performances include guitarist Michael Angelo Batio (NITRO), Nita Strauss (Alice Cooper, FEMME FATALE, The IRON MAIDENS) and electric cellist Tina Guo (electric cello and electric guitar isn't something that you hear every day).
Well, there's many good songs here, but I think his last EP, "Full Metal Thunder" (2013), was much better.
(Self released?)
www.maxxxwell.com
JUNE 29, 2015
GUNDRIVER: What's Inside - Album
Hard rock n roll, cruntch rock, old-man rock - whatever you want to call it. Not action rock though. They are definitely rocking anyway, and I like it. There's a lot of good rock songs on this album. No doubt about that. So of course you have to check this out.
They burn off their best song, "Rip It", already as the first track. But I also like songs like "Make Her Mine" and "Let Me Rock You". Unfortunately there's some less good stuff here as well. Like "Before The Sun" for example. Most of the songs are good though.
(Self released?)
www.gundriver.com
JUNE 29, 2015
AUGURS / DEATHGRAVE - Split 7"/Digital EP
AUGURS kick off hard and brutal with a crust core attack straight in your stomache. They participate with just 1 song, but it's 4.28 minutes long (pretty long for being a punk song).
DEATHGRAVE on their hand participate with 3 short and fast scream crust punk songs.
Well, that's what I hear anyway. But they call it a sludge/grind split.
I don't really know what to think about this, but I can easily establish that I have heard a lot better stuff in my life. So I would hardly spend my last money on this instead of buying beer (if we put it that way). But o.k. AUGURS was a little better than DEATHGRAVE at least.
(Sentient Ruin Laboratories/Trill Kommand/Shove Records/The Path Less Traveled Records)
augurs.bandcamp.com deathgrave.bandcamp.com
JUNE 28, 2015
VATTNET VISKAR: Settler - Album
As far as I can remember I didn't really like their last album, "Sky Swallower", from 2013, but this second album is actually a little better. Sometimes it sounds like hardcore, but as far as I know it's supposed to be some kind of black metal. Let's just make it easy and call it extreme metal (even though that won't give you a better idea of what this band sounds like).
The best way to figure out what this band sounds like, and to figure out if you will like it or not, is simply to listen to it. And I think it can be worth a try. So give it a chance.
European release date: June 29, 2015 (Century Media)
JUNE 27, 2015
DAYS OF JUPITER: Only Ashes Remain - Album
Not the most positive title of this album. But the music is not as depressive as you might think it would be. No, this is actually pretty melodic stuff. I guess we can call it modern melodic heavy rock. It reminds a little of grunge, but I don't think we should call it that. They definitely have a couple of really good songs here anyway, so it could be worth a try.
I think 11 songs of this is a little too much though. It's like you know the game after just a couple of songs. The variation isn't that big.
(Ninetone Records)
JUNE 25, 2015
RIGHT OUT: Right Out - EP
This band is called a power trio with attitude, and they comes from the woods outside of my hometown Borås, Sweden. I have never heard about them before though.
Their music is rock with the roots in the 70s, which is pretty usual nowadays. They do their thing pretty good, and I like what I hear, so there isn't that much to complain about here. In other words worth checking out.
(Riverking Productions)
JUNE 25, 2015
SACRILEGE: Ashes To Ashes - Album
This NWOBHM band was founded in UK in 1982, but they just made a few demo tapes back then, and dissolved in 1987. But since 2007, mastermind Bill Beadle (vocals/guitars) has been active again.
"Ashes To Ashes" is a compilation of material from the 80s until today. It includes 14 tracks in over 78 minutes.
There's a couple of really good songs here, but everything isn't exactly excellent. Some songs are a little too long actually. But among the better stuff is "The Traveller", "The Dawn It Dies", "Rock n Roll With The Devil", "Help" (no, not the song by The BEATLES), "Ashes To Ashes", "The Unknown Solider" (no, not the song by The DOORS) and "Evolution".
If you want to dicover another NWOBHM band from the underground scene, then this is probably a good introduction to this band.
Release date: June 26, 2015 (Karthago Records)
www.sacrilegenwobhm.com
JUNE 24, 2015
MÅNEGARM: Dödsfärd (Re-mastered) - Album
On this album they went more or less all in on the folk metal thing. Not so much black metal as I think there was on the 2 first albums (reviewed here and here), but still pretty raw heavy metal though.
Just as the previous re-issues, this album has not been available for a long time. There is also 2 previously unreleased tracks on this re-mastered version. And just as with the previous albums, I think this is yet another really good album from the band.
What else is there to say?
Release date: June 26, 2015 (Black Lodge Records)
www.manegarmsweden.com
JUNE 23, 2015
SACROPHOBIA: Dark Requiems - Album
Yet another collection from an old death metal band. This time it's a Spanish band who deliver all the stuff they ever recorded between 1991-93 (2 demo tapes, 1 split release and some live tracks). A total of 16 tracks.
The easiest way to describe them is pure old school death metal in the good old Swedish way. If you like bands like GOD MACABRE, UTUMNO, NIHILIST, MORPHEUS, CARNAGE and AFFLICTED, then this is a band for you.
Good? What do you think? But in case you are new here: Yes!
(Xtreem Music)
JUNE 20, 2015
The FIEND: Greed Power Religion War - Album
Once again: I HATE USELESS INTROS!! And it's of course a little extra irretating when you hardly can hear it.
This band is described as "aggressive anger-in-your-face hardcore, written to the hate filled ways of todays society." But it's a little weird, because the first times I heard this it sounded more like MOTÖRHEAD and VENOM mixed with The MISFITS punk drive. And you can laugh all you want (I give you that). But now that I heard this album a couple of times I can finally hear that it actually is good old British hardcore/punk and nothing else.
The FIEND were actually one of the first hardcore bands to come out of the North East of England; starting in 1982. This is their second full length though (the first album, "The Brutal Truth", came in 2010).
They are o.k., so maybe you should give it a try if you're into hardcore? 14 songs is a little too much at once though.
Release date: June 22, 2015 (Candlelight Records)
JUNE 19, 2015
DEEP AEON: Temple Of Time - LP
DEEP AEON is a stoner/heavy rock band that formed in Düsseldorf, Germany in 2013. "Temple Of Time" is their debut album. We get 6 tracks, and it's not bad at all.
The music is a nice mixture of early BLACK SABBATH and desert rockers like KYUSS. So if you think that sounds interesting, then this is definitely something I think you should check out. All these songs are good. And it doesn't sound the same all the time, which is a little extra good.
Available in a limited edition of 300 copies on clear-green vinyl.
(H42 Records/Shithead Records)
www.deepaeon.de
JUNE 18, 2015
The LORANES: She Ain't You - 7" Single
Some kind of garage rock with a small touch of action rock. Definitely some kind of old rock anyway that reminds me of the late 90s/early 00, when almost everybody seemed to like action rock and garage rock.
This Berlin-trio is a pretty new band. They formed in October last year. And now their debut 7" is here, which will be followed by a longplayer later this year.
The first side is a little better than the second side. More action, while the other song is a little heavier (a typical good old b-side).
Release date: June 19, 2015 (H42 Records)
facebook.com/theloranes
JUNE 18, 2015
HIGH ON FIRE: Luminiferous - Album
Stone hard and heavy, but with a good drive forward. It's never monotonous and boring. I guess it's a little like if MOTÖRHEAD would start playing sludge with a pinch of 70s BLACK SABBATH here and there.
I have heard a couple of albums with this band now, and I have liked what I have heard. And I like this album too. There's a lot of good songs here.
HIGH ON FIRE are definitely 1 of the better heavy bands out there today. This power trio is a metal force that you just have to check out.
Best track: "The Falconist".
Release date for Germany/Switzerland/Austria: June 19, 2015 (Century Media)
Rest of Europe: June 22, 2015 (Century Media)
North American release date: June 23, 2015 (E1 Music)
www.highonfire.net
JUNE 17, 2015
BLISTERHEAD: Degenerated - Digital Single
Swedish melodic punk rockers BLISTERHEAD are back, and this single comes from their upcoming album, "Tumbling Down", which will be released in September.
It's a very catchy and a very good melody. I really like this song and look forward to hear the whole album (there will be a review of that too).
If you like bands like RANCID, MILLENCOLIN, BAD RELIGION, ANTI-FLAG, SOCIAL DISTORTION, US BOMBS, RANDY, BOMBSHELL ROCKS and THE CLASH, then this is definitely something for you.
(Punkebjartes Punkeplater/Snack Ohm Tapes)
JUNE 16, 2015
XENOFANES: Pissing In The Holy Grail - Album
XENOFANES is a death/thrash metal band who formed in Strängnäs, Sweden back in 1993. They recorded a couple of demo tapes and did a couple of gigs before they went seperate ways in the end of 1996.
In 2009 2 of the members met again and decided to give the band another try. It took a couple of years, but now their first full length album is finally here.
Well, they call it death/thrash, but I think there's more thrash than death in their music. It's definitely not any dance on roses though. It's pretty raw and evil stuff. I like it anyway. So why not give it a try$
In the last track (which is 10 minutes long) they sound a lot like SLAYER.
(Iron Shield Records)
JUNE 15, 2015
BLIZZARD HUNTER: Heavy Metal To The Vain - Album
A heavy/speed metal band from Lima, Peru who started in 2006. But they didn't release their first EP, "Conqueror Of Destiny", until 2014. Now their first full album is here, and it sounds like it did back in the 80s. They have a couple of good songs here, there's no doubt about that, so this could be worth checking out.
I don't have much else to say about this..
Release date: June 19, 2015 (Pure Underground Records)
facebook.com/BlizzardHunter
JUNE 15, 2015
STRONG ADDICTION: Anesthesia - Album
Some kind of alternative heavy rock/grunge. There seems to be many of these bands now, and STRONG ADDICTION is among the good ones. But for some reason I don't have that much to say about this kind of music. I have heard it before, and there isn't that much to add.
STRONG ADDICTION comes from Finland, and was founded in Helsinki in 2007. They released their first single, called "Empire of Lies", in 2008, which was followed by the "Suspicious Reality" EP in 2010. "Anesthesia" is their debut album, and was first released in November last year by themselves. Now it's been released in cooperation with Finnish label Inverse Records.
(Inverse Records)
facebook.com/strongaddiction
JUNE 14, 2015
SINNERS MOON: Atlantis - Album
I don't know, but this kind of symphonic metal with female opera vocals might not really be my thing. They mix it up with some male growl though, but it hardly makes it any better. There's usually too little variation. It's not totally worthless, but it could have been better with some small changes here and there. That is just my opinion though. And I bet that this is a damned good band for those who actually like this kind of stuff. So if you happens to be such a person, I guess you should check this out and not listen to what I have to say about it.
(Inverse Records)
facebook.com/sinnersmoonband
JUNE 14, 2015
The KRISTET UTSEENDE at Liseberg in Göteborg, Sweden on June 11, 2015
Interesting with a band like this (who sing about drugs, gays and dirty stuff) at an amusement park. It's not exactly any love songs, and there's actually children in the park. And then this band is playing their punk/metal and all kinds of people are standing there and singing along with their arms in the air, and sometimes with a toilet brush in their hand. And when they get tired of the brush they throw it to the stage, and then it comes back to the audience again. Crazy! But funny..
They mainly played good old classics from the 90s, and just a few songs from their 2 latest albums. There was a lot of people, and they were singing along in almost every song, more or less. Those of you who wasn't there really missed something, that's for sure!
The only problem was that I was hanging with some friends, so I wasn't infront of the stage as I use to be, which made it hard to see anything and take photos as the stage was so low (and I'm short).
I have seen this band a couple of times through the years, but this must have been the first time I have seen them without a single drink. A lot of other people was drinking though, and I could also feel the smell of joint. Hm..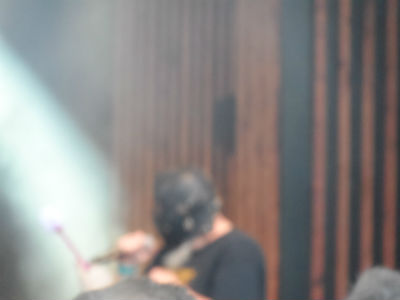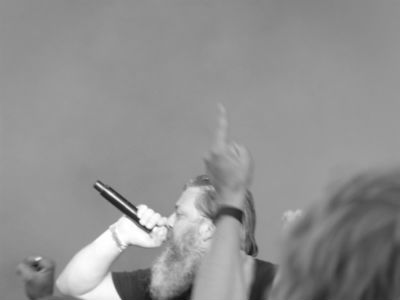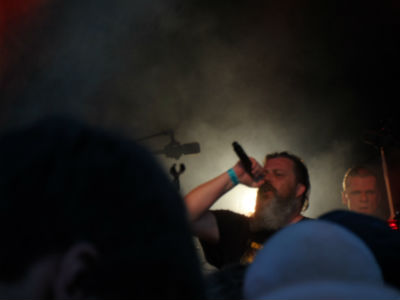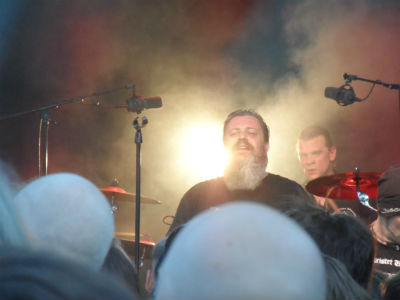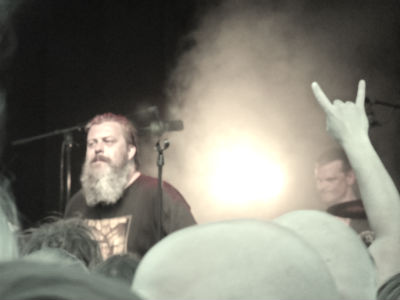 JUNE 12, 2015
DEMON LUNG: A Dracula - Album
Really heavy and slow doom/sludge with not that much variation. Wasn't their last record better? I wouldn't say that it's totally worthless though. No, no. It's pretty good stuff actually. But I guess it just takes a little longer to figure that out (that it's actually good after all).
But o.k., everything might not be so great, and their songs are pretty long. Some people might even think it's a little too dark. But if you like your metal hard and heavy, then this might be something for you. Just give it a couple of chances.
This is the second album from this Las Vegas-based band. "A Dracula" was produced by Billy Anderson (NEUROSIS, HIGH ON FIRE, EYEHATEGOD etc.).
Release date: June 15, 2015 (Candlelight Records)
JUNE 11, 2015
IWRESTLEDABEARONCE: Hail Mary - Album
Experimental metalcore that can easily lead to a nervous breakdown. Well, unless you are used to this kind of noise then and actually like it. The songs are just 2-4 minutes long, but I get tired of this after just 1 and a half song. ..and then they deliver 14! What a terror!
The only good moments on this album is when they calm down and give us some female clean vocals once in a while. Otherwise it's more or less the same noise all the time, so I guess you can easily figure out how glad I am when the torture is finally over.
Release date: June 15, 2015 (Artery Recordings)
JUNE 11, 2015
AMPUTORY: Ode To Gore - Album
Pretty good death metal from a Finnish band. This is their debut album, which follows in the tradition of other Finnish death bands like FUNEBRE, ADRAMELECH, DEMIGOD and DEPRAVITY. Maybe with a Swedish touch here and there as well. Definitely something that you should listen to anyway.
I don't know what else to say..
(Xtreem Music)
JUNE 10, 2015
MOONDARK: The Shadowpath - Album
This is a re-issue of the only demo that this Swedish band did, which was released in 1993. The band includes members from INTERMENT, ENTRAILS, UNCANNY and CENTINEX. The music they play is heavy old school death metal with influences in the vein of CRYPT OF KERBEROS, FUNEBRE, DEMILICH, ETERNAL DARKNESS, BOLT THROWER and FUNEBRARUM.
Well, 7 songs is what we get here, and it's not bad at all, even though there's some long instrumental parts here and there that doesn't give me that much. But this could actually be worth checking out.
(Xtreem Music)
JUNE 10, 2015
OPPRESSION: Scars 1988-1990 - Album
There was actually a Swedish thrash band from Falkenberg with the same band name in the mid-00. But this has obviously nothing to do with that band, which you probably already have figured out from the title of this album.
No, this is actually a thrash metal band from Finland, who formed back in 1987 already. 3 demo tapes and a 7" EP is what they made during their career, and you get it all on this collection.
If you're into a little heavier 80s thrash metal (think the heavier stuff with METALLICA and SLAYER for example), then this is definitely something that you should check out. Because most of their songs are really good.
(Xtreem Music)
JUNE 10, 2015
REINCARNATION: Void + Seed Of Hate - Album
Another death metal reissue. This time it is a band from Spain that I have never heard of before. They are not better or worse than any other band in this genre (which means that they are o.k. according to me), but there is definitely more interesting death bands to check out.
It seems like they were pretty drug liberal. Or what do you say about titles like "Weed For Everybody", "Diabolic Marijuana" and "Devoted To Cannabis"?
What you get here is the "Void" album from 1997 and the MCD "Seed Of Hate" from 1995, as well as an unreleased song from 1998 and 4 live tracks from Repulsive Fest in 1998. In all 18 tracks.
(Xtreem Music)
facebook.com/reincarnation.deathmetal
JUNE 10, 2015
STARQUAKE: Times That Matter - Album
STARQUAKE are influenced by bands like IRON MAIDEN, SPOCK'S BEARD and similar 70s/80s hard rock, which they spice up with some hammond organ here and there. "No More Hate" actually sounds like IRON MAIDEN's "Waysted Years". But otherwise it's like a hard rock opera that seems to have a story about some "rockstar" who is singing karaoke. But I'm not sure if I got that right though. It might just be 1 song that is about that subject by the way - the 21-minutes long "Rise And Fall".
There are definitely a couple of really good songs here, no doubt about that. The only thing I don't really like is the beginning of "I'm Goin' Mad (You Comin'?)". Very silly vocals there (it sounds like a man who is trying to sing very high like a woman).
This is absolutely something that you should try.
(Pure Rock Records)
www.starquake.de
JUNE 9, 2015
NEW YEARS DAY: Epidemic - Digital EP
This band is compared with HIM, Marilyn Manson, MOTIONLESS IN WHITE, ALKALINE TRIO, WHITE ZOMBIE, as well as singers like David Bowie, Amy Lee and Shirley Manson. Big words for sure.
It's catchy, melodic and melancholy. I guess we can call it modern, melodic goth/metal. Nothing new at all, but they have a couple of really good songs here, so they are still worth a chance.
Their first digital EP, "The Mechanical Heart", was release in 2011, and followed by a digital album, "Victim To Villain", in 2013.
(Another Century)
facebook.com/nydrock
JUNE 8, 2015
CEREMONY: The L-Shaped Man - Album
I thought this would be punk, and then they start with a piano, and then a guy start to sing to that. How boring! What comes after that is probably best described as post-punk, which isn't really punk according to me. That kind of stuff has more in common with goth and indie.
Well, some songs are good, while some songs are so damned boring on this album. But I guess it could be interesting if you like this kind of stuff.
The band comes from Rohnert Park, California, and released their first EP, "Ruined", 10 years ago. There have been a couple of more records on various labels since then.
(Matador Records)
JUNE 6, 2015
ART OF ANARCHY: Art Of Anarchy - Album
Here's yet another supergroup, featuring Scott Weiland (STONE TEMPLE PILOTS, VELVET REVOLVER), Ron "Bumblefoot" Thal (GUNS N' ROSES), John Moyer (DISTURBED) and twin brothers Jon and Vince Votta. And their sound is a little like a mixture of their previous or main bands - heavier hard rock with good melodies.
Most of the songs are good on this album, and just as you can expect there's high quality on the material and the production. So yes, this is worth checking out.
Release date: June 8, 2015 (Another Century)
facebook.com/ArtOfAnarchyBand
JUNE 5, 2015
TesseracT: Odyssey/Scala - Album/DVD
I guess that this can be nice if you're the kind of person who like to sail away with the music. This is very emotional music. But I'm not such a big fan of their psychedelic progressive rock. I have reviewed this British band before, and this is a live album, but honestly I didn't reconize any of the songs here.
Not really my thing, but somebody else might like it, becuase it's not worthless at least.
(Century Media)
JUNE 5, 2015
The UGLY: Decreation - Album
This band goes on like an unstoppable force. Like a Tsunami for example, who run over and destroy everything in its way. But it is so good, so just let them do it.
The music they play is black metal with roots in the Scandinavian 90s sound. The band was formed in Stockholm, Sweden in late 2004, and released their first album, "Slaves To The Decay" in 2008. After a couple of years their second album, "Decreation", is finally here.
The album was mixed and mastered at Endarker Studios by Magnus "Devo" Andersson (MARDUK), and it's definitely worth checking out.
Release date: June 5, 2015 (ViciSolum Productions)
facebook.com/theuglyofficial
JUNE 4, 2015
CHELSEA: Saturday Night Sunday Morning - Album
Here's an old British punk band that I thought that I never had heard before. But then I found out that I have at least 1 old song with them on a DVD (I have only watched it once though, but that was a long time ago now, so I don't remember what they sound like there).
CHELSEA formed as early as August 1976, did their first gig in October, and split up already in November the same year. Some members formed GENERATION X, but in early 1977 original member Gene October put together a new lineup of the band. It was now that they started to release records. "Saturday Night Sunday Morning" is their 10th album.
What we get here is pretty kind stuff. Pretty catchy. Not really pop punk, but more like melodic punk rock/street punk. I think this could be something for those who like bands like RANCID, but probably also those who like early GREEN DAY and stuff like that. You will most likely like this if you're into good old British punk rock bands like THE JAM, BUZZCOCKS and THE UNDERTONES etc.
This is a really good album. Definitely worth checking out!
(Westworld Recordings)
JUNE 3, 2015
SATURNIAN MIST: Chaos Magick - Album
So, what is the meaning with your noise then? Because to me it sounds very extreme sometimes. A little too extreme for me actually. And that's not so good. I have heard worse than this though, but it's hardly a album I will listen to again.
The band comes from Tampere, Finland and play occult death/black metal. The band was founded in 2006, and released their first album in 2011.
(Candlelight Records)
JUNE 3, 2015
The DARKNESS: The Last Of Our Kind - Album
Why start an album with Churchill? What good did he really do? But I guess the Brits have a other opinion about that.
Well, the vocals is not as "extreme" or high as before, but there's still some high notes here and there. The band is far away from the hit manchine that they were on their first album, "Permission To Land", though. But I must admit that they are still a good rock band. No doubt about that.
This album grow bigger and bigger the more I listen, so it's definitely worth checking out. Some of my favorites are "Open Fire" and "Last Of Our Kind".
(Kobalt Label Service)
JUNE 2, 2015
PARADISE LOST: The Plague Within - Album
The lyrics are just as dark as usual. A title like "No Hope In Sight" is a good description of the main subject of their lyrics and the music you will get. There are simply no happy songs here.
It's said a little here and there that the band are going back to the early days of their career, with more growl in the vocals. And the inspiration is said to come from the fact that 2 of the members are also in death metal bands - VALLENFYRE and BLOODBATH.
That might be possible.. Some of the songs are really hard, and some are really heavy. They might actually have succeeded to put both their hardest and their heaviest songs on the same album. No bigger changes than that though. So I don't think the old fans will be dissapointed.
To me PARADISE LOST is a good band. I listen a couple of times, but so far I have never went back to an album to listen to it again. I don't think that this album will change that either, which is a shame as it's a really good album.
Release date: June 1, 2015 (Century Media)
www.paradiselost.co.uk
JUNE 1, 2015
MATT SKIBA AND THE SEKRETS: Kuts - Album
It's already 3 years since the first album, 2012's "Babylon", was released. But now the second album is here.
I'm not really sure what this is supposed to be, but it actually reminds me of some pop band from the 80s or some indie band from the 90s. And those of you who were kids back then should know that pop music was much better back then. Very catchy and melodic songs, and I actually think I like it. There's definitely a couple of really good songs here to discover for those of you who dare.
I'm not really sure if this is a album for the typical hardrockinfo.com visitor though (and I still don't want your pop songs sent to me by e-mail), but you can always give it to a girl friend who dosn't like rock.
Release date: June 1, 2015 (Superball Music)
facebook.com/mattskibaandthesekrets
JUNE 1, 2015
TROUBLEMAKERS at Mariaplan in Göteborg, Sweden on May 30, 2015
It was said that they should start playing at 21.00, but they obviously changed that, because when I arrived they had already started. I don't know how many songs that I missed, but the songs I heard was really good anyway. Many old classics as well as a few new songs. And they delivered a really good show just as usual.
I don't really know what else to say..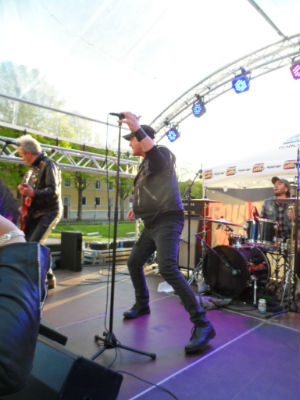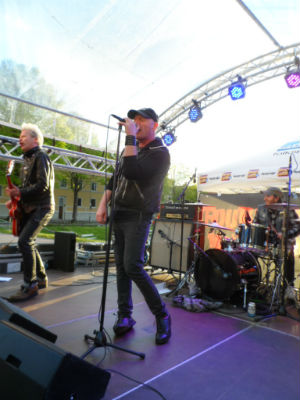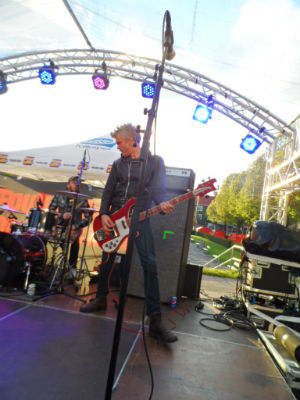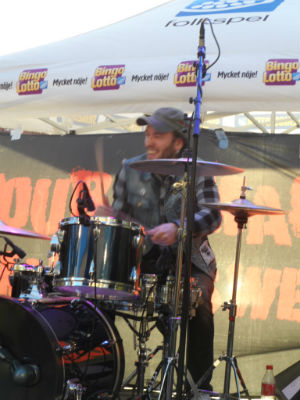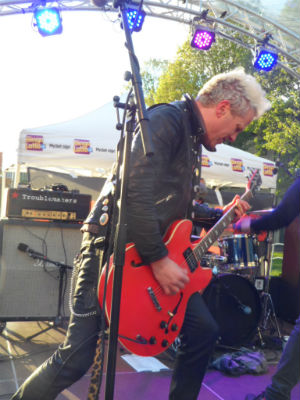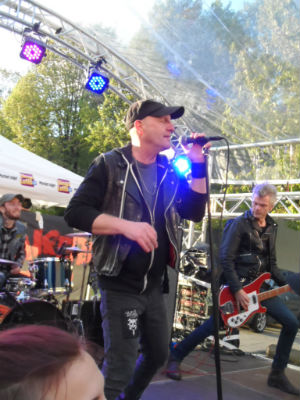 MAY 31, 2015
ARCHITECTS OF CHAOZ: The League Of Shadows - Album
This is former IRON MAIDEN singer Paul Di'Anno's new band. But if you think it will sound like early IRON MAIDEN, then you better think again. This actually reminds me more of ACCEPT, but with a modern touch from his young German members. And I must say that it's a really good heavy metal album that they have made.
But o.k., there could have been a little more variation, and there might be a little too much music, as it feels like this album last for an eternity. But that is just small details. The album is still worth checking out. No doubt about that.
Release date: May 29, 2015 (Metalville Records)
MAY 30, 2015
PERZONAL WAR: The Last Sunset - Album
Sounds like some kind of power/thrash metal soup with a modern twist. Modern melodic thrash metal might be a good description$ There's a vibe of 90s METALLICA over this, but they take it in their own direction. Pretty good stuff actually.
Seems like this band has been around for 19 years already, but this must be the first time I have heard them. Well, better late than never at all as the teacher said to the kid who was always late.
Release date: May 29, 2015 (Metalville Records)
MAY 30, 2015
The BOHICAS: Where You At - Single
THE BOHICAS are 4 young men from England who play some kind of energetic rock n roll with rythm and melody. They are currently putting the finishing touches on their upcoming debut album, which will be released later this year.
A pretty good song, but I think there is more interesting rock n roll bands you can listen to. It reminds me a little of Plastic Bertrand actually.
Release date: June 1, 2015 (Label unknown..)
youtube.com/watch?v=lnObs6BQ8lw
MAY 29, 2015
CLOSE QUARTERS: My Way Or The Highway - Single
Pretty catchy and melodic rock. It reminds me of The DARKNESS somehow, even though it's not exactly like them. Maybe with a touch of glam punk though? I'm not really sure, but it's a really good melody anyway, that's for sure! This is absolutely something that you should check out (before everybody else does).
The song comes from their second album, which they are recording right now. It will be released in August. Could be interesting..
(Label unknown..)
youtube.com/watch?v=9ox-qmZytto
MAY 29, 2015
CRUCIFIED BARBARA: Lunatic #1 - Single


Another single from CRUCIFIED BARBARA's latest album "In The Red", which is a great album that I really recomend you to check out.
"Lunatic #1" is of course 1 of all the good songs this band have done, but maybe not among the best. It's still worth checking out though. No doubt about that!
(Despotz Records)
www.crucifiedbarbara.com
MAY 29, 2015
The DARKNESS: Open Fire - Single
I don't think I have heard The DARKNESS since their first album, "Permission To Land", and that was a long time ago (where did all those years go?). This song comes from their latest album, "Last Of Our Kind", and I must say that the band have really developed since last time I heard them. In the beginning they were more or less a glam rock band with a lot of falsetto vocals, but now they are a rock band instead. I like what I hear here'
Release date: June 1, 2015 (Kobalt Label Services)
MAY 29, 2015
LEE BAINS III & THE GLORY FIRES: Sweet Disorder - Single
This sounds like a mixture of southern rock and garage rock with a pop twist. It's definitely rocking anyway. This is a very good song, so I wouldn't say no to some more of this. But it's hard to come up with anything else than that to say about this. So, just check it out!
This band released their first album, "There Is a Bomb in Gilead", in 2012. A new album should be out soon (or maybe it's already been released, I'm not sure).
(Sub Pop)
MAY 29, 2015
STRANGE WILDS: Pronoia - Single
Some kind of grunge/punk rock. A pretty o.k. song, but not that much else.
They are described as a power-trio from Olympia, Washington. They formed the group in 2012, and will release their debut album, "Subjective Concepts", this summer.
That they are signed to Sub Pop doesn't really come as a surprise when I hear this. The 90s called and wanted their song back.
(Sub Pop)
MAY 29, 2015
STERBHAUS: New Level Of Malevolence - Album
Straightforward and timeless thrash/death metal with tounge in cheek humour is probably the best way to describe this. "New Level Of Malevolence" is their third album, and I really like what I hear. I don't think there is 1 single bad song among these 10 tracks. This is definitely something that you should check out!
What else is there to say?
Release date: May 29, 2015 (Black Lodge Records)
www.sterbhaus.com
MAY 28, 2015
MÅNEGARM: Havets Vargar (Re-Mastered) - Album
This was much better than the last album I reviewed with them. Good drive and good speed. Some folk stuff here and there, but not as much of it as I think it was on that last album. I really like it!
What else is there to say then? "Havets Vargar" means "Wolfs of the Sea". The album has not been available for a long time, but is now re-released (like all of their early albums will be during this year). It's said to be a classic release, and is seen as a milestone in the viking/metal genre (even though I see it as black metal).
I end with a classic from myself: Definitely worth checking out!
Release date: May 29, 2015 (Black Lodge Records)
www.manegarmsweden.com
MAY 28, 2015
The ALFAS: Day After Day - Vinyl EP
Another one of all these psychedelic and blues based late 60s/early 70s hard rock bands. Maybe a little more garage rock in some of the songs here though. Well, I like both genres, and most of the bands I have heard have been really good. And THE ALFAS is no exception. They give us 5 really good songs that you just must check out if you're into this kind of stuff. Enough said!
Release date: May 29, 2015 (Wild Kingdom)
MAY 27, 2015
MASTER MASSIVE: The Pendulum - Album
The MASTER MASSIVE biography goes as far back as 1993, when some guys wanted to do a heavy metal opera. Different constellations of the band have come and gone through the years that have passed, but now the album is finally done and ready for release.
We get as much as 17 tracks, and the songs are both epic and progressive. We get both male and female vocals. There is a lot of variation here, but if you like all kinds of heavy metal that there is (no growl or extreme metal included), then this could be something for you to check out.
I think it is a very good album. Sure, there might not be master pieces all the way, but that is not so easy to create. It is definitely worth your attention.
Release date: May 29, 2015 (Vicisolum Productions)
MAY 27, 2015
TAD MOROSE: Forlorn - Single
Hard heavy metal in good old style is what we get from these gentlemen. I don't think I have heard them before, but this sounds really good and promising.
This song is the first single from their upcoming 8th album, "St. Demonius", which will be released in late August.
The band comes from Bollnäs, Sweden, and formed in 1991 already. Their debut album, "Leaving The Past Behind", was released in 1993. There have been a couple of more albums, as well as lineup changes since then.
Well, this is definitely worth checking out.
(Despotz Records)
www.tadmorose.se
MAY 26, 2015
GALVANO: Trail Of The Serpent - EP
Sludge duo from Göteborg (aka Gothenburg), Sweden. Eternity songs (9.51-11.35 minutes). It's not so bad, but I have heard better bands in this genre.
They started as a trio in 2005. But when the fourth bassist left the band, they decided to move on as a duo. Their debut album, "Two Titans", was released in 2012.
4 tracks is what you get here, and I guess you might like it if you like sludge and similar heavy stuff.
(Candlelight Records)
MAY 25, 2015
WHITESNAKE: The Purple Album - Album
Well, I guess everybody knows the story? Vocalist David Coverdale got the chance to take over the microphone in DEEP PURPLE when Ian Gillan decided to leave the band in 1973. David sang on 3 albums: "Burn", "Stormbringer" and "Come Taste The Band". After he left the band in 1976, he formed his own band WHITESNAKE in 1977.
"The Purple Album" can be seen as a nice best of from David's DEEP PURPLE years, but with a modern twist. It's new recordings by the current WHITESNAKE lineup.
A good album. No doubt about that. But who would think anything else?
(Frontiers)
www.whitesnake.com
MAY 24, 2015
SATURN and TORNET at Rockborgen in Borås, Sweden on May 22, 2015
O.k., so as usual the first band start later than expected just because they think more people will come. Just play!
Anyway.. I have seen TORNET before a couple of months ago, when they played in their hometown Göteborg, and they was really good. And well, they was really good this time too, even though there can't have been more than 20-25 people in the audience. Their music is in the good old bluesy 70s hard rock style. A little like BLACK SABBATH and NOVEMBER. Nice that they have some songs in Swedish too by the way.
I like the band, and they will hopegfully release a record soon (heard something about that). Something you should check out if you like bands like SPIDERS and GRAVEYARD for example.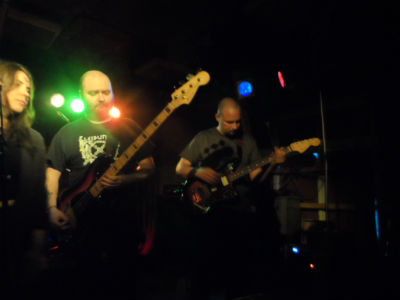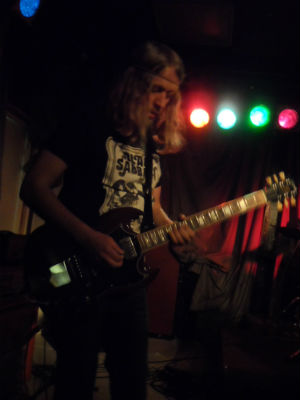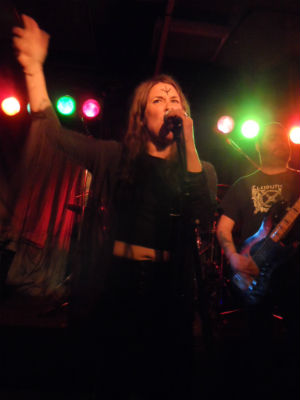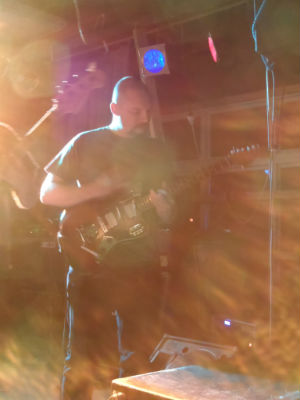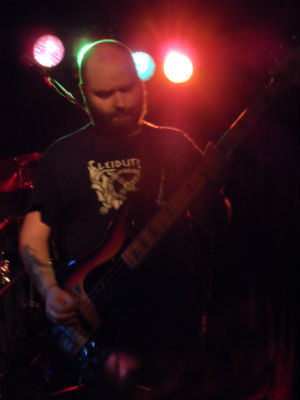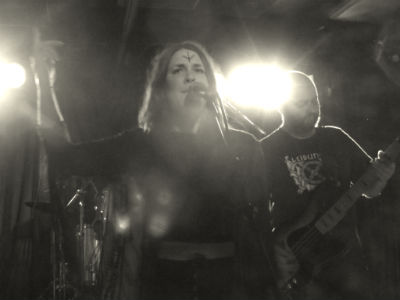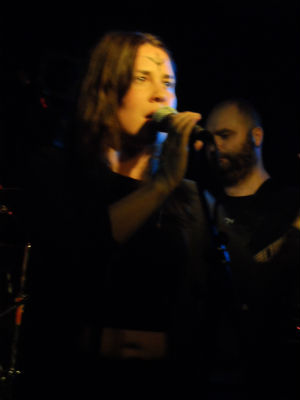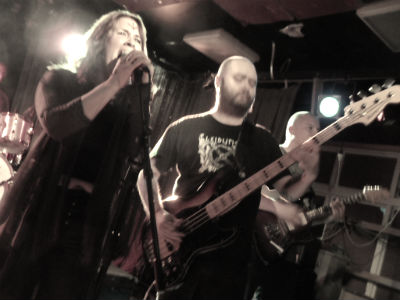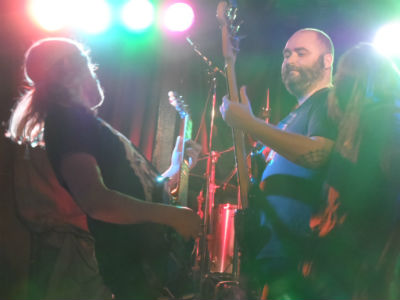 SATURN is a local hard rock band in the 70s/80s style. Sometimes a little psychadelic 70s hard rock, sometimes more like New Wave Of British Heavy Metal. I liked the later stuff best, but I guess I can learn to like the other stuff too. A damned good band anyway. No doubt about that. So this is another band I think you should check out.
Too bad that the venue succeeded to sell out all beer again, but SATURN had beer (they didn't give me any though) and did a good gig anyway.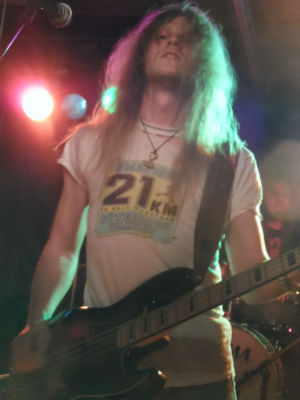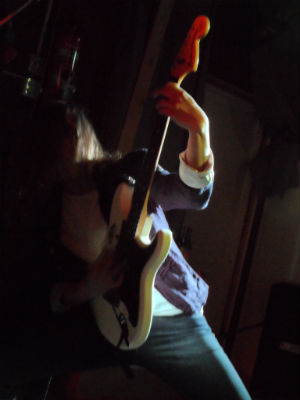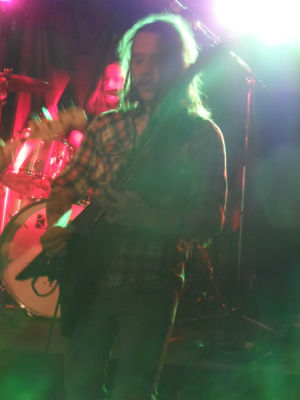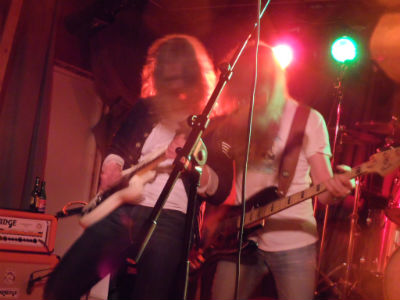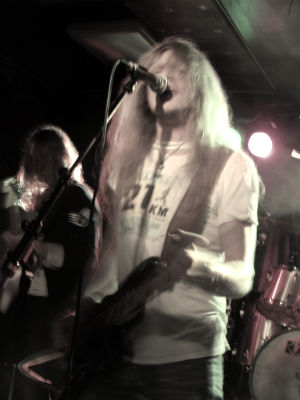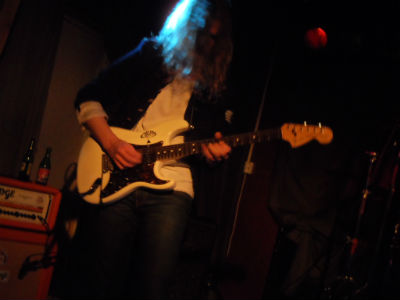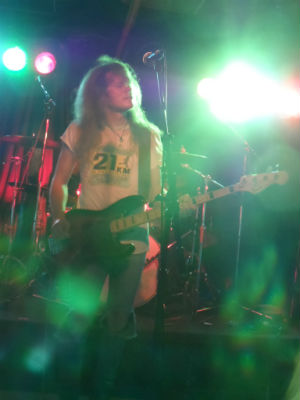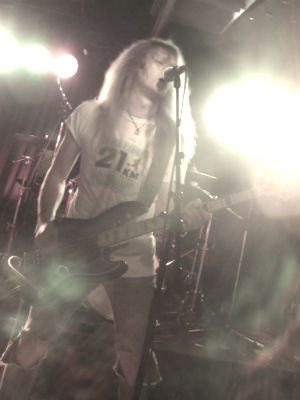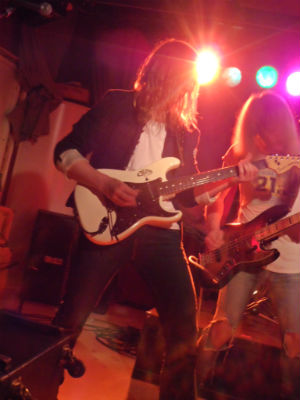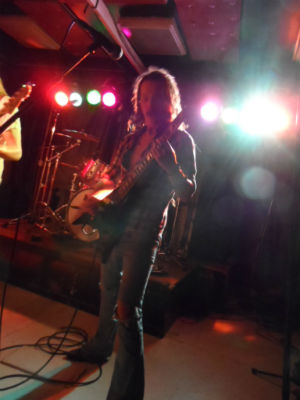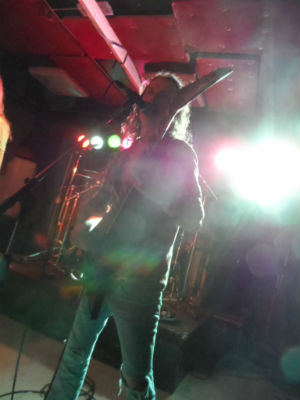 MAY 23, 2015
SIDEBURN: Evil Or Divine - Album
Heavy.. A very slow record.. There's just 7 songs, but it feels like this record never end.
SIDEBURN are said to be a classic hard rock/doom/blues/progressive band inspired by BLACK SABBATH, LED ZEPPELIN, early SCORPIONS, RAINBOW, CANDLEMASS and ALTER BRIDGE. And that sounds good, but unfortunately I don't think they live up to my expectations. Because when I read something like that, then they better deliver a damned good hard rock album in the old school. Which they don't do.
The first songs are o.k., but after that I loose my interest. This is probably better for those who just sit and listen, and really concentrate on what they hear. Because there is a lot going on here. But I'm not that kind of person.
(Metalville Records)
MAY 22, 2015
ADRAMELCH: Opus - Album
Progressive rock/metal from Italy. Their fourth and last album. It has an epic atmosphere over it. People into melodic hard rock and metal should love this album. There is plenty of masterpieces to discover here. That's for sure!
Release date: May 22, 2015 (Pure Prog Records)
www.adramelch.com
MAY 20, 2015
MARY'S KIDS: Bright City Lights/Miles Away - Single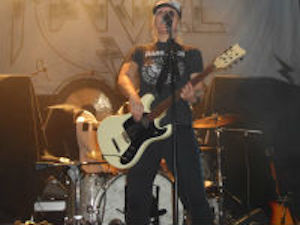 Damned good! Reminds a lot of early The HELLACOPTERS, when there was more punk in their rock n roll than on later material. And fact is that Nicke Andersson (The HELLACOPTERS, IMPERIAL STATE ELECTRIC) has recorded these songs. They are definitely a punk band though.
The songs are really short - 1.27 and 1.50 minutes - so it's over pretty fast. Almost too fast. Because I wouldn't say no to some more songs from this excellent band.
A couple of records have been released through the years, including 2 albums, 1 7" collection and a couple of split-EP's. A new 6-track EP, "Death In Suburbia", will be released on June 13.
This is a band you just have to check out!
(Startracks/We Are 138)
facebook.com/maryskidstheband
MAY 19, 2015
WALKING WITH STRANGERS: Terra - Album
To the one who sent this promo: Time to get a new person for digital works. Every song was track 1, no band name or title of the album included. Does that person really know what he/she is doing? I had to change it and do it right before I could listen to the album. So could you please send me 500 Swedish kronor for that work? Because this is just a hobby you know, so I don't get paid for writing reviews.
O.k., now that we have that out of the system, let the music do the rest of the talking. What we get here is what I would call stone hard macho hardcore/metal. It doesn't really suck, but it doesn't give me that much either.
Not really the kind of hardcore that I like best. The big question is if silent pieces like "Shores Of Another World" and the title track isn't the best tracks here$ But that's just my opinion I suppose..
Release date: May 22, 2015 (Burning Heart Records)
MAY 18, 2015
ROOF DOWN: Rewind/She's Coming Home - Double Single
ROOF DOWN is a grunge rock band from Stockholm, Sweden who formed in 2010. Their debut album, "Commercial", was released last year. They will soon release their second album, "Close Shave".
Pretty o.k. stuff, even though they will not bring the roof down. The singer reminds me of Eddie Wedder (PEARL JAM). It could be worth checking out though. Especially if you miss the old grunge bands from the 1990s.
(Self released?)
www.roofdown.se
MAY 17, 2015
VELVET SIX: Demons Los Divas - Album
I'm not sure how long this album have been waiting for a listen and a review, but it's at least a couple of months. Very sorry for that, but there's a little too much for 1 man to review right now. So you can be glad that I have not deleted your album.
Well, how am I going to describe their music then? It's definitely some kind of hard rock, but it feels like there is a goth vibe too. It's said that they combine the atmosphere of HIM with the arrogance of Billy Idol and the multi-dimension of MUSE. Pretty good stuff anyway.
The band comes from Kokkola in Finland, and released their debut album, "Dark City Nightlife", in 2011. Now their second album is here.
If you like Finnish bands like HIM and THE 69 EYES, then I think this could be something for you.
(Inverse Records)
MAY 16, 2015
TIRO NO ESCURO: Aqui Escondido - Album
Oooooooh! I hate these fucking useless intros! Just play the fucking music!
This band play melodic punk rock, and sing in a language I do not know (Portuguese). And that obviously gives them a very limited audience I think. I mean, if they would have been singing in English instead, more people would understand and give them a chance. Luckily punks are not as others, so they might actually give it a try anyway.
It is hardly the best I have ever heard, but I can not say that it is bad either. I guess they end up somewhere in the middle. But what was that last ballad good for? Are you trying to get more chicks? Good luck then..
(Necrosymphonic Entertainment)
MAY 15, 2015
SATYRASIS: ...Of The Dead - Album
I have been listening over and over again, but I find it hard to come up with anything interesting to write about this album.
The band comes from Michigan, USA and deliver 9 heavy metal songs in about an hour, and this is their second album. They mix their heavy metal with some thrash metal, but there is also some progressive tendencies.
An interesting mixture and some good songs, but nothing is extra good. The kind of album you listen to a couple of times, and then you forget all about it.
(Seventh Door Records)
MAY 15, 2015
DISRUPTED: Morbid Death - Album
YES! YES! YES! This is the way I want my old-school death metal to sound like! It reminds me of the early 90s and the first album with ENTOMBED, "Left Hand Path", which is a true classic to me. I don't mean that this is a total rip off of that album, but it's definitely something similar. And there might even be a pinch of crust punk in this brew too. Like it, love it.
If you don't check this out, then you must be really stupid! Death metal album of the month without a doubt!
Also read my review of their previous EP, "Heavy Death".
(Memento Mori)
facebook.com/disruptedofficial
MAY 14, 2015
S.F.D.: The Complete Works - Double album
2 records, 35 tracks. That is a little much from a band that I have never ever heard about before. But as the title says, it is a complete collection of all material this Australian thrash metal band have recorded. Sometimes they reminds me a little of METALLICA actually. But everything is not great. I think there is too much useless fillers/playing.
S.F.D. was active around 1991-93, but the "Regression" album that is included here was actually recorded later (?).
(Into The Pit Records)
MAY 14, 2015
WILL HAVEN: Open The Mind To Discomfort - Album
Sacramento veterans who return with their first new offering with original vocalist Grady Avenell since 2001s "Carpe Diem". But why should anyone care?
They play some kind of heavier metal. But it is not really doom or sludge, it is more like claustrophobia. It fuck you up and make you scream because you want to get the hell out. It rapes your ears! A really disturbing sound that can easily give you a nervous breakdown (unless you think you have nerves of steel, I get a headache from this shit, thanks a fucking lot).
I would not recomend anyone to listen to this. It is really fucking dangerous music. I do not want to hear this shit ever again!
Release date: May 18, 2015 (Artery Recordings)
MAY 13, 2015
MOJO WAVES: All The Right Parts Fit The Wrong Way - Album
Finnish high energy rock trio with a little crazy vocals. It's pretty good, but for some reason I can't come up with that much to write. And I don't know how many times I have been listening to this album now, but nothing..
I think you should give them a chance though. They are worth it. It's probably just me who listen to too much music because I have too much to review.
And in case you would lose the electricity, you can always ask these guys. With all that energy they should be able to produce electricity for a whole village.
(Macaroni Penguin Music)
MAY 12, 2015
GOD DAMN: Vultures - Album
Is this an album for the deaf? Another useless intro..
Something heavy, but not really shit heavy as doom or sludge. More like some kind of heavier grunge. Stoner grunge maybe? Pretty o.k. for a while anyway, but I get tired of it towards the end. There is a little too many tracks here. The most useless is that intro and everything from the 11th 9-minutes song to the end.
This wasn't really my kind of album.
(One Little Indian)
MAY 11, 2015
SPIDERS, RAGDOLL PARADE and KATMANDU at Kulturhuset in Borås, Sweden on May 8, 2015
It was many years since anything at this event called Kulturnatta was interesting to me. I don't think I have been there since GRAVEYARD played there, which was a long time ago. Before they became famous with their second album. But now they celebrated their 40-year anniversary with a 70s theme, so I thought that even the bands before SPIDERS could be interesting. And they actually didn't dissapoint me. But how often do you go to a gig at a library? That's where the 2 first bands played.
First band was a local covers band called KATMANDU. Some old dudes playing 70s blues rock. After a couple of songs they finally started to rock a little bit more with classics by URIAH HEEP, David Bowie and NATIONALTEATERN. That was their best songs. A good band. No doubt about that. And there was all kinds of people in all kinds of ages. A bit funny. Some woman behind me was laughing at all photographers. Weird people. So when I say all kinds of people, I really mean it (this city is definitely not as other citys).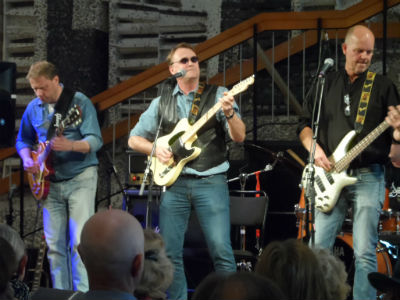 After that it was time for what was announced as classic hard rock. And even though RAGDOLL PARADE consist of pretty young boys, their songs was definitely in the 70s way. They even played a couple of DEEP PURPLE covers. But mainly it was their own material. And they were a pretty good band actually. Weird that there was less people at this gig. Somebody sitting behind me (yes, there was chairs!) asked me before they started to play if it was time for rhumba now. Ha, ha! I said "No, this band play hard rock". She was really looking forward to the rhumba. But I guess that was somewhere else in the building.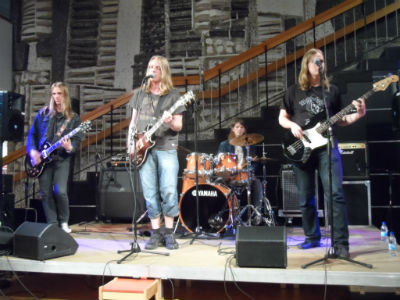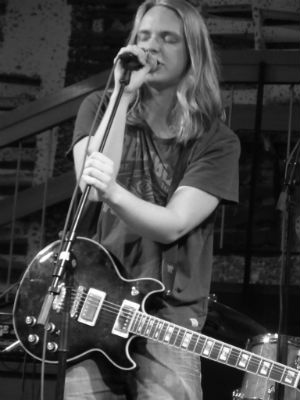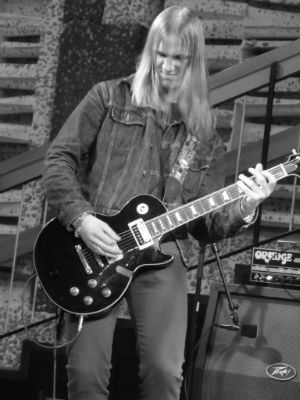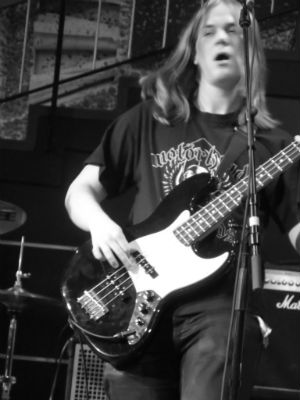 And after a beer at their nice bar (sat there like a king) it was finally time for the best fucking SPIDERS. ..but they was a little late, so we started to clap our hands, and then they finally came. And it was the best thing of the whole damned day! That's how good they are according to me. You may have read about them before on this site (I have seen them at least 3 times before), when they have been playing in their hometown Göteborg (aka Gothenburg), but this was the first time I saw them somewhere else. And then it happens to be in the city where I live! Excellent!
I guess it was just 2 weeks since I saw them last time, but then I was pretty drunk. This must be the first time I have seen them sober. And they were so damned good! And it seems like they were actually satisfied with the audience too (talked a little to them after the show and bought my first yellow t-shirt).
Let's just say that there wasn't many people that I knew at this gig (3 or 4 familiar faces), and those who wasn't there really missed something. Probably gig of the year in this city (but there isn't that many concert here as too little people show up).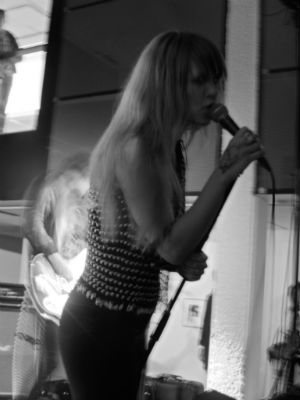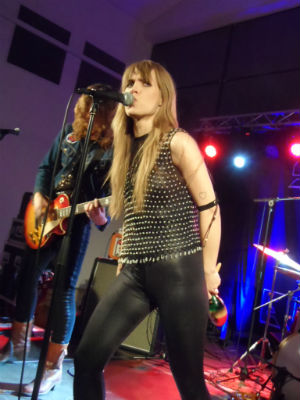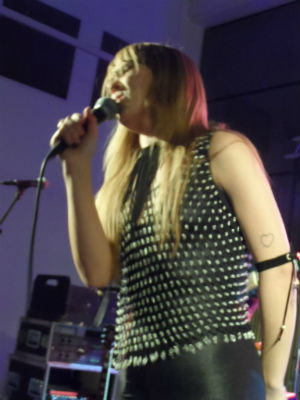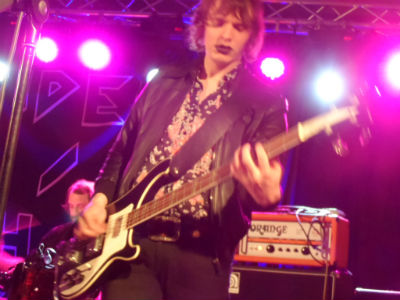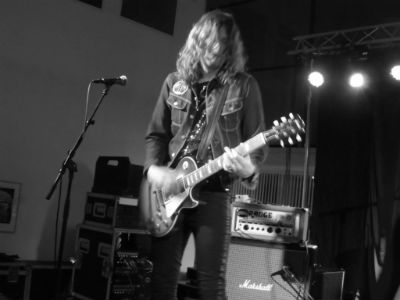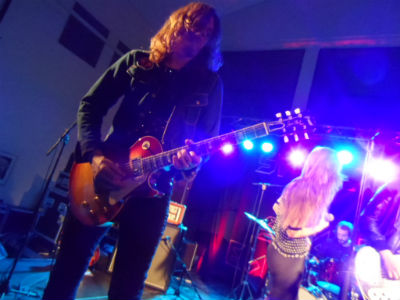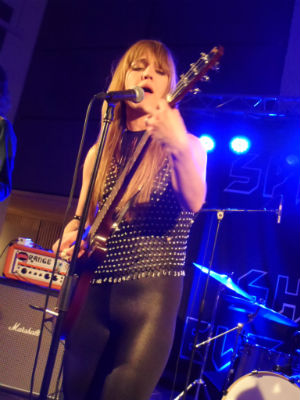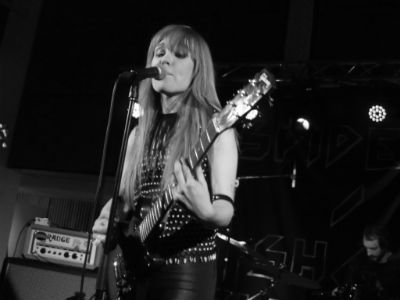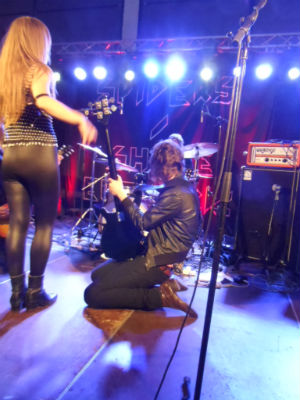 MAY 9, 2015
The BLOODLINE: We Are One - Digital Album
Full length debut from this Chicago quartet. Some kind of modern metal - A mixture of hard and heavy and melodic melodies and vocals. Or "very groove heavy with huge melodies and epic hooks", as the guitarist Shaun says. Very catchy stuff that will make it very hard to not bang your head if you like it. And I like it, so I can hardly sit still.
This might not be something for the one who just want classic heavy metal or harder stuff. But if you're not a stranger to melodic metal and hard rock, then this is definitely worth checking out.
European release date: May 11, 2015 (Another Century Records)
facebook.com/thebloodlineofficial
MAY 8, 2015
BRING THE DRONES: At War With The Machine - EP
Yeah! Punk as fuck! It reminds me of LOUDPIPES somehow, which is a band that I like a lot. So of course I like this too. There's more speed here though. More d-beat.
The band features Ted Fransson from BUCK, Charlie Claesson from ANTI-CIMEX and Denis Boardman from DOOM. I guess that gives you an idea about what they sound like.
3 songs is what we get here, and as the songs are pretty short, it's over in just about 4 minutes.
This is something you just must check out! It's only available digitally though.
(Startracks/We Are 138)
www.bringthedrones.com
MAY 7, 2015
AASGARD: Obscurantist Purification - Album
Seriously? What kind of shit is this then? Should the vocals really sound like that? More questions than answers. But 1 thing is for sure, the vocals destroy it all. The music is pretty o.k. though, but not much else. Oh why, why do you torture me with shit like this? But o.k., I have heard much worse than this.
As you may know, Aasgard is the home of the Gods in the Nordic mythology. And the lyrics might have something to do with that, but they are impossible to hear. The music has nothing at all to do with it, and the vikings would have beat them up because they make so much noise.
ASSGARD is a Greek black metal band who was formed in 2006. They have released as much as 2 EPs, 2 split albums and 2 full length albums. And now their 3rd album is here to destroy your day.
Release date: May 2015 (Unexploded Records)
facebook.com/aasgard.gr
MAY 6, 2015
IMPERIAL STATE ELECTRIC: All Over My Head - Single


New single with IMPERIAL STATE ELECTRIC, which comes from their upcoming album. And it's good as usual, the finest kind of melodic rock n roll that you can get. So I have nothing to complain about. Nicke Andersson (ex-The HELLACOPTERS, ENTOMBED, DEATH BREATH) once again proves that he is one of Swedens most talented songwriters and musicians.
It's a perfect combination of powerful power pop and good old rock n roll. Kind of the same stuff that THE HELLACOPTERS did towards the end of their career. But I guess you already know what this band sound like? Otherwise it's about time that you check them out. The upcoming album will actually be their fourth full length, so this is hardly a new band.
(Psychout Records)
www.imperialstateelectric.com
MAY 5, 2015
OFFAL / ZOMBIE COOKBOOK - Split 7" EP
2 death/gore metal bands from Brazil. OFFAL are compared with AUTOPSY and CARCASS, while ZOMBIE COOKBOOK are influenced by early DEATH, AUTOPSY and NECROPHAGIA.
I do not really know what else to say.. Good stuff that you should check out.
(Black Hole Productions)
facebook.com/offalgore facebook.com/zcbofficial
MAY 4, 2015
NORSE: Pest - EP
Listen to this is a little like torture actually. It is not totally worthless, but it is definitely not that good either.
Their shit is described as "a visceral, fiery form of mutated black metal. The music is highly dissonant, whipping out hooks and dirge-laden sections in places where you would least expect them." I think there is a touch of industrial noise too. Very extreme stuff. So if you are looking for the worst and most extreme stuff there is, maybe you should try this? Otherwise it might be better to avoid it.
(Transcending Obscurity)
facebook.com/norse.official
MAY 4, 2015
KARA AND THE DAM BAND: Alone In The Dark - Album
There are some good stuff here, but then there is these slow songs in 70s style, that sound like half-ballads for American housewives from a soundtrack for a movie or musical. But most of the material is some kind of 80s rock/soft hard rock. Very American (they are from San Antonio).
Songs like "Feels So Right", "Cheater" and "Shout It Out" are really good, but all 13 songs are not so great. They have to work some more on the hit potential, and throw away those slow songs.
This is their debut album by the way.
(Self released)
karaandthedamband.com
MAY 3, 2015
BLADECATCHER: Obverse - EP
This EP has a primarily orthodox, almost primitive death metal sound/structure and hints of technicality. It is dark and twisted. Heavy and fast.
Well, the guy can play and it doesn't suck, but is it that good? I really don't know..
3 tracks is what you get, and this is the first record.
(EEE Recordings)
MAY 2, 2015
CASABLANCA: My Shadow Out Of Time - Single
I have not really followed their history, but this song is the first single from their upcoming album, "Miskatonic Graffitti", which is their third album. The song is pretty melodic hard rock, and it just get better and better for each time I listen, so this is definitely something that you should check out.
I do not really know what else to say..
(Despotz Records)
facebook.com/casablanca
MAY 2, 2015
VETTEN ÄPÄRÄT: Sydäntalven Viha - Single
A folk metal band from Finland founded in 2006. They want to take the genre to the next level though. The music is built on a strong base of Nordic melodic metal, which they mix with a small doze of traditional folk melodies.
The band is currently working on their debut album, which will be released in the fall.
This is a pretty good song, no doubt about that, but I am not sure if I want a whole album with this.
(Inverse Records)
www.vettenaparat.com
MAY 2, 2015
FUNERARY BELL: Graveyard Seance - EP
Here is another band that wants to be anonumous. They have weird names like "Invoker Of The Shadows", "Caller Of Sepulchral Doom", "Henchman Of The Untamed Forces" and "Neverending Storm Of Mars". It is also a little funny that they call their music occult black metal, because to me it sounds more like doom/death metal. But the music seems to be good, so I will stop complaining now and let them call their music whatever they want to.
The band are from Finland, and formed in 2007. They have released a couple of things through the years, and they are currently working on their second full length.
Release date: May 4, 2015 (Saturnal Records)
MAY 1, 2015
MILLENCOLIN: True Brew - Album
So, Swedish skate punk legends MILLENCOLIN are back with a new album. The first new album in 7 years. It is actually the first time I have heard a whole album with this band, so I can not say that I am an old fan. But whenever I have heard a song with them through the years, it has usually been pretty good stuff. So it is not like I have anything against them (which I guess that some of my friends might have, but that is their problem, and people who judge before they have even give it a chance should always be taken with a pinch of salt).
It is said that the music on this 9th album is back to what they did in the early years. And well, this might actually be the best melodic punk brew I have tasted so far this year. That is how good I think this album is. And that doesn't say little as I listen to a lot of music.
Let's just say that I am not done with listening to this album yet. I can't stop listening again and again!
Release date: April 28, 2015 (Epitaph Records)
www.millencolin.com
April 30, 2015
COLD IN BERLIN: The Comfort Of Loss & Dust - Album
When I reviewed their last album, "...and yet", I called their music goth rock with a touch of new wave/punk. But I am not so sure if that description fit for this album. Their own genre description is "Punk Rock Doom-Gaze", and they like artists like ELECTRIC WIZARD, SWANS and David Bowie. So that might give you an idea of what they sound like. Not exactly a typical rock band, but they have their good moments.
There is a cold and dark atmosphere over their music, and it is pretty heavy too, but still with a vocal melody. I guess that punk rockers who also like doom and sludge will like this.
Release date: May 4, 2015 (Candlelight Records)
www.coldinberlin.com
April 29, 2015
SKYFORGER: Senprusija - Album
This band comes from Latvia, and have been around for 20 years already, playing Latvian pagan metal. It is a blend of traditional Baltic folk music and various metal influences, ranging from Norwegian inspired black metal to 80s heavy metal. I think there is a modern touch once in a while as well.
They have a couple of good songs here, so this could be worth a try.
(Thunderforge Records)
www.skyforger.lv
April 28, 2015
PLAGE: Den Kristne Stank - Album
PLAGE is a traditional black metal band founded in 2011. They have members from Lübeck, Germany and Copenhagen, Denmark. The lyrics are both in Danish and English.
They are hardly doing anything new at all, but it is good, so no problem there.
I do not really know what else to say, but if you are just going to buy 1 black metal album this month, why not spend your money on this one?
(Alusia Productions)
the-true-plage.bandcamp.com
April 28, 2015
DESPOT: Pictures Of The Void - Digital EP
Not bad at all. 4 tracks with a black metal duo from Brazil.
These guys are hardly doing anything wrong. It is really good stuff. Not too fast and chaotic, not too slow and boring. Good guitar melodies and just about enough brutality.
You check this out of course!
(Self released)
facebook.com/despotbrazil
April 28, 2015
Göteborg Rockfest at Sticky Fingers in Göteborg, Sweden on April 24-25, 2015
I do not have that much to say. I guess I got a little drunk as usual, and can not remember that many details, so check out the photos instead. It was a very good arrangement though, and many good bands (over 20, so I did not see them all).
The first band I saw was DEAD LORD, and they sounded a lot like THIN LIZZY. Very good!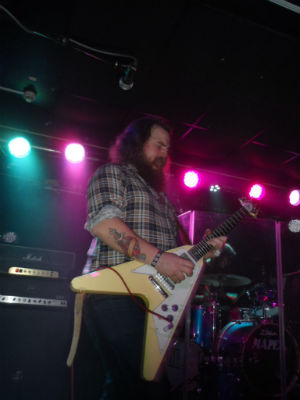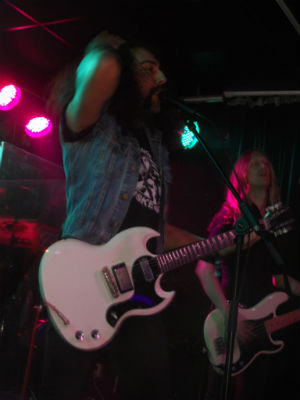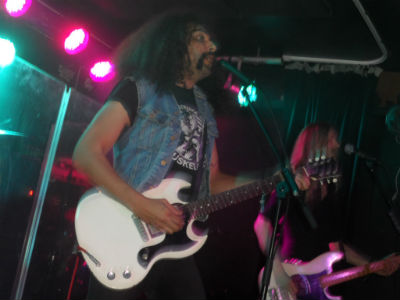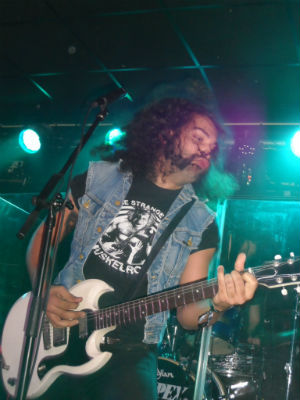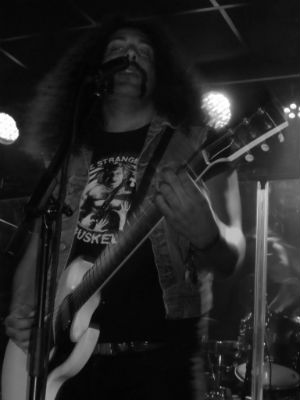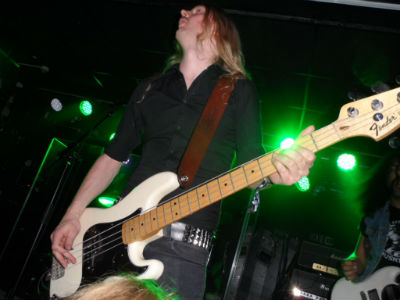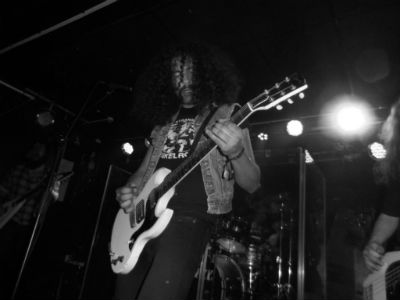 After that I saw DYNAMITE, but I do not remember that much of that. I think they sounded like AC/DC though. Am I right?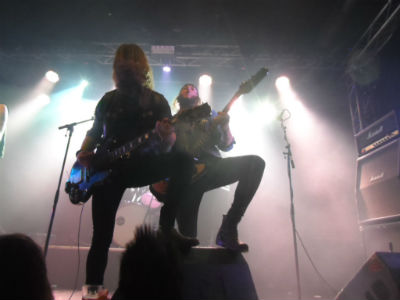 THUNDERMOTHER was the next band for me, and as far as I can remember they delivered just as good as last time I saw them on the same stage.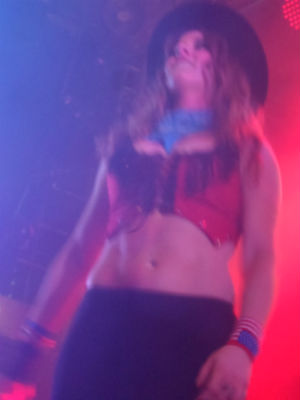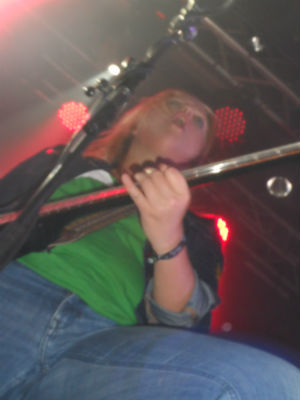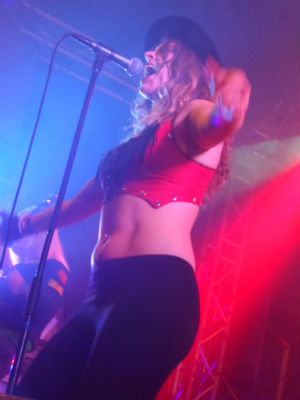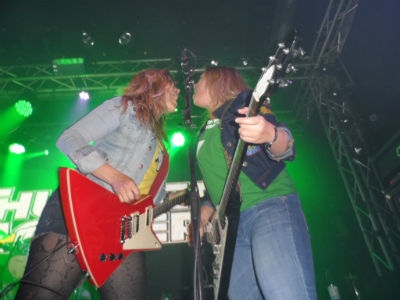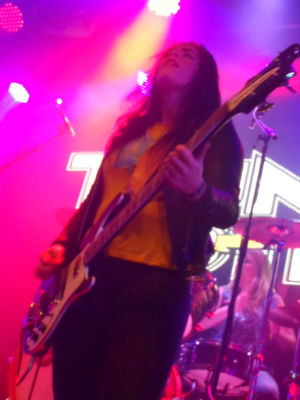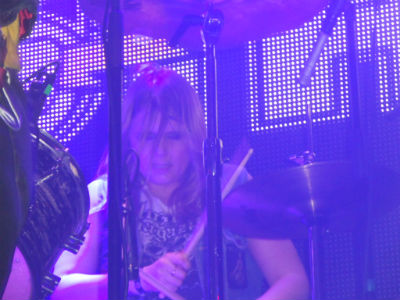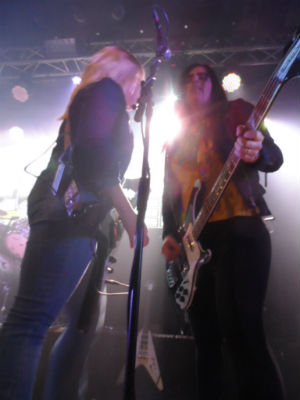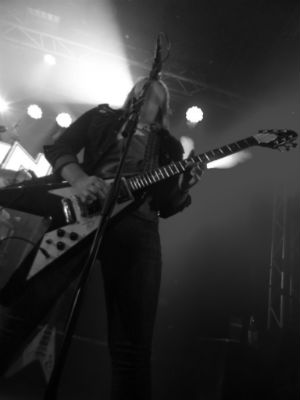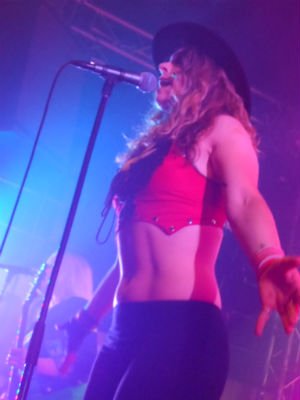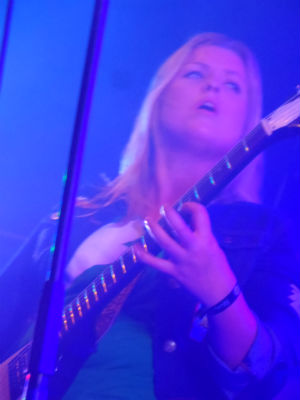 It was a while since I saw SIPHON FUEL last time, but I think they did a good show as usual.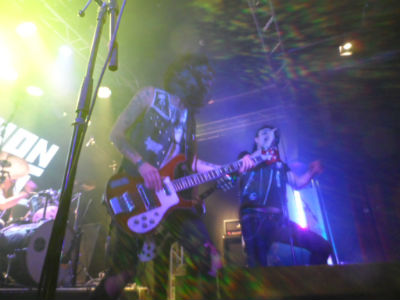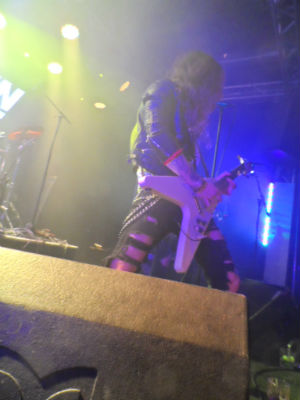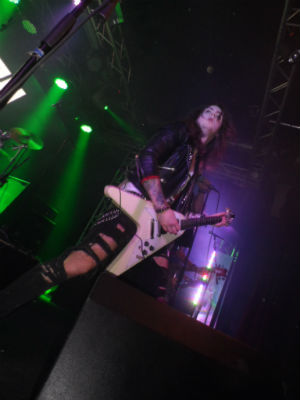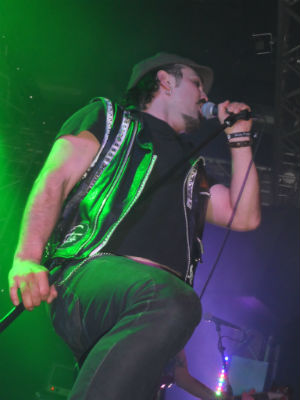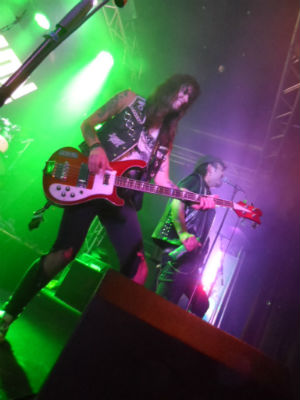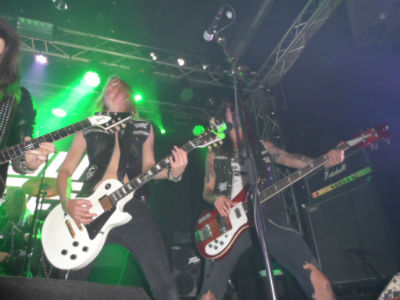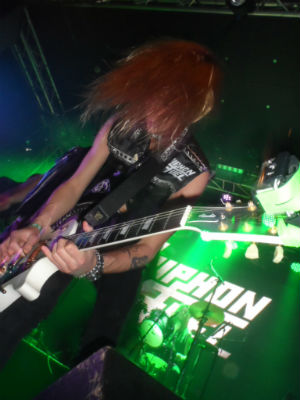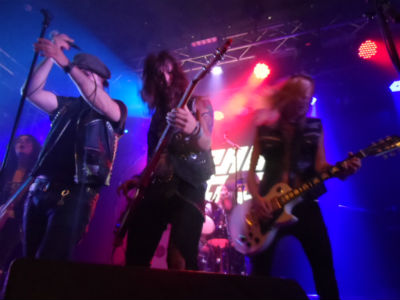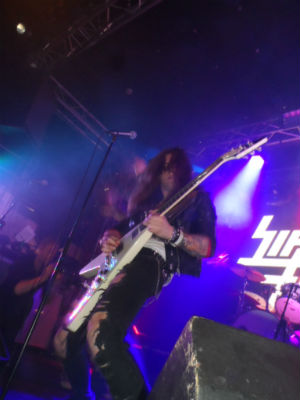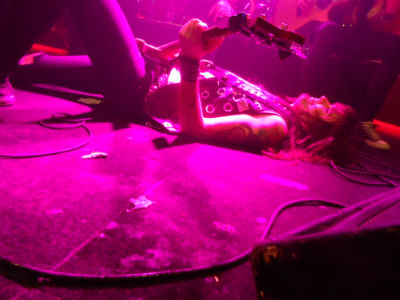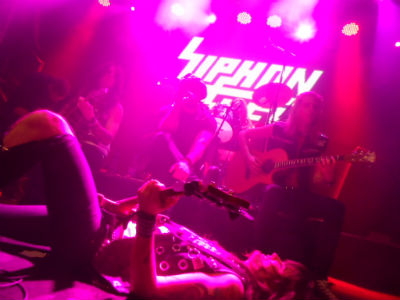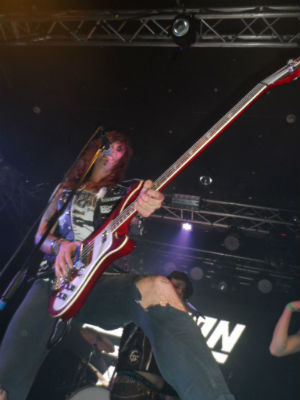 I saw HONEYMOON DISEASE in December last year, and they was really good, so I guess they delivered a good show this time too.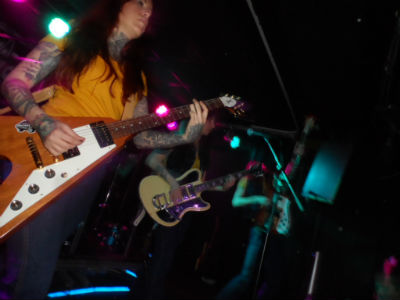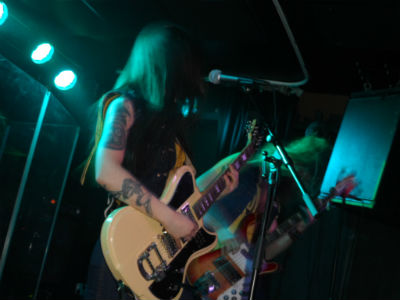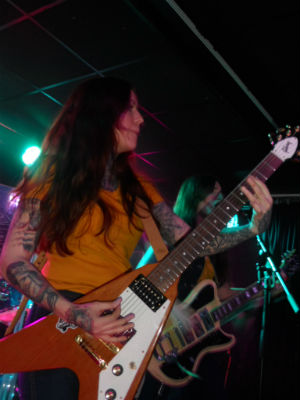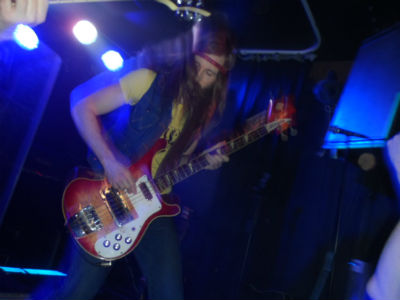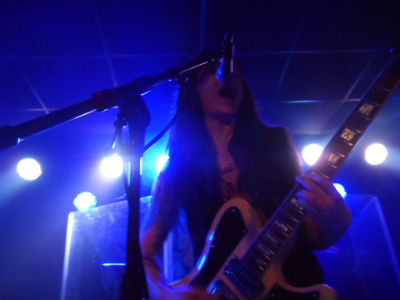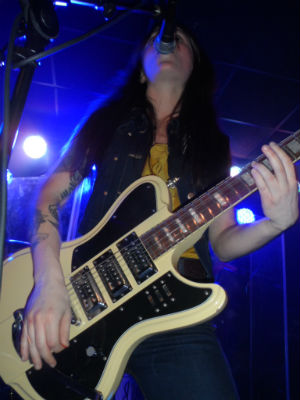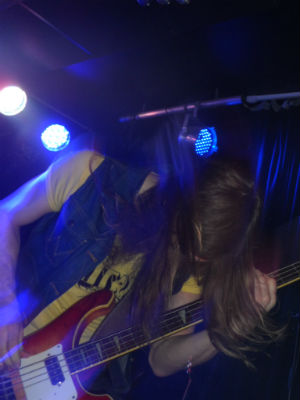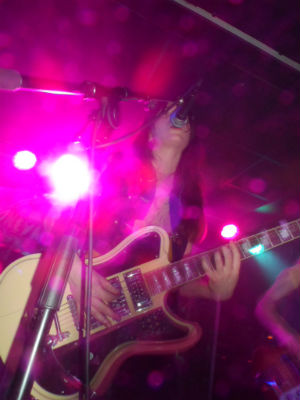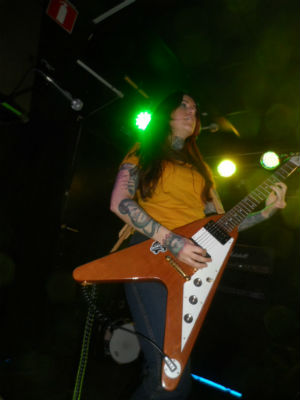 It must have been about 2 years or something since I saw The SCAMS last time. Unfortunately I didn't take that many photos of them, and only 2 was any good.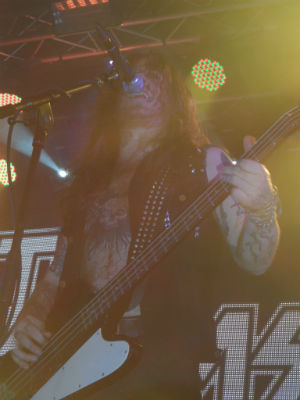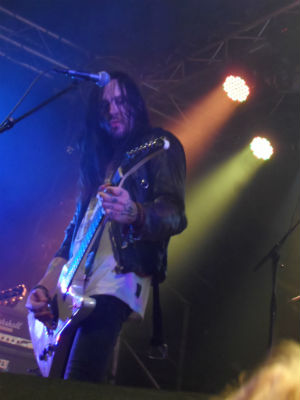 The last band I saw during the first night was SPIDERS, which are 1 of many favorite bands. Too bad that I do not remember that much, because they definitely use to deliver a good show.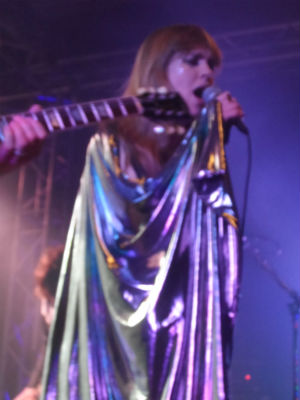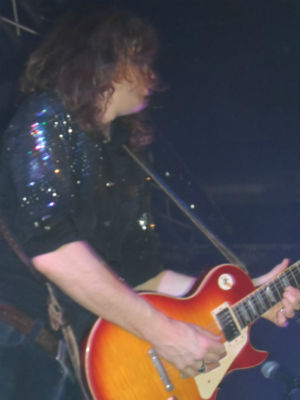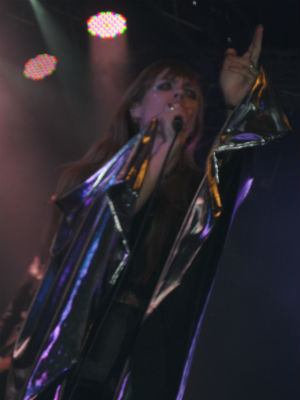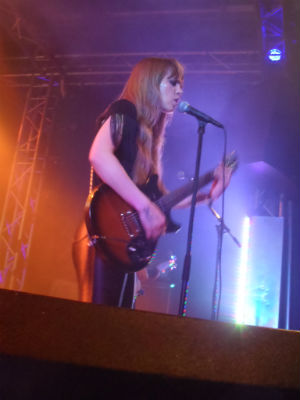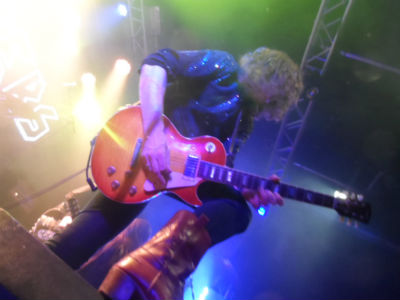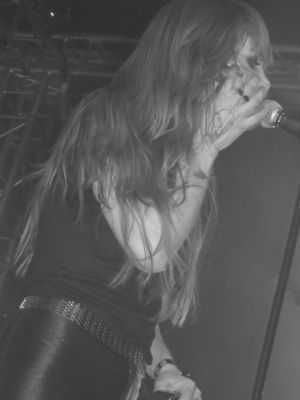 It was not as many bands as the first night on the second night. I was there early though and saw a little of the first band ART NATION. They played melodic hard rock, and they seemed to be o.k.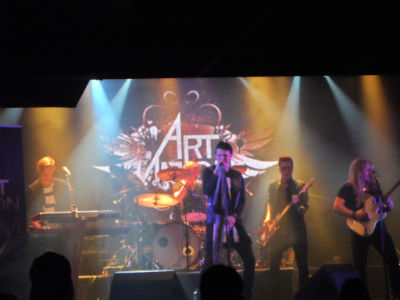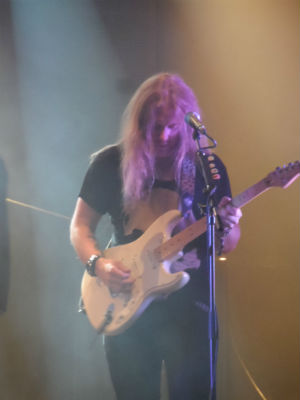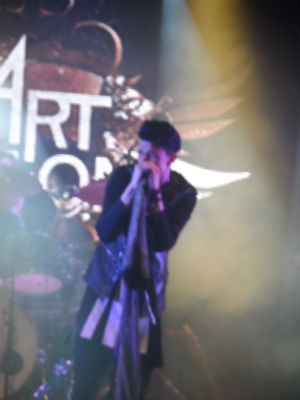 After a couple of songs I had to go to the toilet, and on the way back I stopped to listen to LYCKLIGA GATAN, which was a Swedish punk rock band that I have not heard before. They was really good though, so I would like to hear some more.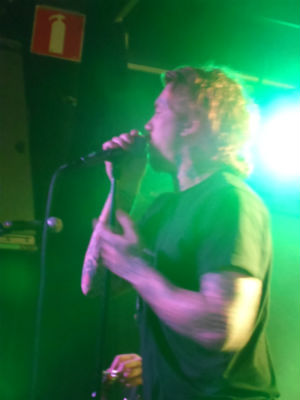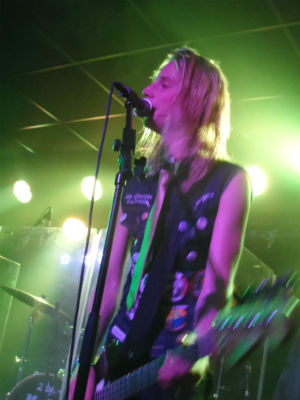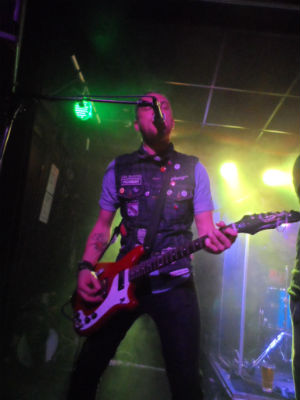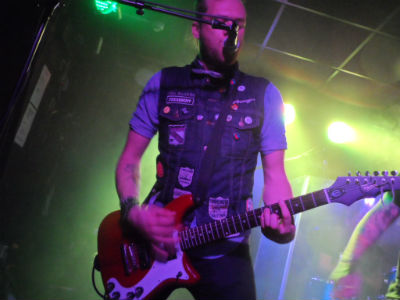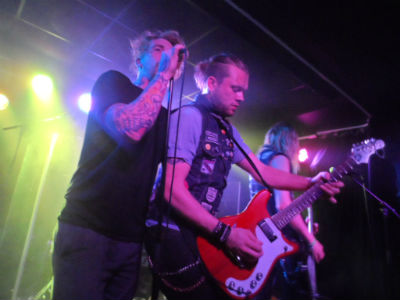 After that it was time for NIGHT.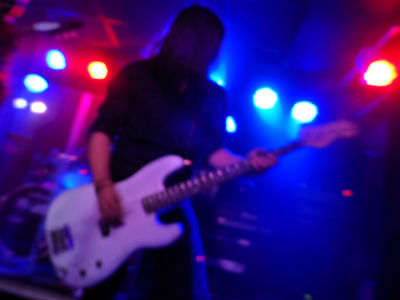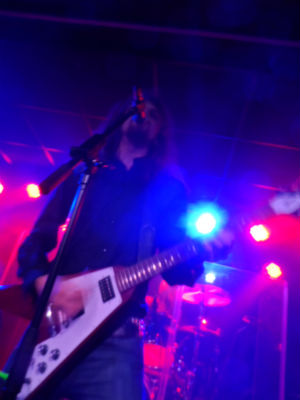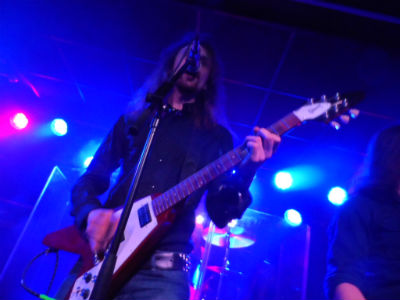 It is as much as 4 years since I saw HELVETETS PORT last time on the same stage, and I do not think I have heard them since then. Which is stupid as they are really good. Unfortunately I did not succeed with more than 2 photos.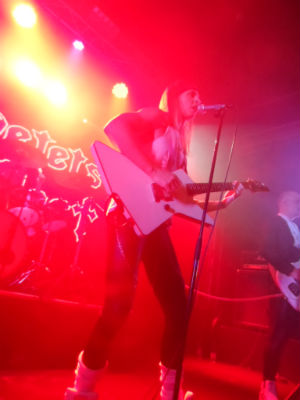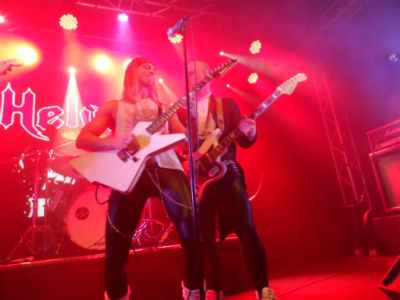 ENFORCER was unfortunately the last band I saw. Even though I wrote a pretty stupid review about LASTKAJ 14's latest album, I wanted to see them too. But a guard thought that I have had enough to drink, so I had to leave after their show (shit happens). Here is some photos of ENFORCER anyway..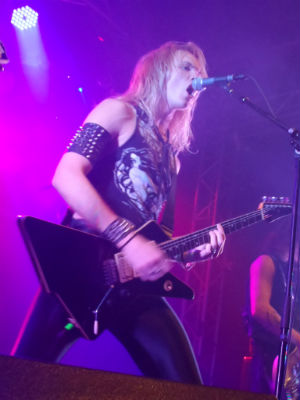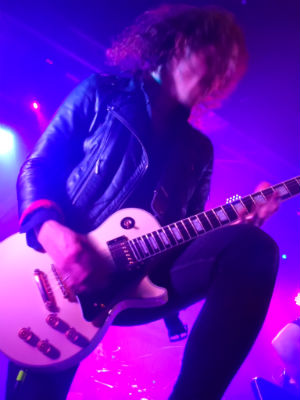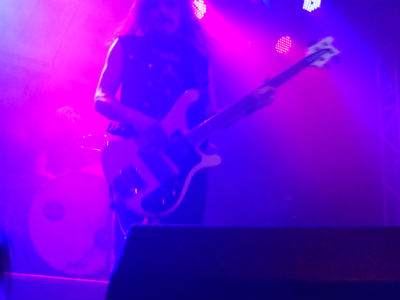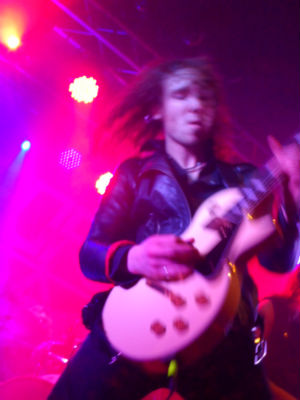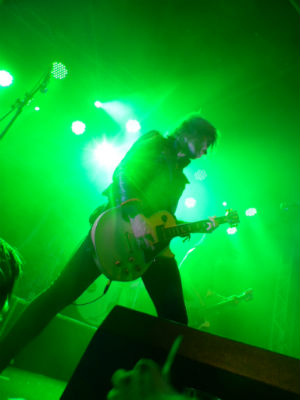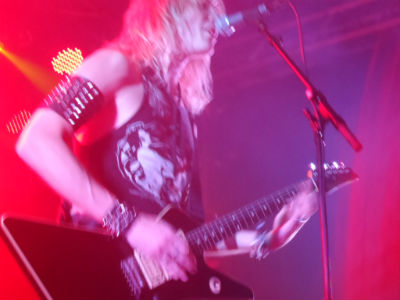 April 27, 2015
DEEZ NUTS: Word Is Bond - Album
Well, it doesn't suck old man's ass, but it is not like it gives me a hard on either. I get tired of this pretty soon. Especially when I have a hangover (but that's just once or twice a week on the other hand).
While there have been a party vibe on their previous records, they have now grown up a little and sing from the heart instead. It is still hardcore directly from the streets though, so do not worry about that.
If you are more into hardcore than me, then you will probably like this a lot.
Release date: April 27, 2015 (Century Media Records)
www.deeznutshardcore.com
April 25, 2015
GIFT GIVER: Shitlife - Album
Hardcore from Detroit.. Well, that is hardly the kind of stuff I think about when I hear that city's name. But that is where this band comes from, who formed in 2012. And they are hardly doing anything new. It is pretty typical hardcore/metal according to me. But as you may know, I am hardly a professional when it comes to hardcore, so what do I really know? This is probebly excellent for somebody who like this kind of stuff. I get bored after just a couple of songs though. So according to my opinion there is much better bands in this genre to discover.
European release date: April 27, 2015 (Century Media Records)
www.giftgiver.com
April 25, 2015
CARBONIZED: For The Security - Album
CARBONIZED was 1 of the first Swedish death metal bands. They formed as early as 1989 in Saltsjöbaden, outside Stockholm, Sweden. The ban's varying line-ups featured members from bands like THERION, ENTOMBED and DISMEMBER. But CARBONIZED was not really like those bands. They incorporated some grind and progressive influences in their songs as well.
"For The Security" was their first full length, which is now re-released by Vic Records, including liner notes from the band members and 2 very exclusive, previously unreleased bonus tracks as an extra bonus.
Let's just say that if you are into old-school death metal, this is definitely something for you. Damned good!
Release date: April 27, 2015 (Vic Records)
April 24, 2015
EMERGED: Letting Go Of Certainties - EP
Well, what is there to say about this then? Instrumental hard rock is what you get. And seriously, how funny is that? But they seems to be good at what they are doing, so who am I to complain just because they do not like singers? There is not that much to say about it though. I mean they just play and play without that much action. It is like listening to an intro that never stop (and you might know by now how much I hate useless intros).
EMERGED was founded in 2009. They are influenced by many various styles and bands, like PINK FLOYD, BLACK SABBATH, METALLICA, JUDAS PRIEST, OPETH, MASTODON, classical music and IRON MAIDEN. This is their first record, and you get 5 tracks in half an hour.
Release date: April 27, 2015 (Vic Records)
April 24, 2015
MORDENIAL: Where The Angels Fall - Album
Melodic death/thrash metal from Sweden. The band formed in 2008, and this is their first album. 11 songs in 47 minutes.
The band features Matte Fiebig (PAGANIZER, ex-RIBSPREADER) on vocals and drums, Fredrik Nilsson (SINNERS BURN) on bass and local guitar wizard Kjetil Lynghaug on all guitars.
They might not do anything original and new, but it is still damned good stuff! So if you like melodic death metal, then you check this out.
Release date: April 27, 2015 (Vic Records)
April 24, 2015
NINKHARSAG: Blood Of Celestial Kings - Album
What this band create is hardly anything new at all, but it doesn't matter as it is damned good. So if you like black metal, this is a album for you.
The band formed in 2011 and comes from UK. This is their debut album.
Musically they are compared with legends like MAYHEM, DISSECTION and GORGOROTH. No modern stuff here. Just pure classic black metal the way I like it.
Release date: April 27, 2015 (Candlelight Records)
April 23, 2015
SIGH: Graveward - Album
Schizo metal anyone? That is what I want to call this extreme metal band from Japan. But even though it is a little crazy sometimes, there is some good moments too.
This band is definitely going their own way. And that is probably why they are not so big in their own country (that's what I have heard anyway). But if you are looking for something unique, this could be something for you.
"Graveward" is said to be a big step forward from their earlier albums in every aspect. The biggest change was brought by their new guitarist You Oshima, who joined the band in 2014, who is not just giving the guitar playing a new dimension to the band, but has also been important when it comes to mixing the album (which took 3 months).
There are several guest musicians on this album, like Matthew Heafy from TRIVIUM, Fred Leclercq from DRAGONFORCE, Niklas Kvarforth from SHINING (Sweden) Sakis Tolis from ROTTING CHRIST, Metatron from THE MEADS OF ASPHODEL etc.
This is the kind of album that you either love or hate I suppose. You should give it a second and third chance though before you make up your mind.
Release date: April 27, 2015 (Candlelight Records)
April 23, 2015
ULTRA-VIOLENCE: Deflect The Flow - Album
A young thrash metal band from Turin, Italy formed in the fall of 2009. This is their second album.
Well, it is not so easy to do something original when you play thrash metal. This band sounds just like all their heroes from America and Germany. And there is nothing wrong with that, as it is just the way I want my thrash metal to sound like. So thumbs up!
You check this out of course!
Release date: Apr. 27, 2015 (Candlelight Records)
April 23, 2015
DEADLYSINS: Anticlockwise - Album
These dudes doesn't seems to be too clever. No information at all, just a CD. Are you going to pay me for searching for information, or what? Because this is just a hobby, so nobody pay me for writing reviews. I am not even sure if it is supposed to be a "real" CD or if it is a self released demo.
They play thrash metal anyway, and it sounds pretty o.k., especially when it goes a little faster. The heavy parts are not always so funny. I want it to kick ass.
Well, they seems to be good at what they are doing (but what do I really know? I am not a musician), so search and discover a new band before everybody else does it. You get 10 tracks in 38.20. Enough.
(Self released?)
April 22, 2015
LORDS OF THE TRIDENT: Frostburn - Album
Very melodic hard rock/heavy metal. Clean vocals in most songs, but in "Kill To Die" he almost screams like Rob Halford. More of that please!
The album was produced/engineered by Doug Olson (NIRVANA, SMASHING PUMPKINS, CHEAP TRICK) and mastered by Dan Harjung (Robert Plant, LIVE, QUEENSRŸCHE).
This was really good! Definitely a must if you like melodic hard rock/heavy metal.
(Killer Metal Records/Junko Johnson Records)
lordsofthetrident.com
April 22, 2015
DIRE PERIL: Through Time And Space - Album
There is just 4 songs, but the title track is as long as 18.50 minutes, so I suppose we can call this an album and not a EP (you will probably get it for the price of a EP though).
This band comes from California and call their music Sci-Fi power metal. Among the special guest musicians are guitarist Andy LaRocque (KING DIAMOND), who make an appearance on the track "Evolution's Failed Design", and vocalist John Yelland (DISFORIA, JUDICATOR) sharing vocal duties with Norman Skinner on the title track.
Pretty good stuff, but whatever they mean with Sci-Fi is a good question. I do not think it sounds so futuristic. But that is just a small detail. It is still worth checking out. So do that.
(Dead Inside Records)
facebook.com/direperil
April 22, 2015
ANTHROPIA: Non-Euclidean Spaces - Album
Some kind of female-fronted progressive power metal with guest apperances from Arjen Anthony Lucassen (AYREON, STAR) and Edu Falaschi (ALMAH, ex-ANGRA). The album is based on the Cthulhu Mythos and H.P. Lovecraft's writings.
ANTHROPIA was founded in 2003, and their first album, "The Ereyn Chronicles", was released in 2006. This is their 4th album.
They definitely have a couple of really good songs here, so you should absolutely check this out.
(Adarca Records)
www.anthropia.org
April 22, 2015
ASHCLOUD: Abandon All Light - Album
Well, this is not any merry cuckoos. But I guess you figured that out already when you saw the title of this album? These guys like total darkness and want to drown you in blood and burn your children. Sick dudes, indeed.
But let us talk a little about the music instead. To me it sounds like some kind of heavier death metal, and it might not be the most interesting I have heard. But there are some highlights too I must admit, so it is not totally hopeless. It goes a little faster towards the end, and I like that better.
This is the debut album from this Swedish/British duo, who consist of Jonny Petterson (SYN:DROM, WOMBBATH, VHOLDGHAST) and Gareth Nash (BODY HARVEST).
(Xtreem Music)
facebook.com/Ashcloud666
April 22, 2015
BROTTSVÅG!: Ingenting Är Som Det Ska - LP
Umeå in northern Sweden have given us a lot of good punk and hardcore bands through the years. In the 90s it was the straight edge Mecca (as you might know), with bands like REFUSED and ABHINANDA to name just a few. But after that there have been a couple of good punk rock bands from the city (like KNUGEN FALLER, EPIDEMICS and MASSHYSTERI for example). And BROTTSVÅG! is 1 of those bands.
Their style is in the good old Swedish tradition, but with both male and female vocals (mainly male). It is catchy and melodic, but not pop punk. It reminds me of the bands from the late 70s/early 80s. Which use to be really good stuff.
"Ingenting Är Som Det Ska" is a collection of EPs, as well as some new songs. This is definitely a band that you should check out! Yet another punk album that is hard to stop listening to.
(Luftslott Records)
facebook.com/Brottsvag
April 21, 2015
LINK: Chapter IV - LP
Belgian hardcore/crust band who create a melancholic atmosphere above their heavy tunes and dark lyrics. They are described as a cross between DOWNFALL OF GAIA and WOLFBRIGADE. But they are also compared with bands like HIS HERO IS GONE, BACCHUS and FROM ASHES RISE.
Not the kind of bands I use to listen to, but I like what I hear, so this could be worth checking out.
Faster crust punk attacks like "Wasteland" and "Entombed And Forgotten" is the kind of stuff I like best on this record.
There is just 6 tracks on this LP, but 2 of the songs are 6.38 minutes (do not ask me how they succeeded with that, I mean how big is the chance that 2 songs have the exact same length?), so I guess there wasn't room for more.
Release date: April 24, 2015 (Distro-y Records/Alerta Antifascista/Halvfabrikat Records/Counteract Recordings)
linkbelgium.com
April 21, 2015
CHOKING ON ILLUSIONS: Rest/less - Album
What do we have here then? Hardcore again. But with a touch of emo and slow atmospheric parts (or however I should describe it?). I prefer good old hardcore/punk before this kind of stuff. But a faster song like "Death Waltz" is pretty o.k. though. But it is never worthless, and the album isn't longer than half an hour, so I survive.
If you think hardcore use to be too intense and want more beautiful melodies, then this might be something for you. There is aggressive stuff too of course.
(Bastardized Recordings)
April 21, 2015
ARTIZAN: The Furthest Reaches - Album
Oh, these useless intros! Stop it! But otherwise it is pretty good melodic US metal that we get from this band. With guest apperances from Matt Barlow (ex-ICED EARTH, ASHES OF ARES) and Sabrina Cruz (SEVEN KINGDOMS).
This is their third release, which is a epic sci-fi concept album that tells the story of an alien race returning to Earth after a distress signal is sent into space.
Even though it is pretty melodic, it is also their heaviest and most progressive record so far. And most of the songs are good, but I do not like the talking here and there (I suppose it is important for the story though). Definitely worth checking out.
Release date: April 24, 2015 (Pure Steel Records)
www.artizanmetal.com
April 20, 2015
DAVID SHANKLE GROUP: Still A Warrior - Album
David Shankle is best known for being a member of MANOWAR between 1988 to 1994. His first solo album, "Ashes To Ashes", came out in 2003, and his second, "Hellborn", in 2007. Now his third album is here.
What I can hear sounds like melodic, neo-classic heavy metal that reminds me of the early records with Yngwie Malmsteen. But as I am not a guitarist, I do not find those instrumental songs so interesting. The rest is brilliant though! The kind of stuff I would have masturbated to when I was a kid.
Release date: April 24, 2015 (Pure Steel Records)
www.davidshankle.com
April 20, 2015
NIGHTSHOCK: (no title) - Album
Raw heavy/thrash metal in the same league as early VENOM and MOTÖRHEAD is the easiest way to describe this band's music. They are a trio (a brother and sister plus a friend) from Italy who formed in 2013, and this is (obviously) their debut album.
They have a couple of really good songs here, so if you think VENOM have not done anything good since the 3 first albums, then this album could actually be worth checking out.
Release date: April 24, 2015 (Iron Shield Records)
April 20, 2015
LUSTRE: Blossom - Album
Heavy darkness everywhere. No light at all as far as the eye can see. That melody is all that keeps ju alive. All that keeps you going on. But after a while you get really tired of that song. It last for an eternity. Same thing over and over again without that much variation. And there is never any vocals.
O.k., this is nor metal or punk (even though they label it as black metal). It is actually not any kind of rock at all. Just some kind of instrumental, atmospheric stuff. Lullabies for adults. It is very meditative and dreamy.
4 pieces between 5.47 to 9.42 minutes is what you get.
Release date: Apr. 24, 2015 (Nordvis Produktion)
facebook.com/lustresweden
April 19, 2015
AGES: Malefic Miasma - Album
Cold black metal darkness with orchestral and acoustic parts, which gives it a special atmosphere. And as there is something called melodic death metal, why not call this melodic black metal? That is what it sounds like to me anyway.
AGES comes from Sweden, and was formed during the winter of 2011. This is their first album.
Pretty good stuff actually. But I guess you have to be in the right mood to really enjoy this. It is definitely worth a chance anyway. So do not be afraid.
Release date: Apr. 24, 2015 (Black Lodge Records)
www.ages.nu
April 19, 2015
Back to Page 2
Next page