REVIEWS 2016 - Page 3
SORCERY: Garden Of Bones - Album
Anybody out there who like Swedish old school death metal? Stupid question, huh?
This band formed as early as 1986 already in Sandviken, Sweden. Their first full length, "Bloodchilling Tales", was released in 1991. But in 1997 it was over.
Now they're back with their third album. And sure it's old school, but SORCERY somehow have their own sound. And it's a damned good sound! So this is definitely something that you don't want to miss.
(Xtreem Music)
sorcery.se
JUNE 7, 2016
SEEDNA: Forlorn - Album
Very tough stuff, and heavy. Supposed to be black metal with inspiration from other genres. Not really the kind of black metal that I like. It just isn't good. Same thing over and over again for an eternity. Track 2, the first real song, is 22.20 minutes long. And another song is 11 and a half minutes. But the rest is around 5-9 minutes long.
"Frozen" and "Abyssus" are the only songs I would call "real" black metal on this album. But as we all know, black metal is so much more than just pedal to the metal with a screaming maniac. So I guess this goes as a black metal album after all. Most of the other tracks are more built on atmosphere, but might have some black tendencies here and there. But who cares?
(Transcending Obscurity Records)
JUNE 6, 2016
STRANGULATE: Catacombs Of Decay - Album
Another death metal band from India. It's raw and brutal stuff in the old school. So if that's what you like, you will probably like this band. Not so bad, but I find it hard to believe that I will listen to this again some day (but you never know).
(Transcending Obscurity Distribution)
JUNE 6, 2016
RIKET: Avarter - EP
RIKET (Swedish for "The Kingdom") was founded by Johan Nephente Fridell (vocals) and Tobias Jakobsson (lead guitar) of NETHERBIRD, when they wanted to try some new ideas outside of their mainband. During the short writing process that followed, drummer Adrian Erlandsson (AT THE GATES, The HAUNTED etc., and also drummer in NETHERBIRD 2007-2010) decided to join them.
What we get here is 4 tracks of some kind of death metal, with lyrics in Swedish. But it's not the usual old school stuff. This band go in their own direction, even though the music is rooted in the underground metal from the 90s.
Good stuff worth checking out.
(Scarecrow Recordings)
riket.org
JUNE 5, 2016
BAND OF SKULLS: By Default - Album
MANDO DIAO's younger brothers? Catchy rock with a pop twist is how I describe this English trio anyway. Not much action actually, which I would have prefered. There's many much more interesting rock bands (especially in the Swedish rock scene), so I would be surprised if this band would be the next big thing. And I'm actually not sure if I want to call this a true rock band. Just listen to "So Good" (they should have called it "So Bad" instead) and the 3-4 last tracks. They suck! And it's not rock according to me. Didn't they understand that themselves?
(BMG Recordings)
bandofskulls.com
JUNE 5, 2016
DOMINANCE: XX The Rising Vengeance - Album
This is the third album from these Italian death metallers. But they have not been fast with their album releases. The first album, "Anthems of Ancient Splendor", was released in 1999, and after that it took 10 years before "Echoes of Human Decay" was released. I guess they have been busy with other things, but that doesn't really matter now that a new album is here.
The kind of death metal that this band is playing is more modern than old school, and there's also a lot of melodic hooks here and there, so some of the songs are on the border to being melodic death metal. But it's good stuff anyway.
Release date: July 8, 2016 (Sliptrick Records)
facebook.com/DominanceMetalBand
JUNE 4, 2016
DECEASED: Fearless Undead Machines - Album
Death/thrash metal with influences from good old IRON MAIDEN, SLAYER and VENOM is what it sounds like to me (not all at the time though). And it sounds really good.
This album was originally released on Relapse in 1997, and is the first of 3 reissues from the Indian label Transcending Obscurity Classics. And if you (like me) missed it back then, now is the time to check it out. I'm pretty sure that both those who like death and thrash will like this. So don't be afraid.
Release date: June 10, 2016 (Transcending Obscurity Classics)
JUNE 4, 2016
OMMADON: Ommadon - Album
2 eternity songs. The first is 21.57 minutes. The second is 19.44 minutes. Not much of interest is happening here. You can just as well listen to somebody tuning the guitar instead. It's just as much fun as listening to this.
This is supposed to be doom/drone, and there's no vocals at all.
I just don't get why anybody want to listen to this. And why somebody want to release it is a even bigger mystery for me. It's like a lie that somebody is taking too seriously. Because this is not really music according to me.
(Medusa Crush/Dry Cough/Burning World)
JUNE 3, 2016
MORTICHNIA: Heir To Scoria And Ash - Album
Primitive black metal from the underground. Similar to early BURZUM. This is not so funny to listen to though. Most of these songs are so damned long that I get tired of it before the first song is over. And variation, what is that? Nowhere to be found here. I don't really know why anybody wants to listen to crap like this, when there's plenty of good bands you can listen to instead. This was really useless!
It's said to be something for fans of DEATHSPELL OMEGA, MGLA, ALTAR OF PLAGUES, BETHLEHEM and LEVIATHAN.
(Apocalyptic Witchcraft)
JUNE 3, 2016
Max Navarro: Somewhere South Of Heaven - Album
It's a pretty short album. These 9 tracks are over in just about half an hour. But on the other hand it's enough for me. Not that it's bad, this is pretty good stuff. There's many catchy songs here.
The music on this album is AOR and American rock, and it's 3 years since this Italian/Canadian rocker and his band released a album last time.
Worth checking out. I don't really know what else to say..
(AW Recordings)
maxnavarro.com
JUNE 3, 2016
The LAST DITCHES: Spilt Milk - Album
This is described as punk meets progressive metal, and the band features Walter Lure (The HEARTBREAKERS) and Bobby Rondinelli (BLACK SABBATH, RAINBOW), as well as members from The LIZARDS and The PLANETS. I think it sounds more like some kind of hard rock n roll though. Not that much punk and no progressive metal at all. It's really good, and should be something for fans of let's say ROSE TATTOO from Australia, or maybe even The QUIREBOYS. But people who simply like rock should give this a try.
(Hyperspace/Rocker Records)
JUNE 3, 2016
CASABLANCA: Sister - Single
A new single from Swedish hard rock band CASABLANCA's masterpiece "Miscatonic Graffiti". If you have not checked that album out yet, then it's really about time that you do that. Immediately! It's already a modern classic.
"Sister" is a softer song, and might not be among my biggest favorites from that record. It's still damned good though. Because as far as I can remember, every song was good.
(Despotz Records)
JUNE 2, 2016
DINOSAUR JR: Tiny - Single
I can hardly say that I'm a fan of these veterans. I'm actually not sure what songs that they have done before, and what songs I possibly can have heard with them. But I know that they was pretty popular during the grunge era in the 90s.
This song sounds pretty o.k. anyway. It's a catchy and melodic rock song full of life. Happy.
A new album, "Give a Glimpse Of What Yer Not", will be out on August 5, and this is the first taste of that.
(Jagjaguwar)
youtube.com/watch?v=0HC4xwjjXN4
JUNE 2, 2016
DREADNAUGHT: S.O.S - Single
Hard and heavy groove metal. Like a cross between 90s METALLICA and PANTERA.
This American metal band - from Beckley, West Virginia - are not just releasing this new single, they're also re-releasing their debut CD, "Incarnate".
A pretty o.k. song, so check it out. That's all I have to say..
(Gamma Records)
JUNE 2, 2016
RYLOS: Joker/Parallel Life - Single/Single
2 singles at once? Confusing.
The songs comes from their upcoming album "Game Theory", and their music is called "carrot rock" (are they Vegetarians or farmers?). ..even more confusing. But it seems like you can find these tunes on digital ass holes, excuse me, platforms like Spotify, iTunes etc.
Well, it sounds good anyway, and that's always the most important thing. So give it a try. You might actually like it.
(Secret Entertainment)
facebook.com/rylosband
JUNE 2, 2016
TORNADO BABIES: I'm Back - Single
Another single with Gothenburg, Sweden based sleaze rockers TORNADO BABIES. This time it's a little heavier, but still very good. Give it a try! They're worth it.
I don't really know what else to say though.. Sorry..
(Self released)
facebook.com/TornadoBabiesOfficial
JUNE 2, 2016
The DARK: Chemical Warfare - Album
A wild mix of pogo punk, post punk and new wave. I like the punk songs a little bit more than the rest.
"Chemical Warfare" is the debut album by this Islington, UK band, which was originally released in 1982. But there must be a lot of bonus material on this new version, because there's as much as 21 tracks here. Luckily we don't get any of the songs 3-4 times though, which is really good.
The DARK are said to be similar to bands like The WALL, CHELSEA and UK SUBS. So if you like that kind of stuff or early British punk in general, then you should give this a try.
(Westworld Recordings)
JUNE 1, 2016
The RUTS D.C.: Psychic Attack - Single
I thought a single was just 1 track nowadays, and here's 3 tracks, which I would call a EP. Small details and who cares and then some..
Fact is that it sounds like 3 different versions of the same song, even though they have different titles. "Psychic Attack" is the first one, and it's pretty o.k. I would call it some kind of modern rock. "Psychic Disturbance" is some kind of remix that I don't really like at all. I don't even understand the meaning with it. But the most useless version is the last track, "Vox Teardrop", which is instrumental.
This will hardly be a hit, and it would have been enough with just the first version.
This band started as The RUTS in 1977, and had a hit with their single "Babylons Burning". After the tragic death of singer Malcolm Owen, the remaining original members - Paul Fox (guitar), Segs Jennings (bass) and David Ruffy (drums) - continued performing and releasing records as a trio, adding the musical term D.C. to the name.
(Westworld Recordings)
JUNE 1, 2016
The WALL: Personal Troubles & Public Issues - Album
The artwork can easily make you think that this would be a New Wave Of British Heavy Metal band. But it's not. No, this band has more in-common with British punk rockers like BUZZCOCKS, The UNDERTONES, The JAM and sometimes even The DAMNED. They might not have the same "hit potential" as those 4 bands used to have, but they're definitely good enough for me anyway.
The band formed in 1978, and released their first single, "New Way", in 1979. After that it was time for their debut album, "Personal Troubles & Public Issues". This new version of the album got 16 tracks, so there's some bonus material included except for the original album (mainly single B-sides).
Worth checking out.
Release date: June 10, 2016 (Westworld Recordings)
JUNE 1, 2016
DARK FUNERAL: Where Shadows Forever Reign - Album
It was a while since the last album with DARK FUNERAL. 2009 and "Angelus exuro pro eternus" to be exact. But now they're back stronger than ever to show us all how true black metal is done.
This is the first album with the new vocalist Heljarmadr (GRÁ), and it can actually be the best album that they've ever made. It's not just pedal to the metal all the way, as it often use to be with these guys. Somehow there's more variation than before, and I really like it.
My favourite must be the slower track, "As I Ascend". It's a great song!
It could actually be the best black metal album so far this year.
Release date: June 3, 2016 (Century Media)
darkfuneral.se
MAY 31, 2016
DEFIATORY: Extinct - Album
Thrash/death metal that reminds me of ENTOMBED/ENTOMBED A.D. Which is really good stuff of course. Maybe a little bit more on the thrash side than on the death side though.
The band comes from Sweden, and this is their debut album. You should absolutely check this out. Because I'm pretty sure that you will like it a lot.
..and in lack of anything else interesting to write: "Extinct" was recorded at Garageland Studios in Umeå, Sweden. It was produced, recoded and mixed by Ronnie Björnström (AEON, PAGANIZER). And finally mastered by Thomas Johansson (SCAR SYMMETRY, WATAIN) at The Panic Room.
I which them good luck! They really deserve it.
Release date: June 3, 2016 (Black Lion Productions)
facebook.com/defiatory
MAY 31, 2016
ZARPA: Dispuestos Para Atacar - Album
Spanish heavy metal band. Except for a hiatus in the 90s, they have existed since 1977 already. Pretty impressive.
All lyrics are in Spanish, but I think every true fan of good old heavy metal will like this anyway. Because it's a damned good album that they have made.
Release date: June 3, 2016 (Pure Steel Records)
zarparock.com
MAY 30, 2016
SAVIOR FROM ANGER: Temple Of Judgment - Album
U.S./power metal from Italy. This is their fourth album, and it's damned good. So of course you have to check this out! Just listen to songs like "Across The Sea" and "The Eye" for example. Fantastic! The other songs are good too of course, but these 2 are a little extra good.
It has been quite for a while from this group - their last album, "Lost In The Darkness", was released in 2009 - but when they had a new lineup they went to the studio to record a new masterpiece.
(Pure Steel Records)
facebook.com/SaviorFromAnger
MAY 30, 2016
KROSSFIRE: Shades Of Darkness - Album
Some kind of progressive and symphonic power metal from Bulgaria is what we get here. There's both male and female vocals, which sometimes makes it sound more like a opera than true metal. Luckily it's not like that all the way. Sometimes it actually is metal and not that much other crap.
Hardly the best that I've heard, but there's some good parts here and there. Unfortunately there's some bad parts too.
Release date: June 3, 2016 (Pure Steel Records)
krossfirebg.com
MAY 30, 2016
PHANTOM 5: Phantom 5 - Album
This German band was born when Michael Voss (CASANOVA, BONFIRE, MAD MAX) and Claus Lessmann (BONFIRE) decided to approach the Frontiers label about making a new record together. Involving Robby Boebel (FRONTLINE) and Axel Kruse (JADED HEART) were the next steps, and when the chance to involve none other than ex-SCORPIONS bassist Francis Buchholz came up, no one could say no. In other words, more or less an all-star team of the German melodic hard rock scene was made.
The sound of the album is said to be like BONFIRE's "Point Blank", CASANOVA's debut album, FRONTLINE's "Heroes", or FAIR WARNING's debut record. So if you like any of those albums, PHANTOM 5 is definitely something for you.
(Frontiers Srl)
MAY 29, 2016
SUNSTORM: Edge Of Tomorrow - Album
Very much Joe Lynn Turner (ex-RAINBOW, DEEP PURPLE, Yngwie Malmsteen) here lately.. First a live album from his first solo tour in 1985, then a live album with RAINBOW from 1981, and now a album with his band SUNSTORM. But this is at least a new album, and not some old stuff with a previous band or project that he's been involved with during the years.
SUNSTORM released their first album in 2006, which was followed by "House Of Dreams" in 2009 and "Emotional Fire" in 2012. After some years of silence SUNSTORM is back with another album. And this shouldn't dissapoint people into melodic hard rock, because it's very good material on this album.
I'm impressed that Joe still has such a good and powerful voice after all these years. I think some of these songs would have fit perfect for Paul Stanley (KISS) actually. Not that Joe sounds like him, but there's something that reminds me of Paul.
(Frontiers Srl)
MAY 29, 2016
Ted Poley: Beyond The Fade - Album
No, I haven't heard about this dude before. And I haven't heard DANGER DANGER (the band where he use to sing) either. But this is typical AOR anyway, that I suppose that everybody who are into that genre will just love. Very catchy and melodic stuff (just like it use to be).
Ted has released 2 solo albums (in 2006 and 2007) before this one.
It's pretty o.k., but maybe he should skip the pop ballads and concentrate on the rock songs?
(Frontiers Srl)
MAY 29, 2016
VEGA: Who We Are - Album
The slower half ballad (or semi ballad as others use to call it) "Nothing Is Forever" almost makes me think of something silly with Robbie Williams. Another band that should skip the pop ballads and concentrate on the rock songs. But otherwise it's mainly some kind of very melodic hard rock/AOR, with a pinch from both the 80s and today. So it sounds very familiar. This is their fourth album.
(Frontiers Srl)
MAY 29, 2016
WOLFPACK 44: The Scourge - Album
This was hardly the best I've ever heard. Some kind of industrial black metal or something. I don't really like when there's too much of that industrial stuff, which it is in the second track (the first track is just another useless intro). Too much noise for me. It sounds very German, but they're from the States.
The third song is much better, and features a guest apperance from Dana Duffey from DEMONIC CHRIST. Softer and no industrial stuff. Well, not until the last minutes at least.
"Dark Mountain" features a guest apperance from Rev Thomas Thorn of The ELECTRIC HELLFIRE CLUB. Another song that isn't so excellent. Rave metal? I don't really know what the hell they're doing here.
Next guest apperance comes from DARK FUNERAL's Lord Ahriman and Chaq Mol. Another industrial black metal song. But luckily not too much of the industrial, which makes it o.k. at least.
In the next 2 tracks there's no guests, and I don't really get what they're doing. I guess it's supposed to be atmospheric, but it sucks.
After that they get some help from COVEN member Jinx Dawson. Industrial zynth pop/metal? It doesn't suck at least, and might be the best song on this album.
"Iron Dream" is another industrial black metal holocaust, but pretty o.k. Not much else though.
The last song is heavier. Pretty o.k. too. They get help from Rev Thomas Thorn again.
Most of these songs are a little too long, even though most of them are no longer than 4-6 minutes. I gave up listening to this album after just 2 times, which I think was kind of me (to give them a second chance I mean).
(Deadlight Entertainment)
MAY 28, 2016
PAINTED WIVES: Obsessed With The End - Album
This album is a re-release of the band's self-financed debut album.
I'm not really sure what I should think about this Huntington Beach, CA based band. They're compared with stuff like MASTODON, CAVE IN and ALICE IN CHAINS though, if that gives you an idea. I think some of the songs reminds me of SYSTEM OF A DOWN though. And that's a band that I like, so they have their bright moments.
My favorite track is "Hollow Bones".
(Century Media)
MAY 27, 2016
PRUDENCE: Anarchy In Heaven - EP
Debut EP from a new Swedish band. But their music isn't exactly new. They call it a mixture of 70s rock and New Wave Of British Heavy Metal. 3 songs is what we get. Pretty good. No more no less.
I don't have any information about this band, so I don't have much else to say..
(Self released)
prudencetheband@gmail.com
MAY 27, 2016
WHEN NOTHING REMAINS: In Memoriam - Album
Heavy, slow, dark and melancholy. More dreamy/atmospheric doom metal, that fits pretty good on a grey Sunday, but hardly at your party the night before. In other words, not something for those who want some action.
The band comes from Sweden, and this is their third album. They have some good songs at least, even though it's not the fastest band (you don't have to play fast to be good you know). So why not give it a try at least?
(Solitude Productions)
MAY 27, 2016
The BRONCO: State Of Emergency - EP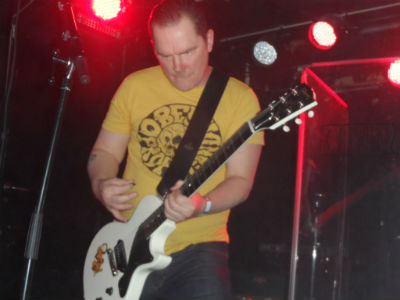 I just started to wonder whatever had happened to this band, and then comes a new 4-track EP. Nice.
They continue with their very catchy power pop/punk rock, and it sounds really good. Which is a relief. Because I wasn't so impressed when I saw them live last year. But here they prove that they have more good stuff than those first singles that I heard before I saw them.
I guess that the single and EP format is the perfect format for this Swedish trio.
Release date: May 24, 2016 (Longbay Recordings)
broncoofficial.com
MAY 26, 2016
BILLY MOMO: Swim - Single
Hm.. Some kind of lame pop/rock. Extremely soft stuff. This is hardly something for a hard rocker, but I suppose the song is o.k. anyway. It might be something for those who like Americana rock. Give it to the radio stations. They will surely like it.
This band comes from Sweden, and consist of as much as 7 people. It seems like 2015 was a very succeesful year for them, but I know nothing about that. I have never even heard about them before.
Release date: May 27, 2016 (Mo Better Music)
youtube.com/watch?v=G7ToJn40d18
MAY 26, 2016
NARVIK: Ascension To Apotheosis - Album
Southern German black metallers. The band was founded in 2006 under a other name, but they changed it to NARVIK in 2007 as a direct reaction of the death of musician Robert Burås (MADRUGADA), who was from the Norwegian town Narvik. He was one of the most important sources of inspiration for every single band member. After a couple of demos, their first full length album, "Triebe nach der Endlichkeit", came out in 2013.
The first track is like a way too long intro. Pretty useless. But nobody seems to care what I think about intros, as they continue with that shit.
What we get after that is a pretty brutal black metal stew. Pretty o.k. for a little while, but hardly exiting enough for a whole album to be interesting. It's too much of the same thing over and over again.
Release date: May 27, 2016 (Folter Records)
MAY 25, 2016
GIANT OF THE MOUNTAIN: The Empty Quarter - EP
Blackened/progressive death metal anyone?
This band started to take shape in late 2008. And they already had the idea to create something unique. "The Empty Quarter" consist of 4 tracks, and is said to have brought their music to an entirely new level. So if that sounds exiting, go ahead.
And as I didn't fall in love, I don't have anything else to say about this..
Release date: May 27, 2016 (Burning Dogma Records)
facebook.com/giantofthemountain
MAY 25, 2016
BEDOWYN: Blood Of The Fallen - Album
It's a bit weird, because this album seems to be familiar. And after a lot of searching I actually found a review of it that I wrote last year, when it was independently released. But now it's time for a more professional release of this album.
BEDOWYN still reminds me of BOMBUS, but they put their own twist to it. They are said to be related to MASTODON, ARGUS, ORANGE GOBLIN and HIGH ON FIRE though. Very good heavier metal that is a little progressive anyway. And I like it. I actually think I like it more now than I did last time I heard it, because then I wrote:
"Unfortunately this band doesn't have as good songs as BOMBUS have. And another problem is that it feels like the songs are longer than they really are, like this album last for an eternity."
Well, it's still a long album, but it's definitely worth listening to.
Release date: May 27, 2016 (Via Nocturna)
MAY 25, 2016
NEGATIVE VOICE: Cold Redrafted - Album
Blackened doom is what we get here. But this band also adds clean vocals. They're experimenting with song structures with influences from other genres as well, so it's very progressive.
I think it sounds very soft and melodic actually. Not much blackness here. But they use "the angry voice" too now and then. I think I prefer to call this progressive metal instead of blackened doom, but that's probably just my opinion. It sounds good anyway, even though it might not be a new favorite band.
NEGATIVE VOICE comes from Moscow, and has existed since 2000. But it wasn't until 2013 that they released their debut album, "Infinite Dissonance". "Cold Redrafted" is their second full length.
(Hypnotic Dirge Records)
facebook.com/NegativeVoice.rus
MAY 22, 2016
HELLS: Paradise - EP
SHUT UP! You scream too much.
To me this sounds like some kind of punky noise rock that doesn't give me that much. Their description is a little different though. They claim that it's crossover (a mixture of hardcore and metal, like D.R.I.). But that genre use to sound more like thrash metal. This doesn't sound like thrash metal at all according to me.
The band comes from Philadelphia, U.S.A. and have been together for 2 years. This is their first EP.
Listening to this is hardly like being in Paradise.
(Seeing Red Records)
facebook.com/givethemhells
MAY 22, 2016
GOTTWEIST: Future Is In Our Hands - Album
These Canadians blends different styles of metal with a pinch of hardcore, but it's very catchy and melodic, so don't expect any crossover thrash or stone hard metalcore. No, this is more like modern metal actually.
No matter what they seems to have some good songs here anyway. So maybe you should give it a try to see if you will like it? 12 tracks of this is a little too much at once though. 8 tracks would have been enough for me.
(Collective Wave Records)
facebook.com/gottweist
MAY 22, 2016
BLACK PESTILENCE: Carry On The Black Flame - EP
I don't get much more intelligent by reading the information about this band, but I can at least say that it's some kind of metal with a pinch of rock, done with a punk attitude. That should at least give you a idea about what they sound like.
The band formed in 2008 and have made 4 albums.
Pretty good stuff. But the last track, "Rise For Satan", wasn't so exiting. Very silly title too by the way.
(Self released)
facebook.com/blackpestilenceband
MAY 22, 2016
BLACK EXPLOSION: Atomic Zod War - Album
Seriously, how many of these psychedelic heavy rock bands do we really have? We have plenty of them just here in Sweden at least. And most of these Swedish bands sounds like most other bands in this genre. And BLACK EXPLOSION might not sound any different to begin with, but then comes "Location 9", who reminds me of HAWKWIND instead. And the last song, "Devil Inside", reminds me of LED ZEPPELIN.
It's good stuff, so I guess I shouldn't complain about too many bands.
This is their third album. The music is decribed as retro/space rock. I think you should check it out.
Release date: May 27, 2016 (Metalville)
MAY 22, 2016
Richards/Crane: Richards Crane - Album
Is it the latest trend to do acoustic rock albums or what? But o.k., it's just the second 1 in a month, so maybe I should not talk about a trend yet. And as long as they do it good, I should just shut up and like it.
The 2 gentlemen behind this product is Lee Richards (ANOTHER ANIMAL, GODSMACK, DROPBOX) and Whitfield Crane (UGLY KID JOE). The album is produced by Dave Fortman (SLIPKNOT, GODSMACK, EVANESCENCE), who also play guitar. Among the other musicians are Shannon Larkin (GODSMACK, UGLY KID JOE), Jimmy Preziosa (DROPBOX) and Edward Newton. And in addition to that, "Black & White" features a guest apperance by Myles Kennedy (ALTER BRIDGE, Slash). And 2 of the songs also includes a collaboration with the traditional Indian singer Vishal Vaid.
The songs reminds a little of the rock bands from the 70s. Think about The EAGLES, AMERICA or FLEETWOOD MAC for example, but just a little bit better.
Best songs: "Waiting On A Prayer" and "Rainy Day".
Release date: May 27, 2016 (Metalville)
MAY 22, 2016
RAINBOW: Boston 1981 - Album
Cool to get a previously unreleased concert with RAINBOW from 1981 for review is the first thing you think. But then you listen to it and find out that they fool around too much. And the singer, Joe Lynn Turner if I'm not totally wrong, can't even sing some of the songs in the right way. I really don't like what he's doing with a classic like "Man On The Silver Mountain" for example. And how funny is "Difficult To Cure" and then a drum solo? Probably nice for those who were there, but listening at home is not so funny. There must be better shows that they can release than this one.
I prefer the "On Stage" album before this one. RAINBOW was as best when they had Ronnie James Dio (R.I.P) on vocals, even though they didn't exactly suck after he had left.
(Purple Pyramid Records)
facebook.com/Rainbow-189246591087656
MAY 21, 2016
DEPARTMENT S: When All Is Said And All Is Done - Album
..and what should I think about this then? Some kind of catchy new wave/post punk rock? They're said to be legends, but I've never heard of them before (on the other hand I don't listen that much to this kind of stuff).
Their debut single, "Is Vic There?", was released in December 1980, and reached No. 22 on the UK Singles Chart the following year. After a hectic couple of years they disbanded in 1982. Their only album so far was released in 2003, but now they're going to release another one.
Well, I guess it's not totally hopeless at least. Now that I've heard this record a couple of times, it's actually not so bad after all. But the last song really sucks. That doesn't mean that I want my inbox full of new wave and post punk though.
Release date: May 27, 2016 (Westworld Recordings)
MAY 21, 2016
LACUNA COIL: Delirium - Album
What shall I say about this then? It's album number 8 from these Italians, and I got a feeling that they have become a little darker and heavier. Hard parts are mixed with softer parts. It's both brutal and melodic. Simply modern metal according to me.
It seems like male singer Andrea Ferro is singing more and more for each album, and I'm not sure if I like that. For some reason I like Cristina Scabbia's voice a little more.
If this album is better or worse than any of their previous albums that I've heard is hard to tell though. LACUNA COIL has never really been a favorite band for me. It's pretty good and I listen a couple of times. But so far I have never been listening to any of their albums again (but there's so much other stuff to listen to for me).
Release date: May 27, 2016 (Century Media)
lacunacoil.it
MAY 20, 2016
OMEN: Hammer Damage - Album
I have to be honest here and say that I actually don't think I have heard this legendary 80s U.S. metal band before. So I guess it was about time then..
This is their first new album since 2003's "Eternal Black Dawn", but now they seems to be back in the saddle again. And it sounds really good. Now I can't compare this album with their previous releases, but I think you will like this.
The only thing I can whine a little about is that last instrumental guitar masturbation song.
Release date: May 27, 2016 (Pure Steel Records)
facebook.com/omenofficial
MAY 20, 2016
WHITE LUNG: Paradise - Album
WHITE LUNG return with their fourth studio album, which is over in less than half an hour. It's very catchy and melodic. The songs are no longer than approximately 2-3 minutes. I guess it's supposed to be some kind of pop punk, but I think it sounds more like post punk, but with a lot of punk rock energy. Call it whatever you want. It's good anyway, and that's the most important thing to me.
This is a band that I think you really should check out. Almost every song is great more or less. It's not many albums that makes me want to dance of joy, but this one is near (now I don't dance, but anyway).
(Domino)
MAY 19, 2016
GALLOWS POLE: Doors Of Perception - Album
I had totally forgot this review, so I'm not sure how old it is (much to review is just the first name). Now it's finally online though.
I don't know, but to me it sounds like this band has more in-common with Bruce Springsteen than hard rock. A over-rated artist according to me by the way, even though he have done a couple of good songs, which I probably won't need more than my fingers to count.
GALLOWS POLE comes from Austria, and my first impression was to call this laidback boring rock. I actually couldn't see why anybody would like to listen to this. But I'm man enough to admit that now that I've heard this album a couple of times, it might not be so bad after all. It might not be a new favorite band, but I like "Burn It Down" and "Learn To Live" anyway.
(Pure Rock Records)
facebook.com/GallowsPole.RockMusic
MAY 19, 2016
KVELERTAK: Nattesferd - Album
Here we have 1 of all those bands that I've just heard about but actually never heard anything with. And everybody seems to think that they're so good. But finally the time has come for me to judge how good they really are.
Well, this isn't really the easiest band to get a grip on. It's all kinds of metal and rock, and it's very progressive. But sure, there is some good stuff here. Like "1985" for example.
This is the kind of band that you have to give a couple of chances before you decide if they're good or not. But when you have heard this album a couple of times, you will probably like it.
(Indie Recordings)
facebook.com/Kvelertak
MAY 18, 2016
KILLING FOR COMPANY: House Of Hades - Album
Norwegian death metal band who formed in 2004 and recorded 4 songs for a EP, which was never released. Short after that they disbanded due to other commitments. 10 years later they was back again to finish what they started. And this album is the result of that.
It's highly recommended for fans of Swedish death metal (I don't think that I have to mention any bands). In other words damned good stuff! I don't think I have to say much more than that..
(Via Nocturna)
MAY 18, 2016
SUBLIMINAL FEAR: Escape From Leviathan - Album
What kind of zynth/pop metal is this then?
SUBLIMINAL FEAR started in 2002 with the goal to play melodic Swedish death metal like IN FLAMES, SOILWORK and AT THE GATES. But it took a couple of years before they had a steady lineup. Their debut album, "Uncoloured World Dying", came out in 2007 on the Greek label Burning Star Records. In 2012 they released their second album, "One More Breath", on the Italian label SG Records.
In September 2013 the original members decided to get back together, but with a new musical direction. And after spending 2 and a half years in the studio, their third album is here. Some songs might remind of melodic death metal, it's both melodic and aggressive, but it's also more electronic and almost industrial sometimes. I guess cyber metal is the best description to this. Or why not a mixture of death metal, electronic music and catchy melodies?
They're compared with bands like SYBREED, MNEMIC and FEAR FACTORY. Not something that I use to listen to.
(Inverse Records)
subliminalfear.com
MAY 17, 2016
BURNING HATRED: Carnage - Album
Dutch old school death metal act from the East of Holland. They formed in 2002, and have released several demos, an EP and a mini CD over the years. The band consist of members from CONDOLENCE, ANARCHOS, ABRUPT DEMISE and PHLEBOTOMIZED. Special guests on this album are PHLEBOTOMIZED guitar player Tom Palms, Ross Dolan from IMMOLATION and Carl Assault from MASSIVE ASSAULT.
They have a couple of really good death metal bands in the Netherlands, and BURNING HATRED seems to be another good band, so you should try this album of course.
(Vic Records)
MAY 16, 2016
WINTERHORDE: Maestro - Album
Why does the album have the same title as the name of a bank card? Weird.
The band comes from Israel, and have as much as 7 members. Their music is described as progressive extreme metal, and there's also a touch of symphonic metal.
This album last for an eternity, but there's not so many long songs. 2 are around 7 minutes, and 1 is 11.30 minutes. The rest is approximately 6 minutes or shorter.
Most of these songs are pretty good, so it could actually be worth a try.
Release date: May 20, 2016 (ViciSolum Productions)
winterhorde.net
MAY 16, 2016
TROUBLEMAKERS and EYES ILLUSION at Rockborgen in Borås, Sweden on May 14, 2016
Where were all the people? I don't think it was more than 10 people at this show. Very weird. When there finally is a good punk band playing in this city, people should show up, because that doesn't happen too often here.
You could expect that both bands would play the same kind of music. But for some reason they had a rock band in the 70s style as the first band, which was EYES ILLUSION. I got tired of them pretty soon, and so did many others too, so I don't really understand why they continued to play for so long as they did.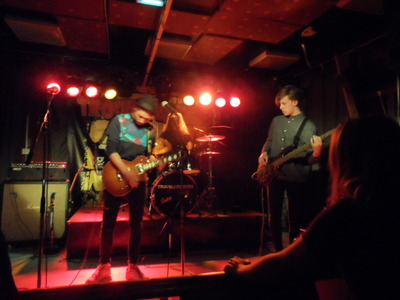 Even though there wasn't that much people, TROUBLEMAKERS delivered a really good show, like they use to do. It's catchy good old Swedish punk rock, performed with an never ending energy. Every song was great! Those of you who wasn't there really missed something.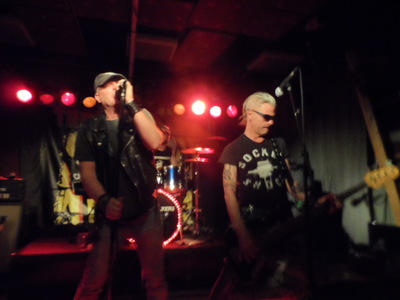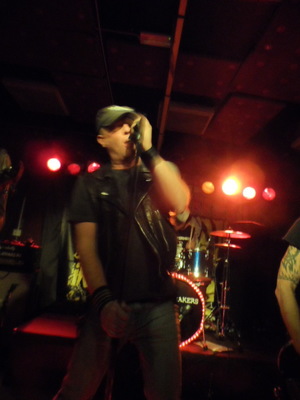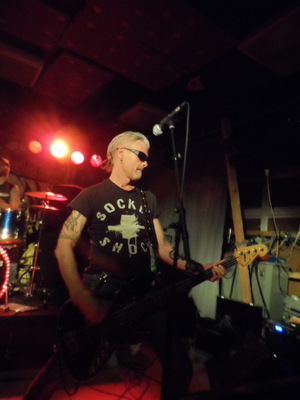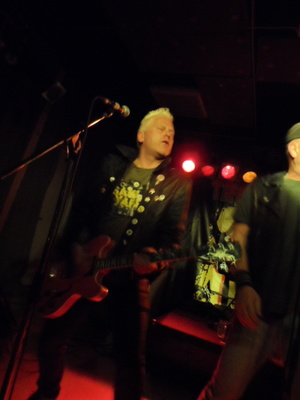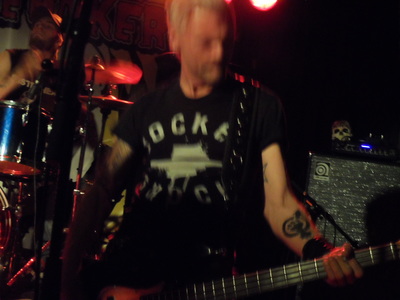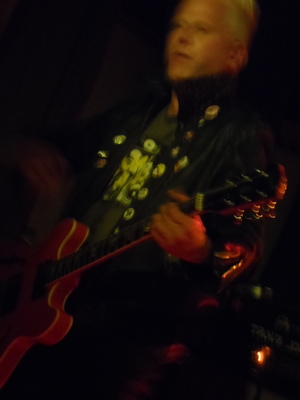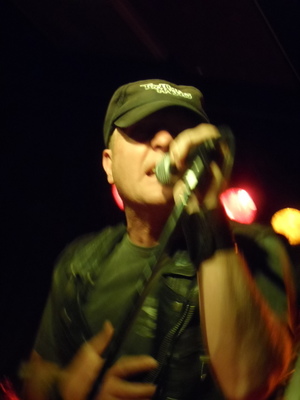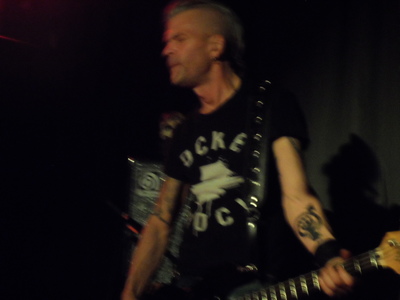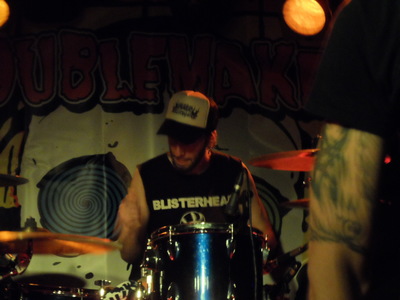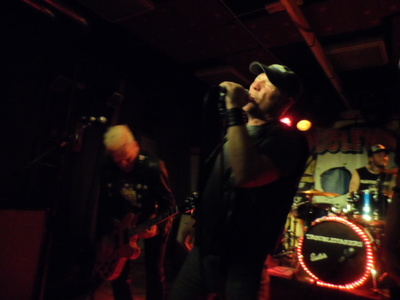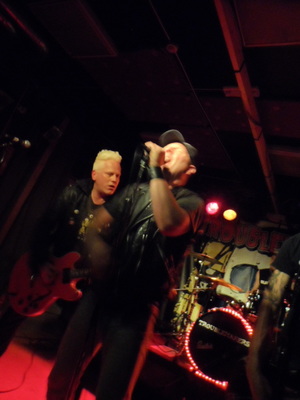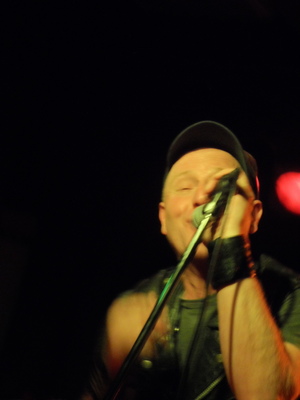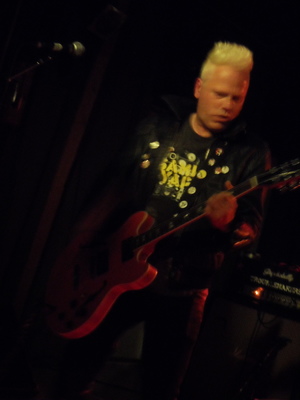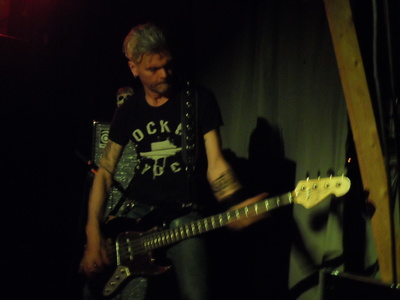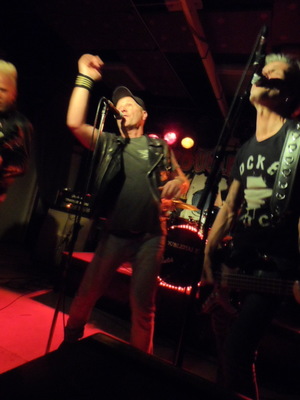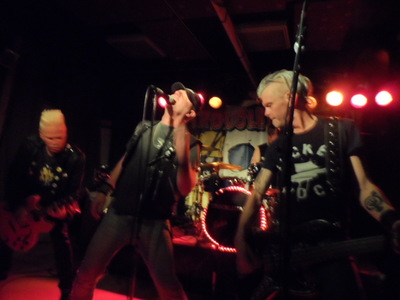 MAY 15, 2016
EXALTER: Obituary For The Living - Album
..and here we get something so unusual as thrash metal from Bangladesh. But they sounds just like any other old-school band. They could just as well have been from America or Germany. And I don't think I have to mention any specific names, but they mainly sound like SLAYER and KREATOR to me.
If I get it right, we get 3 new songs and the entire previous release, "Democrasodomy". A total of 7 tracks. So I'm not really sure if I should call it a album (but who cares about details like that?).
Good stuff anyway, so I don't have anything to whine about.
(Transcending Obscurity Distribution)
MAY 14, 2016
ENGRAVED DARKNESS: Diabolical Scriptures - Album
This album has previously been released digitally, but will now also be released on CD. It's said to be highly recommended for fans of early MORBID ANGEL and SEPULTURA. The band comes from Ohio, U.S.A. and formed in December 2009. This is their debut album. And what else there is to say is a riddle. But maybe you want to know if I think this is good or bad? Well, the intro is (as usual) useless (if you want to play piano, do it somewhere else, please). But the rest of the songs seems to be pretty o.k., so I guess it can be worth checking out if it's heavier old-school death metal that you want.
(Self released)
facebook.com/EngravedDarkness
MAY 14, 2016
INFERNÄL MÄJESTY: Nigrescent Years Of Chaos - Album
A little bad sound quality. But if you pump up the volume you will get some good old thrash metal. And no, nothing new here at all, but it sounds o.k. to me anyway.
This is a Canadian band, formed in Vancouver (BC) in early 1986. They are still active today and are working on a new album. "Nigrescent Years Of Chaos" is a demo collection with 3 early demo tapes from 1986, 1988 and 1991. Definitely something for fans of old school thrash metal from the 80s.
INFERNÄL MÄJESTY has released 3 full length albums and several EPs through the years.
(Vic Records)
MAY 13, 2016
IDES: Sun Of The Serpents Tongue - Album
Oh shit.. These guys are in no hurry. Heavy and slow metal songs that last between 5.48 to 13.21 minutes. There's just 6 songs, but it takes over an hour to get through them. This is exhausting and definitely not my thing.
IDES is a brand new old school doom/death metal band from Holland, playing music that is similar to very early PARADISE LOST, WINTER, HOODED MENACE and MY DYING BRIDE. So if that sounds like your thing, check this out. Otherwise, avoid!
(Vic Records)
facebook.com/Idesdoom
MAY 13, 2016
CONQUEST: Under The Influence - Album
What this band have made is an album full of covers by JUDAS PRIEST, IRON MAIDEN, METALLICA, MOTÖRHEAD, ANTHRAX, UFO, BON JOVI, MÖTLEY CRÜE, PANTERA and BLACK SABBATH. Why a totally unknown band (at least outside of the U.S.) is doing a covers album is a big question. They seems to do good versions of the songs though, and are mainly true to the original, even though they add their own thing here and there as well.
This band is probably great when you see them live with a few beers inside, but this is the kind of album that you listen to a couple of times and probably never again after that. No matter how good they may be.
To my surprise this isn't a new band. CONQUEST has been playing in clubs across the Midwest and East Coast for 25 years, and this is actually their tenth full length. And that's probably the main reason why it's a covers album.
MAY 12, 2016
WOMACK: Strays - Album
This Finnish band is described as a heavy rock band, which makes me think of stoner rock and similar. But this doesn't really sound like that. No, what they have done here is actually more like acoustic rock. We get stripped-down and remade versions of both new and old songs. And I think it works just fine. It's definitely good enough for me anayway.
People who like stuff like Americana and country rock should give this a try, even though it doesn't sound exactly like any of that.
(Secret Entertainment)
facebook.com/WomackFB
MAY 11, 2016
VOLKER: Volker - EP
The shorter description of this is goth rock/dark metal, but they don't sound like most other bands in that genre. I think they're a little harder and heavier. More metal than goth sometimes. I think it's good anyway.
3 songs and a useless intro is what you get here, and I actually think that metal heads will like this more than depressive goth rockers.
This little group was formed in 2015 by 3 members of OTARGOS and the former singer of NOEIN. Their music is said to be a mixture of cold wave (whatever that may be?), dark goth, death rock and cold metal. They plan to release their first full length early next year, and they seems to be very cold.
(Kaotoxin)
MAY 11, 2016
7 STEPS OF DENIAL: From Ashes - Album
7 STEPS OF DENIAL was formed in 2008 to play melodic metal without any limits. They are from Holland, and this is their first full length.
What we get on this album isn't just typical melodic metal. Because as I said, it's without any limits. I think they have menaged to create their own thing, and still succeed to be good. I hear a little piece of thrash in these songs.
But even though it's good, 14 tracks is a little too much. 8 or 10 would have been more than enough for me.
sevenstepsofdenial.com
MAY 11, 2016
THOR: Keep The Dogs Away - 3-disc reissue
It's a lot of THOR nowadays.. But now that they have released a soundtrack album to the "I Am Thor" documentary and a best of album, it's time for reissues of his old albums. And they start with his debut from 1977.
Except for the album itself, you also get a bonus album with as much as 22 songs of previously unreleased recordings. And this man has no shame in his muscles. "Tears In My Soup" for example. How pathetic! That's the only thing he's singing in that song by the way. There's obviously a reason why some of the songs didn't make it to a record.
And just if that wasn't enough bonus material, you also get a DVD with a concert from 1980 (which I didn't get, so I can't say anything about that).
But if we concentrate on the original album instead. Well, there's a couple of good songs there. No doubt about that, even though everything might not be great. It's still worth checking out though.
This reissue will also be released on vinyl and digitally.
Release date: May 13, 2016 (Deadline Music)
MAY 10, 2016
ZOAX: Zoax - Album
No. I can say immediately that this is not something for me. Some kind of lame alternative rock, probably made by young men who are still children on the inside.
The band formed in 2013, and have released 2 EPs. This is their debut album. They're already said to be "the most important British rock debut of 2016". I can't really figure out why though. But they probably have different taste in old UK.
Release date: May 13, 2016 (Century Media)
zoaxofficial.com
MAY 10, 2016
L'ENDEVÍ: Don't Go Back - Album
I don't know, but this sounds like a demo band who haven't figured out what they really want to do yet. No hit potential at all, and many of these songs are too long, even though most of them are no longer than 3-4 minutes. Why anybody wants to release this is actually a mystery to me.
The only good song was the first 1.44-minutes track "Deja Vu". Why they play it again towards the end, but in Spanish, is a good question though.
The rest is some kind of female-fronted modern metal, or whatever it's supposed to be.
(Art Gates Records)
MAY 9, 2016
DUMB HOLE: Killing For Love - Single
A first taste of a new Swedish rock duo who plan to release their debut album in September. This song is hard and heavy, but yet catchy and melodic. Sounds like some kind of modern metal rock to me. A pretty o.k. song, but not much else. Give it a try anyway.
dumbhole.se
MAY 9, 2016
DÉTENTE: Decline - Album
Reissue of their second album from 2010, with new artwork and 4 bonus tracks. 3 of the bonus tracks comes from an unreleased demo from 2009, with Ann Boleyn on vocals.
Well, this is a must for fans of good thrash metal. Simple as that!
What makes them special is that they have an aggressive woman on vocals, and I also think there's a punk nerve/attitude in many of the songs.
(Xtreem Music)
facebook.com/officialdetente
MAY 9, 2016
ST. JAMES: Resurgence - Album
17 tracks! That's a little too much at once. Luckily there's a couple of good melodic hard rock songs here, and it reminds me of the sound of the happy 80s, with bands like VAN HALEN, BON JOVI and POISON. 17 songs is still too much at once though. I mean, just because you can have that many songs on a CD, it doesn't mean that you have to.
What I (and probably many others) didn't know is that Carl Canedy (The RODS drummer and producer) was playing in this band in the 90s. The band was formed by the Jacobs brothers Jimmy and Robert together with John James, and they recorded a lot of material with Canedy. But it seems like most of it never was released because the drummer was too busy with producing. So they kept his participation as a secret. Until now then. But I found it hard to believe that this kind of music would have done any succees in the 90s. Because most people wasn't listening to 80s hard rock anymore.
Worth checking out (but I'm not sure on what label it's released or if it's self released).
MAY 8, 2016
ANGERHEAD: Fueled By Rage - EP
A mixture of groove metal and hardcore. I guess both fans of PANTERA and hardcore kids will like this. Both should try it anyway.
ANGERHEAD is a band from San Jose, California that was started in 2011. They blend elements of Bay Area thrash, metal, punk and hardcore into their music. And they do that very good, so I have nothing to complain about.
Unfortunately I don't have much else to say either..
MAY 8, 2016
TREAT: Ghost Of Graceland - Album
O.k., here's a band that I haven't heard anything with since their "The Pleasure Principle" album. I'm not sure which year it came out, but it must have been in the late 80s I think. I tried to listen to that album about 10 years later, and it just didn't work for me. Way too soft and melodic for me then.
But nowadays I'm used to this kind of melodic hard rock and AOR again, that I liked a lot when I was a kid in the 80s. But "Ghost Of Graceland" is not how I remember TREAT. I think they have actually become a little heavier in old days. A little like their worst "enemy" in the 80s: EUROPE (TREAT was actually jelous at them).
But even though there's a couple of really good songs here, like "Better The Devil You Know" and "Everything To Everyone" for example, most of the material isn't much more than just good. But sometimes that's enough.
(Frontiers Music srl)
MAY 7, 2016
SHIRAZ LANE: For Crying Out Loud - Album
This makes me think of the first album with SKID ROW, possibly with a touch of The DARKNESS. Swedish sleaze rockers CRASHDÏET is another band they reminds me of. So if good old sleaze rock is what you like, then this is a band that you should check out at once, because all these 10 tracks are really strong material. "Mental Slavery" should be a hit!
The group formed in 2011 and comes from Vantaa in Finland.
(Frontiers Music srl)
MAY 7, 2016
DRIVE, SHE SAID: Pedal To The Metal - Album
..another stupid band name.
Sounds o.k. in the beginning. Reminds me of DEF LEPPARD and BON JOVI among others. But towards the end it becomes too much, and it's hardly as the album title says. There's at least 3-4 too many songs here as well. Like "IM The Nyte" for example. What kind of crap is that? It sounds more like some kind of electro-pop with a singer that's been castrated than hard rock.
(Frontiers Music srl)
MAY 7, 2016
The DEFIANTS: The Defiants - Album
That lullaby that they use as intro is very disturbing for my ears.
The DEFIANTS is a new band that was put together by Paul Laine, Bruno Ravel and Rob Marcello, who have all been playing with DANGER DANGER. It was actually Frontiers' President, Serafino Perugino, who really wanted the guys to offer the fans some new music.
What we get is melodic hard rock, that like so many other bands on the Italian label sounds a little like BON JOVI. But I'm very sure that all fans of melodic hard rock will like this album, because it's very good stuff.
(Frontiers Music srl)
MAY 7, 2016
BLACK MOUNTAIN: IV - Album
Yet another rock band living in the past and trying to sound like the old bands from the 70s, while they at the same time claim that they try to bring that sound into the future. It's both psychadelic and progressive. I would like to say that it's a very ambitious record that they have made. It's not the kind of album that you fall in love with at once. You have to give it a couple of dates before you make up your mind.
It's both female and male vocals, and sometimes it's much keyboard and almost more like pop instead of rock. This album confuse me a little actually. Maybe it's not so vintage after all? There's obviously both good and less good songs anyway.
(Jagjaguwar)
MAY 5, 2016
GODLESS: Centuries Of Decadence - EP
From Hyderabad in India comes this death metal storm. It's said to be "a new sound, a new sonic vision". But you know me, I'm always sceptic when people say things like that.
What makes this band so special? To me they sound just like any other modern death metal band. But go ahead and try it if you want to. You might have a different opinion about them than me. And I didn't say that they're bad.
Release date: May 7, 2016 (Transcending Obscurity Distribution)
MAY 5, 2016
ELECTRIC CITIZEN: Higher Time - Album
I think they sounds a lot like 70s BLACK SABBATH, but they don't have the same variation between the songs that they had, and it's not really as heavy as they was. The female vocals is another thing. Same tone almost all the time (note that I said almost).
I'm not really sure if we actually need yet another 70s rock band. There's so many of these bands nowadays. But on the other hand I really like this kind of music, so why not? Yes, I guess I am what they call a double nature, haha.
This 4-piece cake comes from Cincinnati, U.S.A., and this is their second album. Which is a really good album that you should check out. My favorite song must be the title track.
Release date: May 6, 2016 (RidingEasy)
electriccitizenband.com
MAY 4, 2016
VvLvA: Shaking Bones - 7" EP
Debut EP from a German heavy/psych/blues rock band. The kind of stuff that many people into the 70s style seems to like nowadays. So there's a lot of people who should check this out, because I bet that they will like it. I do anyway.
What else can I say? Sometimes there's just not that much to say actually..
Release date: May 6, 2016 (H42 Records)
MAY 4, 2016
Tarja Turunen: No Bitter End - Single
The woman who makes rock sound like an opera is here with a new single. It's the first single from her new album, "The Brightest Void", which will be released on June 3, and is said to be a rock album (there will be another album, "The Shadow Self", which will be released on August 5). And this song is a rock song with its heavy guitars and her special voice, so I have no reason to not believe in that.
Tarja will probably always be remembered as the singer in NIGHTWISH, which she was a member of for 10 years. But during the last years she has had a solo career, and it has not always been rock songs during that career.
I can't say that I'm a big fan of that opera vocals, but this song is o.k., so I have nothing else to complain about.
(earMUSIC)
MAY 3, 2016
VIBRION: Bacterya - Album
Third album with this hard and brutal death metal band from Argentina. They're compared with bands like IMMOLATION, CELTIC FROST, MORBID ANGEL, SEPULTURA, SUFFOCATION, GORGUTS etc. And well, these 10 tracks doesn't sound so bad at all, so this album could be worth a listening (or 8).
They don't sound like a hundred other death bands, and that's just positive in this case. They have somehow made their own brew, even though I wouldn't go as far as calling it something unique.
(Xtreem Music)
facebook.com/VibrionOfficial
MAY 3, 2016
Unintimidated: Scott Walker - Compilation album
..and who is Scott Walker then? Seems like it's a Governor in Wisconsin. And these punk, hardcore, metal and indie artists obviously have something aginst him, as they have started something called "UNINTIMIDATED: Musicians Against Scott Walker".
The compilation is being released in order to raise funds for local soup kitchens and Planned Parenthood. While the album will be released on digital formats, all physical copies will come with a special DVD of live performances of the 16 tracks, along with an old-school zine.
Don't expect any well-known artists on this compilation, and don't expect any smash hits. Some good stuff here and there, but as a matter of fact there's a lot of crap here to be honest.
unintimidatedscottwalker.bandcamp.com/album/unintimidated-wisconsin-musicians-against-scott-walker
MAY 2, 2016
SEVENTH CALLING: Battle Call - Album
Hard rock/Heavy metal band from U.S.A. who released their debut album in 2007. "Battle Call" is their fourth album. Their music is their own mixture of several other hard rock and heavy metal bands, and most of these songs are really good stuff, so it could be worth checking out.
But o.k., it might not be any monster hits here, but it's definitely good enough. And that's all I have to say about that..
(Self released)
facebook.com/Seventh-Calling-213966345284531
MAY 1, 2016
TORNADO BABIES: Bored Beyond Belief - Single
Well, this single was released in November, and they wanted me to stream it. But I don't do that, so I asked for a MP3 instead. I don't know why it took almost 5 months to get it as a MP3. But better late than never at all as the teacher said to the guy who was always late (not me).
TORNADO BABIES comes from Göteborg, Sweden and was formed in 1987 already. They released 2 albums: "Eat This" (1991) and "Delirious" (1993). In 1997 it was over. ..until 2013 when they decided to reunite.
This is a very good song. I would call their music sleaze rock actually. It's some kind of catchy rock anyway, that reminds me a little of good old GUNS N' ROSES.
(Self released?)
facebook.com/tornadobabies
APRIL 30, 2016
CULT OF LUNA & Julie Christmas: Mariner - Album
I can't say that I'm a fan of CULT OF LUNA. I might have heard them before, but it's nothing that I remember now. And these eternity long 5 songs will probably not make me a fan, even though there's some good pieces here and there.
The first song start very soft and atmospheric and instrumental. But that's just the calm before the storm. After about 2.50 minutes it gets hard and heavy. A male singer scream and some females sing clean, while the band is playing metal.
Track 2 gives us mainly female vocals, and is also more electric. A little like Björk would do indie pop with an alternative metal band. It's both soft and hysterical.
It seems like all these songs start soft, and the third one is no different. And after a while it always get a little harder. This song is lurking around before it attacks and then dissapear just to start lurking again before the next attack. Alternative metal?
In the fourth song there's more male vocals than on the 2 previous. It's also the song that is slow all the time. No hard and heavy or hysterical outbursts.
The last song is like a mixture of track 2 and 3, but without any hard parts. Well, not until almost 9 minutes at least. Both female and male vocals (if that's of interest to anyone).
This is not easy-listening music, but I've definitely heard worse and more advanced than this. They call it post metal by the way..
(Indie Recordings)
APRIL 29, 2016
BABYMETAL: Metal Resistance - Album
O.k., this is obviously a very variated band. They start with something that sounds like good old power metal. After that comes the "Karate" single, which is both soft and hard. The third song is something that I would like to call an industrial chewing gum rave party for kids. There's even songs that I would call progressive. But in general it's different kinds of metal mixed with pop, and most songs are in Japanese.
In case you have totally missed the news about this band, it's actually some female teenagers from Japan who's behind this. That doesn't mean that it sucks, as probably some of you will think. No, this is actually pretty o.k. They have a couple of good songs here. There's no doubt about that.
(earMUSIC)
APRIL 28, 2016
DESERT STORM/SUNS OF THUNDER - Split 7" Single
2 heavy rock bands from UK with 1 song each. DESERT STORM are from Oxford, while SUNS OF THUNDER comes from Wales.
DESERT STORM is the first band out. They formed in 2007 and have released 3 albums since then. Their latest album, "Omniscient", was released in January 2015.
SUNS OF THUNDER have been around since 1999 already, but for some reason there wasn't so much information about them included, so I don't know that much about them.
Well, this sounds good. So why don't you check it out?
Release date: April 29, 2016 (H42 Records)
APRIL 27, 2016
MASSIVE WAGONS: Welcome To The World - Album
Here's another British rock band that is just great. They have the right melodies and the right songs. Now it's just up to you to discover why I like this so much.
This is not just an album for hard rockers. The title track should be of interest to fans of GREEN DAY and similar pop punk. While songs like "Shit Sweat Death" and "The Day We Fell" could possibly be of interest for fans of VOLBEAT (but whitout that whining voice). And it's not impossible that people who like The DARKNESS will like this album too.
This group started to rehearse in 2009. In 2014 they finally released their debut album, "Fight The System".
Release date: April 29, 2016 (Off Yer Rocka Recordings)
massivewagons.com
APRIL 27, 2016
POVERTY'S NO CRIME: Spiral Of Fear - Album
What a stupid band name! The punk in me says that poverty is always a crime.
O.k., here we have some progressive clowns again. A little too much of that lately I think. But this band seems to be among the few good once at least, and that's always something positive.
This group was founded in 1991, so it's hardly a new band we have here. Their debut album, "Symbiosis", was released in 1995. After some touring for the "Save My Soul" album from 2007, the band decided to take a creative break, which last for 9 years. They continued to rehearse and work on new material during this period though, and during the last 3 years they have been recording their seventh album, "Spiral Of Fear".
Their music has a lot of melody, and it's never unnecessarily complicated. It's hard rock not jazz, if we put it that way. I actually like it.
Release date: April 29, 2016 (Metalville)
APRIL 27, 2016
KÖRSBÄRSFETTERA: Inuti Finns Utopi - Album
I haven't heard that much with this female band since the "Alla Ska Ha Linne" CD came out about 6-7 years ago. The music is still pretty simple punkrock with lyrics in Swedish, mainly about drinking and politics. And that's hardly something new on this planet, but they're still doing it very good. Even though these songs doesn't have the same hit potential as their earlier songs. And just as before, it start to sound a little monotonous after a couple of songs. This album is still worth checking out though.
Release date: April 29, 2016 (Skulls & Flames Recordings)
facebook.com/Körsbärsfettera-24366122833
APRIL 26, 2016
DEVIL'S GUN: Dirty 'N' Damned - Album
What a BULLET rip off! It sounds exactly like them. And the funny thing is that this band is from the same city (Växjö Sweden). Even the vocals is the same screaming. But on the other hand BULLET are damned good, so why complain? And in case you haven't heard that band, it's very charming heavy metal rock n roll. Like a mixture of good old 80s ACCEPT and 70s/80s AC/DC.
Big variation and originality isn't this band's thing, but you just got to love it somehow. This is on the other hand just their first album, so it will be interesting to hear if they will develop at all or just continue as usual.
If I got it right, it will take a while before a new album with BULLET comes out. Listen to this while you wait. But this will also work good for those who miss ACCEPT with Udo Dirkschneider on vocals.
Release date: April 29, 2016 (Black Lodge Records)
facebook.com/DEVILSGUNSWE
APRIL 26, 2016
ASSASSIN'S BLADE: Agents Of Mystification - Album
Former EXCITER vocalist Jacques Bélanger have here teamed up with his Swedish friends David Stranderud (ex-PORTRAIT, INSTIGATOR, TRAP), Peter Svensson (VOID MOON, TRAP) and Marcus Rosenkvist (VOID MOON). The result is a mixture of EXCITER, AGENT STEEL, TRIAL and PORTRAIT. But I can also hear some influences from JUDAS PRIEST. Good old classic heavy metal in other words. And it's not bad at all. Sometimes his voice actually reminds of Bruce Dickinson (IRON MAIDEN).
This can absolutely be worth checking out.
Release date: April 29, 2016 (Pure Steel Records)
assassins-blade.com
APRIL 25, 2016
SALEM: Dark Days - Album
This is not the most powerful heavy metal band. It's much more Sunday than Friday in many songs. Most of these songs are very melodic, and I think that's their strongest card. Some songs actually reminds me of SAXON somehow.
This "new wave of British heavy metal" band was founded in 1979 already, and released a couple of demo tapes in the early 80s. They have not been around all the time since then though. They reformed in 2010, and "Dark Days" is their third full length.
They definitely have a couple of good songs, but you might have to give them 2-3 chances before you can hear that.
Release date: April 29, 2016 (Pure Steel Records)
salemband.co.uk
APRIL 25, 2016
MONDO DRAG: The Occultation Of Light - Album
Give me that joint and let's sail away on the 7 seas. Soundtrack on the trip: MONDO DRAG's psychedelic rock. Who will make any hippie from the 60s/70s shake their hip. It actually reminds me of some Swedish bands who play the same kind of music.
This is the third album from this Oakland, California-based band. And it sounds just like it would have been recorded in the 60s/70s sometime. With or without a joint (you will never really know) I like what I hear, so I have nothing to complain about.
(RidingEasy)
mondodrag.com
APRIL 24, 2016
MAU MAU'S: The Punk Singles Collection - Album
Here's another one of these pretty unknown British punk bands. But you should really give them a chance, because this sounds really good. They play the faster and more aggressive kind of punk. It's not until the second half of the album that the songs get longer than 2 minutes. And those songs are also softer, and not so fast and aggressive. Still good though.
All in all you get 25 tracks here, and you should not say no to that.
(Westworld Recordings)
APRIL 24, 2016
MAD HATTER'S DEN: Excelsior - Album
Melodic heavy metal from Finland. The band started to play in 2010, and released their first EP, "Dark Wheel", in 2012 and the single "Stone Cold Flame" in early 2013. Later that year it was time for their debut album, "Welcome To The Den", to be released. "Excelsior" is their second album.
This sounds good to me. They definitely have a couple of really strong songs here. So you should really check this out.
(Inverse Records)
madhattersden.com
APRIL 24, 2016
MURKOCET: Strip Club Massacre - Single
SLIPKNOT playing melodic death metal? It's said to fit fans of LAMB OF GOD and PARKWAY DRIVE though. It's a o.k. song anyway, and that's the most important thing. I don't know what else to say about this though (ever heard that before?).
(Self released)
youtube.com/watch?v=sxMoAq9iBdM
APRIL 24, 2016
MURDRYCK: Antologi MMXV - Album
After a too long symphonic intro they finally start to play for real. And what this band play is simply black metal. No more no less. They seems to be among the better bands according to me, so this might be worth checking out actually.
According to The Metal Archives this band comes from Vänersborg, Sweden and formed in 1999.
murdryck.bandcamp.com
APRIL 24, 2016
GRETA KASSLER: Ingen Tittar På - Album
YES! This is the way I want my trallpunk to sound like! They play fast, but the vocals is melodic, and there's always a damned good melody. A perfect combination! And a fun thing with this band is that there's not just 1 singer.
This reminds me of bands like RÄSERBAJS, DE LYCKLIGA KOMPISARNA and other similar bands who kept the Swedish punk scene alive in the 90s, a time when this kind of melodic punk was very popular here in Sweden.
There's many excellent songs here, but I like "För Profitens Väl" a little extra. They should have given the title track to a child singer though.
Don't miss this for anything in the world!
(Second Class Kids)
APRIL 23, 2016
LASTKAJ 14: Längst Upp På Bottens Topp - 7" EP
O.k., I wasn't so kind last time I reviewed this band. Sorry for that. And this is luckily so much better than the last recording I heard with them. No accordian or violin that disturb. Just pure good old Swedish trallpunk in the traditional way. This is what I wanted from them last time.
"En Armlängd Bort" is a little different from the rest though. Gypsy punk? That's also the song that get stuck in my head without permission.
Fun to get a vinyl record by the way. That doesn't happen every month.
(Second Class Kids)
lastkaj14.com
APRIL 23, 2016
GOOD CHARLOTTE: 40 oz Dream - Single
I expected pop punk, but what do I get? Some kind of lame catchy melodic pop/rock for lollipop teenagers. This is just crap! Pop punk to me is BAD RELIGION and possibly GREEN DAY, and good old bands like The BUZZCOCKS. Probably the worst shit this week..
The song comes from their new album, "Youth Authority", which will be released on July 15 (a album that you won't read about here, unless somebody put a gun to my head and force me).
(MDDN)
goodcharlotte.com
APRIL 23, 2016
Page 2
Index
Next page