REVIEWS 2016 - Page 4
PIT OF CARNAGE: The Rise Of The Fallen King - Album
Brutal technical death metal is hardly my favorite kind of genre, and this Danish band doesn't really change that opinion. It's as usual too hard and advanced for a simple man like me. But o.k., after listening to this I don't know how many times, it's not totally useless anyway. You could say that some songs are better than others. And that's all I have to say about this..
(CDN Records)
facebook.com/pitofcarnage
AUGUST 14, 2016
THIRTEENTH TAMBOURINE: Marsh Madness - Album
Sure there's madness here. Their music is a mixture of melodic black, death, pagan and folk metal. A little like FINNTROLL, but with their own Ukrainian twist (all lyrics are in their own language by the way). It's heavy but still very catchy and melodic.
If you like folk metal and similar stuff, then you will like this too.
I don't know what else to say..
(SoundAge Productions)
facebook.com/trinadtsatiybuben
AUGUST 14, 2016
WHIPSTRIKER: Seven Inches Of Hell - 2-LP
This double sandwich gives you 26 songs from EP's and split releases that this Brazilian band released between 2010-14. And if you happens to be the one who like early stuff with BATHORY, VENOM and HELLHAMMER, well then this is the band for you my friend. And on the second album there's also some stuff for those of you who like crust punk.
They have many good songs, even though everything might not be great. But 26 tracks of this is a little too much at once. It will probably work a lot better in small dozes though.
(Folter Records)
whipstriker.bandcamp.com
AUGUST 13, 2016
SHADOW WITCH: Sun Killer - Album
Stoner rock mixed with 70s doom and 90s grunge. A combination that actually works just fine as those genres are not so far away from each other as you may think. In this case you could say that it's a combination of ALICE IN CHAINS and 70s BLACK SABBATH with a pinch of LED ZEPPELIN.
Damned good songs anyway! So this is definitely something you have to check out of course. Especially if you're into 70s hard rock.
The band comes from New York, and this is their debut album.
Release date: August 15, 2016 (Snake Charmer Coalition)
shadowwitch.bandcamp.com
AUGUST 12, 2016
REKOMA: Circle Of Hate - EP
Here comes the first release from a Finnish metal band founded in 2014. A foretaste from their upcoming debut album, which is in the works.
I would describe the first track (the title track) as some kind of thrash metal, while the second song is more like heavy metal. And we don't talk the old school here. It's a pretty modern sound actually. The 2 other songs are more or less in the same way.
Not bad, but I have heard better.
I don't really know what else there is to say about this band..
Release date: August 12, 2016 (Inverse Records)
facebook.com/rekomaband
AUGUST 11, 2016
ANTI PASTI: Rise Up - Album
This is the first record in over 35 years from this 80s punk rockers. And it's a very good and catchy album. The only problem could be that they have a tendency to repeat the chorus way too many times in some of the songs. But otherwise there's no problems here.
12 tracks and not a single bad song. That's pretty remarkable when you have been gone for so long. How many old men can do that?
Release date: August 12, 2016 (Westworld Recordings)
AUGUST 11, 2016
ATTICK DEMONS: Let's Raise Hell - Album
Have IRON MAIDEN already released a new album? Just joking. But the singer in this band sounds so much like Bruce Dickinson that it makes the whole band sound like IRON MAIDEN. So if they ever would have to replace Bruce, maybe they should call this guy?
While today's IRON MAIDEN are going in a more progressive way, ATTICK DEMONS is going in a classic heavy metal direction instead. And it's damned good!
The band comes from Portugal, and celebrate their 20th anniversary this year. But for being around for so long, they have not released that much. A EP in 2000, a demo in 2006 and a album in 2011 is everything before this album. But if it sounds this good, then it might actually be worth waiting a few years between the releases.
The best IRON MAIDEN album that they never did?
Release date: August 12, 2016 (Pure Steel Records)
attickdemons.com
AUGUST 10, 2016
HYPONIC: ??? - Album
"???" is not the title, but I don't have Asian signs on my computer.
Seems to be a band who think vocals and catchy songs are over-rated. This is slow, heavy and atmospheric stuff, and most of these songs are instrumental. I think there's just 1 song with vocals. Shit boring to listen to according to me. But if you think funeral doom/djent sounds like something very interesting, then I won't stop you.
I have always wondered why people like these Hong Kong dudes play music at all, when they can't even make any good songs? But the biggest mystery is that people actually want to release the shit, and that there's people who actually like it. I don't get it.
Release date: August 10, 2016 (Weird Truth Productions)
facebook.com/HYPONIC.page
AUGUST 9, 2016
DINOSAUR JR.: Give A Glimpse Of What Yer Not - Album
This makes me think of the 90s, Seattle and grunge/alternative rock. But DINOSAUR JR. was never 1 of the bands that I was listening to. And I would not call them grunge either. Alternative rock is probably the best description (even though that doesn't say much). It's pretty laidback, but still catchy.
As you may know, the original line-up of the band (J Mascis, Lou Barlow and Murph) recorded 3 full albums during their initial run in the 1980s. That lineup reunited in 2005, and are still going strong.
We get 11 songs on this album, and most of them are good.
Best songs: "Goin Down" and "Tiny".
(Jagjaguwar)
dinosaurjr.com
AUGUST 8, 2016
ADE: Carthago Delenda Est - Album
Symphonic death/black metal is probably the best way to describe this extreme metal adventure. But the label describe these Italians as "brutal and technical death metal with an ethnic and epic edge inspired on the old Roman empire and influences in the vein of bands like NILE, HOUR OF PENANCE, BEHEMOTH, KRONOS." Well, it's not the first time that I hear something else than everybody else.
This is their third album anyway, and I guess it's not so bad.
(Xtreem Music)
facebook.com/adelegions
AUGUST 7, 2016
DEAD LABEL: Throne Of Bones - Album
DEAD LABEL released their debut album, "Sense Of Slaughter", in 2013, and is said to play thrash metal. This is their second album, and it doesn't really sound like the thrash metal I'm used to. This is more modern stuff, with some hardcore in the mixture. So it's definitely hard and heavy anyway, and absolutely a metal album. No doubt about that. But it just isn't as good as the old-school thrash metal that I like.
As I'm not really into this stuff, I don't really know what bands I should compare them with. So figure it out yourself by giving them a chance. They doesn't suck anyway.
Question: Is it some kind of new trend to have a pause song? Because this is the second album I got for review with a slow track that doesn't have anything to do at all with the rest of the songs.
(Nuerra Records)
facebook.com/deadlabel
AUGUST 6, 2016
ZEPHYRA at Hemgården in Borås, Sweden on August 4, 2016
Some of you might wonder why there has not been any live reviews here during the last couple of months. Well, I had to do a hip surgery, so it takes a little while to get back on track again. And find somewhere to sit when you go to a concert here in Sweden is almost impossible. And if there are any seats, then they're already taken by some lazy bastard. But enough of that.. I finally went to a show anyway (and found somewhere to sit too, probably because the seat was wet).
I arrived a few minutes late and thought that they would have already started the show, but they had not. So I tried to be funny and said something about that to those who sold merchandise, and then they said: "We were waiting for you!". And after that the band actually started to play. Pretty funny. Because they don't even know who I am, so they were hardly waiting for me.
This was kind of the release party for their new album, "As The World Collapses", who is released today (Aug. 5). So they simply played all songs from the album, which wasn't a problem to me as that's all I have heard with them. And I really like that album. They did a really good job anyway, and I can regret a little that I have not checked them out before. But that will definitely change now.
Their music is best described as melodic death metal. You can read my review of the album here.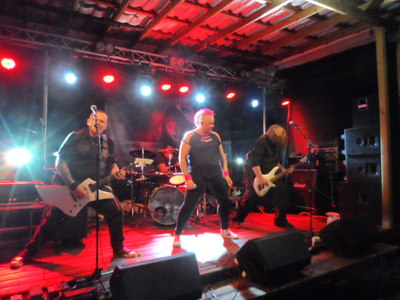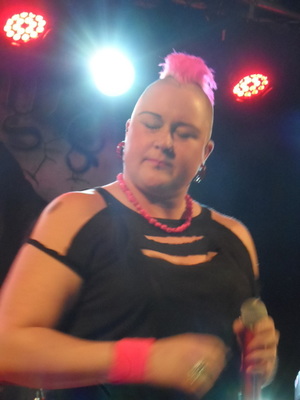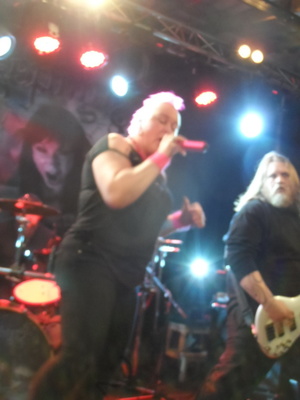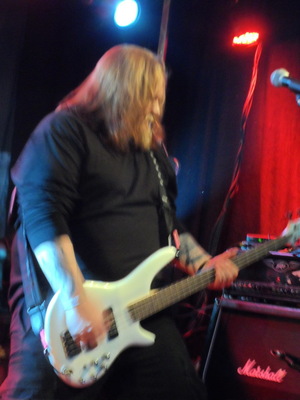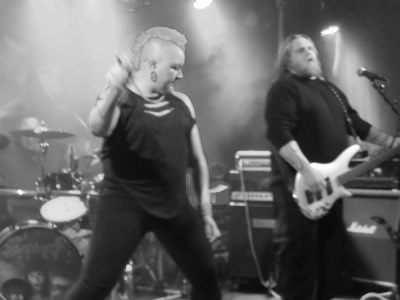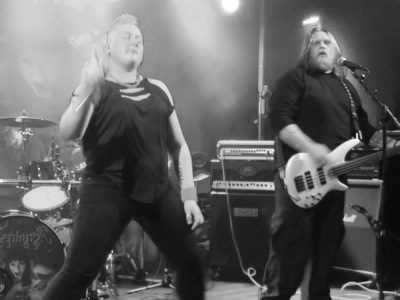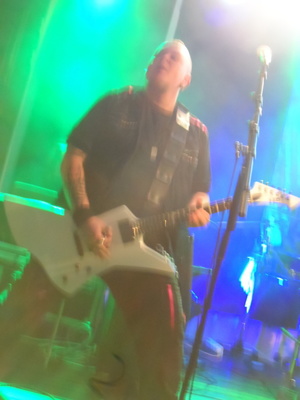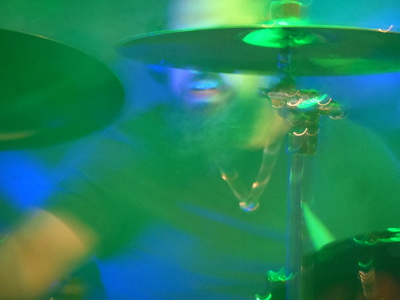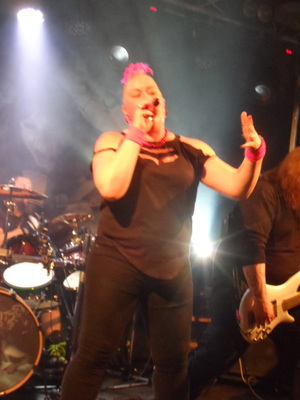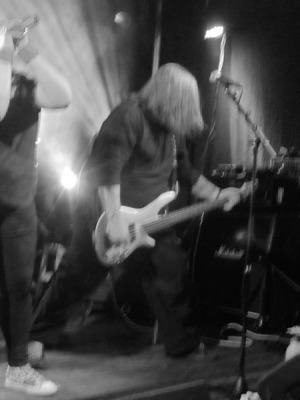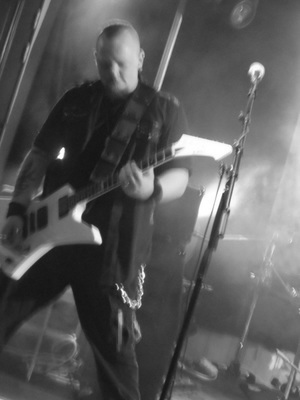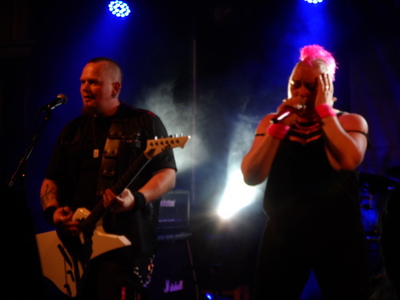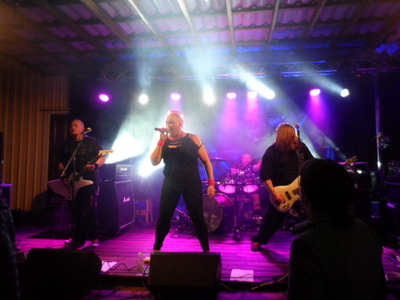 AUGUST 5, 2016
ZLATANERA: Legerdemain - Album
Stoner rock. Or heavy rock as they call it nowadays for some reason. Pretty o.k., but not much else. And what was that "I wanna kill everyone, Satan is good" (or whatever they say) mantra good for then? So silly! I would guess that these dudes are still pretty young and stupid, but it's said that the band consist of local veterans (drunks or hobby satanists?).
The band formed in 2012 and are from Belfast, Northern Ireland. Among their influences are bands like BLACK SABBATH (of course), CATHEDRAL, ENTOMBED, CLUTCH and CORROSION OF CONFORMITY, just to name a few.
I have heard better bands in this genre, but I think you should give them a try at least.
Release date: August 5, 2016 (Self released)
facebook.com/zlataneraband
AUGUST 4, 2016
DENOMINATE: Those Who Beheld The End - Album
DENOMINATE is a Finnish band who describe their music as progressive technical death metal. Their influences comes from bands like DEATH and CARCASS, which they blend with modern progressive and technical elements to create a progressive sound with a touch of the old school. Damned good stuff anyway.
Well, this is something that you should not miss if you have any interest at all in good death metal. Because it's not extremely progressive and technical. Which I thank them for.
Release date: August 5, 2016 (Inverse Records)
facebook.com/DenominateBand
AUGUST 3, 2016
ARMED WITH BOOKS: Honestly Honesty - EP
..and another stupid band name (more people should read a book though, I can agree on that).
Hardcore is a style you can't really trust. It can be good, it can be bad. It can be hardcore/punk, it can be hardcore/metal. Melodic hardcore is probably the right label for this band though, because they take it very slow and easy, even though there's a few hard and aggressive parts too.
This band is hardly the best that I have ever heard. They're said to fit fans of TOCHÉ AMORÉ, DEFEATER, FUGAZI and WILLIAM ENGLISH. So it's obviously not something for me then, because I have never heard those bands. I like hardcore/punk.
Release date: August 5, 2016 (Grandad Records)
AUGUST 3, 2016
TWISTED SISTER: Rock 'n' Roll Saviors, The Early Years - 3-Album Box Set
O.k., I actually heard TWISTED SISTER before the rest did it here in Sweden. A couple of months later they started to show their videos (best in the world) on TV, and suddenly more or less everybody liked them (yes, even the pop kids). I still like them though, and how many of those losers can even remember TWISTED SISTER today?
These 3 live recordings has nothing to do with that though, because as the title says they're from the early years when they mainly played at clubs (late 70s/early 80s). So don't expect to hear "We're Not Gonna Take It" here. They play a couple of songs that ended up on their first album, "Under The Blade", and their second album, "You Can't Stop Rock 'n' Roll", though. But there's also a couple of songs that I had not heard before.
I can figure out that 1 recording is from a club in Detroit (1979), and 1 is from Donington, UK (1983). But I'm not sure where the "Hammerheads" (1980) recording comes from (probably a club somewhere in the States). One thing I know is that they was already a damned good live act when this was recorded, and they already had some really good songs too. Everything might not be great here, but it's still worth checking out. No doubt about that!
(Deadline Music)
twistedsister.com
AUGUST 2, 2016
ZEPHYRA: As The World Collapses - Album
I have to admit that even though this band comes from my hometown (Borås, Sweden), I have not heard this band before. So I guess it was about time then?
Fact is that they play live here once in a while, and I haven't even been to any of their shows yet! They say that you should support your local scene. Well, I've been a bad boy when it comes to that. Seems like I just support old bands from this city. But it's nice that a newer band can surprise me by being good. Because this is a really good band who have made a very good album.
How should I describe the music they play then? Modern metal with pretty much keyboards and a touch of thrash/death metal maybe? I guess you can call it melodic death metal if you want to. It's not so far away from that.
Release date: August 5, 2016 (Inverse Records)
zephyra.se
AUGUST 1, 2016
GROND: Worship The Kraken - Album
A little heavier death metal in the old school is what this Russian band offer us. This is their second album, and it's said to please fans of ASPHYX, BENEDICTION, AUTOPSY, OBITUARY, MONSTROSITY and first SIX FEET UNDER.
I think ASPHYX are way more interesting than GROND. But that's just my opinion. You might like it though, because I never said that they suck (which they don't).
(Xtreem Music)
facebook.com/grondrus
JULY 31, 2016
HELLEVATE: Weapons Against Their Will - Album
Speed/thrash metal band based out of Kansas City, Missouri, U.S.A. This is their second album, which gives you 12 tracks in the old school way.
It's good stuff all the way, so I have nothing to complain about. But not much else to say either..
(Self released)
hellevate.com
JULY 31, 2016
BULLETSIZE: Pansar - Album
This Swedish band started in 2004 as a thrash metal band, but has now become faster, angrier and heavier - a combination of old-school thrash metal and modern death metal. It sounds pretty o.k. to me, so it could be worth checking out if you're a fan of thrash/death metal.
I'm usually not so impressed by instrumental songs, but the last song (which is instrumental) is actually really good. But there's many other good songs on this album too of course.
I don't really know what else to say about this though..
Release date: August 1, 2016 (Iron, Blood & Death Corporation)
bulletsize.se
JULY 31, 2016
PORTA DAEMONUM: (title unknown) - Album
I guess they're trying to build up an atmosphere there in the first track. But I think they're just stupid idiots who should stop fooling around and play instead. Well, until they actually start to play in the second track then. I'm actually surprised that this isen't some teenagers trying to be as cool as possible. Because they want to play fast in every song, and the sound quality is so bad that it's almost chaos. I guess it's supposed to be some kind of death metal though.
Release date: August 1, 2016 (Iron, Blood & Death Corporation)
JULY 30, 2016
PAGANIZER: On The Outskirts Of Hades - EP
Swedish death metal with the legendary Rogga Johansson. Do I have to say much else? Probably not.. I think you already know the sound, and know that it's damned good stuff.
4 tracks is what you get here, and all of them are damned good.
They start a little heavier with "Angry All The Time" (who isn't that?). But after 1 and a half minute they start playing faster, and it becomes a fat death metal fist straight in your face.
"Adjacent To Purgatory" is the next song. Old-school death metal with a crust punk vibe. I really like it!
After that it's time for the 4-minutes song "The Netherworld Carnivale". A mixture of mid-tempo and faster parts in a perfect combination. Maybe a minute too long, but otherwise good.
And the last song is the title track. A heavier mid-tempo adventure. It might not be as good as the rest, but it's definitely not bad anyway.
Release date: August 1, 2016 (Transcending Obscurity Records)
facebook.com/paganizersweden
JULY 29, 2016
BEANSIDHE: Mónt - Album
Swizz extreme metal band with their roots in death metal. But there's also elements of thrash and sometimes even black metal. It mainly goes pretty slow and heavy. Most songs are in mid-tempo, even though they speed it up for a little moment once in a while.
BEANSIDHE started their journey in 1999. This is their third release, which is said to be a long step forward from the previous works of the band. I know nothing about that, but this sounds o.k. anyway (but not much else).
Release date: July 28, 2016 (Via Nocturna)
JULY 28, 2016
ROONEY: Washed Away - Album
Well, the first track is definitely not rock anyway. It sounds more like zynth pop from the 80s. The rest of the songs doesn't rock that much either, so I don't really get why they want me to review this album. But it doesn't suck anyway, and that's always something. I wouldn't say that I've found a new favorite band though, and I don't think I will keep this album.
This is a pop album according to me. How many times do I have to say it? Don't send me any pop, please!
Release date: July 27, 2016 (Superball Music)
rooneymusic.com
JULY 27, 2016
A TORTURED SOUL: On This Evil Night - Album
After 6 years they return with their fourth studio album. 10 songs with what they call U.S. metal. Which in this case is like a mixture of good old heavy metal and power metal, but a little darker and heavier. There's still plenty of melody though.
I think this could be something for fans of King Diamond and MERCYFUL FATE, even though A TORTURED SOUL have their own sound. They might not have any hits here, but they seems to know what they're doing and do it good. So why complain?
The band comes from Milwaukee, Wisconsin, U.S.A.
Best song: "The Ripper's Curse".
Release date: July 29, 2016 (Pure Steel Records)
facebook.com/ATorturedSoul
JULY 26, 2016
MÅNEGARM: Nattväsen - Album
Yet another reissue with Swedish folk/black metal band MÅNEGARM. This album was originally released in 2009. This version is re-mastered and comes with a new cover art. There's also a bonus track, the previously unreleased song "Bergtagen".
Well, I don't really know what else to say. But if you like their previous albums, then you will probably like this too.
Release date: July 27, 2016 (Black Lodge Records)
manegarmsweden.com
JULY 25, 2016
BATHYUM: Rituals Of The Damned - Album
One man black metal band from the North West of England, mainly inspired by the Norwegian scene in the late 80s/early 90s. Not so bad actually, even though it might not be a masterpiece. But it could absolutely be worth a try if you're into that kind of stuff.
This album has been available for streaming and download since February, but will now get a "real" record release in the end of July.
Well, I have been listening many times now, and I can't come up with anything more interesting than that to tell you about this.
Release date: Last week of July 2016 (Heathen Tribes)
facebook.com/bathyum
JULY 24, 2016
TOY DOLLS: Absurd Ditties/Fat Bob's Feet/Twenty Tunes Live From Tokyo/Wakey Wakey! - Album reissues
I have had "Absurd Ditties" and "Wakey, Wakey!" once upon a time, but I don't know where they are now. Well, now those albums and 2 more have been re-released, so now I can finally listen to some TOY DOLLS again.
There's different opinions about this band in the punk scene. All their lyrics are just silly and funny, and nothing serious at all. The vocals is a bit funny too. And some people just can't take that. There's even some people who think they're a skinhead band and that they play Oi!. But no, TOY DOLLS is nor a skinhead or Oi! band (even though many skinheads like them). Not to me anyway. Both lyrics and music is far away from that. It's just a funny punk band. That's all.
They have plenty of good and catchy songs, and they're really good at what they're doing. The albums I like best of these 4 are "Absurd Ditties" and "Twenty Tunes Live From Tokyo". I'm a little surprised that "Wakey, Wakey!" wasn't as strong as I remember. It's not a bad album, but "Absurd Ditties" have more hit potential in the songs.
(Westworld Recordings)
thetoydolls.com
JULY 23, 2016
DESPITE: Synergi - Album
Macho metalcore mixed with melodic and emotional parts. The label calls it modern metal and claims that they're so heavy. And well, there may be some of that too in this brew. But it's hardly heavy as doom. More like hardcore heavy.
The band comes from Gothenburg, Sweden and features as much as 3 8-string guitar players. But that is of course hardly something that I can hear anyway. So what's the point with that?
They originally formed in 1998 already as a side project. But it wasn't until 2009 that they released the 7-track EP "In Your Despite". Their debut album, "Clenched", was released the year after. A EP and 2 singles has been released since then, and now their second full length is released.
Pretty o.k. for a while, but 13 tracks is a little too much. It begins to get a little boring towards the end actually.
(Eclipse Records)
despiteofficial.com
JULY 22, 2016
NOTHING LIES BEYOND: Fragile Reality - Album
Hardly something for the kindergarten. You won't even find any clean vocals in the melodic parts here. It's pretty brutal for being melodic death metal. You can hear that they have picked influences from the Gothenburg scene, but I think they're doing a great job here, so this could definitely be worth checking out.
The band comes from Tel-Aviv, Israel and formed in 2011. This is their first album.
(Self released)
facebook.com/NothingLiesBeyond
JULY 22, 2016
SALEM'S POT: Pronounce This! - Album
A mysterious Swedish quintet who play psychedelic heavy rock. But suddenly they can just as well start to play country or doom metal instead. Mainly it's a mixture of 70s hard rock, garage rock and acid rock.
Not bad at all. I think this could be something for fans of HAWKWIND, The DOORS and The STOOGES. And it could also be something for those who like what is called proto-metal (if you happens to know what that is).
Longiest song: "Coal Mind" (an instrumental adventure) - 12.48 minutes. Shortest song: "So Gone, So Dead" (the country song) - 3.43 minutes.
Release date: July 22, 2016 (RidingEasy Records)
facebook.com/Salems.Pot
JULY 21, 2016
PSYCHOPRISM: Creation - Album
Debut album with a U.S. metal band from New York and New Jersey. They reminds me of QUEENSRŸCHE, but with a Yngwie Malmsteen fan on guitar (man, that boy can really play a solo). And you can definitely have worse influences than those 2.
Why they start the album with piano and strings, and after a while a guitar solo on that, is a good question. But after that crap it's mainly pretty good stuff that they deliver. So this is of course something to take a closer look (or listen) at.
Not much else to add..
Release date: July 22, 2016 (Pure Steel Records)
facebook.com/Psychoprism
JULY 20, 2016
JT Ripper: Depraved Echoes And Terrifying Horrors - Album
Another VENOM copy. Or a mixture of speed and thrash metal, combined with the raw power of punk. This trio from Germany might not have anything new to come up with, but these 9 tracks sounds good anyway. So it might be worth checking out if you like raw and dirty thrash with a touch of black metal.
Release date: July 22, 2016 (Iron Shield Records)
facebook.com/J.T.Ripper.thrash
JULY 20, 2016
WITHERSCAPE: The Northern Sanctuary - Album
I don't know how familiar you are with this band, but if I say Dan Swanö (EDGE OF SANITY, BLOODBATH, NIGHTINGALE etc. etc.), then it might ring a bell. This is not really death metal though, but more like progressive metal with elements of all kinds of rock and metal (including some extreme metal parts here and there). There's both clean vocals and growl. There's both harder and melodic parts. I really like this album!
His partner in this Swedish duo is Ragnar Widerberg. A person that I know nothing about actually.
They released their first album, "The Inheritance", in 2013, and a EP, "The New Tomorrow", in 2014.
European release date: July 22, 2016 (Century Media)
witherscape.com
JULY 19, 2016
VIVALDI METAL PROJECT: The Four Seasons - Album
I'm not really sure how many e-mails I got about this project and for how many years, but now the album is here at last. And it sounds more metal than Vivaldi according to me. Much of this is more like Yngwie Malmsteen, but more orchestral and symphonic. Like a symphonic metal opera.
This project was created by an Italian keyboard player/composer/producer who calls himself Mistheria. An as the album title says, it's based on Antonio Vivaldi's "The Four Seasons", featuring more than 130 metal and classical artists, orchestra, a string quartet and 3 choirs from all over the world. Talk about an ambitious project! It took more than 2 years to get the album done.
This is something for fans of symphonic metal, neo-classic metal and those who like metal operas.
Release date: July 22, 2016 - Vinyl on September 9, 2016 (Pride & Joy Music)
vivaldimetalproject.com mistheria.com
JULY 18, 2016
TRICK OR TREAT: Rabbits' Hill Pt. 2 - Album
The first song is nothing else but a power metal explosion, while the next song is slow AOR or something. The third song is more like catchy and melodic hard rock, and that's what most of the other songs could be described as too, even though there's some power metal songs too. Really good stuff anyway.
TRICK OR TREAT was originally formed in 2002 as a tribute band to HELLOWEEN. Their first album with their own material was released in 2006. "Rabbits' Hill Part 1" was released in 2012, and now the second chapter is here. Among the guests on this album are Tony Kakko (SONATA ARCTICA), Sara Squadrani (ANCIENT BARDS, AYREON) and, in the role of the evil general Woundwort, Tim "Ripper" Owens (ex-JUDAS PRIEST, Yngwie Malmsteen).
(Frontiers Music)
JULY 17, 2016
Q5: New World Order - Album
Some of these songs probably wouldn't have sound so bad with Marc Storace (KROKUS) or Biff Byford (SAXON) on vocals. But even though they have borrowed a little from those gentlemen's bands, they still have their own identity somehow.
This band was actually formed back in 1983, and released their first album, "Steel The Light", the year after. After their second album, "When The Mirror Cracks", was released in 1985, the original lineup went seperate ways.
In 1991 2 of the members started NIGHTSHADE. And when that band was invited to play at the Headbanger's Open Air festival in Germany in 2009, the promoters asked if they would perform a second set as Q5, to which they agreed. And in 2014 they agreed to do a one-off show as Q5 at Sweden Rock Festival. And that was obviously so much fun that they started to rehearse as Q5, and soon started to work on some new material. And this album is the result of that.
Really good hard rock in 80s style is what you get from this band (if you haven't figured that out yet). And who can say no to that?
(Frontiers Music)
JULY 16, 2016
CRAZY LIXX: Sound Of The LIVE Minority - Album
I heard this Swedish band when they still was a demo band many, many years ago. And I haven't heard that much with them since then, but they have actually released 4 studio albums, and now it's time for a live album.
This record was recorded at Bang Your Head festival in Balingen, Germany in July 2015, and has been mixed by Chris Laney who has previously been mixing live albums for EUROPE, TALISMAN and CRASHDÏET, among others.
When I first heard CRAZY LIXX, it was more like sleaze rock. But these songs sounds more like melodic hard rock/hair metal (stupid name), and sometimes they actually reminds me of DEF LEPPARD in the 80s. But sure, there's still some sleaze rock in some of the songs.
They do it very good anyway. So this is definitely something that you should check out.
(Frontiers Music)
JULY 15, 2016
CIRCA: Valley Of The Windmill - Album
The length of these 4 songs is enough to scare me (7,32-18,44). And just if the length wasn't scary enough, it's progressive rock with long instrumental parts. And as you might know, that's not really my kind of thing.
It seems like these boys can play, but that doesn't help much to me. It goes in through 1 ear and out through the other, and is forgotten as soon as it's over.
People into GENESIS and similar stuff will probably like this.
The band consist of veterans like Tony Kaye (original YES keyboard and organ player) and Billy Sherwood (who took Chris Squires place after his untimely passing in 2015), as well as Ricky Tierney on bass and Scott Connor on drums. Tony and Billy formed the band in 2007, and they have released a couple of albums since then.
(Frontiers Music)
JULY 14, 2016
TIDES OF SULFUR: Extinction Curse - Album
South Wales death/sludge trio is what they describe this as. But it should not be placed in just 1 specific genre, as they blend elements of sludge, doom, death and black metal to their own homebrew.
7 tracks is what we get. It doesn't suck, but I think people who are more into this kind of stuff will like this much more than me. So why not give it a try?
Release date: July 15, 2016 (Black Bow Records)
facebook.com/TidesOfSulfur
JULY 13, 2016
The EMBODIED: Ravengod - Album
2011 was the year that these Swedes released their last, self titled, album. But now they're back with a new album filled with melodic heavy metal.
Their inspiration comes from all kinds of metal though, but mainly heavy, power and death metal. There's heavy guitars and good melodies, and the songs are good. What more can you ask for?
Yes, this is something worth checking out!
Release date: July 15, 2016 (Pure Legends Records)
theembodied.com
JULY 13, 2016
AZZIARD/NIRNAETH - Split 7" EP
2 bands that are said to be well-known in the French underground black metal scene unite on a pice of plastic. They gives us 1 song each, and both songs are previously unreleased and exclusive for this EP. Their music is said to fit fans of TSJUDER, DESTRÖYER 666 and ZYKLON.
Both bands have been around for 15 years and released 2 albums.
AZZIARD are really raw and brutal. Almost a little chaotic sometimes. But they slow down for a while too. Which is good. Because it's almost too extreme for me. I have definitely heard better, and the song is too long.
NIRNAETH isn't so extreme, but still raw and dirty. Much better than AZZIARD, but hardly a new favorite band.
(Kaotoxin)
JULY 12, 2016
OUTCASTS: Blood & Thunder - Album
A re-release of the second album from these Belfast punk rockers, which was originally released in 1983. And according to bassist Greg Cowan, their name derived from the fact that they were banned from 5 clubs in 1 week.
When I hear the first track, "Winter", it's not the best punk that I've heard. You can actually question if it really is punk at all. They sounds more like a rock band to me. But everything isn't bad here. Already the second track, "Machine Gun", is better.
You could say that there's both good and bad stuff here, and not always punk rock.
(Westworld Recordings)
JULY 11, 2016
ORACLES: Miserycorde - Album
This is what they call a new supergroup with members from ABORTED, SYSTEM DIVINE and ABIGAIL WILLIAMS. The album also includes guest contributions from Per Nilsson (SCAR SYMMETRY), Ryan Knight (The BLACK DAHLIA MURDER, ARSIS) and Jeff Loomis (ARCH ENEMY, NEVERMORE).
The music is labeled as extreme metal, but there's softer and more melodic parts too. There's both female and male vocals. Both clean vocals and screaming. A pretty variated album actually. And it's not bad at all. So I think you should give it a chance.
(Deadlight Entertainment)
oraclescult.bandcamp.com
JULY 10, 2016
The SHIVA HYPOTHESIS: Promo 2015 - EP
Deep title..
This is a blackened death metal band from the east of the Netherlands, inspired by bands such as BEHEMOTH, EMPEROR, DEATH, MAYHEM and GORGOROTH, as well as numerous non-metal artists. They strives for a mystic, gloomy, murky sound (with a slight hint of madness).
3 songs is what we get here - "Caduceus" (5,35 min.), "Praedormitium" (5,58 min.) and "Maze Of Delusion" (9,04 min.). Sounds o.k.
(Self released)
facebook.com/theshivahypothesis
JULY 9, 2016
TRAUMA: Invisible Reality, Plus Promo 1991 - Album
Isn't there another band named TRAUMA? Well, this has nothing to do with that band. This TRAUMA was a Polish death metal band.
Good stuff. But get the album twice feels a little like over course. Because "Promo 1991" is nothing else but the whole album recorded in the rehearsal room (that what it sounds like to me anyway).
I'm pretty sure that most people who like death metal are going to like this.
(Deformeathing Productions)
JULY 9, 2016
The ENEMY: The Enemy - Album
This is a re-release of their first album, "Gateway To Hell", which was originally released in 1983. On this version we also get lots of bonus material, which means a total of 22 tracks to listen to. But most of this material is good punk rock from the U.K., so it can be worth listening to. And we only get 3 of the songs twice.
If I should try to describe their sound a little better, then I would say that they reminds me of more famous bands like SEX PISTOLS and The CLASH. But I guess there's other bands to compare them with too. That gives you a hint at least.
Britian has given us a lot of good punk bands through the years, and The ENEMY is yet another one of those good bands.
(Westworld Recordings)
JULY 8, 2016
ACTION PACT: Mercury Theatre, On The Air!/Survival Of The Fattest - 2-CD
Some female-fronted punk rock from UK then. Sounds good to me. I like it. They actually reminds me of a other British punk band with a female singer - PENETRATION. The first record at least. The other album is a little slower and softer sometimes, but have a couple of punk rockers too. Most of the songs are still good, like "Up On The Heat" for example. The first album is my favorite though.
This is a reissue of their 2 first albums from 1983 and 1984. The band were from Stanwell in Middlesex.
Release date: July 8, 2016 (Westworld Recordings)
JULY 7, 2016
MONUMENT OF A MEMORY: Catharsis - EP
5 songs with a modern metal band from New Jersey, who takes their inspiration from bands like The BLACK DAHLIA MURDER, LAMB OF GOD and PARKWAY DRIVE among others. So it's pretty hard and heavy stuff, but still a lot of action.
It sounds pretty o.k. to me. But honestly not much else. I don't think I would like to hear a whole album with this stuff. That would probably be too much for me.
Release date: July 8, 2016 (Independent)
JULY 6, 2016
SLOW SEASON: Westing - Album
A classic sound of the 60s and 70s rock bands, but not dated. Some of these songs reminds me of LED ZEPPELIN, even though there's other influences too from the same era. It sounds very good anyway, and that's always the most important thing to me.
You should absolutely check this out, or at least give it a try.
Release date: July 8, 2016 (RidingEasy Records)
JULY 6, 2016
DIABOLIZER: Apokalypse - MCD
Turkish death metal band that are on the border to black metal sometimes. Pretty fast and brutal stuff. But not too fast and brutal, so I dig it.
They are hardly doing anything new at all, but if you like death metal, then you should give them a try, because this is really good stuff.
Release date: July 8, 2016 (http://www.facebook.com/thirdeyetempleThird Eye Temple)
facebook.com/diabolizer
JULY 5, 2016
DIABOLICAL: Umbra - EP
I was going to call this death metal, but they call it "forward thinking metal". And sure, this is more than just "simple" death metal. I guess we can call it progressive extreme metal. They do it really good though, so I don't have any problem with this.
4 tracks is what we get from this Swedish band anyway.
They have been releasing records now and then since 2000.
Release date: July 8, 2016 (ViciSolum Productions)
diabolical.se
JULY 5, 2016
CHALICE OF SUFFERING: For You I Die - Album
This wasn't so funny. Really heavy doom/sludge metal. And they kick off with a song that last for 10 minutes. And all songs are long and instrumental, except for some talking here and there. That's not really my kind of blues.
Luckily it doesn't totally suck, but their songs are way too long for me (7,26 to 13,09 minutes). But o.k., there's 1 track that is just 2,42 minutes, but it's just a bagpipe making noise (very irritating intrument according to me).
CHALICE OF SUFFERING is a U.S. based doom metal band, and this is their debut.
Release date: July 8, 2016 (Times End Records)
JULY 5, 2016
BRUTE FORCZ: Brute Forcz - EP
Heavy metal trio from L.A. who was formed in 2010 by professional wrestlers Slammer and Jammer. They wanted to play music in the style of MOTÖRHEAD, JUDAS PRIEST, AC/DC and W.A.S.P. And I can absolutely hear some MOTÖRHEAD in the first track, "Phat Ass Girl". Those influences is not so clear in "Death Is The Devil" though, who is heavier. The last song, "(Ain't Gonna) TearMeDown", is a little faster and could possibly remind me of JUDAS PRIEST.
All 3 tracks are good, so this band has nothing to be ashamed of.
(Self released)
bruteforcz.com
JULY 4, 2016
NETHERBIRD: Windwards - Single
After almost 3 years of silence the Swedes are back with a new single, which precedes their upcoming album, "The Grander Voyage", which comes out in October. But here we also get a bonus track, "Sculptors and Spectres", which will not be on the album.
The band stay true to their roots in the 90s black and death metal underground. So if that sounds like something that you would like, then you should check this out. I think it sounds good anyway.
Release date: July 6, 2016 (Black Lodge Records)
netherbird.com
JULY 4, 2016
PEQUOD: False Divinity - Digital EP
PEQUOD formed in early 1998 in Munich, Germany. They play old-school death/thrash metal with equal influences from MORBID ANGEL and SLAYER. Or Bay Area thrash meets Swedish death metal. 4 tracks is what we get, and they're all good, so this could be worth checking out.
The recording was mixed by Fredrik Folkare (UNLEASHED, NECROPHOBIC) and mastered by Peter In de Betou (MESSHUGGAH, OPETH, AMON AMARTH). So it's actually a little weird that this EP will be available as a free download via their web site. It should have been a "real" release instead (CD, LP and why not cassette as well). Record labels, wake up!
Release date: July 5, 2016 (Self released)
pequod.eu
JULY 3, 2016
The AMORETTES: White Hot Heat - Album
The DONNAS playing AC/DC inspired songs is probably a pretty good description to this female Scottish hard rock n roll trio. GIRLSCHOOL is another band you can mention, as well as DANKO JONES actually. And just like last time I heard them (last year's album "Game On") there's a lot of great songs. As a matter of fact, I think all 10 tracks are great. So this is obviously something that you should not miss for anything in the whole wide world if you want high-octane rock.
The album was produced by Luke Morley (song writer/guitarist for THUNDER).
(Off Yer Rocka)
theamorettes.com
JULY 2, 2016
ATTICA RAGE: Warheads Ltd - Album
ATTICA RAGE call themselves a heavy rock band. I would simply call it hard rock though. But no matter what they have some good songs here anyway. And I think they reminds me of BLACK STAR RIDERS and Ozzy Osbourne actually, even though it might not sound exactly like them. The title track sounds a lot like Ozzy anyway.
The group formed in Glasgow, Scotland in 2003, and released a EP in 2005. Their debut album, "Ruin Nation", was released in 2008. "Warheads Ltd" is their fourth full length.
Well, this can absolutely be worth checking out.
(Off Yer Rocka)
atticarage.com
JULY 2, 2016
VALGALDR: Østenfor Sol - Album, Cassette
This debut album has previously been released on CD by Fallen-Angels Productions, but now it's time for a strictly limited run of 100 hand numbered tapes. And if you have any interest in 90s Norwegian black metal, then this is something for you my friend.
Funny that the singer sounds like the singer in RAMMSTEIN in the end of the last song.
Good stuff. No doubt about that. That's all I have to say..
(Self released)
facebook.com/valgaldrmetal
JULY 1, 2016
EXCÖRIATOR: Faster Harder Louder - EP
Fast, hard, raw and aggressive old-school thrash metal band with members from both Sweden and U.S.A. No modern stuff here.
The musicians are said to be veterans who came together to celebrate the music they loved in their youth. They all have families and responsibilities, and they don't exactly live close to each other, so don't expect to see these old men live. Fact is that they have choosen to be anonymous, so nobody really knows who they are. They want the music to do the talking.
Pretty good stuff anyway. So why not give it a try?
(Heathen Tribes)
facebook.com/excoriator
JULY 1, 2016
CARNAL DECAY: Promo 2016 - Single
Well, that was a not so interesting title. So unimaginative.
2 tracks of brutal death metal from Switzerland is what we get here anyway. And some more information about the band was obviously too much to ask for, so I don't know much else about them.
I don't really know what this "genius" (NOT) have done, but for some reason there's no sound on the second track. Just silence! So I can't say anything about that song. Weird.
The song that works sounds o.k. though, but I've heard better.
(Rising Nemesis Records)
carnaldecay.bandcamp.com
JULY 1, 2016
DER ROTE MILAN: Aus der Asche - Album
Debut album from a German black metal band, with lyrics in German. And it's not any happy songs about peace and love here. But I don't think you expected that either. It's actually pretty intense stuff, even though they blend it with some slower parts as well.
The intro is as usual totally useless and way too long with its 2,51 minutes (but you can always "jump over" that shit). After that it's good stuff, even though I start to get tired of them around the fifth song. And then there's 3 more.
Release date: July 1, 2016 (Self released)
derrotemilan.bandcamp.com/releases
JUNE 30, 2016
LIGHTSABRES: Hibernation - Cassette
This album was released on vinyl earlier this year, but will now also be released on a limited edition of good old cassettes in July. This edition will be available in 100 copies, and will also include the bonus track "Setting Sun". And if you buy your copy directly from the label (Medusa Crush Recordings), you will get yet another bonus track for digital download.
The music is some kind of laid-back and atmospheric alternative stoner rock. Not much action here actually, but it's o.k. for a little while at least. Sunday music.
Release date: July 1, 2016 (Medusa Crush Recordings)
JUNE 30, 2016
LANFEAR: The Code Inherited - Album
The time when a band released a new album every year is gone since long. It was 4 years since this progressive power metal band released their last record, "This Harmonic Consonance". But now the time has come for a new full length to be unleashed.
What we get here is 8 tracks of the finest melodic metal. This is really something that you should check out.
The song with the most hit potential is the last track, "Summer Of '89". But stuff like "The Opaque Hourglass" is also among my favorites.
Release date: July 1, 2016 (Pure Legends Records)
lanfear.eu
JUNE 29, 2016
STUCK MOJO: Here Come The Infidels - Album
A mixture of rap and metal. A little like RAGE AGAINST THE MACHINE, but less aggressive. Nothing new you might think. And fact is that it had already been done before this band started. We have the co-operation between AEROSMITH and RUN D-M-C on "Walk This Way" for example. STUCK MOJO is not really like that though. They concentrate more on rock than hip hop. And it's not rap vocals all the time either.
STUCK MOJO formed in 1989 and comes from Atlanta. In 1995 they signed to Century Media Records, and released their first full length, "Snappin' Necks". In late 2000 the band decided that it was time for a break to focus on other things. Over the next 5 years STUCK MOJO would periodically reconnect to play special one off shows and short tours. In 2006 the group was back in the studio to record "Southern Born Killers", which was released through Napalm Records. Another break took place between 2009 to 2014, when Rich and Frank returned to full-time activity with their other band FOZZY. But in 2015 STUCK MOJO started to write new material, and here's the result of that.
Now I haven't heard any of their previous albums, so I can't compare with them. This sounds really good though. No doubt about that. This is what the hip hop/ghetto kids should listen to instead of the crap they use to play on their fucking phones.
Best track: "Fire Me". A chorus to die for!
Release date: July 1, 2016 (Stuck Mojo Music)
JUNE 28, 2016
HOLLOW LEG: Crown - Album
Sludge metal is probably the right category for this. Think of bands like HIGH ON FIRE, WEEDEATER, CROWBAR and EYEHATEGOD for example. If you like that, then you will like HOLLOW LEG too.
Useless psychedelic and monotanous crap like "Atra" just gives me a nervous breakdown. I hate it! Maybe they should be more careful with what they smoke or what pills they put in their mouth.
The songs I like are "Coils" and "Electric Veil". The rest is o.k. for as long as they last, but not much else. It's just "Atra" that sucks though.
This album has previously been available in Europe only, but has now also been released in North America.
(Argonauta)
JUNE 27, 2016
HUMANITY DELETE: Fuck Forever Off - Album
This Swedish death metal band was formed in 2003. They recorded a demo that was never released as RIBSPREADER took all the time, so the band was put on ice for many years. But in 2012 there was an idea to resurrect the band, and the demo was finally released. But instead of just releasing some old stuff, a full album, "Neverending Nightmares", was made. After that it was silence for a couple of years again, but now a new album is finally here.
If you like old-school death metal, well, then this is a album for you. Trust me!
(Iron, Blood & Death Corporation)
JUNE 26, 2016
RIBSPREADER: Suicide Gate, A Bridge To Death - Album
Definitely a must for those of you who love old-school death metal!
They have that well-known Swedish sound from the early 90s that we all like, and these songs are nothing else but a copy of the bands from that time. But I'm of the opinion that this is the best kind of death metal, so I definitely don't have any problem with that.
And yes, I know that there's thousands of these bands, but RIBSPREADER have been around for a while now, and should be legends in the underground scene. This is actually their 6th album.
(Xtreem Music)
facebook.com/Ribspreader-148182408532846
JUNE 26, 2016
ASCENT: Don't Stop When You Walk Through The Hell - Album
Death metal from Novosibirsk, Russia. ASCENT started as a 1-man project in 2013, but within a year it became a band instead. And even though you will find it hard to believe when you hear it, it's actually a young woman on vocals.
This is definitely one of the better death metal bands from Russia. It's a good combination of the old school and a modern touch. You should really check this out!
Release date: June 30, 2016 (Sliptrick Records)
facebook.com/Ascent-Metal-Band-1079122862149876
JUNE 25, 2016
ANGSTBREAKER: MMXVI - EP
Hardcore.. Silly and ugly artwork. Weird titles like "#MyFriendIsHipster" and "2/3 Straight Edge". I don't really know what to think about this, but luckily the music sounds o.k. anyway. It's more hardcore/punk than metal, which I like better. 4 songs are new, 1 is a re-recording.
None of the songs sucks, so this can be worth checking out if you like hardcore the way it was supposed to be.
The band was founded in 2012, and comes from Leipzig, Germany.
(PSC Records)
angstbreaker.org
JUNE 24, 2016
MAJOR ACCIDENT: Pneumatic Pneurosis - Album
This is a collection of singles, which was originally released in 1985. And that's all I know. But I guess it's not such a wild guess that this is yet another punk band from the UK. It sounds like that anyway, and Westworld Recordings use to concentrate on British bands. They seems to have a couple of really good songs here, even though everything isn't great, and that's always the most important thing. They reminds me a little of bands like STIFF LITTLE FINGERS and The CLASH actually.
Yes, this is something that you should check out, punk.
Release date: June 24, 2016 (Westworld Recordings)
JUNE 23, 2016
COUNTLESS SKIES: New Dawn - Album
Debut album with a British melodic death metal band. And it's yet another band influenced by the Scandinavian scene, so I guess you know what they sound like already. And sure it sounds familiar, but don't let that stop you. This is still worth checking out.
They mix a little heavier songs with tracks that goes a little faster. So it's never the same thing over and over again. Which is good. All songs are good, so I don't have anything to complain about.
Release date: June 24, 2016 (Kolony Records)
countlessskies.com
JUNE 22, 2016
BROKEN BONES: Dem Bones/Decapitated, F.O.A.D./Bonecrusher, Live At 100 Club - 3-CD
BROKEN BONES are a hardcore/punk band founded in 1983, and led by Anthony "Bones" Roberts (DISCHARGE). They evolved from the band DISCHARGE, and later moved into crossover. They have released 8 albums, 2 EPs and a number of singles.
This little candy box contains all tracks from their early releases: "Dem Bones"(1984), "Bonecrusher" (1985), "F.O.A.D." (1987) and "Decapitated" (1987). We also get an explosive live recording from 100 Club. And they must really have liked the song "Decapitated" at that time, because they play it 3 times.
I would say that it's a familiar British sound that we all like. So I think this is something that you really should check out if you're into hardcore/punk from the UK.
Release date: June 24, 2016 (Westworld Recordings)
www.facebook.com/BrokenBonesOfficial
JUNE 21, 2016
ASTRAL DOORS: New Revelation - Album
There's not much doubt about who has inspired this band to sound like they do. I can hear a lot of Ronnie James Dio (R.I.P) era RAINBOW and DIO in this.
This is a re-release of the band's fourth album, and it sounds very good. So if you don't have the album already, why not give it a try?
I don't have much more information to give you..
Release date: June 24, 2016 (Metalville)
JUNE 20, 2016
WIDOW: Carved In Stone - Album
5 years since the last album. New drummer: Robbie Mercer. Traditional American-rooted hard rock and old-school metal. Very good stuff. No doubt about that. But I have been listening several times now, and I just can't come up with anything else then that to write about this album. Weird..
Worth checking out though.
Release date: June 24, 2016 (Pure Steel Records)
widowusa.com
JUNE 20, 2016
CB MURDOC: Here Be Dragons - Album
Technical, advanced progressive extreme/death metal. When it's as worst, it's totally chaos or calm and useless. And the most useless track of them all is the last crap. It's not even music, just atmospheric sounds.
The origin of the band goes back to 2005 and the disbanding of the Swedish black metal act MÖRK GRYNING, from which Johan Ljung, Johan Larsson, C-G Bäckström, Henrik Hedberg and Fredrik Boëthius Fjärem formed the new constellation and decided to develop in a different direction.
This is hardly ever really good at all. Definitely not my cup of tea for breakfast. But if you think something described as a mixture of djent, progressive death metal and technical death metal sounds like something that will make you cum, then I won't stop you from checking this out.
Release date: June 24, 2016 (ViciSolum Productions)
facebook.com/cbmurdoc
JUNE 19, 2016
FATUM: Life Dungeon - LP
This album has previously been released on CD in 2015. But now it's time for a vinyl release.
They first call this crust, and mention bands like AMEBIX, AXEGRINDER and DEVIATED INSTINCT. And after that it's "thrashing metallic punk", and bands like POWER TRIP and TOXIC HOLOCAUST.
This is the second album from these Russians. And to me it sounds like some punks doing a bad copy of early VENOM. So let's go with that "thrashing metallic punk" description.
Pretty o.k. for a while, but soon forgotten. VENOM could at least make songs that people still remember. Songs that are classics today. If any of these songs would become a classic, then I'm Santa Clause (and I'm definitely not fat).
Release date: June 23, 2016 (Ditro-y Records)
JUNE 18, 2016
DAN REED NETWORK: Fight Another Day - Album
Very melodic AOR legends that I haven't heard anything with since their hit in the late 80s/early 90s (or whenever it was). They are really on the border to pop and sometimes zynth pop. It doesn't suck, but I can't say that this is my kind of music.
Old fans might be happy about this, but I can honestly not hear any kind of hit potential here at all. In through 1 ear and out through the other. This is just as funny as listening to 1 of my friends progressive rock albums (not funny at all).
(Frontiers Srl)
danreed.com
JUNE 17, 2016
FIRST SIGNAL: One Step Over The Line - Album
This little project is lead by Canadian singer Harry Hess (HAREM SCAREM), and the music is said to be inspired by the 2 first albums from HAREM SCAREM, but with some new twists. We get everything from AOR to arena hard rock, and it's very melodic stuff.
Musicians on this album includes the new talent Michael Palace on guitars and bass, Daniel Flores on drums and keyboards, and background vocals from Hess HAREM SCAREM bandmate (and RED DRAGON CARTEL singer) Darren Smith, as well as Alessandro Del Vecchio, Nigel Bailey, Daniel Flores, Rolf Pilotti and Angelica Rylin.
Definitely something for fans of AOR and melodic rock/hard rock.
(Frontiers Srl)
JUNE 17, 2016
JORN: Heavy Rock Radio - Album
The most interesting June release from Frontiers is another covers album from JORN. But is it really that interesting when you listen to it?
Well, I have no problem with stuff like "I Know There's Something Going On" (Frida), "Killer Queen" (QUEEN), "Hotel California" (The EAGLES), "Rainbow In The Dark" (DIO), "The Final Frontier" (IRON MAIDEN), "Stormbringer" (DEEP PURPLE) and "Die Young" (BLACK SABBATH). But why did he have to include worn out shit like "You're The Voice" (John Farnham) and "Don't Stop Believing" (JOURNEY)?
He also have some odd choices here. Like "Live To Win" (Paul Stanley) and "The Final Frontier" for example. Interesting that he pick that song instead of an old classic, like most others probably would have done. And "I Know There's Something Going On" might also be odd for some people (until they hear it at least). Fact is that I've had that song in my head once in a while for many years, and now a hard rock/metal artist has finally done a cover of it. Definitely 1 of my favorites on this album.
(Frontiers Srl)
jornlande.com
JUNE 17, 2016
WITHEM: The Unforgiving Road - Album
WITHEM is a progressive metal band from Norway, who are inspired by bands like SYMPHONY X, PAGANS MIND, DREAM THEATER and CIRCUS MAXIMUS. They formed in 2011, and released their debut album, "The Point Of You", in 2013 via Sensory Records.
Why they call it metal is a question though. Because to me this sounds like melodic hard rock, but more progressive than it use to be. It's good though, even if they're not a new favorite band. So maybe you should check them out?
(Frontiers Srl)
withemsite.com
JUNE 17, 2016
ARKADIA: Aspirations & Reality - Album
Their debut album, "Unrelenting", was released in 2014, and now their second album is here. But the band was founded in 2003 already, so they're hardly a new band.
The music is probably best described as melodic metal, often with influences from death metal. But I wouldn't call it melodic death metal, as you might think it would be. I think people who like that will like this too though. Their main influences comes from Scandinavian bands like ARCH ENEMY, AMORPHIS and SENTENCED, as well as New Wave Of British Heavy Metal. But that doesn't mean that they sound exactly like any of those bands.
Release date: June 17, 2016 (Inverse Records)
arkadiaband.com
JUNE 16, 2016
DISCHARGE: Grave New World / Massacre Divine - Album / Album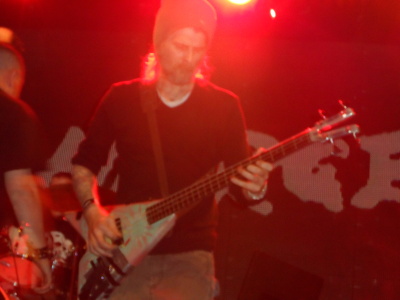 "Grave New World"
Ha, Ha, Ha! O.k., this is obviously not 1 of the best moments in this legendary UK hardcore/punk acts career. It seems like they suddenly wanted to play some kind of metal instead. Just listen to the vocals. Fucking insane! Hardly any angry screaming anymore. Now I know why the fans always complain about this album.
But I guess it could have been a little better if the singer had been singing more normal, and not trying to sound like a horny Robert Plant (LED ZEPPELIN). Because this is pretty far away from the band who created d-beat classics like "Never Again", "It's No TV-Sketch" and "Hear Nothing, See Nothing, Say Nothing" (to name just a few of their pearls).
The last song last for 15 minutes. What were they thinking?!
"Grave New World" is their third studio album, originally released in 1986. Why anybody wants to re-release this album is a big mystery to me.
"Massacre Divine"
Seems like the singer got his balls back after trying to sound like Robert Plant on "Grave New World". Now he try to sound like Brian Johnson (AC/DC) instead. The music is still more metal than hardcore/punk though. Luckily there's no 15-minutes adventures here, but the 3 last tracks really suck. Some kind of noisey outtro and 2 useless remixes of 2 of the songs. Definitely not what I want from DISCHARGE!
This might be a little better than "Grave New World", but it's mainly because the vocals is a little better. The songs are hardly any classics though, so this is another album I don't really get why they want to re-release after all these years.
"Massacre Divine" is their fourth studio album, and was originally released in 1991. There's a new DISCHARGE album, "End Of Days", that I have not heard yet. But I bet it's at least 10 times better than this. So maybe you should check that out instead, unless you already have?
Release date: June 17, 2016 (Westworld Recordings)
facebook.com/Dischargeofficial
JUNE 15, 2016
G.B.H: The Punk Singles 1981-84 - Album
Then the time has come for a collection of early singles from the legendary British punks G.B.H.
There's many classics here that I really like, so this is a must. But the last track is unfortunately a useless remix of "Do What You Do". I hate that shit! I almost hate it more than useless intros. But 21 great songs out of 22 ain't bad at all.
G.B.H has always been a little faster and harder, but I wouldn't call them hardcore, even though they're on the border. The band is actually still around after all these years. But as far as I can remember, they haven't released any new studio album for many, many years (but who needs a new album when there's so many old classics?).
Release date: June 17, 2016 (Westworld Recordings)
facebook.com/GBH.official
JUNE 14, 2016
CHELSEA: Right To Work, The Singles - Album
Well, there's actually not that much to say about this, as the title speak for itself. We get as much as 23 tracks here from this British punk orchestra, and there's a lot of good stuff. But I have heard these boys pretty recently, when they released as much as 3 box sets with 3 albums each. So I already like this band.
Some of my favorite songs are "I'm On Fire", "Right To Work", "No One's Coming Outside" and "Decide".
If you haven't heard this band before, then this is your golden chance.
Release date: June 17, 2016 (Westworld Recordings)
chelseapunkband.com
JUNE 13, 2016
STORMVOLD: IV Kataklismo - Album
Pretty extreme death metal here from this Spanish band. This is their debut album, and it's almost as funny to listen to as my little brother's death metal project DISMALIGN, but less chaotic and more organized (DISMALIGN is probably best described as noise core though). Not really the way I want my death metal to sound like, so I wouldn't recomend you to waste any money on this. But it's all up to you what you think is worth spending your money on. I would at least recomend you to pre-listen first.
Probably the worst record this week..
(Xtreem Music)
facebook.com/stormvold666
JUNE 12, 2016
SOV: Hel - Single
This Swedish black metal duo released their debut album, "Aklamerad Kalamitet", in March this year, and here's a single from that album.
The story about this band says that 1 of the members live in a cottage in the forrest without any electricity, and eat all his food raw. The other guy live in the village next to that forrest. Seems to be 2 maniacs. And maniacs often end up in the black metal scene for some reason.
Their music sounds like a cheap recording directly to a computer (which it just as well might be), and not that much black metal according to me. Not this song at least. It's more like some kind of industrial rock or something like that. Hardly the best I've heard to be honest.
(Despotz Records)
JUNE 12, 2016
MORTHUS: Over The Dying Stars - Album
Polish death/black metal band that was founded in 2012. They was influenced by acts like MORBID ANGEL, BATHORY, DISSECTION and DESTROYER 666. They released the demo "Legacy Of Astaroth" in 2013, and a EP, "The Abyss", in 2014. Now their first full length album is here.
They have a couple of good songs here, but they are hardly a new favorite band. That shouldn't stop you from giving them a try though. You might actually like it.
(Witching Hour Productions)
facebook.com/morthusband
JUNE 12, 2016
INFESTDEAD: Satanic Serenades - Double album
I'm not sure what songs that comes from which of these 2 albums, but I guess that's just a small detail (for you at least). The good thing is that the music is good though. Old school death metal. No more no less. But I'm not so impressed by all that singing about Satan. Very silly. But I guess it's just something that goes hand in hand with the concept.
If you call yourself a death metaller, then you might have heard about a Swedish guy named Dan Swanö (EDGE OF SANITY, NIGHTINGALE, BLOODBATH, WITHERSCAPE etc.). Well, this is 1 of many projects he has been involved with. The band formed in 1993, and released 2 albums - "Hellfuck" (1997) and "JesuSatan" (1999). Their goal was to play U.S. inspired death metal like DEICIDE, MORBID ANGEL etc.
What we get on these 2 albums is simply everything they ever recorded. Which means over 40 tracks! If you want more after that.. Well, then play it again, Sam.
(Century Media)
danswano.com
JUNE 12, 2016
IN TWILIGHT'S EMBRACE: Trembling - EP
Polish death metal band. 2 new tracks and a cover is what we get here.
The first song, "Laughing Stock, a Burning Stake", got a punk vibe that I really like. It makes me think of AT THE GATES. More of that please!
The second blues, "Into the Mouth of Madness", is another damned good death metal song, but with a small pinch of black metal for a few seconds.
The last waltz is a tribute to their countrymen in ARMIA. It sounds more like black/thrash metal to me. Good song anyway. But a little too long.
(Arachnophobia Records)
JUNE 12, 2016
ULCER: Heading Below - Album
This album came from the same person who sent me THY WORSHIPER. So I didn't really know what to expect, but hoped that it would be something much better at least. And luckily it was. This is the way I like it baby! No experimental and alternative shit. Just pure death metal with a touch of the old school and a very good production. Of course you want to check this out.
Not much else to say..
(Arachnophobia Records)
facebook.com/Ulcerdeathmetal
JUNE 11, 2016
THY WORSHIPER: Klechdy - Album
What is this then? Some kind of experimental and alternative indie rock? I don't really know how to describe this actually. Maybe like The CRANBARRIES (if anybody remember them) going nuts, with lyrics in Polish? But you still don't really have the whole picture. There's no hard guitars at all. No metal at all. I don't think I'm the right person for this.
Even though a record is bad, I usually give it a second chance. But in some cases (like this for example) it's just so wrong for me that I want to stop listening after just 1 run.
Maybe they should send their promos to people who actually understand the music? Not that I can figure out how few that can be. This was just too far out for me. Probably the most odd album so far this year. So if you want something different..
(Arachnophobia Records)
facebook.com/thyworshiper
JUNE 11, 2016
BLUE SKY THEORY: Cassandra - Album
Debut album from a German band who play some kind of modern/alternative metal. It's melodic but yet hard and heavy enough to be metal. They definitely have a couple of good songs here, so I really think you should give this a chance.
The band was founded in 2014, and "Cassandra" is their debut album.
..and sometimes there's not much else to say.
(Seña Music/Rockdom Records)
bst-music.com
JUNE 10, 2016
BAND OF BROTHERS: Before The Summer Ends - EP
4 gentlemen from Sweden playing some kind of catchy rock. Nothing unusual nowadays. 3 songs is what we get here anyway, and I guess it's not so bad. Could be worth a try actually.
They don't seems to have that much interesting information to offer though, so I don't really know what to write. It's just something silly that 3 of them have the surname Nilsson, and 2 of them are brothers. They all comes from Ljusdal, but none of them lives there anymore. Well, who cares about that&63; Would be nice if you could be a little more serious when you write about the band.
Release date: June 10, 2016 (Scarilla!)
facebook.com/bandbrothers.SE
JUNE 10, 2016
BLOOD REGION: Of North Fire - EP
A Finnish band that was formed in Karstula in the beginning of 2002, but not much happened until 2011. In January 2015 they finally entered the studio to record their first official release. A year later they were back in the studio to record this EP.
They call their music "Korpi-Metal", but it's more or less some kind of heavier heavy metal/thrash metal that we get here. Pretty o.k. stuff. Best of these 4 tracks is "No Fate In Rebels Blood".
(Inverse Records)
facebook.com/bloodregion
JUNE 9, 2016
IRON IMPERIUM: Dead Ahead - Single
A young alternative heavy metal band from Jyväskylä, Finland formed in 2012. Their music is said to be inspired by AVENGED SEVENFOLD, SYSTEM OF A DOWN and 80s heavy metal. A o.k. song anyway, so check it out if you dare.
That's all I have to say..
(Inverse Records)
facebook.com/IronImperium
JUNE 9, 2016
SINTAX: Sway For A Better Day - Album
Macho/groove metal that sounds like a bad copy of METALLICA. The band comes from Israel and formed in late 2010. They seems to be very popular in their home country. But that doesn't mean that they can fool the rest of the world.
To me this is just as exiting as listening to a new METALLICA album. Not so exiting at all actually. Sure, it's pretty good while you listen, but soon forgotten. And it's not like you will listen to the album again in the future.
(Inverse Records)
JUNE 9, 2016
WHITE ZOMBIE: It Came From NYC - 3CD or 5LP
Before Rob Zombie became a pretty well-known solo artist, he was in a band called WHITE ZOMBIE. But this is hardly the kind of stuff that he's doing today. Some kind of alternative psychedelic garage punk/noise rock, or whatever I should call it. Honestly not so exiting to listen to. And then there's as much as 39 tracks. It last for an eternity!
This is a collection of singles and EP's that was released in a very limited edition.
You would think that there should be at least a couple of good songs when there's that much material. But I guess this just isn't my thing. They even succeed to slaughter the KISS classic "God Of Thunder". So if I would have bought this, I would have want my money back.
I guess the reason why they didn't succeed is pretty obvious. They didn't have the songs. Now I'm not really sure when this band existed, because I think they might have been a little more well-known if they would have existed during the grunge era. But what do I really know? Maybe they're more well-known then I think? Somebody thought it was a good idea to release this package at least.
(Numero Group)
whitezombieofficial.com
JUNE 8, 2016
ASHCLOUD: Children Of The Chainsaw - Album
Raw and dirty death metal/crust punk in the old school way. A Swedish band (of course) influenced by CARNAGE, VOMITORY, ENTOMBED, GOD MACABRE and BOMBS OF HADES. This is their second album, with 12 tracks of the finest death metal you can get. And yes, there's about a thosand bands that are doing the exact same thing, but ASHCLOUD are among the better ones.
Nice with a song in Swedish by the way.
(Xtreem Music)
facebook.com/Ashcloud666
JUNE 7, 2016
FRACTURED INSANITY: Man Made Hell - Album
The third album from this Belgian band, who play what is best described as intense yet technical brutal death metal. It's said to please fans of groups like NILE, IMMOLATION, SEVERE TORTURE and early DECAPITATED. So if those are among your favorite bands, then I can't see why you shouldn't check this album out. Because it's actually pretty good for being both brutal and technical. Which is a combination that I usually don't use to like that much.
This should definitely make your neighbours shut the fuck up for a while.
(Xtreem Music)
JUNE 7, 2016
Page 3
Index
Next page