REVIEWS 2017 - Page 5
SAVAGE ANNIHILATION: Quand S'abaisse la Croix du Blasphème - Album
Some kind of advanced death metal. And 2 of these 6 tracks are more than 8 minutes long. The last song is some kind of acoustic opera ballad (featuring opera singer Claire Motté). Weird, but it doesn't last for more than 1,24 minutes. They have their good moments too though, so everything isn't hopeless.
This band has already existed for 15 years, and this is their second full length. It took them 10 years before their debut album came out in 2012, and then another 5 years before this album was ready for release. But then they doesn't exactly take the easiest way through a song, as it's pretty technical stuff. So I guess that it takes a while before a song is done.
Release date: Oct. 13, 2017 (XenoKorp)
OCTOBER 7, 2017
STILLBORN: Anathema - Single
The second single from the reunited Swedish goth/doom cult band STILLBORN's comeback album, "Nocturnals", which will be released in the end of this month. Another dark and heavy song, but a good song, like most of the other tracks on the album (review of that will be up later).
Well, if you liked the first single, "Lorelei", then you will like this too. Simple as that.
(Black Lodge Records)
stillbornsweden.com
OCTOBER 7, 2017
WARCALL: Invaders - Album
Thrash metal trio from Montreal, Canada who blend MOTÖRHEAD and DISSECTION. Not always the hardest or fastest band, but not really melodic either even though there's melody.
"Invaders" features 10 tracks, and is a concept release based on humans fighting back an alien invasion with a message of fighting oppression, resisting, reconquering, but without knowing if it is really over. It's their 4th full length.
I think they sounds very good, so I have nothing to complain about.
Release date: Oct. 13, 2017 (Plan B Music)
facebook.com/warcallband
OCTOBER 6, 2017
IDLEWAR: Rite - Album
Southern California heavy blues hard rock trio is how they describe this band. Well, it's some kind of heavier hard rock anyway. And I think that people who like bands like LED ZEPPELIN, QUEENS OF THE STONE AGE, CLUTCH, SOUNDGARDEN and ALICE IN CHAINS are going to like this band. This is what they use to call a power trio. And I can't see any reason why you should not like this, because they are definitely not doing anything wrong here.
CD release date: Oct. 12, 2017 / LP release date: Dec. 1, 2017 (Off Yer Rocka Recordings)
idlewar.com
OCTOBER 6, 2017
MARBLE MAMMOTH: Wrecked Ship - Single
Debut with a new rock band from Stockholm, Sweden, who are about to release their first EP. Their music is described as a combination of energetic, riff-based rock and dreamy, melodic psychedelia. On top of that we have a screaming old organ, which gives you the feeling of a classic band from the 60s/70s.
Now I can't hear all that in this song, but they makes me want to hear some more anyway. And that's always something positive at least.
The members have previously been involved with bands like The UNISEX and DOLLHOUSE. Nothing that I have heard before..
(House Of Marble/Sound Pollution)
OCTOBER 5, 2017
BROKEN STEMS: Rest Assured - Single
How about some blues rock, boy?
BROKEN STEMS is a San Diego band formed in 2011. Earlier this year (if I got it right, could be late last year) they lost as much as 3 members. The bass player quit, the drummer had to go to Vermont, and the lead singer was about to have a baby. But the 3 remaining members got together just for fun to see what they could come up with, even though they didn't expect too much of it. The result became this song, "Rest Assured". A soulful and bluesy rock song.
This is the first single they release as a trio. A pretty o.k. song, but honestly not much else than that.
brokenstems.com
OCTOBER 5, 2017
LYZZÄRD: Savage - Album
Debut album from a Portugese band, who play powerful heavy metal just like the traditional 80s bands. The cover of Michael Sembello's "Maniac" was unexpected though (what 80s movie was that song in?).
The first song, "Nightwatcher", reminds me of Swedish hard rockers DEAD LORD. But they mainly seems to be inspired by the New Wave Of British Heavy Metal era. So any fans of that should like this band.
We get 10 really good songs, and I think you should check this out of course.
(Fighter Records)
facebook.com/lyzzardofficial
OCTOBER 5, 2017
KEE OF HEARTS: Kee Of Hearts - Album
KEE OF HEARTS is a new band that is built around Tommy Heart (FAIR WARNING) and Kee Marcello (ex-EUROPE). The lineup is rounded out by Ken Sandin (ex-ALIEN) and Marco De Salvia (PINO SCOTTO). Not so hard to figure out that we talk about melodic hard rock then, huh? They describe it as Scandinavian AOR meets German melodic hard rock with influences from classic U.S. AOR. I guess that I can agree on that.
(Frontiers Music)
OCTOBER 5, 2017
WITHERFALL: Nocturnes And Requiems - Album
Progressive metal band from L.A. with Jake Dreyer (ICED EARTH, KOBRA AND THE LOTUS, WHITE WIZZARD), Joseph Michael (WHITE WIZZARD, MIDNIGHT REIGN) and the late Adam Sagan (CIRCLE II CIRCLE, INTO ETERNITY). It looks like they started to record this album in 2014 already. We get 8 songs with both melodic and aggressive vocals, as well as virtuosic guitars and big choruses. Neo-classical metal is mixed with melancholy landscapes.
Even though it might sound like a wild mixture, this was actually really good. So give it a try at least.
Release date: Oct. 6, 2017 (Century Media)
witherfall.com
OCTOBER 4, 2017
ÓSSERP: Al Meu Pas S'Alça La Mort - Album
This band must have a lot of friends. Or maybe they're just really popular in the extreme metal underground. Because it's not that usual that 10 labels are involved in the release of a record. But I can't really figure out why as much as 10 labels are interested in this band. Becuse even if there's some good stuff here and there, there's also a lot of crap. The last track is just pure shit.
This band comes from Barcelona, and started their ear terror in 2012. They have previously released a split EP with ASSOT and a full length album. You could say that they take the melodies from death metal and the brutality from grindcore.
Release date: Oct. 6, 2017 (Kremón Records/No Humano Records/Abstract Emotions/Brutal Arratia/Godbox Records/Pick Your Twelve/Hecatombe Records/The Braves/Blood Fire Death/Wild Wild East)
OCTOBER 4, 2017
CANKER: Earthquake - Album
Mainly pretty o.k. death metal in good old style. But suddenly they try to do a SEPULTURA, and show us their Spanish roots. I'm not really sure what that would be good for. But it doesn't last for too long, so I survive.
The roots for this band started to grow in the late 80s already, with a band called APOCALYPSE, who later on changed their name to POST MORTEM. Hardly the first band with that name, so in 1990 they changed the name once again. To CANKER. Their first demo with that name was released in 1991, and in the end of 1993 they started to record their first album, "Physical", which was released in 1994. They released another album, "Exquisites Tenderness", in 1997 before they took a long break.
In 2005 CANKER were back with a new lineup and recorded their 3rd album, "Earthquake". And it seems like the album has not been released until now.
1 thing is for sure though: If you like death metal, then you should like CANKER.
(Xtreem Music)
facebook.com/canker.granada
OCTOBER 3, 2017
BÓLIDO: Heavy Bombers - Album
From Santiago, Chile comes this band who play classic heavy metal and hard rock in the good old tradition. Their debut album, with the silly title "We Are Rock", was released in 2014. But they started to work on it 4 years earlier (so it obviously took a while). "Heavy Bombers" is their second album, which was first released only on digital platforms in March 2017. But now it's also available on CD.
Well, they seems to have some really good songs here, so I think you should give them a try.
The band is currently a duo, but they are looking for new members so that they can start to play live again.
(Fighter Records)
facebook.com/bolidoficial
OCTOBER 3, 2017
BLOODHUNTER: The End Of Faith - Album
This reminds me a little of ARCH ENEMY actually. Very good melodic death metal in other words. They seems to prefer to call it extreme metal though. No matter what you call it, singer Diva Satánica roars like a whole man. And the other members really know how to play this stuff.
The story about BLOODHUNTER starts back in 2008. After several changes in the lineup and concept, Diva finally joined the band in 2009. And in 2013 they released a demo, "The First Insurrection", which was followed by their first self titled album in 2014 (which is sold out at the moment). "The End Of Faith" is their second album. Definitely worth checking out!
(Xtreem Music)
bloodhunter.net
OCTOBER 3, 2017
AGONY KINGS: Agony Kings - Album
Debut album from a crossover band from New York. What they play is a mixture of old school hardcore/punk and old school thrash metal. But even though this is their first album, it has been over 10 years in the making.
I guess that this could be something for fans of legendary acts like SUICIDAL TENDENCIES, ANTHRAX, D.R.I., DROPDEAD, CRO-MAGS and even NAPALM DEATH.
Not so bad, but I have heard better crossover thrash.
Release date: Oct. 6, 2017 (Self released)
OCTOBER 3, 2017
TALES OF GAIA: Hypernova - Album
I don't know, but was this band really ready for a album yet? It sounds like a better demo. But the singer doesn't really fit in for some reason. I don't really know why I feel like that though (and the funny thing is that I thought it was a woman, but there's just men on the photo, and they didn't exactly look like teenagers).
It's just 12 tracks and most songs are not that long, but it still feels like this album last forever. Pretty o.k. power metal, but actually not much else than o.k., and that's not enough in this case.
So until next time (now I'm going to sound like I actually know something, haha): Make better songs, give the singer some lessons how to sing to this kind of music, and maybe just 8 songs instead of 12. Now I'm hardly an expert, but that's what I wish for anyway (Christmas is just a few months away).
(Fighter Records)
facebook.com/TalesofGaia
OCTOBER 2, 2017
PURTENANCE: Paradox Of Existence - MCD
This death metal band comes from Finland, and was formed as PURTENANCE AVULSION in 1989 already. After their first demo in 1990 they decided to shorten their name to just PURTENANCE. They recorded another demo in 1991, which became the 7" EP "Crown Waits The Immortal". After that it was time for their debut album, "Member Of Immortal Damnation". But after that album they went into hibernation due to other things in life.
In 2011 Xtreem Music did a re-issue of the album on CD, and at the same time the band decided that it was time for a reunion. This time as a trio, with original members Juha Rannikko (guitar) and Harri Salo (drums), plus the new member Ville Koskela (bass/vocals). But in the end of 2015 Ville wanted to focus on just vocals, and 2 new members - Simon Rouvinen (second guitar) and Tero Aalto (bass) - was added to the lineup.
PURTENANCE has released 1 MCD and 2 albums since they reunited. This new MCD (or EP if you prefer that) is in the heavier league, but it's not bad at all. I have definitely heard worse stuff. So why don't you give it a try?
(Xtreem Music)
facebook.com/Purtenance
OCTOBER 2, 2017
REKOMA: Eadem Errata - Album
Yet another useless intro, that last for as much as 2 minutes. But after that we get some metal. And that's probably the best way to describe this Finnish band. It's hard and heavy, but not slow. I think of METALLICA for some reason, but it's not thrash metal. Good stuff anyway. No doubt about that.
It seems like I have succeeded to lose the information about this band, and neither their Facebook page or Inverse's web site could give me any more information about this band. So I simply don't know that much about them to be honest with you. Sorry for that. But they're worth checking out anyway.
Release date: Oct. 6, 2017 (Inverse Records)
facebook.com/rekomaband
OCTOBER 2, 2017
MÄRVEL: At The Sunshine Factory - Album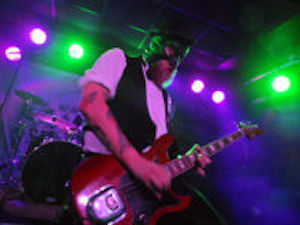 Swedish rock trio that has been active since 2002. And they have released a lot of records since then. I really liked their latest EP, "The Hills Have Eyes", and this new album is very good too. I think it can be something for fans of The HELLACOPTERS, but also for fans of classic rock and hard rock from the 70s. It's very catchy and melodic stuff that you just must like.
I don't think I have to write much more than that..
Release date: Oct. 6, 2017 (The Sign Records)
marveltheband.com
OCTOBER 1, 2017
MASON: Impervious - Album
Thrash metal band from Australia that will fit like a gloove for fans of KREATOR, DEATH, TESTAMENT and SODOM. Believe it or not, but they actually have the right tools to compete with the veterans. That's how good these guys are. So why this album is self released is a big question. Record labels, wake up!
But o.k., if you want something new and different, then this is hardly the band for you. But it's perfect as a tribute to the past.
Release date: Oct. 6, 2017 (Self released)
MasonOfficialMetal.com
OCTOBER 1, 2017
MALPHAS: Incantation - Album
Black metal in the raw and primitive league. Very old school. No symphonic or atmospheric stuff here. We get 7 tracks of pure black metal. No more, no less. And it's not so bad actually. This could probably be worth checking out if you like that style.
I didn't get that much information about this band, so I don't have much else to say..
Release date: Oct. 6, 2017 (Label unknown - Distributed via Plastic Head/Triton's Orbit)
OCTOBER 1, 2017
GHOST at Liseberg in Göteborg, Sweden on September 30, 2017
Man, this band has really grown in just a few years and become a even better live band than before. First time I saw them was at the Getaway Rock festival in Gävle, Sweden in 2011 at a small stage indoors. Papa Eremitus I (as the singer called himself then) hardly said anything at all, and mainly just stood still like everybody else (not much space on that small stage though). This time Papa was giving much more of himself and talked unusual much. And even his ghouls (as he calls his musicians) was moving much more. They were better than ever actually!
And as I said earlier, they have really grown bigger in just a few years. I don't know how it is in other countries, but here in Sweden their song "He Is" became a hit. Teenagers were standing in front of the stage and singing to every song, and knew exactly every word of the lyrics. I saw at least 1 who had makeup like Papa (just half the face though for some reason), and 1 that had a mask like the ghouls (for some reason he also had sun glasses even though it was dark outside, funny dude). I have never seen that before at a GHOST concert, and this was the 4th time I have seen them. Even my friend, who didn't even knew who they were, was impressed and liked them.
As this was the last concert on the touring for their latest album, "Meliora", Papa Eremitus III (as he has been calling himself the last years) said goodbye and welcomed the new Papa. Not really sure why though as everybody know that it's been the same man (Tobias Forge) all the time. But it's entertainment, so let them have their fun. And it didn't seems like too many took that seriously anyway as people started to laugh when an really old "pope" that hardly could walk entered the stage to present the new guy.
Well, now we just have to wait for a new album..
More people than ever before, so no photos this time.
ghost-official.com
OCTOBER 1, 2017
HELL IN THE CLUB: See You On The Dark Side - Album
I don't really get that short swing jazz part in "I Wanna Swing Like Peter Parker" (probably some kind of very dry humour, because what has Spiderman to do with jazz?). And in the last song, "A Crowded Room", they seems to think that they are QUEEN or some progressive band. But mainly it's melodic hard rock with a party vibe that they are playing. And they are doing it very good. Could be worth a try. That's for sure.
(Frontiers Music)
hellintheclub.com
SEPTEMBER 30, 2017
HORSE HEAD: Terminal - EP
Another loud and heavy band. This could have been so much better if the singer could actually sing, instead of just screaming like a maniac that they just let out from the madhouse. Maybe he should start a hardcore band instead? Because it doesn't really work for me to this kind of music.
HORSE HEAD was formed in 2011, and comes from Arizona. It seems like this is their last recording. Hardly something I will cry for. What they play here is sludge, and it's said to fit fans of EYEHATEGOD, RED FANG and RWAKE. 4 songs is what they give us on this EP.
Release date: Oct. 6, 2017 (Self released)
SEPTEMBER 30, 2017
HYBAN DRACO: Storms Of Desolation - Album
This is a Spanish mixture of melodic black metal and blackened death metal. And they have some good songs here. It's said to be something for fans of DISSECTION, SACRAMENTUM, UNANIMATED, NECROPHOBIC and BELPHEGOR. Not any bands that I listen to on a regular basis, but I guess they are right about that.
The band was formed in 2006 in Alcanar, and they released their debut album, "Frozen Whispers", in 2010. This seems to be their 4th album.
Could be worth checking out for those who like both death and black metal.
(Winter Demons)
SEPTEMBER 30, 2017
SPEED LIMIT: Anywhere We Dare - Album
My little brother had a 1-man band called SPEED LIMIT when we were kids. This is not that band though. I don't even think he ever recorded anything. I'm actually not really sure if he even had any songs at all (we didn't live together).
This band comes from Austria, and formed back in 1984 already. They play a pretty melodic kind of hard rock and heavy metal in the traditional way. Most of these 11 songs are really good, so this is of course worth checking out. Especially if you like music from the 80s better than today's music.
Release date: Oct. 6, 2017 (Pure Rock Records)
speedlimitweb.com
SEPTEMBER 29, 2017
STEELHEART: Through Worlds Of Stardust - Album
I read an interview with the singer, Miljenko Matijevic, in the latest issue of Sweden Rock Magazine. Man, he has really had a journey in his life. And he was actually the one who did the vocals for Mark Wahlberg's character in the film "Rock Star". And the song "We All Die Young" (from the same film) is actually a song by STEELHEART.
STEELHEART released their self titled debut album in 1990, and have existed in various shapes a little now and then through the years. On this new album Mr. Miljenko presents a mixture of old, present and future material. So no matter if you are an old hard rocker from the 80s or are more interested in newer bands, you should find something that you like here. I would not want to miss this album if I was you.
(Frontiers Music)
steelheart.com
SEPTEMBER 29, 2017
SYMETRIA: Symetria - Album
Old school metal from New Jersey. The place where classic bands like M.O.D., OVERKILL, T.T. QUICK and the legendary label Megaforce Records comes from. This band might not have been around for so long, but when you listen to these 8 tracks it's easy to think that they would have been around for much longer. It might not be hit potential, but it's definitely not bad. So give them a try. You might actually like it.
Release date: Sep. 29, 2017 (Tripsquad Records)
SEPTEMBER 28, 2017
MONOLORD: Rust - Album
Nothing to complain about when it comes to the 3 first tracks. But after that they decided that it was time for a instrumental song - Not so funny. And the 2 last songs are eternity long - 12,45 and 15,36 minutes. But o.k., they doesn't suck anyway, even though they're extremely long.
I guess we can call this heavy-weight metal/rock. Or doom/sludge. It's heavy stuff anyway. But it's not heavy just because. They are actually playing songs. And I guess that's what makes them a little extra good in my book.
I think I have reviewed this band before a few years ago, but I can't really remember what I wrote back then (too many other records since then). The trio comes from Gothenburg, Sweden anyway, and this is their 3rd album.
Release date: Sep. 29, 2017 (RidingEasy)
SEPTEMBER 28, 2017
ZEPHYRA: The Darkest Black - Single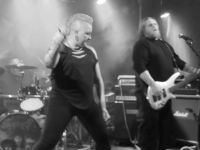 This meldoic death metal band comes from the same city where I live (which is Borås, Sweden), and their last album was fantastic. They are currently working on their 3rd album, and this is the first taste of that. But I don't really know what to think about this little tune. I would like to call it a neither song. Because it's neither good or bad. Just o.k. and not much else. I guess I have to listen some more and let it grow. But I really hope that they have stronger material than this for the new album.
(Inverse Records)
zephyra.se
SEPTEMBER 27, 2017
WAYWARD SONS: Ghosts Of Yet To Come - Album
Catchy hard rock that makes me think of the legendary Glenn Hughes (BLACK STAR COMMUNION, ex-DEEP PURPLE, BLACK SABBATH). But there's also a touch of THIN LIZZY here and there. Simply good hard rock from the 70s and 80s.
WAYWARD SONS might be a new band, but fact is that band leader Toby Jepson has fronted both LITTLE ANGELS and GUN (among others), as well as being the producer for bands like TOSELAND, SAXON, FASTWAY, The ANSWER and The VIRGINMARYS. So he seems to be experienced anyway.
Best songs? "Ghost" and "Give It Away" maybe?. Fact is that there's not 1 single bad song on this album. Great work!
(Frontiers Music)
waywardsonsband.com
SEPTEMBER 27, 2017
WEIGHT OF THE TIDE: All Told - Album
Melancholy and emotional melodic sludge? Maybe something like that yes.. I don't really know how else I would describe this band's music.
They comes from Nevada, and this is their second album. Some of the members have been making music since the 90s though. They have for example been playing in bands like DECEMBER, The SWAMP DONKEY, VAGUE CHOIR and KNIGHTFALL (all totally unknown to me).
Not so bad actually. So if you want to calm down, this could be something for you. I'm not so sure if the typical sludge fan will like this though. Maybe the emo kids should try it?
Release date: Sep. 29, 2017 (Undergroove)
facebook.com/WeightOfTheTide
SEPTEMBER 27, 2017
DIRTY THRILLS: Heavy Living - Album
70s hard rock from Frontiers? I didn't see that one coming. But this genre is so trendy now, and good old hard rock is for everyone and not just for the few chosen ones who hang at small illegal clubs. Once upon a time this kind of music was played at arenas all over the world. So no, this band isn't doing anything unique at all. But you don't have to be unique to be cool.
What other artists can I compare them with then? Well, I think of RIVAL SONS and BLACK COUNTRY COMMUNION. Possibly some LED ZEPPELIN too. And then it's not so far away from what Frontiers has released before. Simply the more blues-based kind of hard rock.
A really good album anyway. So you check this out of course.
(Frontiers Music)
dirty-thrills.com
SEPTEMBER 26, 2017
DEBBIE RAY: Slave To The System - Album
Is this band still around? I heard some of their early material, but that must have been something like 10 years ago. I have not heard anything with them since then, so this was a nice surprise actually. And I reconize 1 song, "Beautiful Monday".
These guys comes from Herrljunga, Sweden. I have been living a few miles outside Herrljunga, so I have been there a lot when I was younger. And if I'm not totally wrong some of the members have been playing in bands like PLAN NINE and IRON WARE for example (2 bands worth checking out, even though they don't exist anymore).
DEBBIE RAY play hard rock inspired by classic bands like MÖTLEY CRÜE, SKID ROW, GUNS N' ROSES, BACKYARD BABIES and PANTERA, but with a modern touch. Catchy, melodic and hopeful songs somehow. This seems to be their second full length. And it's a album that's full of good songs. So check this out!
Release date: Sep. 29, 2017 (Metalapolis Records)
facebook.com/debbieray.music
SEPTEMBER 26, 2017
DARKFALL: At The End Of Times - Album
This Austrian thrash/death metal band has been around since 1995, which makes them veterans (more or less). This is their 6th album. Now I can't really remember if I have heard this band before, so I can't compare this record with their previous works. This sounds really damned good though. There's no doubt about that. It's like being hit by a big fat heavy fist. Over and over again. And somehow you think it's totally o.k.
(Black Sunset/MDD)
SEPTEMBER 26, 2017
F.K.Ü.: Nightmares In A Damaged Brain - Single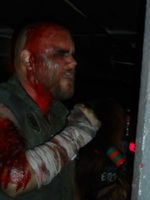 Long time since I heared this Swedish horror thrash veterans last time. This is the first single from their upcoming album, "1981", which is based on horror movies from 1981. A really good old school thrasher that makes you hungry for more, just like a zombie looking for brains.
This band was actually formed in 1987 already, which means that they celebrate their 30-year anniversary this year. I might add that it didn't last for too long in 1987. Just a few rehearsals, then they split up. But 10 years later they decided to revive the band. They recorded a 20-track demo, and in 1998 they released their debut album. After that it was silence again. Until 2004. And they have been active (more or less) since then.
(Despotz Records)
facebook.com/moshoholics
SEPTEMBER 25, 2017
GODHEAD MACHINERY: Ouroboros - Album
Debut album from a Swedish extreme metal band. It's both aggressive and a little technical, but yet with atmospheric harmonies and groove. They are said to be inspired by the black metal scene from the 90s, but has adapted their sound and concept to match the present scene. So it's not exactly black metal that they play.
It's not totally worthless, they have some good stuff, but it's not like I have found a new favorite band. I guess they are just a o.k. band. No more no less.
Release date: Sep. 29, 2017 (Inverse Records)
GodheadMachinery.com
SEPTEMBER 25, 2017
UFO: The Salentino Cuts - Album
So, old hard rock veterans UFO have made a covers album. It seems to be popular nowadays to do that (especially for really old artists for some reason). It's mainly old rock and lazy blues numbers that they give us. I reconize at least half of the songs here, and not that they are doing anything wrong here, but I have heard better versions.
A covers album might sound like a fun idea, but it's hardly ever as good as you expect it to be. But if you think that you need a album filled with covers of songs by The YARDBIRDS, The DOORS, MONTROSE, MOUNTAIN, ZZ TOP etc., then I won't stop you. Then you should give this a try.
UFO was formed in London in 1969 already. They have released as much as 22 studio albums, 14 live recordings and 16 compilation albums. But this is actually the first time that they have done a covers album.
Release date: Sep. 29, 2017 (Cleopatra Records)
ufo-music.info
SEPTEMBER 24, 2017
UNREAL TERROR: The New Chapter - Album
This band was first born back in 1984 already, and they released a couple of records before they split up in 1989, when 2 of the members decided to move to U.S.A. They are seen as 1 of the classic heavy metal bands in the Italian scene.
In 2012 they suddenly reunited, and they have continued to rock since then. The new album features 3 out of 4 original members, and that's pretty unusual for a band like this nowadays.
Well, this will most likely please every fan of traditional heavy metal. The songs have that touch of the 80s, but it's made with modern technology. Nothing unusual these days, but damned good.
(Jolly Roger Records)
SEPTEMBER 24, 2017
SPARZANZA: Announcing The End - Single


Looks like we have another band that are going to release 3-4 singles before the album is released. But now I'm not going to be negative, because the positive thing is that you get an idea of what to expect from the album.
Anyway.. This time they have picked the title track as the new single. A more laidback/darker song, but with a melodic chorus. Pretty good. But far away from the best that I have heard.
(Despotz Records)
SEPTEMBER 23, 2017

SKARLETT RIOT: Break - Single
A young British band who play modern metal in the same style as PARAMORE, BRING ME THE HORIZON and IN THIS MOMENT. This song is the first single from their upcoming second record, "Regenerate", which will be released in October.
"Break" is said to be among the harder songs on that album. And if this song is hard, how soft and melodic are the other songs then? Because this is very catchy and melodic, and hardly anything extreme at all. A very good song though.
(Despotz Records)
SEPTEMBER 23, 2017
CARDINALS FOLLY: Deranged Pagan Sons - Album
Doom metal from Finland. This is their 4th album, which consist of 8 tracks. And it's definitely not bad at all. This sounds very good. So do yourself a favour and check this out as soon as you can.
Do I have to say more than that?
Release date: CD out now, vinyl on Sep. 30, 2017 (Nine Records/Topillo Records)
facebook.com/cardinalsfolly
SEPTEMBER 22, 2017
BREAKING SAMSARA: Light Of A New Beginning - Album
Another rock band who try to make it in the big world outside their rehearsal room. But there's so much competition out there nowadays, as there's millions of rock bands who try to reach the top. So it's hard to tell if this band will make it or not.
1 good thing with this band is that the singer reminds me a little of a young and horny Steven Tyler (AEROSMITH) sometimes. Their music isn't exactly the same though. I guess classic rock is a pretty good description of their sound. They try to be hard and heavy, but they are mainly catchy and melodic. Not bad though.
Release date: Sep. 29, 2017 (Boermsa Records)
SEPTEMBER 22, 2017
AUDIOREHAB: Keep Me Coming - Single
This sounds like a mixture of good old VAN HALEN (with David Lee Roth) and AC/DC (with Bon Scott). And there's also a touch of good old AEROSMITH, LED ZEPPELIN and Sammy Hagar. Really good of course! This is a band you should keep an eye (or ear) on. That's for sure! They will definitely take you back to the 70s/80s.
AUDIOREHAB is a Canadian band, and this is the first single from their upcoming debut album, "Old School Medicine", which will be released later this year. Just the medicine you need.
audiorehabband.com
SEPTEMBER 22, 2017
TURBOCHARGED: Apocalyptic - Album
They call this deathpunk metal. To me it sounds like a hybrid of crustcore and old school death/thrash metal. And it's a damned good album that they have made, so I think you should give it a try at least. You will probably like it. Especially if you are a fan of bands like VENOM and MOTÖRHEAD for example. And I guess it's not impossible that fans of the Swedish metal band GEHENNAH will like this too, as there's a former member of that band in TURBOCHARGED.
This trio comes from Sweden, and this is their 4th album.
Both CD and LP are limited to 500 copies each, so act fast if you want 1 (or maybe 2).
CD out now, LP comes in October (Go Fuck Yourself Productions)
SEPTEMBER 21, 2017
TERROR EMPIRE: Obscurity Rising - Album
This band formed in 2009 and comes from Portugal. They are inspired by 80s thrash metal and 90s death metal, and what we get here is exactly that. 10 tracks of hard metal that will crush you. And it's really good stuff, so why not check this out?
Release date: Sep. 22, 2017 (Mosher Records)
terrorempire.net
SEPTEMBER 21, 2017
TAROT BEYOND: Tarot Beyond - Album
Back in 1990 a young band named TAROT was hand picked to jump in and work with the team at Dierks Studios when SCORPIONS backed out of their then current agreement with the studio. And no other than ACCEPT drummer Stefan Kaufmann was supposed to produce the album. Everything looked really good. But it all fell apart due to youth and stupidity (if I got it right).
And that could have been the end of the story. But they obviously had enough material to finally release their debut album about a quarter century later though. And what we get could be described as pretty o.k. heavy/power metal. But what they have done here is that they have put together a collection of several old recordings, and unfortunately there's some useless crap among these 15 tracks. So you could easily say that there's at least 5 tracks too many here. I mean, who need a useless drum solo and live recordings with bad sound quality for example?
(20th Century Music)
SEPTEMBER 21, 2017
HEAVY TRAFFIC/The MAD DOCTORS - Split 7"
HEAVY TRAFFIC is described as psych metal, while The MAD DOCTORS is a fuzzy garage rock band.
Well, I don't know if it's that much metal in HEAVY TRAFFIC's song here. It's more like some kind of psychedelic heavy rock according to me. And it's not so bad at all.
The MAD DOCTORS's song is not bad either. It's not that often I get any garage rock for review nowadays. At least not something that sounds really old school like this. I would like to get some more of that.
Release date: Sep. 22, 2017 (Twin Earth Records/King Pizza Records)
SEPTEMBER 20, 2017
HAZZERD: Misleading Evil - Album
Thrash metal band from Canada who wants to bring back the fun in this genre. That doesn't mean that they're a joke band though. You can still find the usual ingredients. They have just cut down on the anger that many bands seems to have as their highest priority. And instead of just being stone hard, HAZZERD is actually very catchy. It makes me think of early ANTHRAX and METALLICA.
So if you're tired of all the angry and evil thrash bands, then this might be the light for you.
Release date: Sep. 22, 2017 (World War Now Records)
facebook.com/HazzerdThrash
SEPTEMBER 20, 2017
DEAD EXPRESS: Bloodsucking Queen - Album
This reminds me of early The HELLACOPTERS. But not so noisey as they were on the first album, so maybe around their second album, "Payin' The Dues". And that's a album that I really like! So I guess it doesn't come as a surprise that I like this too.
Another band that they reminds me of is the Norwegian band GLUECIFER (if anybody can remember them). Hard rock mixed with rock n roll, and performed with punk attitude. I really liked that stuff in the late 90s/early 00.
DEAD EXPRESS was formed in January 2014, and comes from Nyköping, Sweden. They have previously released 2 EPs (if I got it right), and this is their first full length album. Definitely worth checking out!
It's the kind of album that makes you thirsty. Thirsty for alcohol and party.
Release date: Sep. 22, 2017 (Dead Express/Sound Pollution)
facebook.com/Dead-Express-968779579807865
SEPTEMBER 19, 2017
DANCING SCRAP: I Like It - Single
Maybe a little too electronic for my taste. It's still some kind of rock though, and this song doesn't really suck, so put your dance shoes on and let's rock (or something like that).
They describe this as indie/punk/hard rock, but I can't hear that much punk or hard rock in this little song. So let's just call it indie rock then.
"I Like It" comes from their upcoming album, with the long title "This is Sexy Sonic Alternative Iron Punk", which will be released in October.
(Agoge Records)
facebook.com/DANCINGSCRAP
SEPTEMBER 19, 2017
NECRYTIS: Countersighns - Album
Debut album from this US metal band. But the members are hardly any beginners. Among the members are guitarist Toby Knapp (WHERE EVIL FOLLOWS, WAXEN, ex-ONWARD) and drummer/vocalist Shane Wacaster (SUE'S IDOL, ex-PANDEMONIUM), who are said to be veterans in the American metal scene. I live in Europe though, so what do I know?
Their music is melodic power/heavy metal that every fan of US metal should like. But also fans of legends like IRON MAIDEN and JUDAS PRIEST should like this.
Release date: Sep. 22, 2017 (Pure Steel Publishing)
facebook.com/Necrytis
SEPTEMBER 18, 2017
UNRU/TONGUE - Split EP
After an atmospheric beginning, that last for a couple of minutes, all hell breaks loose in a chaotic black metal tornado. Then they are atmospheric again after a few minutes, before they start to play black metal again. Both bands are more or less the same. UNRU gives us 8,35 minutes, and TONGUE gives us as much as 9,28 minutes on their side. Hardly the best I have heard in my life. But probably not the worst chaos either.
Release date: Sep. 22, 2017 (Supreme Chaos Records)
facebook.com/unruband facebook.com/tonguebm
SEPTEMBER 17, 2017
ANCST/KING APATHY - Split LP
2 German black metal bands giving us 2 songs each.
ANCST started as a 2-piece studio/side project in 2011. They combine melodic black metal with hardcore/crust core, and they have released a lot of records through the years. In 2014 they became a full band. It seems like both hardcore and metal fans like them.
KING APATHY has been active since 2007, and was formerly known as THRÄNENKIND. They have released a few records, but far away from as much as ANCST. Their music is a wild mixture of melodic black metal, post black metal, metalcore, crust, post rock and hardcore/punk. The music has a melancholy atmosphere.
Both bands are pretty good, so give it a try.
Release date: Sep. 22, 2017 (Sipreme Chaos Records)
facebook.com/angstnoise facebook.com/KingApathyMetal
SEPTEMBER 17, 2017
L.A. WITCH: L.A. Witch - Album
Hm, some kind of cool 60s psychobilly/garage rock with a woman who sounds like she's high on downers or something. Very much reverb on both vocals and guitar. Like it would have been recorded in a basement or a cave on the beach. Not really music for the masses, but more for the misfits. The ones who never will fit in to society. People like me and you I suppose. Very retro. Very relaxed and not so fast. Just some old cool rock n roll.
This band comes (as the band name says) from L.A., but they're not witches (as far as I know anyway). This is their debut album.
(Suicide Squeeze Records)
facebook.com/lawitches
SEPTEMBER 16, 2017
IMPLORE: Subjugate - Album
You take 1 part death metal and mix it with a big doze of hardcore and grindcore. Then you got IMPLORE.
And now that they have signed to Century Media, their second full length (they have previously released 2 EPs and 1 album) is here. The songs are mainly short - from 51 seconds to 3,49 minutes. No bullshit to impress here. Just 14 tracks of pure aggression straight in your face (16 tracks if you get a version with bonus tracks).
What they have made is a really hard album that should satisfy both metallers and punks. And if you like both, then I can't see why should not give this a try.
Brutality without chaos.
Release date: Sep. 22, 2017 (Century Media)
facebook.com/imploreband
SEPTEMBER 16, 2017
INCERTAIN: Rats In Palaces - Album
INCERTAIN was founded in October 2012 in Andernach, Rhineland-Palatinate, Germany. They are musically influenced by speed and thrash metal legends like OVERKILL, EXODUS and TESTAMENT, but they also find inspiration in songs from Polish death metal veterans VADER, as well as in modern acts like LAMB OF GOD. "Rats In Palaces" is their debut album.
This band might not do anything new though, but it sounds really good anyway. So there's no reason to complain. Could be worth a try then..
Release date: Sep. 22, 2017 (Pride & Joy Music)
facebook.com/Incertain
SEPTEMBER 16, 2017
IN TWILIGHT'S EMBRACE: Vanitas - Album
Luckily the music isn't as ugly as the album cover. Melodic death/black metal is how I would describe what we get here. And it sounds really good to me. But there's also some harder stuff that sounds more like pure black metal (if you get what I mean there). Still good though. I like what I hear!
IN TWILIGHT'S EMBRACE was established in 2003, and comes from Poznan, Poland. "Vanitas" is their 4th full length.
Release date: Sep. 22, 2017 (Arachnophobia Records)
facebook.com/intwilightsembrace
SEPTEMBER 16, 2017
SPACE VACATION: Lost In The Black Divide - Album
This band comes from San Francisco and features former VICIOUS RUMORS guitarist Kiyoshi Morgan and vocalist Scott Shapiro. They play U.S. metal influensed by New Wave Of British Heavy Metal, and it's pretty melodic but damned good. Just listen to a song like "Save Your Breath" or "See You Again" for example. Excellent! This album is full of fantastic songs.
This is their 4th album, and it will fit perfect for fans of ENFORCER, Ozzy Osbourne, THIN LIZZY, IRON MAIDEN, DIAMOND HEAD and similar stuff. In other words, any fan of classic heavy metal.
Release date: Sep. 22, 2017 (Pure Steel Records)
spacevacationrocks.com
SEPTEMBER 15, 2017
SORROWS PATH: Touching Infinity - Album
SORROWS PATH was formed in 1993 already, and comes from Greece. They released a demo and a promo tape in the mid 90s, but due to a motorcycle accident the guitarist became paralyzed, so the band had to take a 7-year break. In 2005 they were back again, and in 2010 they finally released their first full length album, "The Rough Path Of Nihilism".
The music is heavy/doom metal with power metal and progressive elements. They are inspired by doom bands like MEMENTO MORI, SOLITUDE AETURNUS and CANDLEMASS.
I think there's a lot of great songs on this album, so this can really be worth checking out. That's for sure!
Release date: Sep. 22, 2017 (Iron Shield Records)
sorrowspath.net
SEPTEMBER 15, 2017
RABBITPUNCH: First Round Knock Out - EP
Punk rock/Pop punk band from St. Louis, Missouri, U.S.A. who are influenced by bands like GROOVY GHOULIES, RAMONES and GREEN DAY. But that doesn't mean that they are just as good as those bands. It's something similar though, and it's pretty o.k. stuff anyway. But not a "first round knock out". I had to listen a few times before I could hear that they wasn't yet another copy of BLINK 182.
(Self released)
facebook.com/rabbitpunchSTL
SEPTEMBER 14, 2017
ROUGH GRIND: Four For The Road - EP
This has nothing to do with grindcore. This is described as "Dark Roasted Rock/Metal". To me it sounds more like heavier hard rock. 4 tracks is what we get here, and no matter what you like to call it, their music is pretty good. So give it a try.
This band comes from Jyväskylä in central Finland, and they released their first EP, "Son Of A Gun", in 2014. This is their second EP.
I don't have anything else to say..
(Inverse Records)
roughgrind.net
SEPTEMBER 14, 2017
NEWMAN: Aerial - Album
It was in 1997 that singer/song writer Steve Newman formed the band NEWMAN. And since 1998 they has produced as much as 10 studio albums and 1 best of compilation. So this is their 11th studio album. What they play is melodic rock/AOR in the same league as CHICAGO, TOTO and similar acts. And I like what I hear. There's many good songs among these 12 tracks. So if this is the kind of music that you like, then I really recomend you to check this out as soon as possible.
Release date: Sep. 22, 2017 (AOR Heaven)
newmansound.com
SEPTEMBER 13, 2017
Martina Edoff: We Will Align - Album
This is the 3rd album from this Swedish rock woman, where she decided to work with her former co-producer and co-writer Jona Tee (H.E.A.T). Other co-writers on this album are artists like Jonas Törnqvist (DEATHRIDERS, BLEED THE HUNGER, TREASURELAND), Erik Mårtensson (ECLIPSE, NORDIC UNION, W.E.T), Benny Jansson (RIDE THE SKY), Billy Sheehan (MR. BIG, The WINERY DOGS). The music is melodic hard rock.
Well, I have reviewed Martina's albums before, and she use to have some really good songs. This album is no exception. We get 10 really good songs. It might actually be her best album so far.
For some reason Martina Edoff always reminds me of Swedish country/pop singer Jill Johnson. I'm not really sure why. It's hardly like they play the same kind of music. I guess they have a similar voice or something like that.
Release date: Sep. 22, 2017 (AOR Heaven)
martinaedoff.com
SEPTEMBER 13, 2017
VOODOMA: Gotland - Album
VOODOMA is a German dark rock band with goth and metal influences. They have so far released 2 official albums, as well as some self produced records. It's 3 years since their last album, "Secret Circle", was released.
Why they have set "Gotland" as the title of this album is a good question. I suppose that it has to do with their gothic influences, but fact is that it's the name of Sweden's biggest island. That's why I find it a little weird.
Even though it's dark rock, the music is actually melodic and catchy. It's definitely not just heavy and depressive. Listen to a song like "Love Is Falling", or why not "What We Die For" for example, and I think you will understand.
Release date: Sep. 22, 2017 (Pride & Joy Music)
voodoma.com
SEPTEMBER 12, 2017
British Steel: The Rising Force Of British Heavy Metal - Compilation album
What we have here is a compilation with what we could call the latest wave of British heavy metal. 11 really good bands who all try to repeat what was done in the late 70s/early 80s. But it's hardly in the same league as legendary bands like good old IRON MAIDEN, SAXON, DEF LEPPARD, MOTÖRHEAD, JUDAS PRIEST or even GIRLSCHOOL, DIAMOND HEAD or TYGERS OF PAN TANG. But I guess nobody expected that either. This is still good enough to check out though. No doubt at all about that.
The bands on this record are AMULET, AGGRESSIVE PERFECTOR, ELIMINATOR, DUNGEON, DARK FOREST, TOLEDO STEEL, VUIL, SEVEN SISTERS, INSURGENCY, NEURONSPOILER and WYTCH HAZEL.
It could have been nice if at least 1 or 2 of these bands could have had a female singer. For as far as I can hear there's just male singers.
So, when are we going to get a Swedish Steel then? I think Janne Stark, who did the book "The Heaviest Encyclopedia Of Swedish Hard Rock And Heavy Metal Ever!", could be the man for a project like that.
Release date: Sep. 22, 2017 (Dissonance Productions)
SEPTEMBER 12, 2017
VARDIS: 100mph/The World's Insane/Quo Vardis - Albums (re-issues)
VARDIS were a trio from Wakefield, Yorkshire in UK, who existed between 1978-1986. And even though "100mph" is the band's first album, it's also a live album. Which might seems to be a little weird. I guess they wanted to show the world what a great live band they were or something like that. But it's also a lot cheapier to do a live album (I suppose). Anyway.. What we get is typical British hard rock/heavy metal from the 80s. So if you like that, then this might be worth a try or 3.
"The World's Insane" is their second album, which was originally released in 1981. It features a cover of the HAWKWIND classic "Silver Machine", and it also features bagpipes played by Judd Lander (making it one of the few heavy metal albums of that time to ever feature bagpipes). There's also a guest apperance from Andy Bown (STATUS QUO) on keyboards. Some of the songs are more blues rock than hard rock/heavy metal, but that's not so bad either. The HAWKWIND song is almost a punk rocker.
"Quo Vardis" is their third album. Which seems to be inspired by bands like STATUS QUO and UFO. Boogie and blues-based hard rock. Sometimes with a pinch of glam rock as well. Very catchy stuff, and not bad at all.
Which album is the best then? Well, that's kind of hard to tell, as each album is different from the other. So I don't really know..
Release date: Sep. 22, 2017 (Dissonance Productions)
SEPTEMBER 12, 2017
KAIPA: Children Of The Sounds - Album
5 eternity songs between 7 to as much as 17 minutes. Some kind of old progressive rock of course. There's both male and female vocals. Sometimes they spice it up with a flute or a violin. But otherwise it's the kind of stuff that all old prog rockers will love.
And while we talk about age.. This Swedish band has been around since the Stone Age. Well, not really.. But they released 5 albums between 1975 and 1982. And then they reunited in 2002, and has released several albums since then. This is their 13th studio album. Today's lineup include members from SCAR SYMMETRY, KARMAKANIC, The FLOWER KINGS and RITUAL.
Release date: Sep. 22, 2017 (InsideOut Music)
kaipa.info
SEPTEMBER 11, 2017
MENIN: Lord Of Pain - EP
Loud, noisey and heavy. Some kind of stoner/doom/psych mixture. And it seems like this is a 1-man band with a guy named Chris Gray on vocals and all instruments. On this recording at least. Nowadays it's a full band with Chris on guitar/vocals, Ken Neff on bass, and both Devin Nowlin and Peter Schaller seems to play drums.
What we get here is 3 tracks (4 if you get the vinyl) between 5,45-10 minutes. And it might not be the best that I have heard, but it's not worthless either.
Release date: Sep. 15, 2017 (Doom Stew Records)
menin666.com
SEPTEMBER 10, 2017
The QUIREBOYS: White Trash Blues - Album
British rock veterans The QUIREBOYS play some blues covers. And they are hardly the first band who has done that. I know that AEROSMITH and ROLLING STONES have done a blues covers album before.
It's actually not that many songs on this album that I reconize. I think the only song that I have heard before is "Walking The Dog". And as usual with covers albums there's both good and bad songs. Mainly good stuff though. But I can't help feeling that a new album with their own material would have been more interesting. Because their latest records have been really good rock n roll.
Well, well, "you can't always get what you want", as ROLLING STONES sang. What we get on this album is songs made by American blues legends like Muddy Waters, John Lee Hooker, Jimmy Reed, Chucky Berry etc. So if that sounds like something that you just must have, then go ahead.
(Off Yer Rocka Recordings)
SEPTEMBER 9, 2017
DANKO JONES: You Are My Woman - Single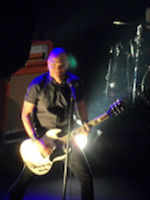 Now I didn't get their latest album, "Wild Cat", for review (which was released in March), and I have not bought it (yet). But suddenly I get the second single from that album for review (and I didn't even get the first single).
This song sounds a lot like good old THIN LIZZY actually. Very good of course. But it's hardly the first time a song with DANKO JONES reminds me of THIN LIZZY, so it's not such a big surprise.
I really like this Canadian trio, and I think I have most of their records actually. And they are a damned good live band too, so don't miss them if they play near you.
Release date: Sep. 15, 2017 (AFM Records)
dankojones.com
SEPTEMBER 8, 2017
DESECRESY: The Mortal Horizon - Album
This is so fucking useless that it makes me sick.
They call it death metal, but I don't know if I agree. This is not how I want death metal to sound like anyway. Very heavy and really deep growl that reminds me of throat singing. So death/doom metal then.
How this Finnish band have been allowed to make 5 albums is a mystery. But there's obviously people who actually like this band. So who am I to judge?
Worst album this week? Could be..
(Xtreem Music)
SEPTEMBER 8, 2017
DYSCARNATE: With All Their Might - Album
British death metal trio who released their first EP, "Annihilate To Liberate", in 2008. But this is not another old school band. I actually don't know what I should compare them with. But the songs are good anyway, and that's always the most important thing, isn't it? So give them a chance, you will probebly like it.
No use to say more than that..
Release date: Sep. 15, 2017 (Unique Leader Records)
dyscarnate.com
SEPTEMBER 8, 2017
HIGHRIDER: Roll For Initiative - Album
Sounds like some kind of alternative hardcore/punk. And for some reason they have to destroy it with a pretty irritating keyboard. Why? It wasn't such a good idea actually.
This band comes from Sweden, and this is their debut album, which consist of a mixture of thrash, heavy metal, 70s rock, doom, punk and hardcore. It might sound like a pretty crazy mixture, but they succeed to make music anyway. And if it wasn't for the keyboard, they could actually have been pretty good. So I guess it's not so hard to figure out that I suggest that they throw out that keyboard immediately.
The song title "Vagina Al Dente" was pretty funny by the way.
Release date: Sep. 15, 2017 (The Sign Records)
SEPTEMBER 7, 2017
HOSTILIAN: Monolith - EP
Some kind of progressive groove/thrash/death metal from India. They have 3 guitarists for some reason. But does that make them better than everybody else? I'm not so sure about that. But 1 thing I know is that these 4 songs are just as hard and aggressive as they should be. And these Indians are doing a pretty good job. So you probably should check them out.
This is a pretty young band, and "Monolith" is their debut EP.
Release date: Sep. 15, 2017 (Self released)
hostilian.bandcamp.com/releases
SEPTEMBER 7, 2017
TYRANT'S REIGN: Fragments Of Time - Album (reissue)
Some of these songs reminds me of a young METALLICA, while others reminds me a little of a young MEGADETH. And when I mention those 2 bands, then there should be no problem to figure out what kind of music this band is playing. And then you also know if you like it or not.
It seems like this is a re-release that has been remixed and remastered. I'm not sure when it was originally released though. But I guess it's 1 of all those bands from the 80s who never really made it to the top. But that doesn't mean that they are bad. Oh no! This is really good stuff that you should check out at once.
Release date: Sep. 15, 2017 (Dissonance Productions)
SEPTEMBER 6, 2017
STÖKET: Huvudet Känns Sådär / Jag Är En Idiot - Cassette EP, Digital album
A new band with Daniel "Kabbe" Karbelius from the Swedish punk band SISTA SKRIKET. But he have already succeeded to release a full length album and a cassette EP. Both this year. I guess that this is a solo thing and not a band, because there's no information about any other members.
The roots in these songs are in the Swedish punk, but once in a while there's also a song that are inspired by DEAD KENNEDYS, with that typical surf guitar sound that they used to have.
All lyrics are in Swedish, and it's not bad at all. This could be worth checking out.
(Buzzbox Records)
facebook.com/stoketband
SEPTEMBER 6, 2017
ALLTHENIKO: Italian History VI - Album
Italian heavy metal trio who have been active for 15 years, and this is their 6th album. Their first new album since 2014. 2 of the songs are actually sung in Italian, while the rest is in English.
You could say that ALLTHENIKO play in the harder and heavier league of heavy metal. The main ingredients are speed and power, but the last track, "Propaganda", is thrash metal with a progressive twist towards the end.
Well, this wasn't bad at all. They have many good songs among these 9 tracks. So this is something that could be worth checking out.
Release date: Sep. 15, 2017 (Pure Steel Records)
alltheniko.it
SEPTEMBER 5, 2017
Bob Kulick: Skeletons In The Closet - Album
This man is legendary! For example, his the man that KISS hired when Ace Frehley wasn't able to come down to the studio. Another KISS related thing is that his brother Bruce was guitarist for KISS for many years (Bob suggested him). Bob has also been playing with artists like Meat Loaf, BALANCE, Lou Reed, W.A.S.P. and many others.
But now, after 50 years in the music business, it's time for his first solo album. It's filled with melodic hard rock. 4 of the songs are brand new material, 5 tracks are from his past, and 1 song is a cover of "Goldfinger". Among the guests on the album are Dee Snider (TWISTED SISTER), Frankie Banali (QUIET RIOT), Robin McAuley (MSG), Bruce Kulick (ex-KISS), Eric Singer (KISS), Rudy Sarzo (ex-DIO), Vinnie Appice (ex-BLACK SABBATH) and many others.
There's lots of good songs here. No doubt about that. So this is something that I recomend you to check out.
Release date: Sep. 15, 2017 (Vanity Music)
SEPTEMBER 5, 2017
BATTLE RAIDER: Battle Raider - Album
Traditional heavy metal band from Mexico who formed in 2010. They released their debut album, "Hard Flyer", in 2015. And now their second album is here.
I think there's much power metal in their music. I think of both HELLOWEEN and MANOWAR. But towards the end of the record there's even some Mexican/western/surf (or whatever you should call it) guitar.
The songs are very good. So if it's classic heavy metal from the 80s that you're looking for, then I think you should check them out.
(Fighter Records)
facebook.com/BattleRaiderOfficial
SEPTEMBER 5, 2017
Coral The Merknight vs. SEARANTULA: It Weaves A Web Of Metal - Album
Hard rock and metal in the same style as TENACIOUS D, but with their own twist. Original songs about videogames, a broken refrigerator etc. are mixed with a couple of uncertain covers. This might have been very funny for those who were involved in this project. But is it really that funny to listen to? I guess it's 1 of those albums that you listen to 2 or 3 times, but never again.
This is described as a 1-man parody metal act, which except for Coral himself also features Travis Orbin (DARKEST HOUR) and Adon Fanion (GHOST SHIP OCTAVIUS). This is their debut album.
(Sea Spider Studios)
coralthemerknight.com
SEPTEMBER 4, 2017
WITCHWOOD: Litanies From The Woods / Handful Of Stars - Album / Album
Blues-based 70s hard rock seems to be the big thing nowadays. It wouldn't surprise me if these Italians have recorded it the old way too (tape and not digitally), because it sounds like a forgotten treasure from the early 70s.
Most of these songs are good. Sometimes it's suddenly a little progressive and/or psychedelic. And sometimes you can even hear a flute. Some songs are very long though. No problem as long as they are around 6-7 minutes, but 10 to almost 15 and a half minutes is a very long time. I guess it's a part of the game though. Listen to this is like an adventure that takes you to new interesting places all the time. This is something that I think a man like Mikael Åkerfeldt (OPETH) would like.
Now it seems like "Litanies From The Woods" was released back in 2015, and it's their debut album.
Well, "Handful Of Stars" is more of the same sweet thing. And this album also has its progressive and psychedelic moments here and there, but it works very good. I really like this band! Promise me that you check them out.
This album was released in November 2016. I usually don't review old stuff as I get so many new records for review. But sometimes I have to do a rare exception just because the band seems to be so interesting. I really look forward to hear a new album with these Italians now.
Could be something for fans of URIAH HEEP and BLUE ÖYSTER CULT I think. Not that WITCHWOOD is the exact same thing, but anyway..
(Jolly Roger Records)
facebook.com/Witchwoodband
SEPTEMBER 3, 2017
VOODOO SIX: Make Way For The King - Album
This is the fourth album from this London-based rock band. It was recorded in L.A. with producer Tom Fletcher (SUICIDAL TENDENCIES, Ozzy Osbourne, Steve Lukather, YES, Jeff Beck, SCORPIONS, TOTO, Yngwie Malmsteen). To me they sounds like they could have been 1 of those alternative 90s bands from Seattle. Not really grunge though. This is more like some kind of heavier rock. And as so many other rock bands they are catchy somehow.
I like what I hear here, but there might be another band called VOODOO SIX, because for some reason I thought they would be a hard rock or heavy metal band. But that doesn't really matter I suppose.
Release date: Sep. 8, 2017 (White Knuckle)
SEPTEMBER 3, 2017
The DARKNESS: Solid Gold - Single
"We're never gonna stop shitting out solid gold". Ha, ha, ha! Brilliant humour from these modern British glam rockers.
This song comes from their upcoming album, "Pinewood Smile", which will be released on October 6. It's about the record industry and the egos that comes with a big succees. And even though The DARKNESS might not be so big anymore as when they released their debut album, "Permission To Land" (2003), they can still deliver good rock songs. So there's absolutely no reason to dismiss this band.
(Cooking Vinyl)
thedarknesslive.com
SEPTEMBER 2, 2017
ARCH ENEMY: Will To Power - Album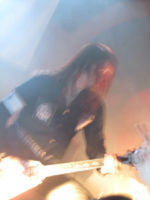 This is something that I have been looking forward to hear since they announced that they were going to record a new album. And do they blow me off the chair or what?! Of course they do! This is just as good as you can expect it to be. So I'm glad.
Most songs are in good old style. But there's a couple of surprises too. Like the clean vocals in "Reason To Believe", or the string orchestra in the end of the last song "A Fight I Must Win". But that works really fine too. So I have no problem at all with that.
If we have any future classics here is hard to tell now, so I guess we just have to wait and see. One thing is for sure though. Everybody will probably have an opinion about "Reason To Believe", which might actually be the strongest card in this deck. And some people will probably have something to say about the string orchestra as well.
Release date: Sep. 8, 2017 (Century Media)
archenemy.net
SEPTEMBER 1, 2017
ACID BLOOD: Dagger Eyes EP - 7" EP
The A-side consist of 2 tracks of high energy punk with a pinch of old school hardcore. The song on the B-side could be called proto-punk (think of a band like The STOOGES for example). Both sides are very good, so this is definitely a band that you have to check out.
ACID BLOOD is a pretty new band from Umeå in northern Sweden, who formed in late 2016. The members comes from bands like AC4, T-55s and CRYSTAL CARAVAN. Among their influences are MOTÖRHEAD, The STOOGES, D.O.A., The PLASMATICS and QUEENS OF THE STONE AGE, among others. This is their first record, which has 3 songs.
I think both punks and action rockers will like this band.
(JanML Records/Maja von Lobeck)
facebook.com/acidbloodumea
SEPTEMBER 1, 2017
MONSTER MAGNET: Tab/Spine Of God - Albums (reissues)
MONSTER MAGNET have never been any of my favorite bands. And I don't have to use more than 1 hand to count the good songs that I have heard with them through the years.
"Tab" start with the title track, which is just an eternity long (32 fucking minutes!) psychedelic jam that's going nowhere. Useless! This is just another example why you should stay away from drugs. They must have been really high, and probably drunk as well, when they recorded this shit. And the one who thought it was a excellent idea to re-release it must have been just as high and drunk as the members of the band.
The second song, "25", was much better. It's at least a more normal rock song. In the beginning at least. They just had to fuck it up with more jamming of course. So unfortunately it last for as long as 12 and a half minutes. It's actually like 3-4 songs played in 1 take.
And believe it or not, but there's 2 more songs: "Longhair" and "Lord 13". They are much shorter. Just 4 and 7,25 minutes. I like the shorter song, "Longhair" best, even though the other song is o.k. too. I will probably never listen to this album again though.
Now that I have complained so much about the "Tab" album, it's good to hear "Spine Of God" instead. It's at least music and not just eternal jamming. But even though it's music, it might not be the best that I have heard. It's pretty o.k. though, but not much else actually. None of these songs are better than the other.
I would describe the music on this album as heavy rock (possibly stoner rock if you prefer that). Sometimes there's also some psychadelic parts.
Release date: Sep. 1, 2017 (Napalm Records)
zodiaclung.com
AUGUST 31, 2017
The NEW ROSES: One More For The Road - Album
That would have been a good name for Axl Rose's own little version of GUNS N' ROSES. But this band comes from Wiesbaden, Germany and doesn't have much to do with that legendary band. I don't really know if I should call it rock or hard rock. I guess there's a little bit of both. It's very catchy anyway, and they have some good songs here, but for some reason they make me think of a more famous rock band from America that are not so cool.
It seems like they have done big succees in their home country. But will the rest of the world hang on? Hard to tell..
(Napalm Records)
thenewroses.com
AUGUST 31, 2017
FROM NORTH: From North - Album
Debut album from a Swedish viking metal band. But it's hardly any folk metal that we talk about here. This is often much harder. Almost a little like melodic death metal sometimes. Heavy riffs are mixed with medieval instruments, and the lyrics are taken from the norse mythology.
The members have previously played in bands like STORMHOLD, ANATA, BLEED FOR ME, IRRBLOSS, SINISTY, ZERO ILLUSION, YEARS OF FALLING, among others..
FROM NORTH is a very good band, so I think you should give them a try, no matter what kind of metal that you usually like. I think most metal fans could like this.
Release date: Sep. 1, 2017 (Downfall Records)
AUGUST 30, 2017
EYES WIDE OPEN: And So It Begins - Album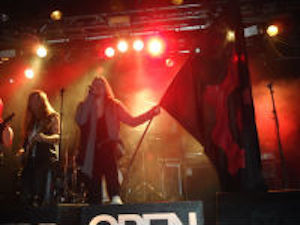 I have actually been writing about this band before, but it might be a few years ago now. And I have seen them live too a couple of years ago. So I guess I liked what I heard (or maybe I was there for some other band, and they happened to be there too).
What they play is some kind of modern metal with both screaming and clean vocals. It's both hard and heavy, as well as melodic, at the same time. I think there's a pinch of both melodic death metal and metalcore in their brew.
The band started in 2011 and comes from Karlstad, Sweden. "And So It Begins" is their third release, and the last in a trilogy that started with the EP "Revelations" in 2012.
Release date: Sep. 1, 2017 (Eyes Wide Open/ES Music)
e-w-o.net
AUGUST 30, 2017
NIGHT: Raft Of The World - Album
The 3rd album from this Swedish heavy metal band. But this time they have taken a closer step to a more rock-based sound than before. You will reconize them though, and they are still really good, so don't you worry too much about that. After all, haven't this band always had a little of their own sound? I think so anyway.
Well, it's no idea to talk about favorite tracks here, because all 9 songs have something that I like somehow. So just check this out.
Release date: Sep. 1, 2017 (The Sign Records)
heavymetalinthenight.com
AUGUST 29, 2017
QUEENS OF THE STONE AGE: Villains - Album
QUEENS OF THE STONE AGE is a band that always seems to go their own way. They make their own little brew with 1 part rock and 1 part pop. Sometimes with a touch of dance music as well. And I don't really know what I should think about them. But sure, they have made a few good songs through the years. I don't think that I need more than 1 hand to count those songs though.
This album is another odd adventure. There's both good and bad songs here. And the best song is probably the single track "The Way You Used To Do". But I like songs like "Head Like A Haunted House" and "Feet Don't Fail Me" too. Most of the other material is more or less just background music.
(Matador Records)
qotsa.com
AUGUST 29, 2017
KRYPTONITE: Kryptonite - Album
Yet another little all-star project from Frontiers Music. This time it's members from bands like The POODLES, TREAT, MUSTASCH and PALACE that have teamed up to record a album full of melodic hard rock. And the songs are very good, so no surprise there. It's more or less just as you can expect it to be. But I don't complain.
I guess you know what to do. And I guess that I don't have to write more than that. Short but sweet as they say..
(Frontiers Music)
AUGUST 28, 2017
The NIGHTS: The Nights - Album
This is definitely something for those of you who like melodic hard rock acts like ECLIPSE and similar, because this is really good stuff.
The NIGHTS formed in the summer of 2015, and comes from Finland. This is their debut album. Both singer Sami Hyde and guitarist Ilkka Wirtanen have had established careers in music in both Finland and abroad. So they are hardly any amateurs. And you can really hear that. They know exactly how to combine classic pop melodies with modern melodic hard rock.
Definitely worth checking out!
(Frontiers Music)
AUGUST 28, 2017
WORLD TRADE: Unify - Album
This sounds like GENESIS and especially Peter Gabriel's solo material, which a friend of mine use to play now and then even though I don't want to hear it (he think Gabriel is a genius by the way, ha ha ha). Well, I have heard worse of course. This is at least music, and not just complicated just to make you think how damned good musicians they are.
This is the 3rd album by WORLD TRADE, which consist of some rock veterans from L.A.: Billy Sherwood (YES, ASIA), Guy Allison and Bruce Gowdy (UNRULY CHILD) and last but (not) least Mark T. Williams (brother of TOTO singer Joseph).
Adult music that probably every fan of progressive rock just have to love. But I don't think I will let my friend hear this (then he will probably want to hear it every time he visit me, which luckily isn't too often).
(Frontiers Music)
AUGUST 28, 2017
SPARZANZA: Vindication - Single


Swedish hard rock/metal band SPARZANZA will release their 8th studio album, "Announcing The End", in October. This is the first single from that album.
The band have already been around for 20 years. They are well-known for the combination of big and heavy guitars with a razor sharp drive. And even though it's pretty dark, you just can't runaway from their catching choruses.
So the big question you might ask is: Does this song live up to that? Well, more or less. It's a modern hard rock/metal song in the heavier league, mixed with a dark and melodic verse and a big chorus. Not bad at all.
I look forward to hear the new album.
(Despotz Records)
sparzanza.com
AUGUST 27, 2017
BOMBUS and VOKONIS at Klubb Undergrunden/Pumphuset in Borås, Sweden on August 26, 2017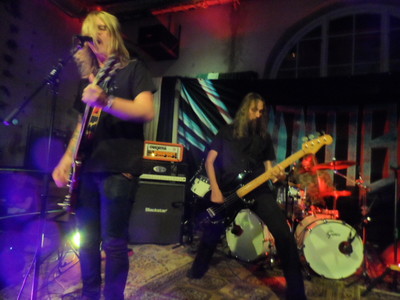 Well, if they say that the first band will start at 21, and I want to check them out, then I'm there and expect them to actually start playing at 21 and not an hour later. I really hate to wait.
Now I thought that VOKONIS could be an interesting band, but these local dudes didn't really impress me. Some kind of sludge with a singer that reminded me of a young Kurt Cobain (NIRVANA). They played hard and heavy, and the bassist didn't stand still for more than a few seconds (not easy to take a photo of him). They didn't really suck, but I have definitely heard better bands in my life.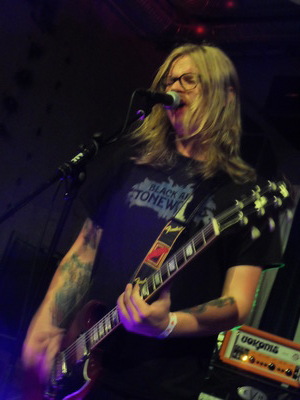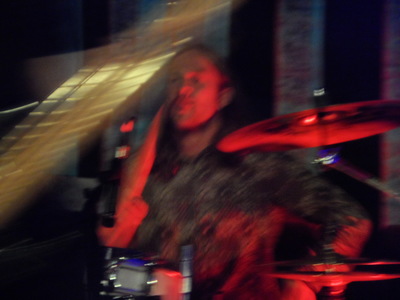 Nice that they book a good band like BOMBUS to play here in Borås. The only problem was that the room wasn't much bigger than my little apartment, and it was sold out. 200 people in 1 room. Not easy to see anything and take good photos then. It destroyed pretty much of the experience actually. But I'm pretty sure that BOMBUS did a really good job, even though I didn't see it. Because these dudes always deliver a good show with many good songs.
And in case you don't know what kind of music they're playing, it's some kind of heavy and hard metal. Often very progressive. I like them.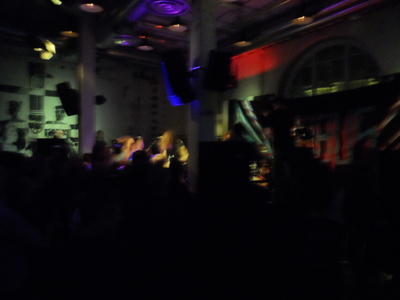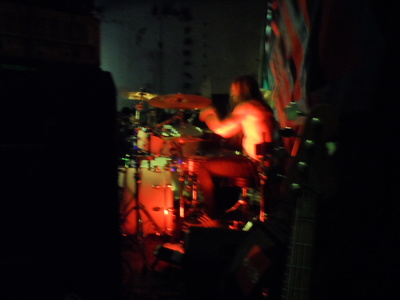 AUGUST 27, 2017
QUIET RIOT: Road Rage - Album
Well, if you expect it to sound something like the "Metal Health" album from 1983, then I can tell you at once that this is far away from something like that. Even though they have a new young singer (James Durbin) nowadays, this sounds more like some kind of half boring Southern old-man rock or something like that. This has nothing to do with what they once did in the 80s. Sad but true, and I'm very dissapointed.
You might know the story already, but QUIT RIOT have had a lot of singers through the latest years. They actually recorded this album with a other singer. But when they find out that it didn't work with him, they got yet another singer and recorded the vocals once again. Now I have not heard that version, but I find it hard to believe that it helped that much.
It might not be totally hopeless though. Because suddenly I hear something that I like, "Freak Flag". And there might be at least 2 more songs that are good. But that's just 3 good song out of 11. Maybe it's time for Mr. Frankie Banali to retire this band?
(Frontiers Music)
quietriot.band
AUGUST 26, 2017
QUEENS OF THE STONE AGE: The Evil Has Landed - Single
To release a song that's 6 and a half minutes and doesn't have that much hit potential might seems to be strange. But this band has always been going their own way. It's not until the last minutes that it become a little more rock n roll. A little higher tempo in the song. And that's the best part of this song.
This is the second single from their new album, "Villians", which is out now. A review of that record will be up later.
(Matador Records)
qotsa.com
AUGUST 26, 2017
OLD MAN WIZARD: Innocent Hands - 7" EP
Pretty good stuff. I like what I hear. This reminds me a little of GHOST actually, even though this is not exactly the same thing, but something similar somehow. Progressive heavy rock is how they describe this trio. And I guess I can agree about that. Definitely something that you should check out anyway. Because I think listen for yourself is the best way to figure out if you like this or not.
The band comes from Southern California and formed in late 2011. They have previously released a full length album, "Unfavorable", on vinyl and digitally (which you can check out at oldmanwizard.com).
Release date: Aug. 25, 2017 (Self released)
oldmanwizard.com
AUGUST 25, 2017
OLD JAMES: Speak Volumes - Album
OLD JAMES is a newly formed power trio from Canada, who play classic hard rock in 70s style. It could be something for fans of old bands like VAN HALEN, DEEP PURPLE and THIN LIZZY, but also newer bands like QUEENS OF THE STONE AGE and DANKO JONES. There's absolutely some great songs among these 10 tracks, so you have to check this out of course.
That's all I have to say, mate.
(Self released)
AUGUST 25, 2017
Page 4
Index
Next page