REVIEWS 2018 - Page 5
JUNKYARD DRIVE: Black Coffee - Album "A Danish rock n roll explosion" is what they call this band. And they say that it's something for fans of GUNS N' ROSES, AC/DC and AIRBOURNE. So, what I call hard rock n roll then? I can at least hear that they seems to be inspired by those bands, even though they are not always doing the exact same thing. Explosive rock n roll is absolutely a good description though. And they have some good stuff here, so it can be worth a try if that's what you like.
Release date: Sept. 1, 2018 (Mighty Music)
facebook.com/junkyarddriveofficial
AUGUST 30, 2018
REECE: Any Time At All - Single
You might be familiar with the name David Reece? He has been singing in both ACCEPT and BONFIRE, if that gives you a better idea of who he might be. This is the first single from his upcoming album, "Resilient Heart", which will be released on November 9. A melodic heavy metal/hard rock song that is pretty o.k., but unfortunately not much else. I really hope that he have stronger material than this on his album. Otherwise it would surprise me if it would be a succees.
Release date: August 31, 2018 (Mighty Music)
facebook.com/reece.inc
AUGUST 30, 2018
CHASTAIN: The 7th Of Never 30 Years Heavy - Album (reissue)
CHASTAIN seems to be very productive for being a band that (as far as I know) are not active anymore. Anyway.. They have now signed a deal to re-release some of their classic albums, and this is the first one out. "The 7th Of Never" was originally released in 1987, and is CHASTAIN's third album. And what we get here is some really good US heavy metal. Leather Leone's voice is like a mixture of a Doro Pesch (DORO, WARLOCK) and a young Lee Aaron. She can really sing!
Those instrumental tracks are not so interesting though. From the beginning there was just 1 instrumental song, but now they have added 2 more as a bonus for some reason that I just can't figure out. Maybe guitarist and the boss himself, David T. Chastain, wants to make sure that you really understand what a brilliant guitar player he is?
The rest of the songs are excellent though. So this is a must for all fans of classic heavy metal.
Release date: August 31, 2018 (Pure Steel Records)
webleedmetal.com
AUGUST 29, 2018
GREAT LEAP SKYWARD: Map Of Broken Dreams - Album
Australian group featuring members of KNIGHTMARE, 4ARM and SEPTERRUS. The music is epic and cinematic progressive metal, with all the typical ingredients that you can expect from a band like that. This band doesn't exactly take the easiest way to get through a song. But they are good at what they are doing. It's mainly melodic, so don't expect any growl here, even though there's some aggressive parts too once in a while.
This is said to fit fans of AMORPHIS, DIMMU BORGIR, OPETH, KATATONIA, PERIPHERY and KNIGHTMARE (of course), and this is their debut album.
Release date: August 31, 2018 (Metalapolis Records)
greatleapskyward.com
AUGUST 28, 2018
NARNIA: We Still Believe, Made In Brazil - Album
NARNIA is a Christian Swedish band who play very melodic hard rock. And the Brazilians seems to love it. And NARNIA was of course glad to be there. So I guess it wasn't such a bad idea to record a live album over there. But a drum solo and then a guitar solo directly after that? Always boring, and just a waste of time. That "Olé, Olé" singing is a bit funny though (and this is hardly the first live album that I hear that on).
This album was recorded at Grafinos in Belo Horizonte, Brazil on their "I Still Believe World Tour" last year. I'm not really sure if I have heard NARNIA before, but after listening to this album, it seems like they have many good songs. 1 of my favorites must be "Shelter Through The Pain".
Release date: August 31, 2018 (Narnia Music)
facebook.com/narniatheband
AUGUST 27, 2018
OMNIUM GATHERUM: The Burning Cold - Album
Finland's OMNIUM GATHERUM formed in 1996. After a series of demos, they released their first album, with the weird title "Spirits & August Light", in 2003. "The Burning Cold" is their 8th album. Their sound is the brutality of Scandinavian death metal mixed with lots of melody. While the music is very melodic, the vocals is very aggressive. But even though it's melodic, it's also pretty heavy. And that's a perfect combination in this case. So this is something that I really recomend you to check out.
This could be something for fans of ARCH ENEMY and AMON AMARTH.
Release date: August 31, 2018 (Century Media)
omniumgatherum.org
AUGUST 27, 2018
KRAKOW: minus - Album
Atmospheric, floating music that seems to go nowhere. Especially when there's no vocals. Long instrumental parts are nothing unusual here. It's rather you as a listener that is about to go on a journey. To a land filled with all kinds of high and weird creatures. This is the kind of album that gives you all and nothing, with a lot of different influences. It's mainly pretty psychedelic, but suddenly there's a guitar solo from the MOTÖRHEAD veteran Phil Campbell.
It's said to fit fans of MOTORPSYCHO, NEUROSIS, ENSLAVED, ULVER, HAWKWIND and MASTODON. But it's hard to put this in just 1 genre, even though that might give you an idea at least.
KRAKOW have already been around for 13 years. They have been recording and re-recording this album for a year before they were satisfied with it.
Release date: August 31, 2018 (Karisma Records)
AUGUST 26, 2018
I'LL BE DAMNED: Road To Disorder - Album
I don't know which song it was, but suddenly my brother (who was visiting me) said: "Does he have a period, or what?". But a few second later he said: "But now he sing more normal". And well, the singer can be a little too much sometimes. But as long as he's singing instead of screaming, I have no problem with his voice. And he mainly sing.
This is said to be "Denmark's hottest rock sensation since VOLBEAT". And that's immediately a warning sign according to me. Because not too many can actually live up to that. On the other hand it's usually other people than the band members themselves who say things like that. This band is both harder and heavier than their fellow-countrymen. Some kind of heavy rock with a pinch of metal you could say. But not another one of those retro bands. No, this is more modern. And it's a wild mixture of different rock and metal - From stoner to punk, rock n roll to heavy metal, and even some blues.
Even though their lyrics are dark, these guys have humour. Or what do you say about a title like "Keep Warm Burn The Rich" for example? This band should not be taken as a joke though. They are very serious about their band and their ambitions.
Release date: August 31, 2018 (Drakkar Entertainment GMBH)
illbedamned.dk
AUGUST 26, 2018
J Mascis: See You At The Movies - Single
Well, this song is just as silly as the title. In other words, not my cup of tea.
Yes, he's the frontman in DINOSAUR JR, but why would that help? This is his solo thing.
"See You At The Movies" comes from his third solo album, "Elastic Days", which will be released on November 7.
(Sub Pop)
AUGUST 26, 2018
SPIDERS and EGONAUT at Klubb Undergrunden/Pumphuset in Borås, Sweden on August 25, 2018
Right, what shall I write about this then? It will probably be very short (as usual). Met a lot of people I know and it was a very nice night. Yes, night as it for some reason have to be so damned late. Would be good with more early concerts. But I guess that just won't happen.
But anyway.. As usual the first band didn't start at 21.30 as they was supposed to, but about half an hour later. It happens every time at Klubb Undergrunden, so I have started to joke about it now. And better late than never as the positive bastard said.
EGONAUT is a local doom metal band, and I have written about them here before (just a few days ago actually). They are damned good! Definitely 1 of the best metal bands from Borås. You have to check them out if you have not done that already.
Not much happened on stage, it's hardly the biggest stage, but this band don't need a large stage to deliver a good show. Damned good, indeed!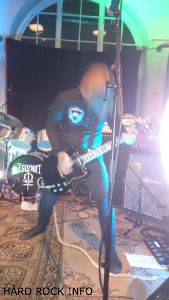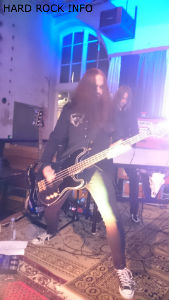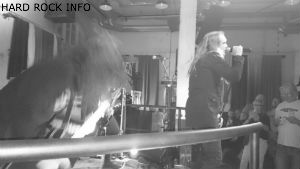 As far as I can see in my photo folder, I have seen SPIDERS at least 7 times now - 2 times in 2014, 3 times in 2015, 1 time in 2016 and after almost 2 years I saw them again yesterday. And did they give us a good show or what? Of course they did! And they played many of my favorite songs, and seemed to be very happy to be on stage. A very energetic show. I really like this band! That's all I have to say about that.
Unfortunately they played so damned late that an old fart like me became a little tired (maybe it was the beer?). But you can't just walk away when 1 of your favorite bands are playing.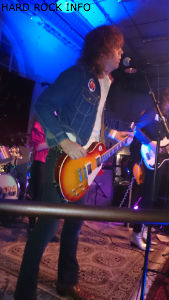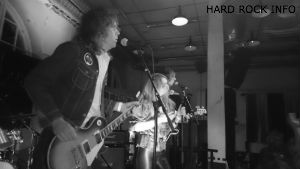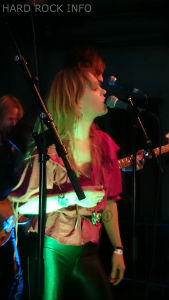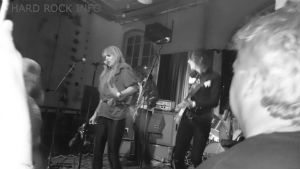 wearespiders.com egonaut.se baragort.com/klubb-undergrund
AUGUST 26, 2018
TASTE: Moral Decay - Album
The first track, "On The Run", sounds like a soundtrack to a film from the 80s. And so does the last track, "More Than A Thousand Charades". The rest is more or less very melodic rock/AOR with much keyboard, and a 80s sound. This reminds me of the first albums with Swedish singer Tone Norum (EUROPE guitarist John Norum's sister), who had a few hits back then (here in Sweden at least). And this is actually not so bad at all. They have some really good material here. A song like "Rainbow Warrior" could have been a hit, if it still was the 80s.
The band was born on December 30, 2009, when the 2 brothers Christoffer and Felix Borg decided to make music together. And the music they wanted to play was classic 80s AOR inspired by FM, GIANT and STRANGEWAYS. They signed with AOR Heaven a few years later, and released their self titled debut album. But after a few live performances the brothers joined ART NATION, and didn't have enough time for TASTE. And that's the reason why it has taken so long between album number 1 and this second masterpiece.
Release date: August 31, 2018 (AOR Heaven)
facebook.com/tasteswe
AUGUST 25, 2018
WHEEL IN THE SKY: Beyond The Pale - Album
Rock of the more laidback kind. In their better moments they can possibly remind a little of the later stuff with The HELLACOPTERS. But they also seems to have a tendency to go on a psychedelic trip once in a while. Everything is not laidback though. The title track and a few more songs have a little more action and speed. And it's those songs that reminds me of The HELLACOPTERS.
It has taken a few listenings, but now I actually like this album. Too bad that a song like "The Only Dead Girl In The City" have to be as long as 6 minutes. It has potential. But if they want a hit, then it should not have been more than 3-4 minutes.
This is the second album from this Swedish band, where they presents a concept album with darkness and death serving as the primary theme. It's talk about a sound pallet of psychedelic rock, a overflow of melody and a dark gothic energy. But there's also epic elements and catchy pop hooks.
Release date: August 31, 2018 (The Sign Records)
facebook.com/wheelintheskyswe
AUGUST 25, 2018
PARANOID: Fukurokouji - Single
This is the second single from their upcoming album, "Heavy Mental Fuck-Up!", which will be released on September 28 through The Sign Records in Europe and by Konton Crasher in North America.
This band take their influences from both Swedish d-beat raw punk and Japanese hardcore, and then they blend it with some good old metal.
PARANOID have release 1 album, "Satyagraha", and several singles and EPs. The members are or have been active in Swedish bands like TOTALT JÄVLA MÖRKER, DESPERAT, WARVICTIMS, BROTTSKOD 11 and HYPERTENSION.
This song is a desperate hardcore/punk attack that won't leave you alone. Maybe something for fans of DISORDER?
You can pre-order the album here (if you dare): freighttrain.se/en/the-sign-record/paranoid
(The Sign Records)
facebook.com/pndftw
AUGUST 24, 2018
JUNKYARD DRIVE: Way Too Long - Single
This song comes from this Danish rock band's upcoming album, "Black Coffee", which is released on September 1. And "Way Too Long" is much slower than the rest of the material on that album. It's best described as an acoustic and laidback rock song. Not bad though. But the other songs are much more explosive (but more about that later, when I review the whole album).
The text is based on personal experiences, with identity crisis, consequences of one's actions and unable to see themselves in the mirror.
(Mighty Music)
facebook.com/junkyarddriveofficial
AUGUST 24, 2018
FROZEN BY FIRE: See You In Hell - Single
..and the next song is frozen.. By fire? Hm.. That was weird. Luckily their music is not that weird. It's simply heavy metal. And it doesn't sound so bad actually.
"See You In Hell" is the first official single from their upcoming album, "Dancing With Death". "If you've ever had a breakup with a significant other, then this song is for you!", they say. You can expect heavy guitar riffs, good vocals, a driving bass and pounding drums. It succeed to be both catchy and heavy at the same time.
(?)
AUGUST 24, 2018
EGONAUT: Awakenings - Single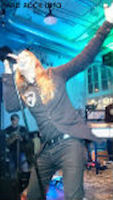 Was it in November or December that I saw this local (Borås, Sweden) band last time? Anyway, I asked them for a copy of their latest album, "The Omega", and after a few weeks I actually got it for download (thanks a lot, guys!). That album was damned good! I could almost go as far as to call it a masterpiece. And this song, "Awakenings", comes from that album. It might not be one of the strongest tracks, but it's definitely not bad of course.
The music that EGONAUT play is doom metal. And on Saturday (Aug. 25) I will finally see them live again. I look forward to that.
I think I read something on Facebook that the band is working on a new album. That will be very interesting to hear. But I guess we have to wait at least a few more months before it's even ready to be released.
(Mighty Music)
egonaut.se
AUGUST 24, 2018
DJÄVULEN MÖBLERAR OM: Hela Vägen Ner - Single
It feels like it was a while since I got anything for review with this Swedish punk rock band last time. I didn't get their latest album at least (it was released on a other label than their EPs, but that label was actually sending me some singles and EPs for review, but before DMO's album came out they had suddenly stopped sending me more records, so they must really have thought that my reviews sucked.. but they released their first self titled album on the same label, and I got that for review, but probably from the band I guess). But anyway, here's a new 2-track single, released on 7" vinyl and digitally.
I don't think that I have said it before, but I think this reminds me of a other Swedish punk rock band - TROUBLEMAKERS. But this is more like a Stockholm version (TROUBLEMAKERS are from Göteborg). It sounds good as usual though, so this is worth checking out.
(Jerry Kobra Records)
djavulenmoblerarom.com
AUGUST 24, 2018
BLACK OAK COUNTY: Pretty Pistol - Single
Danish rockers BLACK OAK COUNTY's debut album got massive airplay on Danish radio stations P4 and Myrock, as well as receiving more than a million plays on Spotify among other online streaming services. But in the fall of 2017, in a period of great success for the band, singer Niels Beier chose to leave the group and music all together.
But now they are back with not just a new singer, but a new sound as well. They are nowadays "a hard hitting, catchy and hooky power trio". "Pretty Pistol" is the first taste of this new lineup.
Well, this is not so bad. Very melodic, but still hard guitar riffs. A whole album with this will probably be too much for me though. It's too modern somehow.
(Mighty Music)
facebook.com/BlackOakCounty
AUGUST 24, 2018
WHITE DENIM: Performance - Album
Some kind of soft, alternative indie rock that probably fit better for a pop audience than hard rockers. In "Double Death" they are almost a little funky, while "It Might Get Dark" is almost rock n roll. So there's variation at least. And I guess it can work as background music, but hardly if you want to really listen and maybe have a few drinks. Then it's probably better with good old IRON MAIDEN, JUDAS PRIEST, ACCEPT or RAMONES for example.
Now this is not the kind of music that I use to listen to, so don't take this review too seriously. I actually thought that it could be some kind of good old rock that I like, but it was something different instead. Hardly the party album that they said it would be anyway.
This band comes from Austin, Texas, and have been around for 12 years already, and released 7 full length albums.
Release date: August 24, 2018 (City Slang)
whitedenimmusic.com
AUGUST 23, 2018
3.2: The Rules Have Changed - Album
And 1 of the worst things you can start an album with is a piano piece - Mistake 1. And if you want to impress me, then you should not play progressive rock - Mistake 2. And even though none of the songs are more than 7 minutes, it feels like this album last for an eternity - Mistake 3. And what rules have changed? It's obviously not the music, because they sound exactly like GENESIS or some similar shit that Göran like - Mistake 4.
Have this band done anything good at all according to you, you might ask? Well, not much as far as I can hear. Even the artwork/album cover looks ugly - Mistake 5, and you're out.
(Frontiers Music Srl)
AUGUST 22, 2018
KING COMPANY: Queen Of Hearts - Album
KING COMPANY consist of members from several Finnish bands. They formed the band in 2014, and released their first album, "One For The Road", in 2016, which got great reviews all over the world. And now their second album is here with their new Italian/Argentinian singer Leonard F. Guillan.
And what I can hear is some high quality melodic hard rock. This is a really good album! It might not be excellent, and might not have any future classics, but it's still better than much else that is released today.
(Frontiers Music Srl)
kingcompanyband.com
AUGUST 22, 2018
ENUFF Z'NUFF: Diamond Boy - Album
I don't know, but most of these songs sounds more like The BEATLES than melodic rock. Maybe even CHEAP TRICK's power pop as well. It's a little too catchy and friendly for me actually. I'm simply not the one who use to listen to pop bands like The BEATLES, and I have so far only heard something like 2 or 3 good songs with CHEAP TRICK. So I'm not really the right guy for this. But a song like "Faith, Hope & Luv" is a little heavier, and then it's at least a little bit better.
Now I can't really remember what the last album I heard with them sound like. But I'm pretty sure it wasn't like this.
(Frontiers Music Srl)
AUGUST 22, 2018
AIRRACE: Untold Stories - Album
This is said to be a melodic rock/AOR band, but there's also influences from late 60s/early 70s blues-based hard rock. I think it sounds really good, so this is definitely a album that I can recomend you. Especially if you like the more melodic stuff with RAINBOW (after Ronnie James Dio (r.i.p) had left the band). I really like those blues-based tracks, which are a little heavier. It makes me think of LED ZEPPELIN and WHITESNAKE.
AIRRACE were originally formed back in 1982. They released their debut album, "Shaft Of Light", in 1984, and crash-landed by the summer of 1985. 25 years after the first album, they finally reunited with a slightly different lineup. And their second album, "Back To The Start", was released in 2011.
(Frontiers Music Srl)
facebook.com/Airraceofficial
AUGUST 22, 2018
SUBTYPE ZERO: The Astral Awakening - Album
This is said to sound like "Hell Awaits" era SLAYER, "Bonded By Blood" era EXODUS meets D.R.I. and CRYPTIC SLAUGHTER at a parking lot brawl. And what can I say? It definitely sound old-school. No doubt about that! And they have all the right ingredients: A singer who sound like a general who is shouting out orders to his soliders, that horse neigh sound on the guitar once in a while, and the riffs and solos of course. So unless you're the one who is looking for something new and different, this will definitely not make you dissapointed.
Who might SUBTYPE ZERO be then you might ask? Well, this band was formerly known as CRINGE. But due to a legal dispute, they was forced to change their name after 5 years. SUBTYPE ZERO are from Ashtabula, Ohio, U.S.A., and I simply couldn't find much more information.
Release date: August 24, 2018 (Seeing Red Records)
facebook.com/subtypezero
AUGUST 20, 2018
THRICE: Only Us - Single
Well, this is hardly the first time that I think it's going to be some kind of good rock, and then it's something else. This sounds more like pop that is made for the radio. So no, this has nothing to do here at Hard Rock Info. But just in case somebody wants to know anyway, this is not the worst I have heard. I guess that's something at least.
The band comes from California, and this single comes from their upcoming 10th (!) studio album, "Psalms", which will be released on September 14.
(Epitaph Records)
AUGUST 20, 2018
Henry Metal: The Essential Henry Metal Volume 1 - Album
This is supposed to be Henry Metal's first "greatest hits" album. It includes 15 tracks taken from his first 5 albums, which was all released in 2017 (and some of them have been reviewed here at Hard Rock Info). And most of these songs are good, even though I would not call any of them a hit. This album will entertain you for over an hour, so if you have totally missed this guy, then this is your chance to do something about that.
Henry's music is mainly some kind of heavy metal, and many of the lyrics are full of sarcasm and humour.
(Self released? Distribution via Against PR?)
AUGUST 20, 2018
DEATH VALLEY GIRLS: Disaster (Is What We're After) - Single
Los Angeles band with the first single from their upcoming third studio album, "Darkness Rains", which will be released on October 15. The group describe themselves as "doom boogie/dystopian punk/occult glam rockers". And along with the single comes a video, where no other than the legendary Iggy Pop is eating a hamburger while he listen to this song.
My description of this is alternative rock with a catchy pop chorus. A pretty o.k. song, but not much else. Can I have a burger now?
(Suicide Squeeze)
youtu.be/IS0FKkih81k
AUGUST 20, 2018
DEVIL'S TEETH: Suki Yaki Hot! - Album
This is what can happen when 3 young and bored Americans get the idea that they should start a rock band. DEVIL'S TEETH deliver their surf/garage rock with a punky and youthful energy. And they take it all to new places. No song is like the other. 1 song might be drenched in reverb with a garage rock vibe, while a other song can be more like post punk instead, and yet another song can remind you of the soundtrack to a Spaghetti Western by Sergio Leone. The tempo is often very high, but they deliver it with style.
You get 10 tracks in about half an hour. Put this record on when you have a party, and everybody will love you. Otherwise, just throw them out!
Release date: August 24, 2018 (Triple Eye Industries)
AUGUST 20, 2018
HELLVETICA: Against The Odds - Album
Swizz thrash metal. Nothing new under the grey sky. They are at least better than OUTLIAR. But not much, as this band also have some weak songs.
Their thrash is garnished with a pinch of hardcore, which gives it a macho attitude. Their better songs are hard, explosive and fat.
HELLVETICA have exited since 2004, but it took 4 years before their first demo EP, "A New Hate Is Rising", was released. It was followed by a LP, "Your Last Breath", in 2011 and a EP, "Deadly Eyes", in 2014. And now a new album is here.
(Malevolence Records)
hellvetica.ch
AUGUST 19, 2018
NOCION: Into The Darkness - Album
This is a woman who really has the ability to sing! And it doesn't matter if she sing high or low, it sounds good on all levels. I can only congratulate her. And luckily she sing in a band where she really can use her voice.
NOCION comes from Puerto Rico, and the music they play is some kind of modern heavy metal, with influences from both groove metal and melodic metal. That's what I hear anyway. And it sounds really good, so you should absolutely check this out.
(Self released, but available from Malevolence Records)
facebook.com/nocionocion
AUGUST 19, 2018
OUTLIAR: Taste The Blood - Album
All thrash bands are not good, even though most of them use to be. And this North Carolina band are for some reason not so good according to me. Probably because their songs are not strong enough for an old fastidious Swede like me. And it's like they try to sound like 40 other thrash bands that are so much better than them. You can count the good songs on 1 hand. And how the hell can you play instrumental for 9 minutes? And there's actually 1 more song that last for 9 minutes, which makes these 10 tracks last for an eternity. No, like I said, I'm not impressed by this. But that doesn't mean that you won't like it though.
(Malevolence Records)
outliarmetal.com
AUGUST 19, 2018
PRIMAL FEAR: Apocalypse - Album
Well, the Germans have done it again! Another great album from these veterans. And as usual it's JUDAS PRIEST who are the main ingredient in this power/heavy metal Bratwurst. So if you're looking for a album filled with anthems, then this is something for you. Because this is how you make good old heavy metal sound good in 2018.
That a band can deliver such a good album as this after 21 years and 11 studio albums is something that impress me at least. That's for sure!
(Frontiers Music Srl)
primalfear.de
AUGUST 18, 2018
SCANNER: In Your Head - EP
It seems like this American band has been rocking since 1979. They are from Pennsylvania, and their musical influences comes from 50s rock n roll, 60s hard rock and surf, and 70s glam and punk. But for being such an old band, they have not released that much. Just 3 records before this one. Their lyrics deal with stuff like old-time monster movies, dark recesses of the mind, vintage hot rod drag racing, and the eerie glow of late night black and white TV.
They give us 5 tracks of their punk inspired rock n roll, and it sounds o.k. to me. I guess that people who like garage rock will like this.
(Self released)
scanner1979.com
AUGUST 18, 2018
BAR STOOL PREACHERS: Grazie Governo - Album
Yes, believe it or not, but here's yet another band who blend their melodic punk rock with ska and other Jamaica rythms. But this band doesn't sound exactly like RANCID, like so many others of these bands does. I would not say that what they are doing is something unique, but they have lots of good songs here, and that's more important to me anyway.
"Grazie Governo" is Italian for "Thank You, Government". Their lyrics are a mixture of politics and unsentimental love. And we get as much as 13 tracks on this album, which is 3 too many according to my opinion. We also get a guest apperance from Aimee Interrupter from (The INTERRUPTERS) on "Choose My Friends".
The band consist of some guys from Brighton, UK. The frontman, Tom McFaull, is the son of singer Colin McFaull from the legendary COCK SPARRER.
Release date: August 24, 2018 (Pirates Press Records)
thebarstoolpreachers.com
AUGUST 17, 2018
The RADIO SUN: Beautiful Strange - Album
This Australian melodic hard rock/AOR band have succeeded to release 5 albums in 5 years. Pretty unusual nowadays, when you often have to wait 5 years between each record. Pretty impressive as they have also got time to tour all around the world. But I don't know, they might be young and full of energy (as I was many, many years ago).
Melodic vocals is mixed with heavy guitars, and they have many good songs among these 12 tracks. They might not be doing anything unique at all, as they reminds me of a hundred other bands, but they are doing it really good anyway.
Release date: August 24, 2018 (Pride & Joy Music)
facebook.com/TheRadioSun
AUGUST 16, 2018
DeVicious: Never Say Never - Album
I start to wonder how many of these melodic hard rock and AOR bands that we have in the world of today. There seems to be thousands of them. And the most remarkable thing is that most of those bands that I have heard, have been really good. How is it possible?
This band is no exception. They also know how to deliver some really good songs. The only thing I can complain about is some silly titles, like "Lullaby" and "Hand In Hand". And I don't really know if I like that last ballad. But otherwise everything is good.
DeVicious was founded in Karlsruhe, Germany in 2016 by 6 long time musician friends, with the intention to play 80s hard rock. None of them or their former bands are well-known to me, but what they have created here is really good stuff.
This is their debut album, but they are already working on their second album.
Release date: August 24, 2018 (Pride & Joy Music)
deviciousband.com
AUGUST 16, 2018
EUNOMIA: The Chronicles Of Eunomia Part 1 - Album
It would surprise me a lot if these Norwegian gentlemen have not been listening to HELLOWEEN's classic "Keeper Of The Seven Keys" albums and stuff like MANOWAR. But there's other ingredients too of course. Among the guest musicians are colleagues like Alessandro Conti (LUCA TURILLI'S RHAPSODY, TWILIGHT FORCE), Henning Basse (FIREWIND) and Victor Smolski (ALMANAC, RAGE).
EUNOMIA formed in 2011, and released a demo EP, "Crystal Sword", in 2013. This is their debut album, which they have been working on for 2 years. It's an ambitious, epic and cinematic concept album, that take place in a fantasy world created by the 2 brothers Marius and Peter Danielsen.
Release date: August 24, 2018 (Pride & Joy Music)
facebook.com/Eunomiaband
AUGUST 16, 2018
HEROES DON'T ASK WHY: Sound Of A Broken Heart EP - EP
Finnish band who formed in 2015. A self-titled debut EP was released in December 2016. This is the follow-up to that. And according to themselves: "Twin-guitar attack is both aggressive and in the next moment, mellow melancholic bluesy flow of notes. There's a clear hint of a Scandinavian metal roots but with added quest for a tender guitar work." I don't know if that gives you an idea of what this band could sound like, but as far as I can hear this is some kind of melodic rock/metal. We get 7 tracks (which is much for being a EP), and some of these songs are really good. Some of those I like best are "Poisoned Well" and "15th Of May".
(Self released)
soundcloud.com/hdawband/albums
AUGUST 15, 2018
NYNNINGEN and ORKAN at Stadsparken in Borås, Sweden on August 14, 2018
ORKAN got the chance to warm up this evening, which was in the sign of the red (more about that later). I think I have seen them before, but I couldn't find any photos, so it was probably 1 of those tragic times when I got a little too drunk. I can't even remember that show. But this time I was completely sober though.
The music they play is Swedish progg rock. Not exactly the same as progressive rock, but more like a Swedish, often political left-wing, version of the 60s/70s rock. Many of their songs was pretty long pieces, and also a little faster than this kind of music use to be. Damned good anyway! No doubt about that. This is a band that you really should check out.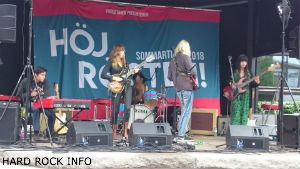 After that it can't have taken more than something like 10 minutes before NYNNINGEN started to play 1 instrumental song. Then their sound engineer came up on stage to play 2 covers of late Swedish singer/songwriter Björn Afzelius, with the band (he had been working with Afzelius for many years). I don't really understand why they did that. Sure, they did a good job, but what a sleeping pill for a rocker like me.
Now this wasn't just a regular concert evening in the park, but an event arranged by the left-wing/communist paper Proletären, who want us to vote for the red party and the working class next month. So after that it was time for a even stronger sleeping pill: Different people, like old Swedish actor Sven Wollter for example, who had to speak about this and that. Not that much fun, but it's not like there was anything else to do. And I really hoped that it would end pretty soon, because it had started to rain as well. But no. Speaker after speaker came up on stage. And NYNNINGEN even played a couple of songs with Mr. Wollter on vocals (imagine an old man with a whisky voice trying to sing poetically).
When NYNNINGEN finally started to play for real, it had started to rain even more, so I didn't take any photo of them. NYNNINGEN formed back in 1970 already, and released a couple of records in the early 70s. They continued to tour until 1980. In December 2016 they did their first show in 36 years, and have been playing again since then.
I had not heard that much with them before, but this was good. Swedish progg rock that reminded me of the cult band NATIONALTEATERN, where at least 1 of the members have played before, but maybe just a little bit more progressive and deeper lyrics. Towards the end of their show they did a cover of the BLÅ TÅGET classic "Den ena handen vet vad den andre gör" (or whatever it's called), more well-known as "Staten Och Kapitalet" thanks to Swedish punk band EBBA GRÖN's version of the song. And then all members of ORKAN and all who had been speaking came up on stage to sing along.
Mainly good music this evening, but all that talking and the rain wasn't so funny. But it was free, and you could actually sit down, which an old man like me like. It was also a early event, 18:00-20:00. There should be more early shows instead of all these nightclub concerts.
nynningen.se
AUGUST 15, 2018
CRAWL: Rituals - Album
Another old-school death metal band. And they do it just the right way. Short and sweat. No bullshit. Just straight on with a pinch of crust punk. Most songs are no longer than 2-3 minutes. It's just the last song, "Coven Of Servants", that is a little longer with its 4,42 minutes (but then it's almost a minute of just noise in the end, the same kind of noise that you could hear after a concert with MOTÖRHEAD). So as there's just 9 tracks, this is over very fast.
This is a Swedish band with members from DRÅP, DEMONICAL, DISCARNATE etc. And now they release their debut album. But it could just as well have been an old album from the early 90s. Fans of DISMEMBER, PAGANIZER, DOWN AMONG THE DEAD MEN and similar stuff should like this.
Release date: August 20, 2018 (Transcending Obscurity Records)
AUGUST 14, 2018
SPACETRUCKER: Smooth Orbit - Album
SPACETRUCKER is a cocktail of classic rock, grunge, stoner/fuzz rock and psych rock. Perfect for any fan of the popular heavy rock genre. So just sit back and enjoy the ride.
There's both shorter and longer songs here. It can be anything from just a minute to as long as 10 minutes. They often repeat the same riffs again and again, but they still succeed to make a song out of it. Some songs are good, some are not. I can' say that anything is extra good, but I must say that "Lost In The Sauce" is a fantastic title (funny anyway).
Release date: August 17, 2018 (Self released?)
AUGUST 13, 2018
dragSTER: Anti-Everything - Album
Punk in good old British tradition. Love at first listen might be a little too strong, but I really like this. No doubt at all about that. This is a must-have for all who like punk music.
Their lyrics is about the society of today, things that they think are wrong. And they shout it out loud with the raw energy that only a true punk band can have. This is hardly any fake news. This is a report directly from the streets of Coventry, UK.
This is their 4th album. Their first album was released in 2006, the second in 2010 and the next in 2014. So it has obviously taken some time between their records. But if it's this good every time, then it's worth the wait.
Release date: August 17, 2018 (Louder Than War Records)
dragsteruk.com
AUGUST 12, 2018
ARTIZAN: Curse Of The Artizan - Album (reissue)
I just reviewed their latest album, "Demon Rider", when I got this album too. And when I listen to this, which is a re-release of their first full length, I can hear that not that much have happened with their sound. Many of these songs reminds me of the songs on the latest album actually. But it's luckily very good. So there's no need to be negative.
This heavy metal band comes from Florida, and formed in 2008. They released their first self titled EP in 2009, which was followed by this album in 2011. The music is melodic and sometimes a little progressive, but most of all true heavy metal.
Release date: August 17, 2018 (Pure Steel Records)
artizanmetal.com
AUGUST 11, 2018
ARTIZAN: Demon Rider - Album
So, as soon as a band comes from the States, then it's suddenly US metal? Because this reminds me of the Swedish heavy metal band HAMMERFALL somehow (but they have on the other hand picked their influences from all over the planet), but also a band like JUDAS PRIEST. It's epic and powerful, and they really seems to know exactly what they are doing (they are hardly a new band). This is really good stuff! Not a bad song on the whole record, which is really strong.
The album was produced by Jim Morris (ICED EARTH, CRIMSON GLORY, JAG PANZER).
There's also a double CD version of this album, with instrumental versions of all the songs on the second disc. Only for the most die hard nerds I suppose..
Release date: August, 17, 2018 (Pure Steel Records)
artizanmetal.com
AUGUST 11, 2018
BIGHATE: Hybrid - Single
Female-fronted, groovy melodic death metal from Italy, with a band who formed in 2014. They have previously released a EP, "Death Wish EP", in 2017, and are currently working on their debut album.
"Hybrid" is available on all digital platforms worldwide. And this is actually not so bad. Not that they are doing anything new, but it's worth checking out, and I look forward to hear if they have more good material to offer.
(Inverse Records)
facebook.com/BigHateband
AUGUST 11, 2018
JOHAN BODING - NIGHT OF QUEEN & CHOIR and TRUCK at Stora Torget in Borås, Sweden on August 9, 2018
Well, the first band, TRUCK, didn't exactly make anyone under 50 much happier. It must be the first time that I have felt that I was too young for a band.
These old dudes formed their little tragic band in 1968 already, and "celebrate" their 50th anniversary. I don't know much more about this band, so I don't know how active they have been through the years. Some members have left or died, and some new have joined them.
Their music was described as "a sparkling mixture of blues, rock and a pinch of prog". And that might be correct, but it was actually the worst fucking crap I have seen and heard this year! 1 old man play something that sounds like an eternal guitar solo, while 2 other old farts play rythm with drums and bass. Yes, most of the songs was instrumental. And nobody said anything about that. Because if I had knew that (or done some research before) I would have stayed at home instead. A few songs had vocals though, and then they sounded like a cheap copy of the Swedish cult band NATIONALTEATERN.
Luckily they just played for about half an hour. But they was so bad that I didn't even take a photo of them. They didn't deserve that after this torture.
The headliner, Johan Boding with NIGHT OF QUEEN & CHOIR was much better though. I like QUEEN, but together with a choir? I was a little sceptical about that choir thing. But it worked somehow. Especially in songs where there's a lot of different voices and background vocals.
They have been doing this tribute to QUEEN and their late frontman Freddie Mercury (r.i.p) for 10 years now. But they are not the kind of tribute band that look like QUEEN or sing like Freddie. They was very professional though, and did a really good job, even though it was a little like a stripped down Las Vegas show without costumes and special effects (probably because there was as much as 12 people on stage).
They was supposed to play for 90 minutes, but they must have played for approximately 100 minutes. I expected a show full of old classics, but they actually played many songs that I don't know if I have heard before. It must have been fantastic for a true fan of QUEEN. To me it was just very good though. But why on the whole earth did they include "Barcelona" in the set list? It was almost like I wanted to leave actually. People seemed to enjoy most of the songs though, and was singing along, clapped their hands and had a really good time. And you can't deny that songs like "Bohemian Rhapsody", "The Show Must Go On" etc. etc. are timeless classics.
At shows like this, no entrance and at the big square in the city, all kinds of people are there. That made me think how big a band like QUEEN really is. I mean, if you're looking for a band that hardly anybody else is listening to, then don't pick QUEEN. Almost everybody seems to like them. They are almost as famous as Elvis and ABBA.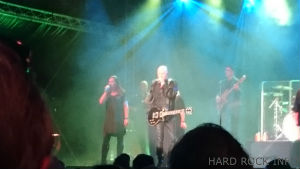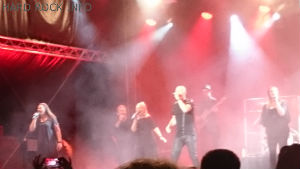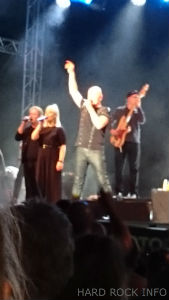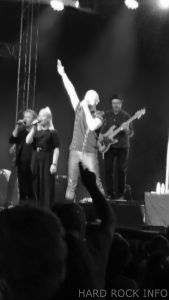 AUGUST 10, 2018
S.K.o.R: Rubus Tellus - Album
S.K.o.R stands for Some Kind of Rubus, and they are from Stockholm, Sweden. They formed in 2006, and combined folk music and rock. Several EPs and 1 full length, "Smorgasbord", was released. But in 2015 they decided to change direction to pay tribute to poppy 70s hard rockers like SWEET, NAZARETH, SLADE, AEROSMITH and AC/DC. And I can definitely hear that the singer try to sound like Dan McCafferty (NAZARETH) and Brian Johnson (AC/DC). People who miss the 70s rock have a new favorite band here. That's for sure.
The first times I heard this I didn't really know if I should take them seriously or not, becuse some of their songs was a bit crazy somehow. But they obviously have some really good stuff, so now that I got used to it, I really like what I hear.
Why they had to include as much as 14 tracks is a very good question. More is not always better. Just as so many other bands that make the same mistake, they could easily have thrown away something like 4 of these songs, and it could have been a fantastic album instead of just a really good album. But o.k., really good is not bad either of course.
Release date: August 17, 2018 (GMR Music)
skorsaljes.se
AUGUST 9, 2018
SAATE: Bene Elohim - Single
Swedish heavy metal band featuring members from BINARY CREED and SUMMONED TIDE. SAATE is named after a glacier in Nunavut, Canada. This is their 4th single. Their sound is heavy and modern, but yet with a traditional feeling. Sometimes it's epic and melodic, sometimes a little harder and/or heavier.
"Bene Elohim" follow in the same path as their 3 previous singles, which was released earlier this year. They are all available for download and streaming.
(Rockshots Records)
facebok.com/officialsaate
AUGUST 9, 2018
IMPERIAL DOMAIN: The Deluge - Album
IMPERIAL DOMAIN was formed in Uppsala, Sweden back in 1994 already. Their first album, "In The Ashes Of The Fallen", was released in 1997, and their second album, "The Ordeal", was recorded in late 2000. The band continued to play until 2005. From that time the band members continued to play in other constellations, until they decided to start up the band again in 2014. And now their third album is ready to be released.
The last song, "Ever Since That Day", got a very good melody that I really like. But there's other good stuff here too. So this is something worth checking out for those of you who like melodic death metal. But just because it's melodic doesn't mean that it's not heavy. After all, it's death metal and not AOR.
This is a album that you should not miss.
Release date: August 10, 2018 (Inverse Records)
AUGUST 8, 2018
MOTÖR MILITIA: World In Flames - Album
MOTÖR MILITIA was formed in 2001 by some school mates, and are regarded as one of the first metal bands from the Arabian Gulf and Middle East to record and release a full length album of original material on an independent label. Their first album, "The Sound Of Violence", was released in 2004 through the Saudi-based label SandStorms Records. Another album, "Cloaked In Darkness", was released in 2011. And the band's third album, "World In Flames" was released in April 2018.
This is 8 uncompromising trash metal attacks, that should satisfy every fan of that genre. They are definitely not doing anything wrong on this record. So you should not miss this.
(Self released?)
motor-militia.com
AUGUST 7, 2018
MIDNIGHT FORCE: Dunsinane - Album
"Heavy metal is the law" as HELLOWEEN sang once upon a time. And I think that this Scottish band actually live by that law. It sounds like that anyway. Because this is pure classic heavy metal all the way. Just like it has been done since the New Wave Of British Heavy metal era. So if you like that kind of stuff, then you should not be dissapointed.
Their own description is "heavy metal between US metal and epic metal of MANILLA ROAD, CIRITH UNGOL or VIRGIN STEELE, and a large chunk of NWOBHM and early German metal like ACCEPT or SCORPIONS."
The title "Dunsinane" is a reference to Macbeth. And many of their lyrics deal with historical or fantasy inspired themes.
Release date: August 10, 2018 (Iron Shield Records)
facebook.com/midnightforceUK
AUGUST 7, 2018
LOVE AND WAR: Edge Of The World - Single
Houston, Texas hard rockers LOVE AND WAR has released the new free advance title track "Edge of the World" from their upcoming second album of the same name. And it sounds really good to me anyway. But it sound more like heavy metal than hard rock according to my opinion. What else can I say? That new album could be interesting to hear. Check out this song while you wait for that.
love-and-war.com
AUGUST 7, 2018
MAN WITH A MISSION: Chasing The Horizon - Album
This Japanese pop/rock band seems to be on a mission to destroy my nerves. Why a metal label like Century Media Records want to release this album is a mystery. Maybe they thought they could easily get a quick million on this band? Well, good luck then.. The teenagers will probably love this stuff, so it's not impossible that they will succeed to get that million (or more). And then they have money to release some good records instead. So why complain?
What we have here is simply what you could call a generation crash - I'm to old for this. But if you're young and have nothing against more melodic and modern pop/rock, then this might be something for you.
Release date: Aug. 10, 2018 (Century Media)
AUGUST 6, 2018
ECLIPSE: Killing Me (Sellout Version) - Single
Swedish melodic hard rock sensation ECLIPSE play acoustic. And it works very good to their songs. This is actually very radio friendly. Pleasantly and easily digested for those who usually don't listen to rock music.
The original version of "Killing me" comes from their latest album, "Monumentum", which was released last year. And this is a band that you have to check out if you like melodic rock/hard rock. Because this is 1 of the best bands Sweden have in that genre.
(Frontiers Music Srl)
eclipsemania.com
AUGUST 5, 2018
NO GODS: Paradise - Album
It's not so hard to hear that these guys like SLAYER, even though there's some death metal too. Hard, fast and aggressive death/thrash metal is probably the best way to describe this band's music. Most songs are around 2-3 minutes, so there's no room for any unnecessarily stuff. And I really like that. That doesn't mean that they don't know what they're doing though. This is really good stuff. And I think that all fans of early SLAYER should check this out.
"Paradise" is available via their Bandcamp page and streaming services.
(Self released)
nogodspa.bandcamp.com/album/paradise
AUGUST 4, 2018
ART NATION and STAGHUNT at Stora Torget in Borås, Sweden on August 2, 2018


Local band STAGHUNT got the chance to warm up this evening, and I must say that they did a pretty good job. They delivered some harder rock n roll that really can make you want to party and shake loose (I didn't do any of it, in case you wonder). I have never seen or heard them before (couldn't go last time they played in Borås), but it's nice that we have good bands like this in this little city. They made me think of a band like AC/DC, but also some American rock bands that you might have heard of before.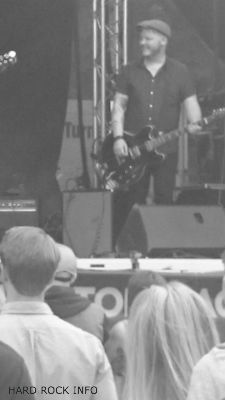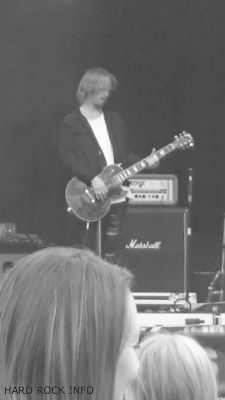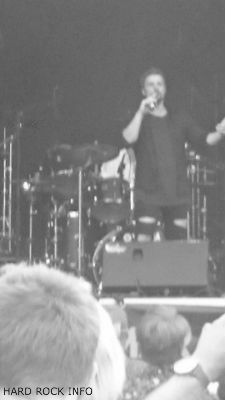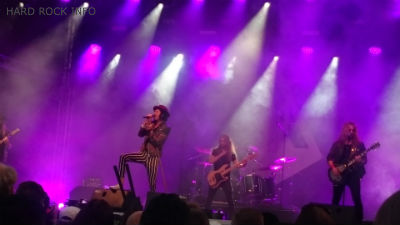 ART NATION is a rock band from Göteborg, Sweden who formed in 2014. They have just in a few years become Sweden's hottest rock band, according to some people. They have been acclaimed both this and that. And then you really have something to live up to. But I'm not the one who listen to the radio and stuff like that, so I know nothing about that. But I have actually seen them once in 2015, before they became so "hot". If I'm not totally wrong, they were the first band on the second day at Göteborg Rockfest, and I still had a hangover. But anyway.. This show was a totally different story.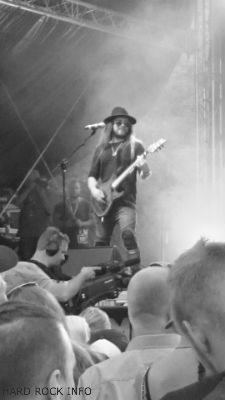 ART NATION seemed to use the stage as their little playground, and they were so happy that they finally had the chance to play in Borås. It was almost like their biggest dream had come true, so it just sound silly after a while. The singer tried so hard to get the audience to like them, but I actually didn't see that much people who was headbanging or even shake loose. And sing-along? Forget that! I guess that most people didn't really know any of their songs. And when you look at the singer, and then add the things that happened in the end of their show - A Dart Vader and a "fight" with toy lightsabers, kicking football and a confetti rain - then you could almost think that you had end up at the circus instead of a rock show.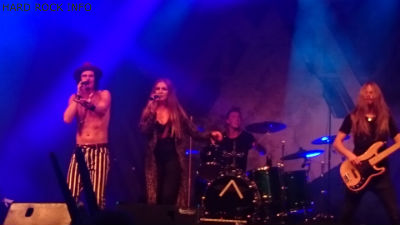 But I have to say that even though there was a lot of stupid stuff, the music was not so bad. Some kind of melodic arena rock that reminded me of the bands on the Italian label Frontiers Music Srl. Much keyboards in some songs, so I tried to find the keyboard player on the stage. He was nowhere to be found. So I figured out that they were obviously using backtracks.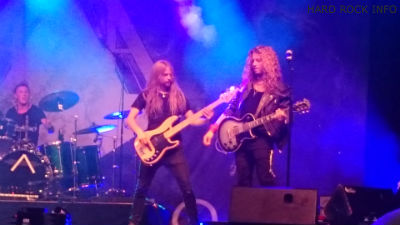 AUGUST 3, 2018
DARK ARCHIVE: Morningstar - Single
Finnish black metallers DARK ARCHIVE are currently working on a new album, and this is a taste of that. The orchestral parts of the song was done by the Irish composer Peter Crowley, who has done lots of co-operations with several metal bands. And that gives it a symphonic touch. So I guess that fans of a band like DIMMU BORGIR for example could like this. But that's just a wild guess, as I have not heard that many songs with them.
"Morningstar" is available worldwide on all digital platforms.
(Inverse Records)
youtu.be/vt-ia56Ue-Q
AUGUST 2, 2018
SAXON: Innocence Is No Excuse / Rock The Nations / Destiny - Deluxe reissues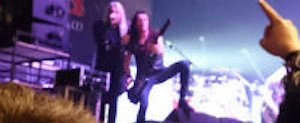 On "Innocence Is No Excuse", which is the band's 7th album, they became more melodic. Probably to fit in better on the American market. But it still has many bright moments. And SAXON have actually done melodic songs before. But not just a whole album of it. I like most of the songs on this album, even though it's not 1 of my favorites. I guess it's a little underrated because it isn't a heavy metal album in good old style, which most of their fans probably want. And for a long time I thought it was too melodic and not so good. So I recomend you to give it another try if you feel the same way.
The album came out in 1985, and it was their first record on EMI. It was also the last album with bassist Steve Dawson. As bonus tracks we find 2 b-sides and demo versions of some of the album tracks. Not so exiting.
On "Rock The Nations", from 1986, SAXON was rocking a little bit more again. But there's some melodic stuff too. This album have many good songs. The first 5 songs are more or less great. But I guess this is another one of their underrated records.
How they succeeded to get Elton John (not Sir yet at the time as far as I know) to play piano on 2 of the songs, "Party "til You Puke" and "Northern Lady", is probably the biggest question of them all. I guess he just happened to be in the same studio building?
Bonus tracks on this record are a b-side (an instrumental, and therfor useless, song), single versions of 2 songs and some live tracks. No real candy hear either.
"Destiny" is the only album of these 3 that I have actually never heard before. And it's obviously not 1 of their stronger albums. This is pretty far away from what we got on their classic records. Some kind of melodic hard rock made for America. I have actually heard 1 song from this album before, the opening track "Ride Like The Wind", which is without any doubt the best song on this album. And it's actually a cover of a Christopher Cross song. The rest is o.k., but hardly any classics.
This was their 9th studio album, and it was originally released in 1988. Among the bonus tracks that we get are just some live tracks from b-sides and monitor mixes (demo recordings?) of 2 songs from the album.
These records will once again be released on limited edition splatter, swirl & tri-colour vinyl and deluxe CD mediabook. Bonus tracks will probably only be included on the CD version. But unless you are a real hardcore fan, you can absolutely survive without this bonus material.
Release date: August 10, 2018 (BMG)
saxon747.com
AUGUST 1, 2018
TWO OF A KIND: Rise - Album
It seems like this band, who comes from Holland, released their self-titled debut album back in 2007. It all started a few years earlier, when Fred Hendrix (TERRA NOVA) became more interested in song writing and production. He hooked up with the 2 female singers, Esther Brouns and Anita Craenmehr, and they started to write some songs. The rest of the band was 2 band mates from TERRA NOVA and his brother Ron Hendrix.
11 years later their second album is here. I'm not sure if the lineup is exactly the same, but I think so. Now I have totally missed that first album, so I'm not the one who can compare this record with their first release. But I'm pretty sure that if you like melodic rock like HEART, Robin Beck and VIXEN, then you will absolutely enjoy this too.
(Frontiers Music Srl)
JULY 31, 2018
DESTINIA: Metal Souls - Album
Japanese guitarist Nozomu Wakai is having a party with Ronnie Romero (RAINBOW, LORDS OF BLACK, CORELEONI), Marco Mendoza (The DEAD DAISES) and Tommy Aldridge (WHITESNAKE).
Mr. Wakai has previously released 2 albums, "Requiem For A Scream" (2014) and "Anecdote Of The Queens" (2015), with DESTINIA, where he has composed, written and produced all the music himself.
Nozomu call the musical direction on this album "classic modern heavy metal". But a closer listen to this record tells me that it's both hard rock and heavy metal, and often of the more melodic kind. Isn't the sound a little Italian somehow? Not bad anyway. And even though the boss is a guitar hero in Japan, he doesn't show that in every song. And thanks for that.
(Frontiers Music Srl)
JULY 31, 2018
Clif Magness: Lucky Dog - Album
I have never heard of this man before, but according to the information I got Clif Magness released a album, titled "Solo", in 1994. And even though melodic rock was more or less dead at the time, or at least something for the underground, it seemed to be a big success. But that's another album that I have totally missed, so I know nothing about it.
Clif have mainly been a song writer and producer for other artists, and have been writing songs for artists like Quincy Jones, Céline Dion, HANSON, Steve Perry, Joe Bonamassa and Avril Lavigne, to name a few of them all. But now he thought it was time to make another melodic rock album in his own name again. And the result is "Lucky Dog".
His music reminds me of CHICAGO and Phil Collins. Very melodic, and more like pop than rock. But he seems to have a few good songs anyway, even though I hardly like everything on this album. I guess that about half of it is good, while the rest is not really my cup of tea.
(Frontiers Music Srl)
JULY 31, 2018
TUSCOMA: Arkhitecturenominus - Album
10 tracks of more or less the same thing over and over again. Same screaming and same playing without much variation at all. This definitely doesn't impress me. This is torture. I don't recomend this when you have a headache.
I think that what this band really want to play is hardcore. But unfortunately they just make a lot of noise, without being chaotic though. This really sucks.
TUSCOMA is a duo from New Zealand, and their so called music is described as blistering blackened punk. This is their debut album, but I would hardly cry if this will be their only album. Which may sound hard, but I just tell you what I think.
Release date: August 3, 2018 (Antena Krzyku Records/Muzai Records)
JULY 30, 2018
TYRANNO: Skulls, Horns & Lust - Album
Many bands are paying homage to the sound of HELLHAMMER and early CELTIC FROST. And so are this Brazilian trio. The music comes from a time when black and death metal was almost the same thing, with the roots in dirty speed/thrash metal.
TYRANNO was formed in the fall of 2014 by the Brazilian brothers Dyd Bastard (vocals/guitars) and Bitch Hünter (drums). The same year they succeeded to release their first EP, "Master Of Sin", which was followed by a split with the speed metal band NIGHTMARE a year later. And now their debut album is here, which was previously co-released by Hell Music, Vënënö Sönörö and Crionics. It has now got a worldwide release through Canadian record label PRC Music.
This is something for those of you who like it fast, raw and dirty, but without being complete chaos.
Best track: "The Hound".
(PRC Music)
tyranno666.bandcamp.com
JULY 30, 2018
INTO ETERNITY: The Sirens - Album
First a too long silent piano piece, then they just play for several minutes before there's any vocals. Stupid and boring! But after that they rock hard. Or maybe metal hard is a better description? But they have to destroy it again, when they end the whole thing with a ballad that includes acoustic guitar and violins. That's not metal.
This is the band's first album since 2008's "The Incurable Tragedy", which was released through Century Media Records. At that time Stu Block (now in ICED EARTH) was their singer. But when he left the band in 2013, Amanda Keirnan (The ORDER OF CHAOS) took over the microphone. And can she sing or what? You bet she can!
But the story of the band started back in 1997 already, when the band was founded by Tim Roth (guitar, vocals) in Regina, Saskatchewan, Canada. Their self titled debut was released in 1999 by a small Dutch label called DVS. They got signed to Century Media in 2001, and released 4 albums on that label.
This album borrows influences from all kinds of metal. Both traditional and more extreme. And it's a damned good mixture of hard and melodic that I really like. I can't really understand why this band isn't signed! This is a brilliant album! And if you don't like this, then you're not my friend anymore.
New release date: October 26, 2018 (M-Theory Audio)
intoeternity.net
JULY 29, 2018
BASTIAN: Grimorio - Album
Heavier heavy metal that reminds me of CANDLEMASS and BLACK SABBATH. But some songs are more like classic heavy metal, and not so heavy. And in "Epiphany's Voodoo" they suddenly sail away in an instrumental, psychedelic 60s/70s jam. I really like what I hear! This is definitely something that you should check out.
The band comes from Italy, but the singer, Nicklas Sonne, comes from Denmark. This is their 4th album. It was mixed in England and mastered in New York.
Release date July 31, 2018 (Sliptrick Records)
facebook.com/bastianband
JULY 29, 2018
MR. BIG: Live From Milan - 2CD/Blu-ray, 3LP
Following the release of their 2017 album, "Defying Gravity", MR. BIG went out on tour all over the world. And this recording captures their performance in Milan, Italy. By this time, drummer Pat Torpey's battle with Parkinson's Disease had been made public. But Pat toured with the band regardless and sat behind the drum kit for select songs, while also providing background vocals, tambourine, etc. On the tracks where Pat didn't play drums, Matt Starr was taking over the kit. This would unfortunately be one of Pat Torpey's last performances with the band, as he passed away from complications due to Parkinson's in early 2018.
There's actually as much as 22 tracks here, and we get a solo from both Paul Gilbert (guitar) and Billy Sheehan (bass). And "Wild World" is a pop song that you can expect to hear at the local bar, but not from a rock band. This is a little too much for me actually. And especially when they start to play their biggest hit, "Be With You". It's so pathetic that it makes me want to puke! If I would have had a physical copy I would probably have thrown it out the window.
Now it may sound like this is totally worthless. But it's not. There are a few o.k. songs. The problem is that the good songs are way too few for me, and hard to remember among all the other tracks. But fans of this band will probably love this. So who am I to judge?
(Frontiers Music Srl)
mrbigsite.com
JULY 28, 2018
GRAHAM BONNET BAND: Meanwhile, Back In The Garage - CD/DVD, 2LP
There's lots of garage bands in the States. But I find it hard to believe that the legendary singer Graham Bonnet (MSG, RAINBOW, IMPELLITTERI, ALCATRAZZ) are standing in a garage at his age (he's actually 70 years old!). But who knows? He have probably spent a lot of time there when he was younger though.
I don't really know, but there's as much as 14 tracks on this album (13 new studio recordings and 1 live track), and that's way too much as it last for an eternity. And the material is not strong enough for such a long album. His last record was much better. But I can't say that this is a bad album. It's just a little weaker than last time. But it's still worth checking out. And I'm really impressed that Graham still has such a strong voice after all these years.
(Frontiers Music Srl)
grahambonnetband.com
JULY 28, 2018
Gioeli-Castronovo: Set The World On Fire - Album
Johnny Gioeli and Deen Castronovo first played together on the debut album of HARDLINE, "Double Eclipse", which was released in 1992. 25 years later, the 2 reunited in Italy to commence work on the debut album from their new project Gioeli-Castronovo.
Through the years Gioeli have continued with HARDLINE, while Castronovo have spent time with Ozzy Osbourne and played with JOURNEY. Castronovo is currently a member of The DEAD DAISIES and REVOLUTION SAINTS.
What we get here is nothing but melodic rock/hard rock, that will fit fans of some of the other bands they play and have played with. It might not be the strongest album that I have heard in this genre, but it's definitely not bad at all.
(Frontiers Music Srl)
JULY 28, 2018
MAN.MACHINE.INDUSTRY: Reborn - Album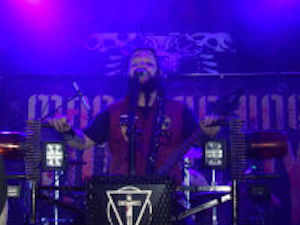 This album is titled "Reborn" because it's actually re-recordings of 14 of their songs. We get tracks such as the PS3/X-Box 360 song "The Hunt" (appeared for the first time in the game "The Darkness" back in 2007), the live favorite "To a Blood Red Sky", "Almost Gone" featuring Patrik Wirén of MISERY LOVES Co, "Eighties" featuring Jens Westin of CORRODED, as well as video tracks like "Aim Hold Fire", "The Cross" and "Knuckle Duster", just to name a few of all these songs. And it's a great collection of songs that you really should check out.
This Swedish band have been around for many years now. 18 years to be more exact. And the music they play is best described as metal with an industrial touch. It's hard and heavy, but yet melodic.
Release date: August 3, 2018 (GMR Music)
facebook.com/manmachineindustry
JULY 26, 2018
SYSTEM OF HATE: There Is No Madness Here - Album
Noisey, a bit psychotic and industrial, blackened post punk is what we get from these Barnsley, UK lads, who take their influences from bands like KILLING JOKE and THEATRE OF HATE, and then put their own twist to it. This is their second full length.
Post punk might not always be my thing. But this band is doing their thing really good. And most important of all (to me anyway), is that it's more punk, instead of some kind of alternative pop or rock, which I think that many other bands in this genre sounds like.
This is a cold, dark and raw album. Almost like the soundtrack to somebody who has just been locked up at the mad house, and just wants to get out of there. A bit desperate.
Release date: August 3, 2018 (Louder Than War Records)
systemofhate.com
JULY 25, 2018
MANTICORA: To Kill To Live To Kill - Album
Seems like what we have here is yet another stew of progressive metal. Pretty modern stuff. It would surprise me if they have not been listening to SYSTEM OF A DOWN for example. It's not exactly the same, but something similar, but less crazy and more epic. Like a mixture of thrash, power and progressive metal.
MANTICORA formed back in 1997 and comes from Denmark. This is their first new album in 8 years. It was recorded and mixed by Jacob Hansen (VOLBEAT, DESTRUCTION, PERSEFONE etc). This is actually a concept album, based on a horror novel that the band has written and released a couple of months ago. And this is just the first part. There will also be a second concept album, but not until next year.
Well, this is actually not so bad. Pretty o.k. stuff.
Release date: August 3, 2018 (ViciSolum Productions)
manticora.dk
JULY 24, 2018
DRAWN AND QUARTERED: The One Who Lurks - Album
Here we have one of these death metal bands who are a little bit more technical. And it's just not as good as the old school stuff that I like so much. I guess this is a little too advanced for me, or whatever it could be. It's not totally useless though. I have definitely heard a lot worse than this. So it's not impossible that you might like this more than me.
DRAWN AND QUARTERED are a bunch of veterans based in Seattle, and this is their 7th album. But they have also released several EPs and demos through the years.
The whole thing came to life under the moniker of PLAGUE BEARER (which is currently a side project of guitarist Kelly) back in 1992. But after about a year they changed the name.
Release date: July 27, 2018 (Krucyator Productions)
drawnandquartered1.bandcamp.com
JULY 23, 2018
DISTORTED FORCE: Curves Of Sidereal Cosmos - Album
This record have just 5 tracks, but 2 of them are over 11 minutes, and 1 is over 20 minutes long. Yes, this is best described as a progressive metal soup with all kinds of ingredients from all kinds of genres (not just metal actually). Their main influence is FATES WARNING.
DISTORTED FORCE was started in Thessaloniki, Greece in 2008. They released 3 EPs each year between 2010 and 2012. And in 2013 their first album, "Fields In Desolation", came out. "Curves Of Sidereal Cosmos" is their third full length, and it's also the first concept album in the band's discography (they forgot to tell what the concept is though).
Well, this is not bad for being a progressive band. They have some good parts here and there that I like. So if you're a fan of this stuff, then I recomend you to try this band.
(Self released)
distortedforce.blogspot.gr
JULY 23, 2018
DEGRAVE: Degrave - Album
Missouri's DEGRAVE are said to be faster, heavier and a whole lot more raucous than on their debut album, "Full Tilt". So it's not just full speed ahead here. But when they slow down a little and play heavier, they often play the same thing over and over again for a little too long. And that's a little boring. But otherwise it sounds really good to me. There's a lot of variation at least.
This is thrash metal. Why not give it a try?
Release date: July 27, 2018 (Self released)
JULY 23, 2018
INNER AXIS: We Live By The Steel - Album
It's not such a wild guess that these Germans have been listening to JUDAS PRIEST and similar bands. Because this is classic heavy metal in the exact same tradition. And they are doing it really good, so I can't see any reason why you should not give this band a try or maybe 14. Simple as that!
INNER AXIS released their debut album, "Into The Storm", in 2011. "We Live By The Steel" was released in September last year. Between these 2 albums they have succeeded with things like the soundtracks of the movie "Punisher Warzone" and the video game "Brütal Legend". And their song "Rain Or Shine" (the last song on this album) reached the finals of the official "Wacken Hymne 2015".
(Fastball Music)
inneraxis.de
JULY 22, 2018
KING KOBRA: Sweden Rock Live - Album
American hard rock n roll with a party vibe, like it was done in the 80s. Now I'm not the one who can call myself a fan, as I have not heard more than 1 song, "Hungry", back in the 80s, when this band was active the first time. This recording comes from their apperance at Sweden Rock Festival in Sölvesborg, Sweden on June 11, 2016 (why it has taken 2 years to release a live recording is a good question). And the lineup here was legendary drummer Carmine Appice (VANILLA FUDGE, CACTUS, BECK BOGART & APPICE, Ozzy Osbourne, BLUE MURDER), singer Paul Shortino (ROUGH CUTT, QUIET RIOT), bassist Johnny Rod (W.A.S.P.), David Henzerling and Jordan Ziff on guitar.
They seems to have some o.k. songs. So why they have to destroy the party with both a bass solo and a drum solo, plus bad cover versions of "Wild Child" by W.A.S.P and "Heaven And Hell" by BLACK SABBATH (as an acoustic ballad!), as well as the solo from DEEP PURPLE's "Highway Star", is a damned good question. That really lower the experience a lot.
The band might have had a good time, but it's not that funny to listen to at home.
Release date: July 27, 2018 (Metalville)
kingkobrarocks.com
JULY 21, 2018
Chris Caffery: The Jester's Court - Album
This is a album with lots of good and bad stuff. And it seems to last for an eternity (almost an hour) because of the bad tracks. He could easily have thrown away at least 4 of these songs without a problem, and it could have been so much better. Because there's good stuff too.
This is the 6th studio album from guitarist Chris Caffery (SAVATAGE, TRANS-SIBERIAN ORCHESTRA, DORO, Joe Lynn Turner, CIRCLE II CIRCLE). Among the other musicians on this album are Brian Tichy (WHITESNAKE, Billy Idol, FOREIGNER), Alessandro Del Vecchio (JORN, VOODOO CIRCLE), Jane Mangini (TRANS-SIBERIAN ORCHESTRA, Dee Snider, Joe Lynn Turner), Tony Dickinson (TRANS-SIBERIAN ORCHESTRA), Joel Hoekstra (WHITESNAKE, TRANS-SIBERIAN ORCHESTRA, NIGHT RANGER) and Angus Clark (TRANS-SIBERIAN ORCHESTRA, KITARO). Some people play on all tracks, while some of them play on just a few. Chris himself take care of lead and background vocals, guitars, bass and additional keyboards. And I think that his voice often reminds me of Dee Snider (TWISTED SISTER) and Alice Cooper.
How do I describe the music then? Well, I guess hard rock and heavy metal is the best way to describe this. Sometimes with a theatrical/progressive touch. It sounds a little like a dark rock opera actually. So there you have something to chew on..
Release date: July 27, 2018 (Metalville)
chriscaffery.com
JULY 21, 2018
WRETCH: Reborn - Album (reissue)
This is a re-release of this American band's first album, which was originally released in 2006 on Auburn Records. The music they play is labeled as US metal. So fans who like American heavy metal will find some good stuff here.
They might not be the best band that I have heard in their genre, but they are definitely not bad either. It seems like they knew what they were doing when they recorded this. Many of these songs reminds me of other heavy metal bands, and not just from the States.
Release date: July 27, 2018 (Pure Steel Records)
wretchmetal.com
JULY 21, 2018
TRAITORS GATE: Fallen - Album
This band formed in the early 80s already, and released a EP, "Devil Takes The High Road". If I got it right, the band split up in 1989. But in late 2016 they reunited to do a one-off show at the Brofest 2017 event. This led to requests to do more shows around Europe. And now we also have a album with them to listen to.
I guess it's not so hard to figure out that it's heavy metal that TRAITORS GATE are playing. But it's not the fastest heavy metal. It's more like some kind of mid-tempo. And many of these songs reminds me of JUDAS PRIEST actually. And that's hardly something bad, even though it's not any of their classics that I think of. But a weak song with JUDAS PRIEST is always better than many other weak songs, as the wise man said.
(No Remorse Records)
traitorsgateofficial.com
JULY 20, 2018
THOSE WHO BRING THE TORTURE: Pain Offerings - Album
What we have here is death metal in the heavier league. Not really doom/death, but hardly the fastest death band. There are some faster songs too though. But the speed doesn't always matter. This is really good stuff. And that is more or less all you need to know. So don't waste your time reading this shit. Get the album!
But just in case you want some more information about the band before you buy this record, this is what I found on the internet:
This is yet another band with the legendary Rogga Johansson (PAGANIZER, The GROTESQUERY, RIBSPREADER etc etc), who seems to be the only original member left. They are from Sweden, formed in 2007, and officially disbanded in 2010. Then they reformed in 2012, and have been active a little now and then ever since. This is their 6th album.
(Iron, Blood & Death Corp.)
myspace.com/twbtt
JULY 20, 2018
Stelios Ventas: Faded Flower - EP
Stelios Ventas comes from Athens, Greece, and has been playing guitar since the age of 14. This is not another guitar masturbator record though. No, these 5 tracks are more like some kind of classic rock. Not bad, but honestly not so exiting either.
Stelios has been playing in various rock bands through the years, but decided to go solo in 2014, and released his first solo album in 2016.
(Self released?)
JULY 20, 2018
SMOKE THE SKY: The Human Maze - Album
4-piece orchestra from Munich, Germany who deliver some NOLA influenced groove rock metal. They formed in 2010, and this is their second album. Their music is said to fit fans of bands like PRONG, DOWN, ALICE IN CHAINS, PANTERA, CORROSION OF CONFORMITY and similar stuff. ..and that's all I know about them.
I have been listening to this album so many times now, without any idea at all of what I should write, that I'm getting a little tired of it. That it last for about an hour doesn't exactly help either. So it feels very good that I'm done with this record now. Not that you might get any wiser by reading this, but why don't you listen to them instead?
(Self released)
smokethesky.com
JULY 20, 2018
SAINT KARLOFF: All Heed The Black God - Album
SAINT KARLOFF is a Norwegian power trio, who started in 2015. They are influenced by the world of today and the music of yesterday. It's psychedelic, heavy and political. The music is a mixture of 70s hard rock and heavy blues, as well as modern doom and stoner rock. And this is their debut album.
And if you like that description and are a fan of Ozzy-era BLACK SABBATH, then this is definitely a band for you, because this is really good stuff. Simple as that.
Any favorite then? Well, all songs are good, but "Radioactive Tomb" is a little extra good somehow.
Release date: July 27, 2018 (Twin Earth Records)
youtube.com/watch?v=A0Tjtiehq1A
JULY 20, 2018
Quarter Hour Of Power - 7" Compilation EP
Even though this is just a EP, there's as much as 14 bands with 1 short song each. Most of these songs are just around a minute. And in some cases that is almost too short actually. On the other hand, it makes you hungry for more from some of the better bands.
As usual with compilations, there's both good and bad stuff. But I must say that it's pretty much good stuff here. The music is a wild mixture of punk rock, pop punk, lo-fi (whatever that is?), hardcore, thrash, doom and everything else in between that. All bands comes from St. Louis, MO, U.S.A., and all songs are new and previously unreleased.
..and the bands are: BRUISER QUEEN, HORROR SECTION, BREAKMOUTH ANNIE, The HADDONFIELDS, SINK THE BISMARK, SUICIDE DIVE, CHALKED UP, HELL NIGHT, BRADDOCK, SWEAT SHOPPE, BETTER DAYS, NOT WAVING BUT DROWNING, FISTER and ANTITHOUGHT.
This EP is also availble digitally.
(Encapsulated Records)
JULY 19, 2018
ROUGH GRIND: Trouble Or Nothing - EP
ROUGH GRIND is a Finnish rock/metal band, and they have released a few singles and EPs since 2014. This seems to be their third EP. Their music is a combination of rock and hard rock, with a pinch of heavy metal here and there. It's melodic but yet heavy. Not slow though. 4 songs is what we get here, and it's not so bad. If this will take them to the next level is a good question though. But as long as it's good, it's enough for me.
(Inverse Records)
roughgrind.net
JULY 19, 2018
The LEAGUE OF ONE: Dispatch - Album
The LEAGUE OF ONE is not just 1 person but 3 workers from Regina, SK, Canada that happens to have a band. And they have been rocking together since 2003. This trio seems to have their own sound, but it's mainly some kind of hard rock, sometimes with influences from heavy metal or classic rock. They have some good songs here, but it's not like I can hear any hit or future classic on this record. They are still worth a try though, so don't be afraid my friend.
(Lil Eve Records)
theleagueofone.com
JULY 18, 2018
BARROS: More Humanity Please... - Album
Portugese hard rockers for fans of classic acts like WHITESNAKE, VAN HALEN and HAREM SCAREM. 10 tracks of melodic hard rock that has been mixed and mastered by no other than HAREM SCAREM singer Harry Hess.
Well, they seems to have some good songs here. There's no doubt about that. But I don't really know what else I should say. So just give them a try. You will probably like it a lot.
(Rockshots Records)
facebook.com/barrosofficial
JULY 18, 2018
HELL NIGHT / SWEAT SHOPPE - Split 7" EP
HELL NIGHT formed in 2014, and SWEAT SHOPPE in late 2015. They are both from St. Louis, MO, U.S.A.
HELL NIGHT was formed by 2 members from SHAME CLUB, and their singer Brian Fair, who joined the band in 2016, have been singing with the metal band SHADOWS FALL and the hardcore band OVERCAST. They have released a handful of EPs each year. Their music is said to be "somewhere between proto-metal rock and thrash with elements of new wave".
SWEAT SHOPPE set out to write short, fast, to the point punk rock songs. The members have been playing in bands for years, including ULTRAMAN, The DISAPPEARED, HORROR SECTION and The TIMER. They have not released much more than a few songs before this split.
HELL NIGHT participate with 2 songs, while SWEAT SHOPPE gives us 3. Both bands are pretty o.k.
This EP is also availble digitally.
(Encapsulated Records)
facebook.com/hellnightus facebook.com/sweatshoppemusic
JULY 17, 2018
GRIND ZERO: Concealed In The Shadow - Album
A fast and brutal attack from the other side. No intro or any other kind of bullshit. Just bang on. And just the way I like it.
GRIND ZERO is a death metal band from northern Italy, who formed in 2011. Their first show was as support act for the legendary ENTOMBED in 2012, and in 2013 they released a 3-track demo, "Forceful Displacement", which was followed by their first album, "Mass Distraction", in 2014. "Concealed In The Shadow" is their second full length.
This is something for those of you who like it the good old way, with BOSS HM-2 pedals and downtuned guitars. The classic Scandinavian sound from the 90s.
It looks like there will be a new EP in the end of this year..
(Punishment 18)
grindzero.com
JULY 17, 2018
GRIM COMET: Metropol Sessions - EP
"GRIM COMET define themselves as a different band", is the first thing you can read about this trio. But what is so different about another band that play a combination of stoner rock, heavy metal and doom? That's been done so many times before. But these dudes are also said to throw in some 70s influences, American thrash metal and New Wave Of British Heavy Metal into their brew. 70s influences, yes. Thrash and heavy metal? I can't say that I hear much of that.
They might not have created a masterpiece, but it can definitely be worth a try for all of you who are into the heavy rock trend. Because that's what this mainly are.
(Art Gates Records)
facebook.com/grimcomet
JULY 17, 2018
WÖLFSBLOOD: Nightriders - EP
"Motorpunk Rock & Roll" is what they call this. And that means a violent combination of MOTÖRHEAD, punk, metal and rock n roll. In other words, a winning concept that just can't go wrong. Or can it? Not in this case anyway.
This Danish band is said to fit perfect for fans of MIDNIGHT, SPEEDWOLF and BAT. I don't think that I have heard any of them before. But if you like MOTÖRHEAD, then it's not impossible that you will like these dirty bastards too. And why not add the Swedish band LOUDPIPES to that, if anybody have heard them?
Release date: July 20, 2018 (Reaper Metal Productions/Seeing Red Records)
JULY 16, 2018
FREE FROM SIN: II - Album
Swedish band who are influenced by legends like DEEP PURPLE, JUDAS PRIEST, RAINBOW, IRON MAIDEN etc. Their self-titled debut album was released in 2015, but this album is said to be much darker and heavier than the debut.
I can definitely hear some Ronnie James Dio-era RAINBOW, as well as DEEP PURPLE around the 2 first albums after their come back. But once in a while there's also some neo-classical hard rock or heavy metal.
They have lots of good songs among these 11 tracks (including a bonus track), so there's no reason why you should not check this out, if you like what I just described.
Release date: July 20, 2018 (Pride & Joy Music)
freefromsin.net
JULY 14, 2018
SOUTHERN EMPIRE: Civilisation - Album
4 really, really long songs is what we get from this band. We talk 9-29 minutes, man! And I guess it's not so hard to figure out that the music is progressive rock then. And people who like that will probably scream of joy when they hear this. To me it's like jazz - Hard to melt.
I can hear lots of different influences. Some songs have more keyboard, while others have some jazz in it. All songs are mainly soft, so they don't really rock that often.
Well, this is as many others of these bands an adventure to listen to. So if you're looking for a musical journey, then this could be your next trip to neverever land.
SOUTHERN EMPIRE comes from Australia, and this is their second album. They are influenced by DREAM THEATER, IQ, TRANSATLANTIC, KARNIVOOL and Steven Wilson.
Release date: July 20, 2018 (Giant Electric Pea)
JULY 13, 2018
OXYGEN DESTROYER: Bestial Manifestations Of Malevolence And Death - Album
After a too long intro (1 and a half minute) they finally start their little war for real. And those of you who like their death metal raw and in the good old way should be happy when you hear this. Because this is hardly any love ballads. Just fast and brutal death metal straight in your face without any excuse. No modern or technical stuff here.
VADER, SODOM, KREATOR and CANCER are some of the bands that OXYGEN DESTROYER has been compared with.
Release date: July 20, 2018 (Redefining Darkness Records)
JULY 13, 2018
CHROMEDUST at Stora Torget in Borås, Sweden on July 12, 2018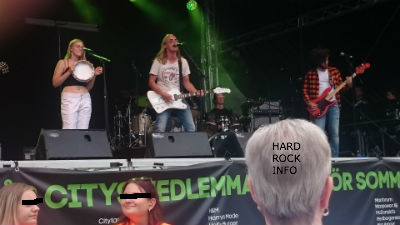 CHROMEDUST is a local rock band who formed in November 2015. And I'm actually a little surprised that they got the chance to play as support act on Stora Torget again (Swedish artist Brolle was the headliner), as it wasn't more than a year since they played on the same stage last time. That just doesn't happen here! But I guess these young guys know the right people, and/or got the enrgy to beg for a gig and maybe even play for free. It could also be that people actually like this band very much.
And I can now understand why. Because this was much more interesting than last year's gig, when I just saw something like the 3 last songs or something like that. Now they were really rocking!
Most songs was true swinging rock n roll, with a touch of Southern rock. And that stuff really kicked arse! But they say that they are mainly influenced by classic rock from the 80s, and there was 1 song that reminded me of THIN LIZZY. They also played a slow blues number that reminded me of Gary Moore (R.I.P), and a cover of the KISS classic "Rock n Roll All Night". So they seems to have some inspiration from the 70s as well.
Good stuff that I recomend you to check out.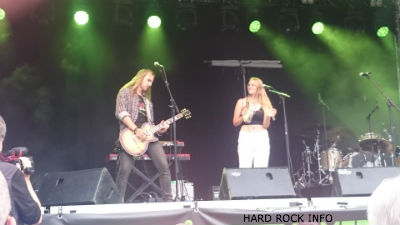 chromedustofficial.com
JULY 13, 2018
ONCE: The Hour Of Eden's Fall - Single
German band formed in late 2012 who call their music "dramatic metal". Their music is "inspired by neo-romantic soundtrack music, and includes typical elements of a classical Aristotelian drama, combined with heavy guitars and drums." And if I got it right, this song comes from their upcoming debut album, "After Earth", which will be released on October 19.
Well, dramatic is in this case just a other word for symphonic. In other words, nothing new under the sun. ..or was it much drama for nothing?
(Pride & Joy Music)
once-official.de
JULY 12, 2018
STORTREGN: Emptiness Fills The Void - Album
Swiss black/death metal band that delivers a blend of dark melodies and crushing riffs. It can sometimes be a little technical, as well as dramatic. And it's a good mixture of fast and slow parts. I also like the combination of brutal and melodic elements. This is really good stuff, and I think it will fit both fans of melodic black metal as well as melodic death metal.
This is their 4th album. Check it out!
(Non Serviam Records)
stortregn.com
JULY 12, 2018
The FLESH: Dweller - EP
Much noise here. But some kind of controlled chaos somehow. And I like what I hear.
This Dutch band serves a buffet of hardcore, crust and blackened metal. It's hard and heavy, as well as angry, but very well done. People who doesn't have anything against some metal in their hardcore and crust, should definitely check this out.
The FLESH are currently open for label offers and shows, and have already started the writing process for their next album. If I had a record label, I would have signed them at once. So what are you waiting for?
(Self released? Distributed via Anubi Press)
thefleshband.bandcamp.com
JULY 11, 2018
ELEINE: Echoes - Single
New single with the Swedish band ELAINE. A song that comes from their second album, "Until The End". And it's just like it use to be with me and female-fronted symphonic metal bands - They all sounds the same. But this is hardly a bad song. Oh no. This is actually very good. A whole album with more or less the same thing is still a little too much for me though.
(Black Lodge Records)
JULY 11, 2018
CHARLOTTE IN CAGE: Times Of Anger - Album
"All girl Italian riot metal" is what they label this as. This band take their influences from female bands like KITTIE, HOLE and even PUSSY RIOT, as well as male artists like MOONSPELL and Marilyn Manson. Then they put their own voices to it and say exactly what they have to say about things. One of the main concepts of the album is the social denouncing of oppression and injustice, particularly involving women, and found in different environments and social structures.
They have some good stuff here, even though nothing is a masterpiece. Among the best tracks are "I Hate Myself", which is a little softer.
This album doesn't leave you with something to remember.
(Sliptrick Records)
facebook.com/CharlotteInCage
JULY 10, 2018
Page 4
Index
Next page