REVIEWS 2018 - Page 8
CREATE A KILL: Summoned To Rise - Album
CREATE A KILL pays homage to the forefathers of thrash, specifically those that would help shape the birth of what would become death metal. We talk bands like SLAYER, SODOM, POSSESSED, KREATOR and DARK ANGEL. The band was created by Gus Rios and Alex Marquez, but they have also invited some of their friends: Matt Harvey (EXUMED, GRUESOME), Tobias Gustaffson (VOMITORY, CUT UP, AMON AMARTH) Dirk Verbeuren (MEGADETH, SOILWORK) and Daniel Gonzalez (guest solos).
Well, this is definitely something for those of you who like the bands that I mentioned before. Try to sit still and not bang your head. Impossible!
Release date: Dec. 21, 2018 (Redefining Darkness Records in North America/Raw Skull Records in Europe)
createakill.bandcamp.com
DEC. 17, 2018
STEELHEART: Rock'n Milan - CD/DVD
Did they really have to include that whispering in the beginning? Because it's not that interesting to listen to. A other thing that disturb me is that they play for way too long before he finally start to sing. And for being a live album, you can actually not hear that much of the audience, which makes it a little weird sometimes. Of course there has to be a useless drum solo as well.
But I like the songs from the "Rock Star" movie. But I prefer to listen to the soundtrack instead of these versions. Usually a band is better live than on a studio album. In this case it seems to be the other way around. Which is pretty odd.
I'm glad that I have not seen them live (not that I have had the chance), because this is not what I wanted to hear. It's not totally useless, but I find it hard to believe that it's worth a couple of hundred kronor (Swedish currency) or more, which a concert ticket use to cost here in Sweden.
This recording comes from their performance at Frontiers Rock Festival IV, which took place on April 29, 2017 in Milan, Italy.
(Frontiers Music Srl)
steelheart.com
DEC. 16, 2018
ALCATRAZZ: Parole Denied, Tokyo 2017 - 2CD/DVD
ALCATRAZZ was originally formed in 1983 by former RAINBOW and MSG vocalist Graham Bonnet, along with Jimmy Waldo (keyboards), Gary Shea (bass) and drummer Jan Uvena. They released 3 studio albums. Swedish guitarist Yngwie Malmsteen played on the first album, while another guitar virtuoso, Steve Vai, played on their second album. The band split up in 1987 after the release of their third album, where Danny Johnson played guitar.
That could have been the end. But for some reason Mr. Bonnet thought it was a good idea to reunite the band with himself as the only original member in 2006. That version of ALCATRAZZ split up in 2014. But the story was still not over yet. Because in March 2017 it was time for some shows in Japan - Osaka, Nagoya and Tokyo. This time Graham teamed up with the 2 founding members Jimmy Waldo and Gary Shea. The band was rounded out by Mark Benquechea on drums and Conrado Pesinato on guitar, both from GRAHAM BONNET BAND.
I guess you have already figured out from the title of the album that this recording is taken from the last show. But that's not all, they have also dug up some stuff from the archives. We get some previously unreleased demo recordings from 1985 for example. I think there's some fun bonus stuff on the DVD as well (think I read something about that somewhere).
O.k., now I have not heard the studio albums, but just a few songs here and there. But I still like most of the songs that I have heard anyway. And this is not so bad either. But on the other hand that doesn't really matter. If you're a fan of the band, then you check this out.
(Frontiers Music Srl)
DEC. 16, 2018
EVANGELIST: Deus Vult - Album
"Deus Vult" is a collection of songs that revolves around medieval history, religion and spirituality. With a richer musical identity, the band decided to use acoustic guitars and add more vocal and guitar layers, in order to conceive denser arrangements. Some tracks have a strictly historical background, while some others are pure fantasy. Musical inspiration comes from the obscure epic metal scene from the US, as well as from all the doom metal pioneers and metal classics in general. And when it comes to the lyrics, they get their inspiration from R.E. Howard and H.P. Lovecraft.
The band's third album was supposed to be recorded in the middle of 2015, but unfortunately, due to health issues, that was put on hold until next year. In November 2016 the band finally started the recordings, and in the middle of 2018 "Deus Vult" was done.
What do we get then? 7 tracks of doom metal. And this is definitely not bad at all. This is a band that you should give a try, because you will probably like it a lot.
Release date: Dec. 20, 2018 (Nine Records)
evangelistdoom.bandcamp.com
DEC. 15, 2018
FABULOUS DESASTER: Off With Their Heads - Album
FABULOUS DESASTER consist of 4 boys from Bonn, Germany who play thrash metal like we still were in the mid-80s in the Bay Area. This is their second album, and it's full of young energy and a lot of screaming from the singer. It's mainly full speed ahead straight into the wall of speakers.
I can't say that this is bad, because they are a good band. But maybe the singer should calm down on that screaming here and there. That's all that irritate me though. This is still worth checking out.
(Black Sunset)
fabulousdesaster.de
DEC. 15, 2018
Helga: Nebulous - EP
This is not really the kind of stuff I use to review here, even though I reviewed the single "Battle Song" earlier this year. The music is some kind of alternative and dark pop/rock. And that darkness is what might make the metal heads like this, even though the music isn't so much metal. Fans of post rock and dark rock should also be interested in this.
The heaviest tracks here are "Battle Song" and "Haunted". The other tracks are still dark and slow, but more singer/songwriter-oriented. The last short piece sounds like an old Swedish folk song.
Helga is a Swedish singer who explores different artistic influences, with elements of post rock, metal, folk music and classical music. This is her debut EP, and reviewers have compared her with artists like Emma Ruth Rundle and Chelsea Wolfe.
(Icons Creating Evil Art)
facebook.com/helgadalarna
DEC. 14, 2018
NIGHTRAGE: By Darkness Drawn - Single
This is the first single from their upcoming album, "Wolf To Man", which will be released next year. And "By Darkness Drawn" is described as brutal, aggressive and honest. This song introducing the dark and apocalyptic concept which permeates the album. But even though it's a dark theme, there's still room for catchy melodies. Good stuff anyway. No doubt about that.
(Despotz Records)
nightrage.com
DEC. 13, 2018
DEVIL'S GUN: Lights Out - Single
Swedish heavy metal band DEVIL'S GUN will release their second album, "Sing For The Chaos", on April 12, 2019. This is the first single from that album. And damn! The singer sounds exactly like Udo Dirkschneider (U.D.O., ex-ACCEPT). I guess it's not so hard to figure out that the music is very similar to Udo's bands, but also a Swedish band like BULLET. Very good stuff! I really look forward to hear that album.
(Black Lodge Records)
facebook.com/DEVILSGUNSWE
DEC. 13, 2018
JON SCHAFFER'S PURGATORY: Purgatory EP - EP
PURGATORY was founded in 1985, and the predecessor of the legendary ICED EARTH (which you might have heard about before). ICED EARTH's leader Jon Schaffer has now teamed up with PURGATORY's original singer Gene Adam (also vocals on ICED EARTH's self titled debut album), Mark Prator (drums – also known from his work on ICED EARTH's "The Dark Saga" album), Bill Owen (original bassist of PURGATORY), Jim Morris (guitars – known as producer and owner of Morrisound Studios) as well as Ruben Drake (DEMONS & WIZARDS, SONS OF LIBERTY) on bass to newly record 5 old PURGATORY tracks, written in 1985 and 1986. And the result is 25 minutes of US metal with a touch of horror metal. Their record label, Century Media, think it's something for fans of ICED EARTH, OMEN and LIEGE LORD.
To avoid confusion with other bands who have the same name, this is released under the name JON SCHAFFER'S PURGATORY.
Release date: Dec. 21, 2018 (Century Media)
DEC. 11, 2018
SINIESTRO: Arctic Blood - EP
They start short with the title track, which is almost 2 minutes, and continue with "Pesten", which is just a little bit more than a minute. After that we get 2 songs that are a little longer, 3,28 and 5,33 minutes. It doesn't really have to be more advanced than that. And the music they give us is some kind of black/thrash metal that I really like. The best track is without a doubt the shortest song, which is in Swedish (the rest is in English).
SINIESTRO is a Swedish trio who formed in late 2012. They have previously released 1 EP and 1 LP. They are currently working on their next full length.
Release date: Dec. 10, 2018 (Black Lion Records)
siniestroblacklion.bandcamp.com/album/arctic-blood-ep
DEC. 10, 2018
SEVEN THORNS: Symphony Of Shadows - Album
Danish power metal band SEVEN THORNS release their third album. And it's said that this is a new chapter in their history, with darker and heavier influences. Now I have not heard them before (as far as I can remember), so I don't know what they sound like before. But they mix their new influences with neo-classical heavy metal and classic power metal, and it's definitely not bad at all. There's many masterpieces among these 9 tracks. We get strong and catchy melodies, as well as really good musicians. I wouldn't want to miss this if I was you.
Release date: Dec. 14, 2018 (Mighty Music)
seventhorns.com
DEC. 9, 2018
Purser Deverill: Square One - Album
Both Fred Purser and Jon Deverill have been members of NWOBHM legends TYGERS OF PAN TANG. But that was something like 30 years ago. And those who think that this will be something like that band can stop to hope at once. This sounds more like a progressive rock album from the 70s. Something that fans of YES, PINK FLOYD and maybe even GENESIS will like.
With that said, you probably expect a total slaughter here. But surprise, surprise. This is actually not so bad at all. Just listen to a song like the title track, which opens the album, for example. Really good stuff! The second song, "Hypnotise", have a fantastic chorus that you just got to love. Another great song is "With You".
It's actually really simple: None of these 10 tracks is bad.
Release date: Dec. 14, 2018 (Mighty Music)
facebook.com/pg/sparechaynge
DEC. 9, 2018
MINUS ONE: Red White Black - Album
This could have been good I suppose, but it smells like too much pop for my taste. And the best example is the last song, "You Don't Own Me", which just as well could be a cover without me knowing it. But they have some good moments too, like the first track for example, which is probably the hardest and heaviest song on this album. And in those good moments they reminds me of Swedish bands like H.E.A.T. and ECLIPSE - Melodic hard rock. Unfortunately they often seems to aim at some kind of pop/rock instead. But they seems to be good at what they're doing, even though I don't really like everything they do.
The band was formed in 2009, and are said to be the most popular rock band from Cyprus. Their biggest event was the attendance to Eurovision Song Contest in 2016.
Release date: Dec. 14, 2018 (Mighty Music)
minusoneband.com
DEC. 9, 2018
DOLLS RAIDERS: Free Yourself - Album
This band started as IRON COBRA, but decided to change the name in early 2015. And that's when they also started to compose material for what would become their debut album, "Free Yourself". The music is best described as melodic hard rock n roll, inspired by everything from glam rock, hard rock and classic rock to good old heavy metal. 10 songs is what we get here, and it doesn't sound so bad at all. It might not be any hit potential in any of these songs, but it's rocking.
Release date: Dec. 14, 2018 (Mighty Music)
facebook.com/DOLLS.RAIDERS.Band
DEC. 9, 2018
BLACKDRAFT: The Quest - Album
BLACKDRAFT comes from the north of Germany, and this is their second album, which consist of as much as 15 tracks. A little too much, but most of these songs are really good stuff. And the thing is that 4 of those tracks are just shorter pieces, so there's actually just 11 songs. And that's not too much.
This is a concept album that they have been working on for almost 2 years. And it tells the story of the young researcher Runa Ágústsson, who comes from their hometown Hamburg. She set off for Iceland to start a journey into the deep sea. Along the way she meet strong, strange and eerie characters, as well as fantastic deep-sea creatures.
The soundtrack to this adventure is pretty melodic metal, with mainly female vocals, but also some male growl here and there. And as I said earlier, most songs are good, but some of my favourites must be "Motivation" and "Graveyard".
Release date: Dec. 14, 2018 (Mighty Music)
blackdraft.de
DEC. 9, 2018
MIMIKRY at Sticky Fingers in Göteborg, Sweden on December 8, 2018
2 punk concerts on the same night? That doesn't happen too often. And both bands played on a sensible time, which doesn't happen too often either (for some reason most shows have to be in the middle of the night here in Sweden, which I think is extremly stupid).
MIMIKRY are veterans in the Swedish punk scene. They must have been around for at least 20 years now. They are often labeled as trallpunk, but I think their music is more like melodic punk rock instead. Sometimes almost rock. They are a very good band, both when it comes to their music and their live shows. And that's something that they definitely proved this night. A lot of people in the audience who was happy to see them as well.
I don't think I have seen MIMIKRY in.. I actually don't know how many years it could be, but it's a lot of years since I saw them last time. So it was nice to see them again.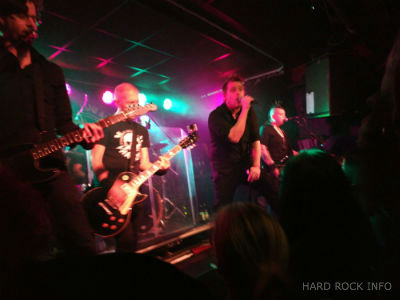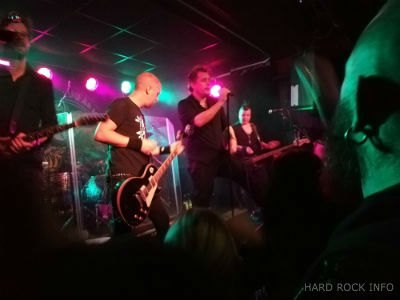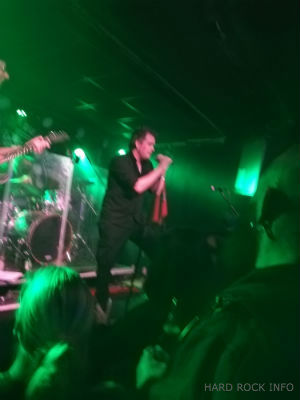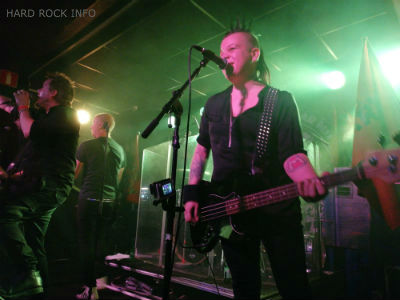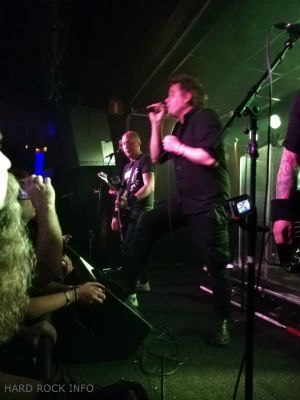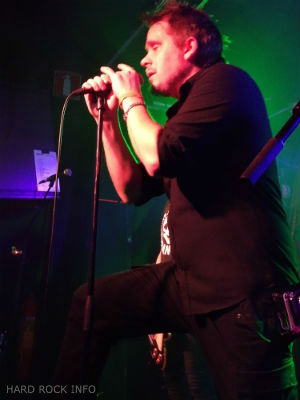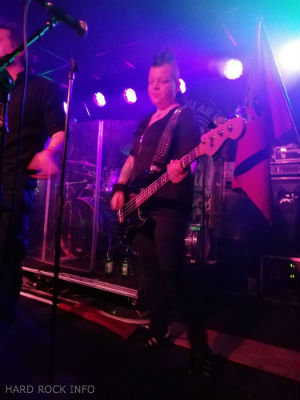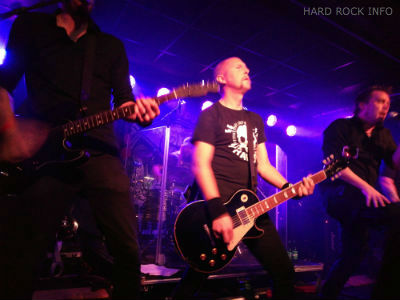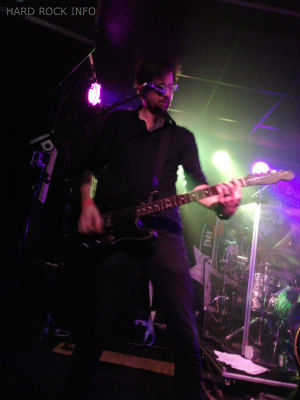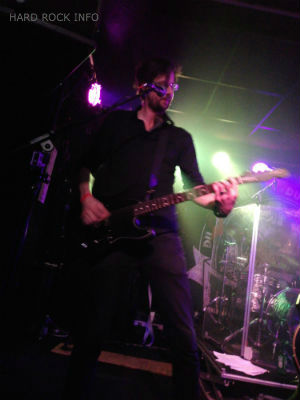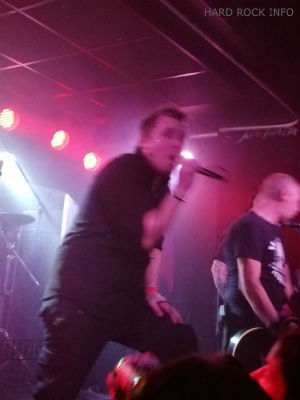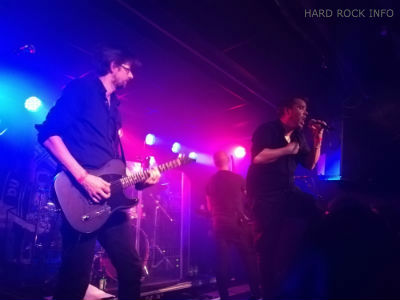 facebook.com/mimikrysverige
DEC. 9, 2018
PASTORATET at Bengans Fik in Göteborg, Sweden on December 8, 2018
This was a pretty early show, 18.30 in the evening, so there wasn't more than somethig like 15 people when they started to play. But when they were done, there must have been around 25-30 people in the audience.
Anyway.. PASTORATET is a Swedish punk rock band that has been playing since 2009. The members have been playing in different bands since the early 90s. Their music is often very catchy and melodic. Sometimes you could call it trallpunk. But most of their songs was more like ASTA KASK and STREBERS. A very good band anyway. And even though there wasn't that much people and the stage was very small, they delivered a good show.
They release a new CD on December 18 via Second Class Kids Records.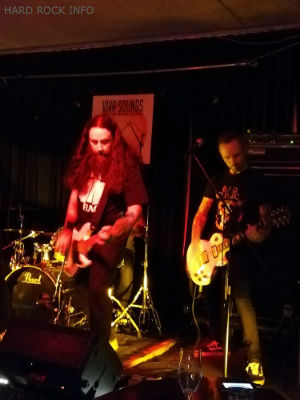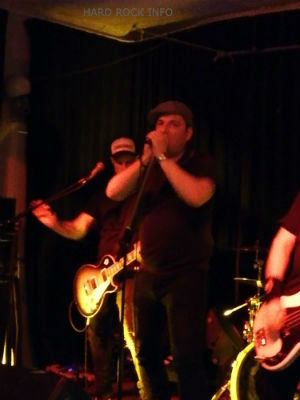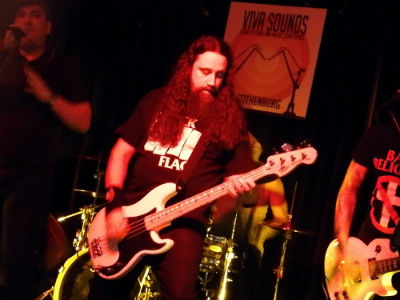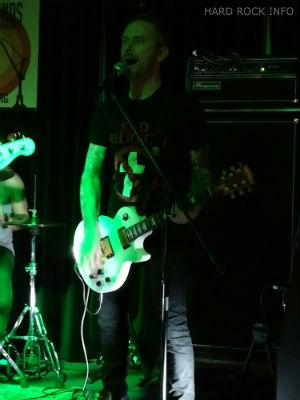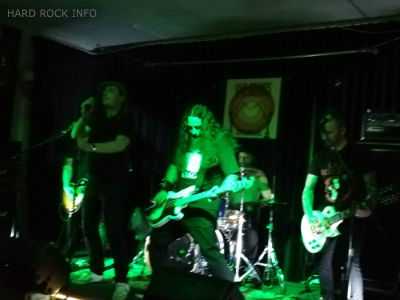 pastoratet.se
DEC. 9, 2018
OPEN SURGERY: After Birth Abortion - EP
This little EP is the third release from OPEN SURGERY. It has been recorded and produced entirely by the band. This group always has a theme on their recordings. And this time the lyrics are inspired by real life horrors. The music they play is Florida style death metal.
Little EP by the way? We actually get as much as 6 tracks here. But then they are no longer than approximately 2 and a half to 4 minutes. And their songs are pretty o.k. I have heard both better and worse. They are not trying to be original. This is death metal in the old school. So if you like that, then you should check them out.
Release date: Dec. 17, 2018 (BVR Records)
facebook.com/opensurgery
DEC. 8, 2018
KHORS: Beyond The Bestial - EP
"Beyond the Bestial" is said to reflect the evolutionary development of KHORS in many aspects, as this is what they have been working on for the past year. This EP consists of 3 new songs and a new approach to 3 old songs from the album "Mysticism" to honor its 10th anniversary.
To put this band in just 1 genre seems to be a little stupid, because this is so much more than just 1 type of music. It's labeled as pagan black metal, but then we also have these atmospheric landscapes.
They start with the title track, which I would describe as melodic black metal. But it also has some atmospheric ingredients. And the next track is something similar, while the third track seems to be a instrumental and more melodic piece. Well, it continue like that - a mixture of black metal and atmospheric soundscapes - and I guess that's what they mean when they call it pagan black metal. Pretty good stuff anyway, even though everything might not be so good.
Release date: Dec. 8, 2018 (Ashen Dominion)
facebook.com/Khorsband
DEC. 8, 2018
VOICES FROM BEYOND: The Black Cathedral - Album
VOICES FROM BEYOND formed in 2006. They play traditional heavy metal with both melody and aggressiveness. They take inspiration from horror movies and Lovecraft's tales. In 2008 their first EP was released, which was followed by a album in 2009. Then I don't really know what happened, but after some lineup changes they are now back with their second full length.
Well, it's not that bad, but there's hardly anything excellent either. A album that you listen to a few times and like a little, and after that you probably forget it. But who said that it was easy to make a masterpiece?
(Volcano Records)
facebook.com/voicesfrombeyond
DEC. 7, 2018
VISCERA: City Of Dope And Violence - EP
What's wrong with the voice? It sounds like they have slow it down, and that sounds really stupid (UPDATE on Dec. 8: It could be because of corrupted files, but I'm honestly not sure). Otherwise it's pretty o.k., but not much else. At least 2 of these 3 tracks. "CODAV" is totally useless. I find it very hard to believe that this will go down in history as something great though. But I'm man enough to admit that I'm not always right. So who knows? But if they want me to like them, then they should have a normal sound on the vocals, and no shit like "CODAV". But that's just my opinion of course.
VISCERA is an Italian band, who are said to play post hardcore. But they actually started as a grindcore band in the early 2000s, but that changed very fast when they started to mix in some post metal. And they have never stoped to develop their sound.
This 3-track EP sounds dark and really heavy. I think more of sludge than hardcore. People who like it heavy should give this band a try.
(Third I Rex)
DEC. 7, 2018
Kurt Baker: Brand New B-sides - Album
American high school rock that makes you happy. Very catchy and melodic. But I like it.
Now I don't have that much information about this LP, but it seems like it was originally released on CD through Rum Bar Records (don't know when though). I don't know too much about Kurt Baker either. But according to his Facebook page he comes from Portland, Maine, and is living in Madrid, Spain today.
Let's put it this way: If your girlfriend think that you listen to too much noise, then put this record on and she will love it.
(Beluga Records/Ghost Highway Recordings)
facebook.com/kurtmiltonbaker
DEC. 7, 2018
INTERCEPTING FORCE: Intercepting Force - Album
Norwegian heavy metal band that was founded in the early 2000s. They have had several changes in the lineup through the years, but main focus have always been to write and perform classic and melodic heavy metal with a fast and aggressive touch. In 2014, the founders of the band, who call themselves AMC and AY, decided to record their debut album as a duo. They have got help from a few session musicians though. It has taken them 4 years, but in May 2018 the self titled album was finally here.
I don't know if the album didn't get enough attention, because now it gets a second promotional campaign. And this is a album that actually need all the attention it can get. So all fans of old school heavy metal, wake up!
(IndigoBoom)
interceptingforce.com
DEC. 7, 2018
HELLNITE: Midnight Terror - Single
HELLNITE formed originally in Mexico City in 2010, but have now re-established in Edmonton, Canada by founding member, vocalist and guitarist Paolo Belmar. Their debut album, "Midnight Terrors", will be released on February 12, 2019 via Sliptrick Records, and I guess it's not so hard to figure out that this song (who have the same title) comes from that album.
The music is some kind of thrash/heavy metal, but for some reason they just have to play for over a minute before there's any vocals. But that's all I can find to complain about. Otherwise it's a pretty good song (not much else though).
(Sliptrick Records)
facebook.com/Hellnite.Mx
DEC. 7, 2018
FRANCES BLOOM: Stranger In The Crowd - Single
Grunge rock is what they call this Swedish band's music. And sure, there's a touch of NIRVANA, but they're not afraid to blend in some hard rock in their brew.
These guys are hardly a new band. They have been playing together for more than 10 years, but under the name SHERLOCK BROTHERS.
Well, this song sounds really good. So maybe you should check it out then? Yes, do that.
(Ninetone Records)
francesbloom.com
DEC. 7, 2018
DALAPLAN: Sista Dagarna På Året - Single
Hm, some kind of power pop in the southern Swedish dialect Skånska. A catchy little tune that reminds me a little of Swedish band BOB HUND before the reunion. So people who like that band should give this a try, because it's not bad at all.
"Sista Dagarna På Året" is the first single from their 4th album, "Du Går Aldrig Ensam", which will be released on January 1, 2019 (of all dates). There will be as much as 14 tracks on that album, with lyrics about love, hate and seperation. It will also feature guest apperances from some Swedish artists, like Stefan Björk (WILMER X), Niklas Vahlberg and Hans Östlund (both from The NOMADS).
The band was signed to Swedish label Gaphals between 2012-2018, but have now signed to Beluga Records instead.
(Beluga Records)
dalaplan.nu
DEC. 7, 2018
CORRODED: Burn - Single
CORRODED have never got any good reviews here, but now their label said that it was more angry and darker than what we are used to with this band, so I had to give this single a try to see (or hear) if they were right. And yes, they were actually right. And believe it or not, but I actually think they are a lot better than before. They should have played like this from the beginning. But better late than never as the teacher said to the kid who was always late.
This little single comes from the big fifth album "Bitter", which will be released on January 25, 2019.
CORREDED is a Swedish hard rock band. Since their debut in 2009, they have had big succees here in Sweden. But as I said in the beginning, I have never really liked what I heard. Not until now anyway. Now it will actually be very interesting to hear some more new songs.
(Despotz Records)
corroded.se
DEC. 7, 2018
SPLENDIDULA: Post Mortem - Album
"Post Mortem" is the second album from this Belgian post rock/doom/sludge band. They create a musical landscape of intense and modern rock, with heavy riffs and atmospheric passages. It's mainly clean female vocals, but once in a while there's a man with a harsh voice. It's like a little adventure to listen to this.
I guess this is the kind of album that you might have to give a few chances before you can really enjoy it. It's far away from advanced though.
Release date: Dec. 14, 2018 (Inverse Records)
facebook.com/Splendidula
DEC. 6, 2018
VVORSE: Ajatus Vapaudesta - EP
VVORSE comes from Jyväskylä, Finland, and call their music neo-crust (whatever they mean by that?). This is their third release, which consist of 5 heavy and aggressive hardcore attacks that will scare the shit out of your neighbours. There's a dark and dystopic atmosphere. No room for hope here. But even though it might sound hopeless, I like what I hear.
I have no idea what they sing about, because all lyrics are in Finnish. And even though both countries are Scandinavian, Finnish is very different from Swedish (which is my language).
Release date: Dec. 5, 2018 (www.inverse.fi/Inverse Records)
https://vvorse.bandcamp.com/
RUNESCARRED: Being God - Single
I got a single with this band a few months ago, where they did a cover of IRON MAIDEN's "Moonchild". Now they release 1 of their own songs. And it sounds really good too. It's US metal in the more professional style you could say. In other words progressive metal.
RUNESCARRED was formed by former members of the Austin, Texas band DEAD EARTH POLITICS, who joined forces with the drummer from SOUTHERN FRONT. Their debut EP, "We Are", was released in June.
(Self released?)
runescarred.com
DEC. 6, 2018
FORTH: Black Angel - Single
What we have here is a grunge rock band from Finland and Canada. How they met is unknown to me, but they deliver a pretty o.k. song here anyway.
FORTH have been playing since 2010. "Black Angel" is taken from their upcoming sophomore album, "Captivity". FORTH has 2 more singles slated for release in the near future, culminating in the release of the album in March 2019.
(Secret Entertainment)
forthband.com
DEC. 6, 2018
FOREST OF SHADOWS: Among The Dormant Watchers - Album
Swedish doom band FOREST OF SHADOWS return after almost 10 years. I have as far as I can remember never heard about them before, but this is their third album. And it's more slow than heavy you could say. Very dark and melancholy. Often inpired by folk music and melody-driven (if there is such a word like that). There are some harder and heavier parts too though.
We get 7 tracks, and they are from 5,21 to as long as 14,14 minutes. I guess that you have to be in the right mood when you listen to this. Othwerwise it will leave you totally exhausted. Darkness outside and a few candles might help.
Release date: Dec. 7, 2018 (Inverse Records)
youtu.be/USZRMQdDges
DEC. 6, 2018
DEATHKINGS: Ex Nihilo - EP
DEATHKINGS is a trio from Los Angeles, who formed in 2011. But they hardly sound like any angels (L.A. is often called the City of Angels in case you didn't know that). This sounds more like a sludge nightmare. 2 long songs that last for 8,41 and 6,16 minutes. Something for those of you who like it hard and heavy and a little scary. The rest can check out something else instead.
Release date: Dec. 7, 2018 (Self released)
deathkings.bandcamp.com
DEC. 6, 2018
DAYGLO MOURNING/BLUDY GYRES: Rope Enough For Two - Split Album
DAYGLO MOURNING gives us 3 tracks, while BLUDY GYRES are satisfied with just 1 really long song (17.35 minutes!).
DAYGLO MOURNING play heavy, but BLUDY GYRES is even heavier. And it actually takes something like 5 and a half minutes before there's any vocals at all in the last band's song. That song also includes a long instrumental part that is a little softer/almost psychedelic. Their song is actually loosely based on Jack and the Beanstalk. Both bands play really heavy doom metal and comes from Atlanta, USA.
DAYGLO MOURNING formed in the summer of 2017, so they are pretty fresh. And this is the first 3 songs recorded by this trio.
BLUDY GYRES formed in 2014. They have their roots in BLACK SABBATH as well as some 70s British prog. They have previously released 1 EP and 2 singles.
Release date: December 7, 2018 (Black Doomba Records)
DEC. 6, 2018
JUNIPER GRAVE: Of Hellions & Harridans - Album
I really like this album! They have lots of good songs here.
JUNIPER GRAVE is a Scottish band, that play occult rock. Or 70s doom rock, if that gives you a better idea of their sound. They formed in 2016, and this is their debut album. The lyrics are little stories of warrior women, accursed souls and similar things.
Well, as I said in the beginning, really good stuff. I know that there's a million similar bands nowadays, but this is a little extra good somehow. You have to check this out!
Relese date: Dec. 7, 2018 (Wasted State Records)
junipergrave.com
DEC. 5, 2018
FLEDDY MELCULY: Live @ Graspop Metal Meeting '18 - Album
This is currently Belgian's most succesful metal act. They have been played on national radio and had chart positions at No. 1. All their lyrics are in Flemish. And after just 1 single and 2 albums, they thought that they were ready for a live album. And why not? It sounds like they are an explosive live band, and definitely not any amateurs. The audience at Graspop Metal Meeting know the songs and sing along.
How do I describe their music then? Some kind of modern metal in the hard and heavy league, with hardcore vocals (almost rap sometimes). More late 90s and later than the traditional metal. And that might not always be so interesting for an old fart like me, but this band are actually pretty good. So it could be worth a try. But I guess it's more interesting to see them live.
Fleddy Melculy is said to be the bastard son of Lars Ulrich and Lita Ford. It was not going well for metal, so the spirit of Dimebag Darrell appeared in front of Fleddy and sent him on a mission to save metal. Funny story..
Release date: Dec. 7, 2018 (Sony Music in BeNeLux and digital worldwide)
fleddymelculy.com
DEC. 5, 2018
PICTURE: Warhorse - 2LP reissue
This is the 9th and so far latest studio album from these Dutch heavy metal veterans. It was released in 2012, but will now also be released as double LP (or vinyl as the trendy people say). When this was recorded the line up looked a little different. For example, Pete Lovell was singing instead of original singer Ronald van Prooijen (who has returned to the band since then). The other members was Mike Ferguson on guitar, Rinus Vreugdenhil on bass, Peter Bourbon on guitar and Laurens "Bakkie" Bakker on drums. Rinus and Laurens are the only ones from this line up that is still in the band today.
For some reason there's as much as 14 tracks here, which makes it last for over an hour. That's a little too much actually. But there's lots of good songs anyway, so it's absolutely not hopeless. Any fan of classic heavy metal should give this a try.
PICTURE are currently working on a new album, which will be released next year.
Release date: Dec. 14, 2018 (Pure Steel Records)
pictureband.nl
DEC. 4, 2018
PERTNESS: Metamorphosis - Album
This is the 4th album from this Swiss power metal band. But even though they're a power metal band, they're not afraid to blend in elements of melodic thrash metal, Celtic folk music and what I call pirate metal. The material on this album is fresh and dynamic. You should not get bored in this company.
I like what I hear anyway. So even though I don't have much to say, you should definitely check this out.
Release date: Dec. 7, 2018 (Pure Steel Records)
pertness.ch
DEC. 4, 2018
LEVEL FIELDS: 1104 - Album
Musicians from several underground bands got together to form this band. Their first song was released in 2015, and now their debut album is here, which includes 8 compositions of metal with doom and progressive influences. Sometimes there's also some thrash and US/power metal too. And it's not so bad actually. Maybe not a masterpiece, but absolutely good enough for daily life. This is high quality metal made by professionals.
And now you might wonder who these guys are. Well, on vocals we have a man named Alan Tecchio (AUTUMN HOUR, NON FICTION, WATCHTOWER, SEVEN WITCHES, HADES), on bass Client Arent (AUTUMN HOUR), Marco Ahrens (POVERTY'S NO CRIME) on guitar and Andreas "Theo" Tegeler (POVERTY'S NO CRIME, LIFE ARTIST, BLEEDING) on drums.
Release date: Dec. 14, 2018 (Pure Steel Records)
facebook.com/LevelFieldsFanPage
DEC. 4, 2018
NATTRAVNEN: Kult Of The Raven - Album
Original DEATH and MASSACRE vocalist Kam Lee has written a story about the legend of the Night Raven, in addition to complete lyrics of this album. Jonny Petterson of HEAD FOR THE DEAD and WOMBBATH has created the music to Kim's lyrics.
I would say that there's both good and bad parts here. Nothing is really excellent, but nothing really sucks either. They call this dark death metal, but it sounds more like black metal to me. At least in the faster songs. But you could also say that this is a combination of death metal, black metal and atmospheric doom metal.
Release date: Dec. 7, 2018 (Transcending Obscurity Records)
nattravnen.bandcamp.com
DEC. 4, 2018
PAVLOV'S DOG: Prodigal Dreamer - Album
I'm not really sure why they have to torture my ears with both a violin and a piano. And sometimes I wonder if the vocalist actually is a singer at all. It's probably meant to be theatrical, but he sounds more like a drunk Irish man. And on top of that the music is not the best. It might not be the worst that I have heard though. 1 of the few songs that I actually like is "Hard Times".
The music is labeled under the genres classic rock, folk rock and progressive rock. If that might give you an idea about what it could sound like?
It seems like it's as much as 8 years since PAVLOV'S DOG released their last studio album. But it seems like that is nothing unusual when it comes to this band.
Release date: Dec. 7, 2018 (Rockville Music)
DEC. 3, 2018
The KRP: In My Head - Album
Another band who thought it was a good idea to start the album with a piano. I hate piano! And just like that wasn't stupid enough, the whole album consist of slow songs. Not really my kind of stuff, and not good for my bad nerves. You have definitely sent this to the wrong person. But if you have nothing against soulful singer/songwriter soft rock, then you could try this.
The KRP stand for The KEITH REID PROJECT, and Keith Reid is the man who formed PROCOL HARUM (most well-known for "A Whiter Shade Of Pale") together with Gary Brooker back in 1967. "In My Head" is Keith's second solo album, which features as much as 6 singers: John Waite, Steve Booker, Anthony Krizan, Jeff Young, Chris Merola and Maya Saxell. I have never heard about any of them, so I don't have a clue where they come from.
I can honestly not hear 1 single song that I like. To me this is just a tragic disaster that reminds me more of Norah Jones than rock.
Release date: Dec. 7, 2018 (Rockville Music)
DEC. 3, 2018
ETERNAL DREAM: Daementia - Album
Why can't she sing normal? She's in a metal band and not at the opera! I hate opera! And that's the reason why I don't like this kind of symphonic metal. Nothing is good on this album according to me. But I&m pretty sure that people who actually like this will be happy when they hear it. It's epic and dramatic stuff. Just as it use to be.
The band comes from Malaga, Spain and has existed for 10 years already. This is just their second full length though. But they have released several singles and EPs as well.
Death to false metal as MANOWAR said. Well, death to opera metal then.
Release date: Dec. 7, 2018 (Pride & Joy Music)
facebook.com/EternalDreamOfficial
DEC. 3, 2018
BUCKETS REBEL HEART: 20 Good Summers - Album
BUCKETS REBEL HEART is a new band formed by former BAD COMPANY and HUMBLE PIE guitarist Dave "Bucket" Colwell, along with former 720 and NEW TORPEDOES drummer Paul "Taff" Edwards. The lineup is completed by vocalist Jim Stapley and bass player Dave "Boycie" Boyce (ex-The QUIREBOYS). This is their debut album, with 12 songs of American rock in the same school as Bruce Springsteen, LYNYRD SKYNYRD, GEROGIA SATELLITES, BAD COMPANY, HUMBLE PIE and similar artists.
You will get a little bit of everything on this album. The more melodic songs are good, but I almost like those heavier songs and those with more rock n roll a little bit more. For some reason there's something like 3 or 4 slow songs, and that's too much as 1 is already more than enough. But otherwise, no problem.
Release date: Dec. 7, 2018 (Pride & Joy Music)
facebook.com/bucketsrebelheart
DEC. 3, 2018
BORN AGAIN: True Heavy Nation - Album
This is a French heavy metal band which was formed in 2016. The idea was to create a melodic and heavy sound enlivened by a strong vocal performance. And the result is a candy bag of 70s and 80s bands like MOTÖRHEAD, JUDAS PRIEST, THIN LIZZY and BLACK SABBATH.
This is their second album. The sound is powerful and heavy, but yet catchy. They have some good stuff here. Like a cool cover of TWISTED SISTER's "You Can't Stop Rock N Roll" for example. Other favourites are "Ghost Rider" and "No Place In Heaven".
Release date: Dec. 7, 2018 (Pride & Joy Music)
bornagainmetal.com
DEC. 3, 2018
OTHISMOS: Separazione - Album
Italian nihilistic crust is what they call this. It's hard and heavy, hateful and angry, but also very dark and noisey sometimes. They have previously been compared to CRIPPLE BASTARDS, NASUM, NEGAZIONE, HIGH ON FIRE and CELESTE. That doesn't mean that they sound exactly like any of those bands though. Think crust/metal, and you might get an idea.
OTHISMOS started in 2009 as a punk/hardcore band, but had evolved into a hardcore/crust/extreme metal hybrid when their first album, "L'Odio Necessario", came out in 2015. This is their second album.
This is not something for the one who want nice melodies. But if you like it extreme, then this might be your thing.
Release date: Dec. 7, 2018 (Self released)
othismos.bandcamp.com
DEC. 2, 2018
DIRTY RATS: Rock n Roll - Album
Well, the title says it all actually. This is rock n roll, but not the old 50s rock, but more like the one that some hard rockers would play. Very catchy stuff. And the party vibe is high. Think about the old Australian bands, and you will get an idea about what these dudes sound like.
As a matter of fact DIRTY RATS is from Australia. And they deliver the legacy with pride. 8 original songs and a cover of VANDA & YOUNG's "Yesterdays Hero" is what we get here. And that cover together with songs like "Not Alone" and "Rat Town" are among my favorites.
Funny that they release this album on my birthday (a Tuesday). You usually release a record on a Friday nowadays. But I guess that smaller labels have their own ideas. And in this case it's the sooner the better that rules.
Release date: Dec. 4, 2018 (Sliptrick Records)
dirtyratsband.com
DEC. 2, 2018
AMORIELLO: Amoriello - Album
AMORIELLO is what they call a neo-classical hard rock project launched by guitarist, educator and author Tom Amoriello. The album features former and current members of BLACK SABBATH, DIO, Yngwie Malmsteen, Ozzy Osbourne, WHITESNAKE, QUIET RIOT, TNT, LOUDNESS, DOKKEN, IMPELLITERI, MSG and CACOPHONY. The whole album is like a tribute to the hard rock and heavy metal legends that Amoriello grew up with, and who has also inspired him musically.
The first song sounds a little like a progressive and melodic hard rocker from the 70s. I think of RAINBOW for example. The second song is a tribute to the late great Ronnie James Dio (DIO, BLACK SABBATH, RAINBOW), and sounds like something that he could have done. And it seems to be mainly the bands that Dio sang in that is the biggest influence on this record. But I can also hear some DEEP PURPLE and WHITESNAKE. So if you're a fan of hard rock from the 70s, then I can really recomend this to you.
People doesn't really do this kind of stuff anymore. Sure, many try, but only a few succeed. This is 1 of the few.
Release date: Dec. 7, 2018 (H42 Records)
youtube.com/watch?v=5mzeSO_uXR4
DEC. 2, 2018
AD PATRES: Symbiosick - Single
This single song comes from their second album, "A Brief Introduction to Human Experiments", which will be released on February 15, 2019. It's a heavier kind of death metal that we get here, but not really doom/death. Pretty o.k. stuff, so why not give it a try?
AD PATRES is a french band, and I don't really know what else I should say about them, as I don't know that much about them.
(XenoKorp)
adpatres.net
DEC. 2, 2018
RIFFLORD: 7 Cremation Ground/Meditation - Album
Another band who is on a mission to find the golden riff. But this is more than just good riffs. They actually succeed to make good songs of what they have found. So there's some good stuff to discover among these 13 tracks.
RIFFLORD was founded in 2007 by vocalist/guitarist Wyatt Bronx Bartlett and guitarist Tom Davoux, but the lineup has changed many times through the years. Their self released debut, "26 Mean and Heavy", was released in 2010. But it's not until now that their second release is here. They are nowadays based in Sioux Falls, South Dakota.
Imagine a wall of Orange amps on highest volume. Out comes fat and heavy riffs. Now I think you have an idea of what this band sounds like.
Release date: Dec. 1, 2018 (STB Records)
rifflord.com
DEC. 1, 2018
EVERGREY: A Silent Arc - Single
A pretty long song for being a single - 7,47 minutes. Now it was many years since I heard anything with this Swedish metal band last time. It was actually so long ago that I was still working (have not been able to do that for a few years). But I had a room where I could go and work by myself, and listen to some good music at the same time. I remember that I got a CD with a magazine, and there was a fantastic song by EVERGREY that I was listening to over and over again. I had heard them before, but this song was extra good. Anyway.. This new song is nothing like that old song. On the other hand it could be something like 8-10 years ago. Things have changed since then. Both when it comes to my health and EVERGREY's sound.
"A Silent Arc" is the first single from their upcoming album, "The Atlantic", which will be released on January 25, 2019. The music is epic, atmospheric and progressive metal, with a dark but yet raw sound. This track will open the new album, and is said to be a good taste of what the album will sound like. Try it.
(AFM Records)
evergrey.net
NOV. 30, 2018
STARCRAWLER: Hollywood Ending - Single
Here's a band that I have never heard of before (as far as I can remember anyway). They seems to be pretty new though, as they released their self titled debut album in January this year. But on the other hand there's bands who have been playing for 10-20 years before they release their first full length, so what do I really know?
Here's a new single with them anyway. And it sounds like some kind of modern catchy rock. They have been described as "if Ozzy Osbourne and Patti Smith had got together in 1975 and had a kid", "teenage LA glam-punks", a "mix of 70s theatricality and STOOGES electricity", "the future of the RocknRoll legacy of bands like KISS, X, SONIC YOUTH and The STOOGES", "no bullshit, just raw fuckin' power". They have opened shows for FOO FIGHTERS and toured with The DISTILLERS and MC50.
This song might not live up to those comments, but it's definitely not bad anyway.
(Rough Trade Records)
NOV. 30, 2018
MEN IN METAL: Let The Soul Spread Its Wings - Album
If you call yourself MEN IN METAL, then I don't expect a stupid intro with some pop song, and then some fucking idiot speaking before the song continue. This shit last for 3 and a half minutes. Idiots! You can keep your stupid drinking songs for yourself (unless it's something good like metal).
The rest of the material is better though, even if it's hardly excellent. Some kind of half good heavy/power metal from a couple of amateurs. This was probably not really meant to leave the borders of Russia though, as everything is in Russian. I had to write the English translation of the band name and title of the album, because I don't have the Russian alphabet on my computer. This is only available digitally though, so they will probably not get that much attention anyway.
Release date: Nov. 30, 2018 (Inverse Records)
facebook.com/uralheavy
NOV. 30, 2018
OLD MAN LIZARD: True Misery - Album
Inspired by the rural surroundings of their native Suffolk, British power trio OLD MAN LIZARD have pressed out their own type of stoner and sludge since 2011. Their releases have been highly praised by fans and critics alike. "True Misery" is their third full length, which cover a broad spectrum of influences. This is not the typical stoner or sludge band. But I'm pretty sure that any fan of heavy riffs and fantastic songs are going to like this. So don't be a jerk. Just try this. You will probably not regret it.
Release date: Nov. 30, 2018 (Wasted State Records)
facebook.com/oldmanlizard
NOV. 29, 2018
NIGHT CROWNED: Humanity Will Echo Out - EP
With titles like "No Room For Hope" and "All Life Ends", it's not exactly a bright and shiny future that they paint here. It's rather the end of the world. Blackened death metal while we wait for judgement day.
The band consist of current and previous members from Swedish bands like The CROWN, DARK FUNERAL, NIGHTRAGE and CIPHER SYSTEM. And what they have created on this EP is damned good! So it could always have been worse of course. They have taken the best parts from the Scandinavian 90s, and made 3 songs out of it. And this is just the first taste of this band. Man, I really look forward to hear some more from NIGHT CROWNED.
Release date: Nov. 30, 2018 (Black Lion Records)
facebook.com/nightcrowned
NOV. 29, 2018
VEONITY: Legend Of The Starborn - Album
Power metal band from Sweden. Guest apperances from people like Tommy Johansson (SABATON, REINXEED) and Patrik Selleby (BLOODBOUND, SHADOWQUEST). 13 tracks of high quality. They are hardly doing anything wrong here. That's for sure. So you better check this out as soon as possible, if you're a fan of power metal then. ..or any kind of heavy metal by the way.
"Legend Of The Starborn" is the sequel to the space saga that began on their previous album, "Into The Void", and it might actually be the hottest power metal album this month.
(Sliptrick Records)
veonity.com
NOV. 28, 2018
THUNDERMOTHER: Revival - Single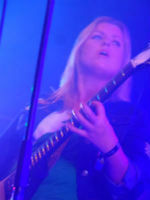 This sounds so much like AC/DC in the 80s. And nothing wrong with that. AC/DC did a lot of good stuff back then. So if you like high-energy riff rock with a powerful groove, then this is a song for you.
"Revival" is dedicated to their fans, and is the third single from their self titled album, which was released earlier this year. A damned good album that you absolutely should check out. Because these women know how to rock the shit out of everybody.
(Despotz Records)
thundermother.com
NOV. 28, 2018
Thomas Silver: The Gospel According To Thomas - Album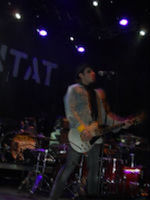 This reminds me a little of Billy Idol and some of the stuff that Iggy Pop did in the 80s, and sometimes even David Bowie around the Ziggy Stardust era. Rock with a gothic rock voice you could say. And we have plenty of good material here. No doubt about that. I like every song, more or less, on this album. Thomas have no reason to be ashamed for this album.
Thomas Silver is most well-known for being guitarist for Swedish hard rockers HARDCORE SUPERSTAR. But it's actually already 10 years since he left that band. He has since then had a solo career under different names (he called it SilverSilver a few years ago), but he also played with The LEATHER NUN many years ago. This is his first solo album with his own name though.
(Volcano Records)
facebook.com/thomassilverband
NOV. 28, 2018
GROZA: Unified In Void - Album
Raw but yet melodic. Or you could say that it's mainly the vocals that is brutal, while the music is often melodic. This is still black metal though. And it sounds really good to me.
GROZA started in 2016 as a 1-man studio project. But in early 2018 it became a full band, based in Bavaria, Germany. This is their debut album. 5 tracks is what we get, and it's over in less than half an hour.
I don't really know what else there is to say.. But you check this out of course.
Release date: Nov. 30, 2018 (AOP Records)
facebook.com/grozaband
NOV. 28, 2018
BULLHEAD: Tough Luck - Album
BULLHEAD gives us a rock brew of punk rock and grunge, and it's often melodic. Most of their lyrics reflects on today's egomaniac and anti-social society. They formed in Munich, Germany in 2015, and have previously released 2 EPs. Now their first full length is here, which consist of as much as 13 tracks. They have a few good songs though. But honestly not much else. Some songs are a little too similar to each other.
I guess a EP with the best songs would have been better for me, because they are not a bad band.
And now we have come to the funny part where I try to figure out what kind of people this will fit for. I would guess that fans of SOCIAL DISTORTION, NIRVANA and maybe even BACKYARD BABIES could like this. But that's just a wild guess of course.
Release date: Nov. 30, 2018 (Boersma Records)
facebook.com/bullheadofficial
NOV. 28, 2018
Rev Jones: Bakwash - Album
This is the solo debut from bassist/vocalist Rev Jones. He is known in the rock world for his amazing bass techniques and his crazy energetic stage presence, as seen onstage all over the world with several major acts, like STEELHEART, Leslie West, MICHAEL SCHENKER GROUP, MOUNTAIN, FUEL, George Lynch, Paul Gilbert, KOTTAK, BLACK SYMPHONY, BLASTED TO STATIC, GUNDRIVER, TEXAS HIPPIE COALITION and FORTE, just to name a few.
Drummer on this album is RACER X singer Jeff Martin, who played drums for BADLANDS once upon a time. A guy named Jim Dofka play guitar. And if you haven't figured it out yet, Rev himself take care of bass and vocals.
This album is a blend of metal, fusion/funk and prog with a hint of classic 70s and 80s hard rock/metal. And the musicians are absolutely not any amateurs, and their songs are not so bad. Maybe not any masterpieces, but definitely not bad anyway.
(?)
revjones.com
NOV. 27, 2018
SHOUT: People Of The Night - Album
This is really good! Reminds me a little of Swedish hard rockers BULLET for example. So hard rock/heavy metal with a touch of rock n roll and a big party vibe.
This is a new band from Sweden, with former members of The SCAMS, who played something similar if my memory is not totally wrong. But SHOUT live up to the name and declare it already in their first song, where they sing: "Scream and shout, that's what it's all about". This is louder and more party. Or the next step on the rock n roll mountain, where you always aim at the top.
BULLET better watch out. There's a new sheriff in town.
Release date: Nov. 30, 2018 (Lightning Records)
shoutofficial.com
NOV. 27, 2018
SVARTA SANNINGAR: Kapitel 1 - EP
This is not the fastest music. They paint a dark and gothic atmosphere. And their own description is a heavier version of Swedish artist Thåström, late 70s and dark metal. It's very melancholy and soft. Not that much metal actually. I think of Swedish pop band KENT (not that I have heard that much with them), but with darker lyrics. I would prefer more heavy guitars. Then I could probably agree on their description. It's not bad though. But if they have any plans on making a full length in the future, then they have to variate the material a bit more. Because it's more or less the same thing in every song here.
SVARTA SANNINGAR is a new band from the city where I live, Borås, Sweden. Their singer, Klas Bohlin, are also a member of BESEECH, and has previously been singing in DEPRESSIVE ART. In this band he has choosen to sing in Swedish, and this is their first release.
Release date: Nov. 30, 2018 (Self released?)
svartasanningar.se
NOV. 27, 2018
WICKED GARDEN: Already Gone - EP
This is said to be Las Vegas' hottest alternative rock band, and this is their debut maxi single (as they call it, I call it EP). Their debut album, "Post Dystopian Leisure Music", will arrive in February 2019, and these 3 songs is a sample of what you will get on that album.
Well, if this is the hottest that they got in Las Vegas, then it's not much of a fire. I have been listening over and over again, and I can never come up with anything to say about these songs. They are not totally useless though. Pretty catchy rock.
Even though this is their first release, WICKED GARDEN formed in 2011 already. At that time it was simply just to play their favorite tunes from the 90s. The current lineup of the band have been playing since 2016. They have got awards for being the best cover band, which made some people start saying that the band couldn't write their own material. So to show these people they were wrong, they simply wrote some of their own songs.
(Shock Records/Vanity Music Group)
NOV. 26, 2018
WEAPON UK: Set The Stage Alight, The Anthology - LP
WEAPON UK formed as FAST RELIEF in the late 70s, but changed the name to WEAPON in early 1980. The original band split up in 1981 after just 1 single and a demo. But they had actually finsihed all the tracks for their debut album before they split up. And what we get here is those songs plus 4 demo tracks (probably everything that the original lineup ever recorded).
Why it's released under the name WEAPON UK, when it's old songs by WEAPON, is a good question though? But why waste time on small details like that? The music is good old NWOBHM, and they have some good songs here. A total of 12 tracks in 45 minutes.
By the way.. The original line up of Bruce Bisland, Baz Downes, Jeff Summers and Danny Hynes are going to reunite for 1 or 2 gigs in March 2019. They plan to play their original set from 1980, which means the songs on this album. Cool.
Release date: Nov. 30, 2018 (Pure Steel Records)
weapon-uk.com
NOV. 26, 2018
The PSYCHO SEASON: Grunge River - Album
The PSYCHO SEASON is a band from Oulu, Finland who play dark, gloomy rock with influences from grunge, stoner rock and heavy metal. The band was founded in 2010, and has released 3 full length albums, 1 Ep and 2 demos.
If you want to make it easy for yourself (which most people like to), you could call this grunge/metal. The album features a cover of "We Die Young" by ALICE IN CHAINS, and it melts in perfectly with their own songs. So people who like that band will probably like this.
This record is available for streaming/download as well as on cassette and CD.
(Inverse Records)
facebook.com/thepsychoseason
NOV. 26, 2018
PLANET OF ZEUS: Live In Athens - Album
Greek band who release their first live album with as much as 18 tracks. They play some kind of groove/stoner rock with a touch of Southern rock. Hard and heavy, but yet catchy somehow. Good in the beginning, but I get tired of this after a few songs. But then they play something good again, and it goes up and down like that - A good song here, a bad song there. Something that irritate me is that boring drumming that last for an eternity. Yes, it&€#39;s not even a drum solo. And later on it's almost the same with a guitar instead. Useless!
This will not become a future classic, but if you like heavy rock music, then you should give this a try at least, and don't just listen to what I have to say about it.
PLANET OF ZEUS comes from Athens, and have been around since 2000. They have released 4 studio albums and toured around Europe several times. They must have been lurking under the radar, because I have never heard about them before.
Release date: Nov. 30, 2018 (ihaveadrum Records/VEA Music)
planetofzeus.bandcamp.com
NOV. 26, 2018
A HERO FOR THE WORLD: Winter Is Here (A Holiday Rock Opera Pt. 2) - Album
This guy is so crazy about the Christmas season that he has done another rock opera for it (the first one was released 5 years ago). Most of the songs are more or less well-known Christmas and winter songs, but there's a couple of original songs too. This is the first time we get vocals in Swedish and Spanish, but the main language is English. This is extremely epic and majestic, as well as symphonic and cinematic, rock and metal. Just as it always is when it comes to A HERO FOR THE WORLD. Some of this stuff is just too much for me. But when he calm down a bit, it's not so bad.
A HERO FOR THE WORLD is mainly Jacob Kaasgaard from Sweden on everything. But he also get some help with female vocals from the Philippine Louie Ryan. And on this release there's also some guest musicians: Felipe Gruber (additional rythm guitars) from Venezuela, Crissy (female vocals) from USA, Joe Di Fiore (saxophone) from USA and Steve G (pedal steel guitar)from UK. So this is a international project/band.
This album comes in 2 different versions. The regular version have 14 tracks, while the extended version have several bonus tracks. And that last version is just for the most fanatic Christmas fans, because it's just more or less other versions of some of the songs that you already have heard (and sometimes twice), plus that they sing "We Wish You a Merry Christmas" something like 100 times and a instrumental piano piece (not really sure what that piano piece has to do with Christmas though).
(Jacob K Music)
aherofortheworld.bandcamp.com
NOV. 25, 2018
TEN: Illuminati - Album
I don't know.. They are not doing anything wrong here, and nothing is really useless, but they just don't have the songs. Background music that goes in and out. Melodic hard rock is not supposed to be like that. You shall have very strong material. Every song should have hit potential, more or less. I can't hear 1 single hit song on this album. And how many ballads is there? At least 2.
This British band have existed for over 20 years now. Their last album, "Gothica", was released as late as last year (can't remember what I might have written about it though). Maybe they should calm down and work a little bit more on their songs? We don't really need a new album every year. And especially not if the quality is this low.
(Frontiers Music Srl)
NOV. 24, 2018
NORDIC UNION: Second Coming - Album
As you might know already, NORDIC UNION is a collaboration between Danish singer Ronnie Atkins (PRETTY MAIDS) and Swedish songwriter/producer/multi-instrumentalist Erik Mårtensson (ECLIPSE, W.E.T.). The partnership started during 2015, and their self-titled debut album was released in January 2016. Now the second album is here, which gives us more of their melodic hard rock. Fans of the more melodic material from PRETTY MAIDS, as well as bands like ECLIPSE, TALISMAN, W.E.T. and similar things should find something that they like here. It's absolutely not bad. That's for sure.
(Frontiers Music Srl)
NOV. 24, 2018
HOLTER: Vlad The Impaler - Album
HOLTER was born as a one-off musical project by 2 Norwegian metal and hard rock giants: Trond Holter (ex-WIG WAM, JORN) and singer Jorn Lande. The project has now morphed into a regular musical project with guitarist/producer/songwriter Trond Holter as the leader. Jorn has been replaced with 2 singers: Nils K Rue (PAGAN'S MIND) and Eva Iselin Erichsen. The other members on this album are Bernt Jansen on bass, Per Morten Bergseth on drums, and Erling Henanger on keyboards.
Vlad, also known as Vlad Dracula, was voivode (or prince) of Wallachia 3 times between 1448 and his death, and is the historical figure that inspired the famous legends about Dracula. All songs are about Dracula and vampires.
When it comes to the music, it's hard rock and melodic heavy metal. And there's lots of good songs on this album.
(Frontiers Music Srl)
NOV. 24, 2018
DOOMSDAY OUTLAW: Suffer More - Album
Suffer more? No thanks! I have suffered more than enough already. But that's a other story, and it's hardly because of this band. Some stuff on this album is brilliant, while some of these songs goes in through 1 ear and out through the other. And 15 tracks is way too much at once. It's like it never ends.
They could have made a excellent 6-track EP instead. Because songs like the title track (the chorus!) and "Saltwater" are fantastic. But "Bring You Pain", "Fallback", "I've Been Found" and "Wait Until Tomorrow" are not bad either. Some of them reminds me of Glenn Hughes, and 1 even reminds me of AC/DC's "Bad Boy Boogie". There's a few more o.k. songs, but most of them are no more than fillers. Nothing is useless though.
What kind of music do they play then you might ask? Well, it's what I would describe as bluesy hard rock with a lot of melody. They are from Derbyshire in the UK.
(Frontiers Music Srl)
NOV. 24, 2018
UNEARTH: Extinction(s) - Album
I think that some of us still see metalcore as a pretty new genre in metal. But is it really that new? This gang from Boston have been around for more than 20 years already. So new genre? I don't think so.
We can call this old school metalcore actually. Because it's a lot of hardcore in their music, but mixed with really heavy guitars, which gives that touch of metal. No clean vocals or melodic choruses here, like the more modern bands. And I guess it's that little piece that makes me like this band a bit more than the rest of the bands in this genre. It also makes the anger more true somehow. No lame teenage agony here. Just pure aggression.
(Century Media)
facebook.com/unearthofficial
NOV. 23, 2018
NATURE MORTE: NM1 - Album
NATURE MORTE is a mysterious Paris-based post rock/black metal band, and this is their debut album. It seems like this band have succeeded to make the soundtrack to the darkness that I see when I look out of the window. These 4 long tracks is a musical landscape of atmospheric instrumentation, heavy riffs and rythmic metal grooves. It's very dark, but also meditative. But there's brutal outbursts too. It seems like they have found their own style at least.
Release date: Nov. 23, 2018 (Argonauta Records)
ntrmrt.bandcamp.com
NOV. 22, 2018
SONS OF LAZARETH: Blue Skies Back To Gray - Album
Debut album from this Italian band, who formed in 2014. They are influenced by bands like KYUSS, FOO FIGHTERS, QUEENS OF THE STONE AGE, FU MANCHU, ELDER, BARONESS, UNIDA, CLUTCH and SOUNDGARDEN. So it's stoner rock/grunge that they play. They have their own sound, but if you like those bands, then this can be of interest to you. It's defintely not bad at all.
Release date: Nov. 23, 2018 (Argonauta Records)
facebook.com/sonsoflazarethband
NOV. 22, 2018
MASTER: Vindictive Miscreant - Album
Very punk for being death metal, you could say about this. But that's a combination that I really like, so I enjoy this a lot. I think of the faster songs with the Dutch band ASPHYX for example. But also several of all these old-school bands. Simply good stuff that everybody who like death metal as well as crust punk should like. And if there's anyone who think he/she are just going to get 1 death metal album this year, then this is a hot tip (not that I know why you should be satisfied with only 1 death album per year, but there's so many weird people with weird ideas nowadays).
MASTER is a legendary band who is based in the Czech Republic nowadays. The band have, with different members, been around for 3 and a half decades. They have set the standard for both old and new bands. So I don't think they need any deeper presentation here.
Release date: Nov. 28, 2018 (Transcending Obscurity Records)
masterdeathmetal.bandcamp.com
NOV. 21, 2018
A CANOROUS QUINTET: The Only Pure Hate -MMXVIII- - Album reissue
This band was formed back in 1991 already, under the name A CANOROUS QUARTET. But in 1993 they went through some lineup changes and became A CANOROUS QUINTET instead. "The Only Pure Hate" was released in 1998, and is their second album. But the album didn't turn out as they expected. The sound was too weak, and on top of that there was also some tension in the band. All of this led to the decision to disband A CANOROUS QUINTET.
In 2005 the members started a new band called THIS ENDING, who played some songs by their former band live. In 2016 Peter Nagy (MÖRK GRYNING, ETERNAL OATH) joined the band, who suggested that they should play live as A CANOROUS QUINTET, and later on reform and re-record "The Only Pure Hate" as it was supposed to be. And now, 20 years later, the album is finally here with the sound it was supposed to have from the beginning. But this release will also include a previously unreleased track, called "The Plague That Haunts Me", which was meant to be included on the original record but was dropped at the time.
This Swedish band have current and previous members from bands like AMON AMARTH, GUIDANCE OF SIN and OCTOBER TIDE. They play melodic black/death metal, and I think it's a really good album. I guess that fans of AMON AMARTH and AT THE GATES should like this.
Release date: Nov. 30, 2018 (Black Lodge Records)
NOV. 21, 2018
BLADE KILLER: High Risk - Album
Debut album with a old school heavy metal band from Los Angeles. Those who like what we use to call traditional or classic heavy metal, and particularly what is called NWOBHM, will love this band. There's a touch of the 2 first albums with IRON MAIDEN, but also many other influences from the same era. There's no long progressive adventures here. No song is longer than 4,46 minutes. These 8 tracks are over in less than half an hour. Short but sweet (just like this review).
Release date: Nov. 23, 2018 (M-Theory Audio)
bladekiller.bandcamp.com
NOV. 21, 2018
BAD RELIGION: My Sanity - Single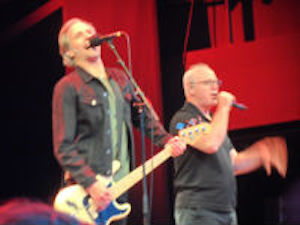 Many singles from BAD RELIGION lately. This is the third single in just a few months. They are currently working on a new album, that will be released next spring, so I guess we can expect more singles during the coming months.
Anyway.. Sometimes BAD RELIGION take a step back and calm down a bit. They play a little slower than usual (which isn't so much slower), and are almost a little deeper than they already are. This is one of those songs. You can still hear that it's BAD RELIGION though, and it's just as good as any other song from these L.A. veterans.
So far so good. Now I have just heard these 3 singles, but it would really surprise me if they did something totally unexpected. I think the new album will be great.
(Epitaph)
badreligion.com
NOV. 21, 2018
SACROSANCT: Truth Is - What Is - Album reissue
This band was formed in 1988 by Randy Meinhard, a former member of PESTILENCE. He wanted to play more complex thrash metal. SACROSANCT's debut album, "Truth Is - What Is", was recorded in 1990. On this re-release of that album, we also get the 4-track demo "To Die Cast", which also features ex-PESTILENCE drummer Marco Foddis.
Well, complex thrash metal is a really good description. I think of early METALLICA when I hear this. Maybe not the exact same thing, but something similar at least. And it's not bad at all. This is definitely worth a try.
This band has actually recorded a new album, "Necropolis", which I think will be released in the end of this month. Randy is the only original member left in today's lineup of the band.
(Vic Records)
NOV. 20, 2018
PAGANIZER: Promoting Total Death - Album reissue
"Promoting Total Death" is Swedish death metal band PAGANIZER's second album. It was recorded at Necromorbus Studio in 1999. The album have now been remastered, and will be re-released with 2 bonus tracks. I guess you already know this band, but in case you don't, let's just say that PAGANIZER are hardly here to be different. It's true Swedish old school death metal just the way it's supposed to be. No modern tricks or technical adventures. And this is really good stuff of course. So if you don't have this album already, now you have the chance to change that.
Release date: Nov. 22, 2018 (Vic Records)
NOV. 20, 2018
BLOOD: Depraved Goddess - Album reissue
If you want it short fast and brutal, then this might be something for you. But if you want melodies and something called music, then this is absolutely not the band for you.
BLOOD was formed in Germany back in 1986 already, and they are still active today. They have so far released 8 full length albums and several demos and split EPs. "Depraved Goddess" is their fifth album, which was released in 1996. It contains as much as 21 tracks of brutal grind/death metal. And just if that wasn't enough noise, this re-release has 3 exclusive bonus tracks. But the songs are short.
Their 6th album, "Gas Flames Bones", will also be re-released with bonus tracks this month.
Release date: Nov. 23, 2018 (Vic Records)
NOV. 20, 2018
Jean Beauvoir: Rock Masterpieces Vol. 2 - Album
So, this is the second and last edition of this career spanning collection (Vol. 1 was released in July). And just like its precursor this album features songs from his solo career, as well as his bands CROWN OF THORNS and VOODOO X (he has also been a member of The PLASMATICS, song writer/producer for RAMONES and KISS among many others). All songs have been remastered. This is a must for any fan of melodic rock/AOR.
Jean continues to write, record and produce solo projects as well as collaborate with other artists in various genres, while staying active in film and television projects both as a lead actor and/or executive producer. This is not the last we will hear from him.
Release date: Nov. 23, 2018 (AOR Heaven)
jeanbeauvoir.com
NOV. 19, 2018
DAN REED NETWORK: Origins - Album
This band might have male members, but their music doesn't sound so male. Very soft and melodic rock. But sure, DAN REED NETWORK have hardly ever been the hardest rock band on the planet. But I can't say that I have been following these veterans through the years. And I have totally forgotten what the last album I reviewed with them sound like (probably something similar to this though). The only song that I can remember is that hit from the late 80s, "Rainbow Child", which they have included here as the last song (a re-recording).
Now you might think that I hate this album. But I have to admit that the first time I heard it, in the night, it was pretty catchy and not so bad after all. Next time I listened to it, it was in the middle of the day and sunshine. Worked fine too (for a few songs at least). So this album is not totally hopeless anyway.
Another good thing is that they are satisfied with just 8 tracks. Now there might be a version with more tracks, but that's enough for me.
Release date: Nov. 23, 2018 (AOR Heaven)
facebook.com/danreednetwork
NOV. 19, 2018
CARE OF NIGHT: Love Equals War - Album
This band formed in 2009, released a EP in 2013 and their debut album in 2015. They did a triumphant performance at Nottingham Festival the same year, but after that it became silent. 3 years later they are back again with a new album, which gives us a dose of the finest AOR. Yes, it's very melodic, but catchy as hell (in lack of a better description). Fans of melodic rock doesn't have to go hungry. That's for sure.
Now I'm not really sure where this band comes from (not that a detail like that really matters), but most of their names look Swedish, and they sound like a Swedish band from the 80s.
Release date: Nov. 23, 2018 (AOR Heaven)
facebook.com/careofnight
NOV. 19, 2018
WHEN MINDS DEVELOP: Lethal Revenge - Album
This album kicks off with a short drum solo, and after that they just play. No vocals until the next track. And when they finnally start to play for real, it's old school thrash metal that we get. I think of a band like EXCITER for example. Sure it's good, but for some reason many of these songs are 6-8 minutes long. I don't know how they can do it. Thrash metal is a little bit better when it's shorter songs. But that might just be my opinion of course. And on the other hand, METALLICA's songs are not exactly short either, and their early stuff is damned good anyway. So this is still worth a try. No doubt about that.
WHEN MINDS DEVELOP is a Canadian band from Calgary, Alberta, and this is their debut album.
(Self released?)
wmdofficial.bandcamp.com
NOV. 18, 2018
PILEDRIVER: Rockwall - Album
This band have been around for more than 20 years now, and this is their 4th full length. What they presents here is a wild mixture of rock n roll, classic rock, stadium rock, hard rock and more relaxed songs. They give us as much as 13 tracks, but not many of them are weaker. This is energetic rock the classic way, but yet for people of today (your age doesn't matter here). So if you for some reason just will get 1 rock n roll album this year, then "Rockwall" is a good choice. And especially if you like classic rock bands like STATUS QUO and AC/DC.
And guess who took care of the sound on this record? No other than former ACCEPT drummer and UDO guitarist Stefan Kaufmann. But he wasn't satisfied with just that. He picked up the drum sticks and played drums on every song on this album as well.
If I got it right, this German band started as a tribute to the classic lineup of STATUS QUO. And they mix their own songs with covers of STATUS QUO when they play live.
(Rockwall Records)
piledriver.eu
NOV. 18, 2018
HOOTENANNY FREAKS: Breakaway - Single
This song start as a ballad, but grow into a hard rock song in the chorus. I guess it's what they call a power ballad. This is a good song, so maybe you should give it a try.
HOOTENANNY FREAKS is a hard drivin' rock and roll band from Finland. The band's music has been strongly influenced by both domestic and foreign old school rock bands.
I don't have much else to say..
(Inverse Records)
youtu.be/ic8kkunG24I
NOV. 18, 2018
WHEN THE DEADBOLT BREAKS: Angels Are Weeping... God Has Abandoned - Album
This band have already existed for 14 years, and this is their 6th album, which consist of 5 dark and heavy compositions. It takes almost an hour for them before they are done with these songs, as they are from 10 to 13,21 minutes long. We talk psychedelic and down tuned doom metal, with an experimental lust that can take you anywhere. None of these tracks is like the other.
WHEN THE DEADBOLT BREAKS is a trio from the backwoods of eastern Connecticut.
(Sliptrick Records)
whenthedeadboltbreaks.com
NOV. 17, 2018
Stephen Pearcy: View To A Thrill - Album
Now I have not heard RATT in a long, long time, but doesn't this sound a lot like RATT? Pretty obvious though as Stephen is the singer in that band. But in some of these songs it also reminds me of Alice Cooper.
This is his fifth solo album, which consist of 11 tracks. It's mainly good songs here. But nothing is extra good or extra bad.
Stephen is a busy man. Except for a solo career and fronting RATT, he is also a producer, composer, owner/product creator of "Mic Knuckles" (hands free mic holder). And has also been involved in recording songs for TV, movies, ESPN2 and NHRA Drag Racing Series over the years. And just if that wasn't enough he is also involved in sponsoring several top fuel dragsters and funny cars, which he has been doing since the 80s.
(Frontiers Music Srl)
officialstephenpearcy.com
NOV. 17, 2018
RED DRAGON CARTEL: Patina - Album
After a self-imposed exile from the music industry and the public eye, guitarist Jake E. Lee (Ozzy Osbourne, BADLANDS) returned with a new band, RED DRAGON CARTEL, in 2014. Their debut album included a long list of guests (that I'm not going to bore you with). Jake was definitely back in business again, and people were happy about that. So far, so good you could say.. Because the only feeling that I get when I listen to this album is that their debut was much better. Because this is actually a damned boring record. And I expected so much more from this band after such a good debut.
Everything isn't boring though. I like the first track, "Speedbag", for example. And there might be 1 or 2 more that are good. But most of the other songs are sleeping pills.
I'm almost as dissapointed as when I heard the latest album with QUIET RIOT.
(Frontiers Music Srl)
NOV. 17, 2018
NEW AGE: New Age - Album
Some bands seems to be a little too eager to record their first album. This sounds like a cheap demo recording from a Swedish garage band who have just started to play, and with a singer who can't really sing. They should have been working some more on this material, and it could have been much better. Because some of the songs got something that could have been good with a better production. You have to excuse me for being rude, but as it is now, I don't really know if I can take this band seriously when I hear some of these tracks.
And now we have come to the most funny part. This band is neither young or a Swedish garage band. They are actually said to be Australian hard rock veterans. Well, it sure doesn't sound like that. How a serious label can release this is a mystery to me.
Release date: Nov. 20, 2018 (Sliptrick Records)
facebook.com/New-Age-658334210881979
NOV. 17, 2018
NEON BURTON: Neontology - Album
This is a trio from Cologne, Germany. They have previously released a EP, "Pelican", in 2015. This is their debut album.
It's hard to put them in just 1 genre. Fact is that they seems to have a problem with it themselves. Sometimes they call it psychedelic hard rock, sometimes psychedelic stoner rock. But I would say that the main ingredient seems to be hard rock, and not that much psychedelic, even though there's a pinch of it here and there.
Anyway, this is pretty o.k. stuff. So give it a try. Not much else to add right now..
Release date: Nov. 17, 2018 (Sofa Records)
soundcloud.com/neonburton
NOV. 15, 2018
LORD SONNY THE UNIFIER: Final Notice! - Album
LORD SONNY THE UNIFIER is said to be inspired by the rock legends of the 60s and 70s. The singer even try to look like one of them. Think of those people who try to look like it still was the 70s at a motorcycle club. My description of the music would be some kind of alternative soft rock without much meaning. Sometimes a little psychedelic. A few songs are good, but they are not many. I guess that they have tried to make songs that are just as good as the songs was back in the 60s and 70s. But unfortunately they fail in most cases. They are never worthless though, and that's always something positive I suppose.
(Independent)
lordsonnytheunifier.com
NOV. 15, 2018
ARCHITECTS: Holy Hell - Album
My opinion about this British band is that they combine pop melodies with heavy guitars and both screaming and sore vocals. It might not exactly be what I like (I just listen to this when I get it for review), but there's a lot of kids out there who seems to enjoy this. ARCHITECTS are together with PARKWAY DRIVE among the more well-known names when it comes to metalcore.
In 2016 guitarist and co-founder of the band, Tom Saerle, lost the battle against cancer. He was just 28 years old, and twin brother to the band's drummer Dan Saerle. But the band refused to give up, and decided to continued to honor Tom.
"Holy Hell" is their 8th album, where Dan has written most of the music and almost all lyrics.
(Epitaph)
architectsofficial.com
NOV. 15, 2018
ROADKILLER: Roadkiller - EP
ROADKILLER is an Australian/American band who play a combination of thrash, metal and punk. Their Australian born front-woman has previously been a member of California MOTÖRHEAD tribute band MOTORBABE. And MOTÖRHEAD is just 1 of the influences that you can hear on this self titled debut. MEGADETH is another influence. Combine those 2 bands and add female vocals, and you will get something that sounds like ROADKILLER.
This is not bad. There's some good stuff among these 5 pieces. The songs are short like punk attacks, just 2-3 minutes. No show off or long adventures that nobody want to hear anyway.
Release date: Nov. 16, 2018 (Self released?)
NOV. 14, 2018
MENTOR: Cults, Crypts And Corpses - Album
This band call themselves a satanic hardcore act, but I can also hear some sludge and thrash/black metal on this album, which is their second full length. This album is said to follow in the footsteps of their debut album, "Guts, Graves and Blasphemy", with lyrics about witches, crypts, serial killers and satan. Short, heavy and fast is their melody. These 10 tracks are over in something like half an hour. But it's not bad. Maybe nothing excellent here, but still good enough for a dark and boring day (which we have lots of here in Sweden right now).
Release date: Nov. 16, 2018 (Pagan Records)
facebook.com/MENTORrock
NOV. 14, 2018
ATLAS: Primitive - Album
Didn't I post a review of ATLAS a couple of months ago? Yes I did. But that was a British melodic rock/AOR band, and what we have here is some hard and angry Finnish guys who play "Northcore". In other words, totally different from each other.
Metalcore might not be my favorite genre, but this band has more hardcore in their songs, and they also mix it up with softer parts here and there. Not so bad, even though they have the same problem as many others: lack of variation. And they are hardly doing anything unique at all. But on the other hand, you don't have to be unique to be good. So if you like other metalcore bands, then you will like this band too I suppose.
ATLAS released a EP, "Northern Lights", in 2016. This is their first full length.
Release date: Nov. 16, 2018 (Inverse Records)
facebook.com/atlasfin
NOV. 13, 2018
AFIRE: On The Road From Nowhere - Album
AFIRE is a melodic hard rock band from Oulu, Finland, with former members of POISONBLACK and SENTENCED. The band formed in 2016, and they are now ready to release their debut album, which was recorded in various locations during the winter 2017-2018.
And what they have created here is definitely not bad at all. It's catchy and groovy, but they have not forgotten the heaviness. And they have plenty of good songs on this album. So I can really recomend those of you who like more melodic stuff to check this out.
Release date: Nov 16, 2018 (Concorde Music Company)
facebook.com/afiretheband
NOV. 13, 2018
ARKAID: Crematoria - Album
This band formed in 2013, and comes from Halmstad, Sweden. Their music is described as aggressive, modern extreme metal. But that's not really true. Sure it's aggressive, hard and heavy. But not as extreme as extreme metal use to be. I would like to call this some kind of modern groove metal instead.
They have previously released 2 EPs, and this is their debut album. They have some good songs here, but I'm not so sure that their single of the Tom Jones cover "Sex Bomb" is 1 of the better tracks. No, check out something like "Tragical" and the heavy pirate song "The Ruined Bouquet" or the party anthem "November" instead. That's the good stuff here.
There's definitely variation between the songs on this album. And that's good.
Release date: Nov. 16, 2018 (Art Gates Records)
NOV. 13, 2018
Back to page 7
Next page