REVIEWS 2019 - Page 3
BLOODPHEMY: In Cold Blood - Album
(Black Lion Records)
Old school death metal band from Amersfoort, Utrecht in the Netherlands, who formed back in 2000. Their journey was short though. They succeeded to release a demo at least, before it was over in 2003. But 13 years later they was back again, and released the EP "Blood Will Tell" in 2016. A year later their debut album, "Bloodline", was released.
BLOODPHEMY are influenced by bands like MORBID ANGEL, SADISTIC INTENT, OBITUARY and similar stuff. But there's also some Swedish death metal in their brew. So if that sound delicious, then this is absolutely an album for you.
bloodphemy.com facebook.com/blacklionrecordsswe
Published: May 20, 2019
ASTAROTH: Demos 93/95/98 - Album
(Vic Records)
ASTAROTH was formed in Tampa, Florida in November 1991 by Larry Sapp following his departure from BRUTALITY. And this record contains just what the title says: demo recordings from 1993, 1995 and 1998. The 2 first demos have more of an Swedish sound, like CARNAGE and ENTOMBED, while the last demo have a more chaotic sound, like DEICIDE and POSSESSED.
Some songs are good, and some are not so interesting. But then we get as much as 20 tracks here. My opinion is that you can easily survive without this collection. But if you're an old fan, then why the hell not?
After the 1998 demo Sapp joined BRUTALITY again.
vicrecords.com
Published: May 20, 2019
PRETTY WILD: Interstate 13 - Album
(Black Lodge Records - Release date: May 31)
I think of a band like CRASHDÏET when I hear this. I have heard the exact same thing many, many times before - 80s hard/sleaze rock. But PRETTY WILD have lots of good songs here, so there's no reason to complain. Just check this out. Simple as that!
If I should give you some more details about their sound, then I would say that it's very melodic, but yet energetic. Many of these songs will put a smile on your face, while some will make you want to party. Some might even make you fall in love.
PRETTY WILD is a band from southern Sweden, who started their rock n roll journey in 2006. Their debut album, "All The Way", was released in 2008. Another album, which was self-titled, was released in 2014. And now their third album is here.
prettywildband.com Pre-order
Published: May 19, 2019
LYKANTROPI: Spirituosa - Album
(Lightning Records - Release date: May 24)
What makes this band stand out from the rest is that they can suddenly change language between English and Swedish in a song. The main language is English though, and it just happens in a couple of songs. But they also spice it up with a flute here and there.
LYKANTROPI takes us back to the rock and folk music of the early 70s. Pretty soft music actually, but fantastic! I really like these songs! All 9 actually. This is definitely a favorite album!
There's some kind of melancholy in this music. Which gives it a depth. Like it was made for the night. But it will also work just fine for a walk in the forest on a sunny day.
facebook.com/lykantropiband facebook.com/lightningrecords
Published: May 19, 2019
ARMAGEDDA: Ond Spiritism - Album reissue
(Nordvis Produktion - Release date: May 24)
"Ond Spiritism" is Swedish black metallers ARMAGEDDA's third and final album. It was originally released in 2004, and will now be re-released on the 15th anniversary of its original release.
A pretty o.k. album, even though most of the songs here are much slower than their previous work, which makes these songs last for an eternity. And that's a small minus of course. It's often somewhere between mid-tempo to down-tempo. Some people called it "spiritual black metal". It's pretty far away from what they did earlier anyway.
Published: May 19, 2019
GOREGÄNG: Neon Graves - Album
(Transcending Obscurity Records - Release date: May 20)
Death metal/crust duo with Jeramie Kling on vocals/guitars (VENOM INC., RIBSPREADER, ex-WOMBBATH) and Taylor Nordberg on drums (RIBSPREADER, ex-SOILWORK (live), ex-WOMBBATH). This is their first full length album, where they give us as much as 12 tracks. But most of these songs are just 2-3 minutes, so that's o.k.
Are they any good then you might ask? Well, it's not bad at all, but I have heard both better and worse. The songs I like best is those with more crust.
This is a album for both death metallers and crust punks.
goregangband.bandcamp.com tometal.com
Published: May 17, 2019
SKINTRADE: Woman - Single
(Ninetone)
Swedish hard rockers SKINTRADE are back with a new single. Now I can't really remember if I have heard this band before or not, so I don't really have any relation to them. But it seems like they are classified as a legendary band.
This song is simply classic hard rock straight from the 70s, with that bluesy feeling that we know from a band like WHITESNAKE for example. In other words a damned good song! So check this out.
skintradesweden.com ninetone.com
Published: May 16, 2019
FRANCES BLOOM: Suffocate - Single
(Ninetone)
Swedish rock band who blend grunge, new metal and attitude. I think they want to give it some hit potential as well, but this song is probably a little too hard and heavy for the pop audience. But rockers need a hit too, don't they?
Maybe not the most interesting rock song from Sweden, but still o.k. anyway. Not much else to say..
instagram.com/frances.bloom ninetone.com
Published: May 16, 2019
The PILGRIM: Walking Into The Forest - Album
(Heavy Psych Sounds Records)
It's very peaceful music that we get from The PILGRIM. Don't expect any distorted and heavy guitars here. This is actually acoustic and very soft and relaxed. Spiritual you could say.
The PILGRIM is actually a solo project created by BLACK RAINBOWS frontman and Heavy Psych Sounds owner Gabriele Fiori. Acoustic psychedelic rock is probably the best description to what you're going to get here. But there's also a touch of folk music. We also get a HAWKWIND cover, "Brainstorm".
I guess you have already figured out that this is not a party album. It might fit better the day after the party instead. Or when you just want to relax from the sound of electric guitars. Good stuff anyway. No doubt about that. So congratulations Gabriele!
facebook.com/THEPILGRIMACOUSTIC heavypsychsounds.com
Published: May 15, 2019
GLITTER WIZARD: Opera Villains - Album
(Heavy Psych Sounds Records)
This band's music is labeled as "glam punk/stoner metal". But that's just a small part of the truth. Because this is so much more than just that. Freaky prog rock n roll is a description I think fits them. This San Francisco band combine psych, metal, punk, glam and prog, and create their own sound, which for many is hard to describe. But it sounds good anyway, so you should absolutely give them a try at least. It's often not as crazy as it might sound when you read this.
It seems like GLITTER WIZARD has released 3 albums and 3 EPs so far.
1 of my favorites on this album must be "Hall Of The Oyster King". A 6-minute song that should give you a pretty good idea about this band. If you listen to the whole song then.
glitterwizard.bandcamp.com heavypsychsounds.com
Published: May 15, 2019
DUEL: Valley Of Shadows - Album
(Heavy Psych Sounds Records - Release date: May 17)
Occult doom rock is what they call this, but I think it sounds like stoner rock. It's some kind of heavier rock anyway, but yet catchy.
DUEL consist of 4 guys from Texas. Their music is stepped in early 80s heavy metal, proto metal of the 70s and late 60s psych rock. Their lyrics tell dark stories of ritual horror, occult sex and apocalyptic doom. This is their 4th long player, where we get everything from psychedelic heavy metal anthems to THIN LIZZY twin-guitars and a twist of MOTÖRHEAD.
There's many songs that I like here, and nothing is really bad on this album. And that's strong.
duel3.bandcamp.com heavypsychounds.com
Published: May 15, 2019
DIRECTO: ...Al Infierno - Album
(Argonauta Records)
Debut album from these Italian stoner rockers. They are a group of friends from Città di Catello, who united because of their passion for heavier rock bands like KYUSS, BLACK SABBATH and LED ZEPPELIN. And now they give us their version of that in form of these 8 songs.
Well, they are absolutely not bad anyway. They have some good stuff here. So I think you should check this out.
facebook.com/pg/officialdirecto argonautarecords.com
Published: May 15, 2019
HOT SUEDE: Hot Suede - Album
(Self released? - Release date: May 17)
What we have here is a hot rocking band from Kansas City. And this album gives us 12 tracks of American classic rock from the the 70s/80s, but with a modern twist of QUEENS OF THE STONE AGE and SOUNDGARDEN. So this is not another vintage rock band. No, this is just a hot rock band, with many catchy songs.
This is good, but I find it hard to believe that this is a record that people will remember as a classic in the future. Still worth checking out though. No doubt about that.
hotsuede.com
Published: May 14, 2019
HOOTENANNY FREAKS: Freakshow - Album
(Secret Entertainment)
They open with the action-filled hard rocker "Jake Brake", and show us immediately how it's supposed to be done. It's almost on the border to heavy metal. They continue with "Brooder", which is another good hard rocker, but with more power than action. And after that we get some more strong hard rock through the whole album. Not much that I would call weak here.
This has actually been 1 of my favorite albums during the last weeks. That's how good I think this is! So it's a shame that this album is just released digital.
HOOTENANNY FREAKS comes from Finland, and their music is strongly influenced by both the domestic and foreign old school rock bands from 70s and 80s. "Freakshow" is the band's first full length, and is mainly a selection of material made during 2016-2018. They have previously released 2 EPs and a single.
hootenannyfreaks.com secretentertainment.fi
Published: May 14, 2019
Bror Gunnar Jansson: Body In A Bag - Single
(Playground Music)
This Swedish 1-man band give us another single from his upcoming album, which will be released in September. It's a little darker song, with inspiration from Swedish crime history.
Bror Gunnar's music is a garage-style hybrid of blues, country and folk music, as well as work songs and mountain ballads. It's said to fit fans of Jack Broadbent, Jack White, Nick Cave, southern gothic and classic blues.
He get the thumbs up from me anyway.
playgroundmusic.com
Published: May 14, 2019
BLACK HORIZON: Dark Light - Album
(Pure Steel Publishing - Release date: May 17)
BLACK HORIZON is a French heavy metal band, that have been active for more than 2 decades. They mix classic Euro heavy metal with influences from US metal. And on this album we get guest apperances from Blaze Bayley (ex-IRON MAIDEN) and Andy Kuntz (VANDEN PLAS).
We get 9 tracks in 41 minutes. And why ask for more than that? It's enough for me anyway. And there's many good songs on this album, so it could of course be worth a try.
blackhorizon.fr purerock-records.com
Published: May 13, 2019
ZARPA: Viento Divino - Album
(Pure Steel Records - Release date: May 17)
Neo-classical heavy metal in the same style as early Yngwie Malmsteen, but in Spanish.
This band are veterans, as they have been rocking in the Spanish scene since the late 70s. They have released plenty of records through the years, but I guess that not too many of them have reached an audience outside the borders of Spain.
If you want good old traditional heavy metal, then this can be worth a try. Because they are not bad at all. Maybe not any masterpieces here, but absolutely good enough.
zarparock.com puresteel-records.com
Published: May 13, 2019
NYT LIV: Ensomhedens Kolde Kald - Album
(Indisciplinarian)
Some kind of hard heavy rock with punk attitude. It makes me think of a more angry TURBONEGRO somehow.
This is a hardcore band from Copenhagen, Denmark, and this is their debut album, which consist of 10 aggressive songs. They have been playing since 2016 though, and released a EP in August 2017. In the summer of 2018 they played at big Danish festivals like Roskilde Festival, Copenhell and Aalborg Metal Festival.
Well, if you like more modern hardcore with soul and anxiety, mixed with some metal in the heavier league, then this could be something for you.
nytlivband.dk indisciplinarian.com
Published: May 12, 2019
HARDCORE SUPERSTAR at Liseberg in Göteborg, Sweden on May 11, 2019
It's many, many years since I saw HARDCORE SUPERSTAR live at Liseberg last time. It could have been the first time I saw them actually. Something like 15 years ago? Could it be that much? I'm not really sure..
1 thing I'm sure of is that it's almost 4 years since I saw them last time.
A thing that I have learnt after going to concerts for many years, is that a concert experience is so much more than just a good band. And that's something that this evening was a good proof of. HARDCORE SUPERSTAR did a hometown show and gave 100% and then some. And they played almost just classics, which included many of my favorite songs. So no problem there. This band know how to deliver a good show, and there was much joking both between the members and with the audience. So, no problem there.
But it wasn't as fun as it should have been for me, as I'm a pretty short man and didn't exactly stand infront of the stage. All I could see for the first couple of songs was a lot of heads. It got a little bit better after that, but far away from good enough to see perfect. So there was no idea to even take up the phone to take any photos. And that's even more boring, when I can't take any photos of the band.
This is hardly the first time that this has happened, and most likely not the last either. And there's not much I can do about it anyway. Shit happens. But as I said earlier, the band was damned good anyway.
hardcoresuperstar.com liseberg.se
Published: May 12, 2019
PAT TODD & THE RANKOUTSIDERS: Bang Bang & Then You're Dead - 7" Single
(Beluga Records/Ghost Highway/KOTJ)
Yeah, rock n roll! And now we are talking good old rockabilly here, and not some action rock. I really like this! You have to check this out!
We get 2 really catchy songs here, and I really get thirsty for more. Luckily the band will also release a new album on Hound Gawd Records (might be out already).
Not much else to say..
facebook.com/pat.todd.315 belugarecords.com
Published: May 11, 2019
Brad Marino: Extra Credit - LP
(Beluga Records/Ghost Highway/Rumbar Records)
Some kind of power pop/rock n roll that reminds me of the more melodic stuff with RAMONES among others. Maybe not as great as them though, but absolutely not bad at all.
Now I have not heard the whole album, but the songs I got for review was at least much more interesting than his EP, "Four Track Attack". So maybe you should check this out.
This seems to be a solo project with Brad himself on vocals, guitars, bass, drums and percussion. But he get some help from Kris "Fingers" Rodgers on piano and keyboards, as well as additional vocals on some of the songs. Rodgers also co-produced and mixed the album.
facebook.com/brad.marino belugarecords.com
Published: May 11, 2019
JÖNZZONLIGAN: Rösta På Idioter - EP
(Wild Kingdom)
These kids show us that there's still hope for the youth of today, and that punk is far away from dead. They tear off 6 pieces with anger and frustration, which last for something like 9-10 minutes. And it sounds like nothing would have happened since the early 80s.
JÖNZZONLIGAN is a trio from Stockholm, Sweden, who formed in 2015 when they were just 11-12 years old. Their influences comes from Swedish bands like EBBA GRÖN, DOCENT DÖD and ASTA KASK, but also British and American bands like The CLASH, DECENDENTS and DEAD KENNEDYS. "Rösta På Idioter" is their first record, and I look forward to hear more from these boys.
facebook.com/jonzzonligan
Published: May 10, 2019
MANNEQUIN PUSSY: Drunk II - Single
(Epitaph Records)
If I say Epitaph Records, then most of you will probably think of skate punk and melodic punk rock from the 90s. But when I listen to this band I hear some kind of indie pop/rock instead. A catchy and nice little song though. Maybe a little too long with its 4 and a half minutes, but otherwise no problem for me.
It's said that MANNEQUIN PUSSY play rock with nerve and presence. This single is taken from their third album, "Patience", which will be released on June 21.
epitaph.com
Published: May 9, 2019
HOLLYWOOD VAMPIRES: Who's Laughing Now - Single
(earMUSiC)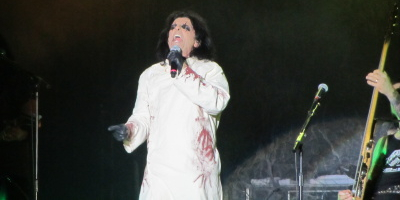 As you might know by now, this band features Alice Cooper, AEROSMITH guitarist Joe Perry and movie star Johnny Depp on guitar (I still haven't figured out who the others are).
They are now going to release their second album, "Rise", on June 21. And that's where this little song comes from. And as Alice is singing it sounds more or less like a new solo song from him. It's an o.k. song anyway, but I actually don't have much else to say about it.
On the debut album from 2015 there was just covers, but this time most of the songs will be their own material. There will be a few covers though: the David Bowie classic "Heroes", "You Can't Put Your Arms Around A Memory" by Johnny Thunders and JIM CARROLL BAND's "People Who Died" (this band is just doing covers of artist who are dead, in case you didn't know that).
hollywoodvampires.com ear-music.net
Published: May 9, 2019
BLEACHED: Hard To Kill - Single
(Dead Oceans)
"Don't You Think You've Had Enough?" is what Jennifer Clavin asked herself when she hit a turning point in her life. It's also the title of the new BLEACHED record, out July 12 via Dead Oceans, and sisters Jessie and Jennifer Clavin's first LP written from a place of sobriety.
"Hard To Kill" is 1 of the songs from the upcoming album. And their music is labeled as alternative rock, even though there's also a twist of catchy pop.
BLEACHED will do some U.S. dates with REFUSED and The HIVES later this month. From July to August they will be touring in North America, and will also do some shows in UK.
Video Pre-order the album
Published: May 9, 2019
A Tribute To DEATH - Album
(Antichrist Magazine)
This is exactly what the title says, a tribute to the American death metal band DEATH. And this compilation features 19 bands with 1 song each. Not that many bands that I have heard of before. And when it comes to the band DEATH, I have to admit that I don't have 1 single song with them. I have heard a cover here and there through the years though. And I have been thinking about getting an album with them, but that has obviously not happened yet. So I can't really tell how true these versions are to the original versions, but it's definitely death metal anyway.
Participating bands are SICHGART, BASEMENT TORTURE KILLINGS, ABRUPTUS, AETRANOK, HATEFUL AGONY, RAT KING, BELTANE, WOLFTRIBE, BODY HARVEST, INJECTOR, OFFAL, NETHERTALE, REJECT THE SICKNESS, SAVAGEZ, TORMENT TOOL, The FATHER OF SERPENTS, FROSTHELM, SEARCHING FOR REASON and UNTO THE WOLVES.
This compilation is (as far as I know) only available digitally.
antichristmagazine.com
Published: May 8, 2019
ENTOMBED: Clandestine Live - Album
(Threeman Recordings - Release date: May 17)
Long time since I was listening to ENTOMBED's second album "Clandestine" now. And it might actually not be their strongest album according to me. Too much playing that seems to go nowhere in some of the songs. I like their debut album, "Left Hand Path" better, and the stuff that came after this album. But that's just me. I know that many other people really like "Clandestine".
Here original members Alex Hellid (guitar), Nicke Andersson (drums) and Uffe Cederlund (guitar) perform the whole album live from beginning to end together with Robert Andersson (vocals) and Edvin Aftonfalk (bass) in Malmö, Sweden. And they just play it straight off without any talk at all or any other communication with the audience. So you can just as well listen to the original album instead. Because there's no bigger differance actually, as you just get Act II on this album, where they perform the album as a band. In Act I they performed the whole album with Malmö Symphony Orchestra and Choir.
entombed.org Pre-order
Published: May 7, 2019
NALE: Ghost Road Blues - Album reissue
(Black Lodge Records - Release date: May 17)
Swedish metal band NALE re-release their debut album from 2012. And it's a high octane mixture of brutal metal like PANTERA and The HAUNTED, mixed with fast rock like DANKO JONES and a pinch of punk attitude from MOTÖRHEAD. I get sweaty and exhausted just by listening to them, but it's not that bad. Maybe not something that I think is excellent either though. But I think that fans of PANTERA and The HUANTED might like this anyway. So give them a try at least.
naleband.com
Published: May 7, 2019
MARTYRDÖD: Hexhammaren - Album
(Century Media - European release date: May 10)
MARTYRDÖD was formed in 2001 in Stockholm, Sweden. Many members have come and left the band since then. Their first self-titled album was recorded in 2003. They have since then released a few more albums on various labels, but the 3 latest was released on Southern Lord Records. Now they have signed a 3-album deal with Century Media Records instead, which might take them to the next level (if that's where they want to go).
"Hexhammaren" is the band's 7th album, which gives us a raw mix of metal and hardcore/punk that will run over you like an army of madmen. So if you want something brutal, then this is an album for you. I might add that they mix the brutality with melodic guitar melodies once in a while.
Fans of crust core should like this, but so should fans of death and black metal do too.
martyrdod.se centurymedia.com
Published: May 6, 2019
GIRLS IN SYNTHESIS: Pre/Post, A Collection 2016-2018 - Album
(Louder Than War Records)
This is not an album for everyone. You can easily get a nervous breakdown by listening to this band's crazy music. It's often very noisey and larmy. I guess it's supposed to be some kind of post punk. But it's not as dark and gothic as post punk use to be. This is more like a wild horde of bulls running over everything in their way. Raw power.
I don't really know what to compare them with, because I usually don't listen to stuff like this. But I guess it has its own little charm somehow. It's not bad anyway.
On this album GIRLS IN SYNTHESIS compile their 3 previous EPs, which are all sold out. We also get their first single, "The Mound"/"Disappear", which have previously just been available digital.
facebook.com/girlsinsynthesis louderthanwar.com
Published: May 6, 2019
BLUESIDE: Small Town, Good Wine & Sad People - Album
(Volcano Records)
They have good songs like "Il Moralista", "I'm Paranoid" and "Rain". So why they have to destroy it with useless shit like those short "Project" things is a big mystery. Let's concentrate on the music instead of being "funny".
The music is by the way some kind of melodic punk rock that sometimes reminds me of GREEN DAY, The OFFSPRING and similar bands.
BLUESIDE is an Italian band from Sonnino, near Latina, that was born in 2016. This is their debut album (even though it's no longer than approximately 20 and a half minutes).
facebook.com/BlueSideofficialband volcanopromotion.com
Published: May 6, 2019
MASS: Still Chained - Album
(Pride & Joy Music)
It looks like this band was founded back in 1973 already, with members from Germany, Switzerland and U.S.A. They sold over 200.000 albums and toured all over Europe. The band broke up in 1987.
Years passed by before bass player Günter V. Radny started to think about a reformation of the group. But because of health issues it was not possible to reunite the original lineup, so he had to form a new lineup. This happened in January 2017, and this is the first album with the new band.
What we get is good old hard rock and heavy metal like it was done when the original band existed. And they have many good songs here, but I can't really figure out why they had to include as much as 15 tracks on this album. That's way too much. But as I said, most of these songs are good stuff, so that's hardly a major problem but more of a luxury problem I guess.
mass-rock.com prideandjoy.de
Published: May 5, 2019
MIKE MACHINE: Alive - Album
(AOR Heaven)
MIKE MACHINE was formed in November 2017 in Piteå, Sweden by some members from the power metal band CRYONIC. Nowadays it's more 80s hard rock and glam, but in a modern way. They released a EP in May 2018, and now their debut album is here.
Well, this is definitely not bad at all. This band seems to have the right ingredients to succeed. So if you like more melodic hard rock, then this can be a perfect record for you.
I don't really know what else I should say, so just get this album instead.
facebook.com/Mikemachineofficial aorheaven.com
Published: May 5, 2019
PRINS SVART: Inte Här För Att Stanna - Album
(Musica Ex Machina - Release date: May 10)
PRINS SVART are back with their second album. And the roots are still in the 70s/80s hard rock, with a lot of melody. I think of classic bands like DEEP PURPLE, LED ZEPPELIN, RAINBOW and WHITESNAKE when I hear this. The differance is that PRINS SVART sing in Swedish. But otherwise it's more or less the same thing. So if you like that, then you just have to check this out.
The title of this album means "not here to stay", but I really hope that this band is here to stay. Because I don't know how many times I have been listening to this album.
facebook.com/prinssvartofficial
Published: May 5, 2019
QANTICE: The Anastoria - Album
(Pride & Joy Music)
Talk about a progressive and symphonic adventure. But if that's what you're looking for, then this is the album for you.
This is one of these very ambitious albums, that features a sci-fi saga. But it's not just a story, as they have succeeded to catch the atmosphere of a sci-fi or fantasy movie as well.
QANTICE is a French metal quintet, but the singer is Swedish: David Åkesson (ALDARIA, VIVALDI METAL PROJECT, SIX FOOT SIX, ex-MOONLIGHT AGONY). This is their third album, where we get a couple of surprises, like the Italian opera tenor Riccardo Cecci (LUCA TURILLI'S RHAPSODY), as well as orchestras and choirs.
facebook.com/qanticeofficial prideandjoy.de
Published: May 5, 2019
ARMAGEDDA: The Final War Approaching - Album reissue
(Nordvis Produktion)
To celebrate ARMAGEDDA's 20-year anniversary they will re-issue the whole back catalogue in its original form. And they start with their debut album, "The Final War Approaching", which was released back in 2001 on a German label called Sombre Records.
This album is much better than the "Echoes In Eternity" collection. Better sound and better songs, but still raw and brutal black metal. This is the way I like it!
Published: May 4, 2019
ARMAGEDDA: Echoes In Eternity - Album reissue
(Nordvis Produktion)
"Echoes In Eternity" is a collection that includes all early EP releases, demos, rare unreleased tracks and live recordings. The songs I like best is the 3 demo tracks "Volkermord Pt. 1", "Volkermord Pt. 2" and "Mordinstinkt". The rest is o.k., but maybe a little too extreme for my taste. But if you prefer raw old school black metal with primitive sound quality, then this might be an album for you.
Nothing else to say..
Published: May 4, 2019
BAD RELIGION: Age Of Unreason - Album
(Epitaph Records)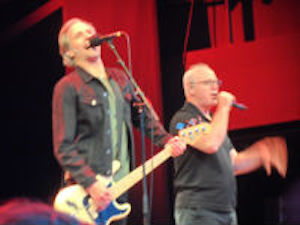 I don't really remember now, but it must be something like 4-5 singles that have been released from this album before it was released, so there's a few songs here that I knew already. But there's as much as 16 tracks (or something like that) on this album. And that's way too much. It last for so long that I start to wonder if the album is never going to end. Just because your songs are short, you don't have to fill a whole CD. Make a EP instead then. Much better. And then you can give us new music more often too.
Anyway.. Most of these songs are really good stuff, and no fan of BAD RELIGION should be dissapointed when they listen to this album. But I actually think that they have succeeded to vary the material a little bit more this time. Because many of their old albums have songs that are almost exactly the same. Not here though. We have softer and more melodic songs like "My Sanity", as well as faster songs like "Faces Of Grief", and the usual mid-tempo songs of course.
That doesn't mean that this is a totally different album though. You will reconize the good old BAD RELIGION. So don't worry about that.
badreligion.com epitaph.com
Published: May 3, 2019
TOTAL: Död Och Begravd - Single
(Ninetone Records)
Like a mixture of METALLICA and Swedish band LOK maybe? Stone hard metal in the heavier league anyway, with lyrics in Swedish. A really good song that I think you should check out.
TOTAL are from Västerås, Sweden. They originally started in 2006, and was active until 2009. They was back again in 2015, and have been active again ever since.
I don't know much else..
facebook.com/bandettotal ninetone.com
Published: May 2, 2019
SOCIAL PRETENDER: Blind - Single
(Ninetone Records)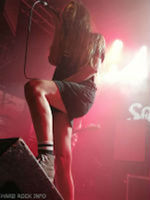 Rock in the harder and heavier alternative league from the 90s. Or as I said in my review after seing them live last weekend: "some kind of mixture of rock, grunge and punk rock". A good song anyway. No doubt about that. But unfortunately they just seemed to have a couple of more good songs when I saw them. That could change though if I hear those songs again.
This band comes from Stockholm, Sweden, and are inspired by bands like NIRVANA, RAGE AGAINST THE MACHINE and ALICE IN CHAINS.
instagram.com/socialpretender ninetone.com
Published: May 2, 2019
SELF DECEPTION: Bury Me Alive - Single
(Glock Music)
SELF DECEPTION released an album in 2018, but are already ready to release a new EP, "Endorse The Art", in the end of June. And that's where this song comes from (the EP). And there will be 2 more singles before the EP is released.
I don't know, but to me this sounds like LINKIN PARK. I might add though that I'm not a fan of them, so I have not heard that much with LINKIN PARK through the years. It's some kind of modern rock anyway, with metalcore riffs and catchy melodies. A pretty good song actually.
selfdeception.se
Published: May 2, 2019
LiV SiN: Slave to the Machine - Single
(Despotz Records)
So, a new single with LiV SiN then. And this sounds just as good as it should. Maybe even a pinch better than on the debut album. But I have to think about that a little bit more..
"Slave to the Machine" is the first single from the second album, "Burning Sermons", which won't be released until September 6 (so I guess we can expect a few more singles before that). It's classic heavy metal with a modern production. And on top of that we have Liv Jagrell's powerful and confident voice. It just can't go wrong.
livsinofficial.com despotz.se
Published: May 2, 2019
BOB MALMSTRÖM: Länge Leve Bob Malmström - EP
(Elitbolaget)
The first track, "Modermålets Sång", is totally useless - Some kind of choir thing featuring RUNEBRGSKÖREN BSB. But after that we get 4 hardcore/punk explosions that are much better. This is the kind of stuff that I like. But then they end the whole thing with an Irish-inspired drinking song, "Skål!" (featuring Anette Grevberg and RUNEBRGSKÖREN BSB), which is a o.k. song, but not much else.
This Finnish band, who sing in broken Swedish, should waste their energy on the hardcore songs instead of that other crap. And I'm pretty sure that there's more people who think like that. But in the end it's up to BOB to decide what they want to do.
The group have existed since 2010, and there have been several recordings since then.
bobmalmstrom.com elitbolaget.com
Published: May 1, 2019
BUZZCOCKS: Love You More / You Say You Don't Love Me - Singles
(Domino Recording Co)
Now that the first albums have been re-issued, it's time for their third album, "A Different Kind Of Tension", and the singles collection, "Singles Going Steady", to be re-released on June 14. And 1 song from each album have now been released as a single.
Well, I guess it's not so hard to figure out from the titles that these 2 songs are love songs. That doesn't mean that they have to suck though. Oh no. This is really good stuff! A must for every fan of good old pop punk.
And I don't think I have to say much else than that..
buzzcocks.com
Published: May 1, 2019
SKULLDRIVER: L.D.C. - EP
(Elitbolaget)
The story about this Finnish band goes all the way back to 2005. They have so far released 1 full length and a couple of EPs. Their sound is some kind of groove/thrash metal with some hardcore. Not something that impress me, but luckily it's just 4 tracks here, so I survive without scars for life.
This is said to fit fans of PANTERA, LAMB OF GOD, SLIPKNOT and modern metal. So if that's something that sounds interesting to you, then maybe you should give them a try instead of reading what I think.
skulldriver.bandcamp.com elitbolaget.com
Published: May 1, 2019
23 TILL: Värmekyrkan NKPG - Album
(Beat Butchers)
Swedish band 23 TILL are often put in the punk category. But I don't think that's quite correct. Sure, some of their songs can go as punk rock, but many songs are more like rock instead. So melodic punk rock is probably a pretty good description. This is not a band that I have heard that much with through the years though. All I have is an old cassette with a live recording, which I think was just released in a few hundred copies back in the 90s. So yes, this is hardly a new band.
This recording comes from a sold out show in their hometown Norrköping. It's a closing of the past and a beginning of the future. They performed many classics from the 90s at this show, and there's many good songs among these 16 tracks. A must for any fan of the band.
23 TILL often played with the Swedish trallpunk bands in the 90s. I'm not really sure when it was, but it was silent for many years. But in 2013 they were back again, and they have done gigs a little now and then during the last years. I think they are in the studio right now to record something new. So now we will also get some new music from them.
facebook.com/23TillOfficiella beatbutchers.se
Published: May 1, 2019
KARDINAL SYND: Andrahandssorteringen - Album
(Second Class Kids Records - LP release date: May 3)
KARDINAL SYND released a 10" vinyl, "Baltic City", about a year ago, and this is the follow up to that. You could call this trallpunk, but I think they are a little bit harder and more angry than the traditional trallpunk bands. Angry punk rock with catchy melodies is a description that I think fits perfect to this band's music. The lyrics is about Sweden of today, things they think is wrong or stupid in today's society.
Well, I like what I hear anyway, so if it sounds like you would like this too, then you should absolutely check out this album. If you get the CD edition, you will get as much as 20 tracks. Which means that you get this album, 2 tracks from the "Sveriges Jävla Ryggrad" compilation, and the songs from the 10". Not sure if that's necessary though, so get the LP instead.
kardinalsynd.net secondclasskids.com
Published: May 1, 2019
MURDRYCK: Födelsen - Album
(Leviaphonic Records/Growls From The Underground - Release date: May 1)
MURDRYCK is a Swedish black metal band, and this is their second album. It's mainly fast and aggressive, just like black metal use to be. But it's also said that they have taken it to another level this time, and that it's a heavier sound than on the debut. A song like "Blood Sacrifice" is actually more heavy metal.
8 tracks is what they give us, and most of them are good enough for me. Their lyrics are both in Swedish and English. But as I don't really know what else I should say about this record, I recomend you to give this a try. I think you will like it.
facebook.com/murdryck leviaphonic.com facebook.com/Growls666
Published: May 1, 2019
RUTHLESS: Evil Within - Album
(Pure Steel Records - Release date: May 3)
RUTHLESS is a US metal band from California who formed back in 1982 already. They released a single and a EP in 1984, as well as a album in 1986. After that there was no more record until as late as 2015, when "They Rise" was released. And now another album is here.
What we get this time is a powerful, and sometimes heavy, metal fist straight in the face without any mercy. This is hard as steel, but really good stuff. Timeless heavy metal that most metal fans should like.
ruthlessmetal.com puresteel-records.com
Published: April 30, 2019
PECTORA: Untaken - Album
(Mighty Music - Release date: May 3)
PECTORA are from Roskilde in Denmark, which is probably most well-known for Roskilde Festival. They have been playing since 2013, and released a demo, "Burgeon Of Hate", in 2014 and a EP, "Redemption", in 2017. Now their debut album is ready to be released. And what a damned good album it is!
What we get is best described as bombastic and melodic heavy metal. It's an exiting meeting between the old school and the new school. No matter if you prefer good old metal, thrash metal or power metal, you will find something good on this record. This band seems to know exactly how to make great songs, and they deserve more attention. Hopefully they will get that with this masterpiece.
facebook.com/Pectora mightymusic.dk
Published: April 30, 2019
SISTER SHOTGUN: Fragments - Album
(Pavement Music)
O.k., this young lady can definitely sing! No doubt about that!
SISTER SHOTGUN comes from the West Midlands of the United Kingdom, and took the British scene by storm in 2011 with their blend of modern rock and metal. But it's not until now that their debut album finally is here, and they are ready to take over the world (well, that sounds good, but it probably won't happen). It's a damned good album that they have made anyway. Expect to hear stadium choruses, massive riffs and wonderful melodies. There's both aggressive and melodic parts, but you could say that the guitars stand for the hard and heavy, while the vocals is clean and melodic.
Best band in this genre right now? Who knows? But they're definitely 1 of the best anyway.
sistershotgun.bandcamp.com pavementmusic.com
Published: April 29, 2019
BELZEBUBS: Pantheon Of The Nightside Gods - Album
(Century Media)
BELZEBUBS was originally created in 2002 in the forests of the north. Their music is best described as melodic blackened death metal with progressive twists and cinematic soundscapes. And this is really good stuff. A song like "Blackened Call" reminds me of AMON AMARTH, while some of the other songs is more like symphonic black metal.
We get 9 tracks, and the album last for 53 minutes. This is definitely something that you should check out.
belzebubs.com centurymedia.com
Published: April 29, 2019
AWAZE: We Won The War - EP
(Jubel)
Dance rock for hipsters? It's 6 different songs that we get here. 1 song reminds me of The POLICE, while another reminds me of RAGE AGAINST THE MACHINE. Another song is more like some kind of garage rock. But I think these guys are very young, so they might have other influences than what I hear. They are described as a post garage band anyway.
Well, most of these songs are very catchy, and will probably make you want to shake your hips. It's still rock though, and I like most of these songs. I think it can be interesting to hear how they will develop in the future.
AWAZE is a Swedish power trio, who have previously released 3 singles. "We Won The War" is their debut EP, which consist of 6 strong tracks.
jubel.se
Published: April 29, 2019
PRISON: Come, Annihilation - EP
(Self released?)
Some punks kicking arse in a garage somewhere in Seattle. Their hardcore explosions are described as "a sweaty mix of metal and punk informed by BAD BRAINS, BURNING LOVE, KARP and MELVINS, with panicked riffing and tongue-in-cheek lyrics that embrace death's crushing inevitability." 6 songs is what we get here, and this trio is pretty o.k. actually. Maybe not any hit potential, but absolutely not useless either.
prison.bandcamp.com
Published: April 28, 2019
WITCHFINDER: Hazy Rites - Album
(Black Bow Records)
WITCHFINDER is a French doom trio who released their self-titled debut in 2017. And now their second long player is here. And on this album we get more sludge and hardcore than their previous work. Their sound is a fusion of doom, stoner and sludge, with psych vibes and long instrumental pieces mixed in. It's heavy and fuzzy with big fat riffs. So they have everything for a fan of heavy rock music. The songs are between 5,25 to 10,20 minutes.
witchfinder.bandcamp.com
Published: April 28, 2019
SNOWY WHITE AND THE WHITE FLAMES: The Situation - Album
(Soulfood)
Snowy White have played with THIN LIZZY (on the albums "Chinatown" and "Renegade"), worked with Peter Green from FLEETWOOD MAC and been a touring musician for PINK FLOYD and later Roger Waters. And that makes you interested of course. But he also have a solo career.
I guess that this is supposed to be some kind of blues rock. But most of these songs are way too slow for my taste. And as they sing in a really old song: "It don't mean a thing if it ain't got that swing". And no, there's not much action here. But if you're looking for some blues lullabies, then this might be something for you.
Now I might add that this is not a pure blues album, as there's also a touch of SANTANA and PINK FLOYD in the music. And there are a few faster songs as well.
And now you might think that this album sucks according to me, but not completely. There's some good pieces here and there actually. But unfortunately these 12 tracks last for an whole hour, and that's too much for me. I get tired after 5-6 songs already.
Published: April 27, 2019
BLOOD COMMAND, TWIN PIGS and SOCIAL PRETENDER at Sticky Fingers in Göteborg, Sweden on April 26, 2019
Many kinds of different people this night - Young punks, "hipsters", middle-aged men, rockers etc. etc. And all kinds of ages too. So it was almost like I started to wonder what to expect. After all, TWIN PIGS was the only band that I really had heard before. I have heard the latest single with SOCIAL PRETENDER too (review sooner or later). Nothing with BLOOD COMMAND though.
SOCIAL PRETENDER was the first band out. I don't really know what I should think of them. The new single and a few of the last songs was good, but I'm not really sure about the rest though. Their music is some kind of mixture of rock, grunge and punk rock from the 90s. It's raw and angry.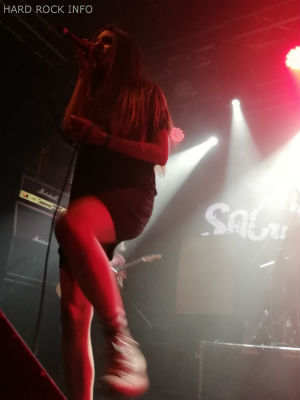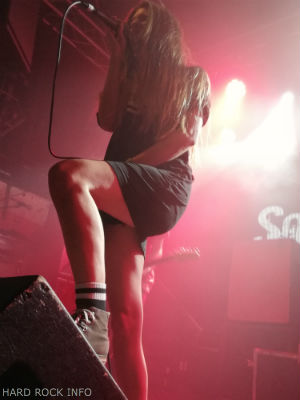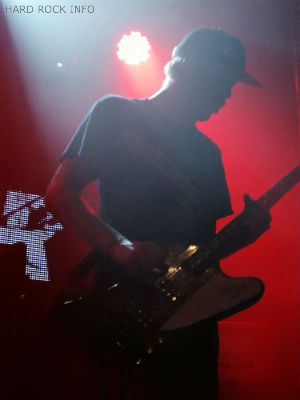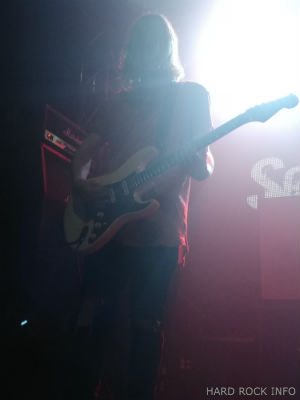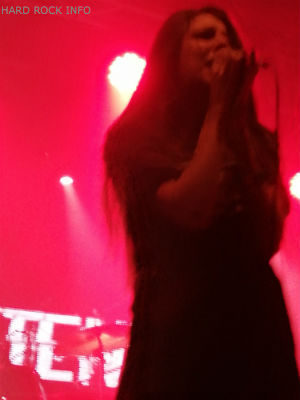 Next band was the once I was there for: TWIN PIGS. Finally they had the good taste to play at a club instead of some secret place where you have to be a member etc., where they use to play when they visit Göteborg. So now I finally had the chance to see them at a venue that I know the way to, haha. And what a show they delivered! They were really great! I think their music got more raw live, and even more hardcore than on their albums. Definitely the best band this night without a doubt!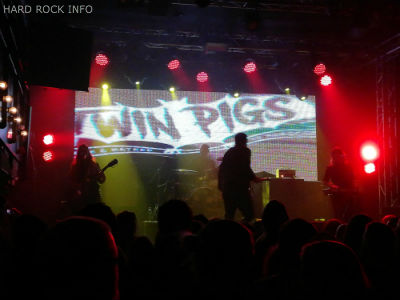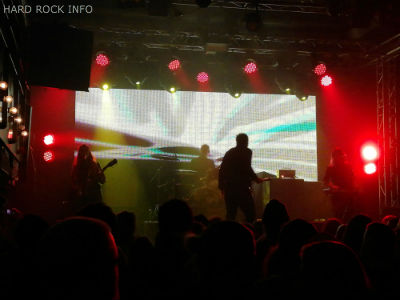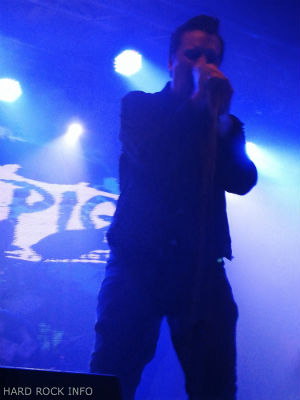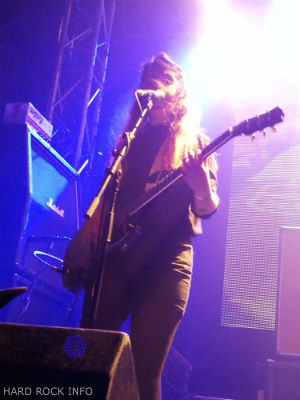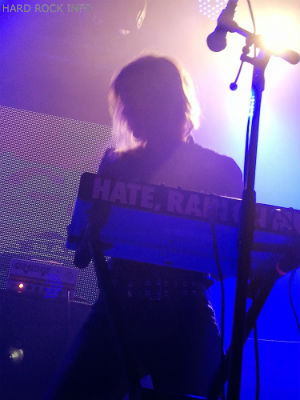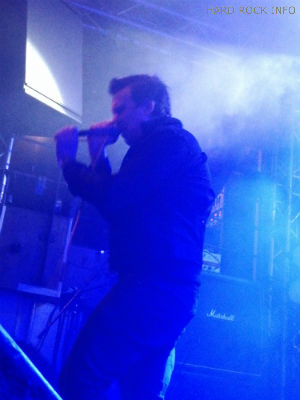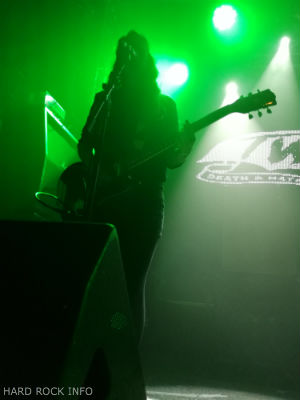 And the last band was BLOOD COMMAND from Norway. As I said earlier, I have never heard them before. And I still don't really know what I should think about them. It was an explosive mixture of hardcore/punk and more melodic stuff, and for some reason there was dance music between each song. Original and odd is probably the best I can come up with. But I'm obviously still confused, haha. So let's leave it there..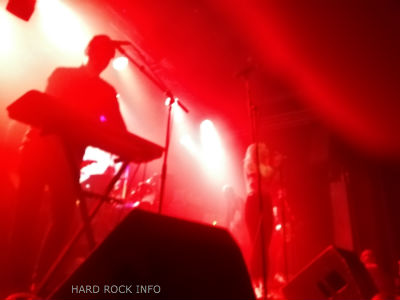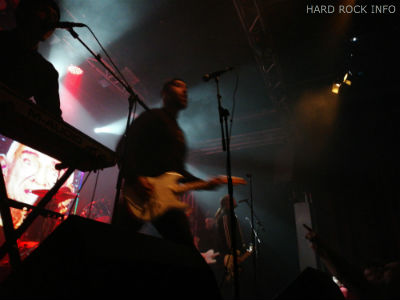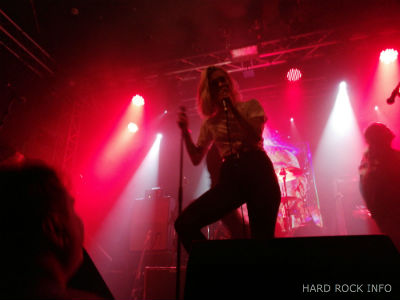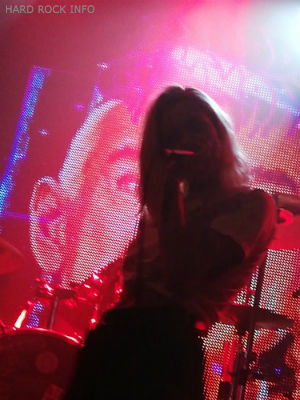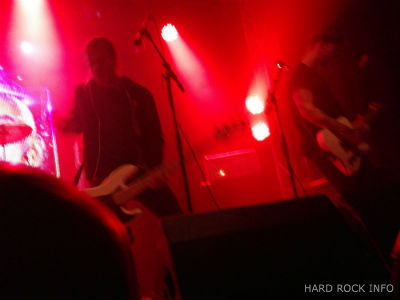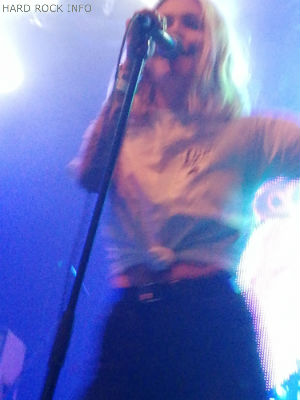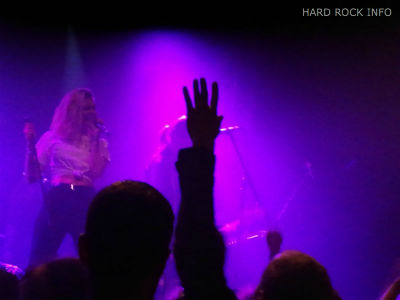 facebook.com/Bloodcommand facebook.com/twinpigspunk facebook.com/SocialPretender stickyfingers.nu
Published: April 27, 2019
SATAN TAKES A HOLIDAY: A New Sensation - Album
(Despotz Records)
Catchy rock that you can dance to. I think of a band like QUEENS OF THE STONE AGE for example. Maybe not "a new sensation" as the title says, but absolutely not bad anyway. They go all in with desire and energy, and deliver a stable album.
Their sound is a mixture of classic rock n roll, 60s garage rock and the swing of the 70s, as well as a love for the darker side of modern pop. It's said that if you don't shake your arse when they play, they will spill out your beer. But sometimes it actually is so catchy and energetic that you might spill it yourself. Try to sit still when you hear a song like "Set Me On Fire" for example, or a faster track like "Hell Is Here" (featuring Tess De La Cour). Almost impossible!
This is the fifth album from this Swedish band.
satantakesaholiday.com despotz.se
Published: April 26, 2019
NEW YEARS DAY: Unbreakable - Album
(Century Media - Release date: April 26)
NEW YEARS DAY is a wild mixture of modern metal and modern pop music. The vocals is mainly clean, but sometimes she scream. Not much to complain about there, but I wasn't really a friend of the musical mixture in the beginning. And that's simply because I usually don't listen to modern pop. But I'm man enough to admit that the more I listened, the better it got.
"Unbreakable" is the follow up to the band's 2015 LP, "Malevolence", which hit No. 45 on the Billboard 200. And it's not impossible that this album can do the same, because there's plenty of good material here. Just listen to stuff like "Missunderstood" or "Done With You" for example. If you like that, then you should like the rest too.
nydrock.com centurymedia.com
Published: April 25, 2019
KVINNA: This Is Türborock - Album
(Argonauta Records - Release date: April 26)
KVINNA means woman in Swedish, and when I tried Google Translate it meant the same in German (I have no clue if it's correct though). And Mainz, Germany is where this trio comes from. They formed in 2015, and "This Is Türborock" is their debut album. And now you may wonder what "türborock" is? Well, it can easily make you think of the Norwegian band TURBONEGRO, but it's not really the same thing here. This is more like high voltage hard- and stoner rock with elements of punk, classic rock and a big "fuck you" attitude. And their lyrics are on a totally different level compared to TURBONEGRO's dirty love songs.
This album was actually recorded in 2017 already, but it seems like it took a while to find the perfect record label for it. Now it's here anyway, and what can I say? Well, I can say that this is actually not so bad. They have some good songs here, so I guess it could be worth a try for stoner- and hard rockers.
kvinnamusic.com argonautarecords.com
Published: April 25, 2019
STEEL NIGHT: Fight Till The End - Album
(Iron Shield Records - Release date: April 26)
STEEL NIGHT is a pretty young band, that was born in February 2017 in Durango, Mexico. This is their debut album, where it's much metal and steel in the songs - "We Are Metal", "Heavy Metal Storm", "Wings Of Steel", "Made Of Steel". But if we take that part with a pinch of salt, and concentrate on the music instead, then we will find out that it's pretty good heavy metal in the traditional way that we get here. But I guess that wasn't so hard to figure out?
Some bands that I think of when I hear this is early MANOWAR, JUDAS PRIEST, RUNNING WILD. That doesn't really mean that they sound exactly like any of them, but if you like classic heavy metal from the 80s, then STEEL NIGHT can be a band for you.
ironshieldrecords.de
Published: April 24, 2019
The NIGHTMARE STAGE: When The Curtain Closes - Album
(Pure Steel Records - Release date: April 26)
US prog/power metal is what they call this New York band's music. And sure, why not? I think of bands like IRON MAIDEN and QUEENSRŸCHE when I listen to this, so you obviously don't have to be a fan of progressive metal to like this. Because even though those bands have done many progressive songs through the years, most of their listeners are fans of classic heavy metal (as far as I know).
Best song is without a doubt the doom metal track "Hellbound". But there's many more songs that are really good on this album. So don't be afraid. Give this a try or maybe 3 (just to be sure).
This seems to be their second album. Their first album, "Free Admission For The Damned", was released by themselves in 2010. Why it has taken 9 years between these 2 albums is unknown to me (probably not something that I have to know about anyway).
facebook.com/TheNightmareStage puresteel-records.com
Published: April 24, 2019
METALL: Metal Fire - Album
(Iron Shield Records - Release date: April 26)
METALL is a German band who existed between 1982-1991, even though they changed the name to HEADLESS in 1988. In 2013 founder and bassist Sven Rappoldt felt that it was time to bring the band back to life, so he found some new members and released the band's first full length album in 2017. And now their second album is here.
What we get here is a mixture of heavy metal, mainly in the traditional way. Everything from harder and heavier to power metal is present here. They might not be the best band in this genre, but they are far away from the worst either. They have some good songs, but maybe not anything that is brilliant.
metall-heavyband.de ironshieldrecords.de
Published: April 24, 2019
BITCHHAMMER: Offenders Of The Faith - Album
(Iron Shield Records - Release date: April 26)
While JUDAS PRIEST called themselves "Defenders Of The Faith", BITCHHAMMER call themselves "Offenders Of The Faith" instead.
This old school black/thrash metal trio comes from Leipzig, Germany and formed in 2008. Their sound is inspired by classic acts like VENOM, SODOM and DARKTHRONE, but also DESASTER and AURA NOIR. This is their first full length, but they have previously released some stuff on their own - a tape, a 4-way split (with 3 other bands from Leipzig) called "Thrashers Of The Apocalypse", and a EP.
We get 9 tracks who are between 3-5 and a half minutes. It's raw and dirty, and it will kick your arse to pieces.
facebook.com/raging.hell.rivers ironshieldrecords.de
Published: April 24, 2019
ATTIKA: When Heroes Fall - Album reissue
(Pure Steel Records - Release date: April 26)
This band can be glad that they don't have 2 dots over the A, because that would be ÄTTIKA, which is vinegar in Swedish. Not so cool.
ATTIKA comes from U.S.A., and released their self-titled debut album by themselves in 1988. "When Heroes Fall" was realeased back in 1991, but only on cassette. If I get it right, it took 2 years before it was finally released on CD. And this is definitely not a bad album. US heavy metal with a progressvie touch you could say. Many great songs here anyway. So this is absolutely worth a try.
As a bonus we get a live recording of the song "Silent Rage".
attikametal.com puresteel-records.com
Published: April 24, 2019
SIX FOOT SIX: Anomina (unplugged) - Single
(Pride & Joy Music)
Here's another single where Swedish melodic hard rockers SIX FOOT SIX is doing an acoustic version of 1 of the songs from their debut album, "The Six Foot Six Project", which was released in November last year. And it's a great song! This version give the song a whole new dimension. Gives it more feeling. The album version is very good too though, but this version is much deeper somehow.
facebook.com/TheSixFootSixProject prideandjoy.de
Published: April 23, 2019
GYPSY ROSE: Reloaded - Album reissue
(Scandirock Records/Pride & Joy Music - Release date: April 26)
Yet another product of the 80s. And then I talk about their sound. But fact is that GYPSY ROAD was founded back in 1981 already. They existed until 1993, but never released an album. In 2004 the group got together again, and finally released their debut album in 2005. Now that album will be re-released on CD and digital, but under the new title "Reloaded" and with a new album cover. There's also a bonus track, "Solitude".
Well, this is of course something for fans of melodic hard rock from the 80s. Think of bands like BONFIRE, SCORPIONS, TREAT and similar. Fans of that will love this.
facebook.com/scandirockrecords prideandjoy.de
Published: April 23, 2019
EYES WIDE OPEN: Solitude / The Disheartened Song - Singles
(Jubel)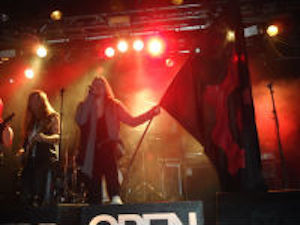 Here's the 2 first singles from EYES WIDE OPEN's upcoming album, "The Upside Down", which will be released on May 17. It was a while since the first single, "Solitude", was released (March 1), but "The Disheartened Song" was released earlier this month though.
EYES WIDE OPEN is labeled as a metalcore band, and they are from Karlstad, Sweden. They formed the band in 2011, and have so far released 2 full length albums. In 2016 they parted ways with their singer, so guitarist Erik Engstrand took over the vocals.
Well, I have been writing about this band before. But it must be a few years ago now (time goes fast). These 2 songs are definitely not bad. But metalcore? I don't know.. Maybe in some way? I prefer to call this modern/melodic metal instead, because I'm not really a fan of metalcore.
e-w-o.net jubel.se
Published: April 23, 2019
BLACK OAK COUNTY: Theatre Of The Mind - Album
(Mighty Music - Release date: April 26)
In the fall of 2017, in a period of great succees after the release of their debut album, singer Niels Beier chose to leave the Danish band BLACK OAK COUNTY and the life as a musician. Now they are back with a new singer, René Hjelm, who sound like he was born to sing for this band. But it's also said to be a new sound, which we can describe as hard hitting, catchy and hooky. It's said that they focus more on the melody and the song on this album, and mix that with the meaty riffs that they are known for.
My opinion about this power trio is that they live up to the description above, and they are doing it really good. We have several good songs on this album, and nothing is really bad. So maybe you should give this a try then?
blackoakcounty.com mightymusic.dk
Published: April 23, 2019
The TREATMENT: Power Crazy - Album
(Frontiers Music Srl)
Man, this band really reminds me of AC/DC around the "Highway To Hell" era. But there's also a song that reminds me of good old ZZ TOP, "On The Money". This is an excellent record of course, so you just have to check it out.
You can expect to hear fat riffs, strong choruses, catchy licks and songs that sound like they would be classics already.
"Power Crazy" is the 4th album from this British hard rockers, but the first with their new singer Tom Rampton. Keep him!
facebook.com/TheTreatmentOfficial frontiers.it
Published: April 22, 2019
TNT: Encore, Live In Milano - CD/DVD, Blu-ray
(Frontiers Music Srl)
Many great songs here that I have not heard since I was a kid back in the 80s. But also some new favorites that I don't think that I have heard before (or maybe I just don't remember them?). A damned good live album anyway, so I don't have that much to complain about.
This was recorded during TNT's headlining set at Frontiers Rock Festival in Milan, Italy on April 30, 2017. And it's the last live recording with the American singer Tony Harnell, who rejoined TNT in early 2016 after a brief stint with SKID ROW. He has since then left the band again.
If you're a fan of the band, then you should already have this release. Otherwise, check it out at once! And if you have not heard TNT before, but are a fan of melodic hard rock from the 80s, then you also have to check this out at once.
facebook.com/TNTtheband frontiers.it
Published: April 22, 2019
The END MACHINE: The End Machine - Album
(Frontiers Music Srl)
This is a new band that features classic-era DOKKEN members George Lynch, Jeff Pilson and Mick Brown, as well as current WARRANT singer Robert Mason. So you could be a little nasty here and say that this is more or less a new DOKKEN album, but with a singer who can still sing the songs (yes, I'm still dissapointed about that latest live recording that I heard with DOKKEN). But this is actually more than just that.
We get 11 tracks, and there's many good songs among them. So if melodic hard rock in the heavier league is your thing, then I recomend you to check this out.
frontiers.it
Published: April 22, 2019
BURNING RAIN: Face The Music - Album
(Frontiers Music Srl)
BURNING RAIN was founded in 1998 by guitarist Doug Aldrich (REVOLUTION SAINTS, The DEAD DAISIES, ex-WHITESNAKE, DIO) and vocalist Keith St. John (MONTROSE, KINGDOM COME). The band have existed on and off through the years you could say.
"Face The Music" is their 4th studio album, where Doug and Keith are joined by Blas Elias (SLAUGHTER) on drums and Brad Lang (Y&T) on bass. And it's a bluesy hard rock album with all the right ingredients from the old classic bands from the 70s that we get here. This is definitely not bad at all.
facebook.com/burningrainofficial frontiers.it
Published: April 22, 2019
AMYL & THE SNIFFERS: Got You - Single
(Rough Trade)
Another single from their forthcoming self-titled album, which will be released on May 24. And this song is just as good as the last single, "Monsoon Rock", was. So I really look forward to hear the album. Because this must be 1 of the most interesting new punk bands right now.
If you like catchy punk rock with both melody and attitude, then this is a band for you.
AMYL & THE SNIFFERS comes from Melbourne, Australia, and they have been rocking since early 2016.
amylandthesniffers.com
Published: April 21, 2019
Per Wiberg: Pile Of Nothing - Single
(Despotz Records)
So, the second single from his upcoming solo debut, "Head Without Eyes". They label his music as "rock/industrial/doom", but I don't really know what I should call this. I don't like it anyway.
As I said last time, Per Wiberg is a Swedish musician who have played keyboard, bass and guitar with several bands, like OPETH, SPIRITUAL BEGGARS, CANDLEMASS, CLUTCH/BAKERTON GROUP, SWITCHBLADE and KAMCHATKA, just to name a few of them all.
Not much else to add about this..
perwibergmusic.com despotz.se
Published: April 17, 2019
ASTRAL DOORS: Worship Or Die - Album
(Metalville - Release date: April 26)
Swedish band ASTRAL DOORS have since their 2003 debut, "Of The Son And The Father", delivered their own brand of retro heavy metal - mainly influenced by Dio-era RAINBOW and BLACK SABBATH, as well as DIO - with elements of modern heavy metal. "Worship Or Die" is said to be their most melodic album since "New Revelation" from 2007, but yet 1 of the hardest as well.
When it comes to the lyrics, then it's really heavy stuff like religion, terrorism and the future of us all. But there's also a few songs with lyrics about myths and horror stories.
Well, they do what they do damned good. There's no doubt at all about that.
astraldoors.com metalville.de
Published: April 16, 2019
SHAGGY: Fighting Angels And Demons - Album
(GMR Distribution)
The same year as I was born, in 1972, a new band was formed in Göteborg, Sweden who called themselves SHAGGY. They played rock music with influences from bands such as FREE, BAD COMPANY, YES, JETHRO TULL and others. In 1975 they had the honor of supporting SWEET at Scandinavium in their hometown, and they had a minor breakthrough that same year when they released their first LP, "Lessons For Beginners".
Now In 2019, the band is back with a brand new album, "Fighting Angels and Demons", which consist of 7 tracks in less than half an hour. And it's still good old rock music after all these years. Or hard rock the good old way to be exact. And they are doing it really good. I like what I hear.
Fans of 70s hard rock should like SHAGGY.
Published: April 15, 2019
SCARCROW: Beyond The Black Rainbow - Album
(SCREAM)
SCARCROW was founded in autumn 2015 in southern Germany. They got together for the love of true hard rock in the tradition of classic acts like Alice Cooper, BLACK SABBATH and DIO. But that doesn't mean that they sound exactly like that. They released their first EP, "A Murder Of Crows", in October 2016. And "Beyond The Black Rainbow" is their first album.
I would say that their sound is dark and heavy, but yet catchy and melodic. I think of a band like BACKYARD BABIES sometimes, even though it's not exactly like them either (possibly their heavier songs then). They have some really good songs here anyway, even though 12 tracks in 45 and a half minutes is a little too much at once.
facebook.com/scarcrowband
Published: April 15, 2019
ROYAL HUNT: Paradox - Album reissue
(NorthPoint Productions)
ROYAL HUNT continue to release their old albums digitally. We have now come to "Paradox" from 1997, which they say is "one of the best progressive metal albums of all time". I don't know if I agree, but it sold well over 250.000 copies across the world, so they obviously did something right. And yes, they have many great songs here. There's no doubt about that. Just listen to tracks like "Tearing Down The World", "Message To God" or "Silent Scream" for example.
If I should try to describe their music, then I would say that it's both melodic and progressive metal that we get here. A little like a more progressive 80s SCORPIONS maybe? I think that both fans of melodic metal and progressive metal will like this, as well as fans of good old heavy metal and power metal. So give them a chance! They're worth it.
On this re-release of the album we also get 2 bonus tracks. You can find the album on digital platforms like iTunes, Amazon, Google Play and Spotify.
royalhunt.com northpoint-productions.com
Published: April 15, 2019
Brown Acid: The Eight Trip - Album
(RidingEasy Records - Release date: April 20)
A new edition of Brown Acid is always nice, since there are many secret jewels to discover that I never would have heard if it wasn't for this collection. And yes, I have praised Brown Acid here before. And "The Eight Trip" is just as good as any of the others that I have heard. So if you're into the good old heavy rock from the 60s/70s, then this is a golden treasure. The only problem with this album is that these 10 tracks are over way too soon.
The unknown bands that participate on this 8th volume are ATTACK!, WHITE ROCK, RIVERSIDE, LUKE AND THE APOSTLES, TOURISTS, BARTOS BROTHERS BAND, INSIDE EXPERIENCE, KARMA, MOLOCH and GRUMP. And if any of the names sounds familiar to you, it's probably not the band that you think it is. Some of these single tracks are completely unknown releases that just recently have been discovered. Some of these singles are so unknown that you can't even find any information about their existance on the internet.
ridingeasyrecords.com
Published: April 14, 2019
OREYEON: Ode To Oblivion - Album
(Heavy Psych Sounds)
This album was released about a month ago, so excuse me if I'm a little late with my review. It has been very much lately.
OREYEON is an Italian stoner rock band who was formed in 2014. Their first release, "Builders Of Cosmos", came out in 2016. Their inspiration comes from many different kinds of heavy music, but they blend in stuff that other stoner bands might not do, which makes them stand out a little from the rest. The music is mainly heavy, but also a bit psychedelic, while the vocals are melodic.
These 6 songs are from 4,35 to 9,20 minutes. Most of them are really good.
facebook.com/Oreyeonofficialband heavypsychsounds.com
Published: April 12, 2019
REDWOLVES: Future Becomes Past - Album
(Argonauta Records)
Here's another record which has been lying for a while.
REDWOLVES comes from Copenhagen, Denmark and formed in 2012. The first EP, "Walking Roads", was released in 2016, and now the time has come for their first full length.
Their music is heavy rock, but there's also a touch of classic rock and The HELLACOPTERS. It's very catchy and energetic, even though there's some slower pieces too. A well-known sound from the past, done in modern time. And this is really good stuff my child. Both retro rockers and heavy rockers will like this band. Or just about any kind of rock fan actually.
Published: April 12, 2019
The QUIREBOYS: Amazing Disgrace - Album
(Off Yer Rocka Recordings)
I guess that there has always been some ROLLING STONES in The QUIREBOYS' music, but on this album it seems to be a extra big influence somehow. It's still good though. I like this kind of old man rock n roll.
The QUIREBOYS have made another great album. All songs might not be so great, but a few are even fantastic. And that's definitely not bad for a band that have been around for 35 years, and released as much as 6 albums just during the last 7 years.
"Amazing Disgrace" is their 12th album. It was recorded at the legendary Rockfield Studios in Wales, where classic acts like QUEEN, BUDGIE and HAWKWIND made classics in the 70s, and SUEDE, The DARKNESS and OPETH in modern time.
quireboys.com offyerrocka.com
Published: April 11, 2019
ICED EARTH: Enter The Realm - EP (Demo reissue)
(Century Media - Release date: April 12)
Seems like band leader/guitarist Jon Schaffer have become nostalgic. First a reunion EP with his old band PURGATORY, and now he have dug up an old demo with ICED EARTH from 1989. But this is very good, so there's no reason to complain.
This EP has been mastered from the original sound sources, and will be available on CD, digitally and LP (in several colours). This is actually ICED EARTH's first and only demo, and there's a total of 6 tracks. A must for any fan of the band of course. But fans of classic heavy metal in general will probably like this too.
The line-up in 1989 was Jon Schaffer (rhythm guitar, backing vocals), Greg Seymour (drums), Gene Adam (vocals), Dave Abell (bass guitar) and Randy Shawver (lead guitar). And as you might know already, the only one who is left in the band today is Jon Schaffer.
icedearth.com centurymedia.com
Published: April 11, 2019
HUMANITY DELETE: Werewolves In The Iron Sky - Album
(Iron, Blood and Death Corporation)
HUMANITY DELETE is yet another one of all the bands/projects with Rogga Johansson (PAGANIZER, RIBSPREADER etc etc). The band was originally formed back in 2003, when a demo was recorded but never released. RIBSPREADER took too much time, so HUMANITY DELETE was put on ice until 2012, when they wanted to resurrect the band, and finally release those demo recordings. But that idea became their debut album, "Neverending Nightmares", instead. After that it took a few more years before they had time to make their second album, "Fuck Forever World". In January 2019 they released their third full length, "Werewolves In The Iron Sky". And if you like meaty death metal the way Rogga use to do it, then this is absolutely your thing.
facebook.com/roggaofficial facebook.com/ibdc666
Published: April 11, 2019
DJÄVULEN MÖBLERAR OM: Mot Allt Som Du Är För - 10" EP
(Beluga Records)
Well, this Swedish punk rock band seems to deliver as usual. Because this sounds just as good as it use to do. So I'm just going to give you a very good advice: If you like punk rock in Swedish with a touch of rock n roll, then you just have to check out this band! That's how simple it is.
And sorry for taking so long with a short review like that, but there's been more records than ever to review lately.
facebook.com/DjavulenMoblerarOm belugarecords.com
Published: April 11, 2019
WIVES: Waving Past Nirvana - Single
(City Slang)
This is said to be a grunge/psych quartet. They are from New York, and have just signed with City Slang. "Waving Past Nirvana" is their debut single, which will be released as a 7" single, with "Kinda Like You" on the b-side, on May 24 (the a-side is already available for streaming though). And this is a first taste of their debut album, which will be released during the summer.
What can I say about this then? To me it sounds more like some kind of alternative rock song than grunge or psych rock. Not useless though, but nothing that makes me interested in more material from them.
wivesnyc.com
Published: April 10, 2019
BLACK MIDI: Crow's Perch - Single
(Rough Trade)
I don't really know, but I think this is a weird little song. Or maybe special is a better word. Hardly any hit material anyway. But if you don't want your rock to be as every other band, then this is absolutely something for you. They fuses a toxic mixture of post-punk, psychedelic rock, noise rock, indie rock or just about anything that they want to throw in. A very special band that is hard to grasp. But some people like that. Are you 1 of them?
Watch the video: bm.ffm.to/crowsperch?
Published: April 10, 2019
BAD RELIGION: Do The Paranoid Style - Single
(Epitaph Records)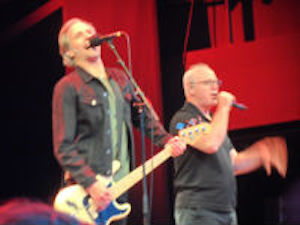 BAD RELIGION continue to release singles from their upcoming album, "Age Of Unreason", which will be released on May 3. And "Do The Paranoid Style" is a faster punk rocker, but just as melodic as they always are. A really good song! I look forward to hear the new album, which seems to be a bit more variated than usual.
Not much else to say. I wait for the album and let you know more about it later.
badreligion.com epitaph.com
Published: April 10, 2019
XAON: Solipsis - Album
(Mighty Music - Release date: April 12)
This little orchestra is led by Vincent Zermatten (guitars) and Rob Carson (vocals/orchestrations), and "Solipsis" is their second album. How I shall describe what they are doing is the more interesting part here. Because this sounds like a band who wants to go their own way. It's metal anyway. There's no doubt about that. But we also have symphonic parts, as well as progressive moments. It's both hard and heavy, as well as melodic parts. A little bit of everything you could say. And with that I mean that they take pieces from all kinds of metal genres and put them together.
I don't know if you get any wiser after reading that description, but they have some good stuff here anyway. So maybe you should simply give them a try? I guess that people who like a band like EVERGREY for example could like this. But their record label says that this is something for fans of DARK TRANQUILLITY, TYPE O NEGATIVE and SEPTIC FLESH. So I guess that now both you and me are even more confused instead.
facebook.com/xaonmusic mightymusic.dk
Published: April 9, 2019
RAUNCHY: Velvet Noise - LP reissue
(Mighty Music - Release date: April 12)
This album was recorded in 2000, and became Danish metal band RAUNCHY's debut album. The music is more of the alternative and modern kind of metal. Or a mixture of hard guitars and melodic melodies. And when the album came out, reviewers described it as a "modern classic", and said that the band was "boosting new life to a stagnated metal scene". Famous producers suddenly wanted to work with them, and big record labels wanted to sign them (they signed with Nuclear Blast after this album).
Now in 2019 this album will be released on vinyl for the first time. It will be available on orange vinyl in a limited edition of 500 copies.
Even though it might sound like this would be a masterpiece, it sure ain't a masterpiece to me. But on the other hand, I had never heard this album before. And it's far away from the worst I have heard. Some songs are pretty good actually.
RAUNCHY is still alive, and plan to record their 7th album in late 2019.
raunchy.dk mightymusic.dk
Published: April 9, 2019
DEVIL'S GUN: Sing For The Chaos - Album
(Black Lodge Records - Release date: April 12)
This singer sounds exactly like Udo Dirkschneider (U.D.O., ex-ACCEPT). And this band's music is not far away from his bands. In other words damned good heavy metal that will make you scream for more. What else can you ask for?
"Sing For The Chaos" is DEVIL'S GUN's second album. It consist of 10 really strong tracks, and not 1 single ballad as far as the ear can hear. If you don't like this, then you don't like heavy metal.
soundcloud.com/devilsgunswe
Published: April 8, 2019
The MAMMUTHUS: Forever Tree - Album
(Gothenburg Noise Works - Release date: April 12)
The MAMMUTHUS has previously released 2 EPs - "Khatanga" in 2015 and "The Herd Is Gathering" in 2016. Now it's time for their debut album to arrive. And their music is described as "stonerish melodic riffs, bluesy hooks and thrilling echoes of 70s rock and 90s grunge". The members have different backgrounds in music. Bands that they have played or play with are ELECTRIC EARTH, FOSTER JENKYNS and CYNICAL EXISTANCE. They believe in artistic freedom, and let everyone get his space to create and contribute to the songs that they make.
If that sounds like your dream band, then this might be something for you. But you might also be like me - a simple man who like 70s rock and 90s grunge - and then this is also something for you.
The most magical song is actually the slowest track, "Doomsday Vault", with just guitar and vocals. But most of the other songs are also great.
facebook.com/themammuthus
Published: April 8, 2019
MURG: Strävan - Album
(Nordvis Produktion - Release date: April 26)
"Strävan" is the third album from this anonymous duo. It's the last chapter in a trilogy that started with 2015's "Varg & Björn" - Humankind as we know it with all our flaws and perversions no longer exists: a new form is created, a perfect beast born to sacrifice itself to end the entire universe.
We get 8 tracks of cold and raw black metal in Swedish. No symphonic stuff or any other over-ambitious things here. Just pure black metal as it was meant to be. There's still atmosphere, even though it's very dark (what else?).
Good stuff that you have to check out.
facebook.com/murgofficial nordvis.com
Published: April 8, 2019
WALDGEFLÜSTER: Mondscheinsonaten - Album
(Nordvis Produktion - Release date: April 12)
WALDGEFLÜSTER gives us over an hour of atmospheric black metal. Melodic guitar melodies are mixed with both harsh and clean vocals. Their shortest song is 5,49 minutes, while the longest is 12,22 minutes. This is an epic and ambitious project that these Germans have put together. A winter album you could say. Or why not the perfect soundtrack to a walk in the forrest. But if you want your black metal to be hard and brutal, then this might not be the band for you. I like what I hear though.
waldgefluester.com nordvis.com
Published: April 8, 2019
SOLITUDE: Reach For The Sky - Album
(Mighty Music)
This is the third album from this Japanese heavy metal band. But their history goes back all the way to 1996, even though it wasn't until 1998 that they picked the name SOLITUDE. Their debut album, "Virtual Image", was released in 2001. They started to prepare themselves for a new album in 2004, but it wasn't ready to be released until 2009. This album, titled "Brave The Storm", was also released in Europe in 2011. The recordings of "Reach For The Sky" began in 2014, and the album was released in Japan in 2015. But it's not until now that it will finally be released in Europe as well (if I got it right?).
In the faster songs this band is very influenced by MOTÖRHEAD. But in the heavier songs I think of a band like HIGH ON FIRE instead. So far so good. But unfortunately they sometimes have this tendency to play the same thing for a little too long. And that's not funny. Luckily not such a big problem though as most of their songs are really good. I think that fans of NWOBHM will like this a lot.
facebook.com/solitudejapan mightymusic.dk
Published: April 5, 2019
MOLIOR SUPERUM: As Time Slowly Passes By - Album
(H42 Records)
MOLIOR SUPERUM is another Swedish band who play 70s blues/heavy rock, but with a pinch of stoner rock as well. Their debut album came out in 2013, and was followed by 2 EPs in 2014 and 2015. Then it became quiet. But now they are back with their second full length. And what can I say? Believe it or not, but here's another great band in this over-established genre. I'm not really sure how it's possible how so many 70s rock bands can be so damned great. But they are..
moliorsuperum.bandcamp.com h42records.com
Published: April 4, 2019
Louise Lemón: A Broken Heart Is An Open Heart - Album
(Icons Creating Evil Art)
Even though I describe this as "dark pop", she start the album with a song called "Sunlight". So maybe it's not always so dark after all? Well, there has to be a light in the tunnel, because total darkness is not that funny. But a few songs later it's "Not Enough" for her, and then she have a "Blurry Vision" and "Swimming In Sadness". So I guess you could say that it commute between hope and despair.
The funny thing is that they say that she has been inspired by 60s/70s psych rock and soul on this album. Because that's not something that I can hear anyway. Possibly some soul, but psych rock? Well, that would possibly be the instrumental track, "Susceptible Soul", then.
And yes, I know that I call this site Hard Rock Info, but this is my site, and I do as I want to. And now I actually happens to like Louise's music. And it's not impossible that some more of you might do so. So if you like dark music, then give this a try at least.
louiselemonmusic.com icea.se
Published: April 4, 2019
Stevie D ft Corey Glover: Final Resting Place - Single
(Mighty Music)
This song start with a guy singing without any music at all for almost a minute. The first time I heard it that was enough for me to start thinking that it was an accapella song. Luckily it wasn't. Because after almost a minute the other guys have woke up, and start to play. And in the end it's not such a bad song after all.
Stevie D feat. Corey Glover is a musical partnership by producer and multi-instrumentalist Stephen DeAcutis (aka Stevie D) and singer Corey Glover (LIVING COLOUR). They will release their first album together, "Torn From The Pages", in May through Mighty Music. "Final Resting Place" is the first single from that album.
facebook.com/StevieDftCoreyGlover mightymusic.dk
Published: April 3, 2019
Per Wiberg: Get Your Boots On - Single
(Despotz Records)
Per Wiberg is a Swedish musician who have played keyboard, bass and guitar with bands like OPETH, SPIRITUAL BEGGARS, CANDLEMASS, CLUTCH/BAKERTON GROUP, SWITCHBLADE and KAMCHATKA, among others. But now it's time to make his solo debut, starting with the first single from his upcoming album, "Head Without Eyes", which will be released on May 10.
"Get Your Boots On" is like a darker rock song, and not that much as any of the bands mentioned above. It's a good song though, but I don't really know what I can compare it with. So just to make sure if you like it or not, simply give it a try.
perwibergmusic.com despotz.se
Published: April 3, 2019