REVIEWS 2022 - FEBRUARY
«
JANUARY
|
INDEX
|
MARCH
»
FLAW: Revival
Cleopatra Records on March 4 - LP, CD, Digital
FLAW is a modern and melodic heavy rock band, who has existed since the late 90s. On this album they go all in on covers, and they have mostly chosen crap according to me. Completely uninteresting pop songs that they try to turn into heavy rock songs. We talk about artists like Peter Gabriel, The POLICE, .38 SPECIAL, Billy Idol and more. For some reason they have also included new versions of 2 of their own songs (funny bastards).
No I'm not impressed! The only good song here is the last track, which is "Still Of The Night" by WHITESNAKE. But o.k., "Every Breath You take" by The POLICE is not so bad either. Otherwise mainly crap though, but your pop sister might like it.
cleorecs.com
FORNDOM: Och Med Vinden Ack De Gunga
Nordvis Produktion - Digital single
Well, this little folk ballad didn't give me that much. It's dark and slow and so tragic somehow. This will definitely not make you happy anyway. Not that everything have to be happy to be good, but.. No, this is not a song for me.
This seems to be a new version of the instrumental track "Jag vet ett tempel stå" from 2016, but with vocals and more depth.
I don't seem to get further than that with this review..
orcd.co/och-med-vinden-ack-de-gunga
ABE AND HIS BABE: Breaking Away
Abe And His Babe - Digital single
This is a 1-man band from Sweden, who play "doom metal-inspired grunge", as he describes it. This song will probably take you back to the alternative rock scene in the 90s, as it's more in that style than doom according to me. A o.k. song that you should give a try.
The idea to do everything by himself came up when he got tired of members without any ambitions at all (which seems to be a common problem).
I don't have much else to say..
youtu.be/iXdAxCWSbS4 abeandhisbabe.bandcamp.com
OXIDIZE: Superstition
Wormholedeath Records - Digital single
OXIDIZE is a melodic metal band from Sweden, formed in 2017. The members comes from bands like ARCTIC VOID, WINGS OF DESTINY, CRYSTAL EYES, BRASSMONKEY etc., and an album, "Dark Confessions", was released last year. A very good album that you should check out.
This new single is not so bad either, so you should check this out too of course.
How do I describe it then? It sounds dark somehow, yet powerful and melodic. Fans of heavy metal with a modern twist should like this.
facebook.com/Oxidize.Sweden wormholedeath.com
Old Kerry McKee: Evil Art Sessions 011
Icons Creating Evil Art - Digital
Old Kerry McKee is a 1-man band based on the Swedish countryside. But one day he took his equipment and went to the Evil Art studio in Stockholm, Sweden for a Evil Art Session, where he performed his own song "South Spruce Blues" and a cover by Flora Cash, "You're Somebody Else". That was probably a wild adventure as far as I can hear, as this man blends all kinds of musical genres: country, metal, American folk music and most of all blues. Let's call it wild horror blues.
The music is dirty, crooked and raw. But also melancholy, dark and almost psychedelic. As a collision between all kinds of impressions and experiences. This guy deliver with anxiety and passion.
icea.se oldkerrymckee.com
SUCKERPUNCH: Redneck Gasoline
Self-released on March 4 - Digital
"Redneck Gasoline" is the second album from these Danish rockers. And the music that they gives us here could possibly be described as something like "redneck boogie rock". It's a wild blend of Southern rock, boogie rock and classic rock. Like an energetic rock n roll party you could say.
These guys don't take themselves too seriously, but that doesn't mean that the music is rubbish though. Because the music is really good. You should really give this a try.
facebook.com/sp.live.dk
DESERTED FEAR: Doomsday
Century Media on March 4 - CD, LP, Digital
This German trio formed in 2007, and "Doomsday" is their fifth album. But the journey from the last album to this album was not easy. They were touring a lot, but when the pandemic came they finally got a break to recharge the batteries. And after a while the energy came back, and they started to work on some new material. So now they look forward to go out and play live again.
DESERTED FEAR have made a thundering beast of an album. It's hard and heavy, yet melodic. And this combination works perfect in the hands of these guys. They have simply made an album that they can be really proud of. If this will be a classic remains to be seen, however. The competition is fierce nowadays.
desertedfear.de centurymedia.com
GODLESS TRUTH: Godless Truth
Transcending Obscurity Records on March 4 - LP, CD, Digital
Long-running Czech death metal band GODLESS TRUTH have been around since the early 90s, and play in the more technical league. Which is not something that use to impress me, as it's often too much going on and just too much for me. But this is actually not so chaotic and crazy as some other technical death bands use to be. To my big surprise this is actually quite good. And compared to a band like The LAST OF LUCY for example, this is catchy and melodic.
Best technical death metal album so far this year? Probably..
godlesstruthband.bandcamp.com tometal.com
VIOLENCE: Area Sub Rosa
Last Mile Records on March 4 - LP, Digital
If you have a name like VIOLENCE, then it better be violent. This band is definitely not violent at all. It's more like some kind of atmospheric post-rock or whatever I should call it. And for some reason all songs sounds more or less the same to me. Pretty boring after a couple of songs.
VIOLENCE are said to combine the dreamy tones of the 80s and the sound of modern rock music in its biggest format. It's also said to be somethiong for fans of The CURE, The 1975 and SLOWDIVE. Their sound is melancholic, but the funny thing is that they say that punk has had an enormous importance for the band - That is something that I absolutely not can hear on this album.
The band were previously known as WOES, who played hardcore/punk. That would be more interesting to hear.
facebook.com/violencecph
AS I MAY: Karu
UPRISING! Records on March 4 - CD, LP, Digital
Hm, Karu.. Isn't that a beer from Finland?
Anyway, AS I MAY is a modern melodic metal band from Mikkeli in Finland, formed in 2016. They combine modern elements with a heavier side, and is said to sound like "a modern day US mixture of IN FLAMES and AMORPHIS". Their songs have catchy melodies and big choruses, and it's all very professional.
This is something for fans of modern metal first of all, because I don't think that fans of old school metal will be impress.
asimay.com uprisingrecords.de
ANGELES: Running Like An Outlaw
Dark Star Records/Sony/Universal on March 4 - CD, Digital
L.A. hard rock veterans ANGELES are back with a new album. But even though they have been around for a long time, they are not among the more famous bands (not here in Sweden at least). On the other hand they are almost as good as some of the more famous bands from the 80s, so they deserve some more attention from rockers around the world. Which they really proves with these 8 tracks, who are all in the good old school.
Check out!
facebook.com/TheAngelesBand darkstarrecords.com
The DEFACED: Charlatans
Vicisolum Productions on March 4 - CD, LP
Swedish metal band The DEFACED was formed in Helsingborg in 1999 by members of DARKANE, SOILWORK and some other local acts. The debut album, "Domination Commence", was released in 2001 through Scarlet Records and Nuclear Blast America. They released 2 more albums before they went on hiatus in late 2008.
But in 2018 they were back again, and started to write some new songs. "Charlatans" is the result of what they have been working on for the last years.
The new album is said to be the sound of the early albums, but with a more progressive touch. We talk a pretty hard and almost groovy metal, which they mix with melodic parts. I guess we can call it modern metal, but that doesn't really say that much. They have simply found their own little sound, which is a little hard to explain. But it's not bad anyway.
Pre-order: smarturl.it/VSP169
STALKER: Stalker
Wormholedeath - Digital
STALKER formed in 2020 out of Covid boredom, and features Michael Storck (RISING FORCE, CRITICAL MASS, NEON ROSE, PARADISE etc) on lead vocals, Nalle Påhlsson (EASY ACTION, THERION, TREAT, ZAN CLAN, VINDICTIVE, Randy Piper, Brian Robertsson etc) on bass/backing vocals, Dragan Stankovic on guitar and Björn Höglund (EASY ACTION, THEIRON) on drums. These guys decided to record a diverse metal album, and this self-titled debut is the result of that.
I wasn't always impressed by their singles, but I must say that as an album it actually works. It might not be a masterpiece, but it's hardly garbage. Most songs are good hard rock/heavy metal, and it's a varied material that they have here.
facebook.com/Stalker-Sweden-103701382062974 wormholedeath.com
ScreamKing: Thee Indomitable Spirit
Self-released - CD, Digital
This hybrid heavy metal band is based in Northwest Indiana, USA. This is their third full-length album, which was released in June 2021. It features some guest apperances from people like Harry Conklin (JAG PANZER, The THREE TREMORS), Rusty Cooley, Ronny Monroe (METAL CHURCH, TRANS-SIBERIAN ORCHESTRA), Tim "Ripper" Owens (KK's PRIEST, The THREE TREMORS, ex-JUDAS PRIEST, Yngwie Malmsteen, ICED EARTH), James Rivera (HELSTAR) and Joe Stump (ALCATRAZZ).
Their music and vocals makes me think of stuff like JUDAS PRIEST and KING DIAMOND for example, as well as some NWOBHM and classic US metal. And so far so good. But the sound quality is like a demo recording, and for some reason they thought it was o.k. to include as much as 17 tracks on 1 album. So you could say that this is a o.k. demo, but with way too many songs as the material is not strong enough. There's just a handful of songs that are a little bit better than the rest here.
Until next time I want better sound quality and no more than 8-10 songs. O.k.?
screamkingofficial.com
PROJECT RESURRECT: False Reality
Self-released - CD, Digital
American band PROJECT RESURRECT was born because Wayne Noon and Pete Rigo was fed up with trying to work with other musicians. Members would come and go, and after 2 years of not being able to complete a song the band dissolved. Wayne and Pete remained friends, and continued to work on music themselves without knowing what to do with it. When the 2 guys had enough songs, they decided to invest in some recording equipment and record on their own.
After that it took 3 years to find the perfect singer, Leandro Bastos. And then it took another year to record guitars and drums. Much work, but in May 2021 their debut album was finally released. And now they seems to "re-release" it or something to get some more reviews?
Well, what we get is 8 tracks blending power metal and hard rock into something they call "New Wave of Traditional Heavy Metal". To me it sounds like they are blending old and new, and they seems to be good at what they are doing here. Let's just hope that it won't take another 4 years before their next release.
projectresurrect.godaddysites.com
MACERATION: Live Disfigurements
Emanzipation Productions on Feb. 25 - LP, Digital
Is this a bootleg that somebody in the audience has recorded on an old walkman hidden in the pocket? That's how bad the sound quality is on this live recording. And that is not so good of course. But as far as I can hear this is nothing special anyway. Just some full speed ahead teenage death metal. And if you have no major requirements, then this may well suffice. However, I would not spend a large sum of money on this if I were you.
This was recorded at Aktivitetshuset in Esbjerg on the west coast of Denmark on June 8, 1990. 3 bands played that evening, and DARKTHRONE was the headliner. Who the third band was is unknown to me, but for some reason the sound guy decided to record the concerts, and the DARKTHRONE recording has previously been released. Now it's time for the MACERATION recording as well, who actually did their first gig.
2 of the members had experience from thrash metallers INVOCATOR, but the rest of the guys didn't have much live experience, plus that they were pretty fresh as a band. So for obvious reasons this is not the best recording, but it might be fun to hear for those who were involved.
Out of 9 tracks only 4 were original songs. The rest is covers by bands like DEFECATION, DEATH and OBITUARY (1 cover is played twice). We also get 2 more live tracks, recorded in Aarhus, Denmark in 1992 and Zwolle, Holland in 1993.
facebook.com/maceration
HEARSE: Traipse Across The Empty Graves
Sinistrari Records - CD, Digital
Pennsylvania/Delaware outfit HEARSE formed in 1997 and released 2 demos (in 1997 and 1999). After an eternity they have now released their first album.
These dubious figures comes from an area known for its industrial wasteland, racketeering, gambling and prostitution. No wonder that they sound like they do. We talk funeral doom metal of the extreme kind, and 9 painful tracks to go through.
This is only for those who like it heavy with harsh vocals.
sinistrarirecords.com doomhearse.bandcamp.com
EYES OF THE LIVING: Fear Comes Knocking
Blood Blast Distribution on Feb. 25 - CD, Digital
EYES OF THE LIVING is a modern thrash metal band based in Philadelphia, PA, USA. They formed in 2016, and this is their second release. It's been influenced by the current state of the world, and is said to feature some of the darkest, heaviest, and most unrelenting material in the band's history.
Even though they call it modern thrash metal, I can hear influences of the old school as well. So I would say that it's a mixture of old and new elements. It's a powerful and heavy album, but there is a few faster songs too, which I like more.
They seems to be good at what they are doing.
eyesoftheLiving.com bloodblast.com
DEAD HEAD: Haatland (re-issue)
Petrichor on Feb. 25 - 2CD, LP
DEAD HEAD was formed in 1989 in the Zwolle/Kampen area in The Netherlands. They released several demos, 3 full-length albums and a EP before "Haatland" was released. And now that album will be re-released on both CD and LP. And if you get the CD, you will get a extra disc with bonus tracks and lots of demo recordings - a total of 29 tracks.
The music that we get here is fast and raw thrash metal in the old school. And if you like that, then you should give this a try, because it's not bad at all.
facebook.com/DeadheadThrash ochtenddauw.com
D'Virgilio/Morse/Jennings: Troika
Inside Out Music on Feb. 25 - CD, 2LP/CD, Digital
This is a collaboration between the 3 singers Nick D'Virgilio (SPOCK'S BEARD), Neal Morse (SPOCK'S BEARD) and Ross Jennings (HAKEN). It's mainly an acoustic album where the vocals is in main focus, so it's also laidback and soft. The vocalists are harmonizing with each other, so those of you who like that have something to discover here. I think of stuff from the 60s when I hear this, like Simon & Garfunkel for example.
Maybe not so rock n roll, but I would say that it's not so bad anyway. I might not like all songs though.
nickdvirgilio.com facebook.com/nealmorse rossjennings.co.uk
WASTELAND VALLEY: The Pandemic
Wasteland Music on Feb. 25 - CD, LP, Digital
I guess it was just a matter of time before a band would release a concept album about the pandemic. And now it has happened. Because WASTELAND VALLEY, from the middle of Norway, have done just that.
This is their third album, and it's said to be a bit different than the previous 2 albums. Much because it was mainly written by drummer Espen Gotvasli instead of collectively as a band. But they also experimenting more on this album, with stuff like a symphony orchestra and samplings for example, as well as a bigger production than before.
I see a small problem here though, as people are so damn tired of the pandemic that they don't want to hear about it anymore.
When it comes to the music, I guess we can describe it as hard rock/heavy metal with a progressive touch. And even though this might not be a masterpiece, it's absolutely not bad at all. It's simply a good album.
wastelandvalley.com
VULCANOVA: Cosmic Bullshit
The Sign Records on Feb. 25 - 12" vinyl, CD, Digital
Heavy but yet very catchy, and on the highest volume of course.
Icelandic stoner rockers VULCANOVA released their debut album, "Radical Waves", in 2020. And the power trio now return with a 6-track EP, "Cosmic Bullshit". It's said that they revisits the vibes of the debut, while showing a new dimension of their sound. All 3 are vocalists, so be prepared for something unusual for this genre, like harmonies and different vocal arrangements.
This is absolutely not bad at all. You should give them a try.
volcanova.bandcamp.com almostreligious.com
TIMELESS RAGE: Untold
Metalapolis Records on Feb. 25 - CD
TIMELESS RAGE formed in 2012, and released an EP in 2013. But after a while they went through some changes in the line-up, which was followed by a long break. In 2019 they were back again with a new line-up, and since then they have been working on this debut album, which will now finally be released.
We get 8 tracks of symphonic power metal, and this is very professional and good, so I can't see why you should not check this out. For some reason I don't have much else to add though..
timeless-rage.de metalapolis.eu
SERIOUS BLACK: Vengeance Is Mine
AFM Records on Feb. 25 - CD, LP, Digital
SERIOUS BLACK is an international power metal band surrounding bassist and founder Mario Lochert. New singer is Nikola Mijic (EDEN'S CURSE), who replaces Urban Breed.
It's a melodic and dynamic power metal album that they have made. We get as much as 13 tracks here, but it's a very good album, so why complain?
Yes, I think you should check this out.
serious-black.com afm-records.de
OHRENFEINDT: Krawallgeigensymphonie - Live From St. Pauli
Metalville Records on Feb. 25 - 2CD, Limited Box, 2LP
Have you ever wondered what AC/DC would sound like in German? Then this band is the answer to your odd thinking. They are rocking just as hard and energetic as the Australian legends, even though OHRENFEINDT seems to be into Southern rock as well sometimes.
St. Pauli is a district in Hamburg, probably most well-known for their football team, which punks and anarchists seems to like a lot. And this is where the band decided to record this live album to celebrate their 25-year anniversary in 2019 (if I get it right).
We get as much as 24 tracks and 2 hours of music. No ballads or slow songs here, just pure riff rock all the way. I like it!
ohrenfeindt.de metalville.de
BLACK DIAMONDS: Floor 13
Metalapolis Records on Feb. 25 - CD
Swizz hard rockers BLACK DIAMONDS released their latest album, "No-Tell Hotel", in 2021. And now they release another album, with both new and unreleased songs, as well as some covers, acoustic versions and live tracks.
Among the covers are "Out In The Fields" (Gary Moore/Phil Lynott), "Rainbow In The Dark" (DIO) and "Jumpin' Jack Flash" (ROLLING STONES). All 3 are good songs. But their own material is not bad either, some kind of hard rock in the melodic league that reminds me of the Swedish band ECLIPSE (which I really like).
The last track is just a lot of talking about the "No-Tell Hotel" album. How funny is that?
BLACK DIAMONDS was founded in 2004, and has previously released 4 albums.
blackdiamondsrock.com metalapolis.eu
BRICK BY BRICK: Dismal Existence
Upstate Records/Blood Blast Distribution - LP, CD, Digital
New York hardcore band BRICK BY BRICK deliver their music with violent anger and no filter. The riffs are heavy, and the vocalist sing with a harsh voice. They are hardly the fastest hardcore band, but somewhere over mid-tempo at least. And metal riffs are nothing unusual.
According to their song titles, "Evil Remains" but they "Can't Be Broken" and live by the code "Loyalty To The Grave".
This is quite good stuff, so give it a try.
upstaterecordsny.com facebook.com/brickbybrickny
Jonas Lindberg & The OTHER SIDE: Miles From Nowhere
Inside Out Music on Feb. 18 - CD, 2LP/CD, Digital
This is a progressive rock project from Stockholm, Sweden, formed by bass player/songwriter/producer Jonas Lindberg. It's not a solo project though, but a full band.
Due to other commitments it's 7 years since their last album. This new album is over an hour long (1:16,31 to be exact), and that's a bit too long for me. But I guess that fans of this genre will be happy to hear songs that are 11 and a half to almost 16 minutes long. All songs are not that long, even though the last song, which is the title track, last for 25 and a half minutes. That song is in 5 different parts though.
It's an adventurous album that we get here, and I don't think that you will get bored (unless you really hate prog rock then). They build up different moods and it's a varied material. You will simply get exactly what you can expect from an album like this.
lindbergmusic.com
BLOOD INCANTATION: Time Wave Zero
Century Media on Feb. 25 - CD/Blu-ray, CD, LP/CD, Digital
Why have a readable logo? But as somebody said: "If you can read the logo, it's life metal". This is not any kind of metal or even music though. 2 eternity long pieces - 21 and 19:40 minutes - of some atmospheric soundscapes. Totally useless!
It looks like these figures has been around since the fall of 2011, and their music is said to be cosmic death metal, or "powerful athmospheric death metal with progressive elements". But they also say that the band has gradually incorporated more psychedelic and ambient components with each new release.
If you want guitars, forget this album. Because here it's the synthesizers which is in focus. Maybe they should sell this as relaxation music?
centurymedia.com bloodincantation.bigcartel.com
Arjen Anthony Lucassen's STAR ONE: Revel In Time
Inside Out Music - 3CD/Blu-ray, 2CD, 2LP/CD, Digital
22 tracks! And it's hardly some short punk attacks that we talk about here, but rather some progressive/neo-classical hard rock. And the reason why there's so many songs is simply because they have included 2 versions of the album, as there were so many good musicians.
As usual with STAR ONE albums there's a concept throughout the album. On "Revel In Time" the tracks are all inspired by movies that deal with some kind of manipulation of time. The title of the album is a mash-up of "Travel in Time" without the first T, and "revel in your time", which sci-fi-movie nerds may know is a quote from "Blade Runner", one of band leader Arjen's favorite movies of all time.
Something that is different this time is that this album features a different singer on each song. Yes even on the second disc. The 2 previous albums had the same 4 singers, but due to international travel restrictions it was easier to have a different singer on each song. This means that there's about 30 different musicians, including singers and instrumentalists, on this album. Did anybody say ambitious?
But let them be ambitious if they want to. After all this is said to focus on virtuoso musicianship. So if you get impressed by something like that, then I guess that this could be something for you. And even though the album last for about an hour, you probably won't get bored, as it's a very varied album. But the music is absolutely not bad either, so you don't have to be a nerd to listen to this.
arjenlucassen.com
METAL CROSS: Soul Ripper
From The Vaults on Feb. 25 - LP, CD, Digital
It's as much as 38 years since the first rehearsal, and 7 years since their reunion concert at Metal Magic Festival. And now this Danish heavy metal band is ready to finally release their first studio album, "Soul Ripper", which is said to melt together the sound of their 2 80s demos with a renewed power and energy.
This is powerful and professional. And the songs are good, so there's not much to complain about. They are not a complete copy of some other bands, but have found their own style. You should give them a try.
metalcross.dk fromthevaults.dk
SOLSTICE: To Dust (re-issue)
Emanzipation Productions on Feb. 25 at targetshop.dk / on April 8 worldwide - LP
SOLSTICE released 2 albums in the first half of the 90s, but in the late 2000s many thought that these Miami death metallers was done. Then they surprisingly reformed and released the album "To Dust" in 2009, which will now be re-released on golden vinyl in a very limited edition of just 300 copies.
This is Florida death/thrash with aggression, but also flashing solos and hundreds of heavy riffs. This is seen as one of their strongest albums, and I can understand why when I listen to this. It's brutal but yet good. I like it.
The band is still active, and released their 4th album, "Casting The Die", about a year ago (review).
emanzipation.dk facebook.com/Solsticefl
SVARTSOT: Kumbl
Mighty Music on Feb. 25 - CD, LP, Digital
Danish band SVARTSOT sounds a lot like Swedish folk metal bands. But then Sweden is not so far away from Denmark, so the folk music is more or less the same.
This album is a collection of traditional folk songs that have inspired the band, reworked in SVARTSOT's characteristic style. Which means folk music spiced with hard and heavy guitars, and on top of that harsh alcholic/black metal vocals. Some songs are really good, while others are not so interesting (they are few though).
"Kumbl" was supposed to be released in 2020, to celebrate the band's 15th anniversary. This is their fifth album, which also features guest vocals by Andrea Uglebjerg (vocalist in the Danish punk band SITUATIONSFORNÆRMELSE, and sister of drummer/producer Frederik Uglebjerg) on 2 of the 12 tracks.
svartsot.dk mightymusic.dk
TYGERS OF PAN TANG: A New Heartbeat
Mighty Music on Feb. 25 - CD (vinyl later)
British hard rock legends TYGERS OF PAN TANG has not just recruited a new guitarist, Francesco Marras, and bassist, Huw Holding, but they have also recorded this 4-track EP and been working on their next album.
The new EP consist of 2 brand new tracks and 2 re-recordings of songs from their debut album, "Wild Cat". And if you like me have liked the last albums from this band, then you should not be dissapointed when you hear this. It's simply just as good as usual.
You can already now order the CD from targetshop.dk or the band's web site, but the official worldwide release date is February 25. It will also be released on vinyl later on, but not digitally as far as I can understand.
tygersofpantang.com mightymusic.dk
MARTYR: Planet Metalhead
Self-released? on Feb. 24 - CD, LP, Digital
MARTYR is a heavy/speed/power metal band from Utrecht, The Netherlands, who originally formed back in 1982. They released a few demo tapes and albums, but also participated on 2 compilation albums from Roadrunner Records and Metal Blade. After a few years they decided to go separate ways though, and could be found in some other bands.
Around 2005 they were asked to reunite for some European festivals, and after those shows they were back on track again, and some more albums has been released since then.
Now another album is here with 10 new tracks to bang your head to. It's mainly heavy metal in the good old tradition, even though it's updated with a modern sound. Sometimes you could call it power metal though.
MARTYR have many really good songs on this album, so they are absolutely worth a try. And especially if you're into bands like JUDAS PRIEST and IRON MAIDEN, and love twin-guitars. Then this is a must.
martyronline.nl
WARDENCLYFFE: Temple Of Solomon
Pharos Media Productions on Feb. 22 - Digital (CD and LP later)
WARDENCLYFFE is a Swedish doom metal band, founded in Norrköping in 2011. The members have experience from other bands, like CAPTOR, MISERICORDIA, TERRORAMA, GRIFTEGåRD, DAUTHA and GODLESS MACHINERY. Their debut album, "Control All Delete", was released in 2015. But it's not until now that they are ready to release their second album, "Temple Of Solomon", which is a conceptual adventure that warns of the horrors of a techocratic megalomaniac regime, but also predicts that sinister plan will fail.
This is a great doom metal album in the epic and ambitious league. These 8 songs are all fantastic. This is something you really should not miss!
It's just available digitally to begin with, but will be available on both LP and CD later on.
wardenclyffe.se
REVIVER: A Thousand Lives
Remedy Records on Feb. 22
Dutch band REVIVER formed back in 1997, and released several demos and MCDs during their first years. But it wasn't until 2005 that they released their debut album. In 2006 they didn't agree on the musical direction, and went seperate ways. In 2017 they got back together again though.
And after 17 years they are back again with their second album, where you can expect to hear heavy metal with progressive elements. It's most of all a powerful heavy metal album in the traditional school though. And these 10 tracks are absolutely not bad at all. They can really play, and the singer can really sing. You should absolutely give them a chance.
reviverofficial.com
GOATS OF PURGATORY: Drowning In Blood
The Crawling Chaos Records on Feb. 22 - Digital
German thrash band GOATS OF PURGATORY is not interested in a modern sound and an over produced record. Instead they focus on riffs and groovy mosh parts, but no unnecessary stuff or repetitive parts.
So, do they succeed with that on this debut album? Yes, I would say that they do. It's very old school both when it comes to music and production, but without sounding like a copy of the 80s bands. Their sound is very heavy, even though they hardly play slow. It also sounds a bit more evil than many other thrash bands.
More variation in tempo would have been desirable. Like it is now, there's too many songs in the same tempo after each other. Just a small detail though..
goatsofpurgatory.bandcamp.com thecrawlingchaos-records.de
SIR REG: The Kings Of Sweet Feck All
Despotz Records - Digital single
Another single from Sweden's best Celtic punk rockers. This time it's the title track from their upcoming album, which will be in stores on April 1. It's not as fast as the first single was, but yet a party starter. How could you not like this? So if you're into stuff like The POGUES and FLOGGING MOLLY, then you really have to try this band.

sirregband.com despotz.se
The LOYAL CHEATERS: No Saturday Nites
Dead Beat Records - Digital single
"No Saturday Nites" is taken from their new album, "Long Run... All Dead!", which will be released on February 18. It's a really good and energetic rock n roll song that almost makes me want to party (even though I don't party that much anymore). In other words a song that you must check out.

theloyalcheaters.bandcamp.com dead-beat-records.com
HELIX: Not My Circus, Not My Clowns
Perris Records - Digital single
Canadian hard rock veterans HELIX are back with a new single. And it's said to sum up their thoughts about the Covid pandemic and everything that revolved around it, even though the lyrics was written 2 years ago.
The song is a catchy rocker with attitude. It might not be of good old quality, but it sure ain't bad. And that's all I have to say about it..
The band is currently working on a new album, to be released in 2023.

perrisrecords.com
DESULTORY: Into Eternity / Bitterness (re-issues)
MDD Records on Feb. 18 - CD / CD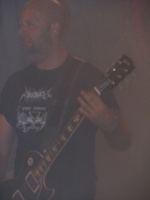 It's probably something like 10 years ago since I heard these 2 albums last time. Now they will both be re-released though, and thanks for that.
DESULTORY were part of the first wave of Swedish death metal bands, but had a more melodic twist than bands like ENTOMBED and DISMEMBER (I would not call it melodic death metal though). Their debut album, "Into Eternity", was released in 1993, and was followed by "Bitterness" in 1994. But after that they got tired of death metal, so they changed style completely and released a third album, "Swallow The Snake", in 1996. That album was not a succees, and they split up after that.
But in 2010 they were back again with a new album, "Counting Our Scars", and I saw them live at the Getaway Rock festival in 2011 (photos available at Hard Rock Info's Facebook page). Another album, "Through Aching Aeons", was released in 2017, before they split up again.
Well, these 2 albums are really good, and deserve lots of more respect than they have got so far (not that they were totally unknown in the death metal underground). Every true death metal fan should have these albums!
mdd-records.de
DAWNRIDER: The Fourth Dawn
Alma Mater Records on Feb. 18 - CD, Digital (LP on May 20)
Portugese doom metal band DAWNRIDER formed in 2004, and as the title says this is their 4th full-length album. They mix their doom with psychedelic grooves and heavy metal riffing. This is a really heavy beast. But I think the intro would probably have fit better as a middle thing after 3 songs instead. Otherwise it's just right.
Not much else to add there..
facebook.com/dawnriderdoom facebook.com/almamaterrecords
TANKARD: For A Thousand Beers
BMG on Feb. 25 - LP Box Set, CD Box Set
O.k., this legendary German thrash metal band is not something that I had a previous relation to. I have heard of them through the years of course, but I'm not sure if I have actually heard any of their songs before (nothing sounds familiar here anyway). Now I have heard them anyway, and I'm glad for that.
The story of the band started in early 1982 under the name AVENGER, who released 2 demos. They then changed name to TANKARD, and got signed to Noise Records, who released 7 studio albums, 1 live record, a live video and a compilation. "For A Thousand Beers" is a deluxe 40th anniversary celebration with all that material, which was released during the 80s and early 90s.
TANKARD is a band that has never taken themselves too seriously, and they love beer, which they gladly sing about in many of their songs. But even though the main course is good old thrash metal of the more catchy kind, it's also seasoned with other ingredients. I hear lots of punk here for example, and some of those songs sounds a lot like G.B.H., which is a band that I really like. While most of the songs are in English, they also have a tendency to sing in German once in a while.
I'm not going to write about every album here, so let's just say that there's both good and less interesting stuff here. Some albums are better than others, but mainly good stuff that I like to hear. Why nobody has ever introduced me to this band is a mystery.
The band is still around today, and will continue the 40th anniversary celebration with a new studio album in September.
Also check out my interview with the band.
tankard.info bmg.com
WOLVERINE: A Darkened Sun
Sensory Records on Feb. 25 - 12" EP
These 4 tracks is the soundtrack to the short film "A Darkened Sun" from 2020, recorded by Swedish dark progressive band WOLVERINE. The film have won several awards, but I have never even heard about it before, so I can't say anything about the film.
The music is cinematic and very melodic, and there's not much action here. But if you like progressive rock, then this could be of interest. It might not be totally useless, but I'm not so impressed. I don't really know why though.. I guess that this is just not my thing.
FIREBREATHER: Dwell In The Fog
RidingEasy Records on Feb. 25 - LP, CD, Digital
FIREBREATHER is a trio from Göteborg (aka Gothenburg), Sweden. And this band is really heavy, but yet catchy. It's not just about heavy riffs here, but also melody and great songs. So if you for some reason like more monotonous bands, then this is probably not for you, even though you might like it anyway.
I would guess that this could be something for fans of bands like HIGH ON FIRE, MONOLORD and BOMBUS for example. So I guess we can call it something like powerful doom/sludge/stoner metal or something like that. Really good anyway.
firebreatherdoom.bandcamp.com ridingeasyrecords.com
SMED: Smed
Transubstans Records on Feb. 18 - CD, LP, Digital
SMED was formed in Karlshamn, Sweden in 2019. The idea was to make downtuned heavy music, inspired by 70s rock and stoner/doom.
This band is not just heavy though, I would actually say that they are really catchy too, sometimes at least. That makes a heavy band better than the rest according to me, even though that's not all it takes to impress me. You also need good songs of course, which I think that these guys have. I really like what I hear on this album.
If you like heavy rock, stoner rock and doom metal, then this is something that you should try.
Best track: "1010 A.D.".
transubstansrecords.bandcamp.com
SCHIZOPHRENIA: Recollections Of The Insane
Redefining Darkness Records (North America)/Self released (Europe) on Feb. 18 - LP, CD, Cassette
After the release of a EP, Belgian death metallers SCHIZOPHRENIA return with their full-length debut. And this is a high energy explosion. If you like it fast and intense without being chaotic, then this could be a band for you, because this is not bad at all.
I don't really know who I should compare their sound with, but I would not say that it's something unique. After all it's just good old death metal, so what else do you really need to know?
redefiningdarkness.com schizophreniaband.bigcartel.com
SAVAGE GRACE: Master Of Disguise / After The Fall From Grace (re-issues)
Hammerheart Records on Feb. 18 - 2CD / 2CD
"Master Of Disguise" is the first album from SAVAGE GRACE, and "After The Fall From Grace" is their second album. Both came out in the 1980s, and features a mixture of heavy, speed and power metal. It's powerful and energetic, but there's also melodies. A very interesting band I must say. Fans of early speed and thrash metal, as well as classic heavy metal bands, should absoulutely give this band a try.
But we don't just get the albums on these remastered and remixed CDs. We also get lots of bonus material as well. On the first album we also get the early EP, "The Dominatress", and demo recordings from 1982 and 1984. On the second album we get the "Ride Into The Night" EP, a track from a compilation and 2 live tracks from 1982. Those tracks are just as good as the album tracks, so I recomend that you get these CDs.
hammerheart.com
NIGHTRAGE: Abyss Rising
Despotz Records on Feb. 18 - CD, LP, Digital
NIGHTRAGE deliver another great album! But that wasn't exactly unexpected, as I have got used to high quality from them by now. And don't think for a second that this is weak just because the music is called melodic daeth metal and not just death metal, because this is stone hard. This Greek/Swedish band crushes!
"Abyss Rising" is the last chapter in a trilogy, and their 9th album. It's impressive that a band can deliver such a strong album after more than 20 years.
nightrage.bandcamp.com despotz.se
PRAYING MANTIS: Katharsis
Frontiers Music Srl - CD, LP, Digital
This is the 12th album from these British veterans. The band originally formed in 1973 already, and became an important part of the NWOBHM movement, but are nowadays a well-established act in the melodic hard rock scene.
If this new album would have come out in the 80s, it could have been a classic today. Now that might not happen, but it's still a really strong album that everybody who like good old melodic hard rock from the 80s should get at once.
prayingmantis.rocks frontiers.it
NASSON: Scars
Frontiers Music Srl - CD, Digital
Nasson Prudant is a guitarist, songwriter and producer from Santiago, Chile. Hard rock and metal fans might know him from the latest album with CHAOS MAGIC, "Furyborn", and the debut album from SINNER'S BLOOD, "The Mirror Star".
Now he goes solo, and show us that he can sing too. And he even play most of the instruments here, except for drums, which is played by Rodrigo Leiva. There's also several guests on this album.
And the music that we get here is melodic hard rock/metal of the more emotional kind, with influences ranging from EVERGREY to PRETTY MAIDS via ECLIPSE. To me it sounds most of all like the first band (not that I have heard them in years though), and this is a very good album.
facebook.com/nassonchile frontiers.it
Lana Lane: Neptune Blue
Frontiers Music Srl - CD, 2LP, Digital
American vocalist Lana Lane released her last solo album about 10 years ago. But now she is back with a brand new album, where her husband Erik Norlander handles keyboards, bass and background vocals. But we also find Jeff Kollman on lead and rhythm guitars, Mark McCrite on rhythm and acoustic guitars, additional bass guitar, and backing vocals, Greg Ellis on drums and percussion, and John Payne on backing vocals.
I think that this could be something for fans of Lee Aaron, even though this is less blues-based. This is more like melodic rock/AOR, sometimes with almost progressive elements. I really like what I hear here, as most of these 11 tracks are good.
This is a strong come back.
lanalane.com frontiers.it
KRAEMER: All The Way
Frontiers Music Srl - CD, Digital
Finnish vocalist Erik Kraemer (SIMULACRUM) goes solo. He's backed up by musicians like Alessandro Del Vecchio (HARDLINE, EDGE OF FOREVER etc etc) on bass, keyboards, and background vocals, Andrea Seveso (Robin McAuley) on guitars and Michele Sanna (BROTHER AGAINST BROTHER) on drums. The songs are written by Del Vecchio, Marco Sivo, Pete Alpenborg (ex-ARCTIC RAIN), Kristian Fyhr (SEVENTH CRYSTAL), Jan Åkesson (INFINITE & DIVINE), Ulrick Lönnqvist, Fabio Dessi, and Carmine Martone.
The music is melodic hard rock in the classic Scandinavian 80s school. And everybody who like that should give this album a try. Lots of great songs here, and it seems to be done with lots of passion.
facebook.com/erik.kraemer.7 frontiers.it
SHAMELESS: Shout It Out
Pride & Joy Music - Digital single
These German hard rockers formed in the spring of 1989. I'm not sure how long (or short) it last though, but in 1998 they reunited and released 7 full-length albums. A new album, "So Good, You Should", will be released on May 20. And this is their first ever covers album, even though there's 2 new songs as well.
"Shout It Out" is the first single from the upcoming album. Now I don't know if this song is 1 of the covers or 1 of the new ones. But as I could not find any information that says that it's a cover, I guess it's not. Whatever..
This is a damn good sleaze rock song anyway, with a sing-along friendly chorus that makes you want more. So yes, I look forward to hear the album.
shamelessrock.com prideandjoy.de
RE-MACHINED: Brain Dead
Pride & Joy Music on Feb. 18 - CD
"Brain Dead" is the second album from this German heavy metal band, where they continue to combine elements from several of the classic bands. Nothing unique at all, but fans of traditional heavy metal will probably love RE-MACHINED. And they really deliver! This album has everything that you can ask for from a true heavy metal album: powerful vocals, heavy guitars, anthem choruses, flashing solos, twin guitars etc etc. And most of the songs are good, so why should you not give it a try then?
Some of these 11 songs have parts that reminds me of some other song, but that's just funny. See it as a tribute and not stealing.
re-machined.de prideandjoy.de
INTO THE UNKNOWN: Into The Unknown
The Orchard/Sony - Digital EP
In 2019 British symphonic rock band INTO THE UNKNOWN had just released their latest album, when their singer, Lucie Hölzlová, decided to leave the band to move back home to Czech Republic. It took a while to find a new singer, but now they have finally found one: Natalie Shedden. And to introduce her to the fans, they released a new single on January 28, and this self-titled 3-track EP, which except for the new single also includes 2 acoustic tracks, which can be seen as the b-side of the single.
The title track, "Into The Unknown", is actually a cover of a song taken from the Disney movie "Frozen 2". The other 2 are acoustic versions of old songs, and they are pretty laidback.
INTO THE UNKNOWN have a modern and melodic sound, and these 3 songs are hardly something hard and heavy. So this is not something that you listen to when you want some action. But when you want something soft to relax to, then this is perfect. Especially the acoustic tracks, which are much better than that "Frozen 2" thing.
A funny thing that I just discovered is that melodic hard rockers SIGN X has also done a cover of "Into The Unknown" on their upcoming album, "Back To Eden", which will be released on March 18.

intotheunknown.uk
GUILD OF OTHERS: Guild Of Others
Louder Than Loud/Pride & Joy Music on Feb. 18 - CD
GUILD OF OTHERS is a collection of musicians from various other bands and backgrounds making progressive metal together. They have played with well-known bands like DREAM THEATER, DIO, DARKWATER, SAGA and The FIRM. Leaders are drummer Tom Wallace and guitarist Steve Potts.
This debut is pretty melodic and not too progressive. So even though this is a playground for adults, it doesn't sound like that. With that I mean that it actually sounds like songs, and not just performances to show us all how great they are. And the 8 songs that we get here are all really good, so you should give them a try even though you might not be into prog metal.
There's already material for a second album, which will be with other guest members.
facebook.com/Guild-of-Others-105834661701985 prideandjoy.de
DOMINOE: No Silence... No Lambs (Director's Cut)
Comand Records - CD
This is a re-release of their 2002 CD "No Silence... No Lambs". But with lots of changes. Now I have not heard the original album, but it seems like some stuff sounded too fast or much too slow. That have been fixed. The sound is now bigger. So this is more like a reworked version than a re-issue.
The 2 first tracks are hard rock, which makes me think of a band like HELIX when they was as best in the 80s, even though this is not the exact same thing. Much 80s anyway, but with a touch of rock n roll energy.
After that it's more like melodic rock/AOR instead. Still very 80s, and not that bad either. But once in a while there's another hard rocker as well.
According to what I could find out from Internet, DOMINOE is a band from Munich, Germany, founded in 1987. The band is still alive, and are both producing new songs and re-working the album "The Story Is Far From Told".
facebook.com/Dominoe-148090385238394
Boguslaw Balcerak's CRYLORD: Humanity Heredity
Pride & Joy Music on Feb. 18 - CD
Boguslaw Balcerak's CRYLORD is a neo-classical power metal band based in Poland, which was founded in 2009. They have previously released 2 albums (in 2011 and 2014). Band leader Boguslaw Balcerak take care of guitars, bass and keys, while Jeremiasz Baum play drums. They use different singers, and on this album we can hear Göran Edman (Yngwie Malmsteen, John Norum, KHARMA, KARMAKANIC, X-SAVIOUR, TALISMAN, SWEDISH EROTICA, MÅRRAN etc), Rick Altzi (ALTZI), David Åkesson, Ryan Beck, Jota Fortihno and Tim "Ripper" Owens (ex-JUDAS PRIEST, ICED EARTH, Yngwie Malmsteen).
Well, if you like early Yngwie Malmsteen's RISING FORCE and similar, then you should like this band too. It might not be an exact copy, but it's definitely something similar to that anyway. And sure, there's more influences than just that here from the melodic hard rock and metal tree. A very interesting album!
facebook.com/boguslawbalcerakscrylord prideandjoy.de
LESSON IN VIOLENCE: The Thrashfall Of Mankind
Iron Shield Records on Feb. 18 - CD
LESSON IN VIOLENCE hailing from Schweinfurt, Germany, and formed in the summer of 2019. And yes, the name of the band comes from thrash legends EXODUS. And good old thrash metal is exactly what you get from these 5 Germans.
There's no idea to describe it better than that, because you should know the sound already. And if that's a sound that you like, then you should check out this band, because they are doing a really good job here.
lessoninviolence.com ironshieldrecords.de
The LAST OF LUCY: Moksha
Transcending Obscurity Records on Feb. 18 - LP, CD, Digital
This is death metal of the more extreme and technical kind. Definitely not something for everyone. But for those of you who like it fast and brutal, this is exactly what you need. To me on the other hand this is a bit noisey and almost chaotic, and a bit too much for my poor nerves. But we all have different taste..
thelastoflucyband.bandcamp.com tometal.com
VVORSE: Kurjien Elegia
Off Records - CD, Digital
Finnish crust punks VVORSE are like an unstoppable force coming at you. I think of ANTI CIMEX for some reason, but with a modern twist (or neo as they call it). There's probably other bands to compare them with, that fits better, but I don't know the neo-crust scene that well (I'm more into the good old hardcore/punk from the 80s and 90s). No matter what this is not bad at all, so you're not much worth without this album in your record collection.
"Kurjien Elegia" is the second album from this Finnish band, who formed in Jyväskylä in 2014. And when it comes to the lyrics, they "dive into dystopian and existential levels", as the info says.
vvorse.bandcamp.com inverse.fi
VOIVOD: Synchro Anarchy
Century Media on Feb. 11 - CD, LP, Digital
I don't think it's any news that Canadian band VOIVOD have never been like other bands. They have been around for 4 decades now, but they are still hungry for new adventures of metal. The creative freedom and the desire to discover never seems to end. Which they prove with this new studio album, which is their 15th.
Experimental madness is probably a good description to this band's music. But that doesn't always mean that it's bad. Even though it's wild, it can be quit good actually. And VOIVOD often have the right balance between the madness and the song. What I mean is that it's not just crazy, but also actual songs.
No, it's not any hit songs that they make. But somehow they succeed to be better than most of all the experimental and progressive bands that we have nowadays.
The album's Deluxe CD/Digital edition will come with a special live bonus disc, entitled "Return To Morgöth - Live 2018", covering the band's 35th anniversary concert.
voivod.com centurymedia.com
TUGT: Ved Lysets Ophør
Onism Productions/Virkelighedsfjern on Feb. 11 - CD, Cassette, Digital
This Danish black metal trio is hardly here to write some sweet little love songs, but rather to make as much noise as they can. It's probably supposed to be as brutal and extreme as possible. But they also slow down once in a while, and then I can almost hear something called a melody. But most of all they catch a dark and extreme atmosphere. The "singer" sounds like as if he is writhing in pain.
7 tracks is what we get here, and many of them are as long as 9 to 9 and a half minutes.
TUGT is the negative vessel of Skóggangr (ILDSKÆR, Í MYRKRI, GENFÆRD), and has been many years in the making. "Ved Lysets Ophør" is their debut album. And when it comes to the lyrics, it's a reflection and outlet for personal thoughts throughout a dark and disorderly time of his life spanning many years. The other 2 members are Saxtorph (AFSIND, SAXTORPH, ex-GENFÆRD) and Ahnstrøm (AFSIND, CAUSE OF DEATH: SUICIDE).
tugt.bandcamp.com
VENOM PRISON: Erebos
Century Media - CD, LP, Digital
VENOM PRISON formed in South Wales in 2015, and released their debut EP barely a year later. A few more records has been released since then.
On "Erebos" they deliver a fat dose of hard and heavy brutality. Yes, this album is pretty extreme, but have so much more ingredients than just that. It's also a bit technical/progressive here and there, and have some softer parts too once in a while. A varied album quite simply. ..or brutality with a twist if you prefer that description.
venomprison.com centurymedia.com
NAPALM DEATH: Resentment Is Always Seismic - A Final Throw If Throes
Century Media on Feb. 11 - CD, LP, Digital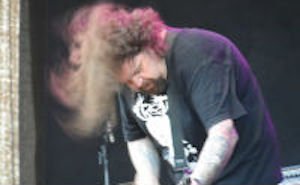 NAPALM DEATH are seen by many as pioneers of grindcore, but are they really that good? They might not be totally useless, but they have done better than this soup. Now some people might think that I'm a complete idiot and want to beat me up, but I would say that musically they are actually quite overrated. There is some good moments here once in a while, but they always succeed to destroy it in one way or another. I guess that this is simply not a band for me, no matter how iconic you might think they are.
The best track is the shortest song (1:06 min) "Don't Need It". And that title says it all.
This is by the way a mini-album with 8 tracks, that last for 29 and a half minutes. It consist of the band's most experimental material yet. That doesn't mean that it's soft and melodic though.
napalmdeath.org centurymedia.com
MASS WORSHIP: Portal Tombs
Century Media - CD, LP, Digital
Scandinavian heavy-weight band MASS WORSHIP seems to be popular in the metal underground around the globe. They released their first album in 2019, and now the second album is here.
We get heavy riffs that crush, and the vocals is harsh and aggressive like a hardcore singer. Inspiration comes from bands like AT THE GATES, MASTODON and MESHUGGAH. So we talk metal in the heavier league here, but with its own identity. It's not just heavy, but also progressive and explosive. Yes, this band go their own way, and create their own kind of extreme metal.
We also get guest apperances from people like Jonas Stålhammar (AT THE GATES), Mark "Barney" Greenway (NAPALM DEATH) and Jonas Renkse (KATATONIA, BLOODBATH).
massworship.com centurymedia.com
The LINDA LINDAS: Growing Up
Epitaph Records - Digital single
The LINDA LINDAS are 4 teenage girls (well, 1 is just 11) from Los Angeles, and they will release their new album, "Growing Up", digitally on April 8 and physically on June 3. The title track has now been released as their latest single.
It's really nice and fun that young people find their way to punk, which is often seen as something old and not of interest to the kids. It's after all a good way to let out your frustration, and tell people what you really think about things. Let's just hope that it's not just a phase, but something they are into for life.
This song is catchy and happy. We can call it melodic punk rock. Another good song that prove that this band is nothing to dismiss. It will be interesting to hear the album.

epitaph.com
DeVicious: Afterlife
Pride & Joy Music - Digital single
"Afterlife" is the opening track on the new album, "Black Heart", which will be released on April 14. A catchy and melodic hard rocker that should make you happy. That does not mean that they're not heavy though, because they are actually that too. And this is a very strong song.
This is something for fans of a band like ECLIPSE for example.

devicious.band prideandjoy.de
CONCEPTION: Monument In Time
Conception Sound Factory - Digital single
This is CONCEPTION's latest single from the forthcoming release of the "State Of Deception" deluxe album. It's a dramatic and symphonic composition with choirs and all - Very ambitious.
Luckily it's a pretty good melodic metal song as well. So maybe you should give it a try then?

orcd.co/monument-in-time
CHUGGER: Five Feet Down (Reborn)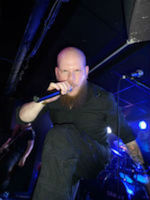 Wormholedeath - Digital single
Swedish groove/death metallers CHUGGER are on fire as usual.
Just like the last single, this old song have been re-worked. The original version had a long instrumental intro, which they decided to throw away here. Instead they kick you in the face at once, and then they beat you up for 4 minutes. But you will enjoy this fight, so just take it.

chugger.se wormholedeath.com
TYSONDOG: Midnight
From The Vaults - Digital single
Back in 1984 the likes of Malcolm Dome, Geoff Barton and Dante Bonutto were tipping English band TYSONDOG for major success, emerging at that time from the force that had become known as the New Wave Of British Heavy Metal. But fate had a other destiny for the band, and they soon disappeared from the limelight. They succeeded to release 2 albums, 2 singles and 1 EP though.
In 2012 they were back again with the 4-track EP "Hammerhead". And a new full-length, "Cry Havoc", was released in 2014.
Now they are getting ready to release another album, "Midnight". But before the album is released, they give us a first taste by releasing the title track as a single. And I honestly don't really know what I should think about this song. Its good old heavy metal, but a bit odd somehow. Not really sure what it is though..
tysondog.co.uk
TERSIVEL: To The Orphic Void
UPRISING! Records on Feb. 11 - CD, Digital
TERSIVEL is said to be something for fans of ENSLAVED, GOJIRA, The OCEAN and early OPETH. That's not something that I use to listen to.
Argentinian/Swedish trio TERSIVEL blend power and symphonic metal with folk and death metal. Add some post-metal and progressive elements to that, and you might understand that this is not exactly the usual metal band. Their music is quit o.k. though.
tersivel-music.com uprisingrecords.de
NERVOCHAOS: All Colors Of Darkness
Emanzipation Productions on Feb. 11 - LP, CD, Digital
Even though these Brazilian death metallers are stone hard, fast and aggressive, there's also room for melodies, so this is absolutely not total chaos (even though they are on the border sometimes). This makes them a bit better than many other bands in the more brutal league of death metal. This is perfect to listen to when you are really angry.
The end of this album is a bit odd though. First a short and fast grind attack, and then something that is probably best described as alternative outlaw country. Funny.
NERVOCHAOS have been around for as long as 25 years now, and this is actually their 10th studio album. So if you have not heard them before, then you also have a few other records with them to discover.
nervochaos.net emanzipation.dk
CREEPING FLESH: ...And Then The Bombs Came
Emanzipation Productions on Feb. 11 - LP, CD, Digital
This band was established in Göteborg (aka Gothenburg), Sweden in 2013. After releasing an EP each year during the following 3 years, their debut album, "Into the Meat Grinder", came out in 2019. And now it's time for their second full-length.
CREEPING FLESH play a heavier kind of death metal, or mid-tempo old school death metal, but they are just as hard and brutal as any of the faster bands in this genre. The recipe is to put some BOLT THROWER, ASPHYX and HAIL OF BULLETS into a blender together with some Swedish melody from HYPOCRISY, GRAVE and UNLEASHED, and then add some of your own identity - Voila! A dish called CREEPING FLESH is served.
But seriously, this is really good death metal to bang your head to. You should defintely check them out.
creepingflesh.se emanzipation.dk
GREYHAWK: Call Of The Hawk
Fighter Records on Feb. 8 - Digital EP
GREYHAWK's journey began in 2018, when 5 metal heads from various other bands met to form a new band. They took their favorite parts from traditional metal, power metal and shred to create their own sound. A debut EP was released in 2018, and was followed by their first full-length in 2020.
Now a new 5-track EP will be released with this Seattle-based band. And what we get is a continuation of their previous releases. So fans of something like JUDAS PRIEST should not be dissapointed when they hear this. In "Demon Star" I can even hear some Yngwie Malmsteen mixed with MANOWAR.
greyhawkmetal.bandcamp.com
TROUBLE: One For The Road/Unplugged (re-issues)
Hammerheart Records on Feb. 11 - 2CD, LP
When TROUBLE was released from their contract with Def American because of not meeting the label's expectations, the band released an EP, "One For The Road", limited to 1500 copies on CD to be sold on their 1994 European tour. This is a collectors item featuring 5 classic TROUBLE songs, clocking in at 20 minutes. The CD version also includes the full "Unplugged" sessions, with both their own songs and at least 1 cover (maybe more).
This is absolutely something extra for the fans, but I guess it could also work as an interesting introduction to some new fans. The songs are really good, so this is worth checking out anyway.
troublemetal.com hammerheart.com
ELECTRIC BOYS: Favorite Hello, Worst Goodbye
Mighty Music on Feb. 4 - Digital single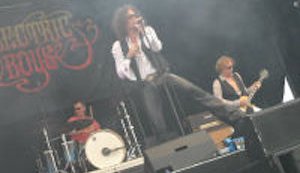 Swedish hard rock veterans ELECTRIC BOYS are back with a new single. And it's a catchy and bluesy hard rocker that we get here. Think of American bands from the 70s for example. If you like that, then you should really check out this song.
As the band can't go out and play live yet, they decided to release a couple of new songs, taken from the recordings of their latest album, "Ups!de Down". That's where "Favorite Hello, Worst Goodbye" comes from.
electricboys.com mightymusic.dk
CLIFFORD: En Sång För Andersson
Despotz Records on Feb. 4 - Digital single
The jokers CLIFFORD are back with a new song. This time it's a tribute to the Prime Minister of Sweden, Magdalena Andersson. It's a heavier black metal song that is not so bad. Probably one of the better songs that the brothers have released.
CLIFFORD debuted in 2020, and has released a few singles since then. Sometimes good, sometimes not so exiting. Sometimes funny, sometimes not so funny. You should not take them too seriously.
cliffordband.bandcamp.com despotz.se
ARHAT: Symbols
Self released - Digital single
"Symbols" is taken from ARHAT's second conceptual album, which will be about initiation in the High Lore and mysteries in the Ancient Egypt.
ARHAT is a groove metal project from Kyiv, Ukraine, formed in 2017. And it's an extreme kind of groove metal that they play, almost on the border to death metal. I think of SEPULTURA for example.

arhat2.bandcamp.com
LALU: Paint The Sky
Frontiers Music Srl - CD, Digital
To name the band after a not too popular project by Lou Reed and METALLICA might not sound like the best idea. BUT fact is that the album didn't even exist when this French band started in 2004. So no, this is hardly a new band. Some of the members have played in the 70s prog band POLÈNE for example.
"Paint The Sky" is the band's third album. The music that they play is a pretty melodic progressive rock, and it sounds like an album from the 70s or 80s. So fans of that should really check them out, because this is not so bad.
instagram.com/vivlalu frontiers.it
KANDIA: Quaternary
Frontiers Music Srl - CD, Digital
KANDIA started in November 2007 and comes from Portugal. They are one of the first bands signed through the Frontiers & Beyond initiative, which was launched by the label with the intent to sign bands who will be part of the next generation of hard rock and metal. So that can be interesting.
KANDIA are influenced by progressive rock bands such as A PERFECT CIRCLE, TOOL, PORCUPINE TREE, PINK FLOYD, and metal giants like METALLICA and PANTERA. With those ingredients they create their own unique sound of alternative and progressive metal, which is raw, melodic and sensual, as well as positive and aggressive. A modern metal sound.
Yes, as you can see it's a wild mixture of all and nothing here. I would not say that it's a crazy roller coaster ride though. No, their songs are pretty normal, but with a progressive twist (or however I should describe this).
The band has previously released 2 albums and 1 EP.
frontiers.it
GIANT: Shifting Time
Frontiers Music Srl - CD, LP, Cassette, Digital
GIANT was originally formed in the late 80s, but this is just their fifth studio album. So they have obviously not existed all the time since then. They split up in the early 90s after 2 albums, only to come back in 2001. Today's line-up features founding members David Huff and Mike Brignardello, who are joined by guitarist John Roth (WINGER, STARSHIP) and vocalist Kent Hilli (PERFECT PLAN).
It's more than a decade since their last album was released, so the fans have been waiting for a long time for something new. And here it is, an album so full of melodic hard rock that you could think that no time has passed at all since the 80s. But it's a really good album, so nobody should be dissapointed when they hear this.
frontiers.it
The FERRYMEN: One More River To Cross
Frontiers Music Srl - CD, 2LP, Digital
As you might know already, The FERRYMEN is an international trio with guitarist/songwriter/producer Magnus Karlsson (PRIMAL FEAR, Magnus Karlsson's FREE FALL), vocalist Ronnie Romero (LORDS OF BLACK, SUNSTORM, RAINBOW), and drummer Mike Terrana (RAGE, Axel Rudi Pell). And what they have created this time is a heavy but yet melodic heavy metal album. The sound is not just old or new, it's actually both.
Well, there's not much to complain about, as there's actually nothing to complain about. Not a bad song on the whole album. Brilliant!
facebook.com/TheFerrymenofficial frontiers.it
EDGE OF FOREVER: Seminole
Frontiers Music Srl - CD, LP, Digital
It seems to be 4 years since the release of their last album. I guess that band founder and vocalist/keyboardist Alessandro Del Vecchio has been busy with other musical projects, as he seems to have his fingers everywhere. But now the band is back again.
"Seminole" continues the band's tradition of combining inspirational and positive lyrics with powerful riffs, anthemic vocals, and skilled musicianship inspired by the heart and depth of Native American culture. The music is melodic hard rock, and this is a very strong album, so you should not be dissapointed if you like that kind of stuff.
facebook.com/edgeofforeverband frontiers.it
BEYOND THE STYX: Sentence
WTF Records/Diorama Records on Feb. 4 - CD, LP, Cassette
This reminds me of the hardcore from the 1990s. Really heavy metal riffs and a singer who scream like a maniac. It's hard and heavy, and very powerful music. In other words just like it's supposed to be. So those of you who like that will probably love this French band.
The band has existed since 2011, and "Sentence" is their third album.
beyondthestyx.com wtfrecords.eu dioramarecordshc.bigcartel.com
STALKER: Alone
Wormhole Death - Digital single
..and then it was time for yet another single from STALKER again. This is their third single, and to my surprise it sounds a little bit better than their previous singles. It's a bit heavier and laidback, or however I should describe it? Worth a try anyway.
STALKER is a Swedish band featuring some veterans. A self-titled album will be released on February 11.
m.facebook.com/Stalker-Sweden-103701382062974 wormholedeath.com
SPIT IT OUT!: Hear, See & Say No Evil
Self released - Digital single
SPIT IT OUT! was founded in Varberg, Sweden in late 1990. They released a 7" single in 1991, and a CD in early 1993. After some changes in the line-up their music became a bit heavier than before, and in 1995 they entered the studio once again (not sure if they released those songs though). The band has been on hiatus since 1999, but are still friends. And during the last year they have began to release some of their old songs as singles.
This time we get the chance to hear "Hear, See & Say No Evil" and "Erupt". Both tracks are from the 1995 recordings. "Hear, See & Say No Evil" is said to be hard rock in 5/4 time signature (aka quintuple meter), which is quite rare, even though most people won't hear it. They describe it as a "high energy song with lots of drive". Both songs sounds a bit odd actually. I guess we can call it some kind of alternative hard rock.
rockmusicrules.com/spit-it-out facebook.com/spit.it.out.band
Spike Polite & sewAge: Anti Christ
Rotten Bastard Records - Digital single
It looks like this single was released in October last year, when they also released the "Pandemonium" EP.
Spike Polite is a New York City-based musician, model, actor, club dj and Lower East Side music historian. For the past 30 years his primary and longest-standing project is the band now known as SPIKE POLITE & SEWAGE NYC. The current line-up of the band is Spike on vocals and guitar, Michelle Shocked on bass and vocals, and Anthony Romano on drums.
This trio play political punk rock, that is said to fit fans of The EXPLOITED, NIHILISTICS and REAGAN YOUTH. I can't hear much of The EXPLOITED in this song, but it's a o.k. punk rock song anyway.
spikesewage.bandcamp.com rottenbastardrecords.com
Sophie Melers: Collar
Epitaph Records - Digital single
Once again they say punk (or in this case glitter punk actually) and give me something completely different. This is more like some kind of pop music to me. Possibly lo-fi art-rock. It's very soft anyway.
Sophie Melers hailing from a small mountain town in Colorado, and has just signed to Epitaph Records.

epitaph.com
LAZY QUEEN: Alcohol
Icons Creating Evil Art - Digital single
It wasn't more than a few weeks since they released their last single, and here's already another.
I would describe this as an energetic and catchy song, that mixes indie rock, power pop and punk rock. A really good song that you absolutely should check out.
A new EP, "A Human Recation", will be released on March 18. That could be interesting to hear.
lazyqueenband.com icea.se
«
JANUARY
|
INDEX
|
MARCH
»