REVIEWS 2016 - Page 7
NIGHTRAGE: The Venomous - Single
I guess you know the story about Marios Iliopoulos, who left hot Greece for cold Sweden just for the love of the Gothenburg sound? I'm actually a little impressed about that. And when he had arrived in Gothenburg he formed the band NIGHTRAGE. There has been a few lineup changes through the years, but Marios is a little like Lemmy - He doesn't give up his love child (the band, in case you didn't get that). And I'm a little impressed by that too.
How about the music then? Well, you are probably already familiar with what the Gothenburg sound is - Melodic death metal. And that's exactly what this band play. So if you like that, then you like NIGHTRAGE. Simple as that! They're just as good as any other band in the same genre according to me.
This is the first single, and also the title track, from their upcoming album, which will be their seventh full length.
(Despotz Records)
nightrage.com
DEC. 31, 2016
The GLORIA STORY: Roadtrip - Single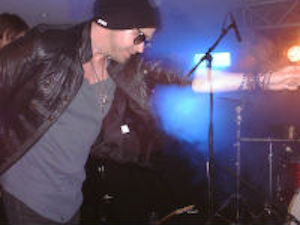 After a very successful UK tour supporting The QUIREBOYS, and by popular demand, Swedish party rockers The GLORIA STORY have release an unplugged version of their most successful track, "Roadtrip". The single is a stripped down affair where the sound is centered around 2 acoustic guitars, soaring vocal harmonies and a vintage analogue KORG drum machine from the early 80s.
The band has released 3 albums so far, and I would like to say that they are among the better rock bands that we have here in Sweden (now we have extremely many good rock bands here, but anyway). I really recomend you to check out this band. And you can always start with this track, which is released today (Dec. 30).
(Wild Kingdom)
thegloriastory.com
DEC. 30, 2016
SCARECROW: Exterminators Of The Year 4000 - Album
I used to get CD's from this Finnish horror punk band many years ago, so it was a very long time ago since I heard them last time. But I can hear that their music has not changed that much through the years. They have possibly become a little better at what they're doing and less brutal/angry. But it's hardly any ballet that we get. They spice up their punk with some metal and hardcore, so it's still raw.
The band was born on New Year 1999/2000, and have made a lot of recordings through the years. "Exterminators Of The Year 4000" is their fourth full length, and it's something that you should check out.
(82 Records (Finland)/DSB Records (Germany)/Inverse Records (Digitally))
facebook.com/scarecrowfinland
DEC. 29, 2016
WARLORD UK: Maximum Carnage - Album
I think the Indian record label Transcending Obscurity must be the only label who release a record on New Year's Eve.
But anyway.. This album was originally released in 1996 via Nuclear Blast, and now the time has come for a 20th anniversary edition with 2 bonus tracks. It's strictly limited to 500 copies on CD, and will never be pressed again they say. So you better act fast if you want 1 (or maybe 3?). And you want this of course, because it's the finest British death metal in the same league as BOLT THROWER, BENEDICTION and CANCER. So put your Christmas drink away for a while and pre-order it right now.
Release date: December 31, 2016 (Transcending Obscurity Classics)
warlorduk.bandcamp.com
DEC. 28, 2016
SOOTHSAYER: At This Great Depth - Album
The first song is as long as 16 minutes! And the second song is "just" 8.12 minutes. And there are no more songs. I guess that I don't have to say much else. But just because I'm so kind, I will tell you a little bit more.
This is a atmospheric sludge/doom band from Ireland. And they're definitely not in a hurry. Probably nice music when you go to bed, but you will definitely wake up when a maniac start to scream with a harsh voice somewhere between 6 and a half to 7 minutes into the first track. Then it's not so atmospheric anymore. So maybe that wasn't such a good idea after all.
This is what I would call a listen and forget album. You listen to it maybe 3-4 times and then you forget all about it. And both songs sounds more or less the same by the way.
Release date: December 30, 2016 (Transcending Obscurity Records)
soothsayerdoom.bandcamp.com
DEC. 27, 2016
EXIT: Into Darkness - Album
Swizz thrash/death metal trio founded in 1995 already. But even though they have been around for over 20 years, this is just their fifth album. On the other hand it wasn't until 2001 that they released their first album, "Bis and Ende aller Tage".
Well, they definitely have a couple of really good songs here, even though I might not like everything. But most of these songs are really good stuff, so it's absolutely worth listening to.
(Art Gates Records)
exit666.com
DEC. 26, 2016
SYSTEM OF HATE: Unhallowed Ground - Album
From Barnsley, UK comes a band who play something they describe as "intense, aphotic power punk", and "a punk rock tsunami of noise with extremely dark lyrics". Well, I don't really know if I agree. Sure it's some kind of intense punk rock, but much darker than what we are used to. It almost got a touch of both goth and industrial at the same time. And I don't really know what to compare them with (a wild guess would be KILLING JOKE, but I have not heard that much by them). Absolutely different anyway, and it's actually really good. So give it a try. Don't be afraid.
(Ret Records)
DEC. 25, 2016
SETH: Apocrypha - Album
Isn't there a Japanese extreme metal band named SETH? This band has nothing to do with them though. And they're hardly the first band who has the same name as a other band (yes, there's a few more bands named SETH).
What we get here is some kind of hard rock/heavy metal from the States, influenced by New Wave Of British Heavy Metal and classic rock.
"I'm No Saint" reminds me of BLUE ÖYSTER CULT, and that song is among the better on this record. "Semaj" is also good, and reminds me a little of early BLACK SABBATH. The weird thing is that it sounds like he sing "There And Now", which is the title of the third song, which is another one of the good songs (even though it's not as good as the 2 previous, and a litle too long too). The fourth song, "Love's Hallowed Ground", is an acoustic ballad. Not so cool. The next song, "Free World", is totally useless in the beginning. It's like they just fool around. But then it suddenly become a song of it, which doesn't help too much, and it's so long (6,28 min.) that I just get bored.
By now they have already played their best songs about 2-3 songs ago. But then there's 2 more! "The First 29 Years" is another acoustic ballad. Why?! And the last song, "Quadragy" is as long as 11 minutes. And that's where the confusion begins. What the hell are they doing? It's like an eternal jam or 3-4 different instrumental songs. Totally useless!
If they could concentrate on stuff like the 2-3 first songs, and nothing else, then it could be interesting.
(Minotauro Records)
DEC. 24, 2016
BARBARIAN SWORDS: Worms - Album
The world is dark and looks like a post-apocalytic landscape. No sunshine. It's empty. Not many have survived. And this is the soundtrack to that. A black/doom metal band from Spain. A country where the sun used to shine all the time. But no more. It's a raw and brutal world now, and the singer sounds very desperate. Will the world ever be the same again as it once was? Will the sun ever shine again? More questions than answers. But nobody can hear you. You're left all alone in the darkness. You have to fight to survive. But how long will you make it when everything is poisoned?
The description above fits extra good to the 2 last songs - "Requiem", which is 18 minutes long and really depressive, and "Ultrasado Bloodbath", which is 11 minutes long. The other songs are much better than those 2, and shorter. Fact is that "Requiem" should not even be called music.
This is said to fit fans of CELTIC FROST, TRIPTYKON, HOODED MENACE, XASTHUR, SWAMPCULT, CIANIDE and BOLT THROWER.
(Cimmerian Shade Recordings)
facebook.com/BarbarianSwordsMetal
DEC. 23, 2016
MEGA COLOSSUS: Hyperglaive - Album
This American heavy metal band was formerly known as just COLOSSUS, but has now changed the name to MEGA COLOSSUS (there's 7 COLOSSUS according to metal-archives.com by the way). Their debut album was released 10 years ago, but this is the first album under their new name.
The band take their inspiration from classic bands like IRON MAIDEN, JUDAS PRIEST, THIN LIZZY and SCORPIONS. But that doesn't mean that they sound exactly like any of them. People who like traditional heavy metal should definitely like this though.
(Killer Metal Records in Europe/Self released in USA)
colossusmetal.com
DEC. 22, 2016
TYRANTS BLOOD: Into The Kingdom Of Graves - LP (Re-issue)
This is 1 of these death metal bands that just seems to make a hell of a noise. No good according to me.
The idea about this band started in the late summer of 2005, and the first lineup was complete in January 2006. Among these guys were members from BLASPHEMY, INFERNAL MAJESTY and ABUSE. Their debut album (which I guess is this album) was released in late 2006.
It might not suck completely, but I have definitely heard better death bands.
Release date: December 23, 2016 (Tridroid Records)
tridroid.bandcamp.com/album/into-the-kingdom-of-graves-special-edition
DEC. 21, 2016
BEATING DEAD MEAT: With Full Force - Album
Finnish groove metal band that I don't know too much about. Simply because the info they included didn't say that much about the band and their music. I even tried their Facebook page, but that didn't help either. I'm not a poet who can come up with any kind of bullshit just like that. I need some information to get inspiration you know.
I guess that this could be something for those who like bands like PANTERA. They are pretty o.k., but not much else to be honest with you. Another band where the songs feels like they're longer than they really are. Because it's hardly any eternity pieces that we get here.
Release date: December 23, 2016 (Inverse Records)
facebook.com/Beatingdeadmeat
DEC. 21, 2016
DEEP PURPLE: Time For Bedlam - Single
The first single from their upcoming album, "inFinite", which will be released on April 7, 2017 (there will also be a EP on February 3, 2017 with this song and a few songs that will not be on the album). And to me it sounds a little like something that could have been a b-side to some song from the "The House Of Blue Light" album. But there's something odd about it too - A robot voice in the beginning and the end.
I'm impressed that this old men are still around after all these years, and refuse to give up even though most of them are old as the street. And if you have any doubt about if they still can deliver after all these years, just listen to this song. Because if you don't like this, then you probably not even like this band anymore.
(earMUSIC)
deep-purple.com
DEC. 20, 2016
ECHELON: The Brimstone Aggrandizement - Album
Damned good classic death metal. But that's nothing unusual when it's yet another band with the legendary Rogga Johansson (PAGANIZER, PUTREVORE, DEMIURG, MEGASCAVENGER, JOHANSSON & SPECKMANN etc. etc.). But o.k., it's not just a new band with him. This is what you could call a death metal supergroup. The other members are Dave Ingram (HAIL OF BULLETS, ex-BOLT THROWER, ex-BENEDICTION), Johan Berglund (RIBSPREADER, DEMIURG, The GROTESQUERY), Kjetil Lynghaug (JOHANSSON & SPECKMANN, PAGANIZER) and the least known person Travis Ruvo (AKATHARTA, CROPSY MANIAC).
They combine crushing British brutality with classic Swedish melodies, and have no intention to do something new and unique at all. This is nothing but a nostalgic trip to the early 90s. I can't deny that it's damned good though. I just love this kind of old-school stuff!
Release date: December 22, 2016 (Transcending Obscurity Records)
facebook.com/EverForwards
DEC. 20, 2016
ENCEPHALIC BARRIER: Hearts - 7" Single
This is not really a band. In early 2012 2 German guys had a short session and recorded 2 songs, which was released in 2014 (if I got it right). Now the first track, "First Movement", will be re-released on vinyl, with the previously unreleased track "Jam Demo" on the b-side.
It's an extremely limited edition though. Only 50 copies will be made.
I'm not so sure if it's worth to get though. But if you think instrumental rock is something funny, then I won't stop you from trying to get a copy.
Release date: December 2016 (H42 Records)
DEC. 19, 2016
RAIKINAS: Arcadia - LP
Heavy rock band based in Sardinia, Italy who formed in 2011. They have released 3 albums before this one.
Their songs are classic stoner rock, but also some psychedelic rock. Most of these songs sounds pretty good, but not much else actually. Nothing exclusive or unique that no other of the thousand similar bands have done before. And nothing that at least 10 of those bands already have done much better. But if you're fine with that, let's give it a try at least.
Limited edition of 500 copies.
Release date: December 2016 (H42 Records/Electric Valley Records)
facebook.com/raikinasrks
DEC. 19, 2016
NIGHT RANGER: 35 Years And A Night In Chicago - 2CD/DVD, Blu-Ray
Here we have a 80s rock band who have sold more than 17 million albums worldwide, but this is as far as I can remember (my memory isn't always so good though) the first time I have heard anything at all with them.
The band celebrated their 35-year anniversary at the House Of Blues in Chicago on May 7, 2016, where they performed all their classics and most recent "hits". And that&339;s where this live recording comes from. Typical American rock is what I call this. And it's not so bad actually.
A new studio album will be released next spring.
(Frontiers Music)
nightranger.com
DEC. 18, 2016
HEVIDENCE: Nobody's Fault - Album
A mixture of melodic hard rock that sometimes reminds me of good old RAINBOW and sometimes neo-classic heavy metal like Yngwie Malmsteen. It's another Italian who's behind this band: guitarist Diego Reali. He began his career in a band called DGM in 1996. In 2006 he wanted to try other musical styles, but in 2010 it was time to go back to his roots again, so he formed EVIDENCE with his brother Stef Reali (HIJACK PARTY) and Andrea Arcangeli (DGM, NOVERIA, SOLISIA). Their first album, "There's Only Ten Left", came out in 2011.
After some lineup changes (new members are Corrado Quoiani on vocals and Emiliano Bonini on drums) (and other boring stuff) they decided to change the name to HEVIDENCE and finally release a new album. And it's not a bad album at all. It should fit everybody who like what I mentioned in the beginning of this review.
(Frontiers Music)
facebook.com/Hevidence
DEC. 17, 2016
ETERNAL IDOL: The Unrevealed Secret - Album
A very young band who formed as late as early 2016. This is the new band with singer Fabio Lione (RHAPSODY OF FIRE, ANGRA). The group also features HOLLOW HAZE members Nick Savio (guitar), Giorgia (vocals) and Camillo Colleluori (drums), as well as Andrea Buratto (SECRET SPHERE, HELL IN THE CLUB) on bass. They describe their music as a mixture of classic metal, symhonic rock and a few progressive twists. I simply call it melodic metal. There's both female and male vocals, and it's not bad at all.
This should be something for fans of bands like KAMELOT, MAGNUS KARLSSONS FREEFALL, MASTERPLAN and AVANTASIA.
(Frontiers Music)
facebook.com/eternalidolband
DEC. 16, 2016
ENUFF Z'NUFF: Clowns Lounge - Album
"Clowns Lounge" is a collection of rarities and early demos that have been partially reworked and re-recorded by the band. This collection also features a guest appearance from the late Jani Lane (WARRANT), as well as an appearance from James Young (STYX). The songs was written between 1988-89, and is described as "in your face glitter rock with pop overtones".
There's many good songs on this collection, so why they didn't make it to any album is a mystery. But I havn't heard what songs that actually made it to their albums, so I don't have anything to compare with. They was obviously young and full of energy, and made a lot of songs.
(Frontiers Music)
enuffznuff.com
DEC. 16, 2016
DARIO MOLLO'S CROSSBONES: Rock The Cradle - Album
Italian guitarist Dario Mollo began his career in 1981 with the band CROSSBONES. With them, he released his first studio album in 1989. But he is probably best known for his partnership with Tony Martin (BLACK SABBATH) in The CAGE and with Glenn Hughes (DEEP PURPLE, BLACK SABBATH etc.) in VOODOO HILL.
To this version of CROSSBONES Dario brought back original drummer Ezio Secomandi. The rest of the lineup consist of his regular collaborator Dario Patti on bass and keyboards, and singer Carl Sentance (NAZARETH, DON AIREY BAND, KROKUS).
The music is many different styles of hard rock and classic heavy metal, and it's really good stuff that I think you should check out.
(Frontiers Music)
dariomollo.com
DEC. 15, 2016

MUDDY MOONSHINE: Muddy & Wild - Album
Some kind of Finnish redneck/hillbilly Southern rock with funny song titles like "Drunk As Fuck", "Moonshineman" and "Bottle Of Love" for example. And well, who doesn't like to drink? And the Finnish are good at drinking, so I'm surprised that there isn't more bands from Finland with the same theme (we actually had a Oi!/punk band here in Sweden called HOIST A FEW who sang about drinking). But all songs on this album doesn't seems to be about drinking adventures.
The best songs are on the first half of this album. The second half is definitely a little weaker. It's still a good debut album though.
Release date: December 16, 2016 (Secret Entertainment)
muddymoonshine.com
DEC. 14, 2016
INQUIRING BLOOD: Morbid Creation - Album
This death metal band was founded in 2004, and comes from Hannover, Germany. Their debut album, "Born In A Grave", was released in 2010 (even though they released both a live album, "Live At TTD Festival", and a EP, "Raping The Silence", in 2007). "Morbid Creation" is their second album.
Their music have been compared with AMON AMARTH and CANNIBAL CORPSE. In other words classic death metal just the way we like it.
Release date: December 16, 2016 (Kernkraftritter Records)
facebook.com/inquiringblood
DEC. 14, 2016
CORNERS OF SANCTUARY: That Feeling We Know - Single
This year's first (and so far the only) Christmas song. Over the past several years, this band has released a number of holiday tracks to celebrate the season. And this song might not be the best I have heard, but far away from the worst. The music is some kind of hard rock, and you can download this song for free from their website.
The band is currently working on their next album, "The Galloping Hordes", which will be released during 2017.
(Metalizer Records)
cornersofsanctuary.com
DEC. 13, 2016
SEXTYNICE: Despierta - Album
I don't know if it's because they're so melodic or if it's because they sing in Spanish or a combination of both, but this actually reminds me more of a pop band than a rock band. They're definitely on the border anyway. This is actually a little too soft for me. It's almost embarrassing to listen to.
Now I might sound very negative here, but I wouldn't say that they're totally worthless. Oh no. They might actually have potential to impress Spanish speaking people into AOR/melodic rock.
(Art Gates Records)
facebook.com/Sextynice
DEC. 12, 2016
SEPULCHRAL CURSE: At The Onset Of Extinction - EP
Blackened death metal brutality from Finland with members from SOLOTHUS.
Not bad at all! They spice up their Finnish death metal with some Scandinavian black metal influences, which I think makes it a bit more raw. But that doesn't really hurt.
We get 4 songs on this EP, and it's something that you should take a closer listen to, because it's really good stuff.
Release date: December 15, 2016 (Transcending Obscurity Records)
sepulchralcurse.bandcamp.com
DECEMBER 11, 2016
ASPHALT HORSEMEN: Brotherhood - Album
ASPHALT HORSEMEN was formed in 2010 by well-known musicians in the Hungarian scene. They started with covers by bands like LYNYRD SKYNYRD, BLACK STONE CHERRY and PRIDE & GLORY, but came up with their own ideas pretty soon. Their debut album was released in 2014. "Brotherhood" is their second album.
Well, as you might have figured out already, this is something for fans of southern rock. And it's good stuff, so give it a try.
Release date: December 13, 2016 (Pride & Joy Music)
asphalthorsemen.com
DEC. 10, 2016
FOGHAT: Live In St. Pete - DVD
It's hardly every year that I get a DVD to review.
Well, didn't I review the CD recording of this show a couple of months ago? So why do they send me the DVD now? And why didn't they put the DVD out at the same time as the CD? This was recorded at Jannus Landing in St. Petersburg, Florida on October 15, 2011 already, so it might seems to be a little stupid to wait 5 years before they release it. But here's the deal: This DVD has actually been released earlier, but was very hard to find, especially outside of the States.
What we get from these Anglo-American Southern boogie and blues rock legends is a show with many of their hits (of course). And as they've been around since 1971, I didn't expect too much action on stage from them. And there wasn't. They mainly stand there and try to look cool.
The release of the CD was so long ago that I don't remember any of the songs now that I hear them again. The music is not so bad, but it's not the hottest live DVD I've seen. I've had much more fun. And of course there had to be a shit boring guitar solo and a useless drum solo too. The sound is very good though, but the image isn't always so good for some reason.
This is probably just for the true fans, because I almost fell asleep towards the end of the show.
(Metalville/Rough Trade)
foghat.net
DEC. 9, 2016
1914: Eschatology Of War - Album
Blackened death/doom/sludge band that get a hard-on from the sound of war. And they get a little extra horny when it's World War I, which is the theme on this album. 1914 is also the year when the first world war started. And hundred years later this band was formed.
Even though they call their music blackened death/doom/sludge, I think this is a album for black metallers first of all. But they should concentrate more on their own music instead of all that crap between the songs (talking and old music etc.). Nobody wants to hear that shit. It's actually just irritating.
(Mazzar Records)
soundcloud.com/1914band
DEC. 8, 2016
HMS KEELHAUL: Anchord - Album
This band was founded in 2013 and comes from Haukipudas, Finland. They play something that I would describe as modern melodic heavy hard rock/heavy metal. And I don't really know who to compare them with, as they have their own kind of sound. But that doesn't necessarily mean that they're unique. I have heard something similar before, but can't remember any names right now.
It's really good stuff anyway, and that's always the most important thing to me.
Release date: December 9, 2016 (Inverse Records)
hmskeelhaul.com
DEC. 7, 2016
PROJEKT MENSCH: Herzblut - Album
Some kind of industrial/electronic metal in German. And the only band who have succeeded with that (according to me) is RAMMSTEIN. The rest are just cheap copy cats. But I have to admit that PROJEKT MENSCH is among the better bands though. So this might actually be worth a try.
This is their second album, and the music is described as "Neue Dunkle H&quml;rte", which means new dark hardness. A pretty good description actually. The music is hard and heavy, while the vocals is both harsh and melodic. German isn't my language, but it's said that the lyrics are pretty dark.
Release date: December 9, 2016 (Kernkraftritter Records)
projekt-mensch.org
DEC. 6, 2016
HOSTILE: Hypnotic Regression - EP
Heavy groove metal from Dallas, Texas. Maybe not in the same league as PANTERA, but something similar to that at least. The band started in 2007, and we get 4 tracks on this EP. But all I have to say after listening several times now, is that they seems to be a good band. No more no less.
(Hostile Music/Vanity Music Group)
DEC. 5, 2016
NEBRUS: Exta Malorum - Album
Some kind of really boring heavier black/death metal in the primitive league is what we get here. I think it would be best if we dig a really deep hole and just bury this shit. And don't blame me because you get a bad review. Make better music!
(Razed Soul Productions)
nebrus.bandcamp.com
DEC. 5, 2016
SAURON: Wara! - Album
SAURON is actually one of the first Polish groups that introduced pagan black metal to the local scene. They formed back in 1993 already, and this is their fourth album.
On this release we get 5 new tracks and a BATHORY cover. And it's said to fit fans of BATHORY, IMMORTAL/ABBATH, ENSLAVED and HADES ALMIGHTY. Not any bands that I use to listen to, but SAURON sounds o.k. to me.
(Witching Hour Productions)
sauron.band
DEC. 4, 2016
FLIDAIS: Kazador - Album
Galloping power metal is what they call the music from this Ontario, Canada-based band. But there's a progressive touch too sometimes, and it's also pretty melodic. Damned good, but I'm not sure if I want to call this power metal. I think melodic progressive metal is a better description. But that's just my opinion.
I also got a instrumental version of this album, but I'm not sure if that will be included to the original album or what it was good for. To me it's too much. I'm satisfied with the original versions (with vocals).
Release date: December 2, 2016 (Self released)
facebook.com/FlidaisMusic
DEC. 2, 2016
TURBO SHOKK: Get Radical - Album
Here's a funny band. They claim that this little hair metal trio is here to save heavy metal, and want to take you back to the 80s when everything was a big rock n roll party. They recomend this album for fans of STEEL PANTHER, DOKKEN, GUNS N' ROSES and GREAT WHITE. Big words even though they never said anything about being as good as them. TURBO SHOKK are definitely not a bad band, but they're hardly as good as those giants. It could still be worth checking out though if you're a hair metal fan.
(Edgewood Arsenal)
DEC. 2, 2016
WITCHMASTER / VOIDHANGER: Razing The Shrines Of Optimism - Split 12" EP (vinyl)
Yet another record that hardly is any masterpiece. And the most useless song is the second track with WITCHMASTER, "Tanz Debil" (EINSTÜRZENDE NEUBAUTEN cover). The first song, "Permafrost", was good though, while their third track, which is 3 live tracks from Lisbon, wasn't more than o.k. It seems like their songs are taken from 3 different recordings, and they are also different from each other, so it's actually a little hard to get this band. I guess it's supposed to be some kind of death metal though.
VOIDHANGER participate with 3 brand new tracks. And they are a much better band than WITCHMASTER. Really good blackened thrash/death metal with a pinch of crust punk. Almost worth to get just because of VOIDHANGER!
NEW RELEASE DATE: January 20, 2017 (Third Eye Temple)
vimeo.com/184343183
DEC. 1, 2016
VULGAR DEVILS: Temptress Of The Dark - Album
A power trio from the States who play some kind of hard rock n roll, or a mixture of early 80s heavy metal and 70s hard rock as their label describe them. The band was founded by singer/guitarist Dave Overkill (DESTRUCTOR). This is their first album, and it doesn't sound so bad at all.
Well, I don't really know what else there is to say about this..
Release date: December 2, 2016 (Pure Rock Records)
facebook.com/v.d.rocknroll
DEC. 1, 2016
TRIVIUM: Ember To Inferno: Ab Initio - Double album
TRIVIUM is not a band that I have been listening to that much. I have heard a song here or there, but that's all. And what we have here is a re-issue of their first out of print album, "Ember To Inferno", which was originally released in 2003. "Ember To Inferno: Ab Initio" is the deluxe version, which also includes 13 demo tracks from "Ruber" (aka the Red Demo), "Caeruleus" (aka the Blue Demo) and "Flavus" (aka the Yellow Demo).
And what can I say? They have some good songs and some songs that are not so good. But they definitely have their own kind of style, which makes it a little hard to figure out in which metal category I should put them. Thrash, progressive metal or maybe both plus extra all and nothing? It's a good mixture of aggressive and melodic parts anyway, which I like.
Release date: December 2, 2016 (Cooking Vinyl)
trivium.org
NOV. 30, 2016
THREE LANE ROAD: Three Lane Road - EP
Melodic hard rock band from Dallas, Texas who are influenced by DOKKEN, JOURNEY, BON JOVI and SKID ROW. They are a pretty fresh band, as they started in 2014. And this 6-track EP is just a foretaste of what will come when they release their first full length early next year.
Well, there's hope at least. No doubt about that.
Release date: December 3, 2016 (TLR Records/Vanity Music Group)
NOV. 30, 2016
SPORE LORD: In The Beginning - Album
..and here's another one of these bands who think vocals is over-rated. 8 instrumental tracks of psychedelic-tinged doom metal, who sounds more or less the same, isn't too much fun. But I suppose there's people who actually like this kind of stuff, because they're hardly the first instrumental band on the planet, and they're hardly the first heavier band on the planet either. That combination just isn't my thing though.. Heavy or not, but I like vocals.
Release date: December 2, 2016 (Self released)
NOV. 30, 2016
Tarja Turunen with Alissa White-Gluz: Demons In You - Single
So, former NIGHTWISH singer Tarja Turunen have teamed up with ARCH ENEMY singer Alissa White-Gluz for a little duet. And I must say that it doesn't really sound as I expected. At least not in the verse, which is pretty heavy. This song is actually a little weird. Like some kind of mixture between SYSTEM OF A DOWN and NIGHTWISH, or however I should describe it. I don't really know what I should think about this. Is it good or bad? I don't know..
(earMUSIC)
NOV. 29, 2016
SEDE VACANTE: Skies Infernal - Album
Duo from Greece formed in 2013. Their music is described as goth metal, but to me it sounds more like symphonic, melodic metal. There's both female and male vocals. And I guess that people into stuff like NIGHTWISH, EPICA, LACUNA COIL and similar bands will like this, because it's not bad at all. I just don't really know what else to say about this.. But a short review is also a review.
(Pride & Joy Music)
facebook.com/Sede-Vacante-Music-557209527645282
NOV. 29, 2016
LOWRIDERS: Latino Wardogs - 10" EP (vinyl)
They say that this record should have been released in 1983 already, but other things came in the way. In 2014 they decided to give it another try. 2 of these songs were written in 1983, and 2 in 2015.
The band comes from Linköping, Sweden and play punk rock with a touch of rock n roll. And it's not bad at all. I like what I hear.
I don't really know what else I should say about this.. Just check it out. It's good stuff.
thelowriders.org
NOV. 29, 2016
LUCIFER'S FRIEND: Too Late To Hate - Album
They might have a evil name, but fact is that their music is pretty kind actually. And there's no satanic crap here either. No, this is melodic hard rock, and I must say that it's very good indeed.
This is actually their first new studio album since 1981, so it's not a new band that we have here. They formed in 1970 already and broke up in 1982. But in 2015 they reformed with original members John Lawton (ex-URIAH HEEP), Peter Hesslein and Dieter Horns, along with long term members Jogi Wichmann and Stephan Eggert.
This is something for fans of bands like DEEP PURPLE and URIAH HEEP. But there's also songs that any fan of melodic rock and hard rock will like.
lucifersfriend.com
NOV. 29, 2016
MARK ZERO: Ballistica - Digital album
Sounds like a demo recorded in his bedroom.
Mr. Zero doesn't really have anything new to offer to the scene of modern melodic hard rock. I have heard this kind of love songs filled with teenage agony a couple of times before. Not bad, but hardly any hits either. Just somewhere in the middle. So in other words it's not exactly a masterpiece that they has created here.
The band was founded in Falun, Sweden in 2013, but are now based in Göteborg (aka Gothenburg). This is their debut album.
(Self released)
NOV. 29, 2016
ARMAGEDDON: Triptych - 3 disc box set
Note! This band has nothing to do with Christopher Ammott's (ex-AMON AMARTH) ARMAGEDDON, who comes from Halmstad, Sweden. But on the other hand, according to The Metal Archives there's as much as 20 metal bands with that name. And I'm actually not really sure which 1 of them this band is supposed to be. But they have been around for 3 decades already, so they should be 1 of the first to use that name.
What we get here is 2 CDs with the albums "Time Machine" and "Triptych", as well as the DVD "Live After Halloween". The first disc consist of songs from 1989 to 2012, while the second disc consist of recordings from 2012 to 2015.
They have some good heavy metal songs, but honestly, there's a lot of crap here too that isn't even metal at all. And why have they included a "ballad" as much as 3-4 times? Man, they must really love that song. Seems to be very stupid according to my opinion though.
(Grom Records)
armageddon-metal.com
NOV. 29, 2016
AGGRESSION: Fragmented Spirit Devils - Album
This is the first new album with this Canadian thrash band since 1987. They have former INFERNÄL MÄJESTY member Brian Langley on vocals, and they are compared with bands like POSSESSED, DARK ANGEL, HELLWITCH, INFERNÄL MÄJESTY and MORBID SAINT. There's also a cover of the NAZARETH classic "Razamanaz" featuring Manny Charlton (NAZARETH).
Except for a sour intro there's some really good candy here, so this is of course worth listening to.
(Xtreem Music)
facebook.com/aggression85
NOV. 29, 2016
STENCH PRICE: Stench Price - EP
A band with guys like Danny Lilker (BRUTAL TRUTH), Rogga Johansson (PAGANIZER etc. etc.), Karina Utomo (HIGH TENSION), Max Phelps (CYNIC, EXIST), Dave Ingram (HAIL OF BULLETS, ECHELON) and Shawn Knight (CHILD BITE) might sound interesting. But fact is that it doesn't work that well. Some songs are nothing but a joke that is just getting on my nerves, while some of the songs are more "normal" (in lack of a better word). It's supposed to be grindcore, so what can you expect?
It was probably a lot of fun to record this, but I think they should waste their energy on their main bands instead of crap like this. This record will just sell because of the well-known artists, and hardly because it's good.
Release date: November 30, 2016 (Transcending Obscurity Records)
stenchpricegrind.bandcamp.com
NOV. 28, 2016
SOLITUDE: Reach For The Sky - Album
What made me interested in this release was that it was said to be for fans of ACCEPT, BULLET, METALLICA, MOTÖRHEAD, SAXON, IRON MAIDEN and VENOM. Simply what they call New Wave Of British Heavy Metal (aka NWOBHM). And who isn't a fan of that? This Japanese band is definitely influenced by that, even though there's a touch of thrash metal too, which put them in the hard league of heavy metal. Everything isn't hard though. Some songs are more melodic.
This is a North American re-release (it was released in Japan last year). We get 8 tracks in 44 minutes, and most of these songs are really good. My only question is: Will there be a European release of this album?
(Test Your Metal Records)
facebook.com/solitudejapan
NOV. 28, 2016
SHROUD EATER / DEAD HAND - Split 7" EP
A split between 2 sludge bands. They give us 1 song each on this piece of vinyl.
SHROUD EATER is a stoner/sludge trio from Miami. They give us a heavy-weight song that last for 5,50 minutes.
DEAD HAND comes from Georgia and started in 2012. Their sludge song is 6,09 minutes long.
Well, as you might have guessed already, this is slow and heavy stuff. O.k. but not much else.
(Southern Druid Records)
southerndruidrecords.storenvy.com/products/18254516-shroud-eater-dead-hand-split-7
NOV. 28, 2016
TROUBLEMAKERS, GLO, LIPTONES and FUCK FRANKIE at Musikens Hus in Göteborg, Sweden on November 26, 2016
Swedish punk rock veterans TROUBLEMAKERS celebrated their 35-year anniversary, and I'm very sorry, but I don't have that much to say about this. I guess I got a little tired after a couple of beers, so the only band I actually saw infront of the stage was FUCK FRANKIE, who played first. While the other bands played I just sat on a chair and didn't take any photos. Very stupid, and I'm not exactly proud about it. All bands did a great job though, so no problem there.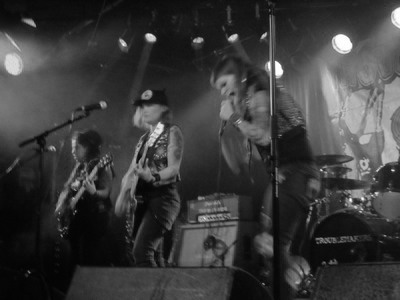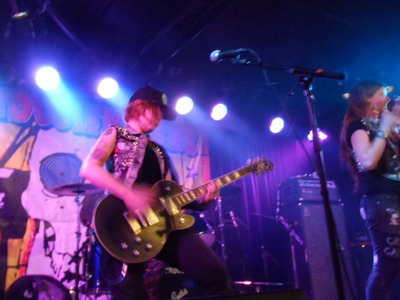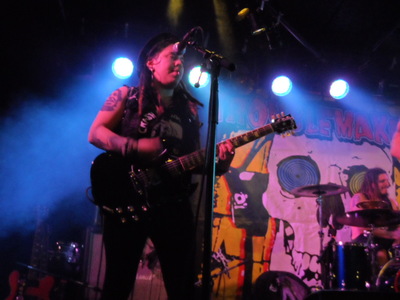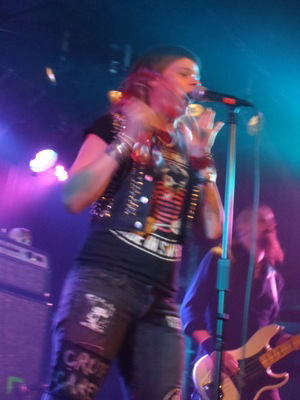 NOV. 27, 2016
LASTKAJ 14 and SMASH IT UP at Sticky Fingers in Göteborg, Sweden on November 25, 2016
Good timing! Just when I arrived SMASH IT UP started to play. And they did a damned good show! I really like their punk rock/street punk mixture (or whatever you should call it, you could simply call it punk, but that doesn't say much). This is a band that you definitely should check out if you havn't done that already. That's all I have to say.. (Short live reports as usual).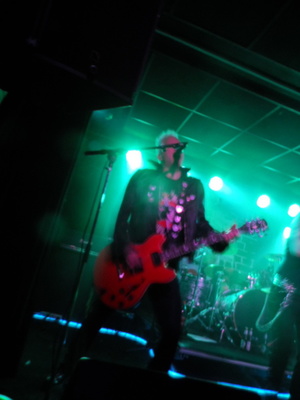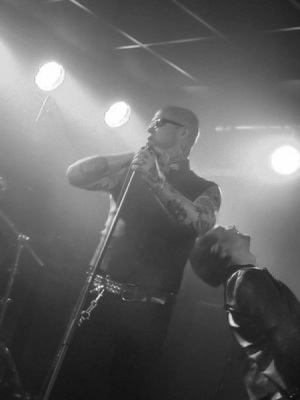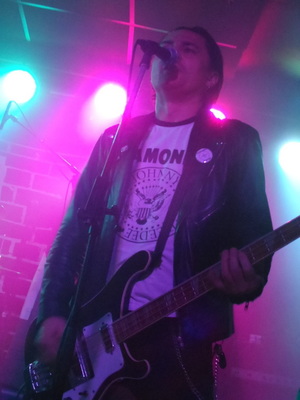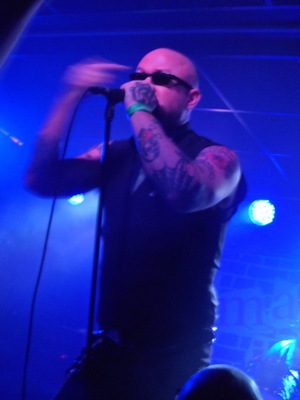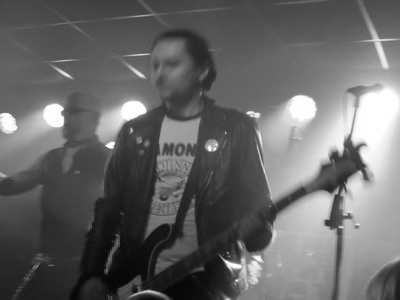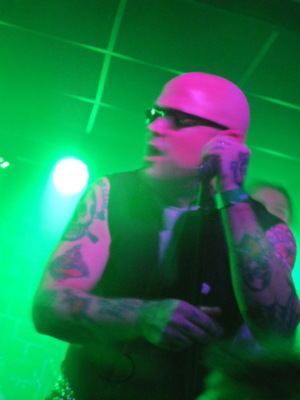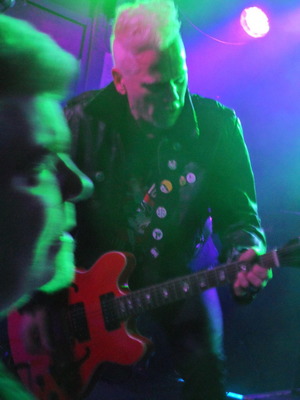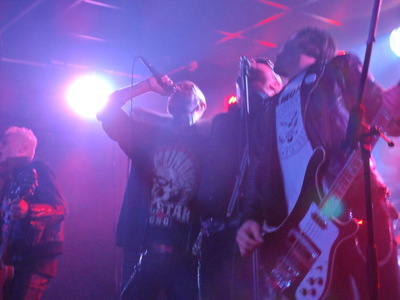 LASTKAJ 14 is hardly a new band, but I have actually never seen them live before. They was really good, but the singer was a little odd figure, which on the other hand made them a little funny. The music they play is old classic 90s trallpunk (pretty fast pop punk, or however you should describe it) with political lyrics. Damned good!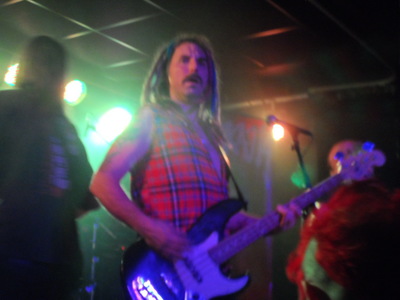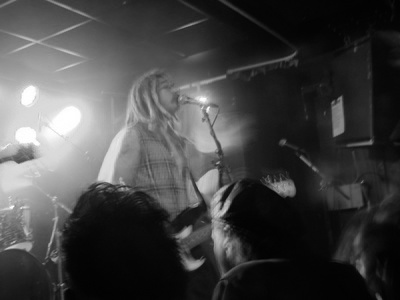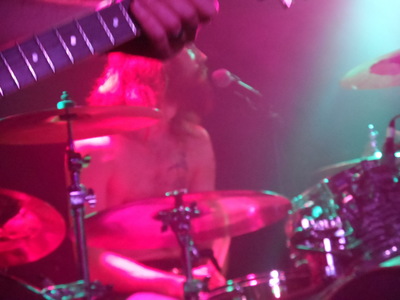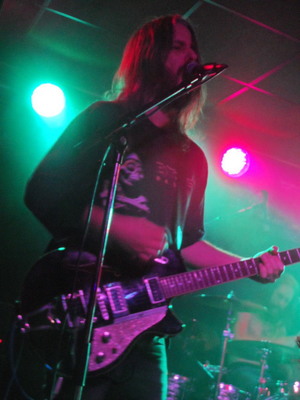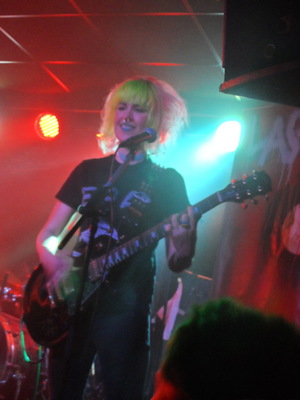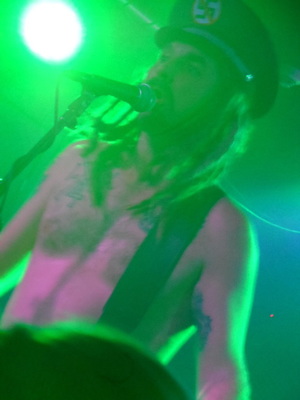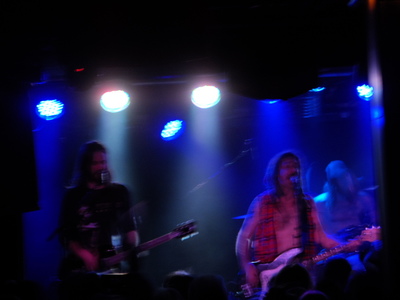 NOV. 26, 2016
HOLLYWOOD GROUPIES: From Ashes To Light - Album
The band name sounds like a sleaze band from L.A. The artwork looks like it would be metal in the hard school. What they actually play is more like modern melodic metal. They are compared with the latest products from ALTERBRIDGE and BLACK STONE CHERRY, which isn't something that I have heard. It's pretty good stuff though, so I like what I hear.
The band formed 10 years ago already, and this is their second album.
(Art Gates Records)
facebook.com/hollywoodgroupies
NOV. 25, 2016
RAVEN'S GATE: Blackstar Machinery - Album
Melodic electro metal is what I call this. The singer's English is so bad sometimes that you start to think if it really is English he's singing in. But after listening to this a couple of times, I can at least say that the songs are o.k. Not much else though. There's a little too much of that electronic stuff sometimes, and all songs are not strong enough.
The band started in the beginning of 2011, and comes from Valencia, Spain. They combine European power metal with melodic metal and add some prog music too. If that sounds interesting to you, then I think you should give them a try (no matter what I think about it).
(Art Gates Records)
facebook.com/RavensGateMetal
NOV. 25, 2016
PERPETUAL DEMISE: Arctic - Album
Why so much as 17 tracks?
Another Dutch death metal band, who formed as early as 1989 already. They recorded 3 demos in the early 90s. "Arctic" was their debut album, which was released in 1996 via DSFA Records. This re-release of the album also includes 6 tracks from their demos, and that's the reason why there's so much as 17 tracks on this record.
It's hardly full speed ahead and growl all the time here. They are almost a little progressive/experimental sometimes, and most songs seems to go in mid-tempo, which makes them a little special. It's good, but not something that you just must have in your collection.
Release date: November 25, 2016 (Vic Records)
NOV. 24, 2016
PENTACLE: Ancient Death - Album
During the first 30 seconds you could easily think that it would be yet another heavy rock band. But then they speed it up, and it turns out to be another death metal band in the old school instead.
PENTACLE is one of the oldest, and still active, Dutch death metal bands. Formed by bassist/vocalist Wannes Gubbels (ex-ASPHYX, SOULBURN) in 1989 and still touring, playing gigs and recording and releasing old school death metal.
This album was recorded in 2000 and is now being re-issued with 1 bonus track, "Souls Blood", which was recorded at the same time as the album.
Not bad at all. This could be worth checking out.
Release date: November 25, 2016 (Vic Records)
NOV. 24, 2016
EXOTO: And Then You Die, The Fifth Season - Album
EXOTO was formed in 1989 and released its first demo in 1991. The second demo was released in 1992, and 2 songs ended up on a 7" EP. By the end of 1993, the band recorded its debut CD, "Carnival of Souls". A record deal with Swedish record label Black Mark Records was signed in 1994, and the second full length, "A Thousand Dreams Ago", was released worldwide in 1995.
"And Then You Die - The Fifth Season" includes the 2 demos, plus 5 live tracks from the early 90s as a bonus. Pretty good stuff, even though the sound quality isn't always the best. Still worth checking out anyway.
Release date: November 25, 2016 (Vic Records)
NOV. 23, 2016
PESTILENCE: Presence Of The Pest (Live At Dynamo Open Air 1992) - Album
A good live album can be nice. Especially if it's an old classic with something like KISS, IRON MAIDEN or DEEP PURPLE for example. But a death metal band that I'm not even a fan of, and have not heard that much with, that just doesn't work the same way. I'm pretty sure that old fans of this band will love this live album though.
This band formed 30 years ago already, and is one of the leading and most influential Dutch extreme metal bands. This performance was recorded at the Dynamo Open Air festival in 1992. And as a bonus they have also included 7 tracks from their tour with MONSTROSITY and TORCHURE the same year. Those tracks was recorded in Rotterdam.
Release date: November 25, 2016 (Vic Records)
NOV. 23, 2016
MYHRDING: 1350 - Album
MYHRDING's third album is a concept album based on the year when the plague came to Sweden, and each song has lyrics connected to the Black Death. They continue to deliver black metal the Scandinavian way. There's lyrics in both Swedish and English. There's both fast and slow songs.
They're not better or worse than any other band in the black metal genre, so let's give it a try.
Release date: November 25, 2016 (Unexploded Records)
facebook.com/Myhrding
NOV. 22, 2016
FETID ZOMBIE: Epicedia - Album
How am I going to describe this then? Progressive and melodic death/doom metal? We get 4 pretty long songs (approximately 8-10 minutes). And it's pretty o.k. stuff.
This is a solo project by Mark Riddick, who is said to be a legend in the death metal underground (I have never heard about him before as far as I can remember). He has been playing since the early 90s, and has a passion for occult old-school death metal. And even though this is a solo project, he get some help from a lot of people (who are also unknown to me).
The music is said to be a mix of The CHASM, NOCTURNUS, GRAVE, DECEASED, MASTER and SEPULTURA.
Release date: November 25, 2016 (Transcending Obscurity Records)
fetidzombiedm.bandcamp.com
NOV. 22, 2016
SERPENT: Trinity - Album
This band was formed in 1993 by Lars Rosenberg (ENTOMBED, CARBONIZED) and Andreas Wahl (THERION). They were quickly joined by Piotr Wawrzeniuk (THERION, CARBONIZED) and Ulf Samuelsson (SUFFER). Nuclear Blast's sub-label Radiation Records released their debut album, "In The Garden Of...Serpent", in 1996. Just after the debut release Per Karlsson (DESTRÖYER 666, IN AETERNUM, BENEDICTION (live), NOMINON) joined the band on drums (Piotr handled both vocals and drums before). In 1997 they recorded their second album, "Autumn Ride".
"Trinity" is a very rare recording from the summer of 1999. But while most of the other bands from Vic Records play death metal, this band play doom metal. And I must say that it's not bad at all. It's actually really good stuff that I think you really should check out.
For fans of BLACK SABBATH, CANDLEMASS and similar bands.
Release date: November 25, 2016 (Vic Records)
NOV. 21, 2016
WITCHERY: In His Infernal Majesty's Service - Album
Swedish blackened death metallers WITCHERY are back with a new album. It's actually as much as 6 years since their last album came out. But now they're finally back with their 6th studio album. And they are also celebrating their 20th anniversary this year.
Today's version of the band consist of original members Jensen (The HAUNTED), Rikard Rimfält (SEANCE) and Sharlee D'Angelo (ARCH ENEMY), as well as the new members Angus Norder (NEKROKRAFT) and Chris Barkensjö (LIK). The album was produced and mixed by Daniel Bergstrand at Dug Out Studio (BEHEMOTH, IN FLAMES, MESHUGGAH) in Uppsala, Sweden. And there&39;s guest apperances from Hank Shermann (MERCYFUL FATE), Jason Netherton (MISERY INDEX) and Nicholas Barker (LOCK UP).
The production is raw but fit the music perfect. This is absolutely something that could be worth checking out.
European release date: November 25, 2016 (Century Media)
facebook.com/officialwitchery
NOV. 20, 2016
BLOODRIDE: Planet Alcatraz - Album
Hard boys from Finland playing thrash metal in the old angry school. And they do it really good, so this could absolutely be worth checking out.
This is their third album, where the lyrical theme seems to be stupidity and selfishness of mankind.
The band has been around since 2000.
Release date: November 25, 2016 (Inverse Records)
bloodride.com
NOV. 19, 2016
CROWN OF EARTH: Crown Of Earth - Album
American progressive band influenced by classic heavy metal. They come from Philadelphia, and this is their first album. It might not be the best I've ever heard (but how much is that'), but it's not bad at all. They have a couple of really good songs here, so it's worth a try at least. There's no doubt about that.
I just don't know what else to say though..
crownofearth.com
NOV. 19, 2016
DYING EMPIRE: Dystopia - Album
Born in Dresden, Germany in 2014. This is their debut album. Their music is described as a mixture of death and thrash metal which is both melodic and brutal. I would like to add some hardcore/metal to that mixture. I guess it's o.k., but I have heard many better bands. That shouldn't stop you from giving them a try at least. You might like them more than me.
Release date: November 25, 2016 (Art Gates Records)
dying-empire.com
NOV. 19, 2016
EINHERJER: Dragons Of The North - Album
This album was originally released in 1996. The band comes from Norway, and play Viking metal. That doesn't mean folk metal. No, this is a pure metal album, with lyrics about the northern myths and history. The music is pretty melodic, but with harsh vocals. I think both people who like extreme metal and people who like classic heavy metal will like this.
It's a pretty good album that they have made, so it could definitely be worth checking out.
Release date: November 25, 2016 (Indie Records)
NOV. 19, 2016
ROTH BROCK PROJECT: Roth Brock Project - Album
John Roth (WINGER, STARSHIP, GIANT) and Terry Brock (STRANGEWAYS, GIANT, LEROUX) are the 2 men behind this little project. And the music is no big surprise: Melodic hard rock like it's been done since the 70s/80s. But they have some good songs here, so it's not a problem. The problem for me is to come up with something else to say about this record. Worth checking out though. No doubt about that.
(Frontiers Music)
NOV. 18, 2016
PRETTY MAIDS: Kingmaker - Album
I got 2 records with this Danish band: "Red, Hot And Heavy" and "Future World". Those albums are from the 80s sometime, and then they played heavy metal. I don't think I have heard anything with them since then. This album sounds more like melodic hard rock. Just like any other band on Frontiers. It's good, but I wouldn't say that what they do is anything unique. But sure, you don't always have to do something unique. And I guess that if you're a better fan than me, who have heard the latest albums, then you will most likely like this record, because it's not bad at all.
(Frontiers Music)
NOV. 18, 2016
FM: Indiscreet 30 - Album
Very melodic rock/AOR. They reminds me a lot of some band, but I can't remember which. Probably something that I listened to in the 80s (when I was young).
This is a re-recording of their debut album, which was originally released 30 years ago. But there's also as much as 7 bonus tracks included. Now I have not heard the original recording, so I'm not the one who can compare these recordings. But this sounds good enough for me anyway, so I have nothing to complain about.
(Frontiers Music)
NOV. 18, 2016
Glenn Hughes: Resonate - Album
New album from the legendary singer/bassist from DEEP PURPLE, BLACK SABBATH, PHENOMENA, HUGHES/THRALL, TRAPEZE and most recently BLACK COUNTRY COMMUNION (who are working on a new album) and CALIFORNIA BREED. But as you might know, he has also had a long solo career. And what we get is a melodic rock album with a big fat sound and 11 strong songs. I like it! But this man has never dissapointed me so far (not that I've heard everything he has done), so I'm not surprised.
(Frontiers Music)
glennhughes.com
NOV. 17, 2016
Page 6
Index
Next year