REVIEWS 2019 - Page 5
GALLOWS POLE: This Is Rock - Album
(Pure Rock Records - Release date: Aug. 30)
The artwork looks metal, and they probably want to be a hard rock band, but in the end this is just heavier rock. It could have been worse though. They could have sucked for example. But luckily they don't. On the other hand it's not exactly like I have found a new favorite band either. You could say that there's a little bit of both here - Some songs are pretty o.k., while others are not so interesting.
Who do I think is going to like this then? Well, I'm not sure.. Boring people who listen to The PRETENDERS maybe? Just a wild guess..
This is the 9th album from this Austrian band, where they get an extra touch from female singer Dina Höblinger. It's still mainly male vocals though. But without her this would probably have been even more boring.
facebook.com/GALLOWS-POLE-174803492598152 puresteel-records.com
Published: Aug. 24, 2019
ATTENTAT: Punkhjärta - Album
(Busy Bee)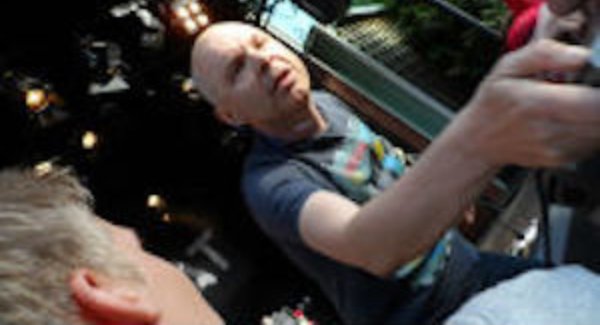 I don't really know what drives them after all these years, and what makes them want to continue to play. But I'm happy that they do it.
Swedish band ATTENTAT formed as a punk band in 1978, but they soon developed to a more melodic band, and more or less some kind of catchy rock instead, but always with very sing-along friendly choruses. After a few years with albums and tours, they split up for a few years before they came back again in the early 90s. Then it became silent again, just a gig here and there through the years. But suddenly they were back for real again, and an album, "Fy Fan!", was released in 2013. Since then they have been playing once in a while, but no new album until now.
Now it's already 6 years since the last album, and I don't think I have been listening to it that much since then, but wasn't it more angry and more speed on that record? Because the songs here are either catchy or laidback, and not much anger. So even though it's called "Punkhjärta" (Punk Heart), it's not much punk here. But you can still hear it somehow, that it's old punk rockers who have made this rock album. So I guess it's not totally wrong to call it punk rock anyway.
Is it any good then, or is it bad? Well, their last album was damned good, but this is definitely not bad either. Everything might not be so interesting though - The punk ballad "Esmeralda" for example is a little pathetic, and "Pissa På", where they combine dub-reggae with fast punk, is hardly one of their stronger sides.
This album grow stronger the more I listen, so there's still hope for this band. And as usual they go all in and deliver with big passion and joy.
Now I'm going to listen some more to this album..
attentat.nu
Published: Aug. 23, 2019
The DARKNESS: Heart Explodes - Single
(Cooking Vinyl)
Main focus for this British band use to be straddled rock anthems with ironic lyrics and Justin Hawkins' special vocals. But this song seems to be a little bit more silent than what I'm used to hear from The DARKNESS, but yet damned good. What a song! This is fucking excellent! Questions on that? I don't think so. Just listen to it.
This is a taste of their upcoming album, "Easter Is Cancelled", which will be released on October 4. "Heart Explodes" is said to be a glorious example of what to expect from the new album. They also say that it's the band's most exciting and diverse record to date. Man, I really look forward to hear it!
thedarknesslive.com cookingvinyl.com
Published: Aug. 23, 2019
ANOXIA: These Chains - Single
(Mighty Music - Release date: Aug. 23)
Melodic and hard-hitting heavy metal, with strong and heavy riffs, directly from the Danish underground. This is something that you absolutely have to give a chance if you have any interest in heavy metal at all.
This song comes from their upcoming album, "To The Lions", which will be released on October 4. And that's an album that I really recomend you to check out (but more about that later). Try this song while you wait for the album..
anoxia.dk mightymusic.dk
Published: Aug. 22, 2019
ETHEREAL KINGDOMS: Endings - Single
(Mighty Music - Release date: Aug. 23)
ETHEREAL KINGDOMS is a melodic/symphonic metal band from Denmark. But this band is not like most other bands in that genre. Oh no. ETHEREAL KINGDOMS mix it with all kinds of things. This song have some faster, almost death metal, parts and some growl, except for the typical ingredients. They also have choirs and a whole orchestra in their songs. And that makes them a little more interesting at least.
"Endings" is just a little taste of what their debut album, "Hollow Mirror", has to offer. The album will be released on October 11.
etherealkingdoms.com mightymusic.dk
Published: Aug. 22, 2019
MURDER AMONG KINGS featuring Xverd: 47 Double Click - Single
(Mighty Music - Release date: Aug. 24)
Danish hardcore/nu metal band with former members of DOWNSWITCH and CRAWCELL (if anybody have heard of them? I have not). They are described as "BIOHAZARD and HATEBREED meets DEFTONES and KORN". So if that sounds like an interesting combination, then I guess that this could be something for you.
"47 Double Click" is said to be a tribute song to the city that the band grew up in, 4700 Naestved.
facebook.com/kingsofnaeverlyhills mightymusic.dk
Published: Aug. 22, 2019
Soren Andersen: Bird Feeder - Single
(Mighty Music - Release date: Aug. 23)
Danish guitarist and producer Soren Andersen paint a dream landscape with the help of his guitar. This is something for all of you who just love guitar heros from the 1980s. I can easily take 1 song like this without a nervous breakdown, but a whole album is not so funny.
"Bird Feeder" comes from his upcoming album, "Guilty Pleasures", which will be released on October 4. Funny that he is using the same title of the album as Swedish rock band MÄRVEL used for their latest covers album, that was released in April.
facebook.com/Soren-Andersen-Music-141280017407 mightymusic.dk
Published: Aug. 22, 2019
ROCKETT LOVE: Greetings From Rocketland - Album
(AOR Heaven - Release date: Aug. 30)
ROCKETT LOVE was founded in 2015 by a common interest for 80s melodic rock. Their debut album, "Grab The Rocket", was released in 2017. And now their second album is here.
This album is full of great songs. I think that every fan of Scandinavian melodic rock and hard rock will like this. Think of Swedish bands like TREAT, ECLIPSE, EUROPE and similar, and you will have a good idea of what this sounds like.
facebook.com/rockettlovesyou aorheaven.com
Published: Aug. 21, 2019
JIMI ANDERSON GROUP: I Belong - Album
(AOR Heaven - Release date: Aug. 30)
Jimi Anderson was born in Rigside, Lanarkshire, Scotland. His first band formed in 1978, where he was singing mainly RUSH and DEEP PURPLE songs. Later on he started to write his own material, and formed the band SAHARA, who changed the name to The HARDLINE.
Nowadays he live in York, England, and he have continued to write songs, but has also spent 4 years as vocalist for the tribute band A FOREIGNERS JOURNEY. After that he wanted to do a tribute to American melodic rock with LEGENDS OF AOR. In 2015 he finally released an album with his own songs, and that's when JIMI ANDERSON GROUP was started (if I get it right).
So, I guess that you have figured it out already that this is melodic rock. And it's absolutely not bad at all. Fans of legendary acts like JOURNEY, FOREIGNER and SURVIVOR should be pleased when they hear this. But he could have given away some of the ballads to Michael Bolton instead.
jimianderson.co.uk aorheaven.com
Published: Aug. 21, 2019
SONS OF APOLLO: Live With The Plovdiv Psychotic Symphony - Triple album/DVD, Blu-ray
(InsideOut Music - Release date: Aug. 30)
Lots of covers on this live album, which makes it a lot more interesting to me, as they have picked many songs that I really like. Among these artists are songs by LED ZEPPELIN, RAINBOW, QUEEN, PINK FLOYD, AEROSMITH, Ozzy Osbourne, VAN HALEN etc.
SONS OF APOLLO is what we call a supergroup, featuring vocalist Jeff Scott Soto (Yngwie Malmsteen, JOURNEY, TALISMAN, W.E.T.), guitarist Ron "Bumblefoot" Thal (GUNS N' ROSES), bassist Billy Sheehan (David Lee Roth, Mr. BIG, Steve Vai), keyboard player Derek Sherinian (Billy Idol, DREAM THEATER, Alice Cooper, Yngwie Malmsteen) and drummer Mike Portnoy (DREAM THEATER). These gentlemen released an album, "Psychotic Symphony", in 2017. And now they will release this special live release, which was filmed and recorded at Roman Amphitheatre in Plovdiv, Bulgaria on September 22 last year. The band's performance was divided into 2 sets, and in the second they were joined by a full orchestra and choir: Plovdiv Symphony Orchestra (renamed to Plovdiv Psychotic Symphony for the night).
I had not heard this band before, so I didn't really know what to expect. But as it's released through InsideOut, it wasn't so hard to figure out that it probably would be progressive hard rock/metal. And that's exactly what this is. Some songs are really long. They start with a song that is almost 12 minutes long for example. There is shorter songs too though. A very good variation, and definitely not so bad at all.
sonsofapollo.com insideoutmusic.com
Published: Aug. 20, 2019
SOLEIL MOON: Warrior - Album
(Frontiers Music Srl)
This is SOLEIL MOON's third studio album. Another very soft and melodic AOR album. But once in a while it's tragically nothing but radio pop, which I think sucks. This album have its good moments too though, so don't worry.
Well, this is an album with different styles. We have a few rockers that I like, but we also have ballads (a few too many actually), and as I said earlier pop songs, as well as a symphonic rock number. So you can not complain about too little variation anyway.
soleilmoonband.com frontiers.it
Published: Aug. 19, 2019
ROXY BLUE: Roxy Blue - Album
(Frontiers Music Srl)
ROXY BLUE was formed in Memphis, Tennessee in 1989. This seems to be their first album of new material since the debut album came out 25 years ago. Today's lineup features the original trio Todd Poole (vocals), Josh Weil (bass) and Scotty Trammell (drums). New in the group is guitarist Jeffrey Wade Caughron (original guitarist Sid "Boogie" Fletcher has left the music business for a successful career in dentistry).
Ted Poole himself says that the new record have a different sound than the 1992 version of ROXY BLUE, but not unrecognizable. It's much heavier, but also have some ballads. I have not heard their debut, so I can't compare. This sounds good to me though, so maybe you should give it a chance?
roxybluememphis.com frontiers.it
Published: Aug. 19, 2019
ARDOURS: Last Place On Earth - Album
(Frontiers Music Srl)
ARDOURS is a new alternative gothic metal band featuring lead vocalist Mariangela Demurtas (TRISTANIA) together with multi-instrumentalist and producer Kris Laurent, who joined forces in late 2015 (they had knew each other for years though) to form a band together. The last piece was to add TRISTANIA drummer and lyricist Tarald Lie to write lyrics and play drums.
But it has obviously taken its time, because it's not until now that their debut album is here. This is said to fit fans of The GATHERING, LACUNA COIL, latter TIAMAT and IDLE HANDS. Not exactly something that I use to listen to, but ARDOURS sounds o.k. anyway.
facebook.com/ardoursband frontiers.it
Published: Aug. 18, 2019
SPREAD EAGLE: Subway To The Stars - Album
(Frontiers Music Srl)
SPREAD EAGLE was originally active in the late 80s/early 90s. Their music came directly from the streets of New York City, so their music was called street metal. They got signed to MCA/Universal Records pretty soon, and released 2 albums before they took an extended break.
In 2006 the band reformed with original members Ray West (vocals) and Rob De Luca (bass), and the new members Ziv Shalev (guitar) and Rik De Luca (drums). But if I got it right, it's not until now that they have decided to release a new album though. Better late than never.
My favorite song must be "Little Serpentina". But I also like the acoustic track "Solitaire" and the faster song "Grand Scam". I would not say that there's any bad songs here. This is definitely not a bad hard rock album.
spreadeagle.us frontiers.it
Published: Aug. 18, 2019
UNRULY CHILD: Big Blue World - Album
(Frontiers Music Srl)
The first song, "Living In Someone Else's Dream", is really good. But after a couple of songs it just goes down. It's like the rest of the songs goes in through 1 ear and out through the other (more or less). I would not say that it's bad. It's good as long as it last. But all I can remember when the album is over is that first track, and that they begin 1 song with the same Churchill speech as IRON MAIDEN used as a intro on their "World Slavery Tour" in 1984-85 (during which the live album "Live After Death" was recorded).
The music is melodic rock. And as this band is veterans, they obviously have their fans already, and they will probably enjoy this much more than I seems to do. So if you're 1 of them, don't be afraid.
unrulychild.net frontiers.it
Published: Aug. 18, 2019
HELLSINGLAND UNDERGROUND: A Hundred Years Is Nothing - Album
(Wild Kingdom - Release date: Aug. 30)
HELLSINGLAND UNDERGROUND is a Swedish band. The first time I heard them must have been in 2012, when I got their third album, "Evil Will Prevail", for review. Now their fifth album will be released.
This is a very relaxed album, filled with beautiful songs from the Swedish woods. You could call it Americana, but that's not entirely true as I can also hear some PINK FLOYD for example, as well as a pinch of The DOORS. If my memory is not totally wrong, their previous albums have been full of country rock with folk and blues influences. It's still some of that left in their new songs, but this time it seems like they want to go away from that a little bit. Like they want to be a free band who can do whatever they want to. And the result is a soft and timeless rock album that even your mother and father should like.
Pre-order: smarturl.it/KING085
hellsinglandunderground.com
Published: Aug. 17, 2019
PANDEMONIUM: Monuments Of Tragedy - Album
(Black Lodge Records - Release date: Aug. 30)
It's a pretty extreme kind of metal that this band gives us. A good soundtrack when you want to strangle people. Listen to this instead, and you should be exhausted and nice again after a few songs.
This is the first new music in 10 years from these Swedes, and it's said to be something for fans of DIMMU BORGIR, BEHEMOTH, EMPEROR and CRADLE OF FILTH. So extreme metal with both death and black metal ingredients, as well as some symphonic parts here and there.
1 or 2 songs is o.k., but a whole album with this is too much for me. Maybe I'm weak? Maybe you are stronger?
pandemonium-sweden.com
Published: Aug. 17, 2019
The BLACK WIZARDS: Reflections - Album
(Kozmic Artifactz/Raging Planet - Release date: Aug. 23)
Portuguese psych/fuzz rockers The BLACK WIZARDS released their debut album, "Lake Of Fire", in late 2015, which was followed by the "Fuzzadelic" EP and a second full length, "What The Fuzz!". So, "Reflections" is the third album, which is a heavy and psychedelic rock album, but yet catchy. And I really like what I hear here. These 7 tracks are great! So don't miss this.
theblackwizards.bandcamp.com
Published: Aug. 16, 2019
TRANSPORT LEAGUE: Dawn Of Lucifer - Single
(Mighty Music - Release date: Aug. 16)
"Dawn Of Lucifer" is a new single from the upcoming album, "A Million Volt Scream", being released on September 6. And it's just 1 of many good songs from that album, so you should absolutely take a listen to this. Especially if you like heavy groove metal, because then this song is like made for you.
Review of the album comes later.. More words then..
facebook.com/transportleague mightymusic.dk
Published: Aug. 15, 2019
Louise Lemón: Almond Milk - Single
(Icons Creating Evil Art)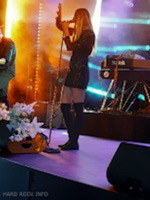 Louise Lemón has created a new genre that they call Death Gospel. 2 albums has been released so far, and these 2 songs comes from her latest album, "A Broken Heart Is An Open Heart". Her songs are often very emotional and commute between darkness and light. I use to call her music dark pop, but there's actually some hope too once in a while. She is often compared with artists like Chelsea Wolfe and Anna Von Hausswolff.
"Almond Milk" is a soft and soulful "ballad". We also get a piano ballad version of "Never Enough".
louiselemonmusic.com icea.se
Published: Aug. 15, 2019
LiV SiN: Chapter Of The Witch - Single
(Despotz Records)
..and another single (the third) from LiV SiN's upcoming album, "Burning Sermons", is here. And this sounds really good! Hard and heavy, but yet melodic heavy metal that you just must like. I'm now convinced that the new album will be great.
I don't think I have to say much else than that. "Burning Sermons" will be released on September 6. I look forward to hear that.
livsinofficial.com despotz.se
Published: Aug. 15, 2019
AKTAION: Above Empires - Album
(Self released - Release date: Aug. 23)
I guess that it was melodic metal that made me interested in this. Because that's what I expected anyway. But what I got sounds more like some kind of melodic metalcore. And then it wasn't so much fun anymore, even though it's not useless anyway.
"Above Empires" is their third album. And this time they wanted to get straight to the point with everything, instead of playing long songs with many layers (as they did before).
The result is a wild mix of melodic and aggressive vocals, backed up by hard and heavy guitars. There's both better and less interesting moments among these 9 tracks.
aktaion.net
Published: Aug. 14, 2019
RESTLESS SPIRIT: Lord Of The New Depression - Album
(Lifesblood Records)
RESTLESS SPIRIT are based in Long Island, NY, and they play doom metal. And they have done that since July 2016 (then called DMP). As soon as these 4 men got started, they didn't waste any time. In just 2 months the band had already hit the road twice, and somehow found time to record and release their debut EP, "Harvest". During the following 2 years they continued to tour, and released a second EP, "1922".
As you might have figured out by now, "Lord Of The New Depression", is the band's full length debut, which is said to consist of "9 soul-crushing, dreary anthems about misery and anguish mixed with a morbid twist of hope". It's heavy but yet melodic heavy metal. And this is definitely not any bad stuff, so you should give this a try.
restlessspirit.bandcamp.com
Published: Aug. 12, 2019
SORCERY: Necessary Excess Of Violence - Album
(Xtreem Music - Released date: Aug. 20)
Swedish death metallers SORCERY was originally formed back in 1986 already. After a few demo tapes and a 7" EP, they released their debut album, "Bloodchilling Tales", in the summer of 1990. But the band was put on hold in 1997, and didn't reunite until 2009. In 2013 they finally released their first studio album in over 20 years.
"Necessary Excess Of Violence" is their 4th album, and this is something for all of you who like it the good old classic way. Death metal like it was in the early 90s, but with a better production than those old demo tapes that you might still have somewhere.
sorcery.se soundcloud.com/xtreemmusic
Published: Aug. 11, 2019
MÄRVEL: Guilty Pleasures - Album
(The Sign Records)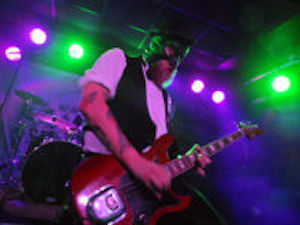 O.k., this album was released in April already, but for some reason I didn't get it until now (that happens once in a while, but no problem, better late then never at all). Anyway.. This is a covers album, but they do it the MÄRVEL way and add their own sound to it, so it actually sounds more or less like a new album by themselves. And they have not exactly picked the most obvious songs here. Sure, KISS might sound like no surprise. But instead of doing 1 of their old classics from the 70s, they pick a song from 1 of their later albums instead. After all, the album is called "Guilty Pleasures" because that's what it's all about on this album. And in case you're not familiar with what "Guilty Pleasures" means, here we go: "A guilty pleasure is something, such as a film, a television program or a piece of music, that one enjoys despite feeling that it is not generally held in high regard, or is seen as unusual or weird. For example, a person may secretly like a movie knowing that the movie is poorly made and generally seen as 'not good'. (Märvelpedia)". So now you know that too.
Now I might add that all songs are not so odd here, and MÄRVEL succeed to make these songs sounds like it would be the most obvious choice in the world to perform them. I like this album. It's absolutely not as boring as some other covers albums are. Just check out their version of "Sultans Of Swing" by DIRE STRAITS for example, or why not that KISS cover. Brillant stuff!
marveltheband.com thesignrecords.com
Published: Aug. 11, 2019
BLOOD RED THRONE: Requiem Mass - Single
(Mighty Music)
Norwegian death metallers BLOOD RED THRONE will release their 9th album, "Fit To Kill", on September 13. And that's where this fast and heavy song comes from, which lives up to the album title. Simply a damned good death metal fist straight in your face. Check it out!
Review of the album comes in September..
bloodredthrone.com mightymusic.dk
Published: Aug. 10, 2019
FREDDY AND THE PHANTOMS: First Blood Universe - Single
(Mighty Music)
I don't know, but I think of a band like DANKO JONES for example when I hear this. But also some modern rock band that I can't remember the name of right now. It's a really good song anyway, and that's the most important thing of course.
It's said that this Copenhagen, Denmark-based group have mastered their own hybrid of Southern blues rock on their 4 previous albums, but are now ready to deliver a psychedelic hard rock album, "A Universe From Nothing", with its roots in proto metal from the 70s. Not exactly what I hear in this song, but anyhow..
"First Blood Universe" is the first single from the upcoming album, which will be released in 2020.
mightymusic.dk
Published: Aug. 10, 2019
POLYNOVE POLE: Deceptive Reflections - Single
(?)
It takes over a minute before there's any vocals, so I started to wonder if it would be a instrumental song. But no, luckily not.
POLYNOVE POLE means Wormwood Field in English, and is a doom/death metal band from Ukraine, who formed in the fall of 2004. In the beginning of 2008 they released their first EP, "Pure Souls". And in the end of the same year their first full length album, "On Seven Winds", was released. Another EP, "Under The Cold Stone", was released in 2009. But in 2010 they took a long break, and when they came back again they had some new members in the band.
The group is currently working on a new album, where this song comes from. And this is a pretty good song, even though it sounds more like a mixture of symphonic metal and death metal instead of doom and death.
polynovepole.com/en
Published: Aug. 10, 2019
VAGRANT: The Rise Of Norn - Album
(Black Lion Records)
VAGRANT was founded in 2016, and comes from Hemeln, Germany. They play what is described as epic melodic death metal, and this is their debut record, where we get 6 tracks.
The first track, "The Whispering Sea", is just a too long piano intro, that last for 2 minutes. Not so interesting. But the rest is really good stuff, that you definitely should check out. I think that fans of a band like AMON AMARTH and similar stuff would like this a lot.
I don't have much else to add..
facebook.com/VagrantMetal facebook.com/blacklionrecordsswe
Published: Aug. 9, 2019
SABOTAGE: The Order Of Genocide - EP
(Independent)
SABOTAGE is a thrash metal band which was formed by 5 guys from Mumbai, India in 2017. So they are still a pretty young band, and this is their first release. But the music that they play is hardly new. It's simply good old Bay Area thrash in the same style as vetarans like DEATH ANGEL, EXODUS, TESTAMENT, METALLICA and similar. So if that's what you like, then this is something that you have to check out. Because they are absolutely not a bad band.
facebook.com/Sabotage-India-148984769030530
Published: Aug. 9, 2019
DETHEROUS: Hacked To Death - Album
(Redefining Darkness Records - Release date: Aug. 16)
DETHEROUS are 4 death/thrash metal maniacs from Calgary, Alberta in Canada. "Hacked To Death" is their debut album, where they deliver 8 songs in the good old tradition. It's stone hard and heavy, fast and brutal, and really, really good stuff. So you should give this a chance of course.
I don't know much else about the band, and don't have anything else to say about their music.
redefiningdarkness.com
Published: Aug. 8, 2019
HERE LIES MAN: No Ground To Walk Upon - Album
(RidingEasy Records - Release date: Aug. 16)
What we have here is a spaced album. We talk psych rock here of course. But even though it's spaced, there's definitely a melody, which makes these songs pretty catchy after all.
HERE LIES MAN are based in L.A., and released their self titled debut album in 2017, with the interesting question: "What if BLACK SABBATH played Afrobeat?". Since then they have developed their sound a little bit. But you could say that it's heavy riff rock with a psychedelic twist. Very rythmic and hypnotic. Almost like a soundtrack to a strange film.
"No Ground To Walk Upon" is their third album.
hereliesman.com ridingeasyrecs.com
Published: Aug. 8, 2019
TARCHON FIST: Apocalypse - Album
(Pride & Joy Music - Release date: Aug. 16)
TARCHON FIST was created in the end of March 2005, when the Italian band RAIN split up. Tarchon is an ancient Etrurian king, hero and then also god - The god of storm. Fist is for the band's power. Their self titled debut album was released in 2008, and it has been rolling on ever since (with a few lineup changes).
Their new album, "Apocalypse" is their first concept album. And it seems to be a story that is based on the dualism of human beings: Nobody is born good or bad, but personal choices lead us towards the former or the latter, and so on..
Well, the music is really good anyway. Heavy metal in the traditional way, that will make you think of legendary bands like IRON MAIDEN, JUDAS PRIEST and similar. So this is of course worth checking out if you're a fan of that.
tarchonfist.com prideandjoy.de
Published: Aug. 8, 2019
HAVAMAL: Tales From Yggdrasil - Album
(Art Gates Records)
Here's another band playing the same style as AMON AMARTH - Melodic Viking death metal. But they do it damned good, so they have nothing to be ashamed of. They can stand proud as the Vikings after a bloody battle.
This Swedish band formed in 2016, and released their debut album (this album) in the end of June 2019. That's all the information I have about this band, but their music is described like this by their record label: "an unique sound, with mighty orchestras, simple but beautiful riffs, and a wild mix of viking, black, power and death metal". So there's a little bit more than what I described in the beginning, but fans of bands like AMON AMARTH, ENSIFERUM, NORTHGAR and similar should not be dissapointed when they hear this. It also seems like they are a really good and entertaining live band.
havamal.bandcamp.com artgatesrecords.com
Published: Aug. 7, 2019
WRECK-DEFY: Killing The Children - Single
(Inverse Records)
WRECK-DEFY is a Canadian old school thrash metal band, and "Killing The Children" is the first single from their upcoming album "Remnants Of Pain", which will be released on September 27. The band features former members of ANNIHILATOR, TESTAMENT and MALEVOLENT CREATION.
I think the singer reminds a little of Alice Cooper actually. But he doesn't sound like that all the time though. It's a pretty good song anyway, and it sounds promising for the new album.
wreck-defy.bandcamp.com inverse.fi
Published: Aug. 6, 2019
PICTURE: Wings - Album
(Pure Steel Records - Release date: Aug. 16)
Dutch hard rock and heavy metal veterans PICTURE are back with a new studio album. But it sounds like it could have been recorded when they existed for the first time, back in the late 70s/early 80s. So if you're looking for something modern, then this is probably not the band for you. Fans of the good old stuff should like this though.
You will get a mixture of NWOBHM, Teutonic metal and even some classic rock. And even though there might not be any masterpiece, it's absolutely not bad anyway.
This is their first studio album since the 2 remaining original members Rinus Vreugdenhill (bass) and Laurens "Bakkie" Bakker (drums) reunited with guitarist Jan Bechtum and singer Ronald van Prooijen 3 years ago. It also seems to be the first album with new material since "Warhorse" was released in 2012.
pictureband.nl puresteel-records.com
Published: Aug. 6, 2019
FRETLESS: Damnation - Album
(Pure Steel Records - Release date: Aug. 16)
..and yet another totally useless intro without any meaning at all. It makes me so fucking irritated! Stop that shit immediately! Just play your songs. No bullshit!
Now that we got that out of the system, let's talk about the other 12 tracks on this record. Well, there's the second problem: 13 tracks - Way too much. Especially from a band that doesn't really have anything that is extra good. On the other hand I can't say that anything (but the intro) is really bad either. This band will probably be stuck in the underground forever. They do their best, and do it good. But their speakers are not loud enough to reach out to the big mass.
Now I may sound very negative here, but I still think that you should give them a chance if you like good old hard rock and heavy metal. You might actually enjoy this more than me. So don't be afraid.
FRETLESS comes from Sweden, and released their debut album, "Local Heroes", in 2011. 8 years later their second album is here.
facebook.com/fretlessband puresteel-records.com
Published: Aug. 6, 2019
NOCTURNAL BREED: We Only Came For The Violence - Album
(Folter Records)
It seems like this Norwegian band was founded back in 1996 already, and this is their first album in 5 years. The music they play is mainly black/thrash metal, but with a pinch of classic heavy metal too. I guess that this can be something for fans of a band like NIFELHEIM for example. Because it's the same kind of raw and intense style as they have.
They have some good songs here anyway, and even though none of them might be any masterpiece it's still worth a chance. I don't really know what else I should say about this..
facebook.com/Thrashiac777NocturnalBreed
Published: Aug. 5, 2019
RANCHO BIZARRO: Possessed By Rancho - EP
(Argonauta Records)
Here we have one of these bands who doesn't seems to think that they need a singer. But I guess it can be funny to listen to for guitar freaks, who have nothing against listening to the same thing over and over again. I think that this sucks actually. 1 song might be o.k. to listen to, but more than that is too much for me. Get yourselves a fucking singer!
This Italian band is described as "when Palm Desert tunes meet Detroit sound", and "jam sessions drenched into fuzzy instrumental stoner rock with the hint of a classic 70s attitude".
ranchobizzaro.bandcamp.com argonautarecords.com
Published: Aug. 5, 2019
Doomed Or Be Doomed: A French Tribute To Cathedral - Double album
(Sleeping Church Records - Release date: Aug. 13)
O.k., I have to admit that I have probably just heard 1 song with the British doom legends CATHEDRAL before. And I don't think that song is included on this French tribute to the band. So I can't really say how true to the original songs these versions are, or if they are better or worse. But I can at least hear that there's both good and bad stuff here. And some songs are waaaaaaaaaaaay too long for my taste. There's definitely variation between the songs though.
"Doomed Or Be Doomed" features the following bands: PILLARS, GOAT RIVER, LUX INCERTA, MISANTHROPE, PRESUMPTION, ATARAXIE, BARABBAS, MONOLITHE, CONVICTION, NORTHWINDS, FATHER MERRIN and DIONYSIAQUE.
sleepingchurchrds.com
Published: Aug. 4, 2019
Neudi Presents: Damn, This Stuff Is Heavy! Volume One - Album
(Golden Core/ZYX)
This compilation wants to capture the recent underground and traditional metal scene. It features music made during the last 40 years. And just because the title says that it's heavy, it doesn't mean that this is a stoner, doom or sludge compilation. Many years ago, like in the 70s and probably even the 80s, a band that was called heavy was something really great or really cool. So, all these bands play different kinds of heavy metal. Everything from old school NWoBHM to more modern stuff.
I'm sure that most of you have heard of bands like SATAN, HAWKWIND and MANILLA ROAD, and perhaps even MEKONG DELTA. But we have 20 different bands here with 1 track each, and it's many of them that I have never heard about before. Most of them are good though.
Now I'm not going to mention every band here, but among the better ones (according to me of course) are: STRIFE, SUDDEN DEATH, BLEAK HOUSE, OXYM, TRANCE, SILVER MACHINE, and maybe a couple more.. Not much that sucks anyway, and that's very good.
So, if you want to discover what has been going on in the metal scene since the 70s up until today, then this is what you need.
Published: Aug. 3, 2019
MEAN MACHINE: Rock 'n' Roll Up Your Ass - Album
(Fighter Records - Release date: Aug. 8)
MEAN MACHINE is a mean rock n roll machine. They play hard rock n roll in the same style as MOTÖRHEAD, NASHVILLE PUSSY and ZEKE - Metal punk with a big doze of rock n roll. And they seems to know how to kick some arse. Most songs are just 2-3 minutes, but that's enough when it comes to this genre of hard rock. It's energetic, raw and dirty, as well as fast and aggressive.
MEAN MACHINE have been touring all over Spain (where they comes from) for 8 years. But they have also released 2 EPs and 3 albums (with this one included).
meanmachinernr.bandcamp.com facebook.com/fighter.records
Published: Aug. 2, 2019
DEATH BY FUNGI: Die In Bombay - EP
(Self released - Release date: Aug. 5)
So, how many hardcore/punk bands have you heard that comes from India then? I have now heard 1 at least: DEATH BY FUNGI. They sound exactly like hardcore/punk bands use to, so don't worry. It's hard, heavy and a bit noisey. Mainly more punk than metal, which I prefer.
DEATH BY FUNGI comes from Mumbai, and started in 2013. They are said to be one of the bands at the forefront in the Indian hardcore scene (yes, there's more than 1 HC band from India, and there's even HC bands from Nepal and Pakistan too). They have released a few EPs through the years, but "Die In Bombay" seems to be their first release in 2 years. And if you like true hardcore, then I think you should give this a try.
deathbyfungi.bandcamp.com
Published: Aug. 1, 2019
DANKO JONES and Hank Von Hell at Liseberg in Göteborg, Sweden on July 31, 2019
My intention was not to drink beer and party, but to just check out the bands. But on the way from the bus I met an old friend, who is always so damned happy to see me (which is not so often), and then I knew that it will be beer drinking. He paid for all the beer, so thanks mate.
After the first beer Hank Von Hell started to play, but as we sat outside I could see a little of the band, and I could at least hear them.
As you may know already, Hank Von Hell (real name Hans-Erik Dyvik Husby) is the man who put the hat on the shelf and said goodbye to rock n roll when he left the Norwegian band TURBONEGRO (he called himself Hank Von Helvete then). But since last year his alter ego Hank Von Hell is back in business again.
I had not heard anything of his solo material before the concert, so I did not really know what is was going to be like. But most of the songs he did reminded me of his old band, TURBONEGRO. Or, to be honest, bad copys of TURBONEGRO. Pretty good stuff, but no real hit potential. Luckily he also played a few songs by TURBONEGRO, and those songs was the best (of course).
Now, as I was in a damned beer garden, I was not exactly close to the stage. So excuse me for my bad photos.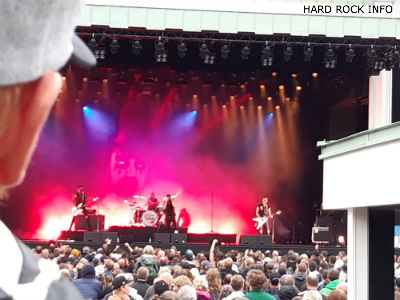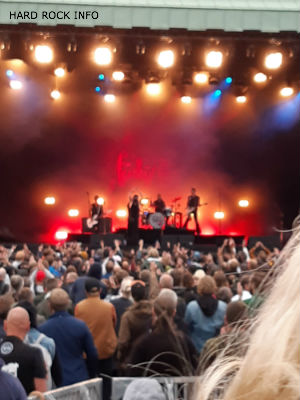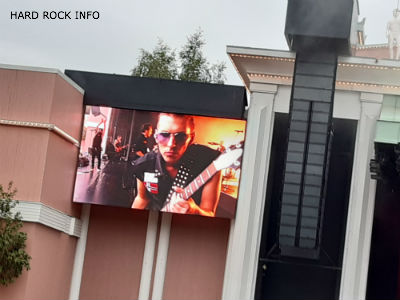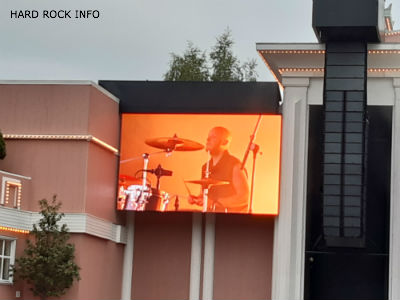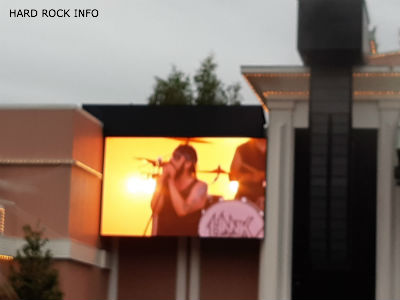 When DANKO JONES started to play it also started to rain a little too much for me, so I left my friends to seek shelter as they wanted to sit in the rain. I could still see a little of the band though. And when the rain finally had stop, my friends was gone. So I guess that the rain was too much for them after all. I went closer to the stage instead to see better. No more beer, haha.
DANKO JONES is a Canadian trio that have been rocking since 1996. They have released 10 albums, and another one is on the way. I have seen them many times through the years, but now it's 4 years since the last time. They always deliver a very good show, with frontman Danko's funny talk as an extra spice. And they was very good this evening too of course. A good mixture of old and new material.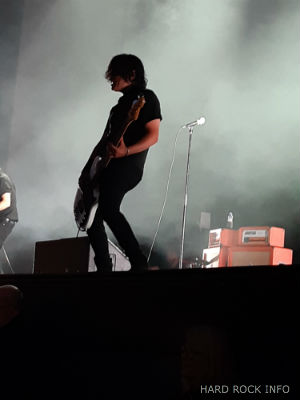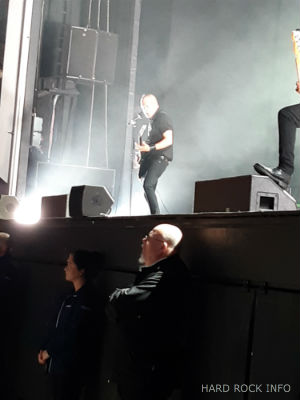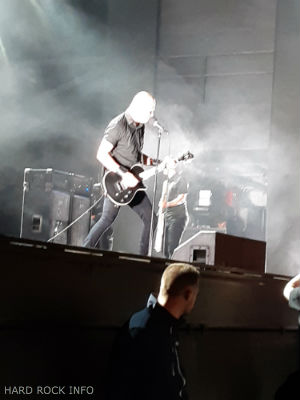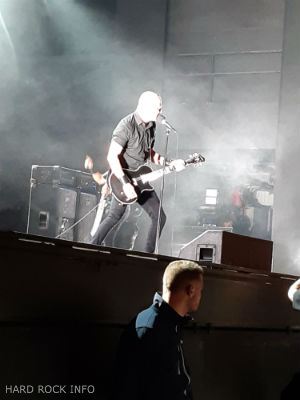 dankojones.com hankvonhell.com
Published: Aug. 1, 2019
The OFFERING: Home - Album
(Century Media - Release date: Aug. 2)
It would not surprise me if these guys have been listening to a band like SYSTEM OF A DOWN. Because that's what I think of when I hear this. It's not an exact copy of them, but they have the same mixture of hard and heavy and more melodic parts. And on top of that it sounds modern too.
The band consist of 4 musicians from diffrent places in U.S.A. They got together to create their own version of progressive, furious and technical metal. They throw in everything from power, death, thrash and black metal to nu metal and harcore, as well as more traditional heavy metal and modern metal. Insane metal for modern and open-minded people you could say.
theofferingmusic.com centurymedia.com
Published: July 31, 2019
HELION PRIME: Terror Of The Cybernetic Space Monster - Album
(AFM Records)
It looks like this album was released last year already, so sorry if I'm a little late here, but I didn't get the chance to check it out until recently.
HELION PRIME comes from California, and their music is called "sci-fi power metal". Sci-fi is the theme of their lyrics, and power metal is the music they play (but I guess you figured that out yourself, didn't you?). Anyway, this is their second album, and it's absolutely not bad at all. Fans of HELLOWEEN and IRON MAIDEN should be interested in this.
HELION PRIME will be on tour across the American Midwest from August 5 to 16. Check them out if you can if they play anywhere near you.
helionprimemetal.com facebook.com/AFM-Records-216386531750646
Published: July 31, 2019
DECEITOME: Flux Of Ruin - EP
(Redefining Darkness Records/Raw Skull Records - Release date: Aug. 2)
DECEITOME is an old school death metal band from Tallin, Estonia, who formed in 2015. They are heavily inspired by the Stockholm scene in the 90s, but try to do something on their own with it. And sure, I have heard worse death metal than this, but honestly this is hardly the best that I have heard. These 5 songs are not more than 3-4 minutes, but some of them are so heavy that it feels like they last forever. And that's hardly funny.
The only thing that impress me with this band is that they have a woman on bass, just like BOLT THROWER had.
redefiningdarkness.com
Published: July 31, 2019
HIVE: Most Vicious Animal - Album
(Seeing Red Records/Crown and Throne Ltd. - Release date: Aug. 2)
One little problem is that this is not the only band called HIVE. And then we also have the world famous The HIVES. So it's kind of hard to find any information about this band. It seems like they are from Minneapolis anyway, and the members have played with several bands since the 90s. But that's more or less all the information I could find about this band (you might have better luck though).
But anyway, they play some kind of d-beat hardcore/punk with the speakers on 12. It's hard, loud, noisey and heavy. But not slow, because it's also very energetic. No hardcore without energy you know.
Even though I have heard better, I have definitely heard worse as well. Which means that this is not so bad after all. But a EP with just 6 tracks, instead of an album with 12 tracks, would probably have been better for me.
hivempls.bandcamp.com seeingredrecords.bandcamp.com crownandthroneltd.bigcartel.com
Published: July 31, 2019
SWARM: Black Flame Order - Album
(Redefining Darkness Records/Raw Skull Records - Release date: Aug. 2)
Another brutal death metal album. But sometimes it's heavier too, so it's not just pedal to the metal straight to the wall. And most songs are no longer than approximately 2-3 minutes, so it's over pretty fast (in less than half an hour according to my calculations).
Just like DECEITOME, SWARN is also from Estonia. It's a young trio who is said to play death/crust, but I can honestly not hear that much crust punk in this band's music, even though they cite bands like DISFEAR and WOLFBRIGADE as some of their influences. This is mainly old school death metal according to me (but I never said I'm an expert).
redefiningdarkness.com
Published: July 31, 2019
The LAST MARTYR: Creatrix - EP
(Self released? - Release date: Aug. 9)
Modern metal/rock is what I call this. They call it melodic metal. Both is correct in one way or another. It's a wild mixture of clean vocals and screaming, and they seems to know what they are doing. These 5 tracks are absolutely not bad at all. So if you like modern metal, then you have to give this a try.
The LAST MARTYR comes from Melbourne, Australia. After 3 singles their debut EP, "Creatrix", was released in Australia on April 26. Now it will also be released in North America in August.
thelastmartyr.bandcamp.com
Published: July 30, 2019
The DRIPPERS: Action Rock - Album
(The Sign Records - Release date: Aug. 2)
This is just what the title says: Action rock! Think early The HELLACOPTERS and similar. Raw and dirty, high-energy rock performed with a lot of punk attitude and just as loud as MOTÖRHEAD. If you think that The HELLACOPTERS should have continued with the sound that they had in the beginning, then this is the band for you. Without a fucking doubt!
This Swedish band comes from Göteborg, and have previously released a EP by themselves in 2018. Now their debut album is ready to shake the world, and it was actually recorded and mixed by the legendary Tomas Skogsberg (The HELLACOPTERS, GLUECIFER, ENTOMBED etc etc) at Sunlight Studios in Stockholm.
If the party is getting boring, put this album on and people should absolutely wake up. Otherwise, just kick them out. But if you want to relax, try something else.
facebook.com/TheDrippersgbg facebook.com/thesignrecords
Published: July 30, 2019
ATOMIC KAVEMEN: Everyone Loves A Dead Man - EP
(Self released - Release date: Aug. 2)
It sounds like this garage band's mission is to develop the sound of DANZIG and The CULT with a pinch of The CRAMPS. And it sounds odd. I'm not really sure if I like this or not. It's not bad, but on the other hand it's not excellent either. You probably have to listen a few times before you can decide what you think about this band.
ATOMIC KAVEMEN comes from Oakland, and this is their second EP. They are said to be something for fans of MISFITS, DANZIG and TYPE O NEGATIVE. And their music has been described as "post-punk", "punk n roll" and "radioactive garage metal". It's also said that this will please horror punks, metal heads and those who like grunge.
Not so sure if that gives you a better idea about this band, but give them a try at least.
atomickavemen.bandcamp.com
Published: July 30, 2019
HOLLOW HAZE: Between Wild Landscapes And Deep Blue Seas - Album
(Frontiers Music Srl)
This band's music reminds me of several other bands who play the same kind of melodic hard rock/metal. And HOLLOW HAZE are not better or worse than any of the others.
HOLLOW HAZE formed in 2003, and released 6 studio albums before disbanding in 2015, when founding member Nick Savio left to form ETERNAL IDOL with power metal vocalist Fabio Lione (ANGRA, RHAPSODY), Camillo and Giorgia Colleluori, and Andy Buratto (HELL IN THE CLUB, SECRET SPHERE). But then Nick decided to leave ETERNAL IDOL and reform HOLLOW HAZE with a new lineup and a fresh new sound. And this album is the result of that.
The new material can be described as melodic, heavy and symphonic. And it's delivered with a big passion. Not bad at all.
hollowhaze.com frontiers.it
Published: July 29, 2019
MIND KEY: Aliens In Wonderland - Album
(Frontiers Music Srl)
After 9 years of absence, Italian progressive metal act MIND KEY return with a new album.
The group was formed in Napoli in 1999 by Dario De Cicco (keyboards) and Emanuele Colella (guitars). They wanted to create a band that melded the sound of DREAM THEATER, SYMPHONY X, EVERGREY and PAIN OF SALVATION, with a songwriting approach inspired by 80s/90s hard rock style. Their debut album, "Journey Of A Rough Diamond", was released in July 2004. Their second album, "Pulse for a Graveheart", wasn't released until 2009. Some time after that 2 of the members moved abroad, and 1 had to fight a serious illness, so therfor it's not until now that their third album has arrived.
Well, let's talk some more about their music then.. It's both melodic and progressive, and they are very talented. I can hear lots of good stuff on this record. So I really recomend you to check this out. And I actually think that this will fit both fans of progressive hard rock and metal, as well as those who like melodic hard rock and metal. And if you like both, well then there's no need to hesitate.
mindkey.it frontiers.it
Published: July 29, 2019
VISIONATICA: Enigma Fire - Album
(Frontiers Music Srl)
This band is hardly doing anything unique at all. Just another symphonic and very melodic metal band with a female singer. Everything sounds more or less like a hundred other bands. But if that sounds good to you, then go ahead.
VISIONATICA formed in 2013, and released their debut album, "Force Of Luna", in 2016. "Enigma Fire" is their second album, where the sound is so loud that I had to lower the volume a little bit. So it's a crystal clear production.
If this band will succeed to compete with the other bands in the same genre is unknown to me. But I can easily hear that they are good enough to be at the top. So if you like bands like WITHIN TEMPTATION, NIGHTWISH, DELAIN, XANDRIA and similar, then this is absolutely something for you.
visionatica.de frontiers.it
Published: July 29, 2019
SQUARES featuring Joe Satriani: Best Of The Early 80's Demos - Album
(earMUSIC)
Before Joe Satriani became a world famous guitar hero, he played in a trio called SQUARES. A band that existed in the late 70s/early 80s, and played new wave and power pop, but with distinct influences from rock. They never got any bigger succees back then, but with this album we get the chance to hear their old demo recordings, which has been restored and remixed. And that's always something.
According to Satriani himself: "We were part VAN HALEN and part EVERLY BROTHERS. A mix of heavy metal, rock n roll, punk and new wave. We were hard to pin down and categorize, which is most likely why we never 'made it'!"
And yes, there's different styles here, but I would say that most of it is rock or pop, sometimes even both. There's at least 1 song that reminds me of THIN LIZZY, while another sounds a little like BUZZCOCKS. It's often very catchy and melodic. And I think it sounds a bit more British than American. Many of these songs are actually really good, while some might not be so interesting (but I can count those songs on 1 hand, and I probably don't even have to use all fingers).
This might not be something for fans of a guitar hero, but if you want some good rock and power pop, then you should definitely check this out.
youtu.be/zMelzKFMGZ4
Published: July 28, 2019
A HERO FOR THE WORLD: The Lion King Rock Opera - Album
(Jacob K Music)
O.k., what Jacob Kaasgaard (the man behind this) have made this time is actually a rock version of the soundtrack to "The Lion King". His music has always been epic and cinematic, so it fits him perfect actually. But the problem is that it's not so funny to listen to more than 2-3 times. And this is after all a story/movie for children. So maybe you can play this for your kids, and maybe they learn to love hard rock and heavy metal? What a brillian idea!
The songs on this album comes from the latest "Lion King" movie, as well as from "Lion King 2" and the Broadway musical. And as usual there's also an extended Deluxe Edition, with a extra record featuring other versions of some of the songs.
facebook.com/aherofortheworld
Published: July 28, 2019
BESTIALORD: Black Mass Wedding - Album
(GrimmDistribution)
BESTIALORD was established by former members of MANILLA ROAD and SANCTUS INFERNUM in October 2016. They are from Wichita, Kansas, USA, and are inspired by horror and occult literatures. The music they play is doom/death metal. The debut album, "Law Of The Burning", was released in 2018, and now the second chapter is here.
Honestly this is not something that makes me scream of joy. It's not totally useless, but it's not that funny to listen to either. Sure they have some good riffs here and there, but they don't have any song that is extra good. To me it sounds more or less the same all the way.
I would guess that fans of early extreme metal acts like CELCTIC FROST will like this. That's not something that I use to listen to though.
facebook.com/pg/Bestialord-1353079071382901 facebook.com/grimmdistribution
Published: July 28, 2019
SACRILEGE: The Court Of The Insane - Album
(Pure Underground Records - Release date: Aug. 2)
British heavy metal band SACRILEGE was active in the early 80s, but all they produced back then was a couple of demo recordings. In 2012, after a 25-year break, they were back again, and this is the third album since the comeback.
Their style is best described as New Wave of British Heavy Metal. In other words classic British heavy metal like JUDAS PRIEST and SAXON. And it's not bad at all. They have many fine tunes among these 10 tracks. So this could of course be worth checking out.
Best track must be "The Prophet".
sacrilegenwobhm.com puresteel-records.com
Published: July 27, 2019
Thobbe Englund: Hail To The Priest - Album
(Metalville - Release date: Aug. 2)
What Thobbe have done here is a whole album with covers of JUDAS PRIEST and 2 from their frontman Rob Halford's solo adventures. And we don't just get the typical classics here. This album is actually more or less free from the classics. And I think he is doing a really good work with the 12 songs he have choosen. He can both play and sing!
Thobbe Englund is a Swedish guitarist, who have played with bands like RAUBTIER and SABATON. Nowadays he concentrate on his solo career.
facebook.com/thobbeenglundofficial metalville.de
Published: July 27, 2019
ADRESTIA: The Wrath Of Euphrates - Album
(WormHoleDeath - Release date: July 26)
I became interested in this band when it was announced that the old maniac Tomas Jonsson (ANTI CIMEX, WOLFPACK, SKITSLICKERS/SHITLICKERS) would do a guest apperance on their new album. And this band have many songs that reminds me of ANTI CIMEX, which I really like. But sometimes there's more like the crust punk from the late 90s/early 2000s, which is also good. Yes, I like this album. It's true Swedish d-beat hardcore/punk the way it's supposed to be.
The band ADRESTIA started when 2 of the members started to rehearse together in March 2015, and after a few weeks they decided to form a band. They found some more members after a while, and were now 4 guys. The idea was to create music rooted in the Swedish tradition of crust punk, but to add some elements of death metal as well. After a year of writing and rehearsing, they entered the studio to record 16 tracks. A split EP with MARTYRDÖD was released in February 2017, and in May the same year their first full length album came out.
"The Wrath Of Euphrates" is their second album, which consist of 13 tracks.
adrestia.bandcamp.com wormholedeath.com
Published: July 25, 2019
DISPYT: Livsglädje - 7" EP
(Elitbolaget)
Crust punk from hell. It's raw and really angry, and this trio are not from hell but from Finland, even though they sing in Swedish. They call their music "blackened crust punk", and they formed this band in 2016. Their first full length album, "Den ständigt närvarande ångesten", was released in November 2017. Since then they have been touring and released some more stuff (in various formats).
The first track, "Men ändå ska man dit", is one hell of a noise. Chaotic crust punk.
The second song, "En man i sina bästa år", is much better. More d-beat, more like the kind of stuff I like.
And on the other side they kick off with "Intighetens förort", which is just mediocre. A little too chaotic for me.
The last fucker, "Småstadsgangsters", is fast and chaotic. Not so good, but not useless anyway.
To sum it all up: There are much better crust punk bands on this planet. Check out ADRESTIA instead for example.
This EP is released digitally (with 2 extra live tracks) and on vinyl in a limited edition of 150 copies. DISPYT are currently in the studio to record their second album.
dispyt.bandcamp.com elitbolaget.com
Published: July 25, 2019
DENNER'S INFERNO: Fountain Of Grace - Single
(Mighty Music - Release date: July 26)
Doom metal that reminds me of CANDLEMASS is what the old MERCYFUL FATE and KING DIAMOND guitarist Michael Denner has to offer us this time. And it sounds really good. This is definitely something that you have to check out.
DENNER'S INFERNO was created in the ashes of Michael's former band TRICKBAG in 2018. Mainly to transform the band from 70s progressive hard rock to a more current vibe with new original songs and a new line up. "Fountain Of Grace" is the title track of a new EP, which will be released on August 23 (500 12" vinyls and 500 CDs). An album, titled "In Amber", will be released in November.
facebook.com/DennersInferno mightymusic.dk
Published: July 24, 2019
NARNIA: From Darkness To Light - Album
(Narnia Songs - Release date: Aug. 2)
Swedish band NARNIA formed back in 1996 already, and has been called "the melodic metal masters" since day 1. They have released 8 studio albums (this one included), 2 live albums and 1 live DVD.
This album have many really strong songs, and they perform them with big conviction. So if you're a fan of melodic metal/hard rock, then you should not miss this for anything in the world. Just listen to tracks like "You Are The Air That I Breath" and "MNFST" for example. If you're not convinced after that, then this is probably not your kind of music.
narniatheband.com
Published: July 23, 2019
LICENCE: N.2.O.2.R. - Album
(Metalapolis Records - Release date: Aug. 2)
LICENCE is a German band, founded in 2014, who want to be just as cool as the hard rock bands was back in the 80s. It's a heavy but yet melodic sound, and at the same time powerful. They have a female singer (the guitarist's daughter actually), but with her rough voice she sounds like a young man. But her voice fits perfect for this band.
Well, there's lots of good stuff to discover among these 13 tracks. So if it's 80s hard rock that you're looking for, then you have to give this band a try.
This is their second album. And the title "N.2.O.2.R." is short for "Never Too Old To Rock". I might also add that they're doing a good cover of "Hit Me With Your Best Shot" by Eddie Schwartz, but most well-known with Pat Benatar.
licence-band.com metalapolis.eu
Published: July 23, 2019
H.E.A.T: Live At Sweden Rock Festival - Album, Blu-ray
(earMUSIC - Release date: July 26)
This seems to be a very good live band. But they also have very good songs. It's the finest kind of melodic hard rock that we get from this Swedish band. Very catchy stuff that makes you want to party and sing along.
The first seeds for this group was planted back in 2004, even though it wasn't until 2007 that all pieces were in the right place. They started to play live everywhere they could around Sweden, and in April 2008 their self-titled debut album was released. But their big breakthrough here in Sweden came in 2009, when they participated in the Swedish outtakes for the Eurovision Song Contest. After the release of their second album, "Freedom Rock", singer Kenny Leckremo decided to leave the band. Erik Grönwall (winner of the Swedish show Idol) became their new singer, and they were now ready to take over the world and become even more famous.
As the title says, this was filmed and recorded at Sweden Rock Festival in 2018. And this is something that you definitely not should miss.
heatsweden.com ear-music.net
Published: July 23, 2019
GRAHAM BONNET BAND: Live In Tokyo 2017 - CD/DVD
(Frontiers Music Srl)
GRAHAM BONNET BAND is doing a really good job here. When it comes to the songs anyway, because I have not seen the show (I read somewhere that it wasn't much action though). They play many songs from singer Graham's former bands RAINBOW, ALCATRAZZ, MICHAEL SCHENKER GROUP and IMPELLITTERI, as well as some of his solo material. So, in other words exactly what people want to hear. This is absolutely worth buying. No doubt about that!
This show was recorded in Tokyo, Japan on March 16, 2017. So that's a couple of years ago.
facebook.com/grahambonnetmusic frontiers.it
Published: July 22, 2019
Billy Sherwood: Citizen, In The Next Life - Album
(Frontiers Music Srl)
"Citizen: In The Next Life" is Billy Sherwood's second release in the Citizen series, which follows the concept that he started with the "Citizen" album released in November 2015. The songs describe the individual experiences in a journey through time and space of a character, The Citizen, through his own eyes: from an appearance in the Berlin bunker as Adolf Hitler in the final days of WWII to the Impressionist painter Monet, then as Stephen Hawking exploring the depths of the mind and the universe, Wyatt Earp, the legendary sheriff of Tombstone, Christopher Columbus, Romeo Montecchi and Mata Hari, among other real and fictitious characters.
Billy Sherwood is a current member of YES, which was handpicked by original/founding member Chris Squire, before his untimely death in June 2015, to fill in for him. On Billy's first album, he had many guest musicians. But this time he is doing everything on his own. The music is very soft and melodic progressive rock. And I'm pretty sure that fans of this genre will love this album.
billysherwood.com frontiers.it
Published: July 22, 2019
VANIR: MCCXIX - Single
(Mighty Music - Release date: July 26)
Danish metal Vikings VANIR released their fifth album, "Allfather", earlier this year. And now they are already releasing a brand new single, "MCCXIX".
The song seems to be about the Danish flag and a battle, if I got it right. And we get the song in both English and Danish.
Well, it's a good song. I would describe it as some kind of melodic death metal actually. Give it a try!
facebook.com/vanirdenmark mightymusic.dk
Published: July 22, 2019
HIGH FIGHTER: Champain - Album
(Argonauta Records - Release date: July 26)
HIGH FIGHTER formed in the summer of 2014 in Hamburg, Germany. Their first EP, "The Goat Ritual", was released in the end of the same year. The debut album, "Scars & Crosses", was released in June 2016, and now their second album is ready to be released.
They label this as sludge metal, but this is much more than just that. And the vocals really give this an extra touch of craziness. She is both screaming and singing clean. The music is heavy, but not super heavy, yet hard and angry. Definitely something different from the rest. I hear both old and modern things.
11 tracks is what we get here, and most of the songs are good. But you might have to listen more than once before you know if you like it or not though.
highfighter.bandcamp.com argonautarecords.com
Published: July 21, 2019
HELLSCREAM: Hate Machine - Album
(Pure Steel Records - Release date: July 26)
Here's another band playing what they call US metal, which in this case means heavy/power metal the American way. The band features singer Norman Skinner (IMAGIKA, NIVIANE, SKINNER) and guitarist David "Conan" Garcia (CAGE, The THREE TREMORS) among others, and this is their second album with HELLSCREAM. I would guess that fans of bands like CAGE, ICED EARTH and similar will like this. And they have some good stuff among these 12 tracks, so it could be worth a try.
The only thing that I can complain a little about, is that he's screaming like he would have something stuck up his arse sometimes. Or however I should explain that voice. It's a little irritating to hear anyway. But luckily he doesn't sing like that all the time, but still way too often. He's not a bad singer though. Just listen to a song like "Slaves Of The Sand" for example, where he doesn't scream like that at all - Much better!
normanskinner.net/hellscream puresteel-records.com
Published: July 21, 2019
Louise Lemón at Liseberg in Göteborg, Sweden on July 20, 2019
It start with some atmospheric noise, and in comes a creature who looks like the reaper, but with something that the person is shaking while it comes out smoke. This creature is walking back and forth on the stage 1 time and leave, and then comes the band, and last the singer herself: Louise Lemón.
Not too much action on stage, and not that much talking. The music is very dark pop, that they for some reason call death gospel. But it's still a good performance and nothing to complain about. Not much people though. I guess it was just about 50 people in the audience.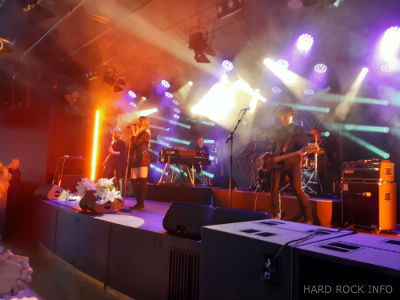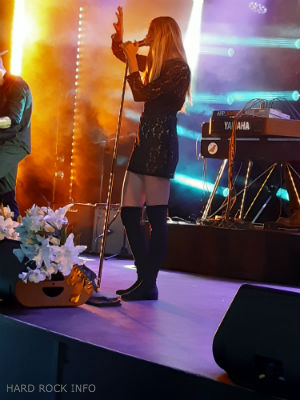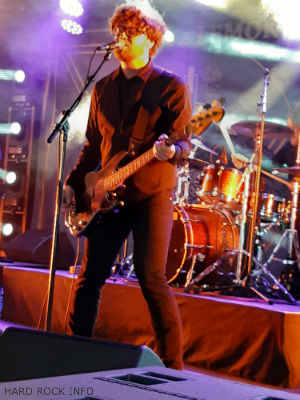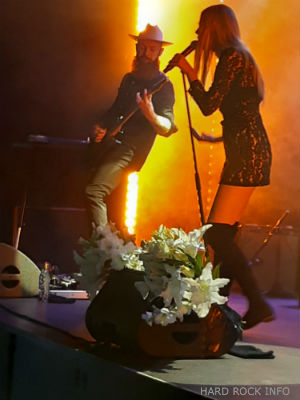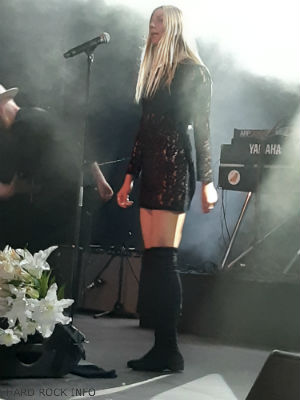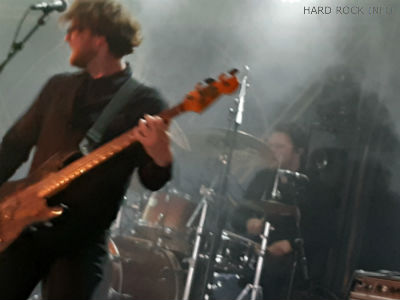 louiselemonmusic.com
Published: July 21, 2019
CHILDREN OF THE SÜN: Flowers - Album
(The Sign Records - Release date: July 26)
This is a fantastic album with lots of great songs! Just listen to the trio "Sunchild", "Flowers" and "Like A Sound", just to name a few of all my favorites. Wonderful!
CHILDREN OF THE SÜN are 8 men and women from Arvika, Sweden, who are inspired by Janis Joplin, Jimi Hendrix and the free loving spirit of 1969s legendary Woodstock Festival. "Flowers" is their debut album, where we get soulful rock from the past. Sometimes it's soft and almost psychedelic, and sometimes more catchy.
Everybody who like retro rock should check this out. I'm pretty sure that you will like this just as much as I do.
facebook.com/Childrenofthesuun facebook.com/thesignrecords
Published: July 20, 2019
NOCTEM: The Black Consecration - Single
(Art Gates Records)
This song is almost 9 minutes long. 9 minutes of brutal black metal. That's what I call extreme. But even though it's stone hard, they succeed to bake in a melody. Which makes it less extreme than I first thought that it would be. But 9 minutes is still a long time, and it's not exactly like they slow down one single time. So the thing that impress me most with this song, is that they have enough strength to play so fast for so long.
"The Black Consecration" is the first single from their upcoming fifth album, with the same title. The album will be released on November 1.
facebook.com/noctemofficial artgatesrecords.com
Published: July 19, 2019
SELF DECEPTION: Endorse The Art - EP
(Ditto Music)
Some kind of modern rock/melodic metalcore. Not bad though. I like the singles, "Smoke You Out" and "Bury Me Alive", best. The other 3 are not so bad either. They mix hard and heavy riffs with melodic vocals and catchy melodies.
SELF DECEPTION is a Swedish band. They have previously released 3 albums. This EP is only available digitally (streaming/download).
selfdeception.se
Published: July 18, 2019
SUBZTAIN featuring Håkan Hemlin: Ångrar Du Någonting - Single
(GMR Music)
Hard rock for people who like the Swedish artist Nordman, which is the artist name that Håkan Hemlin is using, and Nordman is definitely not hard rock. SUBZTAIN is heavy enough to be hard rock though, and this doesn't sound so bad. A whole album with this would be way too much for my nerves though.
It's a pretty melodic, but yet heavy song that we get. And for some reason it's in both English and Swedish. No, not 2 versions, but 2 languages in the same song. Strange.
gmrmusic.se
Published: July 18, 2019
JACK OBLIVIAN AND THE DREAM KILLERS: Lost Weekend - LP
(Beluga Records/Ghost Highway Recordings)
The 3 tracks that I got (out of a total of 16) all sounds different from each other. "Scarla" is a darker rock song, with something that sounds like a slide guitar. "Boy In A Bubble" is a short and little faster and harder, and is the most catchy song. "Sweet Thang" is almost like a combination of garage rock and psych rock.
If I got it right, this is a collection of recordings that Jack have made (by himself or with other people) through the years. So that's probably the reason why these songs are a bit different from each other. But it makes it hard to put this in just 1 specific genre. It's not bad though, and I guess that I'm not totally wrong if I just call this rock (rock have many branches on its tree you know).
facebook.com/jackoblivian belugarecords.com
Published: July 18, 2019
CIRKUS PRÜTZ: White Jazz, Black Magic - Album
(Metalville - Release date: July 26)
You could easily think that a band like CIRKUS PRÜTZ would be from Texas for example, but they are actually from Sweden. Blues rock from the Southern States is what they play, and they do it really good. I can hear lots of good songs among these 10 tracks. So this is absolutely worth checking out.
The instrumental song "Blues For Fallen Brothers" was written for their 2 former guitarists Robert "Strängen" Dahlquist and Mikael "Fässe" Fässberg, who are both dead but far away from forgotten.
facebook.com/cirkusprytz metalville.de
Published: July 17, 2019
BALLS GONE WILD: High Roller - Album
(Metalville - Release date: July 26)
Funny name of the band..
BALLS GONE WILD was founded in Cologne, Germany in 2012, and today's lineup consist of members from PERZONAL WAR, NITROVOLT and ARCHITECTS OF CHAOZ. I have heard 2 of those bands at least, and they play metal. But in this band they want to mix good old hard rock with punk attitude. They call it turbo rock, but I prefer to call it ass-kicking hard rock n roll. Sometimes it's AC/DC, sometimes a pinch of MOTÖRHEAD, and sometimes it's more or less action rock. And I must say that they have really succeeded with that combination. Because there's many good songs on this album.
facebook.com/ballsgonewildband metalville.de
Published: July 17, 2019
WORMWOOD: Nattarvet - Album
(Black Lodge Records - Release date: July 26)
I guess the best way to describe this Swedish band is to say folk/black metal. It's a more melancholy sound, even though they play fast too. And the vocals is hardly melodic. I guess that fans of a band like MÅNEGARM could like this. And fact is that Erik Grawsio from that band is doing some guest vocals on this album, and so is also Mika Kivi (PAARA) and Moa Sjölander. We also get some violin from Martin Björklund.
WORMWOOD have previously released a EP, "The Void: Stories from the Whispering Well", in 2015, and a full length album, "Ghostlands: Wounds from a Bleeding Earth", in 2017.
wormwood-official.com
Published: July 16, 2019
ZEX: Execute - Album
(Zex Records)
Canadian punk band ZEX were formed in 2013, and has since then released 8 singles and 3 albums (with this one included). They are probably most well-known for a little incident that happened in 2017, when the band had their music accidentally pressed onto one side of a Beyonc&eacut; vinyl record (which I thought was very funny).
On this album they burn off 11 tracks, and most of them are around 2 and a half minutes. Often very straight but catchy punk rock that reminds me of the classic bands. MISFITS and RAMONES for example must be a big inspiration for this group, but also some of the early British bands. Throw in some Riot Grrrl into that, and there you have it. That's just a wild guess, but it sounds like that to me anyway. And I really like what I hear!
facebook.com/zexzexzexofficial
Published: July 15, 2019
ANAUGH CONDA: Kick Them - EP
(Self released)
This seems to be the 10th EP since 2007 from this Swedish band. It was meant to be a full length this time, but their studio had to shut down, so they choosed to record another EP instead as a last goodbye. It's just a goodbye to the studio though, because the band will continue to produce new music.
The band consist of 2 women and 2 men, and the music they play is something that I would call power pop. Very catchy and energetic, and very good. Just listen to the title track for example - Brilliant! The other 3 tracks are absolutely not bad either.
facebook.com/anaughconda
Published: July 14, 2019
DESECRESY: Towards Nebulae - Album
(Xtreem Music - Release date: July 23)
DESECRESY was started as a duo in 2009 to create crushingly heavy death metal with a dark and eerie atmosphere, even though they were also influenced by the bands from the early 90s. "Towards Nebulae" is the 6th album, and the second as a 1-man band.
This is definitely not another old school death metal album, but actually something different because of the darker, but yet brutal, sound. And it's not an easy album to listen to. A little extreme sometimes. But if you (for some odd reason) feel that you are tired of all these old school bands, then you could always try this instead.
facebook.com/Desecresy-244902242257521 xtreemmusic.com
Published: July 13, 2019
MAMMOTH STORM: Alruna - Album
(Argonauta Records)
Holy shit. Yet another band who play shit heavy without too much variation between the songs. But if that makes you happy, then I won't stop you from listening to this. You will probably love this. And sure, I have heard much worse than this through the years. This is definitely not the worst that I have heard. And that's always something I suppose?
These 5 songs are between 7-9 minutes long, so it's no short pieces that they give us. But it depends on what you compare with of course.
MAMMOTH STORM is a Swedish doom trio who formed in 2012. 4 years after their full length debut, their second album is here.
facebook.comMammothStorm argonautarecords.com
Published: July 12, 2019
GRAN DUCA: Beneath Thy Roots - Album
(Self released)
4 bearded men playing dirty and mean stoner rock, with a touch of both the 70s and the 90s. They are from Germany and have members from DRONE. This is their debut album, which was recorded live at "Institut für Wohlklangforschung".
11 songs is what we get here. It's heavy (of course), but that was probably not such a big surprise. Not extremely heavy though. There's still room for melodies in these songs. It's also pretty good. Sometimes even really good.
facebook.com/GranDuca.Official
Published: July 12, 2019
GORILLA: Treecreeper - Album
(Heavy Psych Sounds Records)
This sounds familiar somehow. A young and unharmed MOTÖRHEAD playing stoner rock maybe? Especially in a song like "Gorilla Time Rock n Roll" anyway. I guess we can call this heavy stoner rock n roll, even though there's other elemnts too once in a while. Good stuff anyway. And people who like heavy rock (no matter what it's called) should try this record.
This seems to be GORILLA's first full length album since 2007's "Rock Our Souls". And they definitely prove that they are back again.
gorilla-rock-n-roll.bandcamp.com heavypsychsounds.com
Published: July 12, 2019
BACKYARD BABIES at Stora Torget in Borås, Sweden on July 11, 2019
BACKYARD BABIES are celebrating their 30-year anniversary this year, and so is this thing called Sommartorsdagarna (Summer Thursdays), which take place at Stora Torget (the Big Square) in the middle of Borås city every Thursday during the summer. And there's not that many rock or metal bands playing there, even though it happens once in a while. But it has become better during the last years. This year is not 1 of the better though. The only band that was interesting to me this summer was BACKYARD BABIES.
As entrance is free, all kinds of people are coming to these concerts. And I supsect that many of those who showed up at this gig had never even heard the band before. But they seemed to enjoy it anyway, for a while at least. And who knows, maybe they even get better taste in music, haha.
BACKYARD BABIES did a good show, and played songs from their entire catalogue, more or less, because there were no song from the first album (but on the other hand, how many have heard that album? I got it anyway). And they have got themselves a rich variation through the years, so it's not that many of their songs that sounds the same. The main ingredient is hard rock though, often with a punk nerve. But they also have these more melodic and softer songs. No matter what style they play, it's often good according to me (even though I might prefer the stuff that they did before the comeback).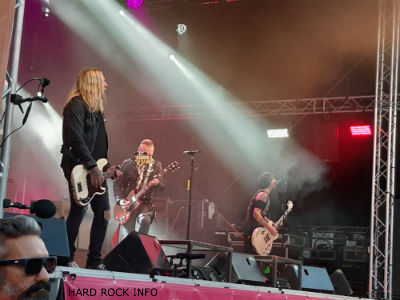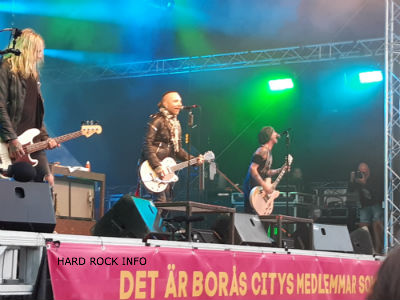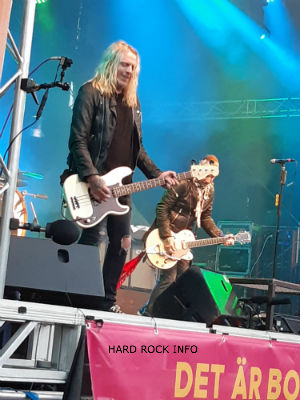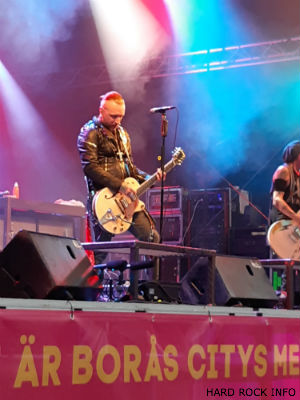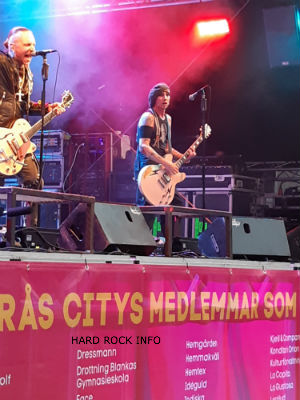 backyardbabies.com
Published: July 12, 2019
NARNIA: You Are The Air That I Breath - Single
(Narnia Songs)
A new album with Swedish hard rockers NARNIA will be released in August, and that's where this song comes from, which is 1 of my favorites from that album. Every true fan of melodic metal/hard rock just must check this out! That's how good this band is.
narniatheband.com
Published: July 11, 2019
HELL'S ADDICTION: V1.0 - EP
(Self released)
Leicester, UK is where this quintet comes from, but they play hard rock that sounds like they would be from America. If you like 80s bands like SKID ROW, GUNS N' ROSES and AC/DC, then this should be very interesting for you, because this band have lots of great songs.
The band has been a going concern for the better part of a decade already, but have just begun to make big moves in the past few years. "V1.0" is not their first release though (if anybody would think that). They have released a few singles and 2 albums through the years.
When this 4-track EP was released in March, it immediately entered various UK charts, including #7 on iTunes UK charts, #2 Amazon UK chart and the top of the heap, #1 at Hot New Release and Digital Download Amazon UK.
hellsaddiction.com
Published: July 11, 2019
Neal Morse: Jesus Christ The Exorcist - 2CD, 3LP
(Frontiers Music Srl)
"Jesus Christ The Exorcist" had its live premiere during 2018, and was performed by an all-star team of prog rock musicians and vocalists. Now it's time for the album. And this is a very ambitious rock musical that Neal have been working on for 10 years. And what we get is approximately 2 hours of progressive rock. There's as much as 25 tracks on this album. But I'm sure that fans of this kind of music will love this.
The story then? Well, it's the old story about Jesus (as far as I can understand). So you could see this as a modern version of the "Jesus Christ Superstar" musical, but with completely new songs.
Everything might not be so great here, but most of these songs are actually good. And I'm hardly the man who use to like ambitious progressive rock, so I guess that says a lot about this. But then I should also add that everything is not pure prog rock. There's also more "normal" rock songs.
nealmorse.com frontiers.it
Published: July 10, 2019
CHAOS MAGIC featuring Caterina Nix: Furyborn - Album
(Frontiers Music Srl)
Caterian Nix is a young vocalist from Chile, who was found by chance by former STRATOVARIUS composer and guitarist Timo Tolkki (TIMO TOLKKI'S AVALON) during one of his tours of South America. Timo was supremely confident about Caterina's singing abilities, and eventually he managed to write and produce for her the first CHAOS MAGIC album, in addition to having her perform on the second AVALON rock opera album. But what many people might not know, is that she had already started her career in the band AGHONYA, who released their first and only album, "Oxygen", in 2008, where she wrote all lyrics and vocal lines.
On this album Caterina is collaborating with a Chilean producer/singer/musician called Nasson. She is also doing duets with people like Tom Englund (EVERGREY), Ailyn Gimenez (ex-SIRENIA) and Ronnie Romero (RAINBOW, CoreLeoni, ex-LORDS OF BLACK). The music is modern melodic/symphonic metal. Good but nothing extra ordinary. I have heard the exact same thing before. She's not a bad singer though, and the rest of the band seems to know what they're doing too. So I guess that fans of this genre will like this much more than me.
frontiers.it
Published: July 10, 2019
Rogga Johansson: Entrance To The Otherwhere - Album
(Transcending Obscurity Records - Release date: July 19)
Rogga Johansson should not be a stranger to those of you who worship Swedish death metal. He is playing or have played with bands like PAGANIZER, REVOLTING, The GROTESQUERY, NECROGOD and many others. And I have reviewed a few of all the recordings he have been involved with, so you might have read about him here earlier.
Rogga have done all kinds of death metal, often what you could call meat and potato-death in the old school. On the first album under his own name, he gives us more melodic guitar melodies, even though it's still raw and dirty. But is it a keyboard that I hear in 1 of the songs? And in the instrumental song, "Berget Vaknar", there's both piano and synthesizer. It works anyway. As a matter of fact, most of these 9 tracks works just fine. So there's no reason to be afraid of this album.
roggadeathmetal.bandcamp.com tometal.com
Published: July 9, 2019
BURIAL REMAINS: Trinity Of Deception - Album
(Transcending Obscurity Records - Release date: July 12)
Debut full length from this old school death metal band. They are mainly inspired by the Scandinavian scene in the 90s, and they do it really good. So if you miss the good old death metal days, BURIAL REMAINS is the band for you. This is fast, raw and brutal, just like it should be. I don't think I have to say much more than that..
BURIAL REMAINS consist of members from both the Netherlands and Germany. They come from bands like BOAL, GRIM FATE, FLESHCRAWL and DISINTEGRATE. They originally started in December 2016 as MIASMA OF GUILT, but it didn't work as planned, so they parted ways with each other in 2017. But in the end of the same year they decided to continue with the band, but now under the new name BURIAL REMAINS.
facebook.com/burialremains tometal.com
Published: July 9, 2019
LEFTOVER BULLETS: Confused - Single
(Self released)
LEFTOVER BULLETS is a hard rock band from Thessaloniki, Greece. They have been kicking arse since 2013, and are mainly inspired by the music and the attitude from 1985-1995. They have so far released several singles and 1 album, and are currently working on their second album (if I got it right), where this song comes from.
"Confused" is a pretty good song, and I think you should give it a try, especially if you like good old hard rock. Not much else to say..
leftoverbullets.com
Published: July 8, 2019
Stevie D feat. Corey Glover: Your Time Has Run Out - Single
(Mighty Music)
This is the second single from the collaboration between Stevie D and Corey Glover (LIVING COLOUR). And the song is taken from their upcoming album, which will be released on September 6. It's a very soulful rock song, that reminds me of Glenn Hughes actually. And this is absolutely not bad at all. I really like this!
This song is said to be a fictitious story about self-preservation and knowing when enough is enough and doing something about it. Sounds wise..
You check this out if you want a good rock song, otherwise you're stupid, o.k.?
mightymusic.dk
Published: July 8, 2019
WORMWOOD: I Bottenlös Ävja - Single
(Black Lodge Records)
This song is much more representative than their last single was. Here we get the sound of WORMWOOD in all its different shapes. It's both black metal and folk music.
This is a song about an old woman who got stuck in a bog and slowly sank to her death. Her ghost remained in the swamp and haunted the people who dared to venture into it.
Guest vocals from the band's Finnish brother, Mika Kivi (PAARA).
The album, "Nattarvet", where this song comes from, will be released on July 26.
wormwood-official.com
Published: July 8, 2019
HOLLYWOOD VAMPIRES: Rise - Album
(earMUSiC)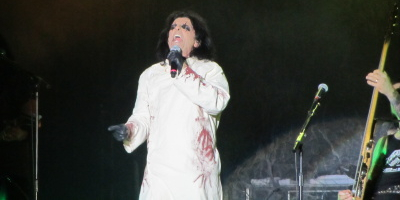 The superstar trio Alice Cooper, Joe Perry (AEROSMITH) and actor Johnny Depp have previously just done covers with their band HOLLYWOOD VAMPIRES. But this time most of the material is new songs written by themselves, except for 3 covers: "Heroes" by David Bowie (with Depp on vocals), JIM CARROLL BAND's "People Who Died" and "You Can't Put Your Arms Around A Memory" (with Perry on vocals). And it's a very variated rock album that we get here, with both ups and downs, but mainly good songs even though 16 tracks is a little too much. I don't really understand the meaning of these short pieces, who are between half a minute to 1 and a half minute. So you could actually say that there's just 12 songs instead.
I wasn't so impressed when I saw this band live last summer, but with this album they prove that they can do better things than old covers of artists who have died.
By the way, I have finally found out who the other members of HOLLYWOOD VAMPIRES are: Tommy Henriksen, Buck Johnson, Chris Wyse and Glen Sobel. So now you know that too.
hollywoodvampires.com ear-music.net
Published: July 7, 2019
EXHUMATION: Seas Of Eternal Silence - Album reissue
(Vic Records)
EXHUMATION was formed in early 1990 in Thessaloniki, Greece. The band recorded 3 demos and 3 full length albums before they split up in late 1999. Guitar player Marios Iliopoulos formed NIGHTRAGE, which you might have heard of.
"Seas Of Eternal Silence" is EXHUMATION's debut album, which was recorded at Unisound in Örebro, Sweden in 1996, with the legendary Dan Swanö as producer. On this reissue we also get their third demo, "Deepest Side of Fear", from 1994.
What can I say about the music then? Well, it's really good death metal performed by good musicians. I have nothing to complain about. What makes them a little special is that keyboard in the background in some of the songs.
facebook.com/exhumation vicrecords.com
Published: July 7, 2019
ATROPHY: Chemical Dependency - Album
(Vic Records)
ATROPHY was originally named HERESY, and formed back in 1986. In 1987 they recorded the 6-track demo "Chemical Dependency", which gave them the chance to release 2 albums - "Socialized Hate" (1988) and "Violent By Nature" (1990) - on Roadrunner Records. The band toured in both North America and Europe.
The demo is now for the first time being re-issued on CD, with 4 bonus tracks recorded live in Toronto, Canada 1989. And this is pretty good stuff. Some kind of thrash metal performed with technical skill, but yet raw and not too complicated. You should absolutely give this band a chance.
facebook.com/atrophyofficial vicrecords.com
Published: July 7, 2019
JORN: Live On Death Road - 2CD/DVD, Blu-ray
(Frontiers Music Srl)
JORN's headlining set at Frontiers Rock Festival in Milan, Italy in late April 2018 was recorded in its full glory, and is now avilable as "Live On Death Road". The band, with the Norwegian frontman Jørn Lande as captain of the ship, were playing songs from the band's whole career, including several covers. And they did it damned good indeed! This is an extremely good live album by a really strong band. So fans of classic hard rock and heavy metal should not miss this for anything in the whole wide world.
jornlande.com frontiers.it
Published: July 6, 2019