REVIEWS 2017 - Page 6
The PARITY COMPLEX: The Parity Complex - Album
I don't really get that soft pop intro that last for almost 2 minutes. And unfortunately it doesn't get much better after that. It sounds more like some kind of modern zynth rock than metal actually. But I guess that fans of emotional modern metal will have a other opinion about that. The only positive I can say is that the singer is very good. No doubt about that anyway. I wouldn't go as far as saying that this is worthless though. No, there's at least a couple of good songs here.
The PARITY COMPLEX is a very young band from Sweden. They formed as late as last year actually, and have already suceeded to release 4 singles before this debut album. Their music is described as alternative metal with electronic and ambient elements. It's said to fit fans of PVRIS, BRING ME THE HORIZON and WE ARE THE CATALYST.
Release date: Nov. 24, 2017 (Dead End Exit Records)
theparitycomplex.com
NOVEMBER 14, 2017
SALEM'S LOTT: Mask Of Morality - EP
American shock metal is how they label this. I think it sounds like good old heavy metal from the 80s. A little like a more melodic ACCEPT or RAVEN, but with an American touch. Very good stuff anyway, and definitely worth listening to. This is a band I would like to hear some more with.
SALEM'S LOTT comes from Hollywood, and is said to be 1 of the hottest rock bands on the L.A. scene today. They have previously released a single, "No Choice To Love" (2014), and a self titled EP (2015).
(Distributed through Online Metal Promo)
salemslott.com
NOVEMBER 14, 2017
PROJECT RENEGADE: Cerebra - EP
Melodic metal band from Athens, Greece. Their sound derives from an alternative, heavy and groove background blended with electronic and ambient elements. Heavy riffs are mixed with female, clean vocals and stomping drum beats. It's very catchy and modern.
This is their debut EP, which has 3 songs. They are currently working on their debut album.
projectrenegade.bandcamp.com
NOVEMBER 14, 2017
EMPIRE: Chasing Shadows - Album (reissue)
This is so far the last album from German melodic hard rockers EMPIRE. It was originally released in 2007. And as you might know by now, they released 4 albums between 2001-2007, which have all been re-released (and reviewed here) now.
The lineup on this album is not bad. Except for band leader and guitarist Rolf Munkes (CREMATORY, ex-RAZORBACK, MAJESTY), we also have people like Doggie White (ex-RAINBOW) on vocals, Mike Terrana (ex-RAGE, Axel Rudi Pell, Tarja Turunen) on drums and Neil Murray (ex-WHITESNAKE, BLACK SABBATH) on bass. And if that doesn't make you wet, then you're probably not a fan of this genre. But those who are should definitely check out this and all their previous albums.
Release date: Nov. 17, 2017 (Pride & Joy Music)
facebook.com/rolf.munkes
NOVEMBER 13, 2017
GLITTERTIND: Himmelfall - Album
Some kind of soft and laidback folk music mixed with pop that reminds me of Swedish pop nerd Håkan Hellström. Why did I give this a chance then? I actually don't remember.. It doesn't have anything at all to do with rock music anyway. That's for sure. And unfortunately it wasn's so good either. Folk music can be good, but I'm not a fan of Swedish pop.
The funny thing is that they declare that "'Himmelfall' is breaking musical boundaries mixing elements ranging from pop to black metal". Well, that's bullshit! I can't hear any black metal at all on this record. And it was probably that which made me interested. But I can promise you that I will never listen to this again. Deleted. Bye, bye.
Release date: Nov 17, 2017 (Hjelmkald)
glittertind.net
NOVEMBER 13, 2017
WOLFHORDE: The Great Old Ones - EP
3-track tribute EP with covers by the Finnish metal bands FINNTROLL, AMORPHIS and MOONSORROW. Which means 3 different languages: Swedish, English and finally Finnish. The easiest way to decribe the music is to call it folk metal. But fact is that AMORPHIS takes us back to the early 90s death metal, while MOONSORROW is more like epic heathen metal, and then we have the humppa-infused black metal that FINNTROLL is playing. So maybe we should just call it Finnish metal then? There's at least a lot of different elements in this genre. No doubt about that.
WOLFHORDE are currently working on a new album.
(Inverse Records)
wolfhorde.band
NOVEMBER 12, 2017
VICE: Veni Vidi Vice - Album
They definitely have some really good songs here. Hard rock with a party vibe is what I would call this. It's a mixture of more melodic songs and some heavier songs. Why they decided that it was a good idea to do a cover of "The Joker" (by STEVE MILLER BAND?) is a very good question though. Not my kind of song.
This band was founded in Munich, Germany back in the late 80s. They released 2 albums - "Made For Pleasure" (1988) and "Second Excess" (1990) - and became quite famous. I don't know what happened after that, but almost 30 years later they are suddenly back with a new album.
Everything might not be great, but it's worth checking out for fans of 80s hard rock.
Release date: Nov. 17, 2017 (Pride & Joy Music)
facebook.com/vicerock
NOVEMBER 12, 2017
Tarja Turunen: From Spirits And Ghosts (Score For A Dark Christmas) - Album
Poor Santa Clause. It looks like it's going to be a very depressive Christmas this year. At least if you find this album under the Christmas tree. Which is far away from the best Christmas album that I have heard. And believe it or not, but I used to like this kind of albums. Not so much anymore though. Because no matter what artist it is, it's often the same old songs over and over again. And when it comes to this album, I guess that I expected a goth album and not some lullabies that have nothing to do with good old rock music. Let's just throw it away and forget that it was ever released.
Release date: Nov. 17, 2017 (earMUSIC)
NOVEMBER 12, 2017
JUPITERIAN: Terraforming - Album
Not exactly any happy Disney tunes here. The title track is totally useless and not even music. Just a 3,47-wall of "atmospheric" noise, with a maniac screaming in pain in the background.
Well, here we have another band that try to be secret and wear masks. They comes from Brazil, and their so-called music is labeled as atmospheric sludge/doom metal. I think we have different opinions about what atmospheric is, because this is hardly what I would call atmospheric anyway. But I can agree that it's sludge and doom anyway. Unfortunately not the good kind of sludge and doom.
Release date: Nov. 15, 2017 (Transcending Obscurity Records)
jupiterian.bandcamp.com
NOVEMBER 11, 2017
CATAPULT THE DEAD: A Universal Emptiness - Album
4 long songs (8,46-11,25 min). It's slow and heavy of course. After all it's doom metal that we get here. Unfortunately it has a tendency to be very monotonous as the songs are so damned long. But sure, it's a part of this game. I wouldn't say that it's bad though. Most of these songs are pretty o.k. stuff.
This band consist of as much as 6 guys, and they are from Oakland, California. Their music is described as a "apocalyptic journey".
Release date: Nov. 15, 2017 (Doom Stew Records)
NOVEMBER 11, 2017
The DAHLMANNS / The STANLEYS: Connie Converse/Amy - Split Single
O.k., this wasn't really what I expected. Female power pop. Interesting. Long time since I heard that kind of stuff. Well, it was actually long since I heard anything that is this melodic. But I like this song. It's so catchy that I like it more and more for each time I listen to it.
The DAHLMANNS comes from Norway and have released some records already. I would really like to hear more from them, because they are the most interesting power pop band in a long, long time.
On the other side it's a bit more rock n roll, but I think I still call it power pop. These guys seems to be more influenced by something like IMPERIAL STATE ELECTRIC though. This is also a very good song, but compared to The DAHLMANNS they're like the b-side boys.
The STANLEYS comes from Australia, and their song is taken from a new album with them. Has the band name anything to do with the KISS frontman?
(Beluga Records)
NOVEMBER 10, 2017
LEADFOOT TEA: Coronet Hemi - Single
Cool stuff! Some kind of hillbilly garage rock n roll. I like it, baby!
This seems to be only 1 man using bass drum, hi-hat and a electric guitar to create his rockabilly tunes. His main influence is the late Hasil Adkins (which I never have heard of before), and especially his raw sound and unhinged lyrics. But there's also some 40s blues, trashy country and weird rockabilly involved in this moonshine brew.
Let's just say that if you like good old rock n roll, then try this instead of the classic stuff for a change.
(Beluga Records)
facebook.com/leadfoottea
NOVEMBER 10, 2017
MARY'S KIDS: Time Has Come - EP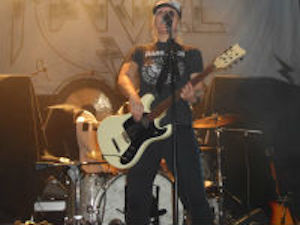 This is a band that I have been following for a few years now, and I really like them. These 4 songs seems to be more punk than the stuff I have heard with them before, but there's still a big doze of rock n roll as well, so it's hardly a total change here.
4 tracks is what we get here, and they all kick ass as usual.
MARY'S KIDS are from Stockholm, Sweden and have been pretty busy through the years. They have so far released 3 albums, a 10" and as much as 8 singles. This EP is supposed to be the first of 4 before their next full length album comes out.
(Beluga Records/GHR)
facebook.com/MARYSKIDSTHEBAND
NOVEMBER 10, 2017
PAT TODD & THE RANKOUTSIDERS: Known Ta Stumble/Known Ta Fall - Single
Good old rock n roll. Simple as that. The first song is pretty good, but the other side is not so funny (a typical b-side). This is something that you should check out if you have any interest in underground rock n roll acts.
PAT TODD & THE RANKOUTSIDERS was founded when the L.A. band The LAZY COWGIRLS split up. The members in this band are Pat Todd on vocals, Nick Alexander and Kevin Keller on guitar/vocals, Rick Johnson on bass/vocals and Bobby De on drums.
(Beluga Records/GHR/Kotj)
pattodd.net
NOVEMBER 10, 2017
SATAN'S LITTLE HELPERS: Another Girl - Single
Good old garage rock with punk attitude. Just like it's supposed to be when it comes to this genre (according to me at least). The band consist of members from Swedish bands like The MAGGOTS, CRIMSON SHADOWS, The BOATSMEN, SPADES and The MAHARAJAS, just to mention a few of all the bands some of them has been involved with. And if you have heard any of those bands, then I guess that you have a pretty good idea about what SATAN'S LITTLE HELPERS sounds like. It's damned good anyway. No doubt about that!
(Beluga Records)
NOVEMBER 10, 2017
MANHATTAN LOVESTORY: Manhattan Lovestory - Album
Very weird band name for a death metal band. But it turns out that the name originates from the Native-American term "Manna-Hata", which means "poisoned place", or colloquial "place of drunkards".
The band was founded in 2010 and this is their debut album, which consist of 8 tracks in less than half an hour. It's a more modern kind of death metal that we get from this band. Sometimes even a little technical actually, and very much groove metal. The bass is shit heavy. Vocalist is Pavlos Chatzistavridis from NECROTTED.
Release date: Nov. 11, 2017 (Distributed via Metal Promotions)
facebook.com/ManhattanLovestoryBand
NOVEMBER 9, 2017
The REED EFFECT: A Strange Curiosity - EP
Canadian grunge/psych rock trio from Toronto. But there's also some metal and blues, and even some progressive elements here and there. The first single, "No Way Outta Here", is a straight rocker though. These 6 songs are at least different from each other, so you will not get bored becuse of too little variation here. And that's good. But maybe you should be open for different kinds of rock if you want to check this out. If you only want psych rock for example, then there's other bands for you.
Release date: Nov. 10, 2017
thereedeffect.com
NOVEMBER 9, 2017
PALE MARE: Pale Mare - EP
Toronto-based metal band who formed in the summer of 2015. They play loud and aggressive sludge with thick groovy riffs. This is their debut EP, which consist of 3 tracks. For some reason I think of our Swedish band BOMBUS when I hear this, even though it's not exactly the same thing. But maybe a easier version of them. This will probably please fans of bands like early BARONESS, HIGH ON FIRE, MASTODON and BLACK TUSK anyway. I think they are pretty good, so you should try them.
Release date: Nov. 10, 2017 (Medusa Crush Recordings)
NOVEMBER 8, 2017
DEATHCRAWL: Acceptable Level Of Misery - Album
Another heavy and noisey band that seems to have all levels (both on speakers and recording equipment) on 11. And to be honest with you (as I always am) it's hardly the best that I have heard in my life. But if you think that brutality is more important than good songs (yes, there obviously seems to be people like that), then I won't stop you from trying this.
What we have here is a apocalyptic sludge band from Cleveland, Ohio, who have been around since 2006. This is their 3rd full length, and the first since 2012's "Accelerated Rate Of Decay". Those who have been waiting must be crazy..
(Self released)
deathcrawl.bandcamp.com
NOVEMBER 8, 2017
CONVERGE: The Dusk In Us - Album
This album is the first sign of life in 5 years from this Boston-based band. They are said to be piooners, and have existed as a band since the early 90s. This is their 9th album, which is said to be 1 step closer to the darkness, and a mixture of doom, punk and aggressive metal. Now I have not heard this band before, so I have nothing to compare with. But I would say that what I hear here is mainly a combination of hardcore and metal. Screaming vocals are mixed with heavy riffs. It's pretty aggressive actually. And I guess that many people would call that metalcore (which usually sucks, especially deathcore). But I think this is more like hardcore though (which is much better).
(Epitaph/Deathwish)
NOVEMBER 8, 2017
WITCHERY: I Am Legion - Album
Well, this band is definitely back on track. This album is released just about a year after their last album, "In His Infernal Majesty's Service". Which is very fast for being WITCHERY (4-6 years between the albums are not unusual fo them). Especially when there's members from hard working bands like The HAUNTED and ARCH ENEMY for example. But not much has changed since last time. It's more or less the same kind of blackened thrash/death metal (or whatever you should call what they play). Maybe some more crust punk in some of the songs though. Which I think is always nice.
The album features brief guest appearances by among others Hank Shermann (MERCYFUL FATE), Mike Wead (KING DIAMOND) and Nicholas Barker (LOCK UP).
Release date: Nov. 10, 2017 (Century Media)
facebook.com/officialwitchery
NOVEMBER 7, 2017
SECRET RULE: The Key To The World - Album
SECRET RULE was formed in the beginning of 2014, and comes from Italy. Their debut album, "Transposed Emotions", was released in February 2015 via Rocksector Records. "The Key To The World" is their 3rd album. It was just as their previous albums mixed and mastered by Tue Madsen at Antfarm Studio in Denmark. Among the guests on this album are Henrik Klingenberg (SONATA ARCTICA), Henning Basse (FIREWIND) and Aylin Giménez (ex-SIRENIA).
How about the music then? Well, they say that it's symphonic metal for fans of DELAIN, SERENITY, EPICA, WITHIN TEMPTATION, EDENBRIDGE and similar. It's very melodic metal anyway, and very catchy too. So I suppose that they are right about that. They have a lot of really good songs anyway, so I like what I hear.
Release date: Nov. 10, 2017 (Pride & Joy Music)
secretrule.it
NOVEMBER 7, 2017
BLACK ACES: Anywhere But Here - Album
Crutch rock in the same style as their fellow countrymen AC/DC, AIRBOURNE and ROSE TATTOO. A title like "Show You How To Rock n Roll" have seldom been more true. I suspect that these guys are still young, because there's lots of male energy here.
BLACK ACES formed in early 2007, but it wasn't until early 2016 that they finally released their debut album, "Shot In The Dark".
Well, this is of course damned good stuff and definitely worth checking out and all that. So just do it!
Release date: Nov. 8, 2017 (Off Yer Rocka Recordings)
NOVEMBER 6, 2017
HÜSKER DÜ: Savage Young Dü - Box Set (3CD or 4LP)
Well, I have as far as I can remember never heard this Minnesota-based punk trio before. But I have heard about them many times through the years. So it's good to finally hear what they have done and get myself an opinion about their music. And I must say that these tunes sounds pretty good actually. I like it! Everything might not be great, but most of the songs that I got sounds good.
What we have here is a box filled with as much as 69 tracks from their early days. And 47 of them are previously unreleased (why I just got 23 tracks is a mystery though). That may sound like a lot, but then most of these songs are just around 2-3 minutes (some are longer, some are shorter). After all, it's simple punk rockers and not some progressive nerds we talk about here.
Release date: Nov. 10, 2017 (Numero Group)
facebook.com/Husker-Du-33896864666
NOVEMBER 5, 2017
EGONAUT, NEKROMANT and BLIND TOOTH at Pumphuset in Borås, Sweden on November 3, 2017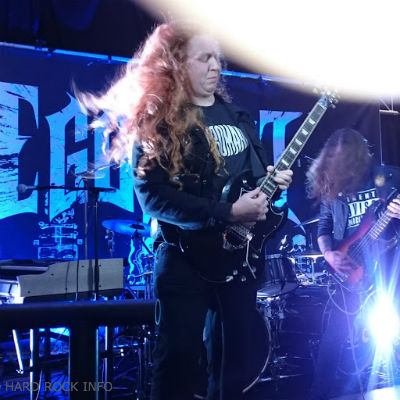 I guess that I should have taken a taxi instead of the bus. Because when I came to the city it was 26 minutes before the next bus to Pumphuset. So I went to a bar for a beer while I was waiting. And I missed that bus (of course) and had to take the next intead. So when I arrived, the first band, BLIND TOOTH, had already played, and the next band, NEKROMANT, was playing.
NEKROMANT was a very good trio who played some kind of doom/heavy metal. And they seemed to know what they was doing. I don't really know what else I can say about them, as I simply don't know anything about them. But it would be interesting to hear more from them. That's for sure.
EGONAUT is a local band who had this release party for their new album. I have seen them before and liked what I heard, so I had to check them out again of course. They play more or less the same kind of stuff as NEKROMANT: doom/heavy metal. And they are doing it very good, and they are a good live band too. I can really recomend you to check them out (they have released something like 4 albums I think).
Nice that there are more good rock shows in this city nowadays and that so much people actually are coming to the shows. It was more or less darkness for many years when it comes to that, and then you had to go to Göteborg (a hour away by bus) if you wanted to see any good rock bands. But now I can see good bands in both cities. Very good.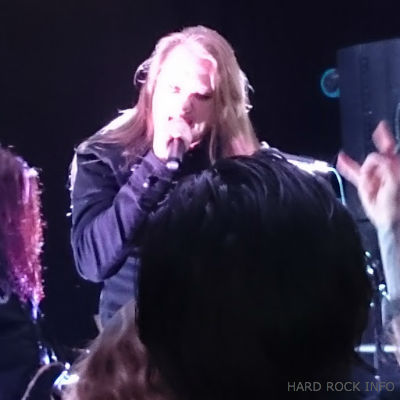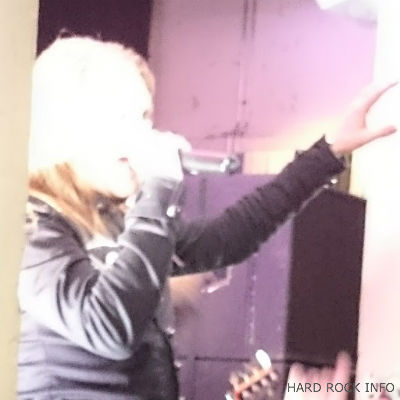 NOVEMBER 4, 2017
SKARLETT RIOT: Regenerate - Album
The next big thing? Well, who knows? Probably not though. But they are very good anyway, there's no doubt about that. So give them a try or 10. They are definitely worth it.
Their music is some kind of catchy and melodic modern metal/rock. Something for fans of bands like PARAMORE, BRING ME THE HORIZON and IN THIS MOMENT. Not any bands that I use to listen to, but maybe I should?
(Despotz Records)
facebook.com/skarlettriotuk
NOVEMBER 2, 2017
SAVAGE MESSIAH: Hands Of Fate - Album
Heavy metal band from London. They released their debut album, "Insurrection Rising" in 2009. This is their 4th full length.
It seems like this band have figured out how important it is with good melodies. It might not be any anthems, but this is pretty good stuff anyway. Their kind of heavy metal is pretty melodic, so if you like that, then this can be worth a chance.
(Century Media)
savagemessiahofficial.com
NOVEMBER 2, 2017
SADAUK: A New Dawn - Album
A very ambitious and majestic metal adventure that last for an eternity. It's described as heavy metal with epic and gothic influences as well as dark metal. They go on with a mixture of MANOWAR and DIMMU BORGIR to describe their sound. But just because it's me, I would like to have my own description. I would actually say that this sounds like a mixture of different kinds of metal. A mixture of everything mentioned above as a matter of fact. And sometimes, like in "Sailing Away" for example, it sounds like some kind of folk/Viking metal.
SADUK is a Swedish band with both male and female vocals. On this album, that last for almost an hour, we get as much as 13 tracks. A little too much for me.
It seems like all that they have released before this album is a demo, "Theatre Of War", 20 years ago.
Release date: Nov. 8, 2017 (Pure Legend Records)
facebook.com/Sadauk
NOVEMBER 2, 2017
CORPSE GARDEN: IAO 269 - Album
I guess I should have taken it as a warning sign when they wrote that they are so excited about this record, because I don't understand it at all. To me it's just a hell of noise. Which they might take as a compliment, but it's not.
This is supposed to be death metal, but to me it sounds more like a mixture of black metal and experimental noise. Too many bands in the extreme metal genre seems to think more about brutality or being atmospheric than actually making good songs that people will like. But I guess that extreme metal was never created to be something beautiful. ..and here's the result of that.
If you are looking for something extreme, then this is something for you. Otherwise I recomend you to avoid this.
The band comes from Costa Rica, and this is their 3rd album.
Release date: November 2017 (Godz Of War)
facebook.com/corpsegardencr
NOVEMBER 1, 2017
CARUBINE: Futuredream - Album
Power trio from Stockholm, Sweden who are influenced by hard rock and prog from the 70s, as well as the darkness of grunge and alternative music from the 90s. To me CARUBINE reminds of bands like PEARL JAM and SOUNDGARDEN, but with their own progressive twist. They deliver heavy riffs and hypnotizing atmospheric melodies. And these 7 songs are definitely not bad at all. I like what I hear!
This could be something for both those who like grunge as well as those who like progressive rock. Interesting combination.
Best song: "The Charm", which is as long as 10,50 minutes. But none of these songs are bad. And most of them are around 4-6 and a half minutes.
Release date: Nov. 3, 2017 (Dead End Exit Records)
carubine.com
NOVEMBER 1, 2017
F.K.Ü.: 1981 - Album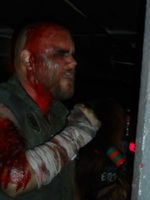 The decade of 1981-1989 delivered over 200 slasher movies. Swedish horror thrash metal band F.K.Ü. decided to pay a special tribute to the genre, and especially the year 1981, also known as the ultimate year of the slasher movie genre. In other words, the year that delivered a great deal of slashers that is considered the genres best, even today. The whole artwork for the album is made to look like an old video tape (with a horror movie of course) from that time.
The band also celebrate their 30-year anniversary this year, which is another connection to the 80s. Not that they have been active all the time, but that's just a small detail in show business.
What we have here is 15 damned good tracks, with lyrics that have the same theme as their old favorite movies. This is definitely worth checking out!: And don't miss them live if they play near you (I have seen them 3 times at least). This is 1 of the best thrash bands that we have here in Sweden.
And hey! Don't forget to rewind the tape.
Release date: Nov. 3, 2017 (Despotz Records)
moshoholics.com
NOVEMBER 1, 2017
MARBLE MAMMOTH: Glitter Amongst Gravel - Single
This band from Stockholm, Sweden walk through different genres of rock. It's energetic, riff based, dreamy and melodic psychedelia, all at once. But most of all it sounds old. People who like bands that sounds like they were from the 60s will definitely like this.
MARBLE MAMMOTH will release their self titled debut EP on November 24. I would definitely like to hear that. Because this is an interesting band.
(Birds Will Sing For You)
OCTOBER 31, 2017
MOTHER OF MILLIONS: Sigma - Album
Then it was time for another one of these bands who seems to play Sunday music. It's some kind of atmospheric and melancholy progressive rock. Not much action, but it's actually not so bad. I find it hard to believe that any metal or punk fans will like this though. But if any prog rockers read this, then this might be something for you.
MOTHER OF MILLIONS is a 5-piece band from Athens, Greece, who formed in 2008. They are for some reason described as a progressive/alternative metal band. And o.k., I can agree with progressive and alternative, but it's hardly metal.
Release date: Nov. 3, 2017 (ViciSolum Productions)
motherofmillionsband.com
OCTOBER 31, 2017
HIGH REEPER: High Reeper - Album
This is HIGH REEPER's debut album, which includes 9 really strong tracks of stoner/doom metal with a doze of good old BLACK SABBATH. But it's also recomended for fans of ORCHID, CASTLE, ST. VITUS and similar acts. Or anybody who like it heavy but catchy.
The band was formed in 2016, so it's a very young band. I look forward to hear more from this band in the future, because this was really good.
Release date: Nov. 3, 2017 (Self released)
OCTOBER 30, 2017
F.K.Ü.: Hell Night - Single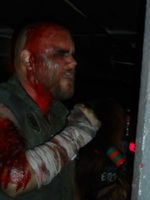 A third single from the upcoming album, "1981". Well, it's yet another little horror story that fits perfect for Halloween. A tribute to a less well-known horror movie from the 80s. A really good song of course. Don't expect anything else from these guys. This song got, just like the previous singles, a vibe of hardcore/punk.
The album will be released on Friday, November 3, and my review of that will be up soon, so I'm not going to say much more than that..
(Despotz Records)
moshoholics.com
OCTOBER 30, 2017
MERCYLESS: Coloured Funeral - Album (reissue)
Suitable band name. Because it really sounds like they show no mercy. And with "Coloured Funeral" I guess they mean that they want a blood red funeral. Right? After all, this is not life metal but death metal.
This is a re-release of their second album, which was originally released in 1993 via Century Media Records. And what they wanted to do here was to create their most brutal album, with more progressive elements and even heavier parts than before. Did they succeed? Well, it's brutal anyway, and there are some progressive parts here and there too.
Even though this album have been unavailable for decades, Century Media has never repressed the album. But now it's available again. This time both as CD and LP.
MERCYLESS released their latest album, "Pathetic Divinity", in 2016 (review here). So it seems like they are still around today.
(XenoKorp)
facebook.com/mercylesscult
OCTOBER 29, 2017
KHAZADDUM: Plagues Upon Arda - Album
From Milwaukee, U.S.A. comes this death metal band, who are inspired by J.R.R. Tolkien instead of death and putrefaction. They also incorporate symphonic orchestration to make it more epic. But it's mainly crushing death metal from the beginning to the end, so don't expect any power metal vibes here.
Well, they are not better or worse than any other death metal band according to me. Which means that you could actually give this a try. Because they are not bad.
(Black Market Metal Label)
facebook.com/Khazaddumband
OCTOBER 29, 2017
ZERO FIRE: Ghosts - Single
ZERO FIRE is a Canadian band whose music strives to combine hard hitting riffs with soaring vocal melodies, all wrapped up in a package where feel, groove and flow is paramount. Their sound reminiscent of the 90s and 2000s, yet still has a style all its own. It could be something for those who like DEFTONES, TOOL and SOUNDGARDEN for example.
This single is available now on all kinds of digital platforms, like Spotify and iTunes.
(Self released)
OCTOBER 28, 2017
XAEMORA: Pandemoniums Ocean - Album
What can I say? This album has everything that you can expect from a black metal album: A ice cold atmosphere with harsh vocals, furious riffing, explosive but precise drumming, and the most important of all, good songs with melody and not just brutal noise. Normal people would probably call this ear torture. But I'm not normal people, I'm a rocker.
XAEMORA call themselves a melodic black metal band, and I can agree on that. They formed in November 2012 in Alton, Illinois, but are nowadays based in St. Louis. It looks like this band has released a couple of EPs before, but this is their full length debut.
A band that deserve more attention.
(Black Market Metal Label)
facebook.com/Xaemora
OCTOBER 28, 2017
WARSHIP: The Second Wave - Album
Hardly the best heavy metal band on the planet. It sounds false. Rather than good as we say here in Sweden. Which means that they play and sing even though they're not so good at it. But it's better to play music than go out and kill for example. And hopefully they have fun.
It would have been interesting to hear a professional band doing these songs. But that's not going to happen I suppose.
WARSHIP is a trio from Greece who formed in 2003. They released a self titled demo in 2004, and a second demo, titled "Attack", in 2006. In 2010 it was time for their debut album, "The First Wave". "The Second Wave" was released in February 2016 (why I haven't got it until now is a good question, but it's hardly the first time I review an old album).
warship.gr
OCTOBER 28, 2017
THRONE OF HERESY: Decameron - Album
Blackened death metal from the forests of Sweden. It fits perfect to this time of the year, when it's getting darker and more boring. But I think THRONE OF HERESY sounds good no matter what season it is, because these 10 tracks are really good. And it's not just pure brutality all the way. There's also melody. And that's very important of course (especially if you want me to like it). Another good thing is that it's never chaotic. They have the perfect combination of brutality and melody that I like.
"Decameron" is another concept album about the black death in the 14th century. Not the first band who has done that, but that always work when you want scary lyrics.
Release date: Nov. 3, 2017 (The Sign Records)
throneofheresy.bandcamp.com
OCTOBER 27, 2017
SKARLETT RIOT: Warrior - Single
This song is about the singer's experience with being bullied in school.
SKARLETT RIOT is a British quartet who play modern metal/rock and try to become the next big thing. Their new album, "Regenerate", will be released this month. They are said to fit fans of bands like PARAMORE, BRING ME THE HORIZON and IN THIS MOMENT.
Well, they are actually really good, so give them a try and don't be so afraid.
(Despotz Records)
facebook.com/skarlettriotuk
OCTOBER 27, 2017
Robin Beck: Love Is Coming - Album
It might not be stone hard, but her music is at least a little harder and heavier than I expected it to be. It's pretty soft and melodic rock/AOR on the border to hard pop that we get on this record, and I think she have some good songs here, no doubt about that. But then we have that little phenomena that just because it's a woman it just have to be more than 1 slow song. And there's also a little too many songs that sounds more like pop than rock. But we all have different taste.
I wasn't really sure if I had heard anything with Robin Beck before, but then I found out that she sang the song "First Time" from a Coca-Cola commercial that aired in 1988. And everybody who lived back then must have heard that song. It was also re-recorded in the 90s and hit the top of charts again. But that's probably her only big hit (as far as I know), and this album will probably not change that.
(Frontiers Music)
robinbeckrocks.com
OCTOBER 26, 2017
REVOLUTION SAINTS: Light In The Dark - Album
An all-star trio with Deen Castronovo (JOURNEY, BAD ENGLISH), Jack Blades (NIGHT RANGER, DAMN YANKEES, SHAW/BLADES) and Doug Aldrich (BURNING RAIN, WHITESNAKE, DIO). Melodic hard rock is the music they play. And it's said to fit fans of JOURNEY, Steve Perry, NIGHT RANGER, Y&T and DAMN YANKEES. This is their second album. Their first self titled album came out in 2015. And if you liked that album, then you will like this album too. Simple as that.
(Frontiers Music)
OCTOBER 26, 2017
PHANTOM 5: Play To Win - Album
German melodic hard rock for fans of bands like SCORPIONS, JADED HEART, FAIR WARNING and BONFIRE. Their debut album was released as late as last year, and now their second album is here already. Not many bands work that hard nowadays. And it's fun to hear that they have actually menaged to do some really good songs too, and not just recorded whatever they could come up with to get a new album out. This is definitely worth checking out!
(Frontiers Music)
OCTOBER 26, 2017
PINK MASS: Necrosexual - Album
Once again a totally useless intro that last for too long (2 min.). And just if that wasn't enough torture, they just had to have a useless outro too. I get so fucking irritated!
Unfortunately it's not so fantastic between that shit either. Short grindcore songs without any deeper meaning. The only thing this shit is good for is making people psychic disturbed. But I can't really see why you should want that. They will definitely run away very fast anyway. Because violent noise ain't good for your body and soul.
No, the best part is when this ear torture is over.
Release date: Oct. 31, 2017 (Self released)
OCTOBER 26, 2017
QUEENS OF THE STONE AGE: Feet Don't Fail Me - Single
Not much to say..
Another single from their latest album, which was released a few months ago. Luckily 1 of the better songs from that record, even though it might not be excellent. But if you want a dance friendly rock song, then you can always try this one.
To read my review of the album, click here.
(Matador Records)
qotsa.com
OCTOBER 26, 2017
BURIED AND GONE: The Final Hour - Album
I didn't really know what I should think about this band the first times. But I have been giving this album some chances now, and it's actually not so bad. To me it's like the failing link between a more melodic METALLICA and VOLBEAT. Which is like a mixture of the good and the bad, as I'm not such a big fan of VOLBEAT, but I like METALLICA of course (especially the early albums). The funny thing is that the song I like best here is one that really stink like VOLBEAT, the title track.
Most songs are pretty catchy and melodic, but yet with the sound of metal.
This is the debut album from this Finnish duo, which consist of Niklas Tihinen (drums, bass, guitar, keyboard and vocals) and Markus Orava (vocals).
(Inverse Records)
facebook.com/BuriedAndGone
OCTOBER 25, 2017
BLEEDING: Elementum - Album
This band has nothing to do with a band called The BLEEDING. This is actually (believe it or not) another progressive metal band. They reminds me a little of SYSTEM OF A DOWN actually. Especially the vocal melodies. And that's a band that I really like, so I like this too of course. It doesn't look like SYSTEM OF A DOWN are going to record a new album, so this could be a pretty good substitute.
These Germans has previously released a self-titled EP by themselves in 2012, and their debut album, "Behind Transparent Walls", in 2015. This is BLEEDING's second album.
If you're looking for high quality metal, then this is the band for you my friend.
Release date: Oct. 27, 2017 (Pure Prog Records)
bleedingmusic.com
OCTOBER 25, 2017
BLACK PAISLEY: Late Bloomer - Album
Some kind of soft rock for ordinary people who listen to the shit on the radio at work all day, and go home as fast as possible to do as little as possible after work. Not much fun, but I guess that kind of people need some rock too. This is not really my cup of tea though. Not that they suck. I guess it's a little too much na-na-na and la-la-la for me (if you understand what I mean). And I expect more from a band that have a skull on the cover.
BLACK PAISLEY comes from Stockholm, Sweden. But they sound like they would have been from America. Their music is described as a combination of classic rock, AOR and modern country. And it seems like they have been working on this debut album since 2014.
I guess that people who like melodic rock and/or country rock will like this band.
Release date: Oct. 27, 2017 (Pride & Joy Music)
blackpaisley.com
OCTOBER 25, 2017
BIGFOOT: Bigfoot - Album
BIGFOOT is a hard rock band from Wigan, England. They formed in 2014, and have a few records under their belt already. Their influences are very wide, anything from The EAGLES to PANTERA actually. That might sound a little schizo, but their music is not so weird. I say like ROLLING STONES: "It's only rock n roll".
What we get is some kind of heavy, modern hard rock. At least in the first track, "Karma", which is probably the best track. It's followed by some more melodic songs that are good too. But it soon goes down, so maybe they should have done a EP with the first 3 songs and maybe 2 more instead, and thrown away the rest of the songs? I don't know.. Let's just say that even though there's some good songs, you will survive without this album.
(Frontiers Music)
bigfootband.co.uk
OCTOBER 25, 2017
NECROTTED: Worldwide Warfare - Album
German death metal band with 2 frontmen. This is their 3rd album. 10 tracks in 36,37 minutes. It's a mixture of fast, heavy and even some catchy parts. Really good stuff that you really should check out. Not much else to add.. Let the music do the talking.
Release date: Oct. 27, 2017 (Rising Nemesis Records)
facebook.com/NECROTTED
OCTOBER 24, 2017
MOTHERSLUG: The Electric Dunes Of Titan - Album
MOTHERSLUG first hit the stage in February 2012 and comes from Australia. After the release of 2 EPs, which was collected into a self titled album, it's finally time for their real debut album, "The Electric Dunes Of Titan". The music is heavy like doom and sludge, but sometimes with a psychedelic and more atmospheric twist. Simply some kind of heavy rock, which seems to be soooooo popular nowadays. But it's often very good, so I can understand that. And this band is not so bad either.
I would guess that fans of early BLACK SABBATH, KYUSS, QUEENS OF THE STONE AGE, ELECTRIC WIZARD and maybe even PINK FLOYD will like this band.
Release date: Oct. 31, 2017 (Self released)
OCTOBER 24, 2017
LICENCE: License 2 Rock - Album
Seems like these Germans want to bring back the party vibe in hard rock. It sounds like something from the 80s actually. And that's not bad stuff. But it's not always so easy to be born in the wrong century. Sure, LICENCE have many good songs here, but it has already been done much better, or in the best case just as good, back in the happy 80s. This is still worth a chance though. No doubt about that.
LICENCE was founded in May 2014, and is the brainchild of guitarist/song writer Steam Thiess.
CD release date: Oct. 27, 2017 / LP release date: Nov. 17, 2017 (Metalapolis Records)
licence-band.com
OCTOBER 24, 2017
L.A. GUNS: The Missing Peace - Album
One of my uncles gave me a cassette copy of "Cocked & Loaded" that I think he got from a friend. Could it have been in the late 80s? Anyway, I think that's all I have heard with L.A. GUNS before. And I can easily say that this album is not as dark as I think that old album is. There's more action in these songs. More party than hangover if we put it that way. And this is not bad at all. It wouldn't surprise me if this is the album the fans have been waiting for.
I guess many see L.A. GUNS as a sleaze rock/glam metal band, and sure there might be some of that. But I think they are more like GUNS N' ROSES and MÖTLEY CRÜE than POISON. A couple of tracks should please fans of AEROSMITH actually.
On this album original members Tracii Guns (guitar) and Phil Lewis (vocals) has finally reunited after almost 30 years. They are backed up by Michael Grant (guitar), Johnny Martin (bass) and Shane Fitzgibbon (drums).
Hollygood!
(Frontiers Music)
lagunsmusic.com
OCTOBER 24, 2017

The PROFESSIONALS: What In The World - Album
For those who doesn't really know their punk history, this is the band that Paul Cook and Steve Jones formed after SEX PISTOLS split up. And now the band is back with a new album. Steve Jones is no longer a member of the band, but he is among the guest artists. And when it comes to the other guests on this album, it's a whole guest list with people like Mick Jones (The CLASH), Phil Collen (DEF LEPPARD), Marco Pirroni (ADAM & THE ANTS), Chris McCormack (3 COLOURS RED), Duff McKagen (GUNS N' ROSES) and Billy Duffy (The CULT).
And before you start to yawn because you think that this will be another tired reunion album from some old farts, I can tell you that this is actually not so bad at all. As a matter of fact I think it's a damned good album that they have made. So if you like catchy punk rock, then this could be a album for you. Old fans should not be dissapointed.
Release date: Oct. 27, 2017 (Metalville)
facebook.com/theprofessionalsband
OCTOBER 23, 2017
POWERMAN 5000: New Wave - Album
This is obviously not the kind of band that wants you to easily figure out what they are doing. Because it's a wild mixture of this and that - hip hop rock, Marilyn Manson, arena rock, industrial rock etc. Well, it's a rock album anyway. Even though it's a wild mixture of different styles.
This band formed in 1992 already, and this is their 11th album. Their goal has always been to create innovative and groundbreaking releases. There are no rules for what you can or can not do. I guess they have succeeded to go their own way anyway.
Release date: Oct. 27, 2017 (Pavement Music)
OCTOBER 23, 2017
F.K.U.: Friday The 13th Part 2 - Single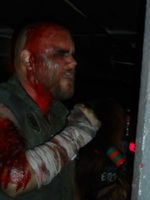 Another single from their new album, "1981", which will be released soon. And it's another thrash attack. And very punk somehow. It's a tribute to their favorite day of the year: Friday The 13th. And it's another damned good song, so I really look forward to hear the new album. Because I think it will be great. Not much else to say.. You can find this song on digital platforms like Spotify and YouTube etc.
(Despotz Records)
moshoholics.com
OCTOBER 22, 2017
DR. LIVING DEAD!: Cosmic Conqueror - Album
We have some really good thrash bands here in Sweden nowadays. Like The HAUNTED, F.K.Ü., TYRANEX and this band, DR. LIVING DEAD! Just to name a few.. So I would say that we have a pretty good thrash scene today.
The Doctor and his living dead friends have been around for 10 years now, and this is their 4th full length. They have once again succeeded to make a really good album. But that was not such a big surprise, as I didn't expect anything else. But how could you possibly go wrong when you pick your inspiration from classic bands from the happy 80s? "Cosmic Conqueror" is almost as good as any of those old bands albums.
Release date: Oct. 27, 2017 (Century Media)
deathfuckingthrash.se
OCTOBER 22, 2017
BROWN ACID: The Fifth Trip - Compilation Album
Yeah! Finally a new volume of this excellent collection of old rarities from the 60s and 70s. Fact is that the single tracks that they have included on these compilations are almost impossible to find nowadays. But then we talk about obscure underground proto metal/hard rock bands that hardly anyone have heard about. There's only 1 artist here that people might have heard of before, and that's Thor (it must be the same person as the well-known muscle man). The other artists are CAPTAIN FOAM, George Brigman, FINCH, CYBERNAUT, FARGO, MAMMOTH, FLASHER, LANCE and ZEBRA.
Well, not that much to add other than definitely worth checking out (as usual). Because this is a must!
Release date: Oct. 31, 2017 (RidingEasy Records)
OCTOBER 20, 2017
TYKETTO: Live From Milan - CD/DVD, Blu-ray
Well, are they going to start to play or are they going to fool around all day? In other words, did they really had to include that useless introduction? And then we also have the common problem too much talk. Maybe I'm too old or something, but live albums are not that cool anymore. It's not like when I was a kid. Then live albums was something really cool (and those albums are still great of course).
I'm pretty sure that I have reviewed at least 1 studio album with this band before, but I have no idea what I wrote back then. But they have a few good songs, even though everything isn't great. And if you happens to be a fan of this band, then I won't stop you from checking this out. It's probably damned good according to you.
This recording comes from their performance at Frontiers Rock Festival IV, which took place in Milan, Italy earlier this year (if I got it right). And at that show they played their entire debut album, "Don't Come Easy", from the last song to the first song of the album (funny guys).
(Frontiers Music)
tyketto.com
OCTOBER 20, 2017
TORCHIA: Of Curses And Grief - Album
TORCHIA is not better or worse than any other band in their genre, which is what I would call really hard thrash metal with a touch of melodic death metal, but I can't hear anything here that is extra good. On the other hand, nothing is extra bad either. So I guess they are one of those "middle bands" that are o.k. as background music. I wouldn't waste my last money for beer to get this album, but maybe you can stream it somewhere to see if you like it more than me.
TORCHIA was started to create a new and raw metallic union consisting of melodies, solos, high tempos and madness in a unique way. They did their first show in the end of 2011, and released their first demo, "One", in 2013. In 2015 it was time for their first EP, "Ending Beginning". And now in 2017 it's time for THORCHIA's debut album, "Of Curses And Grief".
Release date: Oct. 27, 2017 (Concorde Music Company)
torchia.fi
OCTOBER 20, 2017
STILLBORN: Nocturnals - Album
So, the Swedish band STILLBORN are back. Their debut album, "Necrospirituals", from 1989 is seen as a cult classic today. And it was probably the first gothic metal album (not that the term exited then).
Their music is some kind of dark gothic doom metal. And they have really found their own unique style. This is a album that you should give a try. Becuse it's not bad at all. There's plenty of good songs among these 10 tracks.
Bonus info: Peter Asp (drums) are also playing in BOMBUS, and is a former member of MARY BEATS JANE.
Release date: Oct. 27, 2017 (Black Lodge Records)
stillbornsweden.com
OCTOBER 20, 2017
SPARZANZA: Announcing The End - Album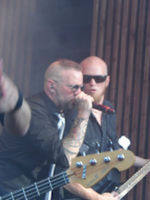 Well, it starts good, and most of these songs are hard and heavy like it should be. But I can't really get why some of the songs on this album sounds so soft and weak, almost like VOLBEAT. And in 1 song it's almost nu metal for a while. And that fucking piano in the end of the last song (couldn't they have smashed it into pieces instead? that would have been more interesting to hear). No, this is hardly the best that I have heard from SPARZANZA. But I wouldn't say that it totally sucks though. There are some good songs too.
This band have been playing together for 20 years now, and this is their 8th studio album.
(Despotz Records)
sparzanza.com
OCTOBER 20, 2017
SNOWY DUNES: Atlantis - Album
The first track is almost 11 minutes long. But then it takes 1 and a half minutes before they actually start to play. And even longer than that before they start to rock a little. But when they finally start to rock, then it's not so bad at all. Some kind of progressive rock in the old school way is what we get from this band. It's 5 pretty long pieces, between 6-11 minutes. So it's like a little adventure to listen to this record. And sometimes it's like they might have taken too much LSD or something, as it ends up in an eternal jam (or whatever I should call it). Like in the end of "Ritual" for example. But mainly it's a damned good trip that they take us on.
SNOWY DUNES comes from Stockholm, Sweden and are described as "an eclectic psychedelic riff-rock band drawing inspiration from the psychedelic vibe of 60s rock music and the gritty heaviness of stoner-rock". The band was formed in 2013, and their self titled debut album was released in 2015.
Release date: Oct. 27, 2017 (Hevisike)
OCTOBER 20, 2017
The MONS: Trust No One - Album
15 songs. But most of them are just around 1 to 1 and a half minutes, so for once it's not too much at once, as it usually can be with that many songs.
The MONS comes from Chicago, and are said to be a hardcore/punk band. But to me this is more like some kind of intense punk rock. They have 1 leg in the snotty 70s punk and 1 foot in the 80s hardcore, you could say. But no matter what you call it, it's not bad at all.
They have previously released a demo, 1 EP and 1 album. This is their second full length. Give it a try, punk.
Release date: Oct. 20, 2017 (Triple Eye Industries)
OCTOBER 19, 2017
MIDNITE CITY: Midnite City - Album
MIDNITE CITY was formed as late as in January 2017 by current TIGERTAILZ frontman Rob Wylde (ex-VEGA, Steevi Jaimz, TEENAGE CASKET COMPANY). He was soon joined by Pete Newdeck (NEWMAN, EDEN'S CURSE, BLOOD RED SAINTS) on drums, Miles Meakin on guitar and Shawn Charvette on keyboards. In June their first album was done, and now it will be released in October.
The music is melodic rock/hard rock that sounds like we were still in the 80s. And no problem with that. I like what I hear here.
This could be something for fans of BON JOVI and DEF LEPPARD.
Release date: Oct. 20, 2017 (AOR Heaven)
facebook.com/midnitecityuk
OCTOBER 19, 2017
HONEYMOON DISEASE: Part Human, Mostly Beast - Album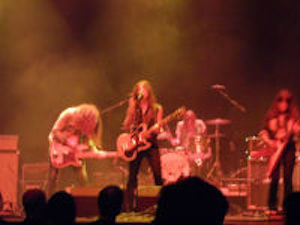 Here's a band that I have seen live like 4-5 times or something like that. So yes, I obviously like them. This is their second album, and I haven't bought their first album yet (I got 2 7" EPs though).
HONEYMOON DISEASE are a Swedish high energy rock n roll quartet. I think this could fit people who like IMPERIAL STATE ELECTRIC as well as good old rock n roll from the 50s/60s. There's even some soul here and there in these songs. And it's a really good album with 12 strong songs that they have made. But I didn't expect anything else. So I'm satisfied.
Release date: Oct. 27, 2017 (The Sign Records)
honeymoondisease.com
OCTOBER 18, 2017
HOLY TERROR: Total Terror - 5-disc Box Set
Here's another one of those 80s bands who never really made it to the top. But they succeeded to release some albums anyway. And what we have here is a box filled with all their albums - "Terror And Submission" (1987), "Mind Wars" (1988), "El Revengo" (2006) and the live album "Live Terror" (2006) - plus a live DVD with recordings from Milwaukee, Chicago and Anaheim.
HOLY TERROR comes from California and played mainly thrash/speed metal. But there's also some good old heavy metal here. Pretty good stuff that you really should give a try. All these albums are great (as usual I didn't get the DVD, but no problem).
My favorite songs must be "Christian Resistance" and "No Resurrection".
Release date: Oct. 27, 2017 (Dissonance Productions)
OCTOBER 18, 2017
HOLLYWOOD UNDEAD: Five - Album
This sounds more like hip hop than rock. And I don't really like that ghetto shit. Rap is like listening to a stupid ass hole with mouth diarrhoea. It's so embarrasing to listen to this crap that I have to lower the volume so that nobody else can hear it. And I can't really get why somebody think it's a good idea to send this to me. Maybe you want me to be really angry at you&63; What do I know? People are strange nowadays.
But o.k., some tracks could probably, but just probably, be called nu metal. I can count those songs on 1 hand though, and it hardly makes this album any better.
And just like it wasn't bad enough, they just have to torture me with as much as 14 tracks of this shit. No way! Never again!
Release date: Oct. 27, 2017 (Dove & Grenade Media/BMG)
hollywoodundead.com
OCTOBER 18, 2017
HERETIC: A Game You Cannot Win - Album
HERETIC was born in the early 80s in Southern California, and they play power/thrash metal. They released 2 albums and a EP back in the 80s before they split up because their singer joined METAL CHURCH. But then they took METAL CHURCH's former singer and formed REVEREND instead. More than 20 years later they were back again, and this is their first studio album in 5 years.
It's almost more power and heavy metal than thrash metal. And I don't really know why they had to include both a intro and a outro. But it's pretty good stuff that could be worth a try anyway.
Release date: Oct. 27, 2017 (Dissonance Productions)
OCTOBER 18, 2017
MEFISTO: Mefisto - Album
Is the sound really going to be that low? When are the song going to start? Are they going to play something good at all? Many questions.. It seems like these guys can play at least, so why they have a singer who sounds like somebody that they just have let out from the madhouse is another good question. But I guess it's supposed to be that way. After all, it's hardly any sweet love songs that we get here.
I didn't like their last album, "2.0.1.6", but I'm man enough to admit that this album is much better than that shit. And a song like "Let Go Of Life" is actually not so bad. But then it's LG Petrow from ENTOMBED A.D. who take care of the vocals in that song. Another song that I like is "In Morte Victoria". Both these songs are a little heavier than the rest.
I guess you already know how the story goes, that MEFISTO was 1 of the first extreme metal bands here in Sweden (formed in 1984), and that it didn't last for too long (split up in 1987). During the years they became a cult band in the metal underground, and a couple of years ago they decided to reunite. This is their second album. Nowadays they are a duo with original member Robban Granath and new member Morgan Myrhberg.
(GMR Music)
mefisto.se
OCTOBER 17, 2017
Madame Mayhem: Ready For Me - Album
If I'm not totally wrong, I wasn't so impressed of her last album. This seems to work better though for some reason. But that doesn't mean that this is a masterpiece.
The music is modern hard rock with pop melodies. So I guess it's o.k. to call this hard pop. Hardly the hardest stuff anyway. Even though the guitars are heavy, the vocals are melodic and full of emotions.
There are a few songs that are a little better among these 13 tracks. Like "Stand Up" for example. But I don't really get why there have to be as much as 3 slow songs (wouldn't surprise me if I complained about that last time too).
Among the band members on this album are Corey Lowery (SAINT ASONIA), Clint Lowrey (SEVENDUST) and Troy McLawhorn (EVANESCENCE). Why she have 2 drummers (Ryan Bennett and Bevan Davies) is a mystery though.
Release date: Oct. 20, 2017 (Metalville)
madamemayhem.com
OCTOBER 17, 2017
ICE AGE: Breaking The Ice - Album
Here's a band that most people in the metal community probably have heard of. But how many have actually heard them before? I don't think that I have anyway. Well, now it's time to change that..
But let's take it from the beginning, in case you don't know the story behind this band. ICE AGE are probably most well-known for being 1 of the first Swedish thrash metal bands. And just if that wasn't enough, they were all women. Which also was unusual back in the 80s.
The band was formed in Göteborg (aka Gothenburg), Sweden in January 1985. And in the beginning they were more of a power metal band, but after their first demo, "Rock Solid", they became more raw, and more like a thrash band. They released some more demos, which sold in thousand of copies, and they became pretty poular. But due to problems with their manager at the time, they unfortunately split up in 1990.
In 2014 they were back again. And in January 2015 ICE AGE entered the stage for the first time in 25 years at the Gothenburg Sound festival. And now their debut album is finally here with 5 re-recorded demo classics and 5 brand new songs. The linup includes old members Sabrina Kihlstrand and Vicki Larsson, plus the new members Linnea Landstedt (TYRANEX) and André Holmqvist (MANIMAL, the first male member). The music is thrash/heavy metal, and I think it sounds really good. For some reason the singer sounds very familiar, but I can't really figure out why.
Best track: "General Alert".
Release date: Oct. 21, 2017 (GMR Music)
OCTOBER 16, 2017
FIRE RED EMPRESS: Black Morphine - Album
FIRE RED EMPRESS was formed in 2014 by members of some bands from both UK and France, and now their debut album is here. Stoner rock riffs are mixed with modern melodic hard rock and metal. The female singer is both singing and screaming. She is really giving it all she can. This reminds me of a other good band called KOBRA AND THE LOTUS.
Well, this is definitely something that you should try. They have many good songs on this album. No doubt about that.
Release date: Oct. 20, 2017 (Polarian Records)
OCTOBER 16, 2017
NEURONSPOILER: Second Sight - Album
Damned good heavy metal in the classic/traditional way, with a singer that is just as good as any of the better (and more well-known) from the 70s/80s. This band really know how to deliver a good heavy metal song. This album is just as good as any of your favorite albums from the 80s.
I know that you probably don't believe me. But give this a try and you will scream for more.
The band comes from London, UK. This is their first album since 2013.
Release date: Oct. 20, 2017 (Dissonance Productions)
OCTOBER 15, 2017
DEADFREIGHT OF SOUL: Tortured Puppets - Album
This band has been around for 10 years already, but this is actually their first full length. They have just released a couple of EPs before. The music is death metal. They have both heavier and faster songs. And it's not bad at all. This could be worth checking out actually.
I don't really know what else to say about this..
Release date: Oct. 20, 2017 (Kernkraftritter Records)
OCTOBER 15, 2017
CODE RED: Incendiary - Album
Really melodic rock/AOR. And I guess that everybody who like that will fall in love with this band. Because they have plenty of good material on this album.
Swedish singer Ulrick Lönnqvist has mainly been working as song writer for different artists during the last years, and it was never his ambiton to become a solo artist. But producer Daniel Flores succeeded to convince him that it was a very good idea. So Ulrick teamed up with co-writers Morgan Jensen (SWEDISH EROTICA) and Michael Palace (PALACE, BIG TIME). And along with lead guitarist Oscar Bromvall (PALACE, Erika) and keyboard player Kaspar Dahlqvist (SHADOWQUEST, DIONYSUS) the line-up was complete, and CODE RED was born.
Now their debut album is here, which consist of 10 really strong songs.
Release date: Oct. 20, 2017 (AOR Heaven)
OCTOBER 15, 2017
CHELSEA: Mission Impossible - Album
Well, just because they have not released a new record for a while doesn't give them the right to include as much as 15 tracks. It's just stupid. 10 is the magic number. Didn't you know that? Well, now you know.
This sounds just like time would have stood still since the late 70s. In other words good old punk rock with catchy melodies. And I thank them for that. Because who wants another lazy old-man rock album from an old punk band? Most of these songs are really good stuff actually, so this is absolutely worth a chance (or 5) of course.
This is actually their 11th studio album. Their last album, "Saturday Night Sunday Morning", came out in 2014 (also a really good album), and was their first album in 10 years. Well, let's be glad that it didn't take another 10 years before this album came out.
Release date: Oct. 20, 2017 (Westworld Recordings)
OCTOBER 14, 2017
DEPARTMENT S: 45 Revolutions, Singles 1980-2017 - Album
Well, the title says exactly what this is, so let's talk about the music. It's some kind of alternative rock or post-punk/new wave. It could be something for fans of The STRANGLERS and The DAMNED I think. Pretty good stuff in other words. But it's not like I need 3 different versions of "Is Vic There" and 2 versions of "I Believe". Especially not when some of those extra verisons are electronic remixes. I hate that useless shit. But on the other hand, nobody force me to listen to it.
I like most of these songs though. Some of my favorites must be "On My Own Again" and "When All Is Said And All Is Done".
Release date: Oct. 20, 2017 (Westworld Recordings)
OCTOBER 14, 2017
ARCHONS: Lords Of Light And Thunder - Album
"Sludgy space metal" is what they call this band's music. ARCHONS is a trio from San Diego, who have existed since 2003. They released their debut album, "Punish The Stars", in 2009. "Lords Of Light And Thunder" is their second album, so they doesn't really seems to be in a hurry when it comes to releasing new music on a regular basis.
As you probably have figured out, this is a band in the heavier league. But space metal? I don't know.. It's definitely sludge metal anyway. And I guess they're not so bad now that I have heard this album several times.
Release date: Oct. 20, 2017 (Self released)
OCTOBER 13, 2017
AFFLIKTOR: Affliktor - Album
A new black/thrash metal band with American guitarist Toby Knapp (ex-GODLESS RISING, WAXEN, WHERE EVIL FOLLOWS) as the only member. And he has been involved with the extreme metal scene since the early 90s. The music is raw and dark, just as it's supposed to be in this genre, but the odd thing with this band is all the metal guitar riffs and solos. It works though, so don't you worry about that. It's still very evil stuff (if you must know that), so it can obviously be worth checking out.
Release date: Oct. 20, 2017 (Transcending Obscurity Records)
affliktor.bandcamp.com
OCTOBER 13, 2017
BLOOD REGION: The Veteran - Single
"The Veteran is a song about reflections of war, on individual and collective levels. Inspired by documentaries and stories of people who had to face the horrors. It's also a song about the legacy of veterans, those who were sent to the frontlines, those who never came back and those who returned traumatized and struggling through life with the experiences they had in the battlefields. The meaning behind this song is not glorify war in any sense, more likely to wake people think, remember the roots in some level. Its concept is also based on theme of Finland reaching 100 years as a nation and its history, and therefore a tribute to veterans", says the drummer Sami Vertanen about this song.
Their music is some kind of symphonic extreme metal. Pretty hard and heavy stuff. And it's actually not so bad at all. Could be worth checking out. That's all I have to say..
(Inverse Records)
facebook.com/bloodregion
OCTOBER 12, 2017
FM2000: Hubba Bubba Rehab - Album
I don't know that many words in Finnish (mainly the bad words), and can hardly have a conversation in that language, so I don't have a clue what they are singing about. But Finnish people use to be funny sometimes, so it wouldn't surprise me if this band have very funny lyrics. They are at least said to be a cult band in their home country, and the main theme on this album is said to be feminity.
The music is some kind of alternative metal and rock. Sometimes with a touch of heavier punk. And I don't really know how else I should describe them. I guess you have to hear them for yourself to figure out what you think about them. I think they have some good songs here anyway - like "Kraka" and "Saona" (which reminds me a little of our local dirt punk veterans VRÄVARNA) for example. But I get tired of listening to this after a few listenings. Probably becuse everything isn't so good. There are a few weaker tracks (but that's hardly anything unusual, so don't cry for that).
Release date: Oct. 13, 2017 (Inverse Records)
fm2000.org
OCTOBER 12, 2017
WILD WITCH: The Offering - Album
True classic heavy metal like it sounded back in the 80s. Most of these songs are really good, but my favorites must be "Diabolic Jaws" and "Blades Of Pain".
Yes, this band takes their influences from good old heavy metal, speed metal and hard rock acts like JUDAS PRIEST, SAXON, MOTÖRHEAD, ANGEL WITCH, ACCEPT, IRON MAIDEN, THIN LIZZY, TOKYO BLADE and even VENOM. That doesn't really mean that they sound exactly like any of those bands. But it's something similar. Maybe more like a mixture of the best parts from those bands.
The band was founded in 2011 and comes from Brazil. They released a EP, "Burning Chains", in 2012, which was re-released as a cassette in 2013. "The Offering" is their debut album.
(Arthorium Records)
OCTOBER 12, 2017
TYMO: Purge & Reset - Album
Much stuff from Canada lately. Here's a thrash band from Edmonton, who blend good old 80s thrash with a modern touch. But when I hear the instrumental tune, "Flames To Frost", I think of early IRON MAIDEN (the 2 first albums). Good stuff anyway. There's no doubt about that. Maybe not a masterpiece, but still worth checking out anyway.
Their debut album, "The Lone Wolf", was released in 2015, and "Purge & Reset" is their second album.
tymo.ca
OCTOBER 12, 2017
HIVE: Fights The Reds - Album or Demo?
Now I'm getting a little confused here. Is there 2 bands called HIVE? Because I reviewed a band from Minneapolis in May, and this band comes from Canada. The band from Minneapolis play 90s crust/hardcore, and this band is said to play sludge. And then we also have the world famous Swedish garage rockers The HIVES. Well, it's hardly the first or the last time that there's a band with the same name as a other band.
So, what about the music then? Are they any good at all&63; Well, I would say that this is actually not so bad. I think it sounds more like old-school hardcore/punk than sludge though. Even though some songs might be more like sludge. I guess it's a mixture of both then.
These 8 songs are over pretty fast as most of them are between approximately 1 and a half to 3 minutes (1 song is 5,36 minutes though). The sound quality is not the best as it sounds like an old demo tape, but I have heard a lot worse.
The band is currently looking for a record label who wants to release this and upcoming recordings. Maybe they should look for a new name of the band too?
(Self released)
hivecigaretarian.bandcamp.com
OCTOBER 11, 2017
LiV SiN: King Of The Damned - Single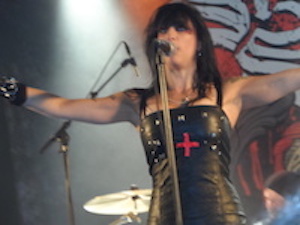 Animal liberation! As Swedish hardcore/punk legends MOB 47 sang in the 80s (among many other songs about animals rights). And now it seems like the metal community has finally woke up and figured out that this is something important to sing about. Because this is exactly what this song is about. A call to the public to do something about the extermination of animals and nature. And all money they get from their Bandcamp page are actually going to the Swedish animals right organization Djurens R&aunml;tt.
And now that you know that you probably want to know if the song is any good or not. Well, what do you think? Her debut album, "Follow Me", which was released earlier this year, was damned good. And if this is a taste of what to come in the future, then I won't worry anyway.
(Despotz Records)
facebook.com/livsinmusic
OCTOBER 11, 2017
A DEVIL'S DIN: One Hallucination Under God - Album
To just call this rock won't give you the whole picture of this Montreal trio. What they paint is a landscape of 60s rock, progressive rock and psychedelic rock. There might also have been some illegal substance involved while they got inspiration from artists like The BEATLES, Syd Barret-era PINK FLOYD, early BLACK SABBATH and The BYRDS.
I like what I hear and think that all retro rockers should give this band a chance. It seems like it's just availabale digitally though, which is a shame. Stuff like this should be on vinyl!
This is their 3rd album. They have previously released "One Day All This Will Be Yours" in 2011 and "Skylight" in 2016.
adevilsdin.com
OCTOBER 10, 2017
DEXTRESS: Dextress - Album
Typical 80s hard rock with a singer that try to sound like Vince Neil and Sebastian Bach. The chorus in the first song consist of 1 line that is repeated a million times. But the rest of the songs is much better. I guess we can call this sleaze/hard rock, and it could actually be worth a try, because they have many good songs among these 10 tracks. If you're a fan of 80s bands like VAN HALEN, GUNS N' ROSES and MÖTLEY CRÜE, then this is a band for you.
DEXTRESS comes from Calgary, Canada, and this is their debut album (they started in 2011 already though). I look forward to hear some more from them in a near future.
dextressband.com
OCTOBER 10, 2017
DOM ZLY: Dom Zly - EP
They start with 20 seconds of some totally useless crap (just some talking in a language I don't understand) that shouldn't even have been included here. And they end the whole thing with a song that is 8 minutes. But between that we get some songs with more normal length (2,23-5,28 minutes).
Their hardcore/crustcore is very dark and heavy. Not the way that I'm used to when it comes to eastern European hardcore bands. But it's other times now. Obviously. It actually reminds me a little of AMEBIX somehow. So I guess that fans of that band should give this a try.
This band is just about a year old, and they are from Poland. Not so hard to figure out that this is their debut then I guess?
Release Date: Oct. 13, 2017 (Unquiet Records)
facebook.com/domzlydom
OCTOBER 10, 2017
GREY WOLF: The Beginning - Album
Compilation with as much as 22 tracks of demo and live recordings, plus 2 previously unreleased tracks. Unfortunately they doesn't seems to have done that much to make the sound quality better (even if they say that this material have been remastered and so on). They say that the live tracks are actually recorded with a smartphone.
Their music is some kind of epic war heavy metal that sounds like a cheap copy of early MANOWAR. So I guess that they are GREY WOLF's big idols. The singer in this band is far away from as good as Eric Adams though, but he's o.k. with the limited voice that he got. I find it hard to believe that anybody will listen to this more than just a few times though.
The story of the GREY WOLF begins in the year 2012 somewhere in Brazil. They released as much as 6 demo recordings between 2012-2013 (but then there can't have been more than 2-4 songs per demo), and have released 3 full length albums between 2014-2016. So they seems to be a hard working band.
(Arthorium Records)
OCTOBER 9, 2017
FOZZY: Judas - Album
I don't really know, but this is another one of these modern metal rock bands. It doesn't suck completely, but I'm not impressed either. Maybe if it would have been a EP with 3-4 songs. But a whole album? No..
But o.k., I can admit that this album grow a little the more I listen to it, but it hardly makes it a masterpiece. I don't like the nu metal song "Three Days In Jail", but "Drinkin With Jesus" and a couple of more songs are pretty good.
This band released their first self titled album in 2000, so they are hardly a new band. They have released several albums since then. And the biggest succees so far is "Do You Wanna Start A War" from 2014 (#54 on the Billboard 200).
European release date: Oct. 13, 2017 (Century Media)
fozzyrock.com
OCTOBER 9, 2017
HÄLLAS: Excerpts From The Future Past - Album
What we have here is probably best described as some kind of progressive 70s hard rock/heavy metal. The titles are all in English, but the funny thing is that the first times I heard this it didn't sound like he sang in English at all. Which was a little weird.
Now I have been listening to this album so many times that I got used to his voice, so it doesn't really sound that weird anymore. And the music was good already the first times I heard them, so no problem there anyway.
HÄLLAS are from Sweden, and this is their debut album. I think that fans of bands like URIAH HEEP would like this. Not that it's exactly like them, but something similar at least, even though HÄLLAS tend to be more psychedelic sometimes.
Release date: Oct. 13, 2017 (The Sign Records)
OCTOBER 8, 2017
ODRADEK ROOM: A Man Of Slit - Album
Looks like we have some progressive Sunday sailors here again. Some kind of atmospheric metal for the 7 seas, even though there's some harsh outbursts here and there. They call it Prog Doom (for some reason). The band comes from Ukraine, and this is their second full length.
8 songs is what we get here, and I guess it's o.k. It's far away from the worst I have heared anyway.
Release date: Oct. 12, 2017 (Hypnotic Dirge Records/Solitude Productions)
OCTOBER 8, 2017
R.I.P.: Street Reaper - Album
Isn't there already a heavy metal band named R.I.P.? What this band play is what they call street doom. I think they prove how thin the line between doom and stoner can be. Because to me this could just as well be called stoner rock. But anyway..
This band try hard to be as cool and heavy as all their idols. And they are probably as stoned as them too. They might not be the most exiting band on the planet, but they are definitely not bad either. So I guess they are 1 of these bands who are just o.k., and no more no less. That should not stop you from giving them a try though.
Release date: Oct. 13, 2017 (RidingEasy Records)
OCTOBER 8, 2017
TERRA INCOGNITA: Sign With Blood - EP
4 damned good heavy metal songs is what we get from this New York band. This is definitely something that you should check out! There's no doubt at all about that. And my favorite must be the second track, which I think is "Congueror" (it just says "Track 2" in my playlist).
This band doesn't just play the traditional kind of heavy metal, but blend different subgenres. So there's variation between these songs, but not so much that it sounds like a totally different band.
This group was born in 2010. But it just last for a few years before they went into a 2-year hiatus. They succeeded to release a album during those years though. In 2015 they were back again, and they are currently working on their second album, "Fragments of a Ruined Mind". "Sign With Blood" was recorded in 2016.
terraincwgnita.com
OCTOBER 8, 2017
TWINGIANT: Blood Feud - Album
TWINGIANT continue to play loud and heavy on their 3rd full length album. And as you probably can figure out for yourself, we talk about heavier metal with influences from stoner, sludge and doom. But it's not just shit heavy and boring or a hell of a noise. No, this is actually pretty catchy stuff. So I really like what I hear.
I actually reviewed this band in January (a split cassette with INTO THE STORM), but I didn't have that much to say then. It was just 2 songs from each band, and I didn't think it was something that you must have. This album is definitely more interesting though, so it could absolutely be worth a chance (or 6).
Release date: Oct. 13, 2017 (Argonauta Records)
twingiant.com
OCTOBER 8, 2017
V1: Armageddon, End Of The Beginning - Album
This band was actually formed for the first time in 1978 already by former IRON MAIDEN members Dennis Willcock (vocals) and Terry Wapram (guitar). After almost 40 years they have decided to come back with a new lineup, and finally release a album.
This album consist of new recordings of old material, which most people probably never have heard. And the music is a mixture of 70s/80s hard rock and heavy metal, which all fans of NWOBHM probably will like.
I think most of these 12 tracks are good. It's not like IRON MAIDEN, because this band did their own thing. But it can still be worth checking out.
Release date: Oct. 13, 2017 (Frog Juice Production)
OCTOBER 8, 2017
Page 5
Next page