REVIEWS OCTOBER 2022
«
SEPTEMBER
|
INDEX
|
NOVEMBER
»
Tolv Tum Punk Vol 1
GrönPeppar Records - LP, Digital
This is a brilliant way to release 4 EPs at once. And releasing 1 12" LP instead of 4 7" EPs is also much cheaper of course. So what we have here is 15 songs with 4 Swedish punk bands: KARDBORREBANDET, MÄHÄLIUM, The RECKLESS STATE and LEFT HAND BLACK. And these bands are all different from each other.
KARDBORREBANDET is first out with 3 tracks. And the weird thing is that all 3 are taken from their album, "Helt Inkompetent" (released in April 2022). Why do they release the same songs on 2 different records? Anyway, this band play a melodic kind of punk, and all lyrics are in Swedish. Really good stuff, but maybe they should have shorter songs.
MÄHÄLIUM also deliver old songs. But I think these 5 songs was only released on cassette (possibly digital too') with a few more songs. Anyway.. I have been writing about them before, and these songs are raw and angry punk in Swedish, but as usual it's also melodic. I really like it.
On the other side of this record it's English instead of Swedish.
The RECKLESS STATE was a new band to me. Some kind of melodic skate punk or something like that. Catchy without making me want to dance (not that I use to dance, but anyway). So o.k., but not much else. 4 songs.
LEFT HAND BLACK is the last band here. They give us 3 songs of horror punk, but with elements of 50s rock n roll (at least in the first track), and it's really catchy. I like this a lot! Now I want to hear some more with this band.
gronpepparrecords.bandcamp.com/album/tolv-tum-punk-vol-1
VOIVOD: Ultraman - EP
Century Media on Nov. 4 - 12" EP, Digital EP
O.k., haha.. This was funny. The first song is in Japanese and French, and is actually a trilogy, which ends with the same song in English. That song is a little strange, and sounds like something for children. It's catchy though, no doubt about that.
The "Ultraman" trilogy was recorded during the "Synchro Anarchy" album sessions, and is a tribute to the "Ultraman" TV series theme. On the vinyl edition you will get these 3 short songs 3 times in different versions.
They end this EP with 2 previously unreleased live tracks from 2018, so there's at least something that sounds familiar to the fans of these Canadian prog sci-fi metal pioneers. And that sounds better to me than the "Ultraman" theme.
voivod.com | centurymedia.com
A-BOMBS: And Just Constantly Rotating (reissue)
Beluga Records on Nov. 4 - LP
This reminds me of the late 90s, when action rock was very popular. The most famous bands here in Scandinavia was The HELLACOPTERS and BACKYARD BABIES from Sweden, and TURBONEGRO and GLUECIFER from Norway. But there were lots of these bands, especially here in Sweden, during the late 90s and early 2000s. And 1 of all these bands were A-BOMBS from Stockholm. They were active between 1995 to 2000.
This album was originally released in 1998, but only on CD. And it's not until now that somebody got the idea that it should be available on vinyl as well. And that was not such a bad idea, as I really like action rock (I was very into that for a while) and had actually not heard this album before. And this also sounds really good. So if you want a journey back to the late 90s, then this is exactly what you need.
belugarecords.com | facebook.com/weareabombs
IRON KINGDOM: The Blood Of Creation
Iron Kingdom on Nov. 4 - LP, Cassette, CD, Digital
IRON KINGDOM is a Canadian heavy metal band in the good old tradition, and this is their fifth release. They are aiming at the classic sound from the 70s and 80s, so if you want something modern then you have nothing to pick up here. The lyrics speak of war, fear, sacrifice and pain. Luckily the music is not that dark though, but rather very uplifting and pleasant, as it's a more melodic kind of heavy metal that we get from this band, even though there's some more powerful tracks too. They might not have any masterpiece on this album, but I like what I hear.
The band formed in June 2011, and are inspired by legends like IRON MAIDEN, JUDAS PRIEST, SCORPIONS and RUSH.
iron-kingdom.com
HELLSINGLAND UNDERGROUND: Endless Optimism
Wild Kingdom on Nov. 4 - LP, CD, Digital
It's many years now since I heard this Swedish band for the first time. Then it was more like laidback Americana/retro rock that they played. This album on the other hand is rocking more than ever before, but with soul. They still have a old school sound though. It's more 60s and 70s than the 2020s. It might not be the most energetic rock music that you can get, but I really like what I hear here. This is simply a great album.
HELLSINGLAND UNDERGROUND have existed for 16 years now. This time they wanted "to make the best true and rowdy in-your-face rock album we could possibly make". I actually think that they have succeeded. Of the albums that I have heard with them, this must be my favorite.
facebook.com/hellsinglandunderground | wildkingdom.se
GRIFT: Vilsna Andars Utmark
Nordvis Produktion on Nov. 4 - 7" EP
Soft and laidback folk "rock" is what we get from this Swedish 1-man band. These 2 songs are acoustic pieces without much energy. But if you like it slow, then you can always try this. I can easily survive without this, even though it's not totally useless.
GRIFT were one of the first bands to get signed to Swedish label Nordvis. They have since then released several records with GRIFT.
nordvis.com | facebook.com/Griftofficial
VEIL OF THE SERPENT: Gallery Of Sin
Veil Of The Serpent on Oct. 31 - Digital EP
In time for Halloween, father and son band VEIL OF THE SERPENT will release a concept EP, featuring a frightening horror story. They call these 3 tracks "pure guitar-driven heavy metal", and the goal of the band is to forge dark melodies, gripping rhythms and powerful vocals into one sound.
Well, heavy metal it is, but not like the classic stuff. This is on a higher level or something. It's almost like I want to call it progressive metal actually. I don't really know how to describe this better than that, so I think you should listen for yourself.
veiloftheserpent.bandcamp.com/album/gallery-of-sin
The SOLAR LODGE: Elden
Beat Butchers - Digital Single
Swedish dark rock band The SOLAR LODGE was active from the late 80s. But after the album "Fast Money Music" in 1996 it became silent, and it didn't look like there was going to be another record. But now they have been to the studio and recorded 2 new songs, and "Elden" is the first of them to be released.
The music is dark and heavy, yet melodic. And a odd thing with this song is that it's in Swedish, and not in English as they used to sing in. I really like this song though. It has something special, but I can't really put my finger on what. But I would guess that it has something to do with pulse and atmosphere.
Something for fans of gothic dark rock.
beatbutchers.se | facebook.com/thesolarlodgesthlm
STREETLORE: Crossroad
Art Of Melody Music/Burning Minds Music Group - Digital Single
This is the second single from STEETLORE's upcoming album, which will be released on November 25. And this song features a guest apperance from Terry Brock (STRANGEWAYS), which is just 1 of 12 vocalists on the album.
If you like softer melodic rock/AOR, then this could be something for you. To me it's just a o.k. song, that sounds just like a thousand other in this genre. But if that's not a problem for you, then go ahead and give it a try.
youtu.be/5dsvsGFqbM8 | facebook.com/StreetLoreOfficial | burningmindsgroup.com/art-of-melody-music
SEVERED ANGEL: Run And Hyde / Bump In The Night
Severed Angel - Digital Singles
O.k. Now I didn't succeed to review one single before the next one came. So let's write about both then..
SEVERED ANGEL is a Northeastern U.S. melodic metal band, and "Run And Hyde" "provides a horror-themed lyrical landscape exploiting the "Jekyll and Hyde" story while showcasing goth, new wave, pop, and progressive metal influences", they say. It sounds like a heavy melodic metal song to me though, and it's not so bad. But not a masterpiece either to be honest.
"Bump In The Night" is a Halloween inspired song. And their recipe for this song is: "Take one part MOTÖRHEAD, one part MISFITS, a dash of tongue-in-cheek (figuratively speaking, of course) horror, 5 servings of Northeastern US melodic metal-style musicianship, and a pinch of Halloween". A very energetic and uptempo heavy metal song, no matter how they describe it. It has punk energy and much keyboards. I like this much better than "Run And Hyde".
facebook.com/SeveredAngelBand
WILDNESS: Resurrection
Frontiers Music Srl - CD, LP, Digital
Swedish band WILDNESS are not exactly that wild, as they play melodic rock. Which they have done since 2014. Their songs have 1 foot in the 80s and the other in the present. And as far as I can hear they are doing a good job on this album. They are definitely not doing anything wrong at all. So this is something that you have to check out of course.
The album also features guest appearances from vocalists Danny Rexon (CRAZY LIXX), Hank Erix (HOUSTON), Ludvig Turner (REACH), and Dani Hart on backing vocals.
frontiers.it | facebook.com/wildnessofficial
PERFECT PLAN: Brace For Impact
Frontiers Music Srl - CD, 2LP, Digital
"Brace For Impact" is the third album from this Swedish melodic hard rock band. And I guess that if you liked their 2 first albums, then you will most likely like this one too. They are hardly here to reinvent the genre, but on the other hand they don't think too much either, but just create. The result is a safe album, but just as good as any other album in this genre (and then I compare with present albums and not the old classics).
In their best moments they reminds me a little of EUROPE actually. Yes, fans of melodic hard rock should not be dissapointed when they hear this.
frontiers.it | perfectplan.se
Orianthi: Rock Candy
Frontiers Music Srl - CD, LP, Digital
Orianthi's music is a mixture of heavier rock and pop. Unfortunately too much pop for my taste on this album. Which is a dissapointment. I expected some more hard rock. But regardless of what I think, it cannot be denied that she is a talented guitarist and singer.
Everything is not totally hopeless though. After listening a few times I can say that a song like "Light It Up" is not so bad. Probably because it's uptempo and rocking, and free from pop. There's a few more songs that are o.k., but that pop is still destroying the experience.
Joining Orianthi on this release is Jacob Bunton (Steven Adler, Mariah Carey, Steven Tyler, Smokey Robinson, AKON, POP EVIL, etc etc), who produced the album. Additionally, he provides guitar, bass, keyboard, piano, and violin playing through the course of the album. Drummer Kyle Cunningham rounds out the line-up for "Rock Candy".
frontiers.it | iamorianthi.com
KILLER KINGS: Burn For Love
Frontiers Music Srl - CD, Digital
KILLER KINGS is a musical alliance between singer Gregory Lynn Hall (ex-101 SOUTH) and guitarist Tristan Avakian (ex-RED DAWN, QUEEN EXTRAVAGANZA), and this is their debut album. As so many times before, the idea to bringing these guys together came from Frontiers Records President Serafino Perugino, which is responsible for several other collaborations on the label.
Their past in AOR and melodic hard rock shining through here, even though they add a new twist to it. I would say that this is a mix of both those genres. It sounds o.k. to me anyway, even though it's not like I can hear anything that is extra good here. And when it's like that, I don't have much else to say..
frontiers.it
OFFICER X: Hell Is Coming
Officer X - CD, Cassette, Digital
OFFICER X is an American band, and "Hell Is Coming" is their debut album. Their music is traditional heavy metal with that timeless sound that most of us really like. And they have many good songs among these 8 tracks, so you should really give them a try. And especially if you're into NWOBHM and old US metal.
As this is just the beginning of this band, there's not that much else to tell right now. But I wish them good luck. They really deserve it.
officerxmusic.com
TITAN'S WRATH: Will Of The Beast
Titan's Wrath - Digital Single
L.A. heavy metal band TITAN'S WRATH will release their second EP, "Will Of The Beast", on December 9. And the title track is now available as a single from the EP.
This sounds like traditional American heavy metal of the more powerful kind, and it's not bad at all. But sure, I have heard better. But also a lot worse. It's not the easiest song that they have choosen as a single, so you might have to listen a few times.
facebook.com/TitansWrathmetal
SPOILER NYC: Banned In 38 States
Brookvale Records - Digital Album, (LP on Halloween)
From Hell's Kitchen, New York, comes the punk rockers SPOILER NYC. Which is a trio featuring LIFE OF AGONY's Alan Robert on lead vocals and bass, Chris "Junkyard" Selletti on guitar, and Tommy "The Kid" Clayton on drums. They play a raw and dirty kind of punk, and it sounds old school and very good to my ears. So you should absolutely check them out.
Their new album, "Banned In 38 States", will be released on LP this Halloween, but is already out on digital platforms (Spotify at least). It includes 2 new tracks and 12 remastered songs from their debut album, "Grease Fire in Hell's Kitchen" (2007). And I suppose that the 2 tracks I got here is the new songs then?
youtu.be/UOLtTO8EQD8 | youtu.be/7G1hxEeyeKc | brookvalerecords.com | spoilernyc.com
HION MARTELL: Mystery Novel
Viskningar och Vrål - Digital Single
Swedish rock n roll band HION MARTELL return with a new single. This song have a soft verse, but the chorus is a little more uptempo. Maybe not a song made for being a single, as it's a little odd somehow, but I guess it works after a few listenings. They have made much stronger songs though.
The inspiration for the lyrics of this song comes from old Agatha Christie detective stories and similar stuff. "The often unexpected twists and turns of the genre are also reflected in the song's arrangement, which deviates from the often somewhat predictable format of rock music", says the band.
"Mystery Novel" is the third single from HION MARTELL's upcoming album. They have previously released 3 albums between 2010-2018.
facebook.com/hionmartell
BIG SUN: Lovers Die At Midnight
Mighty Music - Digital Single
This is the first song from Scandinavian band BIG SUN. Their sound is a mixture of big hooks and haunting melodies, with a hint of pompous 1980s romanticism - Danceable arena rock as their record label call it. It's said to fit fans of GHOST, QUEEN and KISS. Well, they are not totally wrong there. This is a catchy and bombastic 80s rock song without a doubt. I think you should give it a try.
Another band that can be interesting to hear some more from in the future..
bfan.link/lovers-die-at-midnight | mightymusic.dk
ALIENS DON'T RING DOORBELLS: Big Old Nowhere
No Rules Music Ltd. - Digital Single
ALIENS DON'T RING DOORBELLS is a rock/pop band from the UK, even though there's also members from USA and The Bahamas. Their second album is scheduled for release in March 2023. Before that they release a few singles, and the latest is "Big Old Nowhere". A catchy and melodic little thing. And even though I usually not like this kind of stuff, this song is actually not so bad after a few listenings.
youtu.be/Vf4ZB_u0_ig | aliensdontringdoorbells.com
Bound For Hell: On The Sunset Strip
Numero Group on Oct. 28 - Box Set, 2LP, CD, Digital
This is probably like a wet dream for fans of the 80s hard rock scene in L.A. We get 21 songs with just as many bands. But they don't just concentrate on the bigger names here, but the smaller acts, who also did great songs. That does not mean that all bands here are unknown, because some of you have probably heard of groups like ARMORED SAINT, BLACK 'N BLUE and LIZZY BORDEN. Some might even have heard of STEELER, HELLION, ANGELES and ROUGH CUTT. But then we also have names like STORMER, L.A. ROCKS, MAX HAVOC, JADED LADY, SIN, BITCH, ROMEO, V.V.S.I., KNIGHTMARE II, WITCH, REDDI KILLOWATT, LEATHER ANGEL, Lisa Baker and ODI.
A nice thing is that it's not just a boys club, but also many women among these bands. And sure, you have probably heard better than this, but most of the material here is actually not so bad at all. So you should at least give these bands a try. Because who knows, you might find a new favorite song?
The box set version includes the compilation on 2LP, as well as a 144-page hardbound book. It's expensive though. There's also an exclusive color vinyl edition of the LP-based set, limited to 500 copies, which will include a bonus cassette featuring 5 additional tracks with 5 of the bands. Probably expensive too.
numerogroup.com/products/on-the-sunset-strip
EYES OF TOMORROW/PERFECT SKY: Songs Of Faith And Demolition
WTF Records/Dedication Records on Oct. 28 - CD
EYES OF TOMORROW are based in Rurh, Germany. PERFECT SKY are from Vienna, Austria. Both bands play hardcore, and have now teamed up for a split album.
Even though many things seems to be dark and bad these days, EYES OF TOMORROW think positive, and thrives in optimism, channeling the inner spirits to fight all the negativities and oppressions. That doesn't mean that their music sounds happy though. It's true classic hardcore with a pinch of metal. Absolutely not bad at all. The songs are mainly pretty fast, but at the same time they are also heavy.
PERFECT SKY take the chance to bash terrorism, corruption, and enslavement of minds. They are much heavier than EYES OF TOMORROW, which makes them sound harder and more angry. But that obviously works fine too, because it's not bad.
These bands might use different kinds of fuel, but they work very well together.
eyesoftomorrowhc.bandcamp.com | facebook.com/PerfectSky2.0 | wtfrecords.eu | dedication-records.de
BRING THE HOAX: Bring The Hoax
Lövely Records on Oct. 28 - Digital EP
Here we have another band that are somewhere on the border between 90s indie rock and power pop. This band seems to take most of their energy from pop instead of punk rock though. But somehow I think they get away with it anyway.
The music is soft and melodic without being slow and boring, as it's also guitar-driven and energetic. I like this catchy pie.
This is the debut EP from this Swedish band. Their record label call the music alternative rock inspired by the punk, indie and grunge era of the 90s.
facebook.com/bringthehoax
ARCHITECTS: The Classic Symptoms Of A Broken Spirit
Epitaph Records - LP, CD, Digital
ARCHITECTS seems to make a crazy brew of metal and pop, which makes it sound like a modern kind of metalcore or nu-metal, possibly both. There's some good metal parts here and there, but unfortunately also way too much pop music for my taste. I'm probably too old to enjoy this kind of music, but I guess the kids like it anyway (not my kids then, I don't have any). I have heard worse though..
This is the band's 10th studio album.
epitaph.com
SLAUGHTER THE GIANT: Depravity
Hammerheart Records on Oct. 28 - CD, LP
"Depravity" is the debut album from this Belgian death metal band. They formed in 2018, and has previously released an EP, "Asylum Of The Damned", in 2019.
Their music is intense, yet melodic, and is said to be something for fans of The BLACK DAHLIA MURDER and AT THE GATES. Sometimes there's also short symphonic parts in some of the songs (often just a few seconds though).
The record label call the band "Belgium's best kept secret". Well, there's no doubt that this is really good anyway. SLAUGHTER THE GIANT deliver an explosive cocktail of fantastic death metal songs. No weak moment on the whole album!
lnk.to/slaughterthegiant | hammerheart.com
SILVER PHANTOM: Crimson Cabaret
UPRISING! Records on Oct. 28 - CD, LP, Digital
SILVER PHANTOM is said to combine heavy rock, punk rock, power rock and shock rock. Their combination of heavy riffs and a raw energy sounds like hard rock to me though. Their lyrics take inspiration from dark and dreamy horror stories across mysticism and ancient legends.
"Crimson Cabaret" is SILVER PHANTOM's debut album. And it's a pretty good album that this band have made, so it could definitely be worth a try. Especially if you like more theatrical hard rock with some extra power, which I guess is the right way to describe this.
uprisingrecords.de | silverphantom.dk
STARCHILD: Battle Of Eternity
Metalapolis Records on Oct. 28 - CD, LP, Digital
German power metal band STARCHILD formed in 2014, and released their self-titled debut album the same year. They have now come to their third album, "Battle Of Eternity". And what we get is a melodic record, backed up by heavy guitars and great songs. The choruses are often big. Influences seems to come from both classic power metal acts as well as heavy metal legends. STARCHILD have simply made a fantastic album! Not a bad song as far as I can hear.
metalapolis.eu | facebook.com/starchildmetal
CRIME: From My Mind
Metalapolis Records - Digital Single
German hard rockers CRIME was active in the 90s, and released 2 albums. Now they return with this single, which is taken from their upcoming album, "Master Of Illusion". The album will be released on November 11.
The music is best described as good old hard rock. This song is heavy and powerful, yet catchy and melodic. It sounds really good, and is therfor worth a listen or 25. So check it out.
crime-band.de | metalapolis.eu
Michael Bormann's JADED HARD: Power To Win
RMB Records on Oct. 28 - CD, Digital
These guys released their debut album, "Feels Like Yesterday", in 2019. Now they are back with their second album, where we get more of the same thing as we got on the debut. So in other words AOR/melodic rock for all the money. It's absolutely not bad, and they are far away from the weakest band in this overpopulated genre. So it could of course be worth checking out. 8 tracks instead of 12 would have been enough for me though.
I don't really know what else to write, so let the music do the rest..
michaelbormannsjadedhard.com
Chris Rosander: The Monster Inside
Pride & Joy Music - Digital Single
"The Monster Inside" is the title track of Swedish artist Chris Rosander's upcoming album, which will be released on February 17, 2023. And if you like melodic rock/AOR, then this is something for you. Simple as that! Because this is good.
Chris is only 25 years old, but have been writing songs in the melodic rock, AOR and West Coast rock genre since he was 14. His previous works includes artists like Michael Ruff, Paulo Mendonca, Frank Ådahl and X-ROMANCE. His debut album as a solo artist came out in 2020.
chrisrosander.lnk.to/monster-single | prideandjoy.de | facebook.com/chrisrosanderofficial
SPELL: Tragic Magic
Bad Omen Records on Oct. 28 - LP, CD, Digital
SPELL is a Canadian heavy metal band, and this is their 4th album. During the 2 years since the last album they have become a duo, so "Tragic Magic" was written and recorded entirely as a collaboration between brothers Cam and Al Lester.
The music on this album is full of majestic arrangements and razor-sharp hooks, as well as melodies of course. It sounds old and hardly new. But I like old rock music, so that's just good according to me.
"Tragic Magic" is a fantastic album that you absolutely should check out.
I actually think that fans of a band like GHOST could like this, even though this is not the exact same thing.
bad-omen-records.com | spellofficial.bandcamp.com
SAHG: Born Demon
Drakkar Entertainment - LP, CD
Norwegian doom metal band SAHG released their first album 16 years ago. They have now come to their 6th album.
SAHG have made a really good album! There's no doubt about that. It's heavy, but yet catchy and melodic. Which is a combination that really works for me. They also succeed to be energetic, and know how to make good songs. This is so much better than all the heavy bands with harsh vocals or growl, who just repeat the same shit over and over again. Check this out instead!
One of my favorites here must be their only song in Norwegian (the rest is in English), "Heksedans".
Since the last album, the band have become a power trio. And powerful they are. Yes indeed.
drakkar.de | sahgband.com
BLACKLIST: Afterworld
Profund Lore Records on Oct. 28 - CD, LP, Digital
New York post-punk/dark rockers BLACKLIST are said to be veterans. And "Afterworld" is their first new album in 13 years. As so often in these genres, the music is dark. Yet I think this is not totally hopeless, but actually more like soft and atmospheric, or however I should describe it? Let's just say that you won't get much action here, but if you decide to give it a chance, then you will probably have an enjoyable moment anyway.
It's also said that this band is "blending elements of shoegaze and heavy metal with coldwave in a fluid motion", if that gives you a better idea of what they sound like (not that I can hear any heavy metal here, but anyway).
facebook.com/blacklistmusic | profoundlorerecords.com
VANANIDR: Beneath The Mold
Black Lion Records on Oct. 28 - Digital Album
It takes a while before they are warm enough to start playing for real. But after a few minutes they begin to play a mid-temp black metal song at least, just to get even warmer. Because after that they explode, and suddenly it goes really fast. Yet there's room for some kind of atmosphere as well. No song is under 6 minutes. This is not bad at all, even though I have heard better. You should give it a try anyway.
VANANIDR is a Swedish trio, that was born in 2017 from the ashes of black metallers HYDRA. They have released 3 full-length albums so far, and now their 4th will be released.
vananidr.com | facebook.com/blacklionrecordsswe
JORDFÄST: Av Stoft
Nordvis Produktion on Oct. 28 - CD, LP, Digital
2 long songs is what we get here. The first one is 16 minutes, and the second is 17 minutes. And I'm actually a little impressed that they can keep up with the same song for so long. Because the music is black metal, even though there's also folk metal elements. Sometimes it's more raw, other times more epic or melancholy. The vocals is harsh, and there's choirs in the background.
Pretty o.k. stuff, but not any masterpiece.
nordvis.com/en/jordfast-a-41 | jordfast.bandcamp.com
ÄNTERBILA: Äntergast
Nordvis Produktion - Digital Single
ÄNTERBILA is a Swedish black/folk metal band, formed in early 2020. They will release their self titled debut album on December 2, and this song is a first taste of that.
This is one of the better songs on the album, so if you like a mixture of black metal and folk music, then this is definitely worth a try. The vocals is raw, while the music is melodic. A catchy song.
More about the album later..
youtu.be/FmunqJNONq0 | nordvis.com | anterbila.bandcamp.com
KRELL: Crushing Your Life
Sneakout Records/Burning Minds Music Group - Digital Single
"Crushing Your Life" is the first single taken from the debut album, "Deserts", of Italian band KRELL. And KRELL is a collaboration between Luca Bonzagni and Francesco Di Nicola, who have both played in CRYING STEEL, but not at the same time.
What we get here is some kind of melodic hard rock, and it sounds o.k., but not much else. I guess I need to hear some more songs before I know if this is something for me or not. So currently I don't have much else to say.
The album will be released on November 25.
youtu.be/wq9087CuQVU | facebook.com/krellproject | burningmindsgroup.com/sneakout
GOLGOTHA: Mors Diligentis
Xtreem Music on Oct. 25 - CD, LP, Cassette, Digital
GOLGOTHA is a doom metal band from Palma de Mallorca, Spain, founded in 1992. They released some albums and EPs between 1994 to 2005. After a hiatus, they were back again in 2014. They have been through several changes in the line-up through the years. And when original singer Amon López had to leave due to personal reasons, the band recruited 2 female singers: María J. Lladó (clean vocals) and Miriam Vallés (guttural vocals).
While María sang already on GOLGOTHA's last album, this is the first one with Miriam. And the use of both clean and guttural vocals gives the band a fresh sound that I really like. They have really taken it to the next level on this fifth full-length album. So let's hope that this line-up will last, because this album is great.
golgothaofficial.com | xtreemmusic.com
DIGGETH: Zero Hour In Doomtown
No Dust Records/Suburban Records/Qumran Records - 2LP, CD, Digtal
DIGGETH is a trio from the Netherlands, who call their music "metal-n-roll". Their recipe is 50 years of rock, metal, Southern rock and a pinch of progressive rock. Hooks, heaviness and groove are 3 main ingredients.
This sounds most of all like some kind of heavier groove metal to me, even though this is a band with many different influences. It's mainly riff-based and catchy though. Not bad at all, even though 14 tracks at once is a little too much for me.
If I should do a very wild guess, then I think that fans of Swedish bands like TRANSPORT LEAGUE and MUSTASCH could like this band.
diggeth.com
CULT OF THE FOX: Blood Omens
Obelisk Polaris Productions on Oct. 28 - CD, Digital
I'm pretty sure that this could have been much better. Like it is now it's just o.k. and not much else. It has potential, and even though the singer might not have a perfect voice, they seems to have the right passion. Somehow they menaged to involve people like Tim "Ripper" Owens (KK'S PRIEST, ex-JUDAS PRIEST, Yngwie Malmsteen, ICED EARTH) for some guest vocals and Lips (ANVIL) for a guest solo. So maybe they have something that I can't hear?
CULT OF THE FOX is a Swedish heavy metal band, formed in 2007. Their goal is to make powerful yet melodic songs. They have released 3 albums before "Blood Omens", but they still have a few things to work on before it's perfect.
cultofthefox.com
SKID ROW: The Gang's All Here
earMUSIC - CD, LP, Digital
SKID ROW might not have been the most vital band during the last 30 years. But now they have really got a vitamin injection, and are almost as powerful as in the late 80s. I guess that nobody have missed the news that they have a new vocalist: Erik Grönwall (ex-H.E.A.T) from Sweden. If it's thanks to him that the energy is back is hard to tell, but he is definitely doing a good job behind the microphone. The songs are powerful and heavy hard rock, that could make you think of the 2 first albums. These songs might not have the same hit potential as some of their early material, but it sure ain't bad.
skidrow.com
LASTBREATH: Vendetta
Time To Kill Records on Oct. 24 - LP, Digital
Sleepy introduction for this album. Why coulden't they just start to play for real at once instead? But after that mistake it's hard and fast metallic hardcore that we get. I have heard both better and worse, but it sure doesn't suck anyway. I would guess that those who were hardcore kids in the 90s could like this a lot. So why not give it a try?
LASTBREATH are based in Cagliari, Sardinia, Italy, and was formed in 2017 by members from some local bands. Their first EP, "Thousand Traitors", was released in June 2019. And in October 2020 they returned to the studio to record a split EP with EARTHFALL. "Vendetta" is their full-length debut.
lastbreath19.bandcamp.com | timetokill-records.com
DIE GHOST: Wendigo
Die Ghost - MCD, Digital
DIE GHOST is a horror punk band from Minneapolis, formed in 2014. They have released 2 EPs, 1 full-length album, a split with The WHISKEY BATS and another split with RIPSNORTER. They are currently finishing up their next EP.
And for those of you who might not be familiar with what horror punk sounds like, you could say that it's darker but with lots of melody and sing-along elements. The lyrics usually have a horror theme.
I think these 2 songs are taken from the split with RIPSNORTER, but for some reason they did not include the other band's songs, which is a little strange (copyrights?). But anyway, DIE GHOST are a very good band. So fans of horror punk should really give them a try, because they should like this a lot.
youtu.be/hx5cZri8oTg | dieghost.bandcamp.com/album/wendigo
STEEL INFERNO: Evil Reign
From The Vaults - LP, CD, Digital
Denmark obviously have more hard rock and heavy metal bands than you might think. You have heard about MERCYFUL FATE, KING DIAMOND, PRETTY MAIDS and maybe ARTILLERY. But then there's also lots of underground bands, like STEEL INFERNO from Copenhagen for example.
The group formed in 2012, and "Evil Reign" is the band's third full-length album. Their sound is traditional heavy/speed metal with a hint of U.S. power metal. So it sounds old school and raw, but also good. You could actually think that this would be a forgotten recording from the 80s. Absolutely worth checking out!
steelinferno.dk | fromthevaults.dk
SATAN TAKES A HOLIDAY: Feel My Love
Despotz Records - Digital Single
Swedish rock band SATAN TAKES A HOLIDAY is back with a new single. And this is a first taste of their next album, with the silly title "Satanism", which will be released during the spring 2023. It sounds like electro or disco rock actually. They are said to be a mixture of rock n roll, 60s garage rock and modern dark pop. But in this song they reinvent themselves and include dark wave as well.
Even though this sounds like a pop song played by a rock band, I think I like it somehow. Because it's a very catchy song. But a whole album with this would be way too much for me. So I hope their next single will rock more.
youtu.be/4URsM7uvj1k | despotz.se | satantakesaholiday.com
ONE AND A HALF DOG: Catch 22
One And A Half Dog - Digital Single
New single from Norwegian rock band ONE AND A HALF DOG. And this time it's more laidback than the previous singles. And this one is not so easy to put in any specific genre, even though they see it as alternative rock with hints of progressive rock and metal. Possibly.. It's a pretty o.k. song anyway, so maybe you should give it a try?
When it comes to the name of the band.. About 10 years is the lifetime of a dog, and these men gave themselves 15 years to finish an album. "That's about one and a half dog", said the singer then. They are by the way still working on that album, but will first of all continue to release singles.
facebook.com/OfficialOneAndaHalfDog
GRIMNER: Hämtad Av Valkyrior
Despotz Records - Digital Single
"Hämtad Av Valkyrior" is the first track on the upcoming album, "Urfader", which will be released on November 18. This song is the third single from the album, and is really representative for their sound - powerful viking/folk metal with flute, as well as both harsh and clean vocals. A very good beginning of a good album.
The song is about when valkyries bring fallen warriors to Odin's halls, to feast with ancestors and gods.
Swedish band GRIMNER was founded in 2008, and "Urfader" will be their 4th full-length album.
grimnerband.com | despotz.se
TOXIC REASONS: Bullets For You / God Bless America / In The House Of God / Kill By Remote Control / No Peace In Our Time / Within These Walls (reissues)
Back on Black on Oct. 28 - CDs
Ohio's TOXIC REASONS are one of the originators of the US hardcore movement. They formed back in 1978. I don't think that I have heard this band before, but this sounds very British somehow. And that's a sound that I really like. Even though TOXIC REASONS dip their toes in many different punk genres, and even some post-punk. So it's not that much hardcore on these records. You should not get bored when you listen to this band anyway.
"Kill By Remote Control" (1984) is their second album, "Within These Walls" (1985) is their third album, and "Bullets For You" (1986) is their 4th album. "In The House Of God" was released in 1993, and "No Peace In Our Time" in 1994. But "God Bless America" is a compilation featuring some of the band's most well known tracks, but also a couple of new unreleased tunes - A perfect introduction to the band for those of you who have not heard them before.
"Within These Walls" is more of a post-punk album, while the rest is mainly punk albums. But I'm not going to write about each album here, but instead I say that they have lots of good stuff to discover. I like it more and more for each time I listen to these albums. And my favorites among these records must be "Bullets For You" and the compilation.
facebook.com/ToxicReasonsBand | plastichead.com
RAMMSTRUM: My Heart Burns
Rammstrum - Digital Single
RAMMSTRUM is based in Los Angeles, and was created by members of WORLDWIDE PANIC. The idea behind this project is to take RAMMSTEIN songs and adding their own twist. Which means that it could be a mashup of songs or a English version of a song.
And what we have here is a English version of "Mein Herz Brennt", which they do pretty good. It absolutely works in English too.
It will be interesting to hear what they will come up with next time.
distrokid.com/hyperfollow/rammstrum/my-heart-burns
BÖLLVERK: Heading For The Crown
Böllverk - Digital Album
More heavy metal. And this German band play in the harder and heavier league. The female vocals is powerful, but sometimes a man is also singing, and his voice is much more unpolished and raw.
I like the energy in the opening track, "Ask The Angel, Listen To The Devil". And even though this is not a bad debut album, I can't hear any more highlights among these 9 tracks. But if you like German heavy metal, then give that first track a try at least.
BÖLLVERK formed in May 2018, released an EP in 2020, and this first full-length album was released in April 2022.
facebook.com/Boellverk
Second Class Kids Magazine #3
Second Class Kids Records - Magazine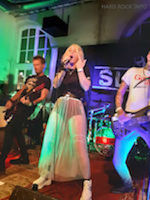 First of all I got a letter from Postnord (the Swedish post service), who wanted me to pay the rest of the postage. And even though I didn't pay (why should I?), I got the package about a week later anyway (not really sure how Postnord is thinking). I know that people have to save money nowadays, but if you can't pay for the postage to send the magazine to people, then maybe you should save even more money and publish it online (like I do).
Anyway, it's a damn good magazine that Pelle and the other guys are doing. Deep interviews, which often take up several pages, with GOONDOCKS, Vera Norea, N:A HOSPITALET, VINTERTID, SLAVERIET and EPA. And they don't just ask standard questions about the band, but can talk about anything, which I find interesting. They really seems to know more than anybody else about the band and the members. Yes, this is absolutely something that you should check out. But it's all written in Swedish, so you have to know that language of course.
People who order something from Second Class Kids Records get this magazine for free. But you can also buy it from them.
So far this magazine have been a product for the artists on Second Class Kids Records, and more or less just interviews. Well, that will change. From #4 you will get interviews with other Swedish punk bands as well. And there will also be some other stuff. Really interesting news. But let's just hope that they have enough money for the postage next time.
secondclasskids.com
The END A.D.: It's All In Your Head - Deluxe Version
Wormholedeath Records on Oct. 28 - CD, Digital
This American band have been around for a few years now, and released a few records through the years. "It's All In Your Head" was previously released as an EP (CD, cassette and digital) but will now be re-released as an album with 4 bonus tracks.
The END A.D. is a powerful combination of heavy thrash riffing and aggressive, female hardcore vocals. They really give it all here. I reviewed something with them a couple of years ago, and they was really good. But for some reason this doesn't impress me as much as that recording did. I guess that most of these songs are not as strong as their previous material. I would not call this weak though, because it's hardly totally useless.
Best tracks are the DEEP PURPLE cover "Bloodsucker" and "Why Don't You Die".
The END A.D. plan to release a new album in 2023.
Pre-order/Pre-save: orcd.co/itsallinyourheadpreorder
theendad.bandcamp.com | wormholedeath.com
DEVILSBRIDGE: Sense Of
Fastball Music on Oct. 28 - CD
This Swizz band released an EP, "Endless Restless", in 2020. Now it's time for the full-length format. And it's said that they have developed their sound and the production since the EP (I don't know if I have heard that EP though, bad memory).
What we get this time is a mix of heavy riffs and melody, topped with excellent vocals from frontwoman Dani. They have a modern and fresh sound, and I like what I hear on this album. Yes, DEVILSBRIDGE should find a bigger audience with this album, because that's how good I think this is.
Most albums have weaker parts or are getting boring after a few songs, but not this one. Here, instead, we get a steady flow of fine pieces. So there isn't much to complain about here.
fastball-music.com
DEVENIAL VERDICT: Ash Blind
Transcending Obscurity Records on Oct. 28 - LP, CD, Digital
Finnish death metal band DEVENIAL VERDICT is really going their own way, and are definitely not trying to sound like anybody else. Their music have a dark atmosphere, even though it swings between different emotional states all the time. It's most of all heavy, but suddenly it can go really fast or become almost progressive instead. But there can just as well be a atmospheric part or more melodic. So just as with progressive metal, anything can happen here.
This is probably not something that everybody will like.
tometal.com | devenialverdictband.bandcamp.com
STREETLORE: Brothers
Art Of Melody Music/Burning Minds Music Group - Digital Single
We talk AOR here, so it's soft and melodic of course, but also catchy. And like so many other songs in this genre, it reminds you of the sound of the 80s. A pretty o.k. song, even though I have heard stronger AOR songs. Could be worth a try though.
STREETLORE seems to be a project with many different vocalists and musicians. An album will be released on November 25.
youtu.be/CxognrLBn9s | burningmindsgroup.com/art-of-melody-music | facebook.com/StreetLoreOfficial
SKELETAL EARTH: Eulogy For A Dying Fetus / De.ev o.lu'shun (reissues)
Vic Records - CD / CD, LP
American band SKELETAL EARTH is one of those bands who have their own sound. They were influenced by death and thrash metal, but also crossover (a mix of hardcore/punk and metal). The group formed in 1987 and released 3 demos between 1988-1989. Their first album, "Eulogy For A Dying Fetus", was released in 1991, and their second album, "De.ev o.lu'shun", in 1994. Between those 2 albums, they also released an EP, "Dreighphuck", in 1993. In 1995 they split up.
Now the 2 albums have been re-released with bonus material. "Eulogy For A Dying Fetus" also features the previously unreleased EP "Chemical Breakfast" from 1990, the demo &qout;It's Not Our Fault..." from 1989 and the live demo "Live 5/5/89" - A total of 33 tracks! The CD version of "De.ev o.lu'shun" also features the "Dreighphuck" EP, but it's also available on vinyl (both the album and the EP)
It's a lot of songs to listen to here, but most of the material sounds o.k. anyway. There is some less good stuff here and there among all these tracks, but it could have been worse. It's luckily not that many.
And then there's the titles of some of these songs.. What do you think about titles like "Your Body, My Food", "Inexcusable Cunt", "Walking Excrement Factory" or "Burning Testicles" for example? Then I have just mentioned some of the titles from "De.ev o.lu'shun". Maybe not something for everyone in these sensitive times?
vicrecords.com
SEVERED ANGEL: A Fate Worse Than Death
Severed Angel - Digital Single
SEVERED ANGEL is a melodic metal band from the U.S., who are getting ready to release their debut CD. "A Fate Worse Than Death" is the second single from the band, and a taste of the album.
While the first single was a cover of GHOST's "Square Hammer", "A Fate Worse Than Death" is an original song by the band. And this sounds really good my friends. It seems to be skilled musicians, and the influences seems to come from different genres.
Hopefully they have more good songs like this. Because then it should be very interesting to hear that album.
youtu.be/dSnHgaCz2yk | facebook.com/SeveredAngelBand
SCARS: Violent Tour 2022 - Live In Sao Paulo
Scars - Digital Album
Brazilian thrash metal band SCARS have been active for more than 30 years, but this is their first live album, which was recorded in Sao Paulo, Brazil on July 23, 2022.
It's probably not such a wild guess that these guys have been listening to SLAYER, because it reminds me of them. But there's also some other influences of course. A pretty good band anyway. So if you have not heard them yet, give this a try.
This live album will also be released in physical format in the first half of 2023.
scarsthrash.bandcamp.com
MY FUNERAL: Funeral Manifesto
Inverse Records - CD, Digital
MY FUNERAL is a dark thrash metal band from Finland, and "Funeral Manifesto" is their 4th full-length album. This is a conceptual album, and thematically it delves deep into the mind - mental disorders, setbacks, but also victories in life. These 10 tracks are said to be their most ambitious and heavy to date.
Yes, heavy it is. Well, at least the first song and a few more. But they can play a little faster too. Which they prove already in the second song. And I must say that I like the faster stuff better than the heavy. Nothing is really bad though.
inverse.fi | myfuneral.bandcamp.com
BLACK WIDOWS: Among The Brave Ones
Inverse Records on Oct. 21 - CD, Digital
BLACK WIDOWS was the first all-female metal band from Portugal, and they formed back in 1995. Now they return with their first new album in 20 years. And this is a wild adventure of all kinds of metal, and all kinds of vocals. Sometimes it's extreme metal with harsh vocals, and in the next second it can be melodic metal with clean vocals instead, or more like symphonic metal with soprano vocals. In other words a varied album that I think many different fans of metal could like. But they still manage to create something meaningful out of all the ingredients. There is never too much of anything, but a fairly even weight of everything. I guess that I'm a little impressed.
blackwidowsportugal.bandcamp.com | inverse.fi
BLACK PAISLEY: Mojo
Black Paisley AB - Digital Single
Swedish band BLACK PAISLEY will release their 4th album, "Human Nature", on November 25. "Mojo" is 1 of the songs from that album. It sounds more like Americana than hard rock, but it's not among the worst songs on the album (more about that in the album review), but rather one of the better. It's a very catchy and happy rock song, so I can understand why they chose this one as a single.
Could be something for fans of classic rock and melodic rock.
youtu.be/wdeTq62pJrQ | blackpaisley.se
The SPEEDWAYS: Shoulda Known
Beluga Records - 7" EP, Digital
Power pop by 4 guys from London, UK is what we have here. These 2 songs are taken from their upcoming album, "Talk Of The Town", which they plan to release in November. It's pretty catchy and melodic stuff, and it sounds like something from the 60s. I like these songs. And if they have more songs like this, then it will be a great album.
Another very short review. But I just don't have anything else to say..
belugarecords.com | thespeedways.bandcamp.com
MAGICAL HEART: Heartsonic
Fastball Music - CD
German band MAGICAL HEART released their debut album, "Another Wonderland", in 2018. Now they have just released their second album, "Heartsonic". And what we get here is 11 tracks of more powerful melodic rock and hard rock. It sounds really good. They have lots of really strong material here that most fans of melodic hard rock should like. Yes, I really recomend you to give them a try. And you can begin with something like "Waiting For So Long" or "How Will The Story End" for example.
And that's all I have to say..
fastball-music.com
SARCATOR: Alkahest
Black Lion Records on Nov. 4 - CD, LP, Cassette, Digital
While their self-titled 2020 debut gave us some good old death/thrash, they have now thrown in some black metal influences as well. And this is a raw and brutal album. But to just call it that would not be right, as there is more to discover beneath the surface. Like some melodic death metal for example.
The debut was a really strong record, but this is absolutely not weaker. I think they will succeed to charm the metal scene once again with their aggressive symphonies.
linktr.ee/Sarcator | blacklion.nu
SATIN: Appetition
Art Of Melody Music/Burning Minds Music Group on Oct. 14 - CD, Digital
SATIN is a 1-man AOR band from Norway. 10 tracks is what we get here. Some of the songs are good, while some are less good (they are luckily few though). Well, at least nothing sucks on this album. But I'm not so sure that it's a sensation, as the label call it. Because fact is that this sounds excatly like 50 other bands inspired by the AOR legends from the States. But if you have nothing against that, then you will have a wonderful time to look forward to.
Not much else to add there..
tomsatin.com | burningmindsgroup.com/art-of-melody-music
NO RETURN: Requiem
Mighty Music on Oct. 21 - CD, LP
French death/thrash metallers NO RETURN have already been around for 33 years, and "Requiem" is their 11th studio album. But you don't have to worry that these guys would have stagnate with the years. What you can expect here is a powerful and strong album filled with intensity, melody and heaviness. It's hard and brutal, but at the same time melodic. This is simply just as it's supposed to be done.
facebook.com/NoReturnMetal | mightymusic.dk
HYDRA VEIN: Unlamented
Back On Black on Oct. 21
80s UK thrash band HYDRA VEIN is back again. They have released 2 albums: "Rather Death Than False Of Faith" (1988) and "After The Dream" (1989). After an eternity, it's now time for their third album, "Unlamented", to be released.
It looks like the band is nowadays based primarily in the Netherlands, where they recorded this album. And it's said that fans of the 2 first albums won't be dissapointed when they hear this. Now I have (as far as I can remember) not heard those albums, so I can't compare this new album with them. But what you get here is simply 9 tracks of old school thrash metal and nothing else. Maybe not of the best kind though. It's not crap, there is a better song here and there, but I would have liked some more power in the vocals, because he sounds bored and tired or something. The instruments seems to have more energy though.
UGLY KID JOE: Rad Wings Of Destiny
Metalville Records on Oct. 21 - CD, LP, Fan Box
This is the first new studio album in 7 years from these California rock veterans. Their debut album, "America's Least Wanted", was released 30 years ago, and became very popular. Their biggest hits are "Everything About You" and "Cats In The Cradle".
Much has happened since then, but the band's music is still a combination of rock, hard rock, heavy metal and funk. The songs might not be that strong anymore, but they are absolutely not weak anyway. They have made a totally o.k. album.
They begin with a AC/DC rocker, and continue with a catchy and melodic rock song. After that it gets softer for a while with 2 more relaxed songs, even though one of them have a more powerful chorus. Then they thought it was a good idea to do a cover of "Lola" by The KINKS. But I don't know if it was such a good idea. But after that little weakness it gets stronger again with another AC/DC rocker, that is followed by a cooler and more funky desert rocker (or whatever you should call it?). Then they continue with an acoustic song, before it's time for some heavy rock guitars again. And they end the whole thing with a catchy and melodic rock song.
If I should mention any titles that are extra good, then I would say the first track, "That Ain't Livin'", and the last track, "Long Road". But there's more candy on this album of course.
metalville.de | uglykidjoe.net
Seraina Telli: Simple Talk
Metalville Records on Oct. 21 - CD, LP
Seraina Telli is a Swizz singer/guitarist, who used to front the heavy metal band BURNING WITCHES (which you might have heard of?). Now she goes solo together with Alice Lane on bass and Rico H on drums. On this album it's not heavy metal though, but rather some kind of modern "strong woman" rock. She has a powerful voice and a varied material, and wants to motivate other women to believe in themselves and stay the way they are. So it's done with the right attitude.
A very wild guess is that people who like artists like Avril Lavigne and possibly Anouk could like this. But that's not something that I use to listen to, so what do I really know?
metalville.de
BLAKK LEDD: Heavy Metal Fans
Melodic Passion on Oct. 21 - CD, Digital
BLAKK LEDD is a Swedish heavy metal band. And they are not interested in any modern stuff, but have the classic sound that we all like, inspired by bands like JUDAS PRIEST, ACCEPT, PRIMAL FEAR, and possibly early DOKKEN and PRETTY MAIDS as well. Really good stuff anyway. No doubt about that. Some other Swedish bands I think of when I listen to this is WOLF and DREAM EVIL. Are you getting wet? Check them out!
The band is based in Falkenberg. 2 of the members have a past in SANITY, while 1 have played with the cover band MAIN ATTRACTION. And that's more or less all I know about them.
I look forward to hear some more from them in the future.
melodicpassion.com/artists/blakk-ledd
AVATARIUM: Death, Where Is Your Sting
AFM Records on Oct. 21 - CD, LP, Earbook, Digital
This is a band that CANDLEMASS legend Leif Edling formed almost 10 years ago. Edling have since then left the band, but the other members continued and have released 2 EPs, 4 full-length albums and 1 live DVD through the years.
To me AVATARIUM is the kind of band that I listen to a few times, and it's good but not much else, so I have never felt that I want to listen to any of their records again. Does this album change that? Well, maybe it wasn't so horrible as I thought the first time I heard it. Because this is a pretty soft album actually. I heard an interesting beginning or a doom metal part here and there that was good, but not much else.
The second time though, there was to my surprise suddenly a few interesting songs actually, and not just interesting parts. So this is the kind of album that you have to let grow for each time you listen to it. I have heard it a few times now, and I really like this record. This is the best I have heard with them so far. Without a doubt.
They are good musicians and have a really good vocalist. But they also have their own unique sound in the doom genre, which is somewhere between rock and metal.
avatarium.se | afm-records.de
GOTHMINISTER: Pandemonium
AFM Records on Oct. 21 - CD, LP
GOTHMINISTER have been around for a few years now, and the first album, "Gothic Electronic Anthems", was released in 2003. The music is a mix of goth, industrial metal and electro. So goth with metal guitars you could say. But then you might make it too easy for yourself. Because there's also huge orchestras and choirs.
The songs are based on powerful, industrial metal riffs and a wide vocal range. And even though it sounds dark and heavy, it's also very catchy. There's lots of great material among these 10 tracks, but I don't think it's an album for everyone.
gothminister.com | afm-records.de
IRON ALLIES: Blood In Blood Out
AFM Records on Oct. 21 - CD, LP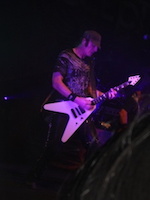 This is a new band with former ACCEPT members Herman Frank (guitar) and David Reece (vocals). But no, even though it's heavy metal, it doesn't sound like ACCEPT. This album has more influences than that. It's often powerful and heavy, but with melodic vocals. I guess we can call it something like timeless heavy metal with a modern production or something like that. And they have really done a good job here.
Now the big question is if they can succeed to live up to this debut and make another album that is this good? That will be interesting to hear..
iron-allies.com | afm-records.de
ORDEN OGAN: Final Days: Orden Ogan And Friends
AFM Records on Oct. 21 - CD
"Final Days: Orden Ogan and Friends" features a whole army of guest vocalists, such as Stu Block (ICED EARTH, ANNIHILATOR), Peavy Wagner (RAGE), Andy B. Franck (BRAINSTORM), Chris Boltendahl (GRAVE DIGGER), Elina Siirala (LEAVES' EYES), Leif Jensen, Ross Thompson (VAN CANTO), Nils Molin (DYNAZTY), Dennis Diehl (ANY GIVEN DAY), Marc Lopes (Ross The Boss) and Frank Beck (GAMMA RAY). And different kinds of singers means different kinds of vocals (of course).
ORDEN OGAN's latest studio album, "Final Days", was released in March 2021. And when the album was released the band started to release a series of new single versions, featuring some high class guest vocalists. These tracks is what you get on this album.
It's all very professionally done, and the singers are great. The music is mainly melodic power metal, and it all sounds very good. But this is (as far as I can remember) the first time I have heard ORDEN OGAN, so I have nothing to compare with. I think it's a very strong album anyway.
ordenogan.de | afm-records.de
VIOLET: The Looks Of A Winner
Yellow Muffin Records - Digital Single
The young German synth rock/AOR band VIOLET will release their debut album, "Illusions", in November. And "The Looks Of A Winner" is one of the songs on that album. Their sound is very 80s, with lots of keyboards, but also catchy and melodic. Fans of AOR from the 80s should give these kids a try, becuase it's not bad at all.
youtu.be/DwVJeHL3OaE | facebook.com/violetAORofficial | metalapolis.eu/yellow-muffin-records
TURBOCHARGED: Alpha Beast, Omega God
Emanzipation Productions on Oct. 14 - CD, LP, Digital
Stone hard and dirty crust punk/metal is what is served here.
Swedish trio TURBOCHARGED blend thrash and death metal with crust punk and a big dose of hate and sarcasm. It's like mixing MOTÖRHEAD and VENOM with DISCHARGE and GBH. Very explosive and very energetic, as well as raw and dirty. I like it! I think of bands like ENTOMBED and possibly LOUDPIPES (even though they were more punk).
TURBOCHARGED is not a new band. They have already existed for a few years, and released several albums and a MCD on different labels.
emanzipation.dk | facebook.com/turbochargedswe
SWEET TEETH: High Anxiety
Lövely Records on Oct. 14 - LP, Digital
SWEET TEETH is a Swedish rock band. They released a mini-album, "Acid Rain", in 2021, and now it's time for their full-length debut, "High Anxiety".
This sounds a little like indie rock from the 90s with a punk nerve. But sometimes it also reminds me of the softer side of The HELLACOPTERS and IMPERIAL STATE ELECTRIC. But in the end I guess they are somewhere between alternative rock and power pop. But it's not as confusing as I make it sound. It's simply catchy and melodic guitar-driven 80s/90s rock. Straight and sweaty songs without any unnecessary crap.
SWEET TEETH have made a fantastic album. So no matter if you're a fan of power pop or garage rock, indie rock or just good old punk rock, you might enjoy this album.
sweetteeth1.bandcamp.com | llyrecords.com
SOPHIE'S THREAT: Suicidal God
Sophie's Threat - Digital Single
It wasn't that long ago that I reviewed their first single, and now their second single is here. And they continue to crush with a song about the American serial killer Joseph Kallinger. The soundtrack to that little story is melodic, yet brutal and technical death/thrash metal. This is extreme and raw, but not bad at all. I think you should give them a try, unless you're too weak for this.
With this single the Brazilians debut their new line-up. Old members are Tiago Carteano (drums) and Ricardo Oliveira (guitar). New members are Malu Sales (vocals), Marcao (guitar) and Paulo R. "Satan" (bass).
youtu.be/qLHQ5J507CA | facebook.com/sophiesthreat
LACUNA COIL: Comalies XX
Century Media on Oct. 14 - 2CD, 2LP/2CD, Digital
Italian metal band LACUNA COIL released their third album, "Comalies", in 2002. And to celebrate the 20th anniversary, the band have made this new version of the album. But they didn't just re-record the record, they also deconstructed and remade the whole thing.
Now I have not heard the original version of this album, so I'm not the one who can compare this with the original version. But to me it sounds like one of the better albums with this band, and if I get it right "Comalies" was a huge succees for them when it was released.
To describe LACUNA COIL's sound is always a little tricky. But it's mainly a modern and melodic kind of metal in the darker league. We get both female clean vocals and male harsh vocals.
A modern metal band worth checking out.
centurymedia.com | lacunacoil.com
FULLMÅNE: Fly Through The City
Fullmåne - Digital Single
This is a Norwegian 1-man band (now based in London) with somebody called Mad moonshine Mattis on everything. He does not just play all instruments and sing, but he also produce and mix it himself. The music is some kind of black metal/punk hybrid with insane vocals. It sounds o.k. though. This song have something that makes it good, even though it's pretty primitive. And it's also melodic for being black metal.
full-moon.bandcamp.com
DRAGONLAND: The Power Of The Nightstar
AFM Records on Oct. 14 - CD, LP
Swedish melodic power metal band DRAGONLAND have returned after a 10-year hiatus. "The Power Of The Nightstar" is their 6th album, which is said to be their longest and most ambitious album. I hear some symphonic and cinematic elements, which makes it more epic, but also much keyboards. It's mainly a catchy and melodic album that we get. And with all these tools they also succeed to make really good songs. This is really something that you should check out. Simple as that!
"Journey's End" features a duet with Elize Ryd (AMARANTHE).
thegreybanner.com | afm-records.de
DIGGETH: Soultwister
Diggeth - Digital Single
DIGGETH seems to be a trio who mix 50 years of rock and metal, and out comes songs with hooks, heaviness and groove. They have been rocking since 2004, and their latest album, "Gringos Galacticos", was released in 2019 (2020 in the States). During the pandemic they have been working on so much material that it's enough for a double LP, entitled "Zero Hour In Doomtown".
But before the album is released, we get this single as a little taste of what to come. But I have to say no, because this was nothing special to me. Some kind of heavy groove metal or something like that. Not totally useless, but not that funny either. And I want music to be fun to listen to.
youtu.be/4Ij1_4w1l1c | diggeth.com
ATLAS: Blå Vardag (reissue)
Transubstans Records on Oct. 14 - CD, Digital
This is some old Swedish band from the 70s, who played instrumental progressive rock. A true product of its time you could say, as nobody is doing the same thing today with the same sound as this band had. But at the time this was nothing unusual, as many Swedish bands had a similar sound back then.
Sweden in the 70s was very different from today. The music scene here was ruled by the dictators at the magazine Musikens Makt (The Power Of Music), who had their weird ideas of how music was supposed to be. They didn&&39;t like commercial pop music for example, and you had to sing in Swedish and have an important message as well. I guess that they liked a band like ATLAS though, who had no lyrics at all.
Anyway, "Blå Vardag" is their debut album, which came out in 1979. And this is actually not so bad for being both instrumental and progressive. Soft and cool music somehow. Much keyboards, but also some guitars. The variation might not be extremely big here, but it wouldn't surprise me if artists of today want to sound exactly like this.
transubstansrecords.bandcamp.com/track/p-gata
AFTER ALL: Eos
Metalville Records on Oct. 14 - CD, LP
Good old speed metal seems to be popular again, and here we have another band who is playing that, even though AFTER ALL is more melodic than the old bands used to be.
AFTER ALL has already existed for more then 30 years, and released 10 albums. On the new album, "Eos", the Belgians introduces Mike Slembrouck on vocals and Bert Guillemont on drums.
The songs on this album is absolutely of high quality, and makes me think more of power metal from the 80s than speed metal from the same time. I guess fans of both genres could like this.
metalville.de
CHERRY ST.: Squeeze It Dry (reissue)
Perris Records - CD, Digital
"Squeeze It Dry" was originally released in 1993 through JRS/BMG, but have now been re-released with all new artwork. This CD has Erik Turner (WARRANT), Tommy Thayer (KISS, BLACK 'N BLUE) and Pat Regan (KISS, DEEP PURPLE, SHOTGUN MESSIAH) producing 2 tracks: "No Doubt" and "Whisky". If you liked the first album from 1992 (re-released earlier this year), then you should like this too.
The first track, "No Doubt", sounds like something with AC/DC (the Brian Johnson era). The rest is mainly something that I would describe as sleazy hard rock, but sometimes with a touch of AC/DC. And there's lots of great songs here, so this is something that you absolutely should give a try. And especially if you like what bands like MÖTLEY CRÜE and GUNS N' ROSES did in the 80s.
perrisrecords.com | facebook.com/CherrySt.1989
WORN OUT: Bridgeburner
Worn Out - Digital Single
Really hard and aggressive hardcore. It could have been good, but I don't really know.. It's actually a little too extreme for some reason. Especially the desperate scream vocals. And this single features guest vocals from Justin Paul Hill (SIKTH). Well, that didn't help much as far as I can hear..
WORN OUT is an Irish band. Their first single, "With False Hope", was released in late 2017. After a couple of more singles, they released their first EP, "Waste", in December 2021.
youtu.be/vo3u9fkT0vE | wornoutnoise.bandcamp.com
A Tribute To BATHORY
Antichrist magazine/Grand Sounds PR - YouTube
BATHORY was one of the first extreme metal bands from Sweden. They started as a very fast, noisey and primitive black metal band, but soon became more of a solo thing with Quorthon (real name Thomas Ace Forsberg) as the only member, and the music soon became more like epic viking metal instead. The band is nowadays metal legends all over the world, which this tribute compilation is a good proof of.
33 underground bands doing covers of BATHORY, both the early black metal years and the later viking years. It takes an eternity to listen to them all, but on the other hand everything isn't good enough to listen to (which is nothing unusual with compilations like this). And yes, I would not call myself a fan of BATHORY (I can immediately hear somebody scream "How can he NOT be a fan of BATHORY?!"), so what do I really know? Not being a fan doesn't have to mean that I don't like it though. And this tribute is probably a real party for those of you who are true fans.
Now I won't tell you the name of all 33 bands here, and there's not many of them that I have heard of before. In fact, the only name that I have seen before is MYRHOLT. The rest was unknown to me.
Each cover version was recorded for this compilation exclusively, and this is only available for streaming at YouTube: youtu.be/NiMBwpA0ARQ
linktr.ee/antichristmag | grandsounds.net
KNORKATOR: Sieg Der Vernunft
Tubareckorz on Oct. 7 - CD, LP
German. Silly. Happy. Melodic. Electronic. Catchy. Heavy guitars. Diverse. Piano. Different. Progressive? Alternative. That's some of the things that pops up in my head when I listen to this record.
KNORKATOR formed in Berlin in 1994, and this is their 10th studio album. Their music is said to be a bizarre combination of hardcore/metal with subtle and classical sound. In other words hard to describe with just 1 or 2 words, as it sounds like a mixture of everything. And I would guess that their lyrics are supposed to be funny. But as they sing in German, which I don't understand, I miss the whole point. And the only song in English is a cover of "One Way Or Another" (BLONDIE).
Yet another band that you have to hear to really figure out what they sounds like. There's no shortage of variety though.
TRP: Thaen Rasmussen Project
Animated Insanity Records/No Dust Records on Oct. 7 - CD, Digital
This is an American melodic hard rock band, and this is their debut album. The line-up is Thaen Rasmussen (VICIOUS RUMORS, ANVIL CHORUS) on guitars, bass, vocals and keyboards, Torre Carstensen (MY VICTIM, WARNING SF) on lead vocals, Jon Simon (SpyVsSpy) on keyboards, Phil Bennett (Mickey Thomas STARSHIP) on keyboards and Carter Kennedy (ORCHID) on drums.
The band was formed in the San Francisco Bay Area, which is most well-known for thrash metal. But these guys mixes classic and hard rock influences, and try to make something fresh out of that. "Melodic hard rock for the modern age", as the press release says.
Do they succeed with that then? Well, it's not bad anyway, as they have some good songs here. It sounds familiar, but at the same time they seems to do it in their own way. For some reason it's not always so funny to listen to though. So everything is not so good here.
facebook.com/TRPTheBand | animatedinsanityrecords.com | nodustrecords.com
HUNGRY: Hungry For Your Love
No Dust Records/Animated Insanity Records on Oct. 7 - MCD
HUNGRY was a German hard rock band, formed in 1998. They recorded these songs in November the same year (at least 5 of them), but split up in 2000. But thanks to the labels No Dust Records (The Netherlands) and Animated Insanity Records (North America), and their initiative "Untouched Series", we get the chance to hear these 6 songs on this EP.
The "Untouched Series" was first launched in 2019, and is a way to officially release studio quality recordings with hard rock and heavy metal bands from all over the world. HUNGRY is #9 in the series.
The female vocals is powerful, and the guitars are often heavy. The songs are really good, and are definitely worth more attention. I can really recommend that you check this out.
nodustrecords.com | animatedinsanityrecords.com
HEMESATH: So Schön
Echozone on Oct. 7 - CD
HEMESATH is part of what they call "Neue Deutsche Härte", which means "New German Hardness" - Simply new rock bands from Germany singing in German. This band have already been around for a few years though, if I get it right. Their music consist of driving drums, powerful guitars and charismatic vocals, which they combines with catchy melodies. I guess that we can call it hard rock, but a very German kind of hard rock then, and hardly the one from the 80s.
9 tracks is what we get here, and it sounds good to me anyway.
echozone.de
PEARLS & FLAMES: Reliance
Pride & Joy Music on Oct. 7 - CD
This sounds very familiar somehow. So in other words nothing new under the trees here. It's another band who love what legends like TOTO, CHICAGO and similar have done. But they are at least doing it good, so why complain? So if you like that kind of stuff, then you should like PEARLS & FLAMES too.
This band consists of a couple of friends from Sundsvall and Söderhamn in Sweden, who have been active in the melodic rock scene for ages. This is their first album with PEARLS & FLAMES though.
facebook.com/pearlsandflames | prideandjoy.de
C.O.P. II: Enemy
Pride & Joy Music on Oct. 7 - CD
Sweden hardly have a shortage of melodic hard rock bands, but here's another one. C.O.P. II also blend in some AOR. But even though it's melodic, it's also powerful, and especially the voice of Peter Sundell. They also have a pretty strong material here, so the future should look bright for this trio.
The band formed in 2014, and features 2 former members of GRAND ILLUSION. They released their debut album, "State Of Rock", in 2015. But if I get it right, it's not until now that we get a follow up to the debut.
facebook.com/C.O.P.aor | prideandjoy.de
ALICATE: Butterfly
Pride & Joy Music on Oct. 7 - CD
This band was originally formed in the late 80s, and played mainly at local venues. They succeeded to release a 7" single though. In 2006 they reformed the band and started to work on new material. They have released 3 full-length albums and 1 live EP between 2009-2018.
Now 4 years has passed since their last album, and it's time for a new album, "Butterfly". The music is best described as melodic hard rock, and it sounds really good to me. I think that you could like it too if you're into this kind of music.
facebook.com/ALICATE-175864405759490 | prideandjoy.de
TROUBLE: The Distortion Field (reissue)
Hammerheart Records - CD and Digital out now, LP on Oct. 14
This is TROUBLE's comeback album from 2013, featuring Kyle Thomas (EXHORDER, ALABAMA THUNDERPUSSY) on vocals. He is doing a very good job here with a wide vocal range, and the songs are not bad at all. I would describe it as doom/heavy metal with a touch of the 90s. So you could say that it's a perfect mixture of their whole career.
This new edition of the album have been remastered (as always), but also includes the Japanese bonus track "The Apple from the Snake".
A brand new album with TROUBLE will be released in 2023.
hammerheart.com | troublemetal.com
GRIN: Phantom Knocks
The Lasting Dose Records on Oct. 14 - CD, Cassette, Digital (LP in Spring 2023)
"Phantom Knocks" is the third album from Berlin duo GRIN. And if it's heavy psych/doom that you're looking for, then look no further. Because that's exactly what the couple Jan and Sabine Oberg deliver.
Of 8 tracks, 3 of them start with the letter A, and 3 with the letter S (very interesting info, huh?).
These songs definitely have a psychedelic atmosphere, even though there's a pinch of doom too. I guess you could say that this is mainly pretty soft and melodic. It's never too soft or too slow though. An o.k. album.
thelastingdoserecords.bandcamp.com | grincult.bandcamp.com
FROM THE VASTLAND: Taurvi
Crawling Chaos on Oct. 7 - CD, Digital (LP in spring 2023)
FROM THE VASTLAND was started by Sina Winter in late 2010, and in 2013 it became a full band with members from the Norwegian black metal scene. Their music and lyrics are influenced by Persian history and mythology, ancient world, epic stories of good and evil, myths and legends. Which they combine with atmospheric, blast-beating old school black metal, with a slight touch of oriental influences. "Taurvi" is their 7th album.
If you want good old Scandinavian black metal, then this is a band for you. Simple as that.
fromthevastland.no | thecrawlingchaos-records.de
BOREALIS: Illusions
AFM Records on Oct. 7 - CD
It's 4 years since the Canadian band BOREALIS released their last album, but now they are ready to release their fifth album. And I guess they felt like taking it to the next level this time, as they brought in composer and multi-instrumentalist Vikram Shankar (SILENT SKIES, REDEMPTION, LUX TERMINUS) to compose all the orchestra and zynth elements for the album.
They play a darker and symphonic kind of melodic metal, that makes me think of something like EVERGREY, but with their own touch then. It sounds majestic and ambitious, and very professionaly done. I guess this can attract a lot of people. Not bad at all.
afm-records.de | facebook.com/borealisband
BLIND ILLUSION: Wrath Of The Gods
Hammerheart Records on Oct. 7 - CD, LP
Bay Area thrash metallers BLIND ILLUSION returns with a new album. They might not be the most famous of the old thrash bands from the 80s, but they are just as good at what they are doing as any of the other Bay Area bands. BLIND ILLUSION deliver their thrash with finesse and precision. There's lots of catchy riffing and many strong songs on this record. Simply a damn nice thrash album.
Even though they did more recordings after 1988, this album is seen as the true follow-up to the 34 years old "The Same Asylum". The line-up today is founding member Marc Biederman, Tom Gears, Doug Pearcy (ex-HEATHEN) and Andy Gallon (ex-DEATH ANGEL).
The CD have 2 bonus tracks.
hammerheart.com
STRATOVARIUS: Survive
earMUSIC - CD, 2LP, Recycled LP, Digital
Finnish power metal legends STRATOVARIUS has released their first new studio album in 7 years. And they return with an album that is melodic, yet powerful (which is probably nothing new). The songs are fantastic here, so there's not that much to complain about. They have simply made a very strong album, that they can be really proud of.
The strongest number is the opening track, which is also the title track. And the most ambitious track here is probably the last song, "Voice Of Thunder", which is 11:11 minutes long.
ear-music.net | stratovarius.com
STATEMENT: Dreams From The Darkest Side
Mighty Music on Oct. 7 - CD, LP, Digital
Danish band STATEMENT are getting ready to release their 4th album, which is said to be their most uncompromising album to date. They combines heavy metal with melodic hard rock. But it's not any old school hard rock or heavy metal from the 80s that we talk about here, but rather a more modern sound. It's often melodic, yet powerful. And that's when I like them best. But everything is unfortunately not so strong here, which is a small minus of course. Some songs are a little softer and more melodic, and those songs are just not as good as the harder songs.
statementband.com | mightymusic.dk
CAPTAIN BLACK BEARD: Neon Sunrise
Mighty Music on Oct. 7 - CD, LP, Digital
There's lots of AOR bands out there today, and we have lots of them here in Sweden. One of them all are CAPTAIN BLACK BEARD, who have already been around for many years, and released several albums. This band even have their own genre, called "disco AOR". But don't be afarid. That doesn't mean that it sounds like disco music. It rather means that it's just as catchy as an old disco hit from the 70s.
There's lots of excellent songs on this album and many fantastic choruses, so fans of AOR should not be dissapointed when they hear this. Because you have to hear this band!
captainblackbeard.net | mightymusic.dk
QUEENSRŸCHE: Digital Noise Alliance
Century Media on Oct. 7 - CD, LP, Deluxe CD Box Set, Digital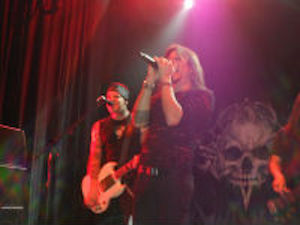 Oh, this must be the best QUEENSRŸCHE album in many years. The 2 latest albums have not been bad, but the quality was not strong enough. Now they have much better material though. I think that fans of the classic albums should be happy to hear this.
QUEENSRŸCHE have actually existed for 40 years now, and this is their 16th studio album. It's already 10 years since Todd LaTorre took over the vocals from original singer Geoff Tate.
Well, this is a must in your collection.
centurymedia.com | queensrycheofficial.com
FUCKED UP: Oberon
Tankcrimes on Oct. 7 - 12" EP, Digital
Usually these Canadian veterans play hardcore/punk, but that's not what I hear on this 4-track EP. No, it's heavy and no hardcore/punk in sight at all, so this was a big disappointment to me. This is actually sludge. But if they think that's funny, who am I to judge?
If you like it dark and heavy, then you can give this a try. My opinion is that the single "Do All Words Can Do", which I reviewed in November last year, was much better than this.
fuckedup.cc | tankcrimes.com
DIABOLOGY: Father Of Serpents
Dissonant Hymns Records on Oct. 7 - CD
DIABOLOGY is a teenage thrash trio based in Los Angeles, which was formed in 2016. Their debut album, "Nobody Believes Me", was released in 2020, and now they are getting ready to release their second album, "Father Of Serpents".
This is a hard and heavy thrash metal album, which also has influences of death metal, black metal and sludge/doom. In other words a more modern product and absolutely not the classic old school stuff. Still good though. It's said to be of interest for fans of METALLICA, MEGADETH, The BLACK DAHLIA MURDER, TRIVIUM, MACHINE HEAD and MASTODON.
These guys are absolutely not any amateurs. Rather, we are dealing with very skilled musicians here. I think they can go far actually.
facebook.com/diabologyband | dissonanthymnsrecords.com
DE PROFUNDIS: The Corruption Of Virtue
Transcending Obscurity Records on Oct. 7 - LP, CD, Digital
UK death metallers DE PROFUNDIS have been active for nearly 2 decades. That has not made them any weaker though. Instead they seems to raise the bar every time and get stronger and more angry. It's said that this album might be their most intense, aggressive and challenging release so far. It's still music though, and not just fast noise or something like that. This is simply a good old death metal album, but made in 2022 then.
They are very good at what they are doing, so this could be worth a try.
tometal.com | deprofundisband.bandcamp.com
YEAH YEAH YEAHS: Cool It Down
Secretly Canadian - LP, CD
"Cool It Down" is the fifth album from this trio, and the first new album since 2013's "Mosquito". Cool it down is exactly what they have done here. It's a rather soft record that they have made, which is atmospheric and emotional. So I'm not so sure that rock fans will be impressed by this. And the thing is that I'm not even sure what genre I should put this into. Sometimes it's electronic and almost pop, but there's also some rock here and there. Some songs are better than others, but I actually like some of it even though it's soft.
I don't have much else to say though..
yeahyeahyeahs.com
SEVENTH SERVANT: The Tree Of Life
Roxx Records - 2LP, 2CD, Digital
SEVENTH SERVANT is the brainchild of former ICED EARTH vocalist John Greely (who sang on the "Night Of The Stormrider" album in 1992). This album has been in the making for almost 15 years now. He started working and developing ideas for this project back in 2006. But I guess he needed to find the right people to work with, and that can sometimes take an eternity. But now all the pieces have finally fallen into place, and the debut album is here.
What do we get then? Some kind of heavy/power metal is my description to this. It's powerful and majestic, and the vocals is melodic. Pretty o.k., but honestly not much else. Where's the big anthems for example? The songs are simply not strong enough to satisfy me, and this album last for an eternity (well, almost an hour at least). Some songs are around 7-8 minutes long. And 1 of them is as long as 16 minutes. So I guess this is an album for those of you who want something more ambitious, and not necessarily great songs.
The first single, "Jezebel", also features a guest apperance from Tim "Ripper" Owens (KK'S PRIEST, ex- JUDAS PRIEST, Yngwie Malmsteen, ICED EARTH).
The limited edition CD version features the original album on disc 1, and the whole thing instrumental on disc 2.
roxxrecords.com | facebook.com/seventhservant
LOVE AND WAR: Edge Of The World/Up The Annie (reissue)
Animated Insanity Records/No Dust Records - 2CD
I have been writing about these albums before. But now they have been re-released.
"Up The Annie" was originally released in 2012, and is their debut album. For some reason their second album, "Edge Of The World", didn't come out until 2020 though. And this is first of all a re-release of the second album, as the first album is a bonus disc. Both albums are damn good though. No doubt about that.
LOVE AND WAR hailing from Houston, Texas, and they play old school hard rock/heavy metal with energy and passion. They have lots of great songs on both of these albums. So if you have not heard them yet, then you better give these guys a try.
love-and-war.com
INCURSION: Running Out
Incursion - 12" EP, Digital
INCURSION hailing from Nashville, TN, and will release a new album, "Blinding Force", via No Remorse Records on November 11. And on the first side of this vinyl we find "Running Out", which is a song from that album. On the other side we find a cover of TRIUMPH, "Allied Forces", which is a non-album exclusive for this EP.
Heavy metal in the traditional way is what we get from this band. It sounds very old school and very good. What else do you need to know? I think you're familiar with the sound already, so just check it out, it will be worth it.
INCURSION has previously released an EP, "The Hunter", in 2020.
incursionmetal.bandcamp.com/album/running-out
AMERICAN SELLOUT: Earthbound
American Sellout - Digital Single
Well, just as the band name says, this is an American band (from El Paso, Texas to be precise). They play heavy metal, and "Earthbound" is one of the songs from their self titled debut album, to be released on CD in January 2023.
Well, I don't really know what to say about this song.. Sure, it's not totally useless, and there's a pretty good chorus anyway. But this is not something excellent that hits you and make you beg for more. They hopefully have better songs though.
facebook.com/Americansellout
«
SEPTEMBER
|
INDEX
|
NOVEMBER
»